The Ultimate Guide To Independent/Microbrand GMT Watches: Part One — Eight Options For Less Than $2,500 
Travel timepieces for all tastes and all budgets
Hi, my name is Vincent, and I am weirdly obsessed with GMT watches. So much so, in fact, that I wanted to write a two-part guide on 16 GMTs from independent/microbrands. As you certainly noticed, GMTs are the thing, the must-see show in town, the latest and greatest trend. This is true for both larger Swiss and Japanese brands as well as the smaller, younger ones that you may or may not have heard of. There's a lot to choose from in terms of prices, styles, and even colors. There is a GMT for (almost) everyone and every budget. And this is because Seiko and Miyota released affordable yet capable GMT movements last year. My dream of owning a good, reasonably priced GMT has finally come true, and perhaps yours will as well. So let's take a look at the first eight of 16 GMTs from independent/microbrands available in 2023.
Truth be told, as I was writing this article, I kept seeing new models pop up seemingly every five minutes. For example, there was the new Seiko Prospex GMT that Jorg recently wrote about, which saw Seiko finally put a diver and GMT together. And how about the stunning Lorca Model No.1 that Nacho elegantly presented to the Fratello community? I also wrote about the three best microbrand GMTs of 2022 late last year. Little did I know that there was so much more to write about. Of course, this article may only be interesting to you if you are into GMTs. Are you? Well, if you're not, perhaps you will be after today! Anyway, without further ado, let's get on with part one of my ultimate guide to independent/microbrand GMT watches!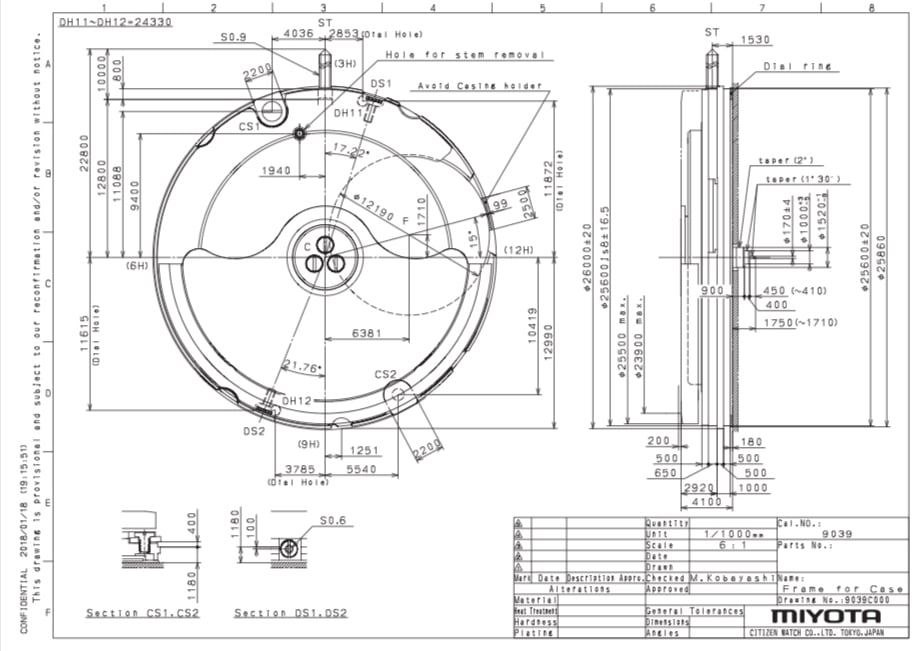 Some ground rules
As it is often necessary with these types of articles, I want to lay out some preliminary guidelines. First, I'm only writing about watches that I have personally handled. I know there are more GMTs out there than listed below, but I couldn't get my hands on them for this article. I will, however, mention those watches at the end of the second part of this mini-series (coming soon!). Second, I've roughly sorted the watches by caliber. We'll start today by featuring watches with the Seiko NH34 movement as well as the Soprod C125. Next time, we'll highlight models with the Miyota 9075 and, finally, the Sellita SW330-2. Price-wise, the watches that have the NH34 tend to be the cheapest, while those using the Soprod C125 and Miyota 9075 tend to be mid-range. Those using the Sellita SW330-2 tend to be in the top tier.  
Furthermore, although I would love to review each watch individually, a short introduction will have to suffice for this list. Know that certain watches listed below have been reviewed on Fratello before, which I will indicate whenever applicable. "But why GMTs?" you ask. Because they are hot, and everybody wants to make one. This means there's fierce competition out there — I would almost call it savage — which benefits us collectors. The GMT is also my favorite watch complication (besides the date), and many of these models could be a one-watch collection, another obsession of mine.
Money matters
I also want to clarify some things about prices and currencies. Whenever you see a dollar sign ($), unless otherwise specified, it will refer to US dollars (my apologies to Canada, Singapore, Australia, and the rest…). Many smaller brands use USD as their default currency, so it's easier this way. The watches in both parts of this series range from $449 to $2,470, and most cost between $500 and $1,000. This means there are options to fit within a variety of budgets. I do know that you can get $100 GMTs from the Far East, but these watches, though they have their merits, are homages for the most part. I do not hold grudges against homages. After all, I started collecting watches by buying them. However, I cannot put homages side by side with brands that go above and beyond to create something different and unique.
Lastly, price conversions between global currencies vary constantly based on daily exchange rates. Therefore, I will refer to the price of each watch in the currency that the brand in question defaults to. Also, unless otherwise specified, prices are excluding VAT or other taxes because what you will pay depends on where you live. Now, with all of the rules out of the way, let's get on with the list, starting with the most affordable entries.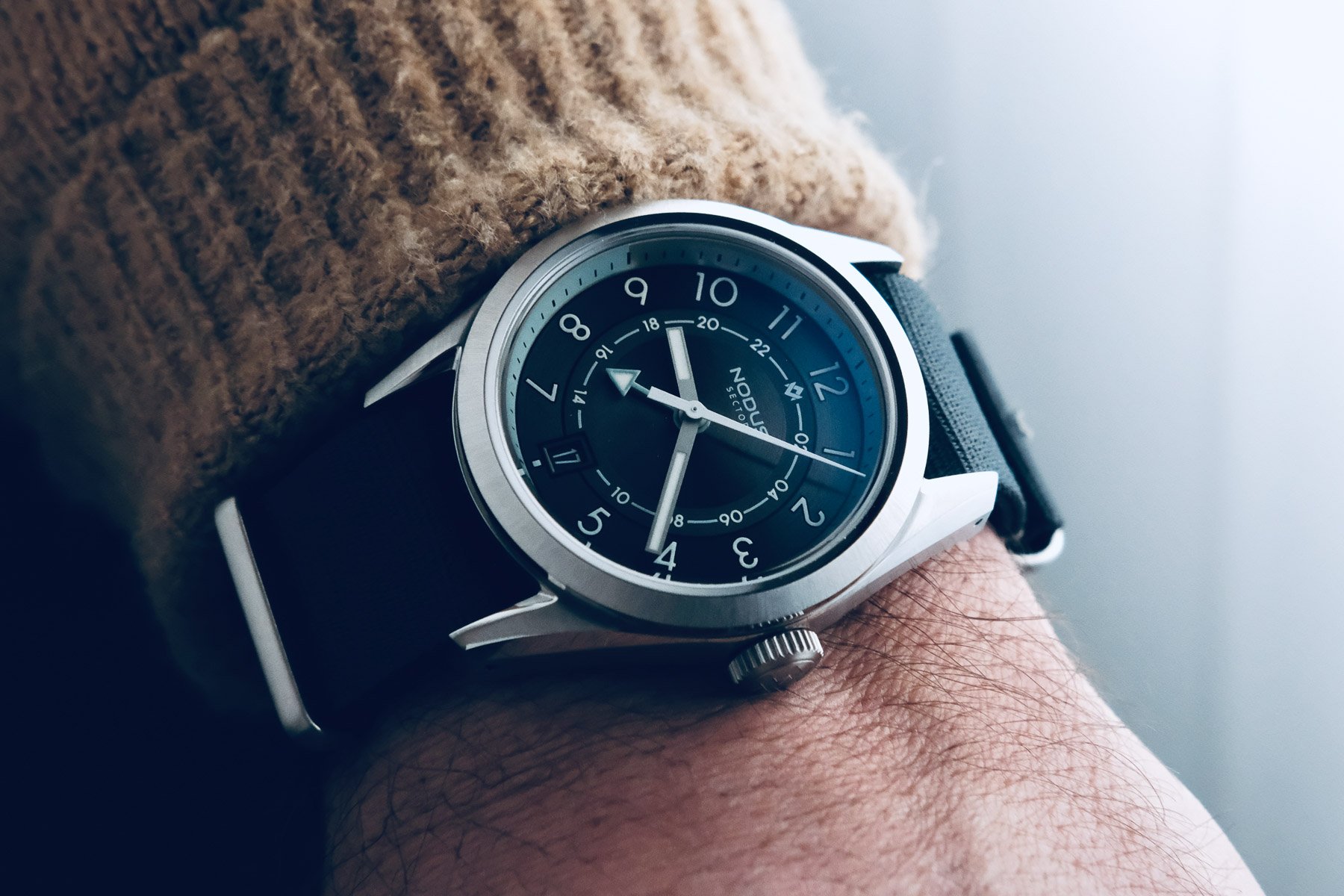 Nodus Sector GMT
Already a fan favorite for offering excellent value, the Nodus Sector GMT is the most affordable GMT on the list. But that doesn't mean it is the least deserving of praise. Quite the contrary. Retailing for $450, you get a ton of bang for your buck. It houses the Seiko NH34 movement, which Nodus regulates in-house to run at ±10 seconds per day. It comes with a sapphire crystal, 100m water resistance, and a screw-down crown and case back. The case measures 38mm in diameter, 47mm from lug to lug, 12.25mm in thickness, and 20mm between the lugs.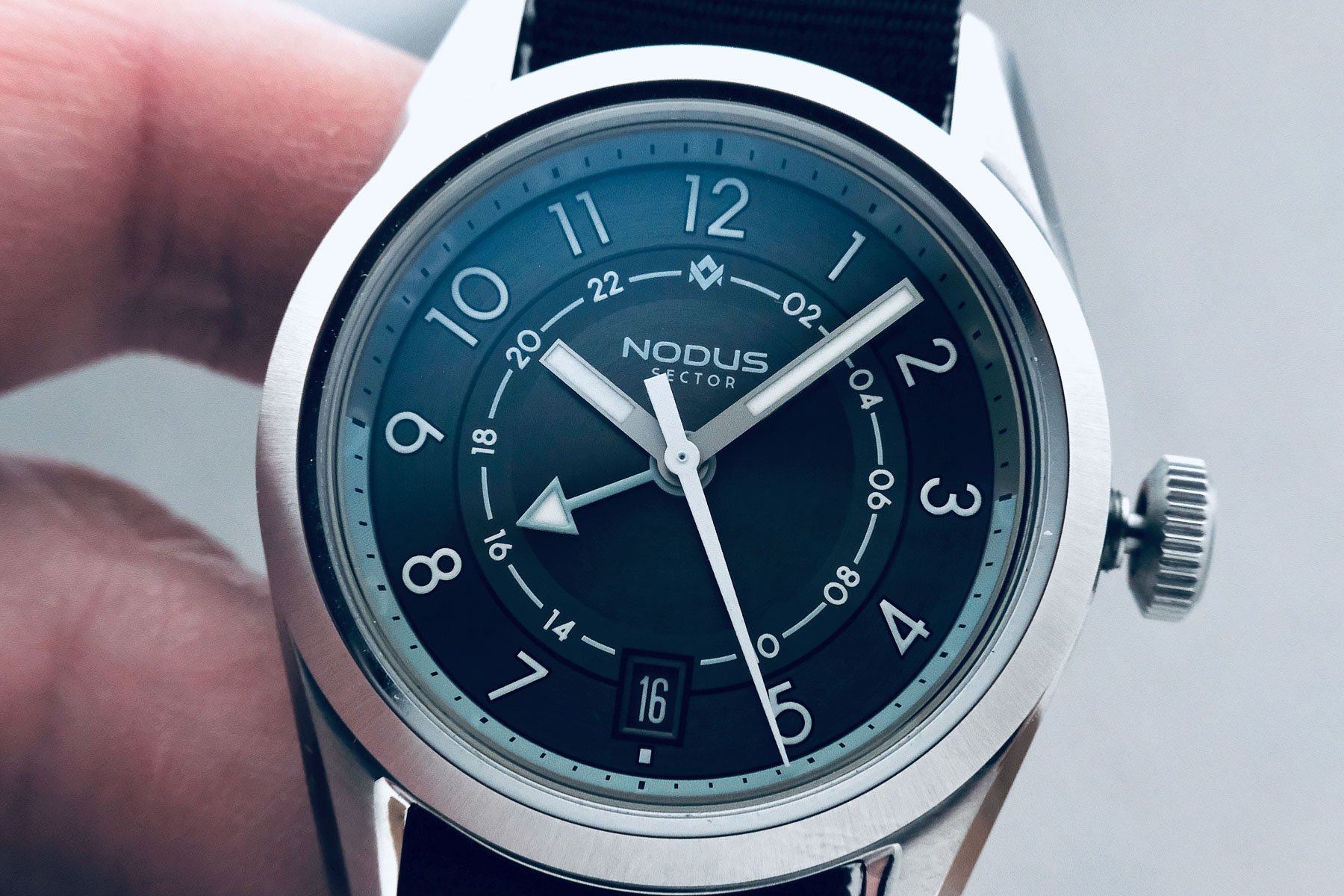 The Sector GMT is the fifth of the six models composing Nodus's Sector collection. It features a characteristic case shape with massive, geometrical lugs and a reasonable profile. The fit and finish are superior for the asking price, and this includes the radial brushing on the dial. Nodus has made a name for itself by offering great value for money, and the Sector GMT is the perfect example. The brand fully lumed the Arabic numerals and the GMT scale at the center of the dial. That's a neat detail in my book. You can read my full review of the Sector GMT here. 
Unfortunately, the Nodus Sector GMT is sold out at the moment, but it will be back in stock soon.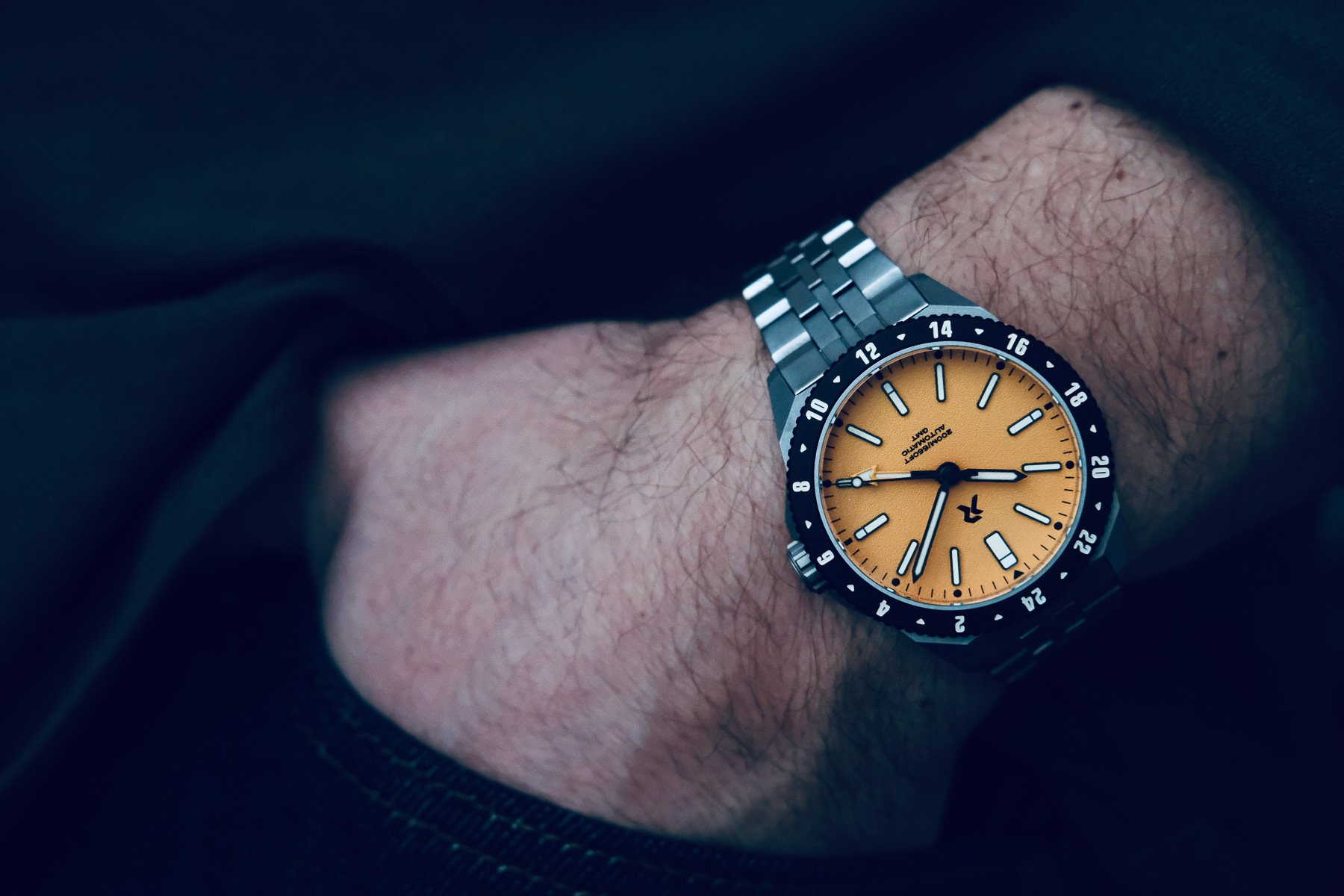 RZE Ascentus GMT
Next is the RZE Ascentus GMT. It's the second and last model in this list utilizing the Seiko NH34 movement. In good RZE fashion, the Ascentus features an all-titanium construction — yes, that means the case, bracelet, and rotating bezel. This makes the Ascentus the lightest of all GMTs on this list, clocking in at 110g on the bracelet. It is also one of the most slender, with a 40mm diameter, a 46mm lug-to-lug, and a 13mm thickness. Considering the dimensions and lightweight titanium material, it's comfortable to wear all day long. And it is perfect for adventures of any kind with its 200m water resistance rating and sapphire crystal. 
As indicated above, the Ascentus GMT runs on the Seiko NH34 movement. The GMT scale inhabits the unidirectional DLC-coated bezel and works in conjunction with the massive GMT hand. The design language borrows from the brand's very first model, the Resolute. It is clean, utilitarian, and no-nonsense. RZE is known for being generous with lume application, and the Ascentus GMT is definitely bright. It retails for $449 on a rubber strap (yes, technically, $1 less than the Nodus), but it's well worth the $549 asking price to get it on the bracelet.
The Ascentus GMT is available for immediate purchase from the RZE website.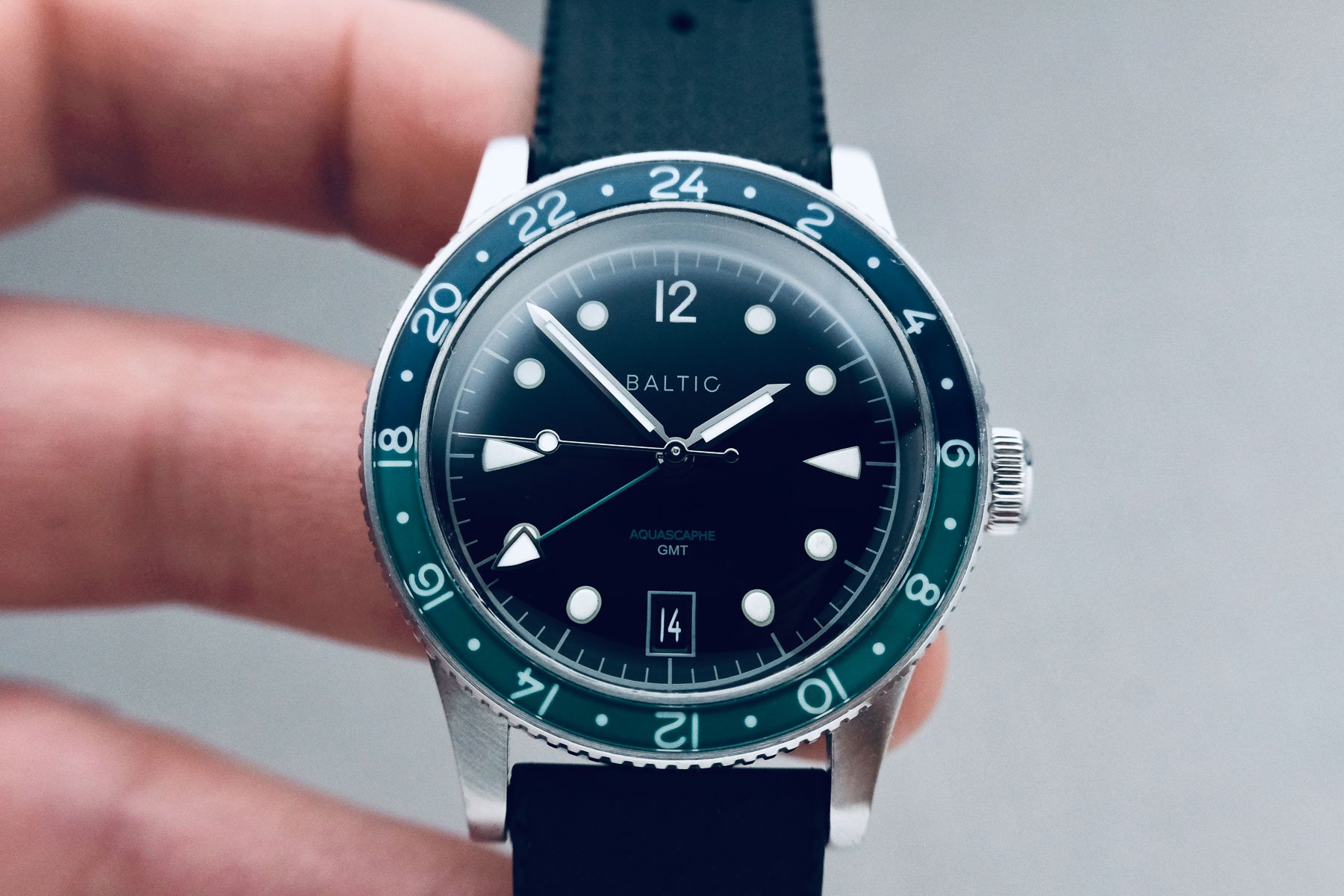 Baltic Aquascaphe GMT 
Baltic became a sort of phenomenon in its own right on the micro/independent watch scene. The Aquascaphe is perhaps the model that brought the French brand to the interest of international collectors. So it was only a matter of time before the watch got a GMT version, which Rob reviewed in 2020. Aesthetically, it's an Aquascaphe with a legible glossy dial, clean hands, and a date window at 6 o'clock. The watch utilizes the Soprod C125 movement, which is reliable and easy to service. The Aquascaphe GMT comes in three two-tone bezel color options with matching GMT hands. 
It is also one of the most compact GMTs on the list. Its case measures 39mm wide, 47mm long, 12mm thick, and 20mm between the lugs. Being a Baltic, it has the brand's signature stepped case design with, in this instance, a 100m water resistance rating. One neat feature (at least to me) is the bidirectional 24-click bezel. I love GMT bezels that have 24 or 48 clicks as they are easier to use than 60- or 120-click dive bezels with GMT inserts. Price-wise, the Aquascaphe GMT retails for €920 on the tropic strap and €1,000 on a beads-of-rice or flat-link bracelet. 
Some of the colorways of the Baltic Aquascaphe GMT are available for immediate purchase. The other ones are available for pre-order with delivery in May 2023.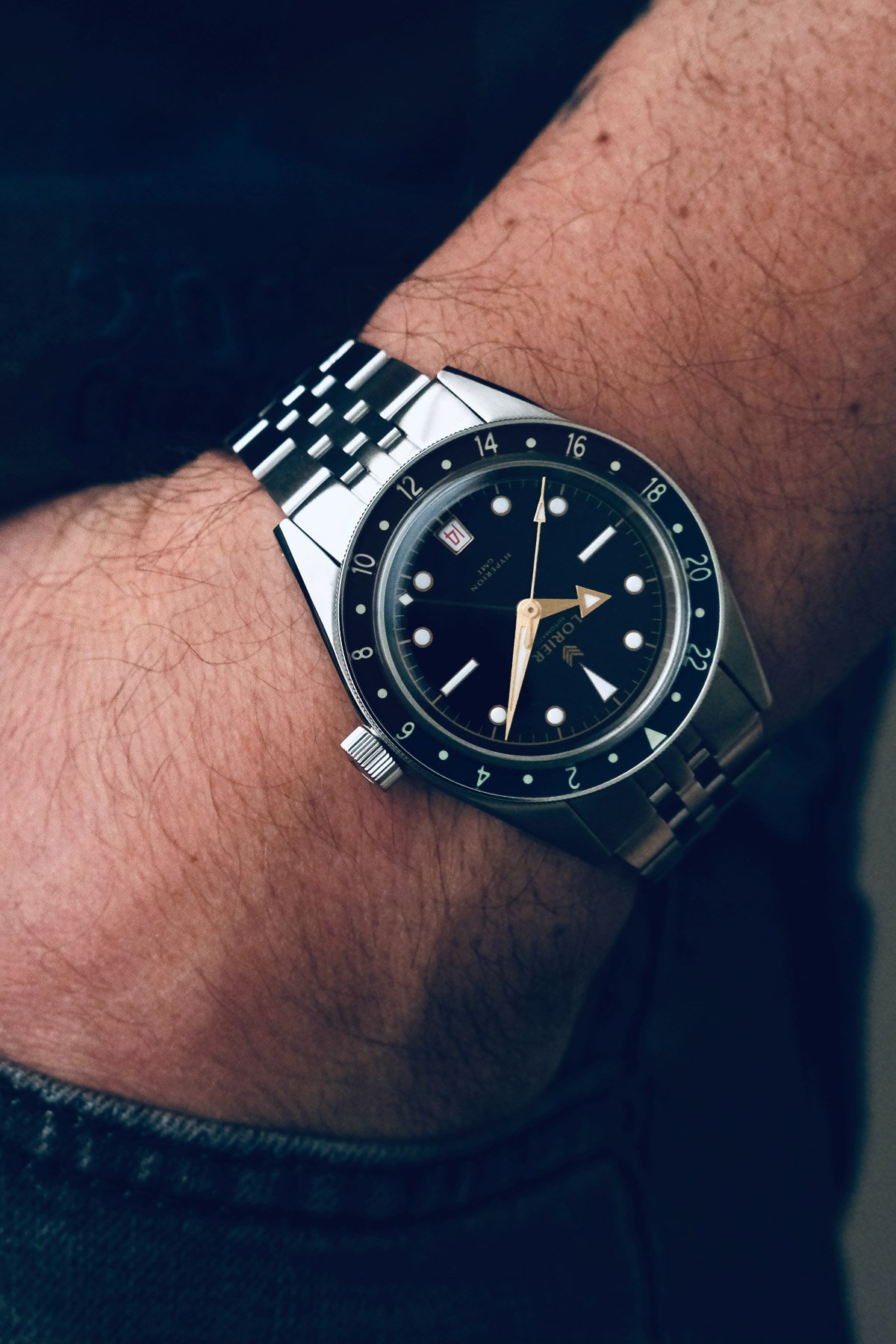 Lorier Hyperion SII
Staying with the Soprod C125 is the Lorier Hyperion SII. Thomas wrote about it when he took a look at three recent Lorier models. The Hyperion was model three or four from the New York-based brand and one of my all-time favorites. Lorier upgraded the model, giving it a new bracelet, better dimensions, and more refined finishing (of course, you can only take my word for it). The Hyperion SII, with its Bakelite-looking bezel and Pepsi color scheme, still has a strong foundation within the vintage genre of watches. It just resonates with me a lot, and you might know I'm a fan of Lorier. For the retail price of $799, you get an excellent fit and finish. 
The Hyperion also has a nice size, coming in at 39mm wide, 46mm long, 10.7mm thick, and 20mm between the lugs. Unsurprisingly, it features the Soprod C125 caliber, which needs no introduction here. Lorier gave the Hyperion a little edge by applying gilt-tone accents to the surrounds of the painted hour markers and hands. The brand also colored the odd dates in black and even ones in red on the date disc. It also comes with a 24-click bidirectional bezel and the Lorier's signature domed Hesalite crystal. 
The Hyperion SII should be back in stock soon.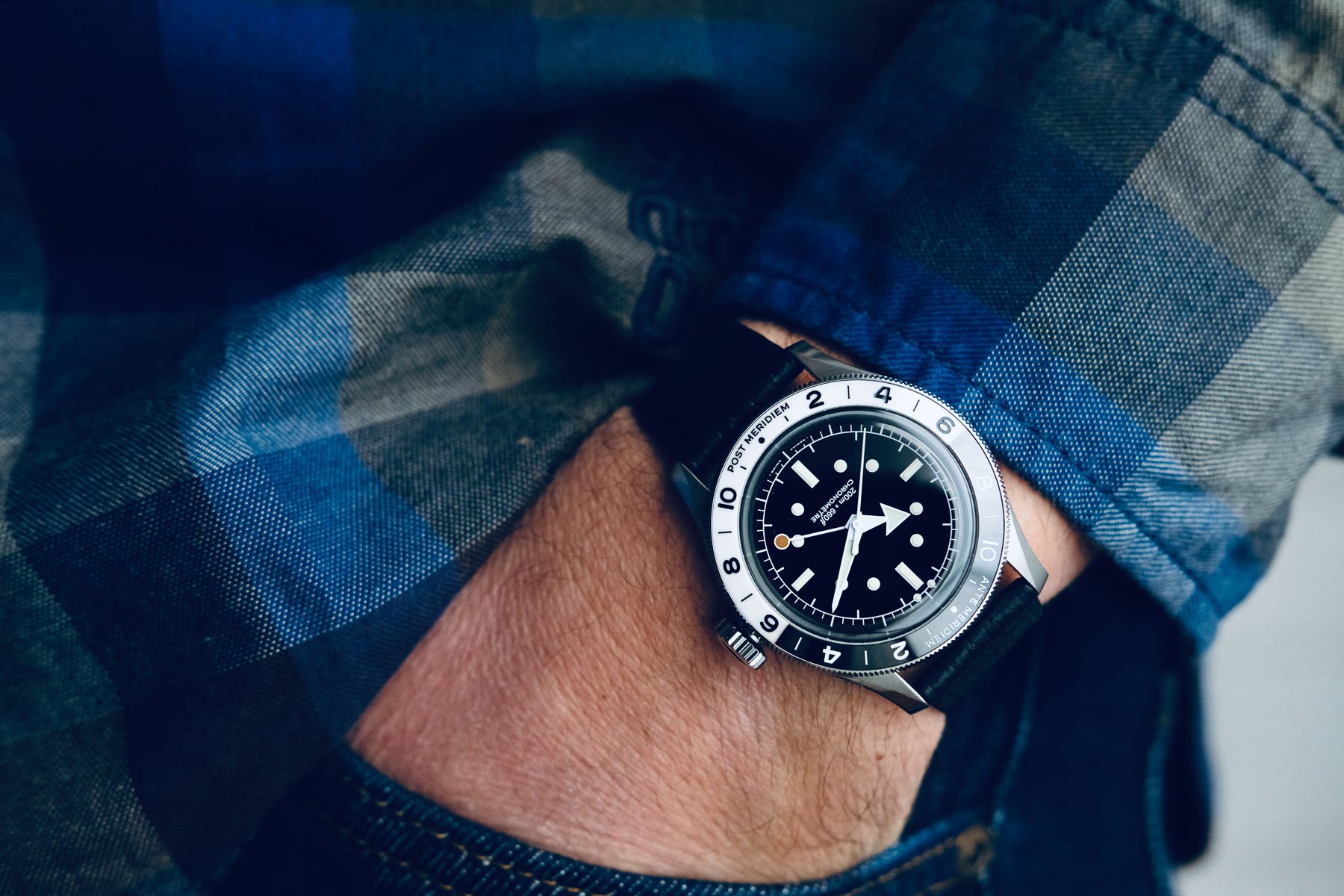 Serica 8315 GMT Chronomètre
Let's talk about another French brand, Serica, and its most recent release, the 8315 GMT Chronomètre. This is yet another brand that most of you know, and Jorg introduced the 8315 last October. The Serica 8315 not only comes with ideal dimensions and looks, but it also has a very rare bezel configuration. While most GMTs display a full 24-hour GMT scale, Serica divided the bezel into two asymmetrical portions. The "ante meridiem" (AM) portion is black, while the "post meridiem" (PM) portion is white and slightly longer. The idea was that we are awake for more hours than we are asleep. I think this is a neat touch and perhaps a better option for our American friends. 
The Serica 8315 houses the chronometer-grade Soprod C125, a two-tone ceramic bezel, and an enameled dial. Although it is hard to capture in photos, let me tell you, the dial is gorgeous in person. The case measures 39mm in diameter, 46.5mm from lug to lug, 12.30mm thick, and 20mm between the lugs. It's a darn legible watch with a broad-arrow handset and "floating" circular markers. These feature a generous application of Super-LumiNova C3 lume, which glows green. Furthermore, the 8315 comes with a 200m water resistance rating. To me, this seems like the perfect modern James Bond watch. 
The Serica 8315 is currently available for purchase from the brand's website. It comes with the crown on either the right or the left (your choice) and retails for €1,575 on leather.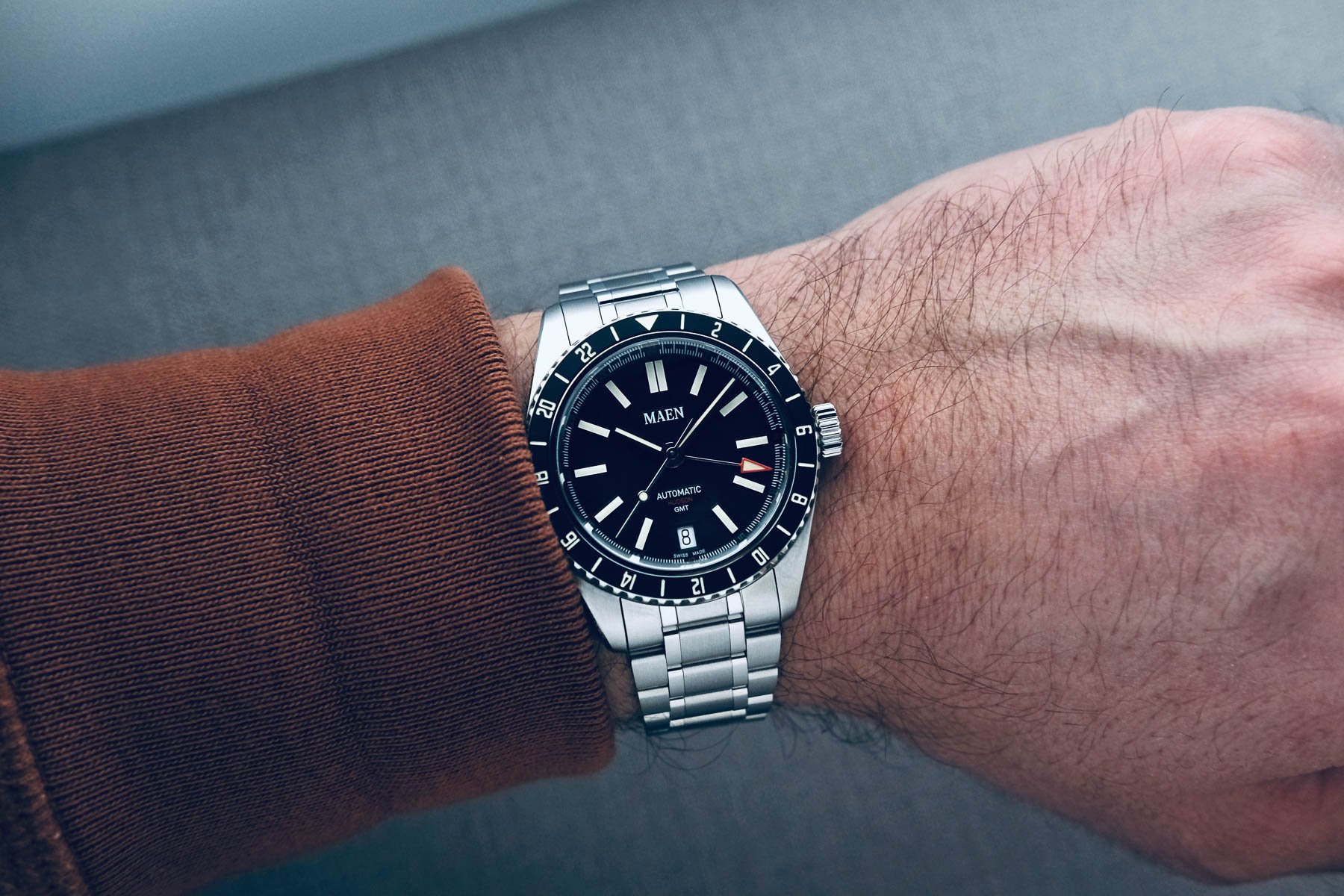 Maen Hudson 38 GMT
Maen is one of the three brands I mentioned in my "The Three Best Microbrand GMT Watches Of 2022" article last year. It was pretty neat to come across a 300m-rated GMT with a 38mm in diameter, 46mm lug-to-lug, and 12.05mm thickness. Retailing for €799, the Maen Hudson 38 GMT houses the Soprod C125 also found in the Lorier Hyperion and Baltic Aquascaphe GMT. But unlike those two, the GMT scale finds its home on a 120-click bezel. The GMT model borrows the design language from the brand's diver, the Maen Hudson Mark IV, creating continuity within the collection. 
The Hudson 38 GMT is a reasonably sized watch that, with its versatile look, could be a one-watch collection. The alternation of brushed and polished surfaces on the case and bracelet creates interesting light play. And the added touch of polished chamfers on the center links gives the Hudson GMT an everyday, almost dressy appearance. It is also a legible watch thanks to the high contrast between by the matte dial and the cream-colored hour markers. 
The Maen Hudson 38 GMT is currently available for pre-order with an estimated shipping date of July 2023.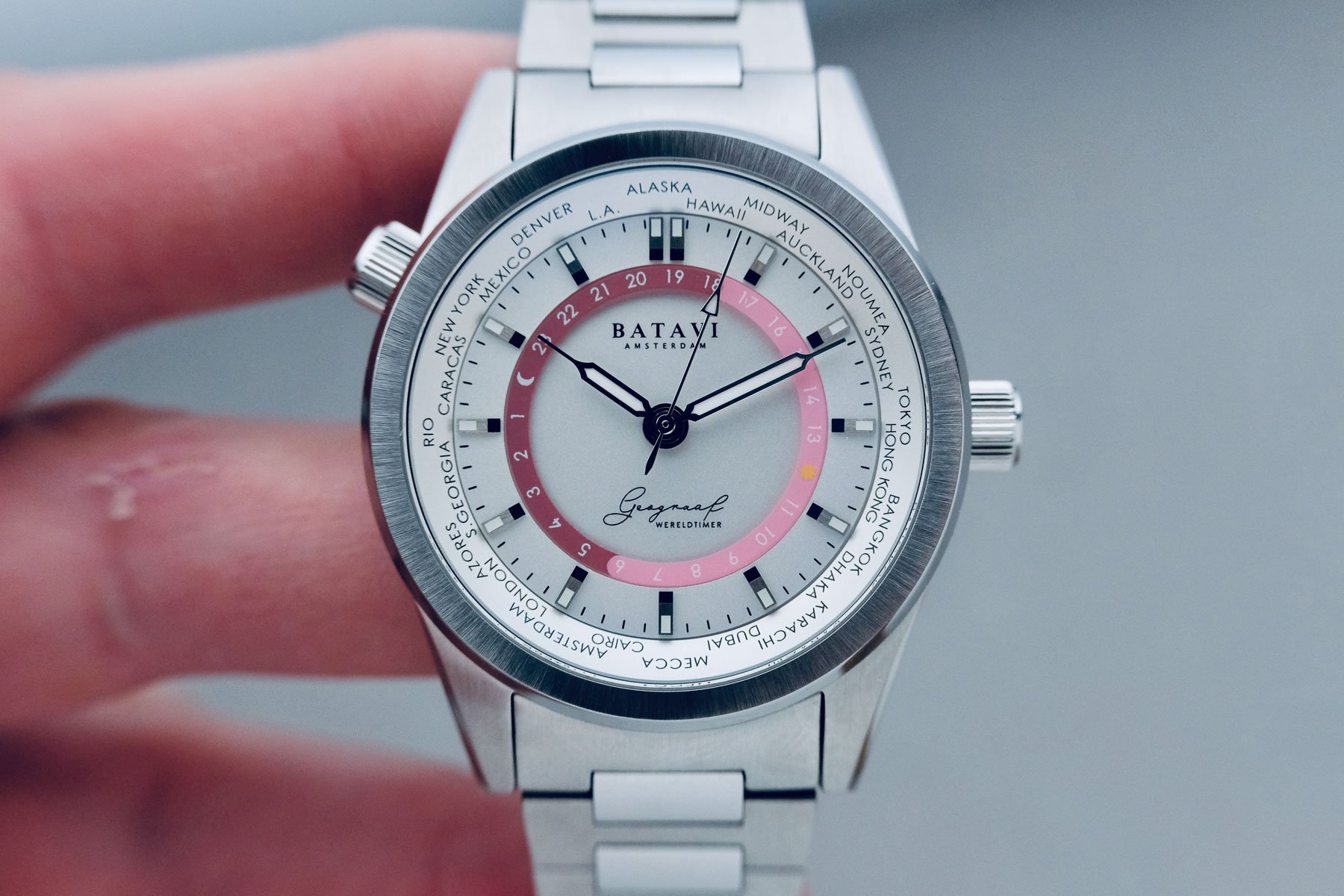 Batavi Geograaf
Batavi is a brand I only came across recently, but boy, I'm glad I did (yes, I know you guys are probably already familiar with it). Based in the Netherlands, Batavi designs watches that are different and that don't come with an outrageous price tag. Our very own Nacho wrote about the Geograaf a while back, so I will spare you the nitty-gritty details. The elephant in the room is the GMT scale on the Geograaf. Rather than a bezel, it inhabits a disc in the middle of the dial that rotates both ways. There is an additional 12-hour scale (or 24-city ring) on the inner rotating bezel, which you can adjust with the extra crown at 10 o'clock. 
The Geograaf has modest proportions with a case diameter of 39mm, a lug-to-lug of 48mm, a thickness of 12.9mm, and a lug spacing of 20mm. It also features a no-date version of the Soprod C125 movement. Batavi has a knack for offering fresh color combinations for all of its collections. This version has a white theme and a dual-tone purple/pink GMT ring, which looks great in pictures but even better in person. The Geograaf retails for €729 or €749, depending on which color you go for. That's a true bargain if you ask me. 
Most of the Batavi Geograaf color variants are available for immediate purchase, and the others are available for pre-order.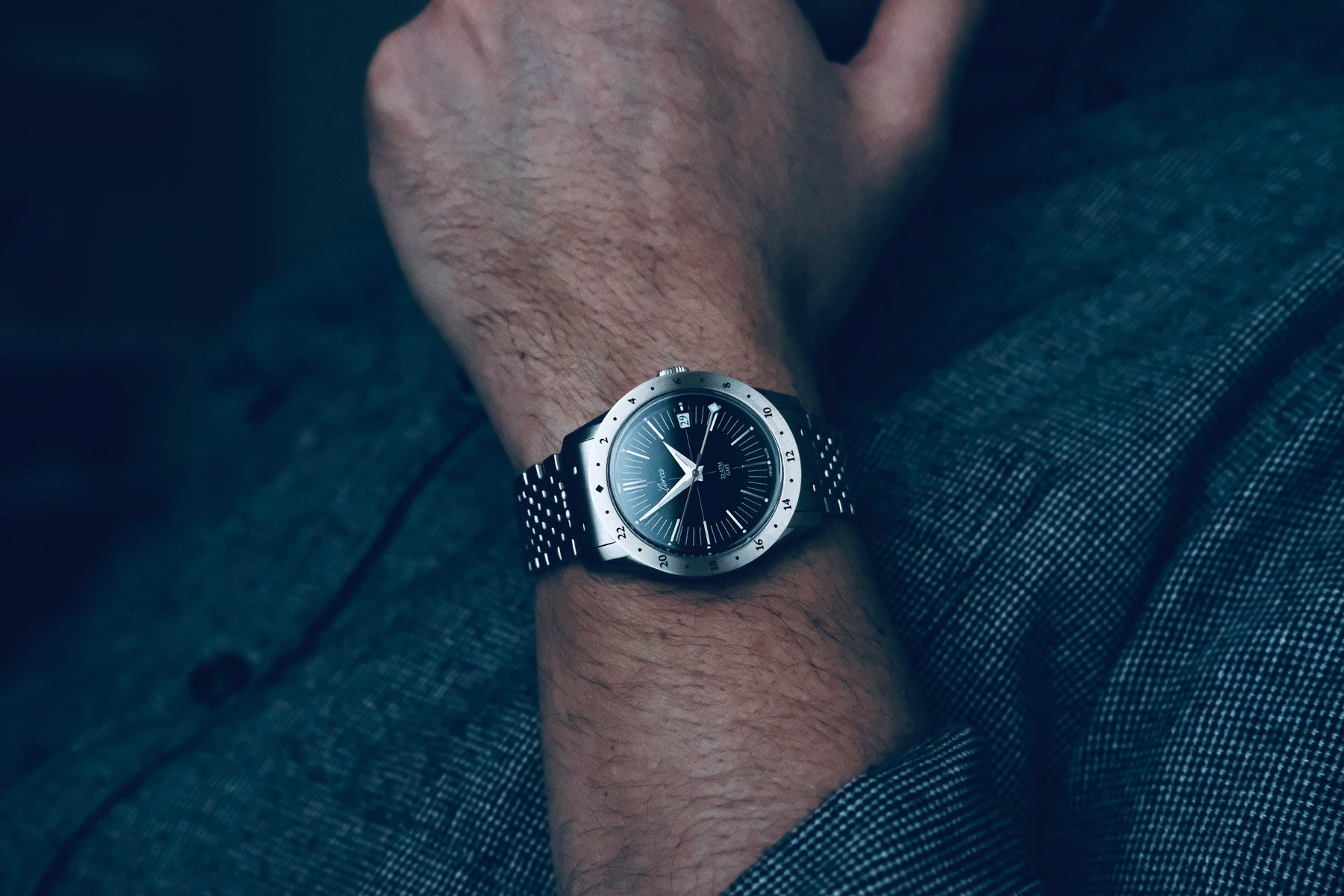 Lorca Model No.1
If you were to ask me if I have one or two favorites on this list, I would be lying if I said that I didn't. I have a special crush on the Traska Venturer (in the next installment) and the Lorca Model No.1. Nacho reviewed the latter back in March, and I believe he shares my sentiment. Alongside the Serica 8315, the Lorca Model No.1 changes the GMT landscape. I'd even say it completely transforms it as it provides us, GMT-obsessed collectors, with a very different and fresh horological experience. There is a certain X factor about the Lorca that sets it apart from many other GMTs. I believe it has to do with its reasonable dimensions and impeccable design. 
To remain somewhat objective here, let's go over the specs. The Model No.1 measures 36mm in diameter, 44mm from lug to lug, and 11.2mm thick, with a 19mm lug spacing. Powering the watch is the Soprod C125 R4 caliber, regulated to run at ±4 seconds per day. It has a sapphire crystal, 200m water resistance, an IWC Mark XII-style bracelet, and a lacquered dial. Not only is it legible with its dauphine hands and brushed applied markers, but the watch is also incredibly comfortable to wear. It has a strong vintage yet modern vibe thanks to the script typeface on the GMT scale and date disc. 
It retails for $1,750 from Lorca's website and will be back in stock in November 2023.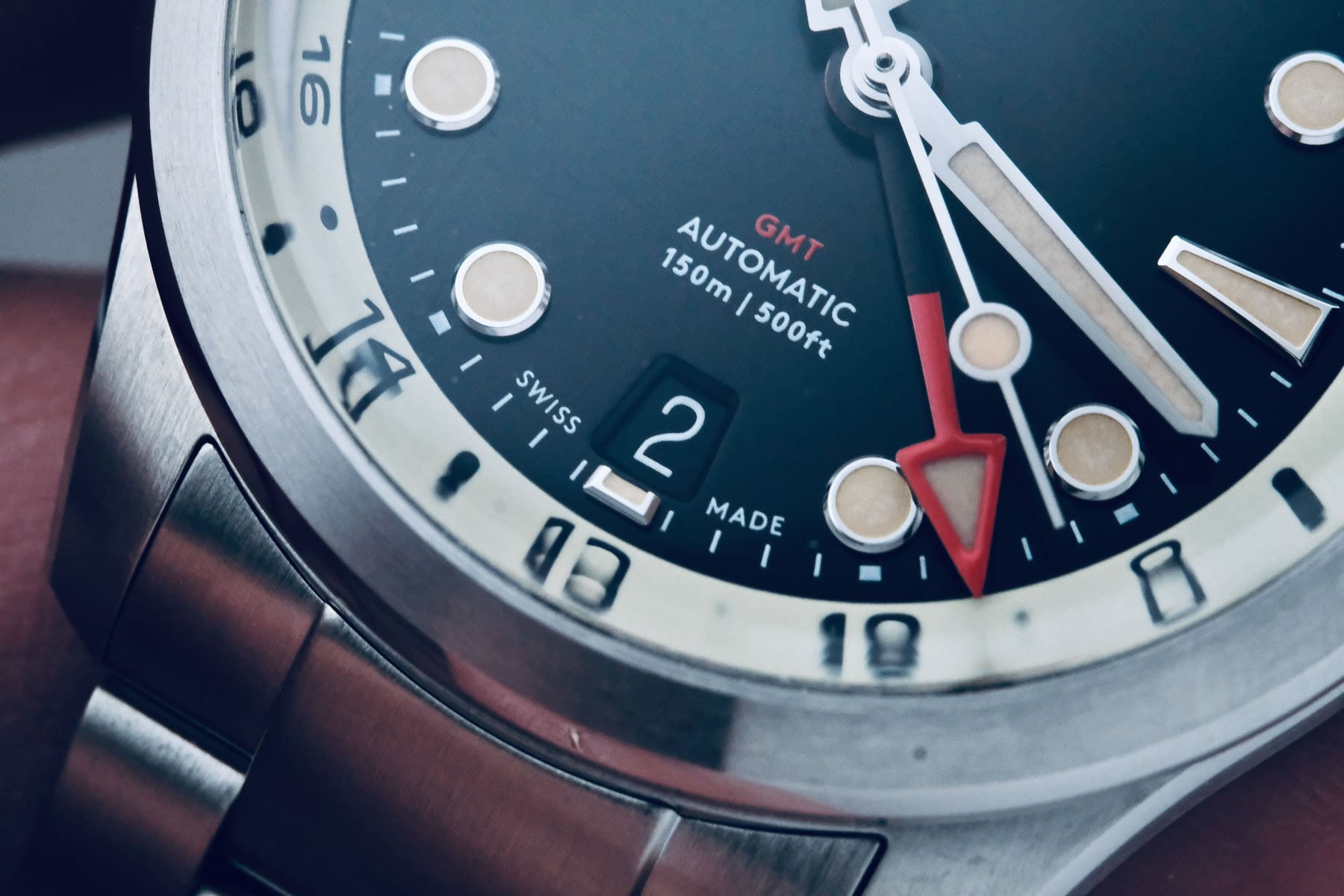 To be continued…
Today, we took a look at eight small-brand GMT watches ranging from $449 to $1,750. As mentioned, these watches all use either the Seiko NH34 or Soprod C125, which are caller GMT movements with an adjustable 24-hour hand. Next time, we'll discuss eight other watches that use the Miyota 9075 or Sellita SW330-2. While the latter is a higher-end caller GMT, the former is a highly desirable flyer/traveler GMT with an adjustable local-hour hand. Yes, exciting stuff lies ahead, Fratelli! Keep your eyes on Fratello next week to read the second part of this guide to independent/microbrand GMTs.
And while you're waiting, let us know in the comments what watch from today's list resonates with you the most and why!