The Ultimate Guide To Independent/Microbrand GMT Watches: Part Two — Eight More Options For Less Than $2,500
In the market for a reasonably priced GMT? Look no further!
Welcome back, Fratelli! Today, I'm back with the second half of my guide to independent and microbrand GMT watches. As I said in Part One, it wasn't possible to include every option out there in this list. Instead, I've chosen to highlight some of the best that I've had a chance to experience in person. The amount of options available on the market today is overwhelming, so I hope this guide will help you navigate the sea of GMTs.
If you missed Part One, I highly recommend that you read it here. In it, I covered eight watches that utilized either the Seiko NH34 or Soprod C125 movement. This article will feature eight more watches powered by the exciting new Miyota 9075 traveler's GMT or the Sellita SW330-2. As with the last list, the dollar sign ($) will always indicate US dollars, but prices quoted will be in the respective brands' default currencies, excluding local VAT/taxes (unless otherwise specified). Now, without further ado, let's jump right into it with one of my favorites and a value proposition if there ever were one — the Jack Mason Strat-o-timer.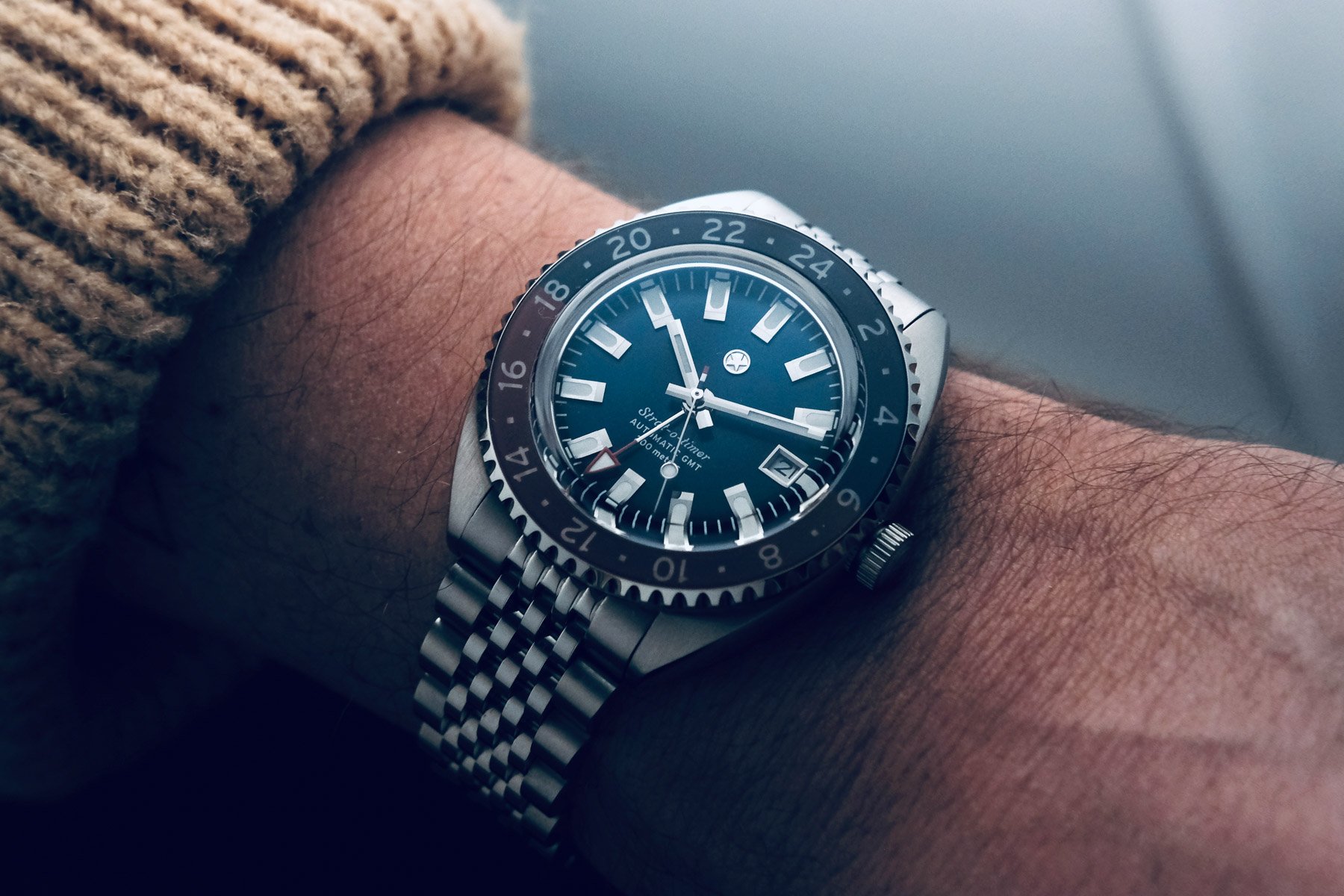 Jack Mason Strat-o-timer
The Jack Mason Strat-o-timer created a lot of buzz when it was announced at last year's New York City Windup Watch Fair. Indeed, it is one of the very few independent/microbrand GMT watches that use the Miyota 9075 caliber. Many enthusiasts call this a "traveler's" or "true" GMT movement, meaning that the 12-hour hand jumps in one-hour intervals, not the GMT hand. This is reminiscent of the much pricier Rolex GMT-Master II and Tudor Black Bay GMT. Considering that the Strat-o-timer retails for $999, it is quite a bargain for what you get. In my view, Jack Mason — along with Traska and Nodus — is redefining value in horology.
The Miyota 9075 sits within a tonneau-shaped case measuring 40mm in diameter, 47mm from lug to lug, and 13mm in thickness. The Strat-o-timer comes with a 200m water resistance rating thanks to a screw-down crown and case back. What's more, this model has a sapphire crystal on both the front and the back. The hour markers are applied and filled to the brim with lume, and the seven-link bracelet comes with a toolless micro-adjust clasp. Last but not least, the bracelet has quick-release spring bars and measures 20mm wide between the lugs. Phew.
The Jack Mason Strat-o-timer is currently available for pre-order.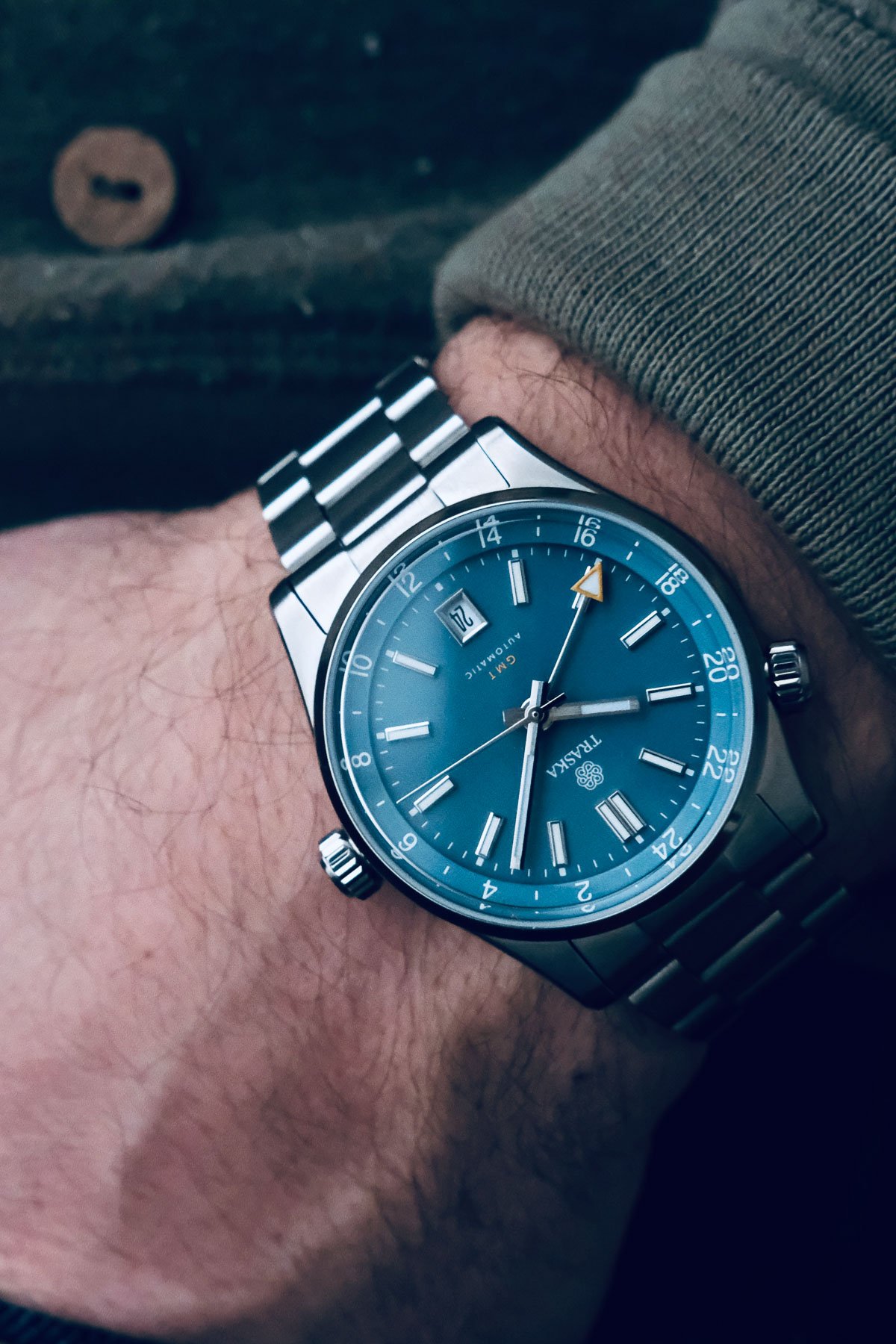 Traska Venturer GMT
The second model on this list to get the Miyota 9075 caliber is the Traska Venturer GMT. Released in late 2022, the Venturer GMT retails for $695, making it the best-value GMT out there. Yes, I know that is a subjective statement, but let me explain. The Venturer measures 38.5mm in diameter, 46mm from lug to lug, and 10mm in thickness. This means it wears nicely on my 16cm (6.25″) wrist. Furthermore, the three-link Oyster-style bracelet tapers from 20mm at the lugs to 16mm at the clasp. These are quite nifty dimensions, aren't they?
However, to claim some kind of "Best-Value GMT" award, we should go through the rest of the specifications. The crystal is of the box-sapphire variety, displaying slight distortions at the edges. The hour markers are applied and come with generous layers of lume, as do the diamond-cut hands. In addition, the case and bracelet are coated with a proprietary hardening compound, meaning they are very difficult — if not impossible — to scratch. This and the hand treatment make the Venturer GMT a robust piece of horology that is ready for any adventure.
The Traska Venturer GMT is currently out of stock, but it will hopefully be available again soon.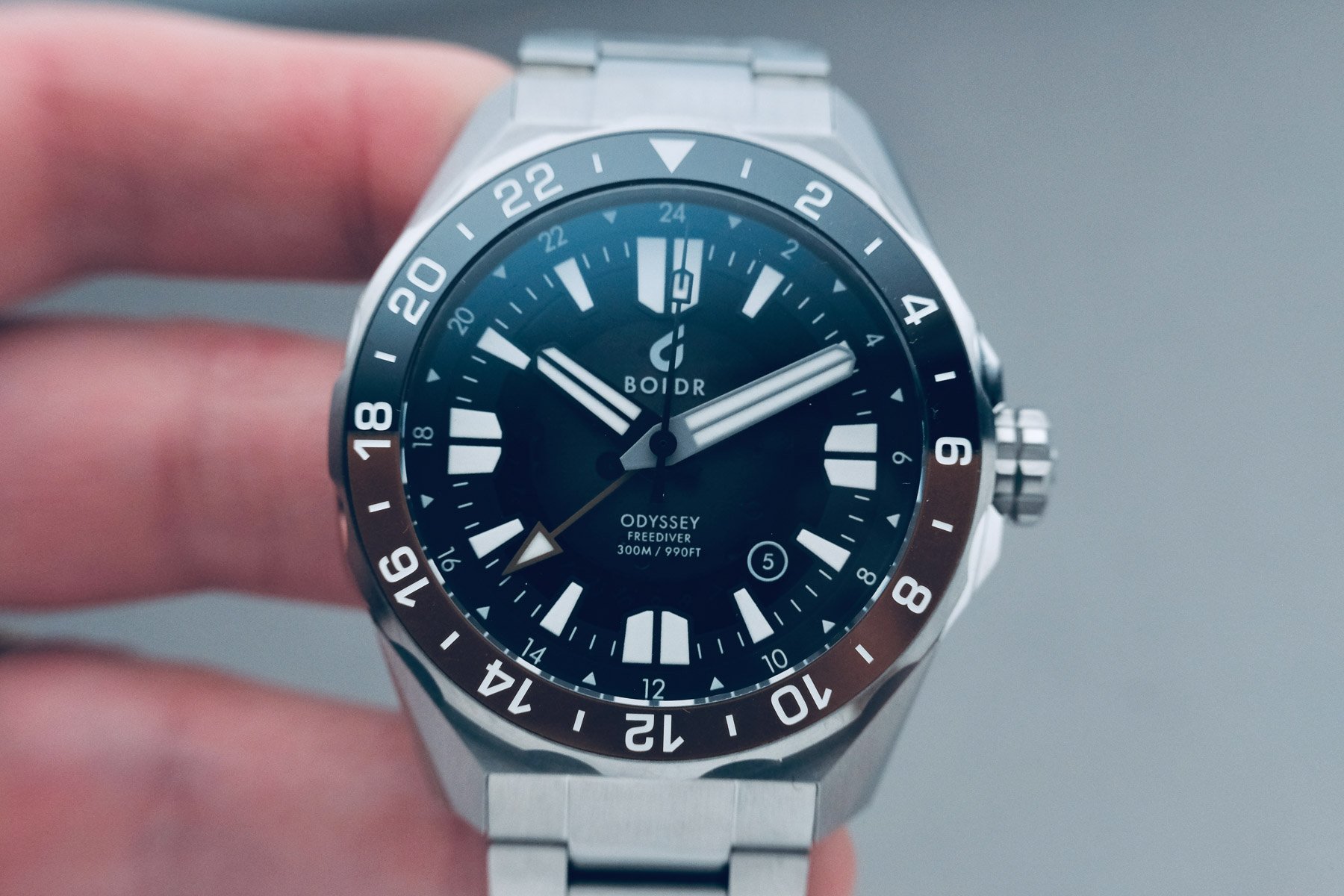 Boldr Odyssey Freediver GMT
You guys know Boldr, right? The cool brand that makes sporty and durable watches for just a small sum of cash? Well, recently the brand released its own GMT with the Miyota 9075 caliber, the Odyssey Freediver GMT. This beast comes with a case 44mm in diameter, 52mm from lug to lug, 12.5mm thick (excluding the crystal,) and 22mm between the lugs. It is not for the faint of heart, but it certainly is rugged. The watch boasts a 300m water resistance rating, a sapphire crystal, and a robust bracelet. It is also endowed with a thick application of BGW9 lume that glows brightly with an ice-blue hue.
From a design standpoint, it comes with a geometric, sharply angled case and a bold(r) handset. Reading the time is a breeze thanks to how large the dial opening and the hands are. The large dial is contrasted by a thin two-tone 24-hour bezel insert and a rather discreet GMT hand. The black seconds hand disappears from the dark dial and its fumé center portion. Last but not least, the massive screw-down crown has the knurling of the tire of a monster truck. Really.
The best part is that the Boldr Odyssey Freediver GMT retails for $899 and comes with an additional FKM rubber strap with quick-release spring bars. It is available for immediate purchase.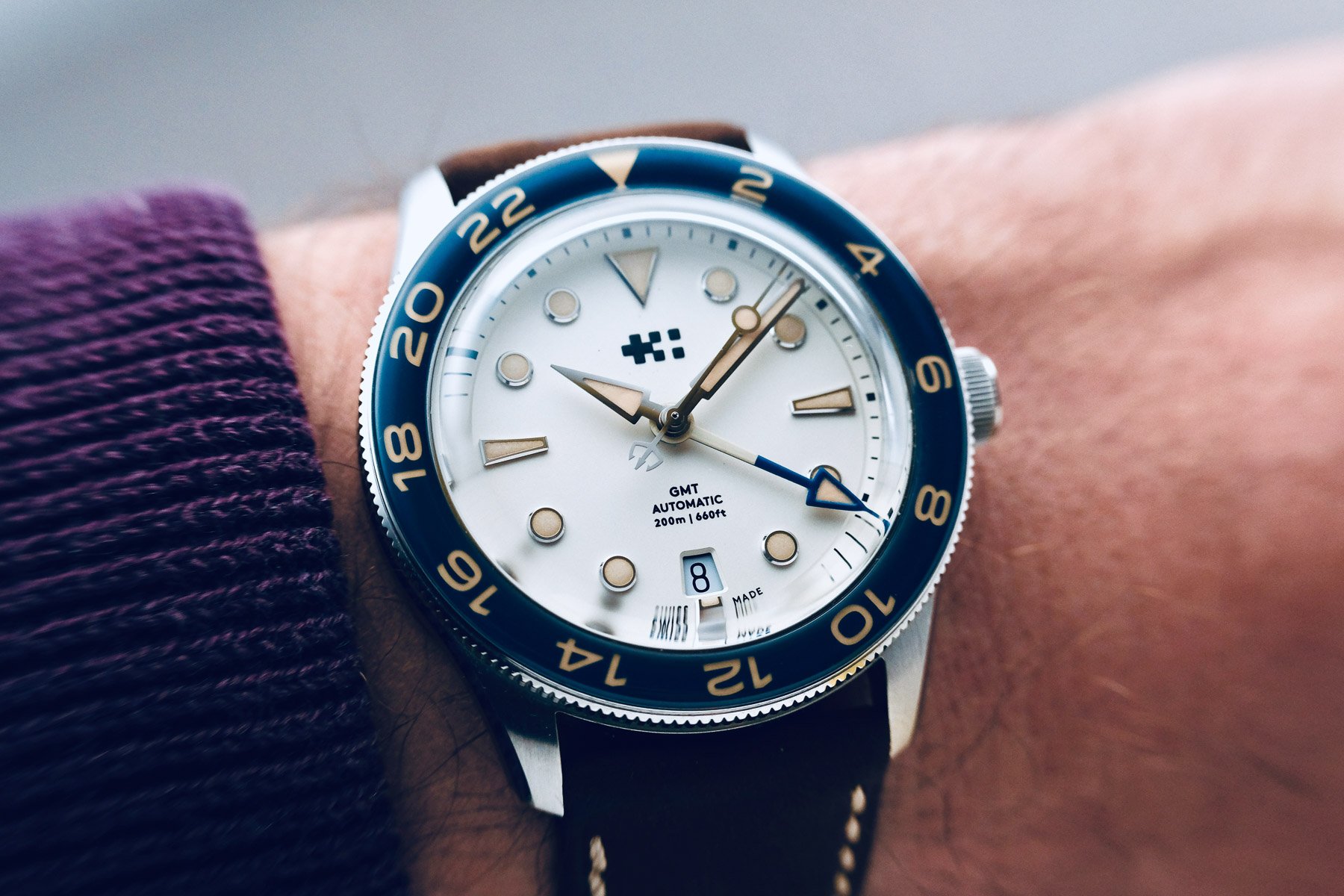 Christopher Ward C65 Aquitaine GMT
Christopher Ward is another brand you are most likely familiar with. I wanted to mention two of its most recent GMTs that come from two different collections. The first one is the C65 Aquitaine GMT released in mid-2022. Tomas wrote a full review of this beauty, which you can read here. The second is the C65 Dune GMT. The former is one of the most accomplished CW designs to date (another subjective opinion here) as it was the first model to present a different dial layout. One will find the now iconic Christopher Ward arrow handset coupled with variously shaped applied hour markers. It features an inverted triangle at 12 o'clock, trapezoids at 3 and 9 o'clock, and circular markers everywhere else.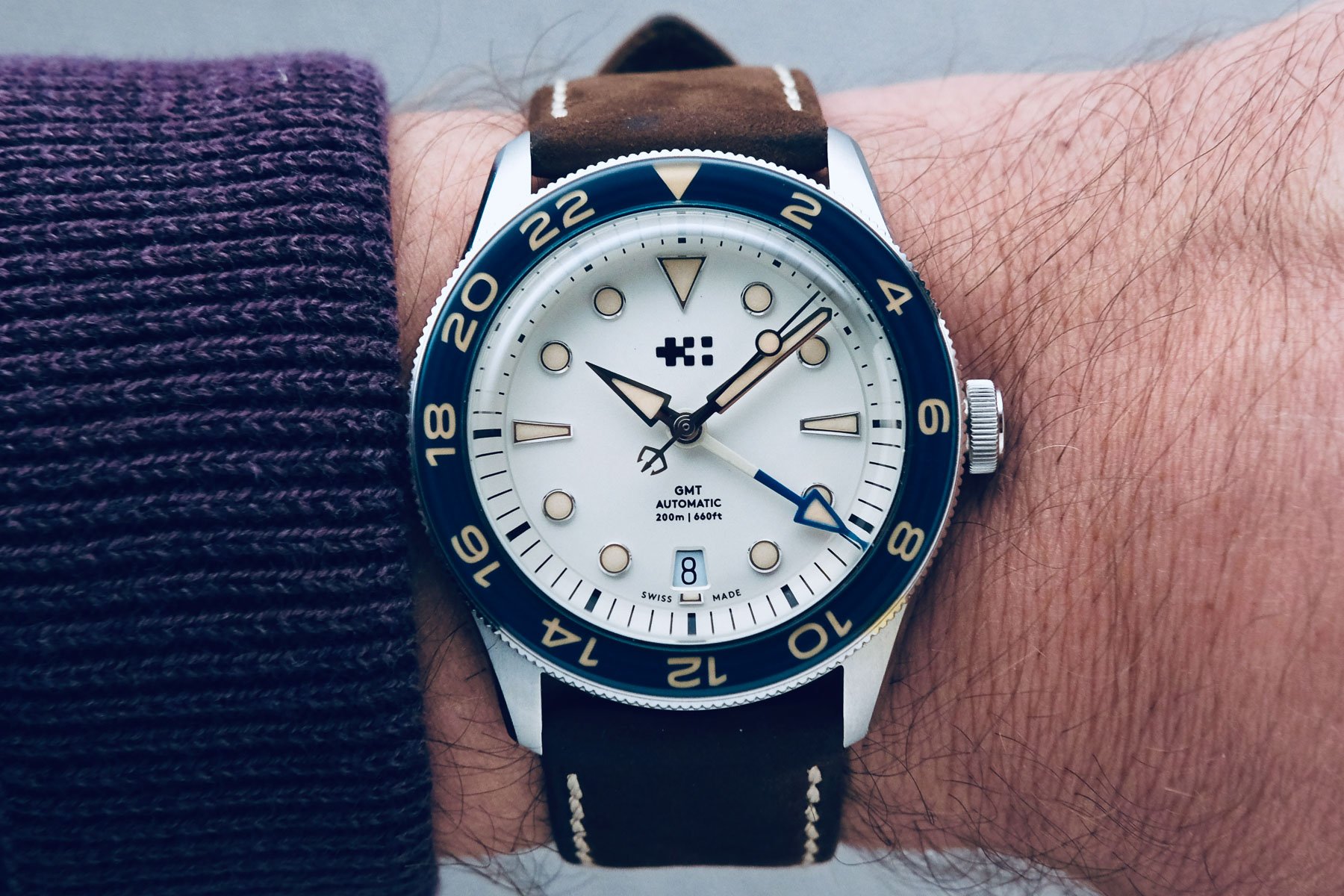 Dimensions-wise, the Aquitaine GMT has a case diameter of 41mm, a lug-to-lug of 46.68mm, a thickness of 12.70mm, and a lug spacing of 22mm. It is powered by the Sellita SW330-2 "caller GMT" caliber, which beats at 28,800vph (4Hz) and has a 56-hour power reserve. For this collection, Christopher Ward updated the design of the Light-catcher case to make it thinner and sleeker. As is often the case with CW, the Aquitaine GMT can be had on rubber, leather, or steel. And also comes with either a cream dial with a blue bezel or a black dial with a black bezel. It will set you back between $1,410 and $1,595 depending on which color/strap option you choose.
The Christopher Ward Aquitaine GMT is available for immediate purchase from the brand's website.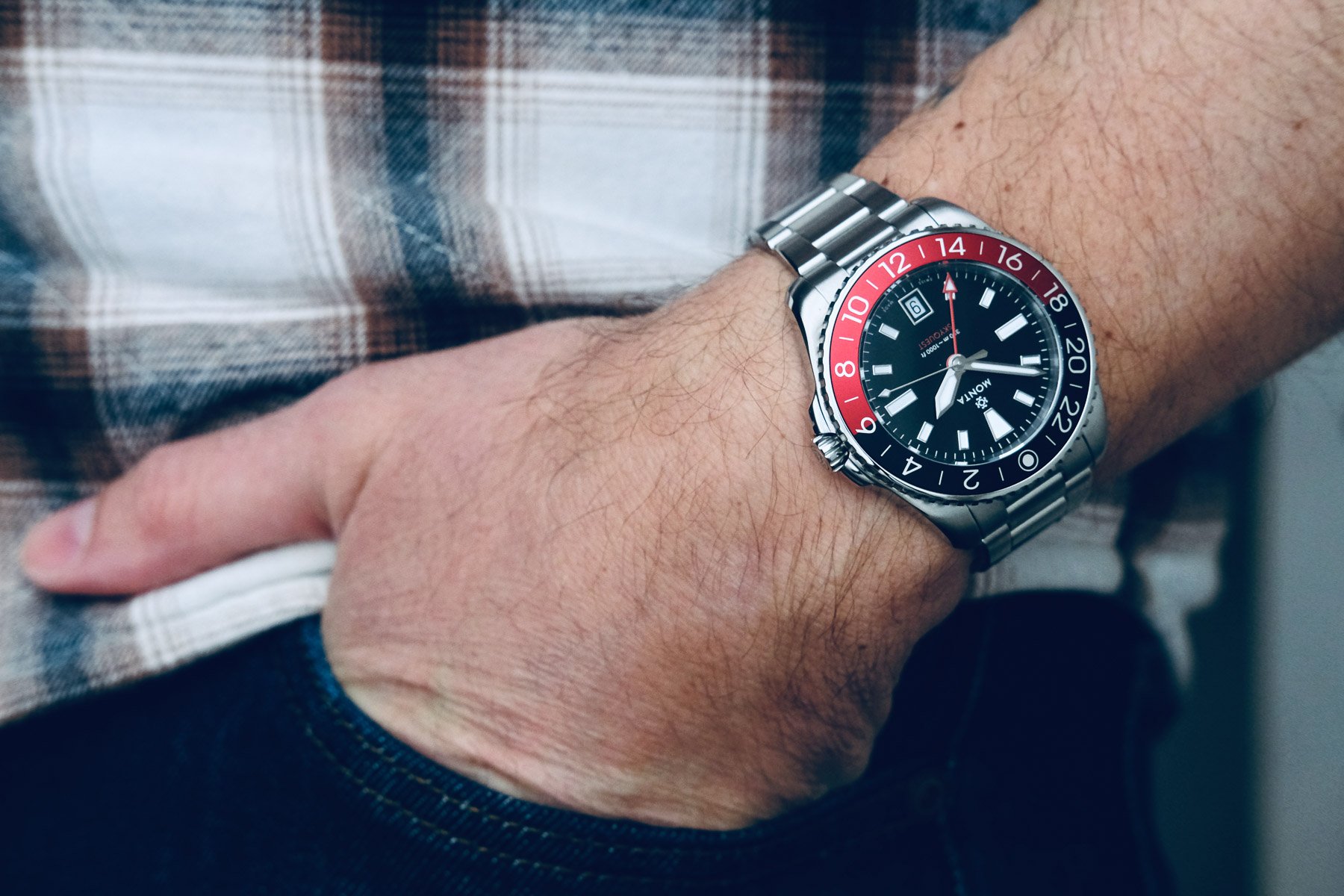 Monta Skyquest (2022)
Monta is another brand you should be familiar with as it has been covered extensively on Fratello. And this is for a good reason. Monta offers well-made watches with unique designs and jaw-dropping specifications. In late 2022, the brand announced a new version of the Skyquest, one that is stripped down and more imbued with everyday pragmatism. Here, I'm referring to the full redesign of the dial, the ditching of a second 24-hour scale, and a sportier look. Coming in at $2,470, the Skyquest is the most expensive watch on this list. However, it is probably also the best made (yes, I said it).
It is powered by the Sellita SW330-2 and comes with a case measuring 40.7mm in diameter, 47.4mm from lug to lug, and 11.8mm thick. These precise measurements indicate that Monta tried to make the Skyquest as compact as possible without skimping on quality. It has a 300m water resistance rating, rhodium-plated and diamond-cut hands, and a flat sapphire crystal. The Skyquest is also equipped with the brand's reputable three-link bracelet, which comes with screwed links and a toolless micro-adjust clasp.
The Monta Skyquest is available for immediate purchase from the brand's website. Oh, and Mike wrote a great hands-on review of the Skyquest here.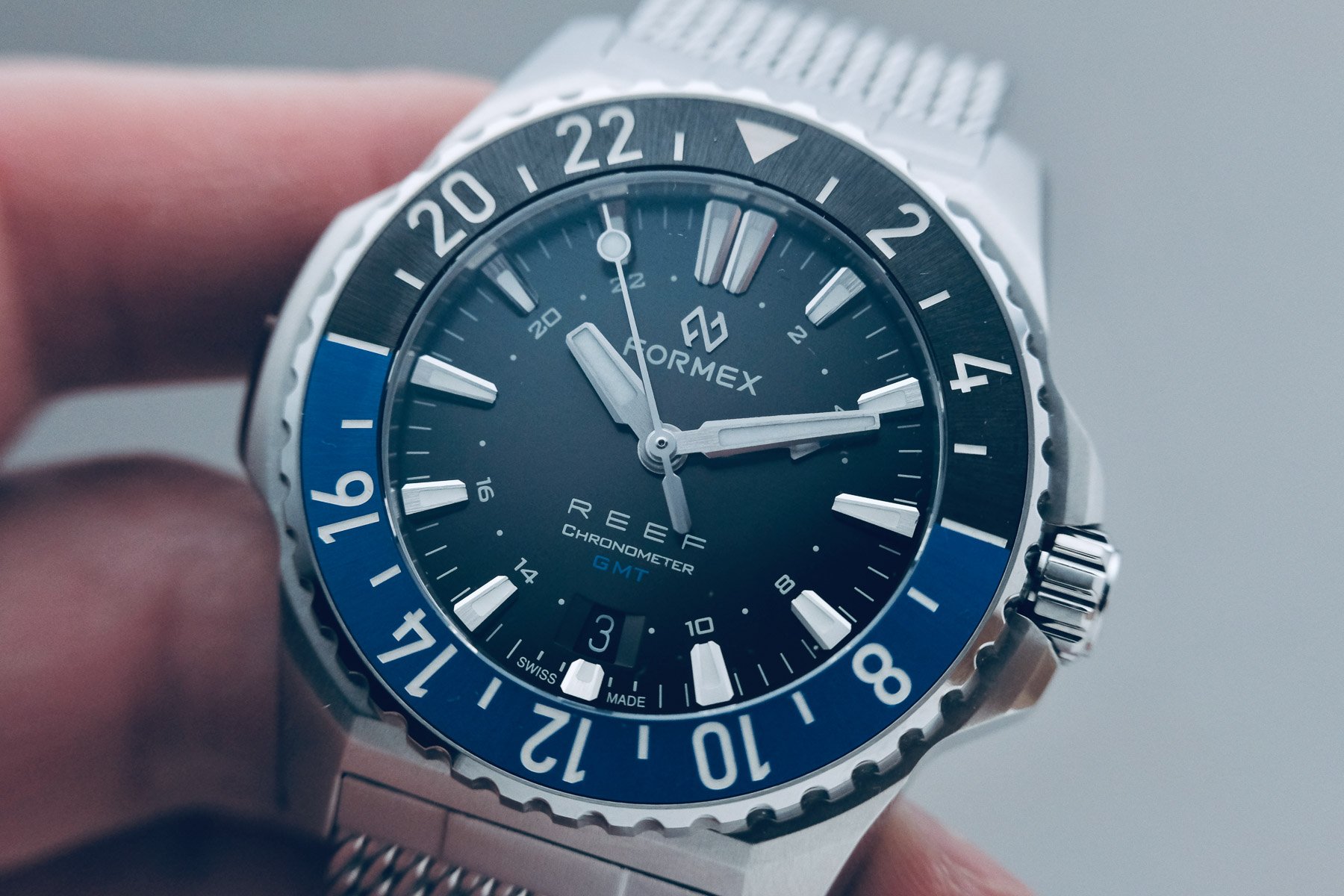 Formex Reef GMT
Formex is another brand that needs no introduction here. And I would refer you to Thomas's excellent article for a full hands-on review of the Reef GMT. Formex has a reputation for coming up with great new technological solutions, including toolless micro-adjust clasps, the case-suspension system seen on Essence models, and quick-swap bezels. There's a lot to love about Formex. The Reef GMT is no different as it comes with impeccable finishing and a distinct and sporty bad-boy look. Not to mention the incredible specifications for a comparatively reasonable price tag of CHF 2,150 (that's for the most expensive option on the mesh bracelet.)
The Reef GMT's case measures 42mm in diameter, 47mm from lug to lug, 11.4mm thick, and 22mm between the lugs. It houses the COSC-certified Sellita SW300-2, making the Reef the only certified chronometer GMT on this list. Based on the Reef chassis, the GMT boasts a 300m water resistance rating despite having an exhibition case back. If you don't care for bracelets, you can choose a leather or rubber strap that comes with a carbon fiber deployant clasp. And yes, you can buy additional bezels to change things around.
The Formex Reef GMT is available for immediate purchase from the brand's website.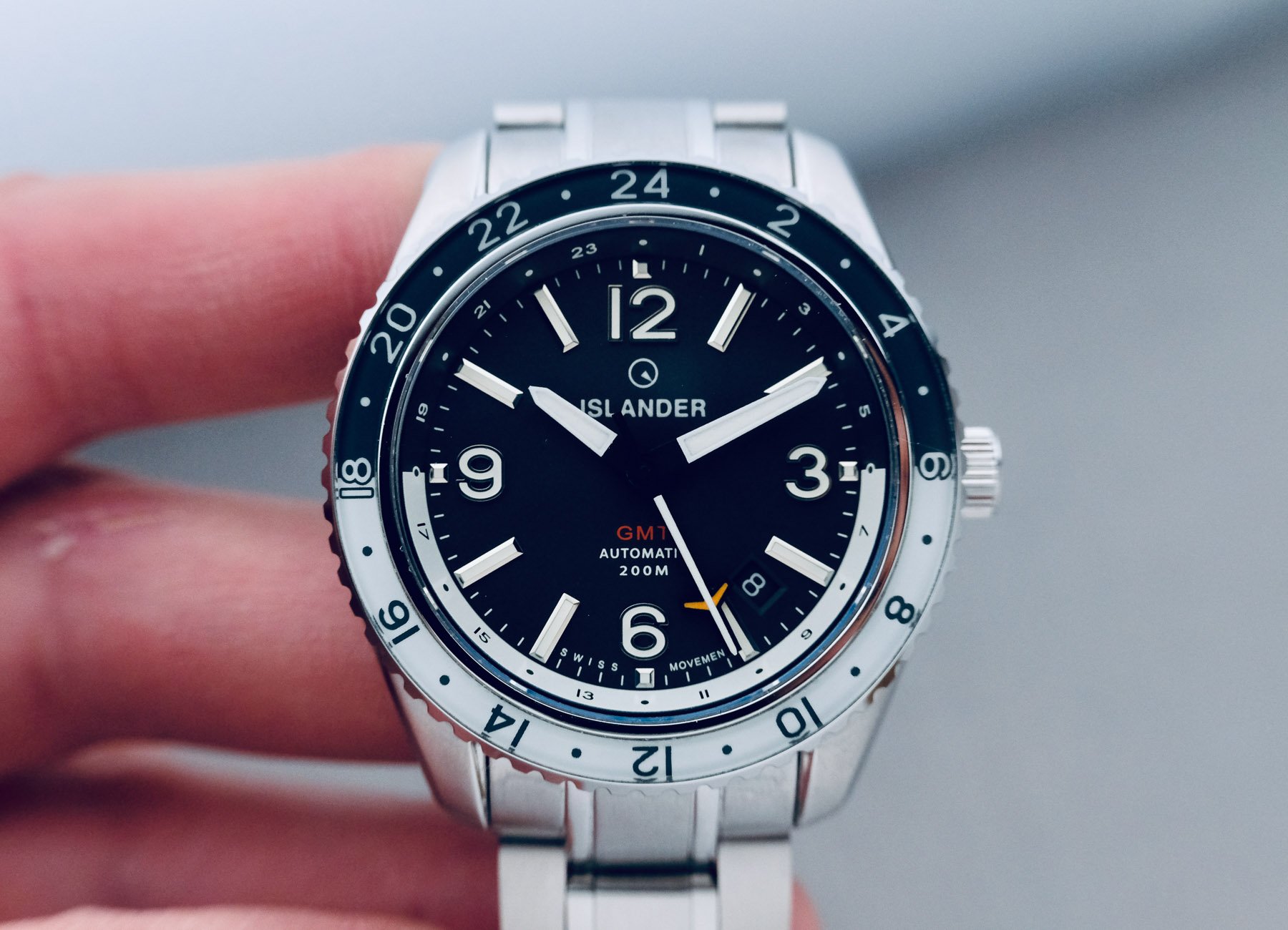 Islander Republic GMT
Islander is a brand that has never been featured on Fratello before. It is related to Long Island Watch, a popular online watch retailer based in Long Island, New York. Marc, the owner, started by making homages to Seiko and Rolex watches — some, almost 1:1 copies — but eventually started making new designs. This is perhaps why Islander has never been featured here before. Today, we're going to change that. The model in question is the Republic GMT, which houses the Sellita SW330-2 caliber. Its case measures 40mm in diameter, 46.5mm from lug to lug, 12mm thick, and 20mm between the lugs.
The Republic comes with two 24-hour scales — one on the rehaut and another on the bidirectional bezel with a sapphire insert. Sapphire is also found in the crystal, and coupled with a 200m water resistance rating, the Republic is a robust timepiece. Looks-wise, the Republic comes with obelisk-shaped hands, Arabic numerals at the 12, 3, 6, and 9 o'clock positions, and a matte black dial. The GMT hand has a tip in the shape of a plane and is lumed. Lastly, a date is nestled at the four-thirty position. The Republic retails for $695, making it the third-most affordable option on this list.
The Islander Republic GMT is available for immediate purchase from the brand's website.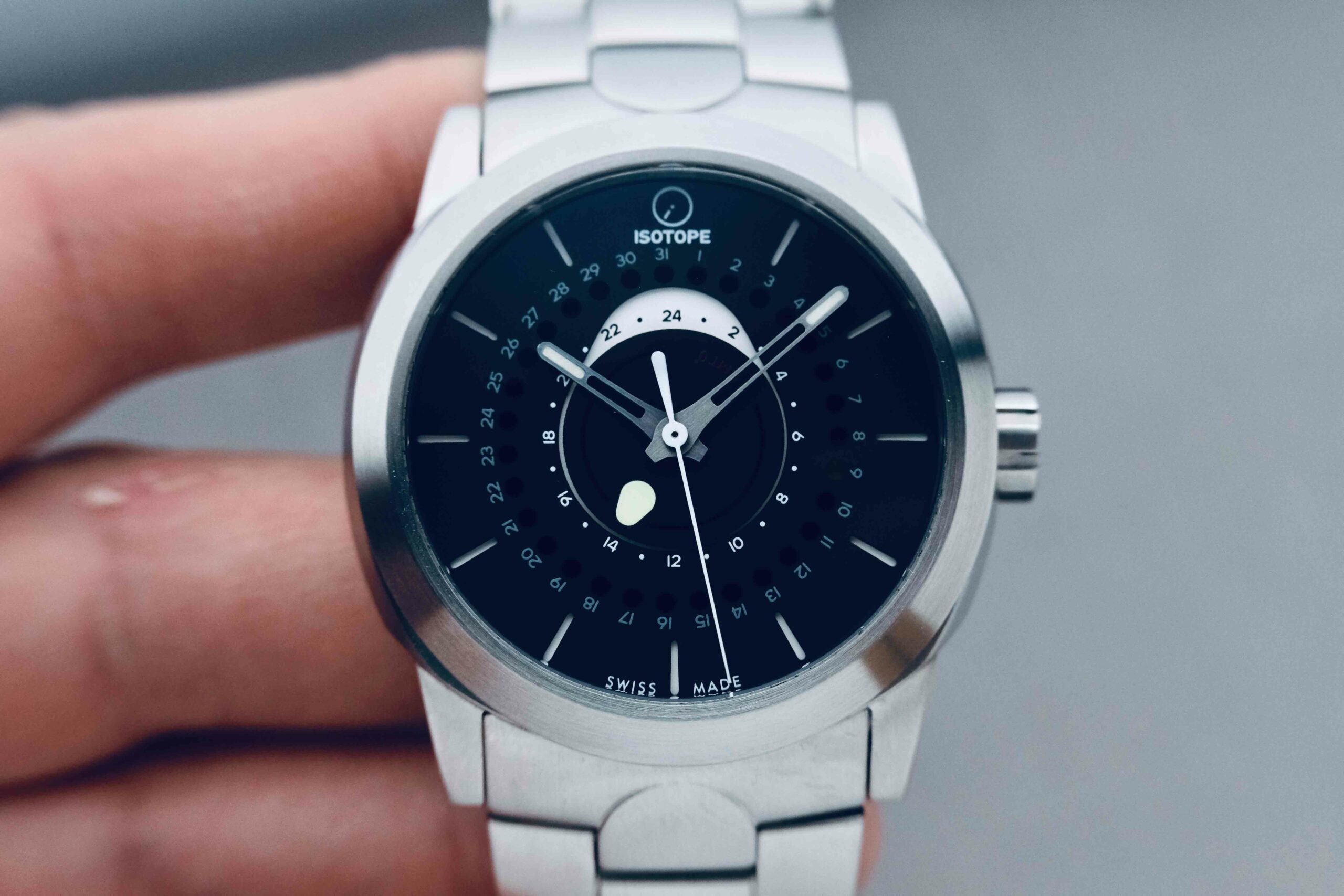 Isotope GMT 0º
Last but not least, let's talk about Isotope. The brand has been routinely featured on Fratello, and this is for a good reason. The designs are unique and the specifications are good. I actually wrote about a limited-edition GMT 0º Terra Maris a while back. I was enamored by the brand's unique approach to displaying a GMT scale. Indeed, the GMT scale is indicated by a tear-drop-shaped central element (which the brand calls the Isotope Lacrima) and a disc that rotates. This tucks away the GMT function, although it remains legible whenever necessary. The date is also indicated via perforated holes outside of the GMT scale and a red dot indicating the date.
The Isotope GMT 0º houses either a Swisstech or Landeron GMT caliber. It sits in a case measuring 41.5mm in diameter, 44.7mm lug-to-lug, and 14.2mm thick. Although its dimensions might not indicate this, the case is quite massive and has a unique profile, lots of sharp angles, and tiny details. For once, I do not mind the larger case because it's just so cool-looking. The Isotope GMT 0º also comes with a semi-transparent case-back, the crystal of which is shaped like the GMT disc on the dial. The regular version retails for £967.
The Isotope GMT 0º is available directly from the brand's website.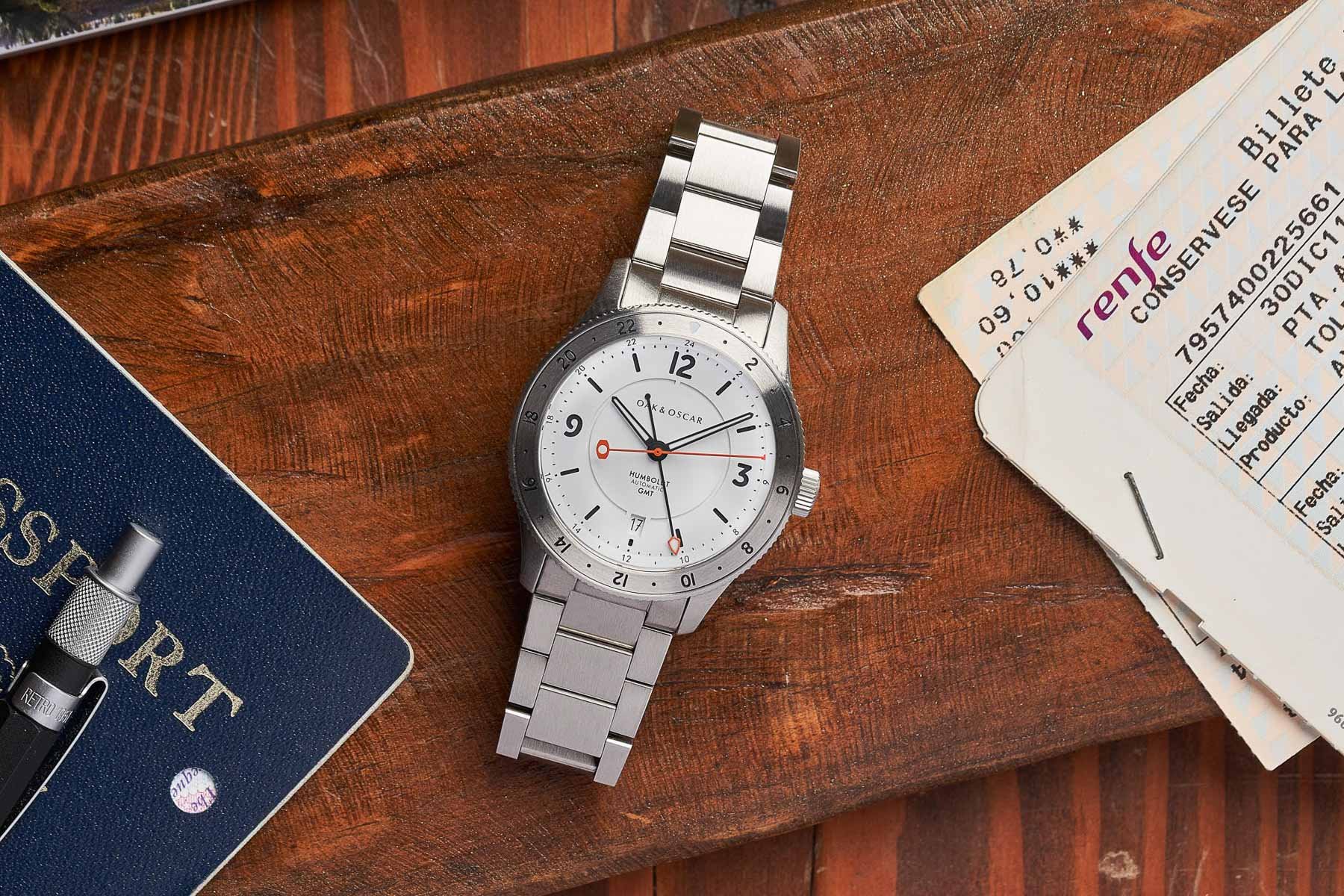 Honorable mentions
Though I couldn't get my hands on these watches, I did want to encourage you to research them. First is the Oak & Oscar Humboldt GMT (actually, I briefly handled it at the Windup Watch Fair). Then there are the Foliot Stratonaut GMT, the Zelos Horizon GMT (although currently sold out), and any Farer GMT (for example, the GMT Bezel collection and the GMT series). I also find the Phoibos Voyager GMT and the Venezianico Neireide GMT intriguing. Of course, please list more GMTs in the comments below so that I can get my hands on them and write a review for the Fratello community!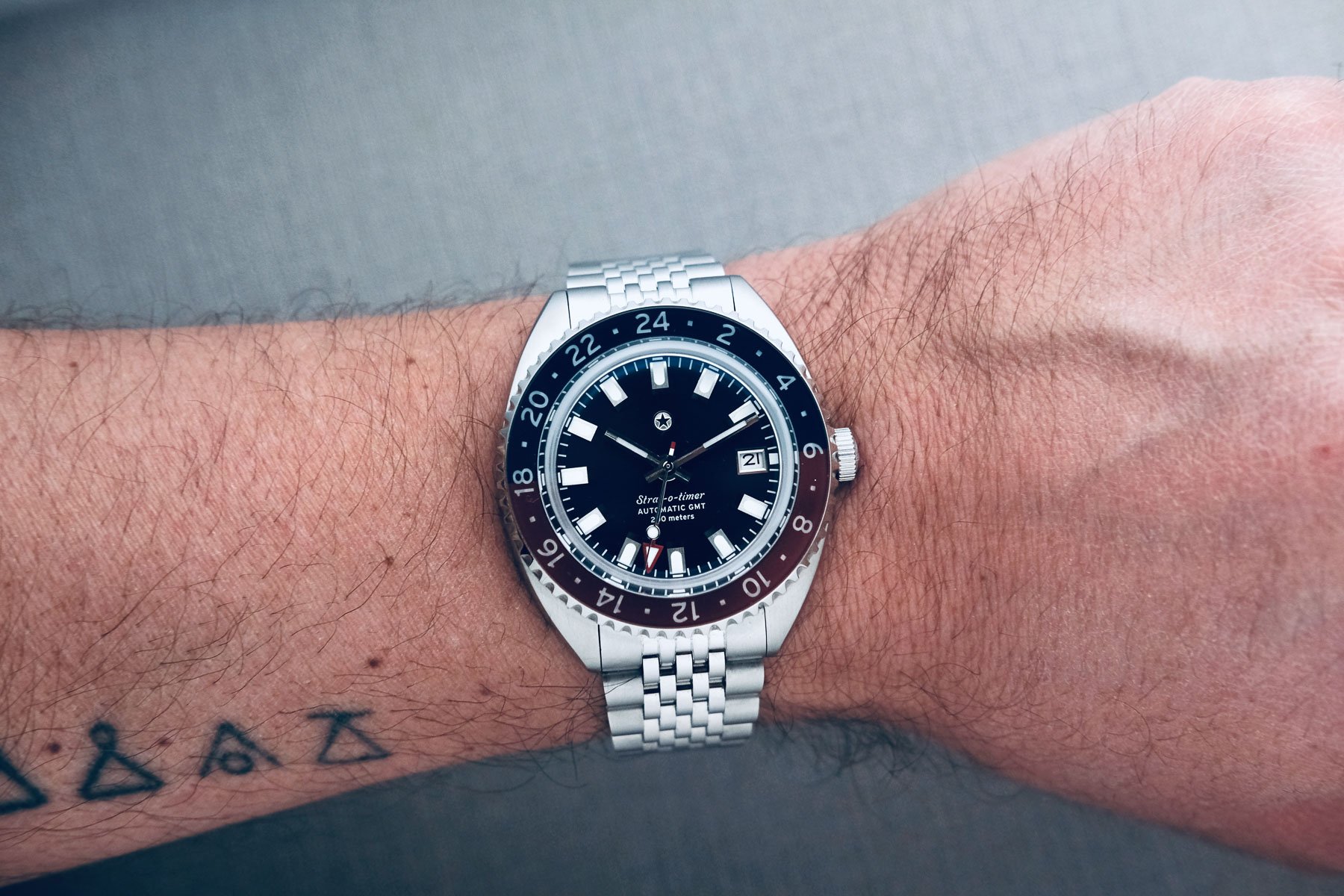 Final thoughts
If you have made it to the end of this two-article series, then you are a true watch nerd and GMT aficionado like me. I sincerely appreciate the time you spent reading these articles and going through this list of 16 GMTs. As mentioned at the beginning of the first part — which feels like an eternity ago — I couldn't highlight all GMTs currently available on the independent/microbrand watch market. My rule of thumb is to only write, if possible, about watches that I've seen in the metal. And although it would have been outstanding to see more GMTs, I could only mention the ones I've experienced. As always, I value your feedback and comments. It is thanks to you that I can write about a watch I didn't know about before. And perhaps I will write another part in this series by adding new models that will be equipped with yet another GMT movement.
Do you have a preference among the eight models I highlighted this time? What features are essential for you in a GMT watch, and how much would you be willing to spend on one? Please leave your comments below.