Speedy Tuesday – My Top 5 Omega Speedmaster Watches
Since we started with Speedy Tuesday in 2012, we receive many e-mails from readers about advice on Omega Speedmaster watches. The content of these e-mails vary from questions to help us authenticate a vintage Speedmaster, give advice where to buy a Speedmaster as well as which models to go after. In the past, we did a Speedmaster Buyer's Guide series to give some pointers for those who are in the market for a Speedmaster. However, giving advice on which Speedmaster to buy is difficult, as there are so many different models and just as many differences in taste.
Top 5 Omega Speedmaster Watches
In this article I will give my personal Top 5 Omega Speedmaster watches, based on new or at least recent models. In another article I will list my vintage Top 5 Omega Speedmaster watches. In both overviews I will run by them one-by-one and explain why I picked these specific models.
1. Speedmaster Professional 'Moonwatch' Reference 311.30.42.30.01.005
This might surprise you, but when it comes to modern or new Speedmaster watches, I would buy a regular Omega Speedmaster Professional 'Moonwatch' above and before anything else. With a current official retail price of €4300 Euro for the current model with exceptionally large presentation box with two extra straps, a tool to change the strap and a loupe, it doesn't get any better. Up to €5000 Euro, this is my reference watch. In the pre-owned market you can find a modern Omega Speedmaster Professional 'Moonwatch' for below €3000 Euro (the previous reference 3570.50 model, with the standard red leather presentation box) which might be a good and affordable alternative. Some people complained to me that they thought the current Speedmaster Professional 'Moonwatch' has become too expensive, but I don't agree with them. Especially compared to the alternatives / competition, the Speedmaster Professional is one of the most friendly priced watches with this level of finish on the case, this caliber movement (Lemania based hand-wound caliber 1861) and iconic design. The fact that it has an unparalleled history and is still being used by astronauts (who ever doubted? :)) adds of course an extra dimension to the watch and makes you accept the Hesalite crystal (besides that it also has this nice magnifying effect). This is the watch to add to your collection (or to start your collection with), people. Definitely my first choice in the Top 5 Omega Speedmaster watches, regardless whether you opt for a brand new reference 311.30.42.30.01.005 or a friendlier priced pre-owned 3570.50.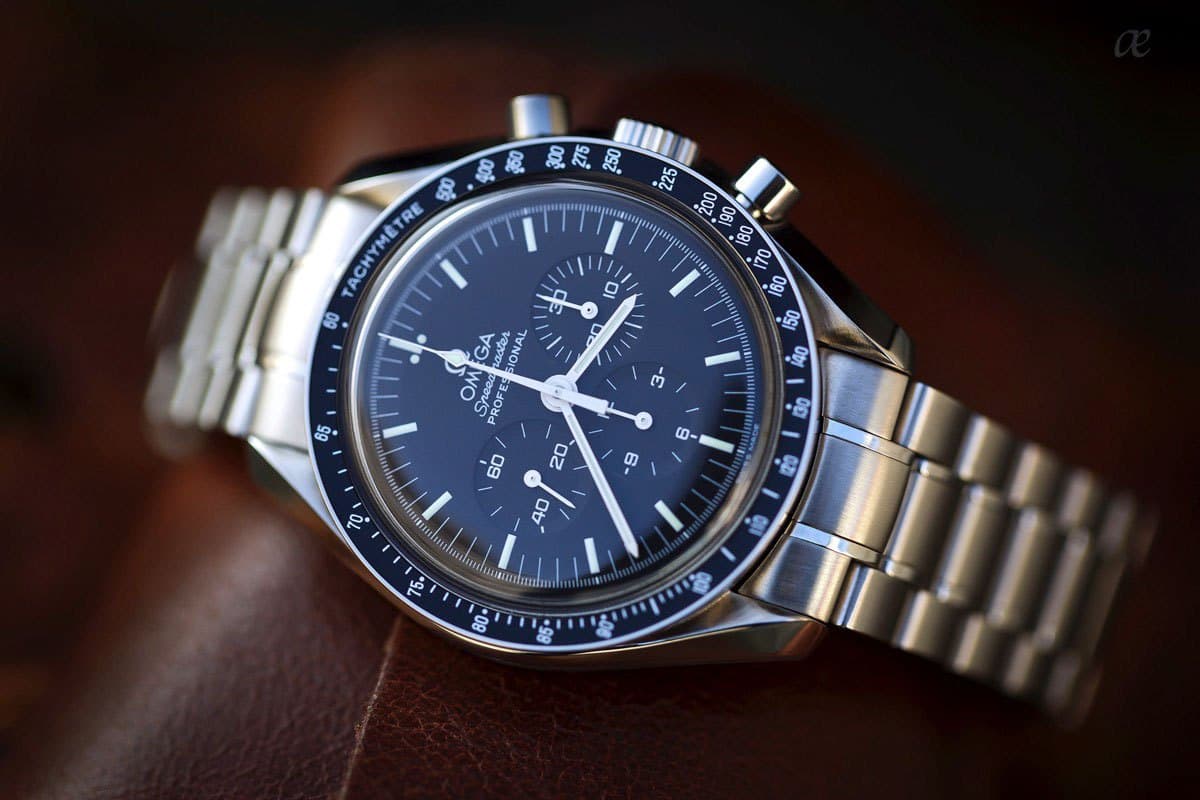 2. Speedmaster Professional Silver Snoopy Award Reference 311.32.42.30.04.003
Introduced at this year's BaselWorld: the Omega Speedmaster Professional Silver Snoopy Award, a limited edition watch to commemorate the nearly fatal Apollo XIII mission from 1970 where the Speedmaster chronograph played a crucial role. We've explained the exact role of this watch often in articles (here and here). Although I am certainly not a fan of every limited edition out there, this one is quite special. Not only the white dial makes it an interesting Speedmaster, but also the beautiful case back with dark blue enamel, sprinkled silver powder and the sterling silver Snoopy badge. Limited to 1970 pieces only, for obvious reasons. While it has not hit the stores yet (word is that delivery will take place from September to October), this €6000 Euro limited edition Speedmaster Professional will be quickly gone. You might want to check with your Omega boutique or authorized dealer whether there is still room on the waiting list for you. Based on the success of last year's Apollo XI limited edition in titanium with the Sedna gold bezel I will bet that the asking prices for these watches on the market will be much higher than the list price. A good alternative might be finding one of the previous Snoopy Award Speedmaster watches (2003), there are a couple of them on Chrono24 ranging from €5100 to €6300 Euro. The new Omega Speedmaster Professional Silver Snoopy Award comes on a nice soft strap and in a nice presentation box and a silver Snoopy lapel pin.
3. Speedmaster Professional Apollo 11 45th Anniversary 311.62.42.30.06.001
Perhaps the 3rd watch in my Top 5 Omega Speedmaster watches overview isn't very fair, as you can't get this particular model anymore through the official dealer network. They have sold out as far as I know and you need to search for non-authorized sellers that might have one in stock or get one pre-owned. Either way, asking prices for this particular model are around €7000 Euro (retail price was €5800 Euro at the time of introduction last year). Nevertheless, it is a beautiful modern interpretation of the Moonwatch, with a dark toned titanium case and a Sedna gold tachymeter bezel. The dial has been laser etched which creates a very nice stealth effect on the sub dials and writing on the dial. The gold hands and hour markers perfectly match with the Sedna gold bezel. Omega repeated the use of a Sedna gold bezel in this year's Speedmaster Dark Side of the Moon Sedna Black. The official Omega website still includes the product page of this Apollo XI 45th Anniversary model, click here.
4. Speedmaster Dark Side of the Moon Reference 311.92.44.51.01.003
Not a "Professional" on this 4th spot in my Top 5 Omega Speedmaster watches. The Omega Speedmaster Dark Side of the Moon seems to be a well accepted watch by both vintage Speedmaster die-hards as well by those who prefer modern watches. I have to admit that I was smitten by it from that first moment I saw it (in 2013), and I have to confess that the Dark Side of the Moon is one of the few watches that I found myself wearing for a long period without having the urge to change it for another watch to wear. Not only is the in-house developed caliber 9300 Co-Axial chronograph movement (click here for the report on our visit to the caliber 9300 assembly line) a milestone in Omega's watchmaking, also the black ceramic case and dial are very pleasing for the eyes. While the case of the caliber 9300 Speedmaster Dark Side of the Moon is 44.25mm, it wears a tad bit smaller due to the shape of the case and the domed sapphire crystal case back. The retail price of the Dark Side of the Moon Speedy is the highest in this Top 5 Omega Speedmaster watches overview, with its €9800 Euro, but still compared to the competition it isn't exactly overpriced. In the meanwhile, the Speedmaster DSotM has been on the market long enough now to be found in the pre-owned market as well. A pre-owned model can be picked up for below €7000 Euro. This watch could be your perfect every day watch due to its automatic movement, date feature and sapphire crystal.
5. Speedmaster Professional "Tintin" Reference 311.30.42.30.01.004
I will end my Top 5 Omega Speedmaster watches overview with a watch of which our previous coverage resulted in receiving a letter from the legal department from Moulinsart SA, the owner of the rights of Hergé. We wrote that this watch, that we nicked as the Speedmaster Tintin, was meant to be a commemorative model for the Tintin cartoon. The original prototype had a little rocket (from Tintin's Destination Moon comic album) printed on the dial at 11 o'clock. The owner of the Hergé rights however, refused cooperation with Omega on this watch. Plain silly, as I've seen the original prototype and loved it. However, this story makes the Speedmaster Professional "Tintin" a cool watch nevertheless, even without an official referral to 'Destination Moon'. The legal letter we received had to do with us showing a cover from the Destination Moon album in our original article. They even wrote us that it was forbidden to use the name Tintin in article without their written consent. In my personal believe, I think they are overly protective of the Hergé heritage, doing it more harm than good. Anyway, the Speedmaster Professional "Tintin" is still in the official Omega catalogue but word is that it is now really out of production. Due to the association with Tintin and the short production period, I believe that this might become a very collectible piece in a few years from now. Besides that, the red and white checkered outer ring on the dial adds a nice punch to the watch. Both Fratello Watches contributors Michael Stockton and Gerard Nijenbrinks own one of these and especially with a nice black leather strap (preferably with red stitching) the dial really stands out.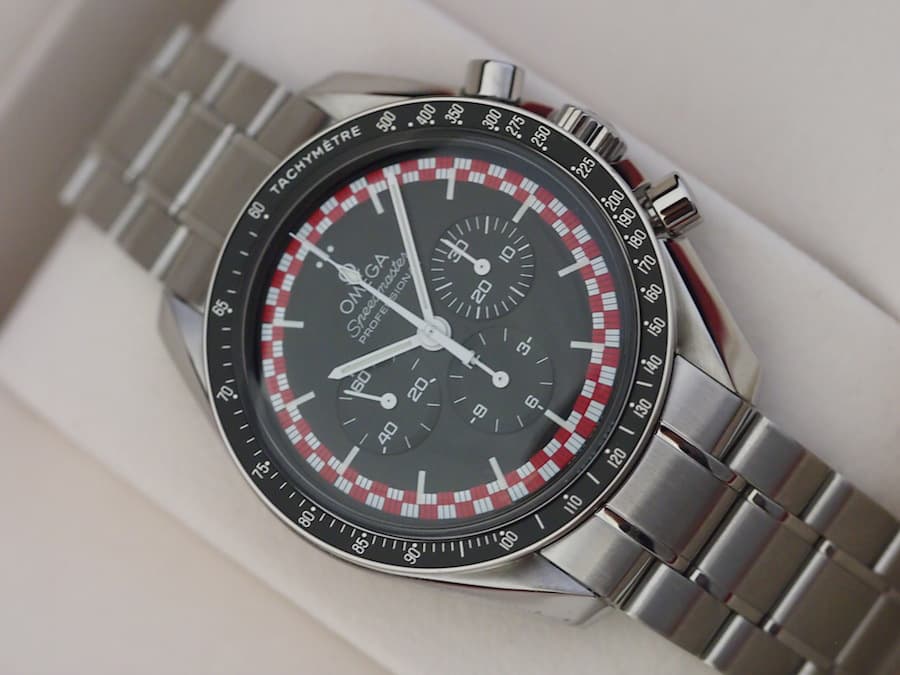 Let us know about your favorite Omega Speedmaster watches, list them in the comments below or if you want to have one of your watches features, or want to share your personal story with us, drop us an e-mail.