Top 5 Unusual Watch Nicknames
When Rolex Hulk or Omega Speedmaster Ed White sound boring
Pajamas, Vampires, or Snow Whites. Get some popcorn, welcome to our rundown of five bizarre watch nicknames. Which one is your favorite?
Some of the watches you might have never seen or even heard of. Me neither. I probably would have forgotten about one or two of the listed watches if it weren't for the idea to write this article that I had about a year ago. I started writing down all the quirky nicknames I came across to entertain us all a bit. Serious or not, all the nicknames deserve their moment in the spotlight. Bear in mind that we avoided notoriously known nicknames derived from comic book heroes, sodas, or famous ambassadors on purpose. We decided to throw in a couple that might surprise and inspire you.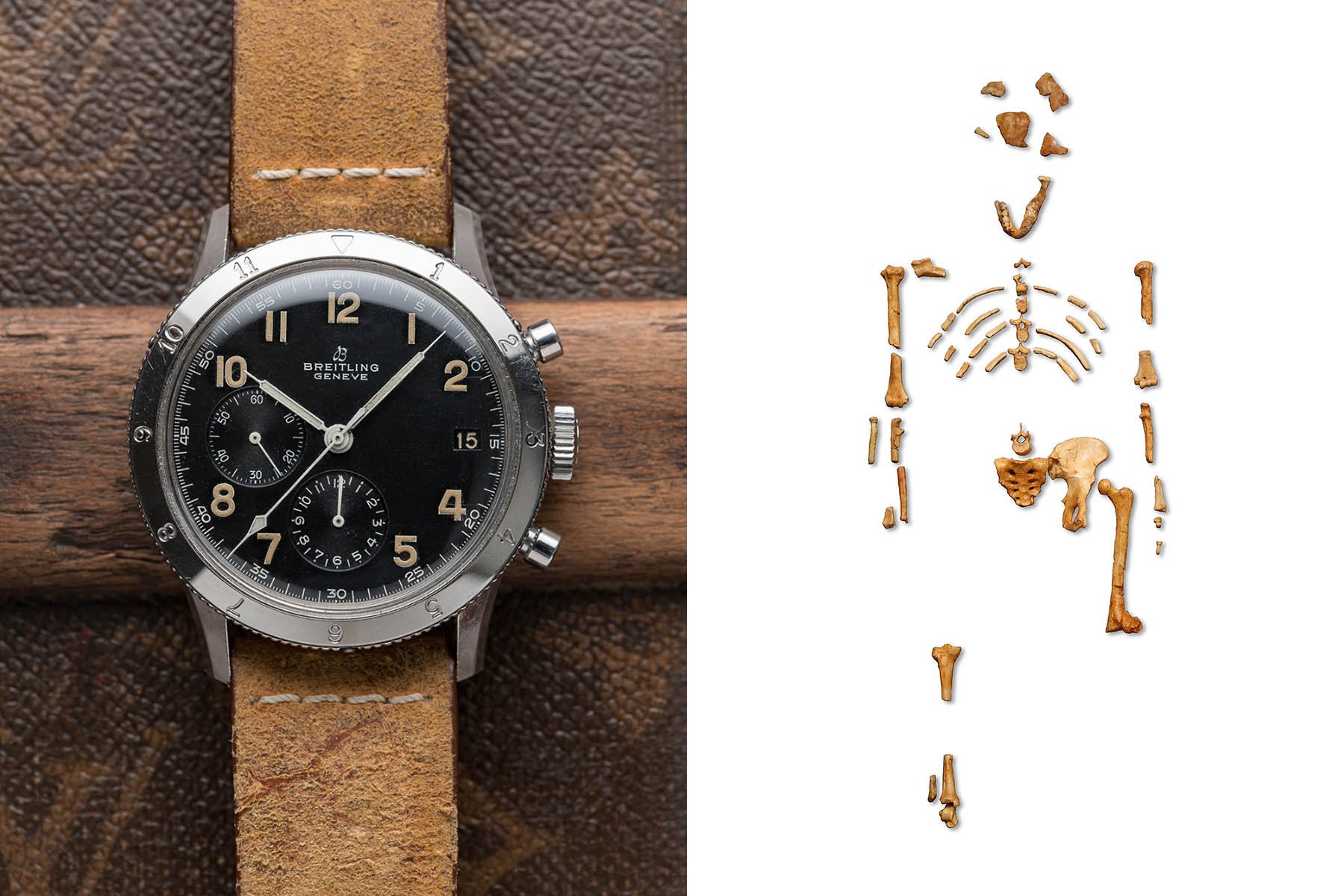 Breitling Lucy
I don't know many people that would say "no thanks" to the recent Breitling Avi ref 765 re-edition. It's as stunning as the 1953 original reference. What I also know is that there is always some argument about which pilot chronograph was the one that inspired the series of iconic designs. I can imagine WatchFred being tired of repeating the timeline. As this Breitling went into mass production in April of 1953, it can't be a copy of the Breguet Type XX (manufactured by Mathey Tissot), because the Breguet wasn't launched until 1959. The timeline isn't even right, as Breitling preceded the Breguet by six years. And that's exactly why Breitling Avi ref. 765 acquired its pragmatic nickname.
…blame the Beatles…
Lucy is not Nina Rindt's younger sister. Lucy is, on the contrary, quite old. Discovered in 1974 in Africa, the Lucy specimen is an early australopithecine and is dated to about 3.2 million years ago. And if you ever wondered about why the remains of the earliest woman on record weren't called Eve, but acquired such a romantic name, blame the Beatles. It was their song "Lucy in the Sky with Diamonds," which was played loudly and repeatedly in the expedition camp all evening after the excavation team's first day of work on the recovery site. So once again and for all, if you ever hear somebody asking which watch defined how pilot chronographs looked, it was the Breitling Lucy.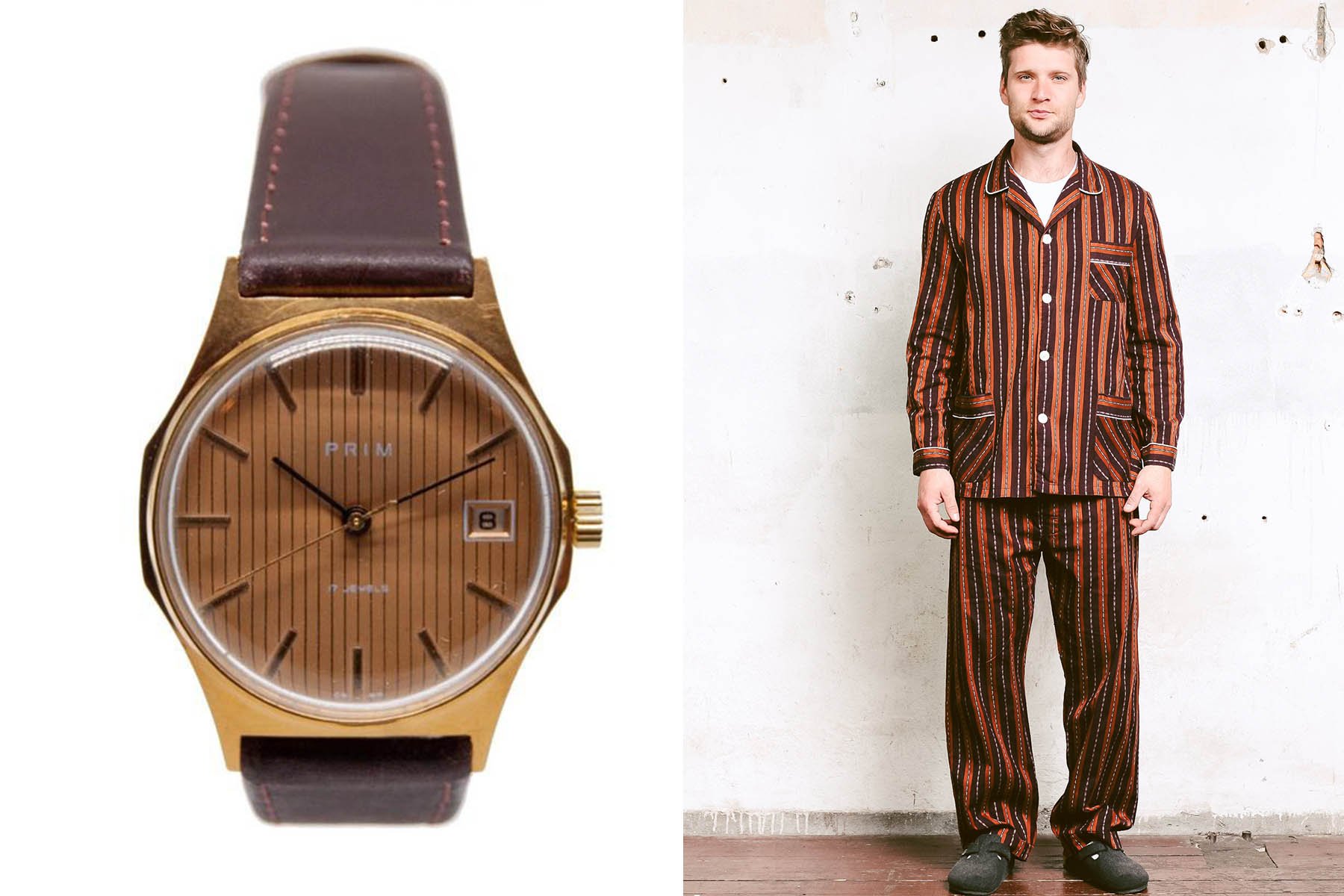 Prim Pajama
If you never experienced life during the Soviet era, you can only imagine everybody running around the block in the same shoes, drinking from the same set of glasses at home, or sleeping in the same style of pajamas. The striped pajama achieved legendary status in Czechoslovakia (my father had a set too). These pajamas were so legendary that when the local watch manufacturer Prim introduced a model with a striped dial, it was nicknamed the Prim Pajama.
They're still easy to find, just beware of Frankenstein versions…
There were a few different color variants of the Prim striped dial, just like the real pyjamas. The Prim Pajama watches came in a 34mm case, with two edgy cuts on the sides. In the picture, you can see the Prim Pajama with a brown/gold-toned dial and a gold-plated case. This is one of the less commonly seen versions. Light blue, dark blue, or white Prim Pajamas are more common. They're still easy to find, just beware of Frankenstein versions, so I recommend buying from a verified source. If you're looking for a dressy piece, the Czechoslovak Prim Pyjama with an in-house movement won't disappoint you. Neither should the sub-€100 price-tag.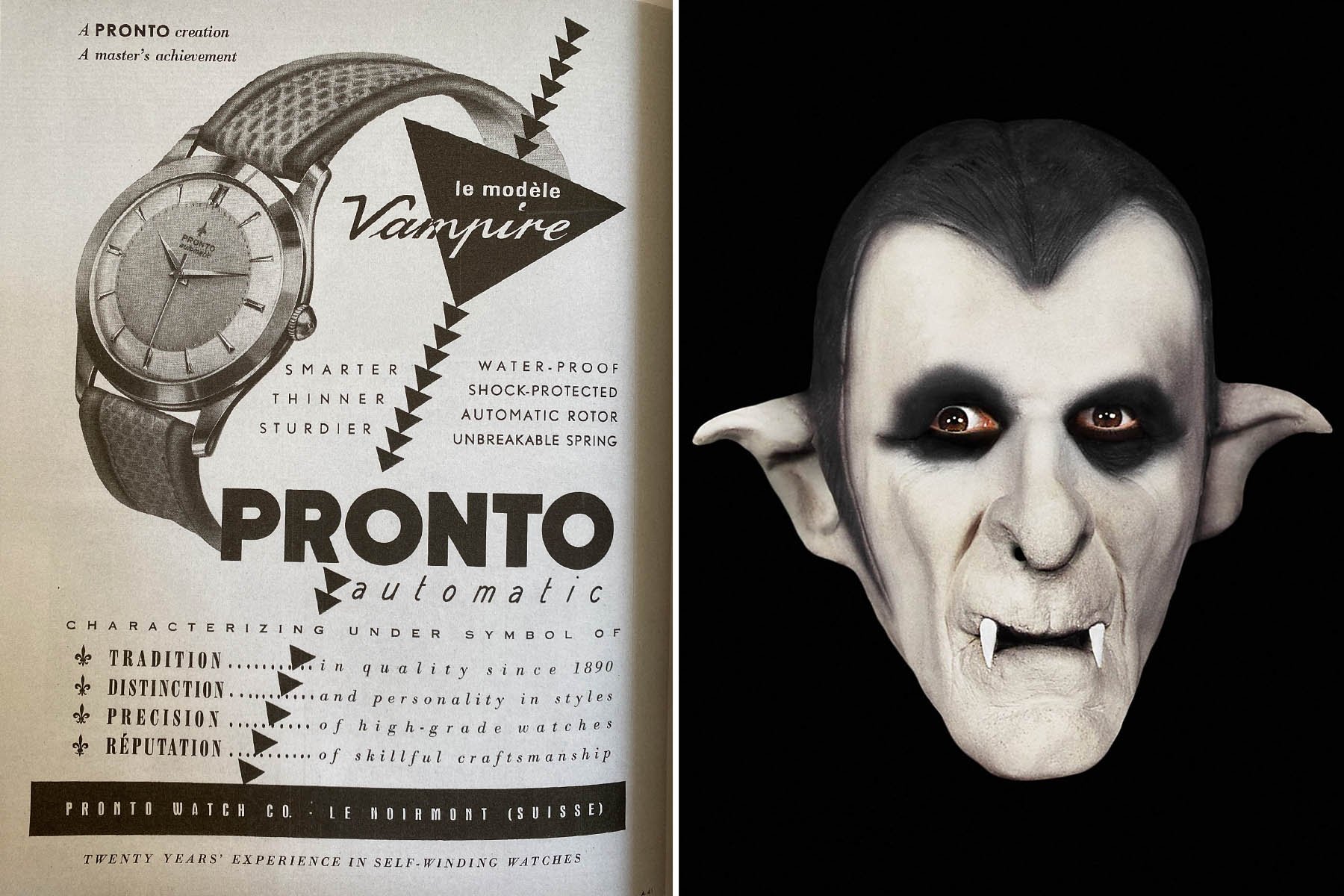 Pronto Vampire
You've probably never heard of the Pronto watch brand or their Vampire model. We found it in a recently featured book about post-WWII watches and print ads. When I asked Bruce, the author of the book, what the biggest surprise for him was, he directed me to the Pronto Vampire. "I couldn't for the life of me figure out why a watch company would name a watch the Vampire. It would be difficult to find an actual example of this watch, because 'Vampire' was not printed on the dial, at least as far as I can tell from the picture in the ad." When you look at the advert, it's a pretty generic three-hander. I guess, the Vampire name remains the mystery. Unless some of you out there have more insights – let us know if that's the case!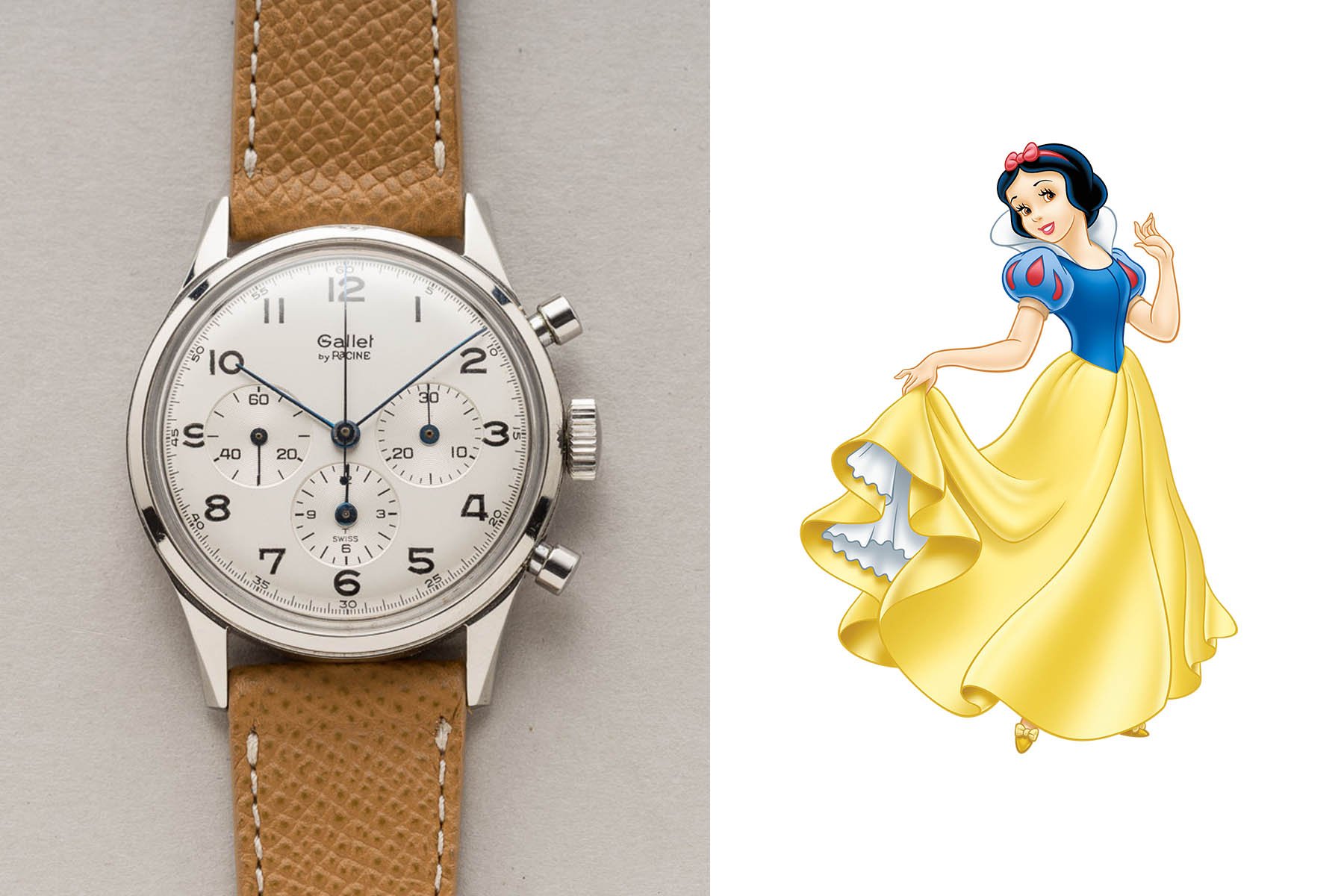 Gallet Snow White
If I forget for a moment about the anOrdain Model 2 with an enamel dial that we reviewed last year, there is one only watch that comes to mind if you ask me what is my favorite white dial watch is. In this particular case its even a white dial chronograph. The wide range of Gallet chronographs includes everything from sporty and tough designs, to aviation ones. But in my mind, there is one that rules above them all. It is the most elegant and I dare to say the coolest dressy chronograph with simple blue hands. There is nothing useless or redundant on the dial, no tachymeter track or luminous material to distract from the crisp display. It is, in a word, classic.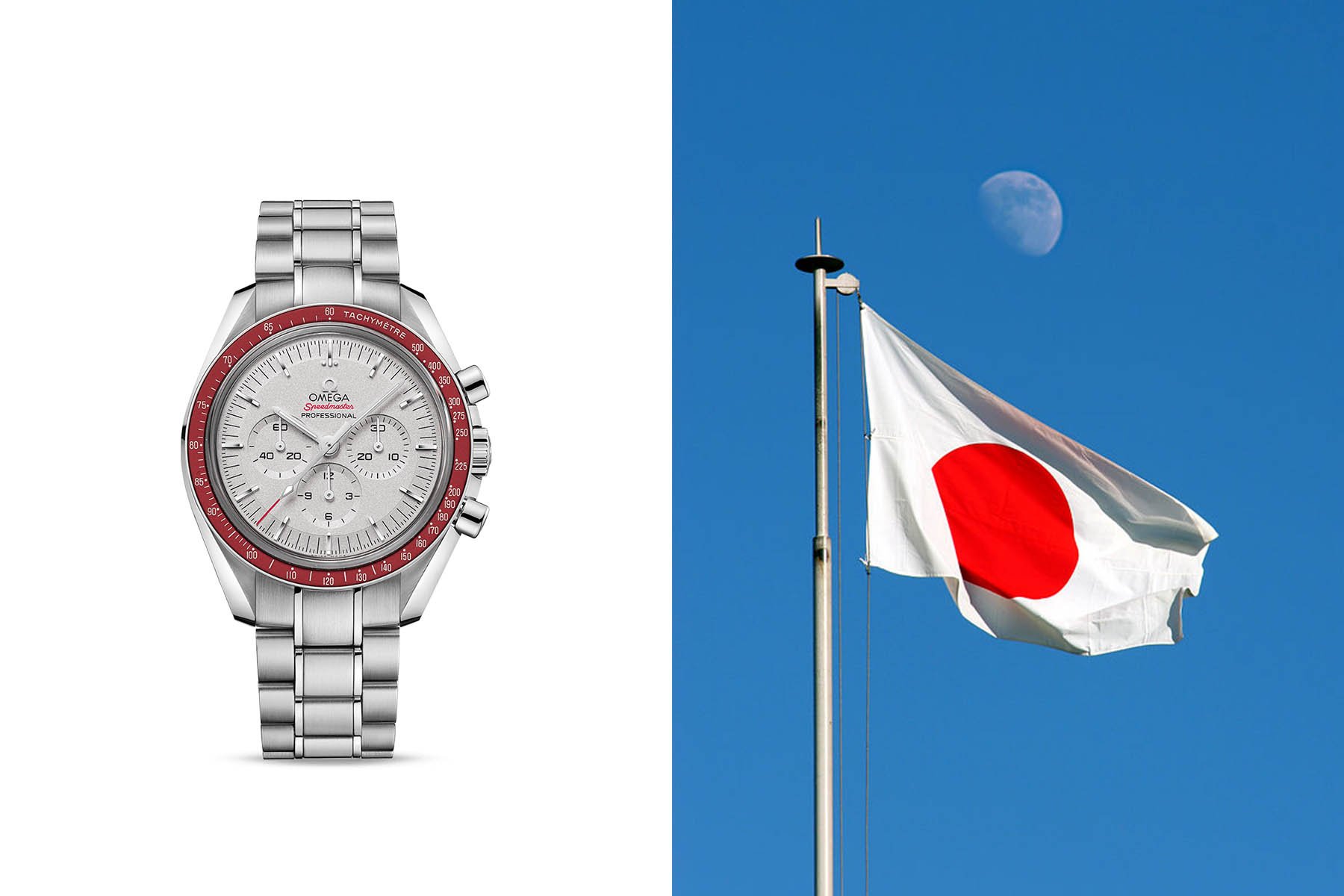 Omega Speedmaster Rising Sun
Almost two years ago, Omega announced five new Speedmasters to be released before the 2020 Olympics that are supposed to take place in Japan with Omega as the official timekeeper. Three out of the five Speedmasters were created exclusively for the Japanese market and all came in stainless steel. The latter two had bits of gold added.
One model from the quintet, in particular, grew on a few members of the Fratello Magazine team. In a Christmas special, Michael revealed how the nickname was born. "We gave the Omega Speedmaster Rising Sun its nickname due to its hue proximity to the Japanese flag. Sure, in this case, the white is replaced with a grayish silver and the red with more of a burgundy, but we think it aligns perfectly well with the flag of the country that is hosting the Games in 2020. Despite the fact that Japan is, hands-down, my favorite country to visit, I didn't choose to buy this model for sentimental reasons. No, I chose it because the colors work and it's completely unique on a Speedmaster Professional."