The Top Five Alternatives To The 36mm Rolex Explorer 124270
Because good things do come in small packages
In recent times, we have seen the popularity of smaller watches surge. Compared to the previous norm of watches ranging from 42–47mm (I'm looking at you Panerai, Breitling, and Hublot), this reduction in size has been welcomed by most. Personally, I love the more proportional look of watches under 40mm on the average wrist. This doesn't mean I enjoy my 42mm Speedmaster any less, but it does mean that I can enjoy smaller watches without getting any odd looks. These shifts in perception are not instant. In fact, they can take several years. And though early re-adoption of the 34–38mm watches likely came from the rise in popularity of vintage watches, brands have been quick to catch up to the trend. Many have introduced smaller models that suit men and women alike.
And though novelties like the Tudor Black Bay Fifty-Eight with its incredible popularity paved the way for the nearby future of watches, there are some models that have stuck around through the times of titanic timepieces and now enjoy a renaissance in popularity. One of these watches is the 36mm Rolex Explorer. And though it did make a jump up to 39mm at some point, there is almost a sort of unanimous acceptance that the 36mm model, the OG, remains undefeated. On paper, it's almost a perfect watch — a 36mm steel case, a legible black dial with applied numerals, Rolex's signature Mercedes hands, a lovely tapering bracelet, 70 hours of power reserve, and 100m of water resistance. All that, for €6,800 on the Rolex website. But we all know that it's not that easy…
Finding the perfect alternative
Sure, you could put your name down on the list, and hope that you get the call someday. But if you're looking to buy a perfectly versatile watch that ticks many of the boxes that the 36mm Rolex Explorer does, there are certainly some options out there. As always, these alternatives are just that — nothing replaces the real deal — but if you are a fan of the Explorer, perhaps these will scratch the itch while you wait. Now, I have tried to keep these alternatives thematically relevant, in the sense that they are all under 38mm and come on a steel bracelet. And though the 124270 is 36mm, most people will tell you it wears bigger than its size on paper might have you believe. And trust me, you'd be surprised how well a 36mm watch can fit your wrist.
It may feel small at first, but the proportions are just wonderful. Don't believe it? Check out our article on the perfect watch size for different wrist sizes, and my article on the 36mm Citizen Eagle 7. But if you're like me, and you're already sold on the smaller size, these five alternatives will certainly catch your eye. Now, keep in mind that these all come in under the Explorer's €6.8K price, but will certainly set you back somewhat more significantly than those featured on Thor's list of Rolex Explorer alternatives under €1,000. That said, scrapping the budget meant that I was able to include some of the best alternatives available. The only hard part was keeping them as close as possible to the 36mm mark. Without further ado, let's start with Omega.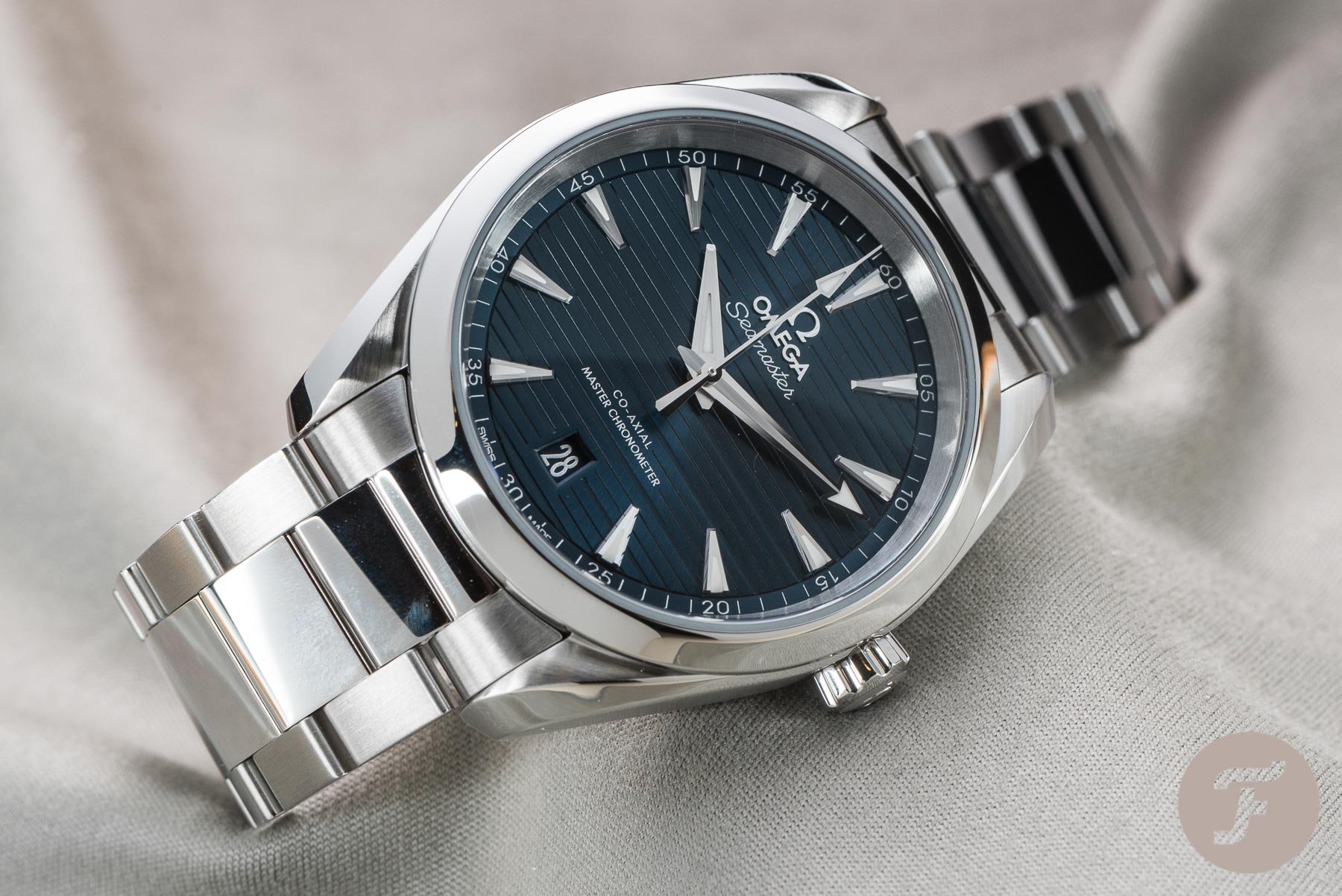 Omega Seamaster Aqua Terra 150M
This Omega is perhaps the most obvious pick of the bunch. That said, it's likely the one I would go for, as it is arguably an even better watch than the Rolex Explorer. Hear me out! I won't deny that the Rolex Explorer has iconic looks and a long and rich history. But if you look at the spec sheet of both of these pieces side by side, it's the Seamaster Aqua Terra that comes out ahead. Sure, it's also a little bit bigger than 36mm, and might therefore appeal to a broader audience. On top of that, the textured dial, additional date, and 50 extra meters of water resistance make this watch slightly more modern and a little bit more versatile. And if you don't like the black-dialed version, you can always opt for the stunning blue dial.
Inside the Seamaster Aqua Terra, you'll find the Omega caliber 8800. It's an automatic Certified Master Chronometer movement with a Co-Axial escapement. Perhaps the only area in which it lacks compared to the Explorer is its 55-hour power reserve, as opposed to the impressive 70 that the Rolex caliber 3230 offers. Other than that, you might have a preference for one brand or the other, or perhaps even for the aesthetics of one watch over the other. Nevertheless, these two options are as close as it gets. Do I wish Omega made a 36mm Aqua Terra with the same design and movement as the 38mm version? Absolutely! But for now, I'd happily settle for the slightly larger watch. At €6,100, it's only a little bit less expensive than the Explorer, but you'll probably have less trouble finding one!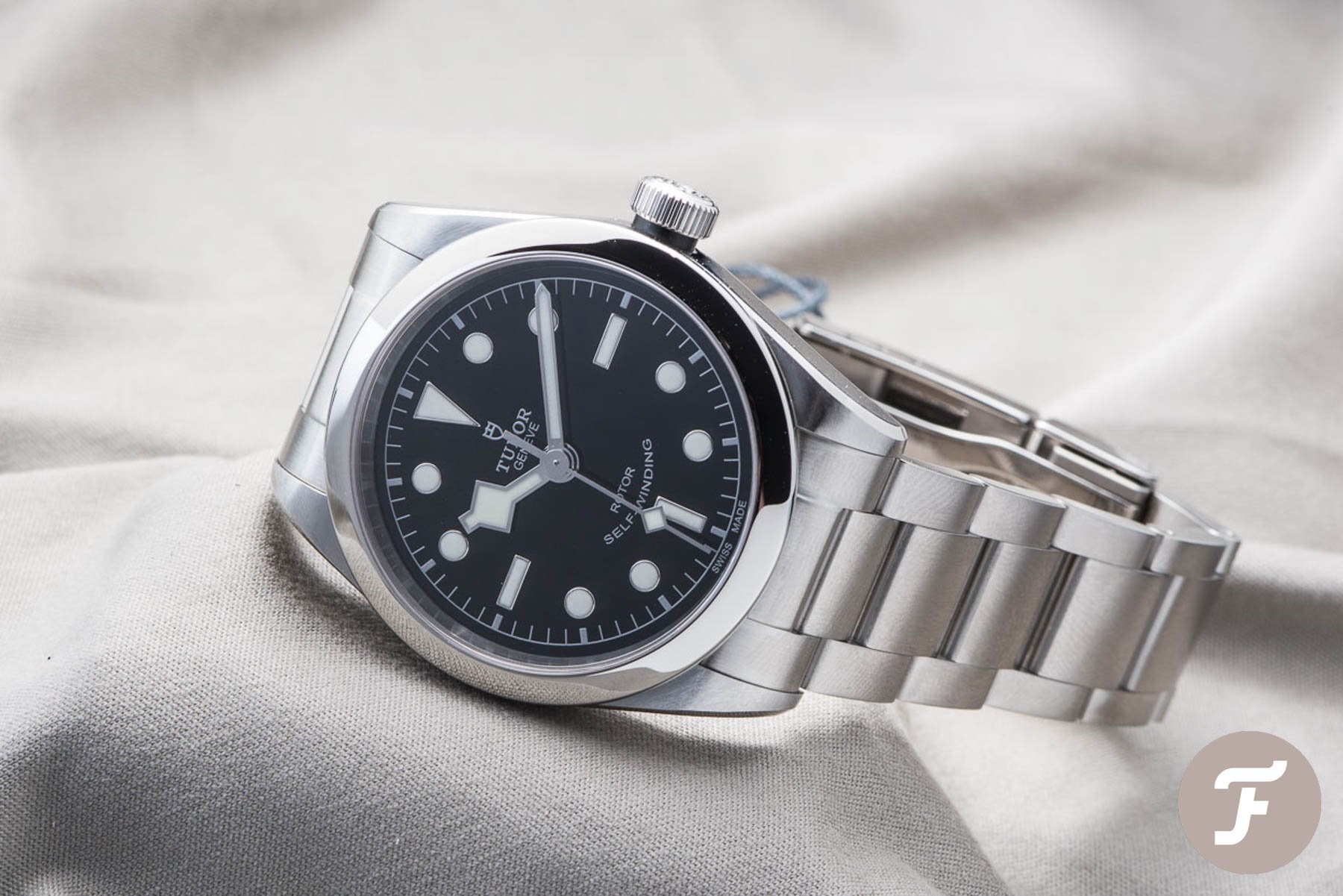 Tudor Black Bay 36
The Tudor Black Bay 36 is definitely the first option that comes to mind when looking for Explorer alternatives. After all, Tudor is a brand closely related to Rolex, and its models echo those present in Rolex's lineup. Does it tick all the boxes? We have a polished bezel, black dial, no date, tapering steel bracelet, and a reasonable level of water resistance. More importantly, it comes in (as the name indicates) at exactly 36mm. This is a versatile watch, that gets a lot of love from watch fans. For its €2,880 list price, it's hard to find another watch that offers as much as the BB36. As you might expect from a watch brand closely related to Rolex, both fit and finish are beyond anything in the sub-€3K price point.
Though there is a 41mm version of the watch, it's the 36mm watch that has received a cult-like status in the watch community. Personally, there have been many times where I've been on the verge of pulling the trigger. However, taking my time to really consider it, I decided against it. Then again, having gone back down the rabbit hole for the sake of this list, I must admit that the BB36 is still an extremely attractive option in general, and a worthy alternative to the Explorer. Also available with a blue or silver dial, this is one that's bound to continue enjoying its popularity for many years to come.
IWC Pilot's Watch Automatic 36 — IW324010
Famous for the Big Pilot's Watch, IWC was not a brand you might have expected to make a list of 36mm Rolex Explorer alternatives. However, thanks to its reasonably-sized offering in the form of the Pilot's Watch Automatic 36, IWC not only makes the list, but it provides one of the most interesting alternatives on it. Now, this also marks the point where the watches that have been chosen start to aesthetically (and otherwise) differ from the Explorer. However, the key features which I described at the start are still there. And this IWC is no exception. You get a modestly-sized watch, which is perhaps slightly less versatile due to its sportier pilot aesthetic. A no-less legible dial and fantastic steel bracelet complete the list of features. Perhaps the only thing somewhat lacking is the water resistance, which is only 60m.
Still, that is enough for swimming, and certainly more than enough to handle most daily interaction that anyone might have with water. You can't forget that this is a pilot's watch, and if you're lucky, there's no need for water resistance in the cockpit. Price-wise, the IWC comes in slightly below both the Rolex Explorer and the Omega Seamaster Aqua Terra at €5,150. Still, a great option from a brilliant brand if you're in the market for a 36mm watch. This is also one that seems to fly under the radar, as is it rarely one mentioned in lists highlighting sub-40mm watches. As a big fan of the Mark XVIII, which would be my go-to from IWC, this 36mm captures the brand's signature aesthetics and brings them down to a size that can be enjoyed by anyone. Therefore, it makes the cut for this list.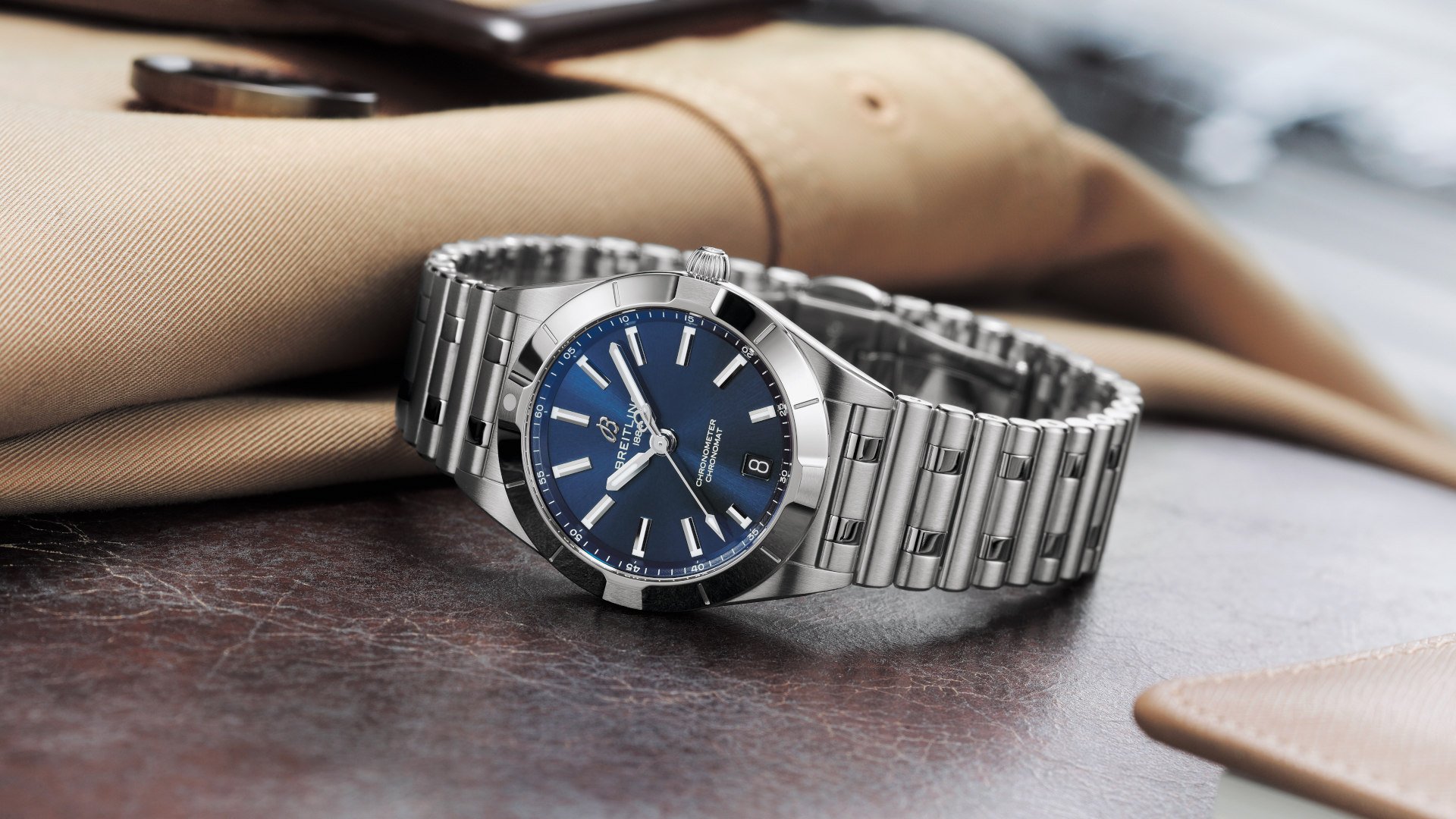 Breitling Chronomat Automatic 36
You thought that last pick was weird? Well, I'm just getting started! My next Rolex Explorer alternative is the Breitling Chronomat 36mm in blue. The reason for picking the blue model is that a black-dialed version is not available. Now, when it comes to 36mm watches, there are surprisingly few options out there. Finding a 36mm IWC was already somewhat unexpected, but somehow, the fact that Breitling has such a fantastic option in its catalog was even more so. Marketed as a women's model, I think this is a watch that is perfectly unisex. And you already know that here at Fratello, we love the Breitling Chronomat B01 42 — a watch that we have covered plenty of times, and which made it in our chronograph shootout this December, The Fast And The Fratelli. Priced at €4,400 this is the third cheapest watch on the list.
This 36mm Chronomat takes the looks of its bigger chronograph cousin and strips back all the frills. This still leaves us a watch that offers a lot in a small package. With the date window at six, much like the Aqua Terra, the Chronomat also features a chronometer-certified movement (COSC-certified instead of METAS) in the form of the Breitling Caliber 10. And though this watch technically does feature a rotating bezel, it's not one you'll take diving anytime soon, even though it does feature the same 100 meters of water resistance as the Explorer. The highlight here is the beautiful Breitling "Rouleaux" bracelet. An unexpected appearance on the list, but one that is certainly most welcome.
Hamilton Khaki Field Auto
Once again, you're going to have to allow me to explain this choice. Yes, it's 38mm, and costs less than €600, and calling it an alternative to the Rolex Explorer is perhaps a bit of a stretch. That said, there are almost no other watches out there that bring these elements together in a sub-39mm size. Notice that this is also not the usual pick from the Hamilton lineup. No sir, this is the automatic brother of the ubiquitous Khaki Field Mechanical. Its slightly more intricate dial, red seconds hand tip, lack of fauxtina, and additional date window make it slightly more versatile and user-friendly than the minimalist Mechanical. Is it really an alternative to the Rolex Explorer? Well, probably not for anyone looking to spend over €1000, but to the many people out there at the start of their watch collecting journey, it's a solid choice.
Additionally, this is a watch that has a couple of hidden weapons in its modest arsenal. The first of these is the Hamilton H-10 automatic caliber, which gives this watch 80 hours of power reserve. That's 10 more hours than the Rolex Explorer, and almost double what the Breitling and IWC offer. At just a fraction of the price, this is a watch that has caught my eye on many an occasion. I genuinely believe that this is one of the best value propositions out there. And thanks to it ticking off all the boxes (sub-39mm case, stainless steel bracelet, legible dial, etc…) it takes a well-earned spot on this list.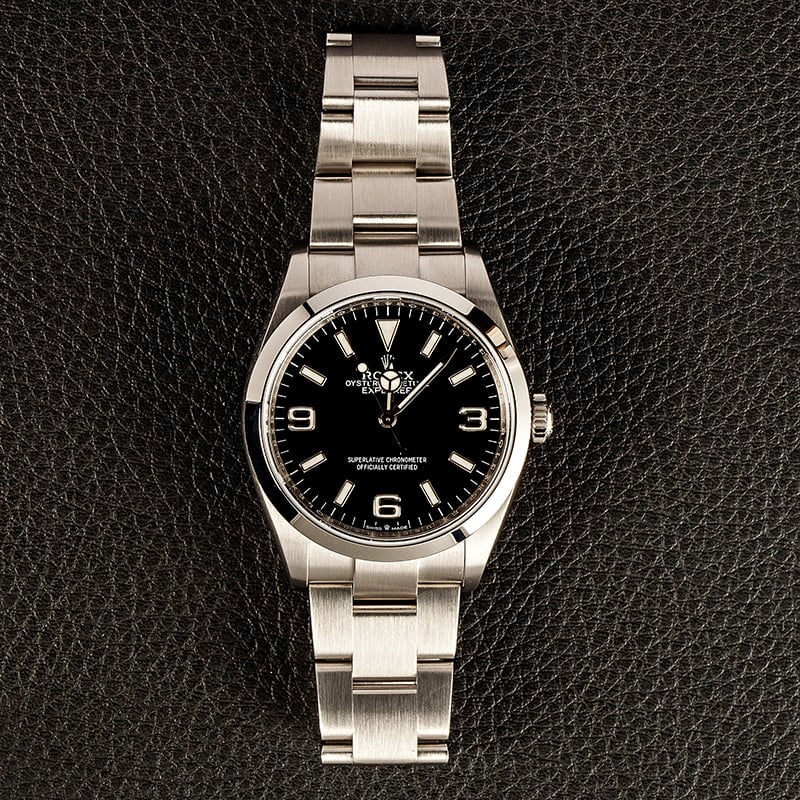 Final thoughts
Before wrapping up, I wanted to give a couple of honorable mentions to the Norqain Freedom 60 39mm and the Halios Universa. They are two watches that were disqualified from the list (the Norqain for being 1mm too big, and the Halios for its lack of availability), but which would have made worthy contenders for the five-watch lineup above. If anything, one thing has become clear, and that's that there are nowhere near enough alternatives to the 36mm Rolex Explorer. Perhaps it still suffers the long-lasting side effects of the large watch era. Speaking to colleagues at Fratello HQ, most say that they find it too small. And at first glance, I thought the same. That was until I put it on my wrist. This even changed the mind of said colleagues, who instantly remarked how good it looked on my 18cm wrist.
As always, I'd be interested in hearing your thoughts on Rolex Explorer alternatives. Do you have any favorites? Did I miss out on any obvious picks? Or do you think that nothing out there can quite replace the 36mm Explorer? Share your thoughts in the comments below!
Follow me on Instagram @ncgwatches