True Confessions Of A Strapaholic: I Will Never Break The Addiction
And why I'm filing divorce proceedings against my 24 NATO straps
Hi, my name is Thor, and I'm a strapaholic. But is this addiction to watch straps a bad thing? The first question I'll ask you is this: can a strap make or break a watch? If the answer is "yes," you've already got the potential to become an addict like me, and why not? The positive aspects of strapology (I'm copyrighting the term) are many once you burrow into the rabbit hole. How about ergonomics? Yes, the case might stay the same dimensions, but the level of comfort on your wrist can be transformed with a strap change. The problem is that once you start, you might not be able to stop, and the following true confessions of a strapaholic are actually great strap-buying tips in disguise.
This is where the term "strap monster" looms into view with all of its dangerous connotations. After discovering the joy of making a watch feel brand new again, you will find out that one watch can have multiple personalities. You're done for, mate. Some watches are defined by their looks and case shape, but some are dangerously shape-shifting chameleons. Yes, pick the right watch, and it can look vintage, dressy, military, or modern simply by changing its strap. Welcome to the affliction of strap desire; let me pull you into my spider's web. This may sound like a cautionary tale, but I'm an enabler, not a preacher.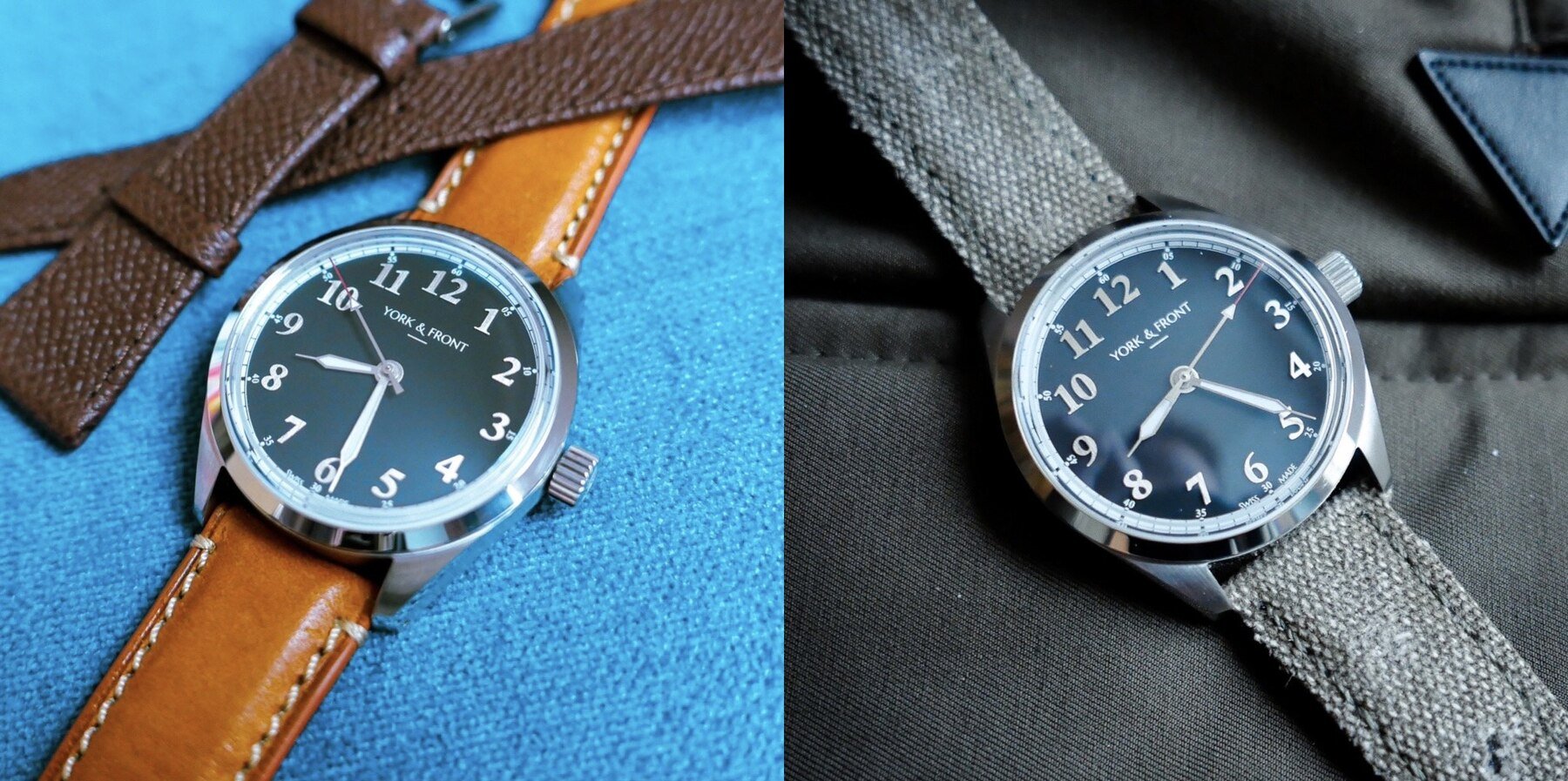 One watch, many personalities
Right here is where what looks like addiction will save you money as a budding watch collector. The images above are of the budget-friendly 38mm Burrard from York & Front in Canada. This has all the indefinable qualities of a "strap monster." This is a #watchfam term meaning a versatile watch that might instigate your strapaholism but can also save you money. Find the right watch with a neutral personality like this vintage pilot/field watch, and it'll be a chameleon. It will transform from a scruffy adventure aesthetic to a dressed-up, lounge-bar style with the flick of a quick-release bar. This means that with the right watch, you'll have a great two- or three-in-one deal.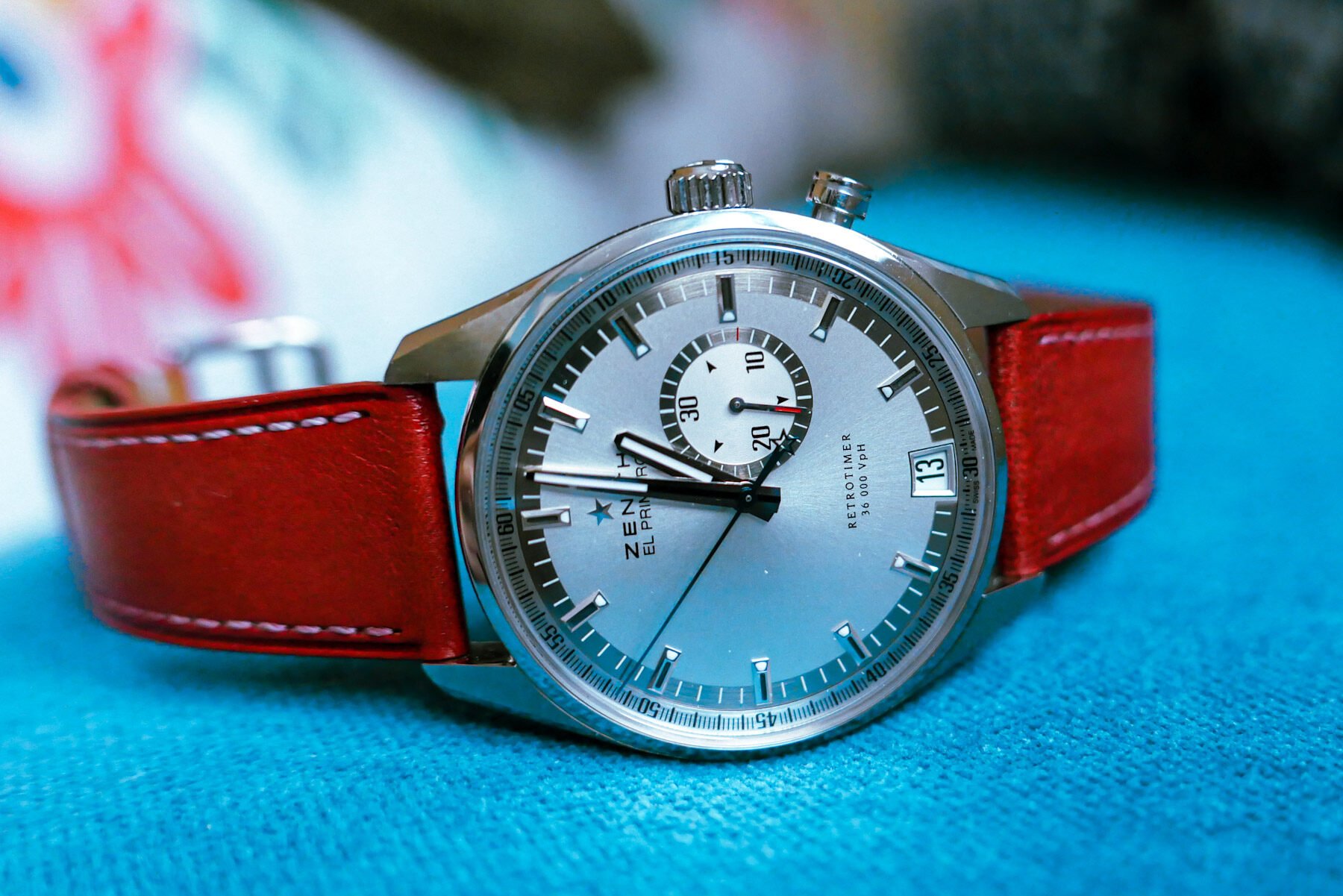 Do I match my watch to a belt, shoes, or bracelet(s)? Yes, every damn time. Don't be an amateur; remember, your watch says something about you. Pick out one colored element, like the red tip of a seconds hand, and fit a matching strap like this soft red number on my Zenith Retrotimer. This one recently arrived, and even before its unboxing, I had the soft red strap on order. This Zenith is a real strap monster for a Christmas story coming later, and I already have two more straps on order for its finicky 21mm lugs. Do I have a narrow red bracelet to go with it for the right wrist? Well, remember what I said about not being an amateur?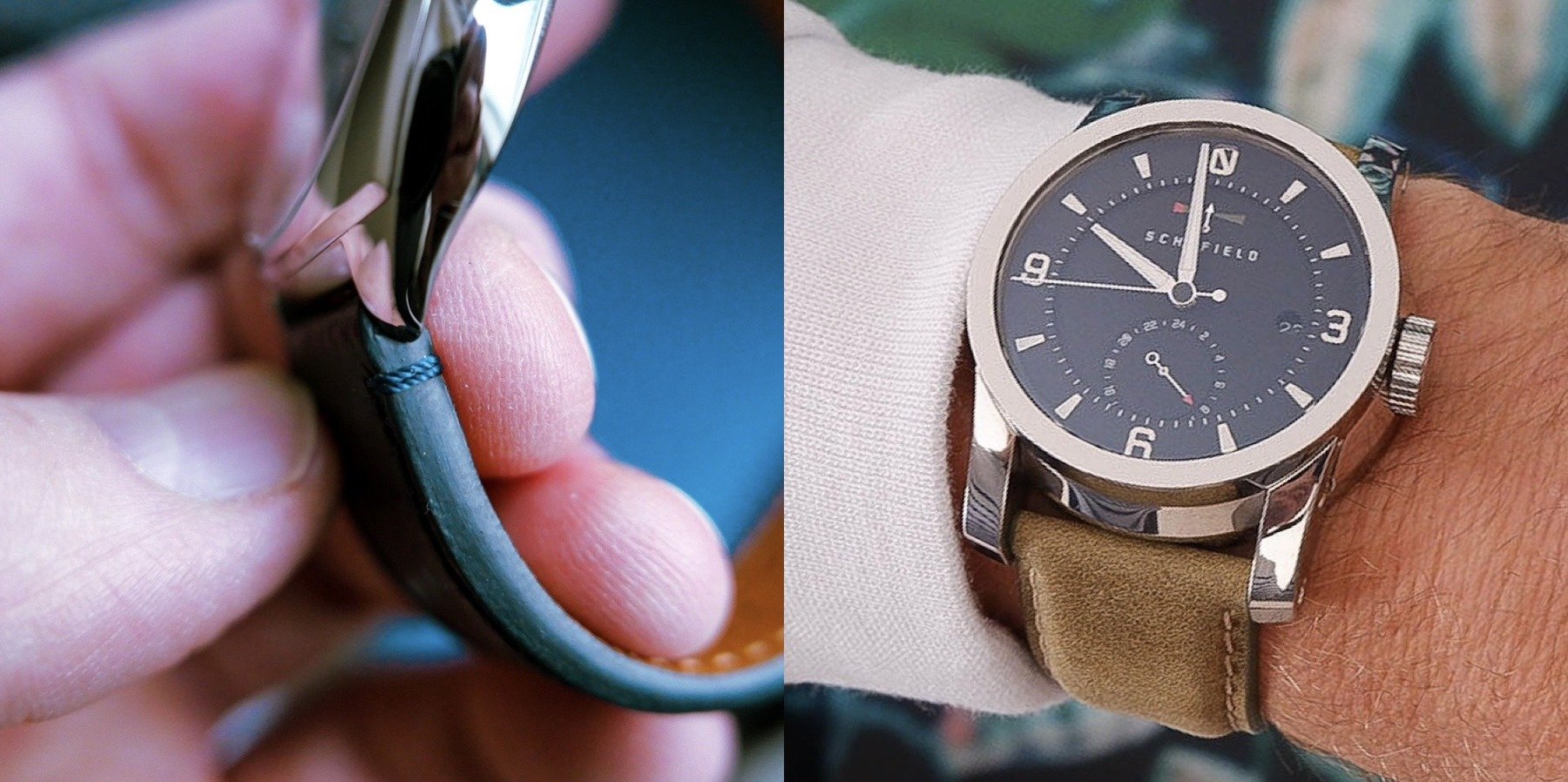 The right size and thickness for your watch
This is fairly logical and, to be fair, down to taste too, but even manufacturers get this wrong. In the two shots above, you'll see a navy OEM strap that, while lovely in its own right, is way too thick for the slender lugs. This will make the strap wear the watch rather than complement it, making you want to swap it over and add another strap to your growing collection. Big, butch 44mm+ watches lend themselves to padded straps like the one on my Schofield on the right. This watch would just dangle and slide around on a slender suede strap of the same width. A tool watch like a pilot's chronograph works best on a thicker strap with contrasting stitching, a look that would be odd on a slim, vintage number.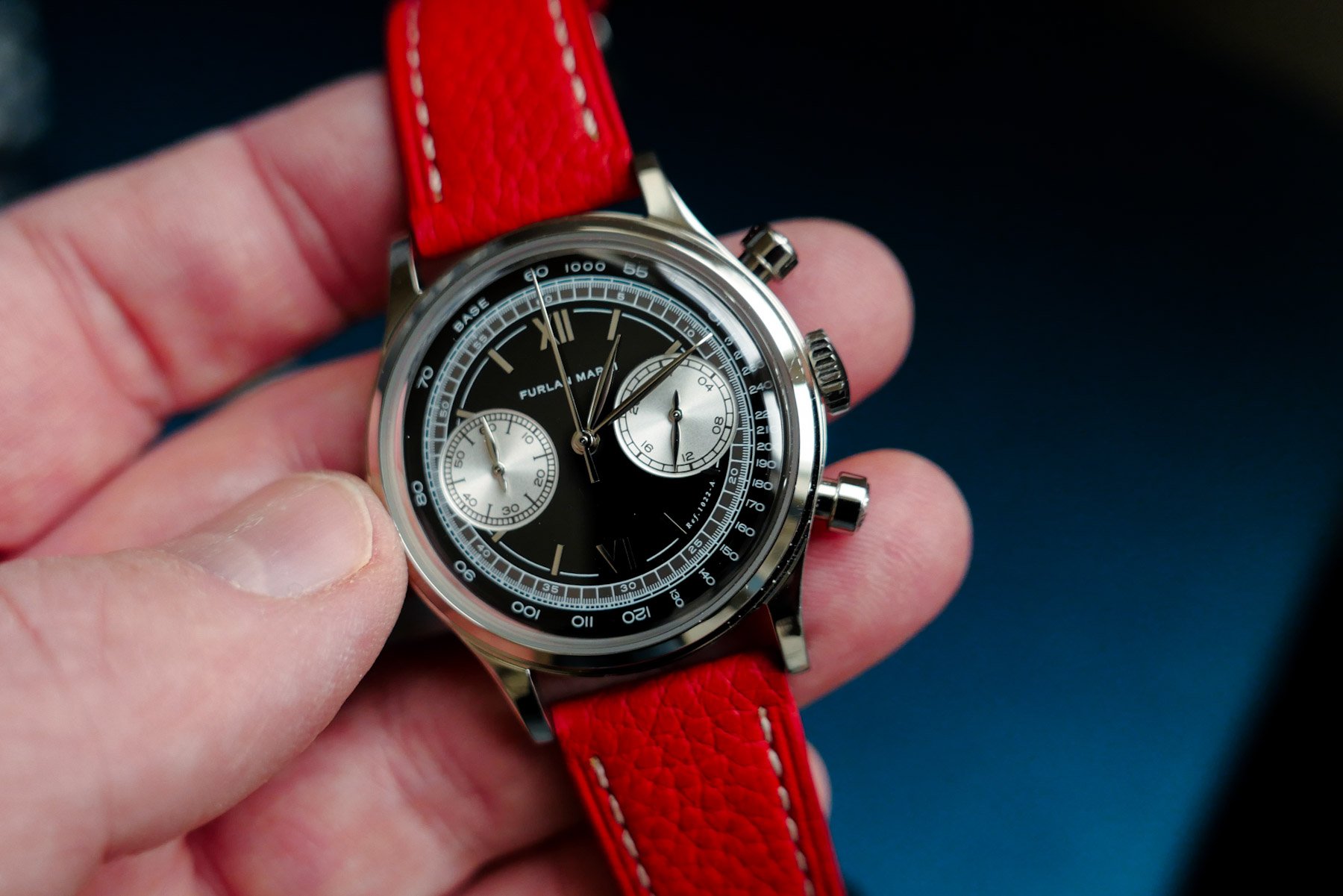 My Furlan Marri Chronograph above is an exception, though, as the strap itself is thin and soft. And yes, a bold-colored strap works as a great contrast to a monochrome dial, amplifying the presence of both. Then again, this watch has gotten new straps about 12 times, and to FM's credit, it always brings out the best in them and vice versa.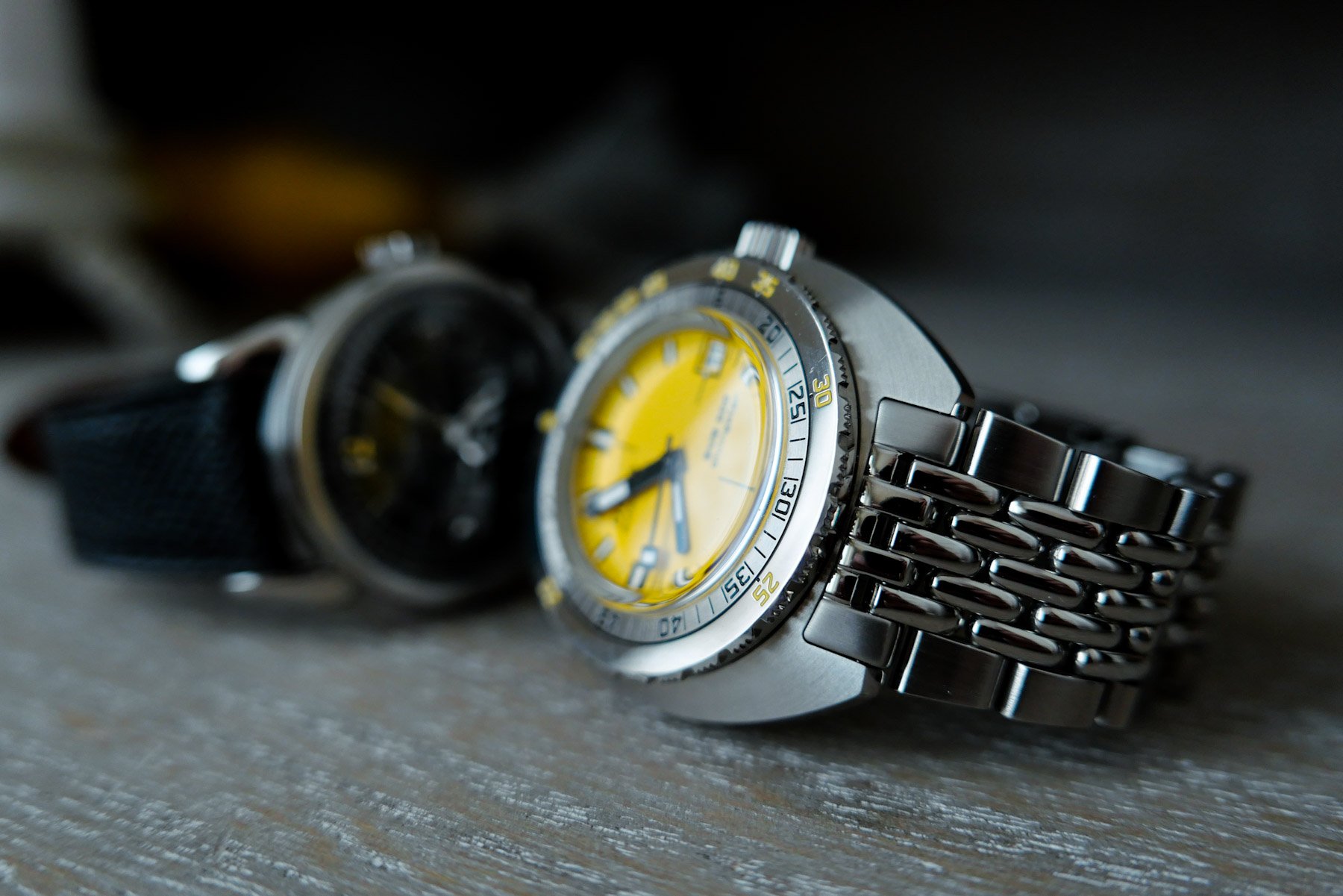 Sometimes the original is annoyingly the best
This is not a negative comment. To be truthful, we shouldn't have to swap straps on a brand-new watch. But let's face it, some brands skimp on design and value for their stock straps, while other OEM options are "made for" the watch. One example is my Doxa SUB 300, which, despite my attempts to put it on Tropic and silicone rubber straps, defiantly wants to stay on its beads-of-rice bracelet. Despite the rather thin clasp, Doxa has done such an excellent job of tapering the BOR that it feels as much a part of the SUB 300 as the integrated bracelet on a Nautilus.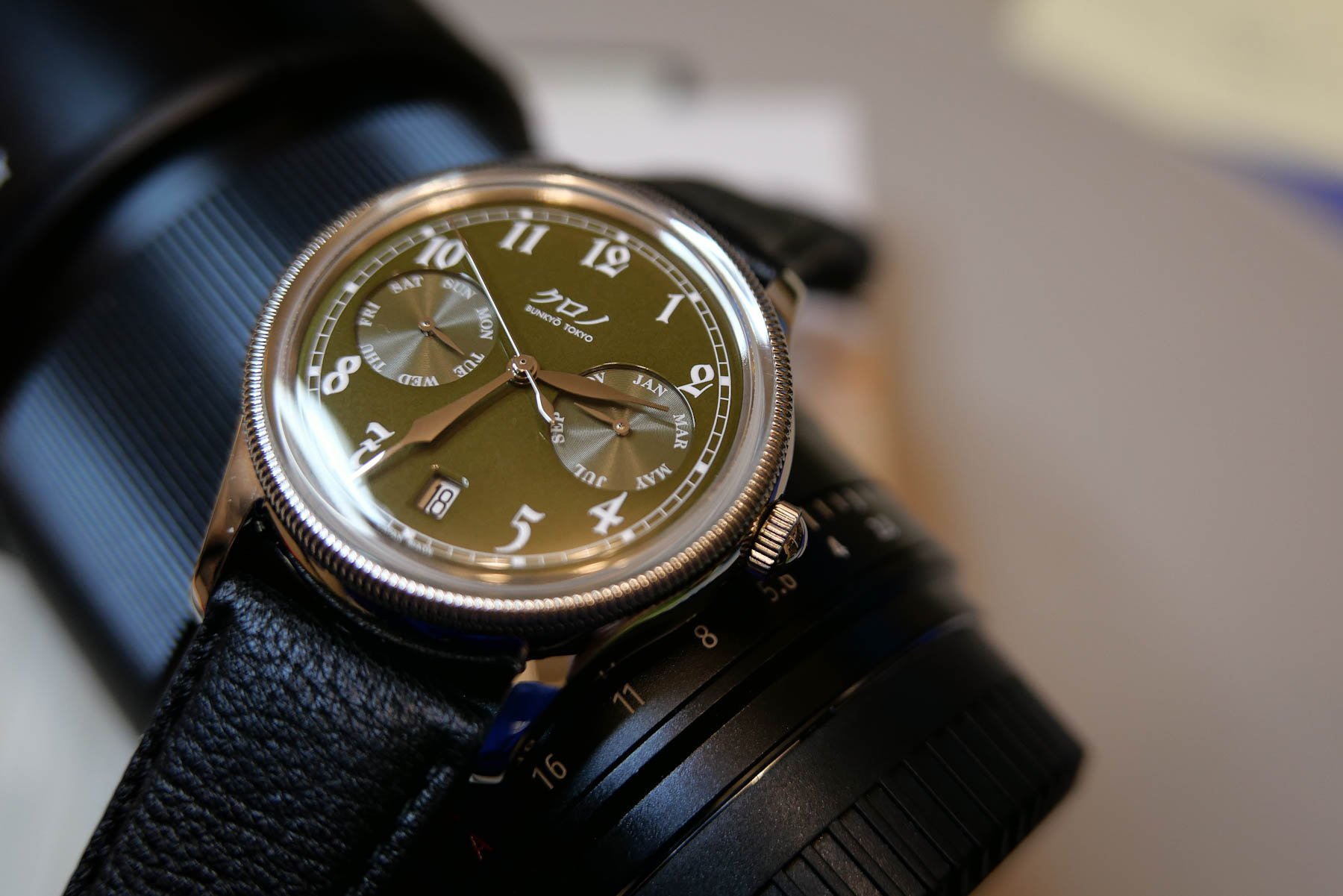 My Kurono Calendrier is an absolute enigma. The slightly textured black strap is not something I would normally go for. I love blues and browns, but the subtle look of this black number matches the small 38mm case and subdued colors, making the watch the star. And this is even despite me having a matching olive-green Horween strap worth three times the cost. The fact that I saw an Instagram post of the perfectionist Hajime Asaoka doing his photo shoot of this watch from his sub-brand sealed the deal. Trust a Japanese independent mind. There is a reason Asaoka-san was the first non-western member of the AHCI (Académie Horlogère des Créateurs Indépendants).
Finding your favorite brand and style of straps
Like my granddad buying trousers, when you find something you love, stick with it. If you find a good strap brand offering value for money in a certain style that fits your collection, stock up! Get two or three in different colors and save them for another watch. Likewise, a word of advice: note the lengths of both pieces of your favorite strap. This is imperative advice that I keep forgetting. Also, if a strap is too short on a 38mm case with short lugs, don't bin it. It will fit longer on a 39–41mm watch or stretchy-lugged NOMOS or Longines (and vice versa; you do the math). I can't resist the temptation to remind you that, yes, we have some rather nice new Signature straps in the Fratello Shop at the moment. You'll see one above, and for a closer look, click here.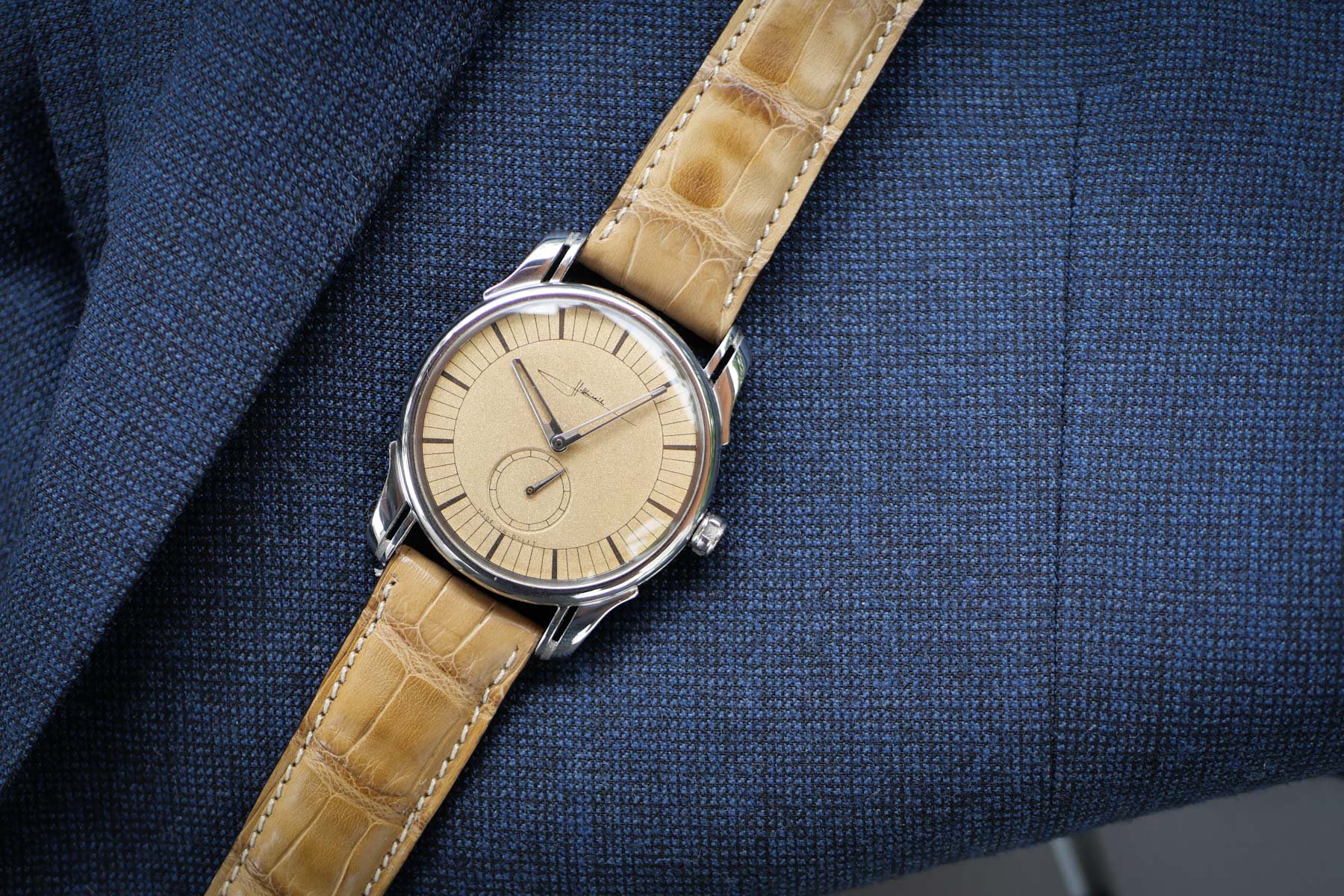 The "end strap"
Just like with watches, you will find yourself sometimes buying a strap (or, ahem, four) on a whim, only to go full circle. My Holthinrichs Ornament is a great example of this, and now the strap stays. The fact that it is an expensive croc strap that I chose together with Michiel Holthinrichs when he made the watch is one thing. But that didn't stop me, having worn it to great acclaim at the 2021 Geneva Watch Days on a soft blue hand-sewn Morellato. Nope, this watch wants to stay tonally beige and gold, with the lovely blackened strap edge offering up a subtle contrast to the proceedings. The soft blue leather strap, on the other hand, is a fleeting mistress, making a few of my sub-€1,000 watches look twice their value before moving on to her next beau.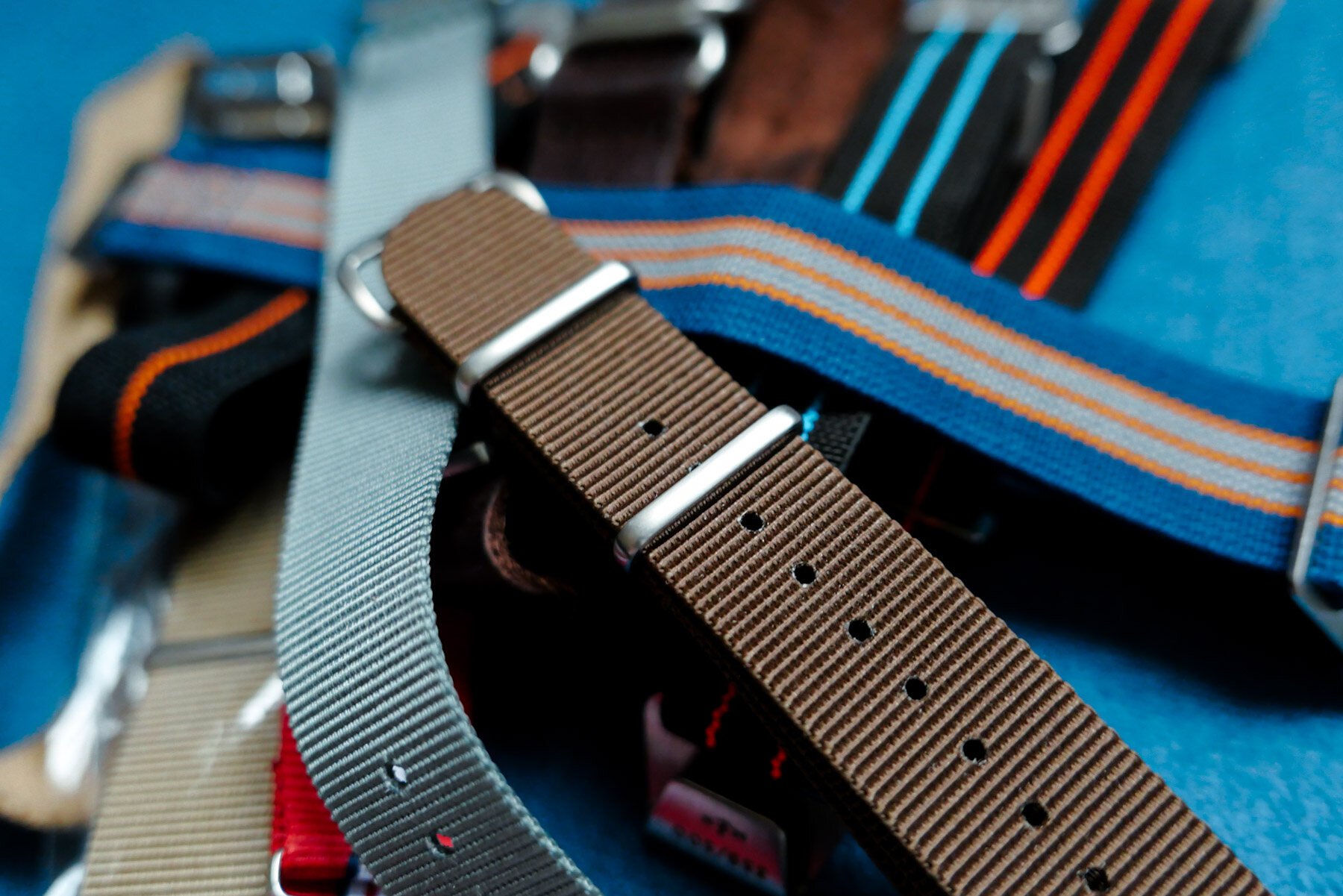 Why am I selling all of my NATO straps?
I'm sorry, NATOs, but I've had enough of you. I love the looks, and a good NATO strap is comfortable too, but I can't seem to get used to the time-consuming dismantling process when going to bed, having a shower, or swimming in the summer. NATOs are very cool, but they're just not for me. Feel free to become NATO-obsessed as they are often great value, but remember, they don't want to fit under any shirt sleeve or slim sweater. And if, like me, you like your watch a bit loose, fuhgeddaboudit.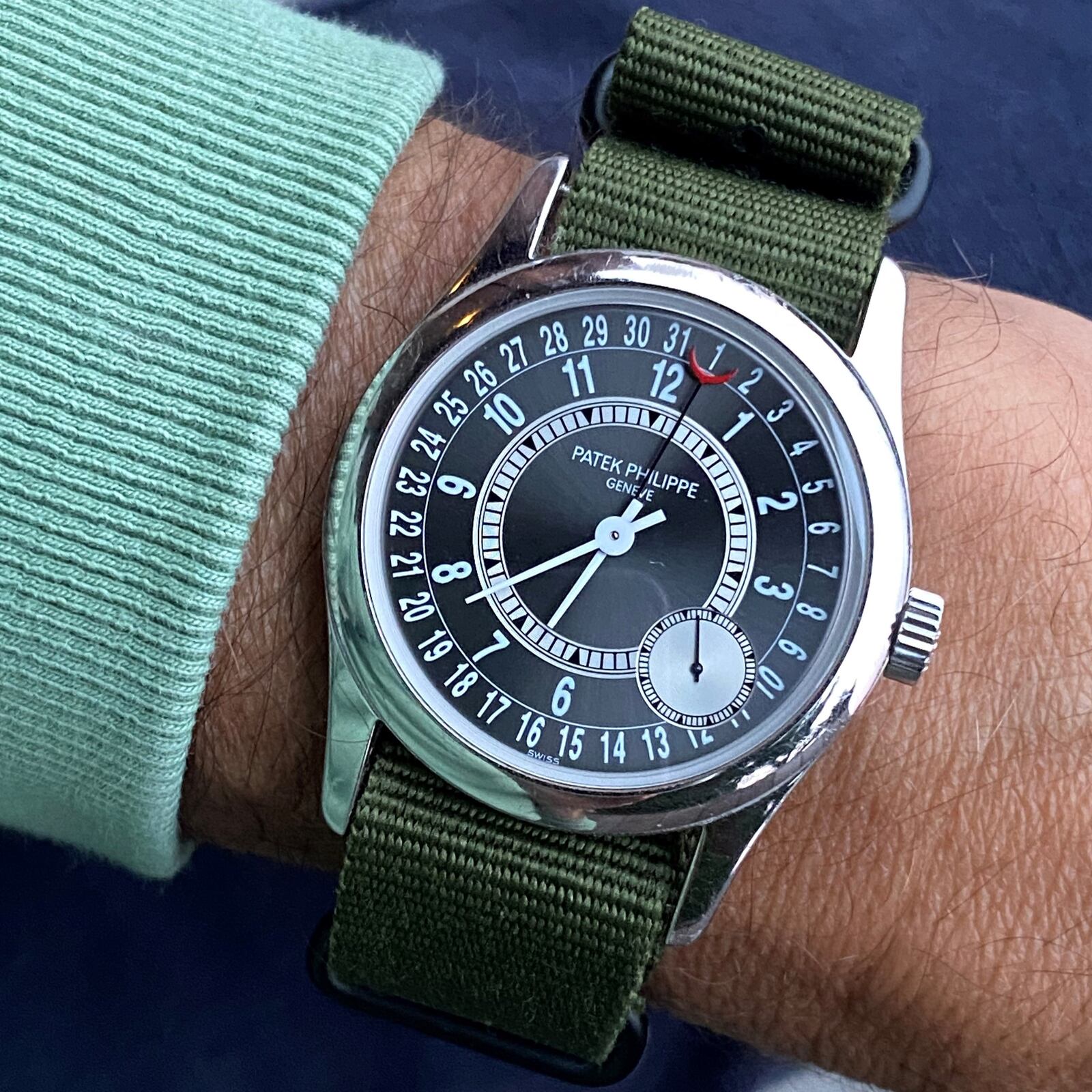 I would reconsider my rant and take back all the harsh words in one scenario — if I had the budget and guts to put a NATO strap on a white gold Patek Philippe like Phil Toledano, aka @misterenthusiast. Is the casual nature of the strap missing a millimeter of width in keeping with the exquisite nature of a Patek? It disturbs me and tickles my senses at the same time, and that's cool enough to endure even the fickle nature of the multi-layered nylon bands. This extreme contrast will not work in 80% of cases, but when it does, magic happens.
Fratelli, these confessions of a strapaholic might have turned out to be more of a strap-buying guide. You also might have noticed that I haven't mentioned leather grades or prices much. This is because, if you're lucky, a €12 strap can make you fall as deeply in love as a €200 bespoke crocodile number. Go ahead, now. Tell us about your all-time favorite straps in the comments!
Find me and follow me: @thorsvaboe