Vacation Watch Spotting With My Rolex Explorer As The Ultimate Summertime Companion
When you wear a Rolex, you automatically see a lot of them around you as well
Sometimes things don't go as you planned. And that doesn't necessarily have to be a bad thing. For example, every summer, I spend about a month and a half in Spain with my wife's family. It's always difficult to select a trio of watches and leave the rest at home. However, this year, it looks like I should've just brought only one watch with me, my Rolex Explorer ref. 114270. It simply turns out to be my perfect summertime companion.
I also brought my Seiko SPB317, which I wore non-stop last summer, and my Serica 5303-3, both with a bunch of strap options. And although those are two great options for the summer months, it just looks like I can't be bothered to take them out of the watch roll. My Explorer is so comfortable and, at the same time, so capable that I don't even need anything else. And when it comes to variety, I simply look at what other people around me are wearing and start a little conversation about their watches.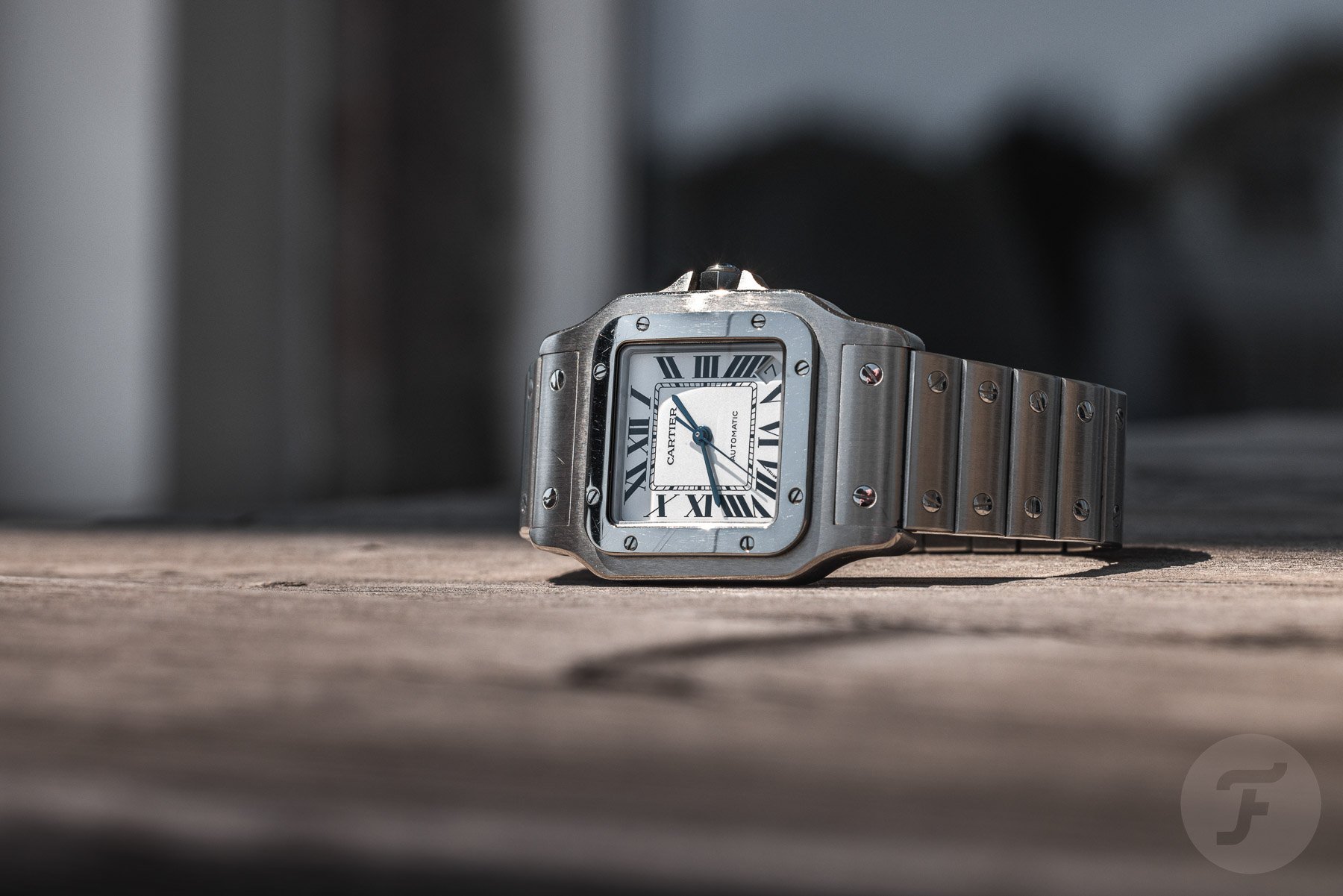 I'm not a GADA guy after all
I know, I know; only two months ago, I wrote a piece on how my Cartier Santos Galbée XL is my GADA (go anywhere, do anything) watch. Well, if that were true, then today's article also should've featured that watch. But I guess I'm just not that much of a GADA guy in the end. Every watch in my collection serves a particular purpose, and that's exactly why I carefully put together that collection. The Santos is probably still my favorite watch, and it works for a variety of occasions, just not for summertime this year.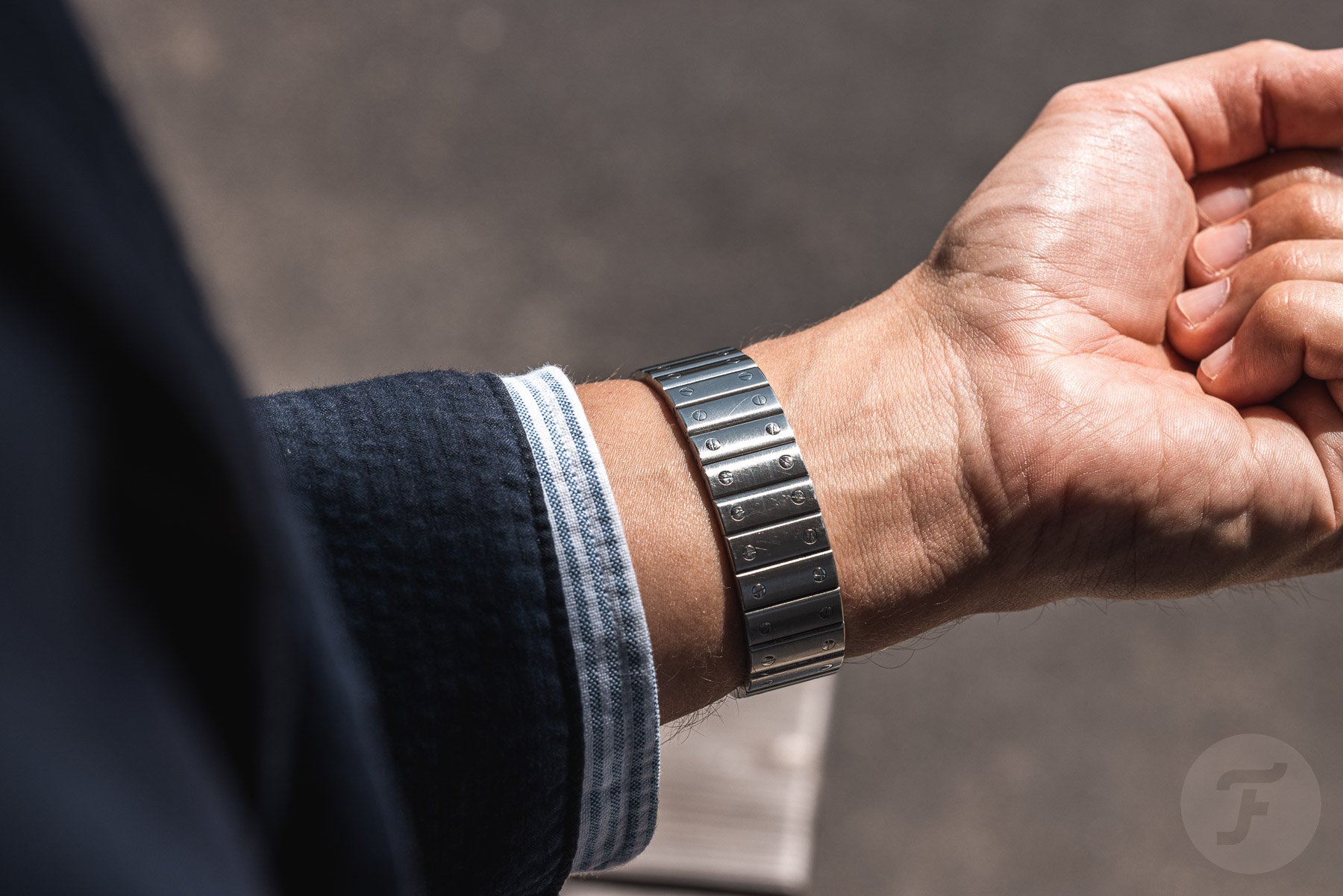 The most important reason is the fact that it doesn't offer any micro-adjustment. And, as I already mentioned in that GADA article, I also don't feel super comfortable taking it out for a swim. So that's why, for my summer trip this year, I decided to bring three watches that don't have those same limitations. On vacation, you just don't want to be thinking about your watches all too much. So that's why I brought a proper sports watch trio for the trip. In the end, though, I think I could've left my watch roll at home.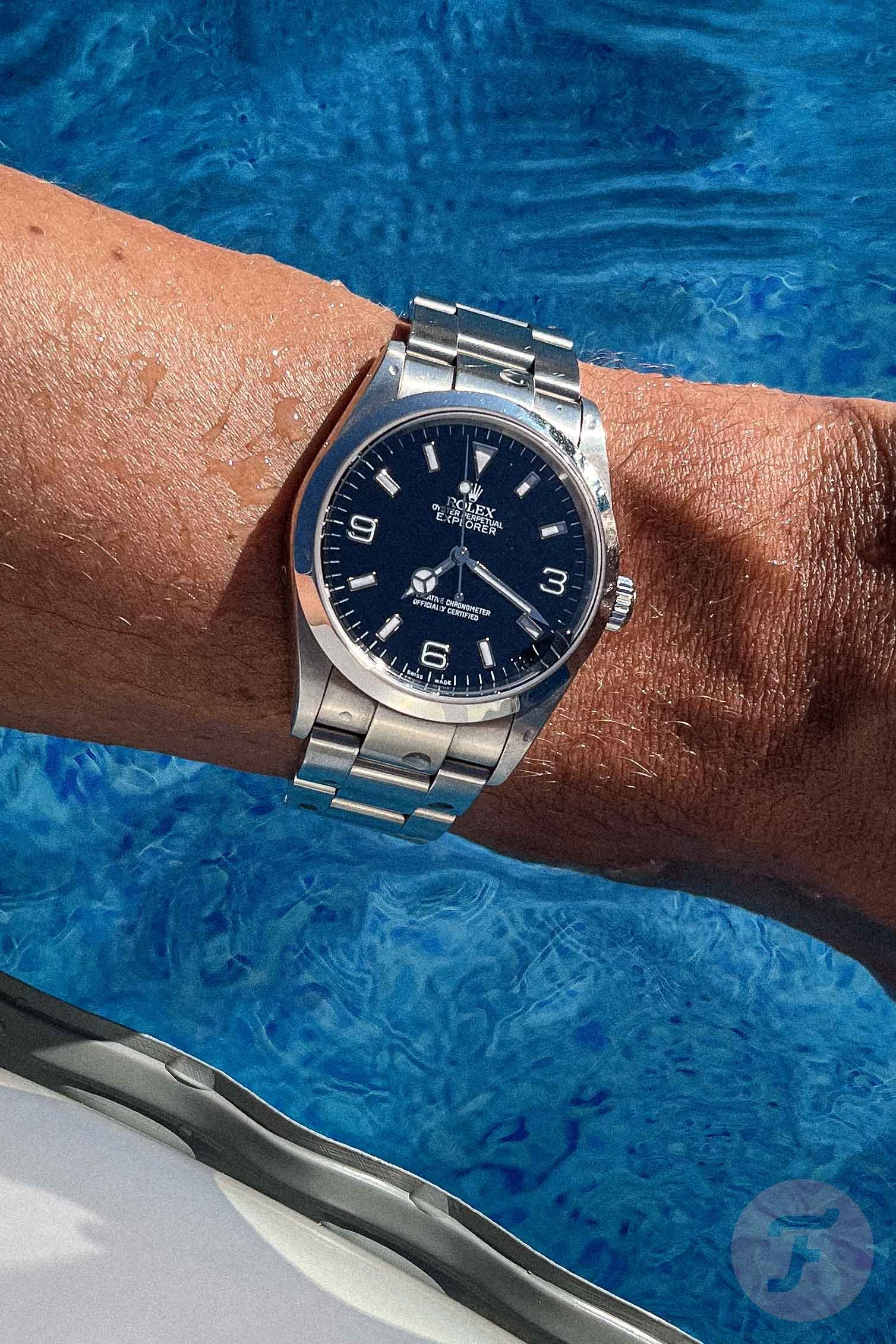 The ultimate summertime companion
As it turns out, my Rolex Explorer, which I have owned since the end of last year, is proving to be my ultimate summertime companion. With its famous Oyster bracelet, it fits very comfortably on my 17cm wrist. It's not too big, but it still feels tough enough to be able to handle the occasional impact from a kid or any other object that's in its way. I also got it serviced and checked for waterproofness when I bought it, so that gives me the confidence to take it swimming in any lake, sea, or river that we encounter.
But, of course, another very important aspect is the way it looks. This is the first Rolex that I've owned for longer than a month. The other Rolex was a 1974 Datejust ref. 1603 that just didn't feel right on my wrist. This 114270 feels a lot more sturdy and also has that Rolex aura floating all around it. It's that combination of familiarity, confidence, and quality that gives you a feeling of reassurance every time you look at your wrist. One glance, and you just know every little thing is gonna be all right.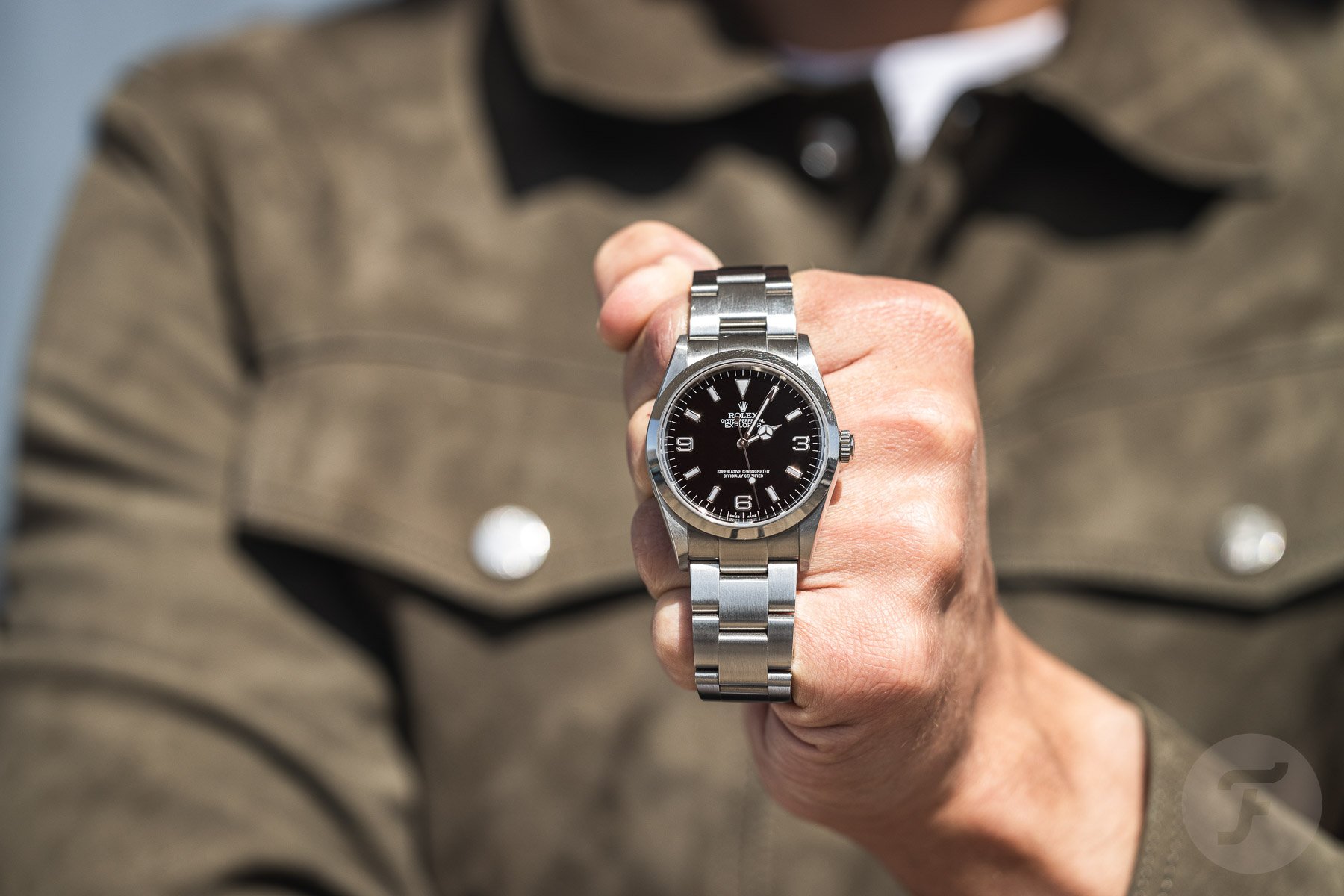 ¿Qué hora es?
So, as the Explorer feels so right on my wrist, I can't be bothered to change it out for either of the other two. It's on my wrist for the whole day. I've only taken it off when I was building sandcastles with my kids. That just seemed like an obvious activity where I knew the watch was going to get scratched unnecessarily quickly. Other than that, it's been on my wrist day in and day out. Some of my friends here, who aren't as deeply into watches as I am, ask me why I would wear such an expensive watch while swimming and being at the beach, for example.
I tell them it's a watch that's been made to be worn whenever, wherever. And that's exactly what it feels like. Besides, I truly enjoy wearing it, and I like the fact that I don't have to think about having to take it off or not. What I also noticed is that when I'm in the water with it, I'm often the only one wearing a watch. And people ask, "¿Qué hora es?" (what time is it?) a lot more often than you think when you're in the water, especially when you know how important la hora de comer (lunchtime) is for the Spaniards.
Is it me, or is everyone wearing a Rolex?
What I also noticed is that I see people wearing Rolex watches around me all the time. It might have to do something with my frequency bias, which makes me believe that, now that I'm wearing a Rolex, everyone else is wearing one too. Anyway, I did spot quite a few Rolexes on other people's wrists. At one point, I decided to go up to a few of them and ask them about the watches they were wearing. As we discussed in our podcast, this isn't always received positively, but in my case, luckily, it was.
My first "victim" was a senior lifeguard on La Plage des Chênes-Lièges in the French town of Hossegor. From afar, I saw him wearing a Rolex Explorer II ref. 16570 with a polar-white dial. My French isn't what it used to be, but I decided to ask him about it. He was happily surprised that I noticed it and told me he has worn it ever since his wife got him the watch as a present. He said he had been looking at the Submariner for a while but that he liked this one more and that it was a little more under the radar. Or at least that's what I think he said; again, my French is not that great.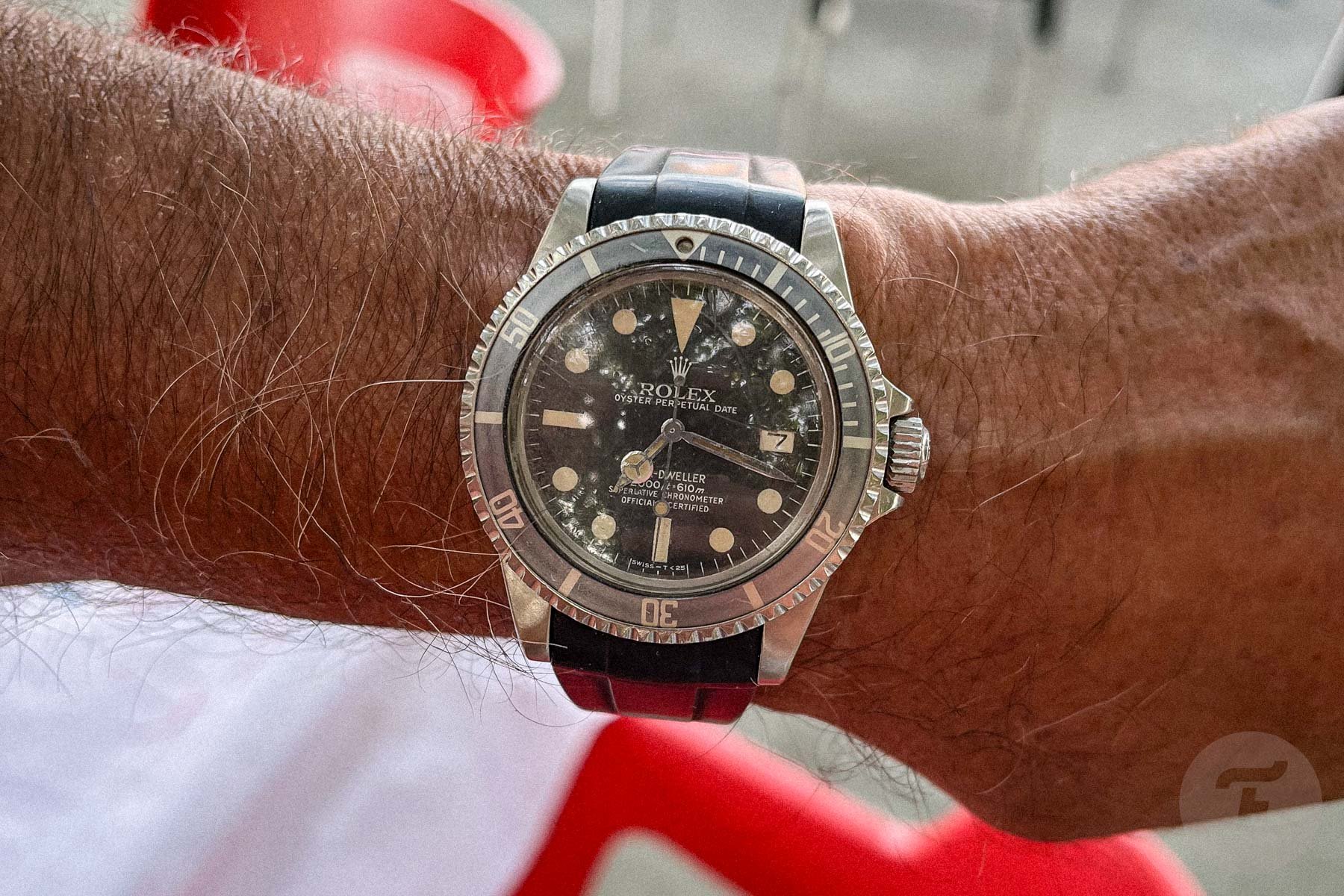 Like father, like son
Then, when we were at a pool in Spain, I noticed two older guys talking to each other. One was wearing an Ebel with one of those magnificent two-tone bracelets, just like the one on the Ebel Chronograph that RJ recently bought. And the other man was wearing what looked like an older Submariner. It had a faded bezel with a missing lume pip, and he wore it on a very broken-in black rubber strap. It looked badass, so after the two finished their conversation, I decided to step up to them. The Ebel wearer thanked me for the ice-breaking compliment and walked away. The other guy, on the other hand, couldn't stop talking about his watch.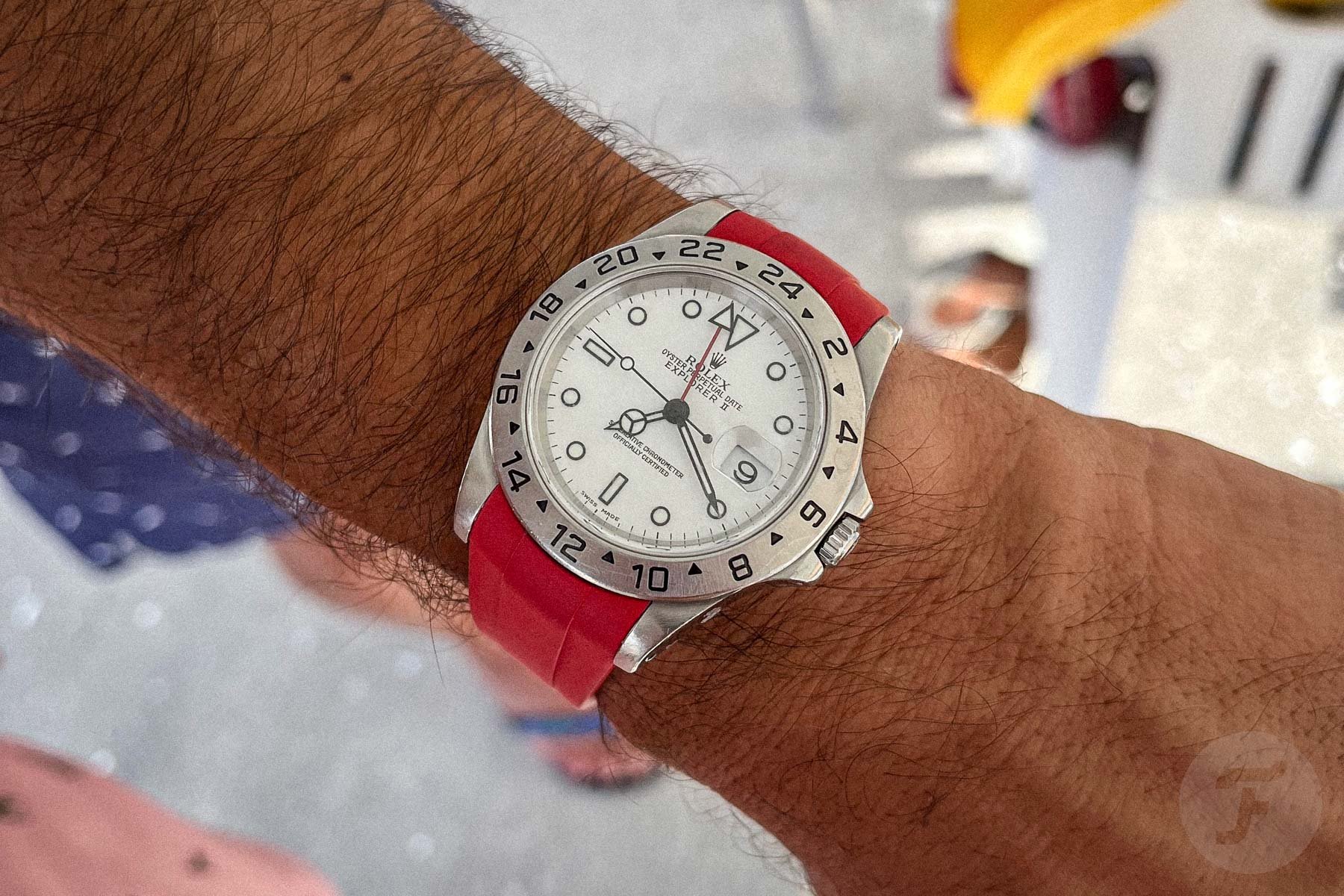 He told me he had bought it over 40 years ago after he got his first paycheck. When I took a closer look, I saw it was a Sea-Dweller instead of a Submariner; I think it was a ref. 1665. He told me he had never taken it off during his career as a miner in the region. He only changed out the bracelet for the rubber strap because the bracelet became a bit fragile over time. After that, he also introduced me to his son, to whom he gave an Explorer II when he graduated. The son was wearing it on a rubber strap, just like his father. But his was bright red, which worked really well with the 16570's red GMT hand.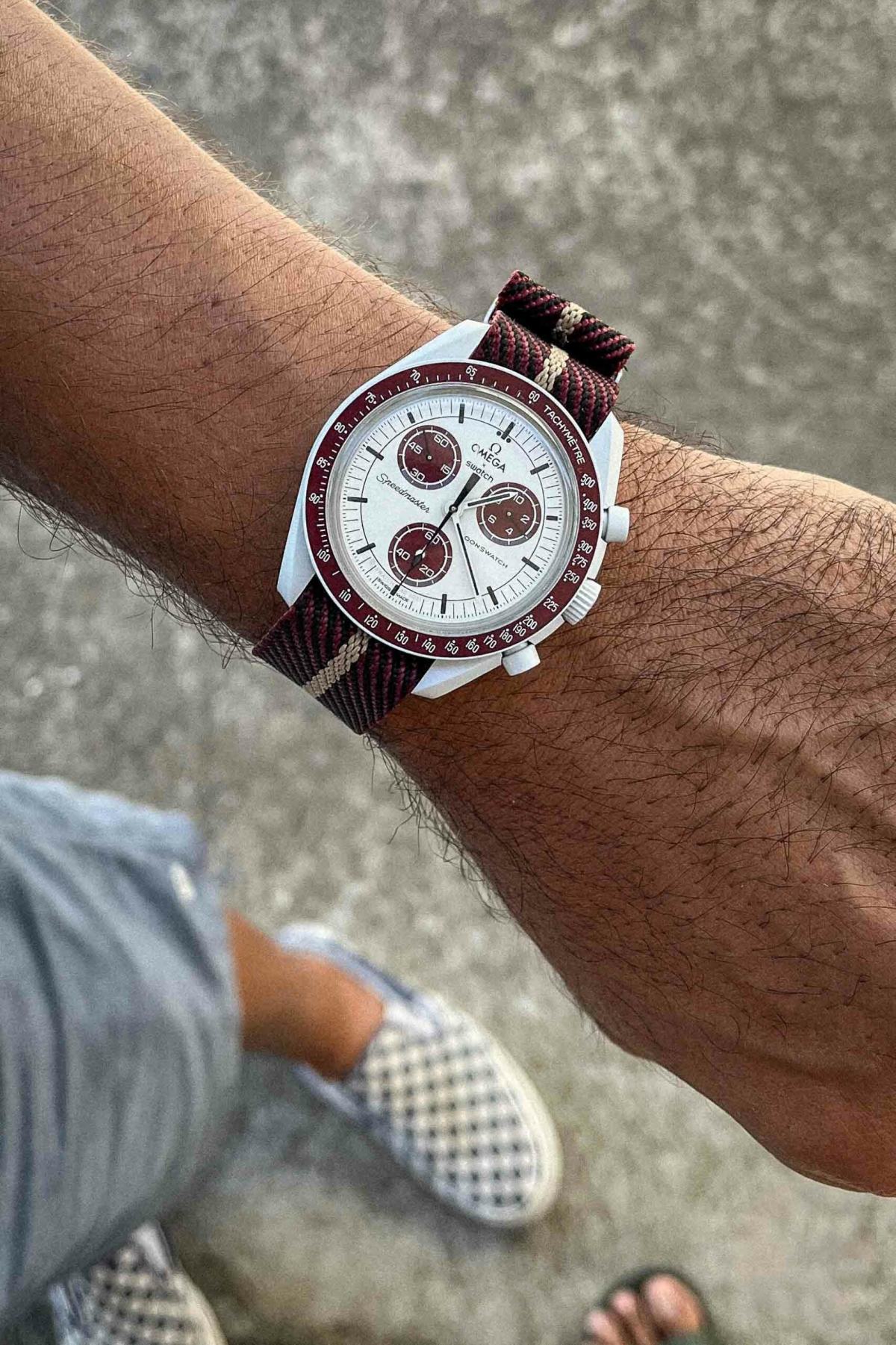 MoonSwatches
Of course, there were also watches from other brands on people's wrists. It still surprises me how many people are wearing MoonSwatches all around me, also during this summer period. I know how popular the MoonSwatch is, but I also know that it's not the most water-resistant watch out there. It's nice and light, though, which is perfect for the hot summer here in Spain. One of my friends here actually proudly came up to me and showed me his Mission to Pluto. He put it on a burgundy NATO strap with a light racing stripe. It's a shame there's no Swatch boutique close by because that combo made me want to get one too.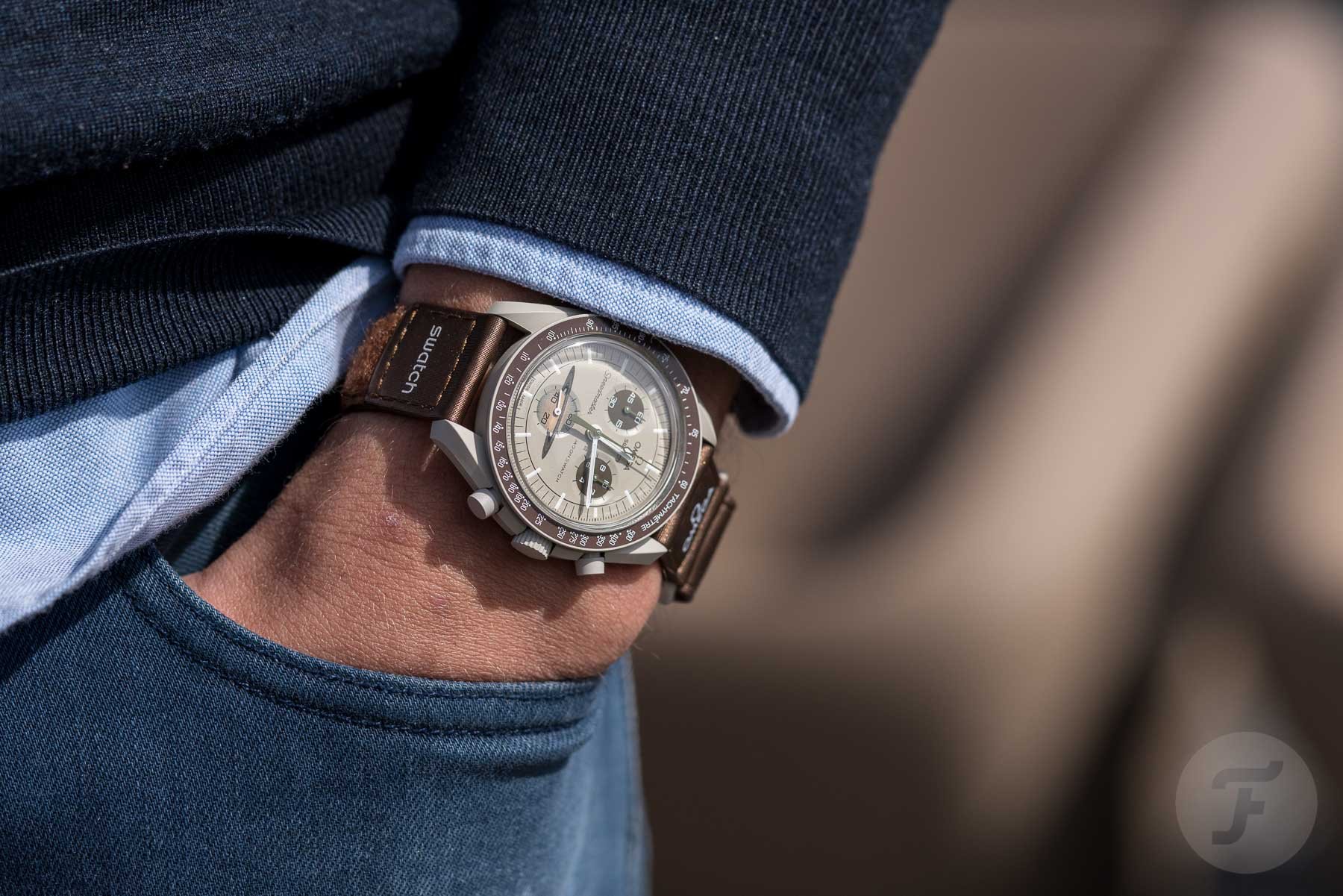 What's your summer watch of choice this year?
I'll still be in Spain for a little over a week, so I might spot some more watches. But even if I don't, I'll just keep looking at that beautiful Explorer on my wrist. What is your horological summertime companion? And have you been spotting any interesting watches on other people's wrists? Let me know in the comments below.