You Asked Us: What Rolex Would You Buy?
And it's probably not what you expect us to say
Only last week, I received this exact question at least three times during a discussion on purchasing a (new) watch.
I received this question by email and twice during a discussion in the flesh. In a time where Rolex has issues delivering their goods to the final customers, or at least to fulfil the demand, there's a limitation on what you can buy. But if we include vintage and pre-owned watches, there's still enough to choose from. We're not into paying over retail for anything, so forget about the grey market supply for Rolex. Or douchy ADs who are willing to sell you one for a premium.
You Asked Us: What Rolex would you buy?
So basically, the question was directed at me. What Rolex I would buy. I can't decide for you what to buy, although I am always happy to share my thoughts. I want to start with the fact that I own and have owned several Rolex watches, and that I admire them for their quality and looks, but will not join the craziness there is today. It has been going on for years with the Daytona (and thank God I don't fancy owning one), and sporadically for some other models as well, but what's happening in the last year to two years is just nuts. If you are willing to wait, put yourself on the waiting list and pay retail, but I can also imagine you will seek out to other brands that can deliver.
Rolex Submariner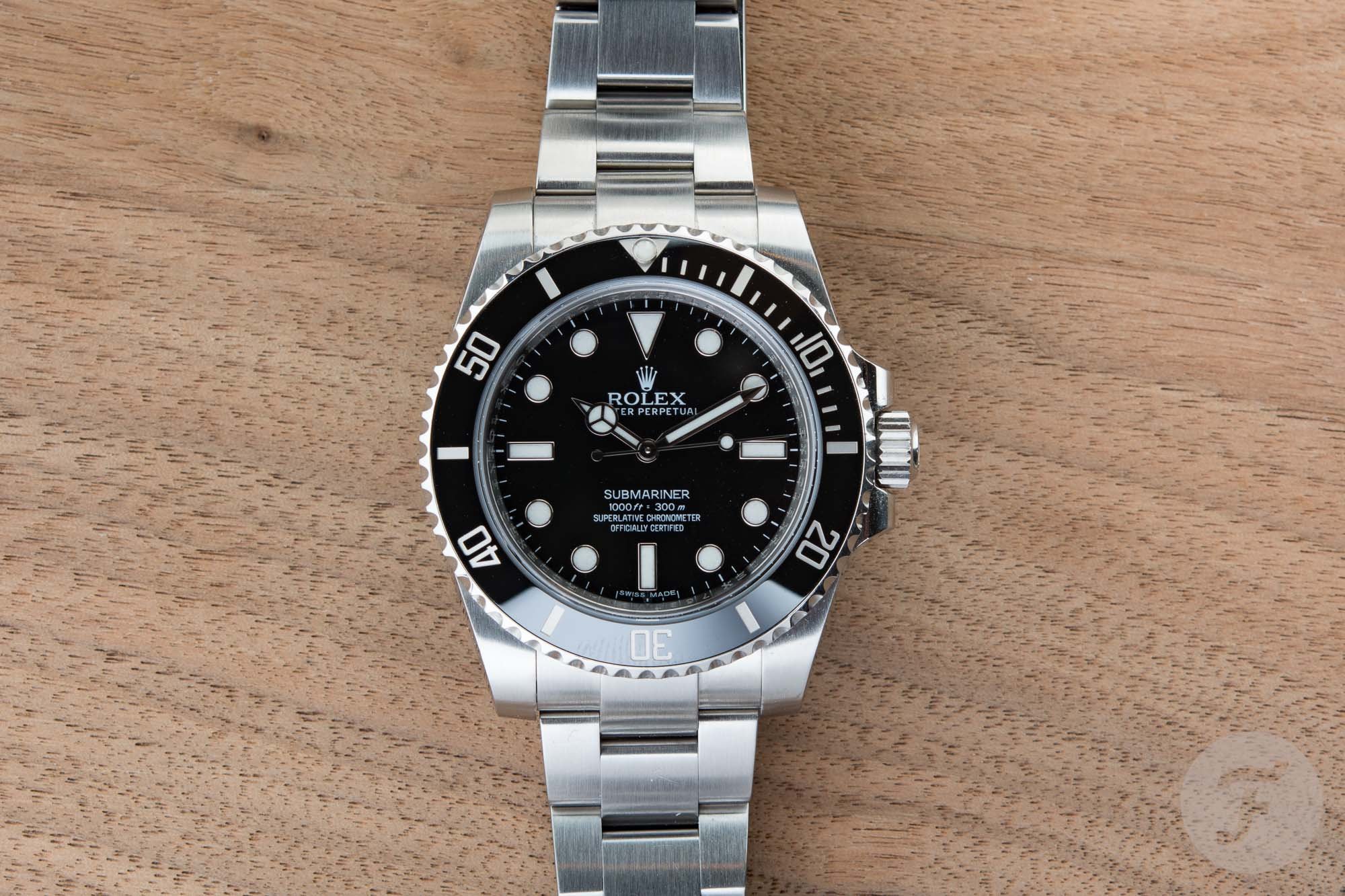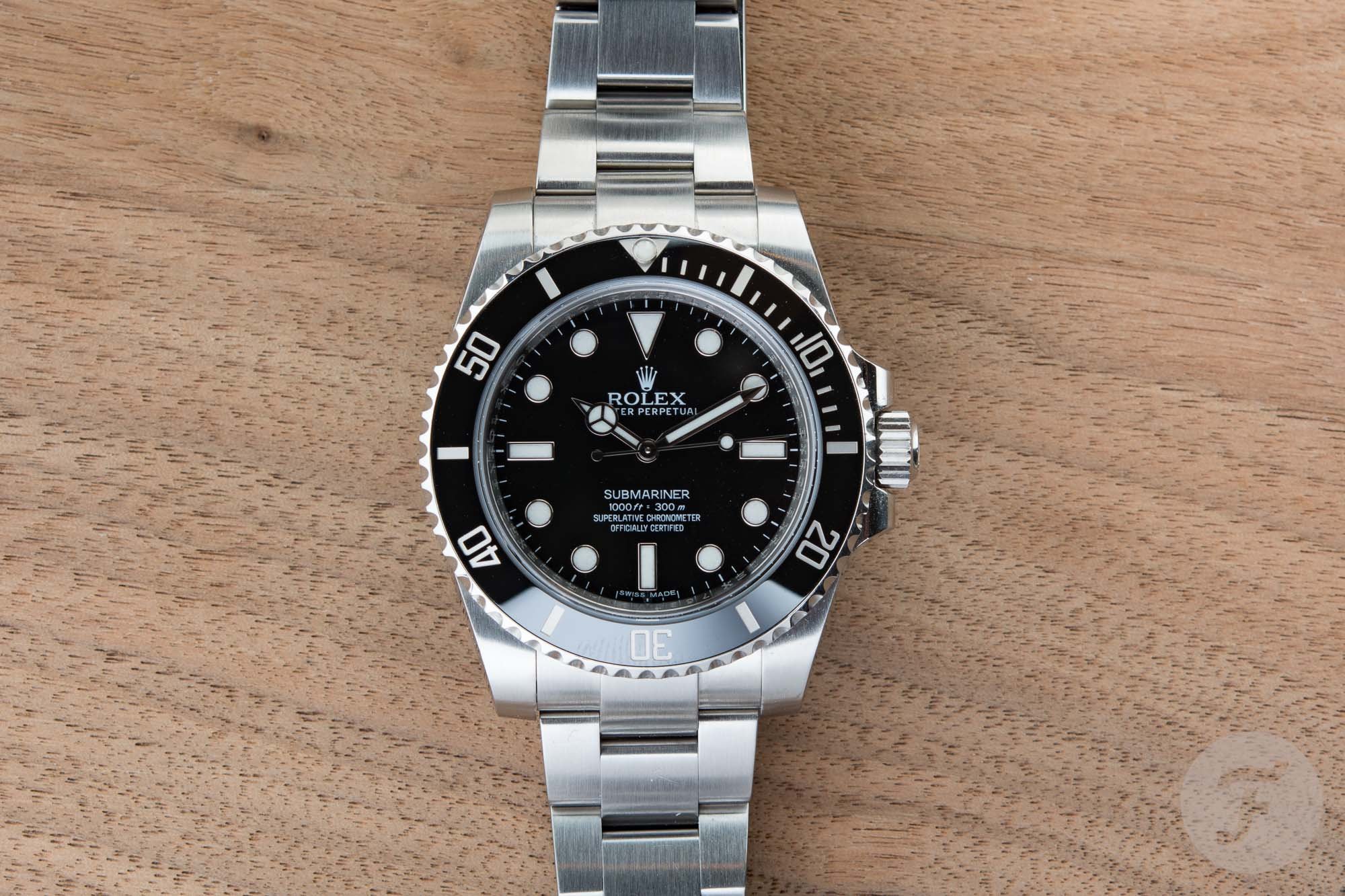 The last time I bought a Rolex was the end of 2017 when I bought a Rolex Submariner 114060. I was aiming for a GMT-Master II, but that was back then already an issue. Although the waiting lists were much shorter, I had money in my pockets and wanted something beautiful for myself for Christmas. Not on a random day in February (or March). So, that's a Rolex I 'would' buy. And did. A beautiful Rolex, suitable for everyday use, no need to worry about it and it will probably last much longer than me. It is also a bit of a boring watch, and you will see many of them if you frequently visit places like airports, restaurants, hotels, etc. You're not the only one (which applies for most Rolex watches of course).
But since I already have one of those, and at least two of the people who asked me last week are aware of this, I will elaborate on what Rolex I would buy today. Or better said, which Rolex I am planning to buy this year, if I can find a nice one, that is.
Rolex Explorer II – White Dial
For the reader that pays attention, that last sentence indicates that we're talking a pre-owned or vintage one. As I am a bit reluctant to purchase a vintage Rolex for the obvious reasons, including their price point (for a nice one), I decided I am going 1990s. Neo-vintage, as some would call this. I thought about getting something in bi-colour, or gold even, but the gold purchase I already did this year hit me quite hard, and unless there's a lottery to be won, I will settle for steel. Bi-colour is also still an option (I love the GMT in two-tone), but the watch I am talking about has been just as long on my wishlist and is a bit friendlier for my bank account. Somehow, the white dial would be my preferred Explorer II configuration. Although I love the vintage Explorer II 1655 and called it my ultimate sports Rolex before, the prices for those are out of my league. You can also spend quite a bit on a white dial Explorer II from the 1980s, with those cream colour dials and yellow-ish hour markers, but that's also not applicable. When I visited the Phillip's Watch Auction Eight in November last year, there was a beautiful Rolex Explorer II 16550 reference, with a white dial. I took some images of it, to keep it on file for future references.
1971 Explorer II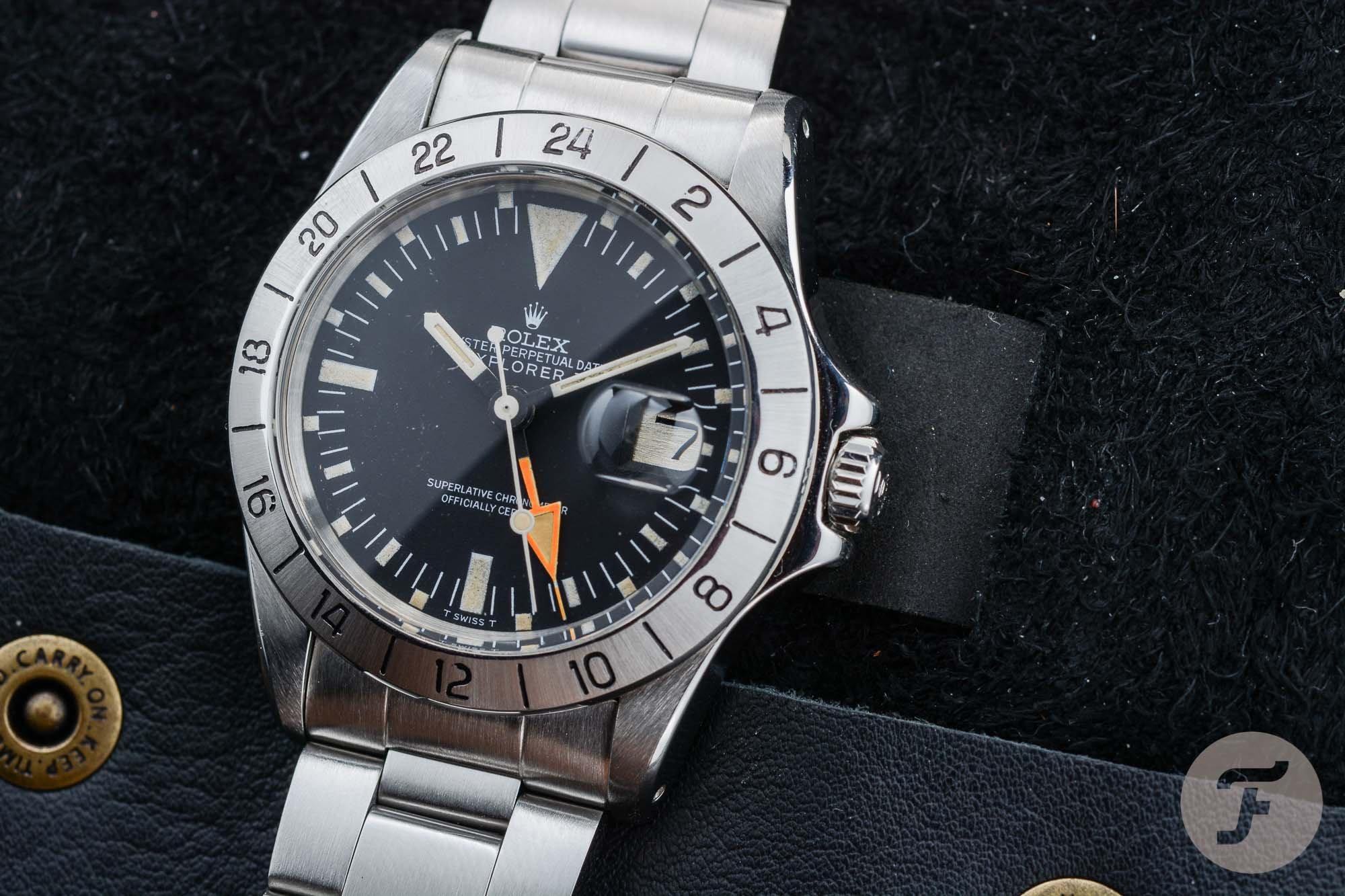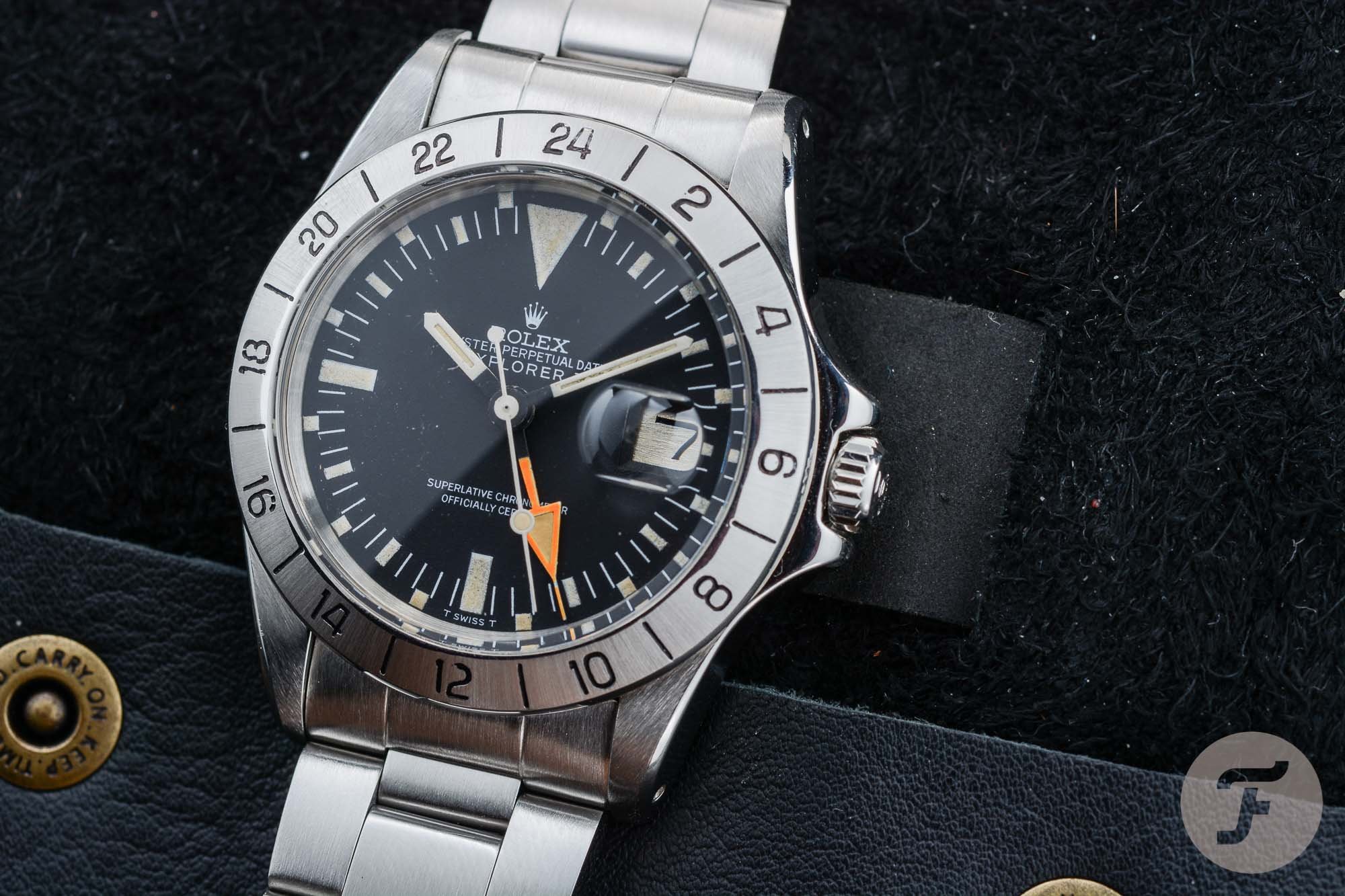 The Explorer II is not as old as the Submariner (1955, see our historical overview here) or GMT-Master (1954, see our historical overview here), or the Explorer (1953, see here), but goes back to 1971. In that year, Rolex introduced the Explorer II reference 1655 (I wrote about it here). This watch had – and still has – a 24-hour hand. An extra hand to indicate day or night. A useful tool for cave explorers who didn't see daylight for quite a while and could lose their orientation for day and night because of this. A watch with a 24-hour indicator would help them to tackle this issue. The movement was the same as used in the GMT-Master reference 1675 at that time. The first Rolex Explorer II, underwent through some minor updates, as we're used from Rolex in that era. It was in production till 1984, when they introduced a new Rolex Explorer II, reference 16550. Available in two colours: black and white. Besides the colour, they were fitted with a sapphire crystal and a new movement (caliber 3085).
1984 Explorer II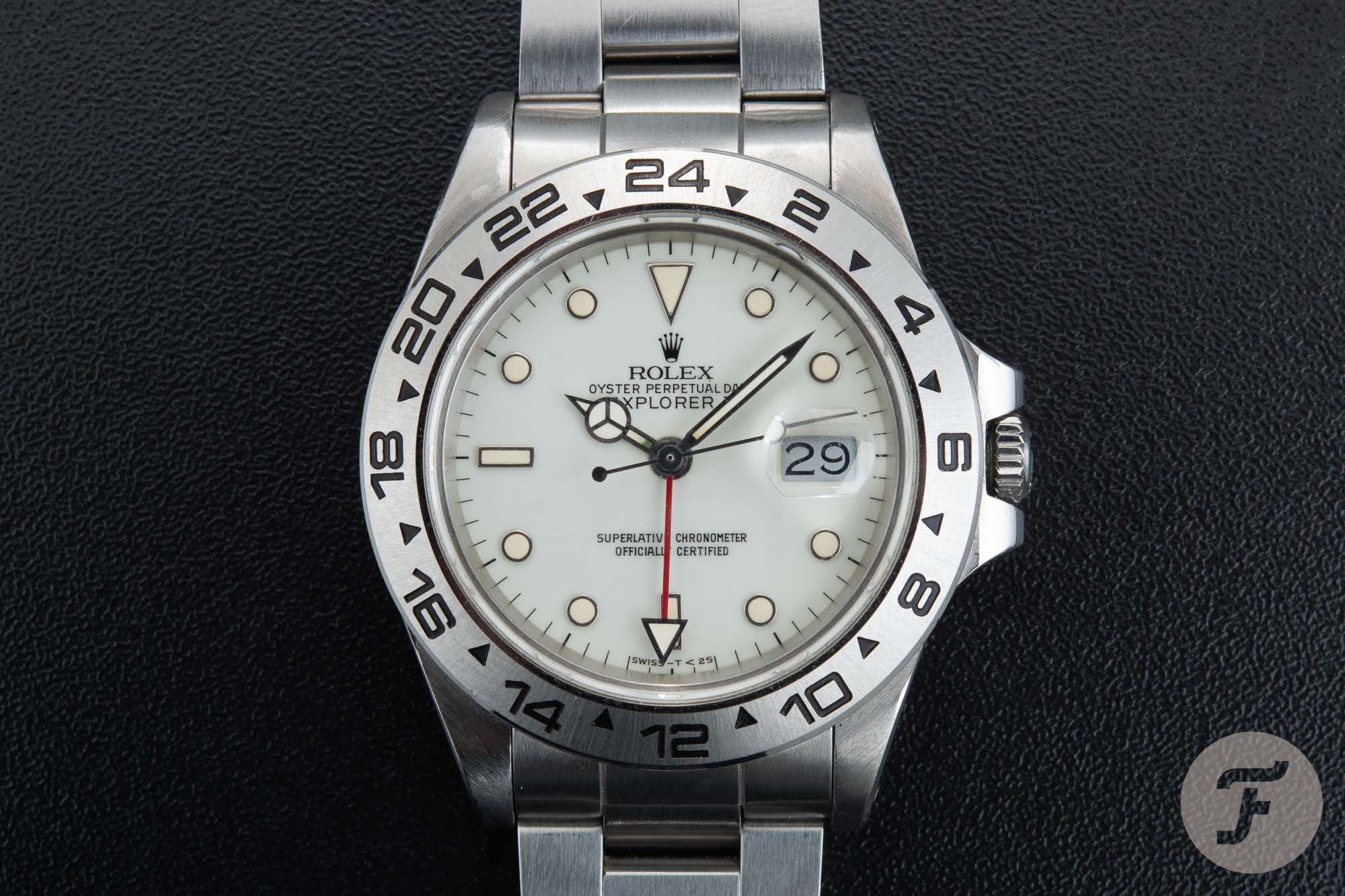 The Rolex Explorer II 16550 also received a new dial layout and a new set of hands. The 24-hour hand was now red, with a small white triangle. Most interesting about these model is perhaps the dials. On the white version, it is said that there was a flaw in the paint that Rolex used. This caused the discolouration from white to this creamy colour. Collectors love it, and so do I. On the black dial 16550 models, you will come across watches with a so-called 'Spiderweb', which means they show craquelé or hairline cracks. I am not so fond of those, that's just faulty, in my opinion, with a bad looking result. But to each his or her own, of course. Other subtleties are the rail dial (Superlative and Officially nicely outlined on the left, and chronometer certified on the right.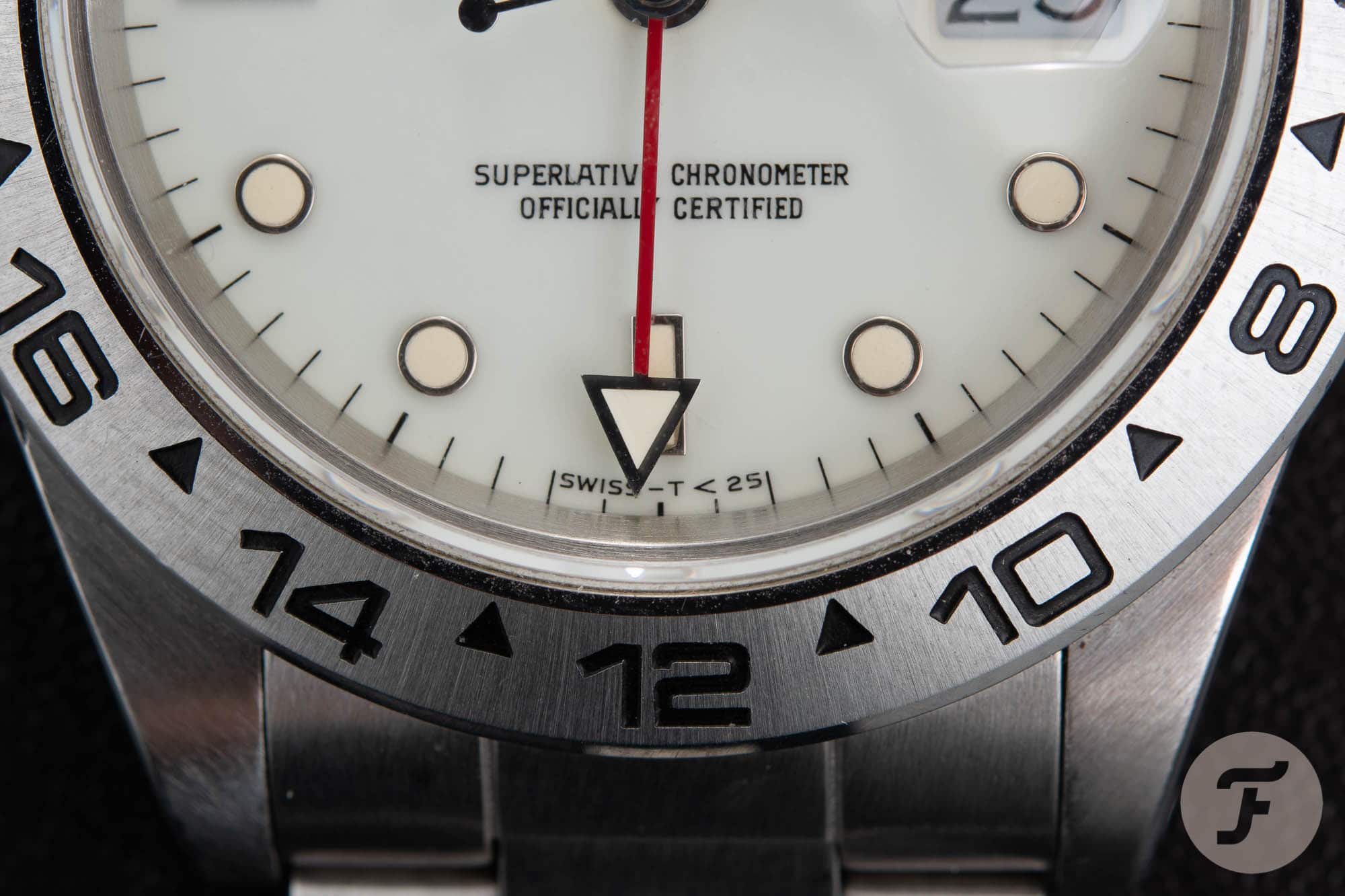 Although the one above still has a reasonably white dial (also due to the flashlight I've used for the pictures), there are also versions that have ivory looking dials. A lovely white dial Rolex Explorer II 16550 with a few yellow tones can be found below 10.000 Euro, but expect to pay double or even more when there's a lot of ivory and yellow tones on there. I wouldn't mind a white dial with yellow-ish tritium dots and hands though. Which brings me to the successor to the Explorer II 16550, that was introduced in 1989.
1989 Explorer II
This is the 16570. This reference had an upgraded movement (caliber 3185) but also had different hour rings. Still made of white gold, but now coloured black, for better contrast. Also, the hands were now in black, instead of white gold. The picture below demonstrates it perfectly.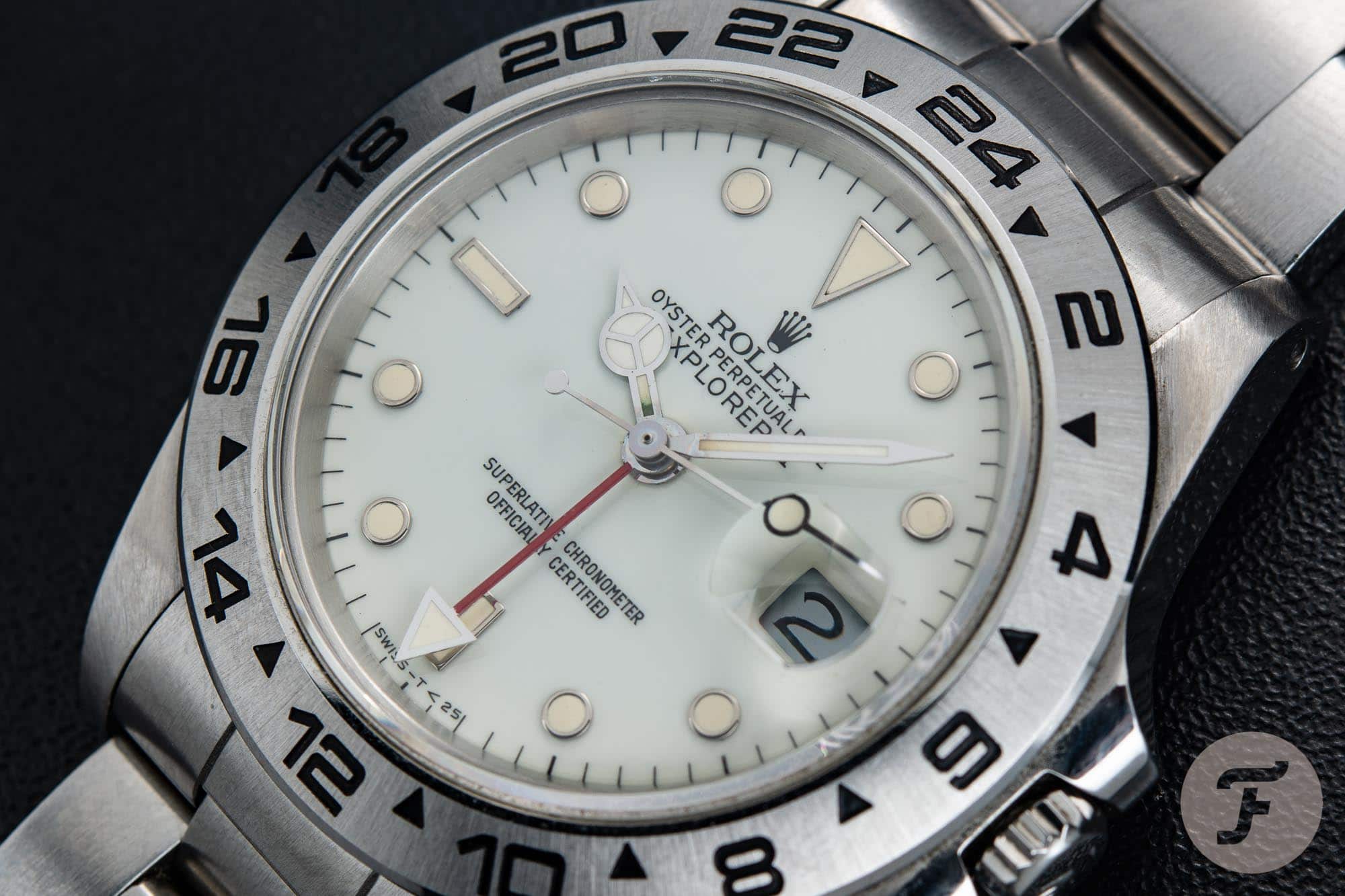 And below, a 1998 Rolex Explorer II 16570 with the white dial and black hour marker rings and hands. It has quite an effect on the dial of the Explorer II, in my opinion. The Rolex Explorer II 16570 below still has a tritium dial and hands, which you should also be able to find with a bit of a yellowish discolouration. After 1998, Rolex started to use (Super)LumiNova for their watches. This, of course, resulted in ending the use of the "Swiss T < 25" printing on the dial. The first two years, Rolex started to print "Swiss" on these Luminova dials. After 2000, it reads "Swiss Made".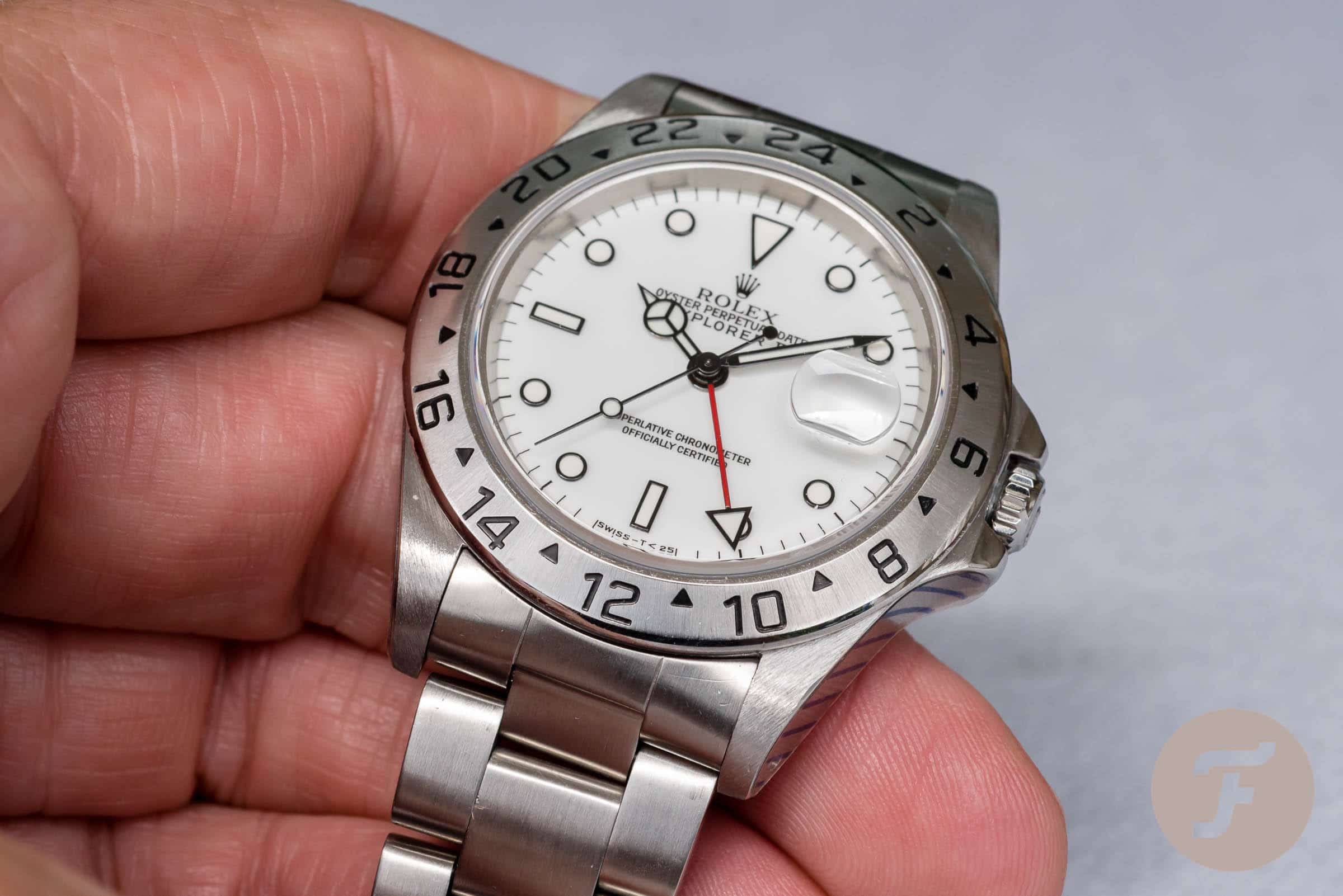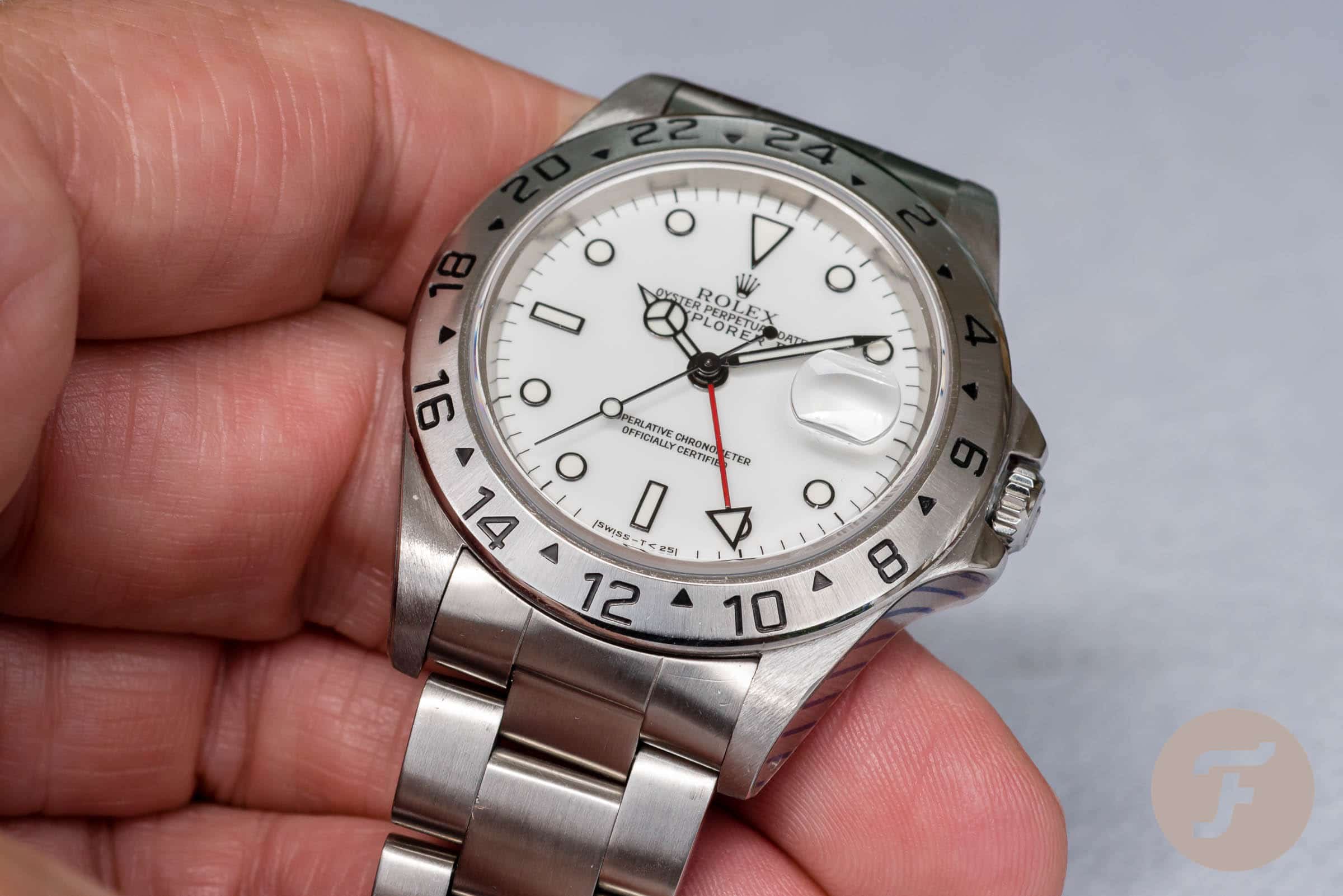 To summarise, the Rolex Explorer II 16570 that was used from 1989 till 1998 uses tritium and can be found in several different tones. The more yellow you will find on the dial of this reference, the more expensive it will be (but not as expensive as its predecessor, the 16550). If you love the white gold hour markers and hands of the reference 16550 a bit more (which I can imagine, as it has a softer tone), you should try to find one of those, of course. However, I think I can and will settle for an Explorer II 16570, with tritium dial and hands with slight discolouration. I love something subtle.
Have a look at Chrono24, and you'll be able to source a Rolex Explorer II 16570 with a white dial for below 5k Euro. If you want one with box and papers, expect to pay a few hundred extra. For an Explorer II 16570 with a tritium dial and box and papers, you will pay more, depending on the amount of discolouration and the overall condition. There's no real rule of thumb here, but I would say that if you are after something extraordinary, you should be prepared to pay a premium.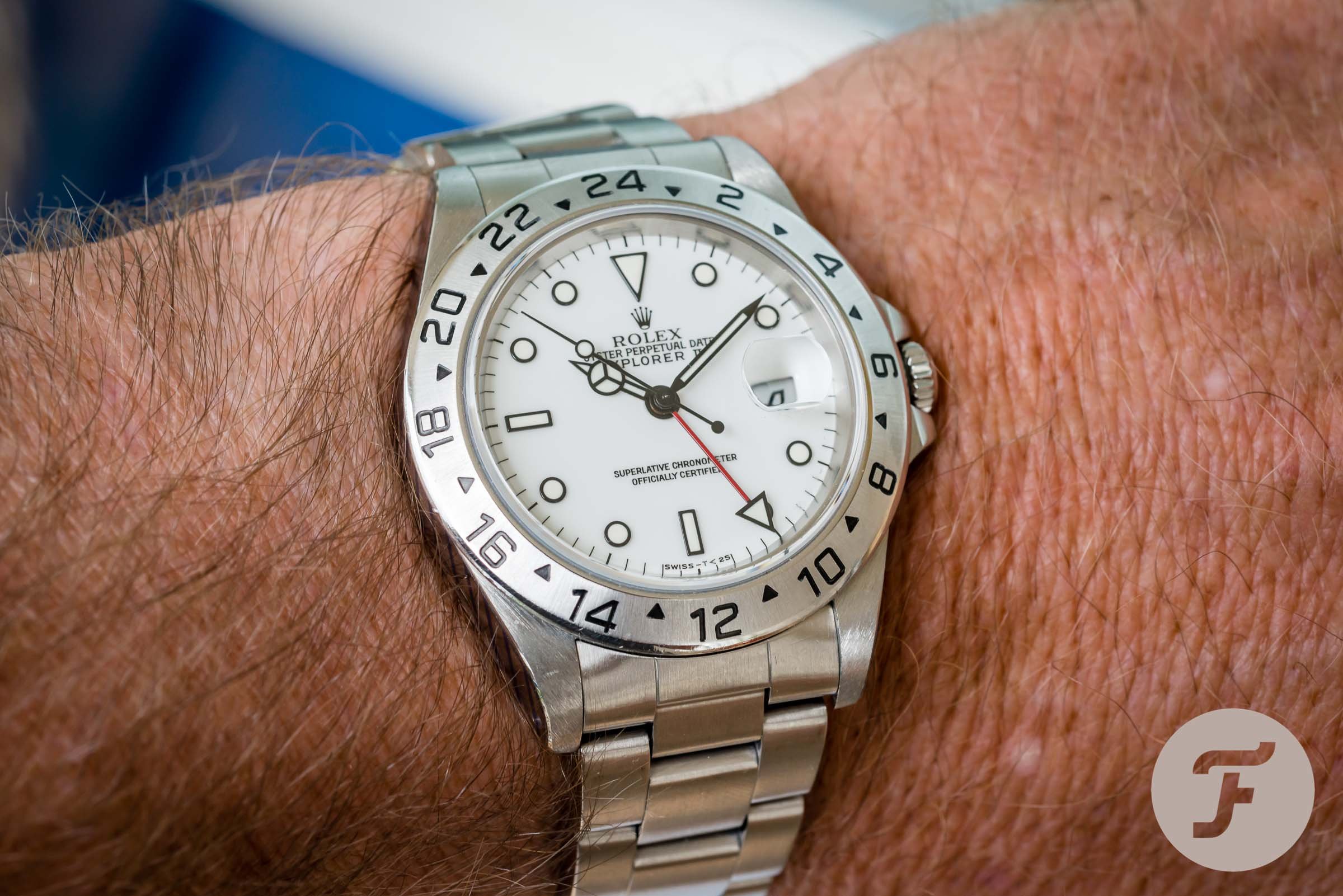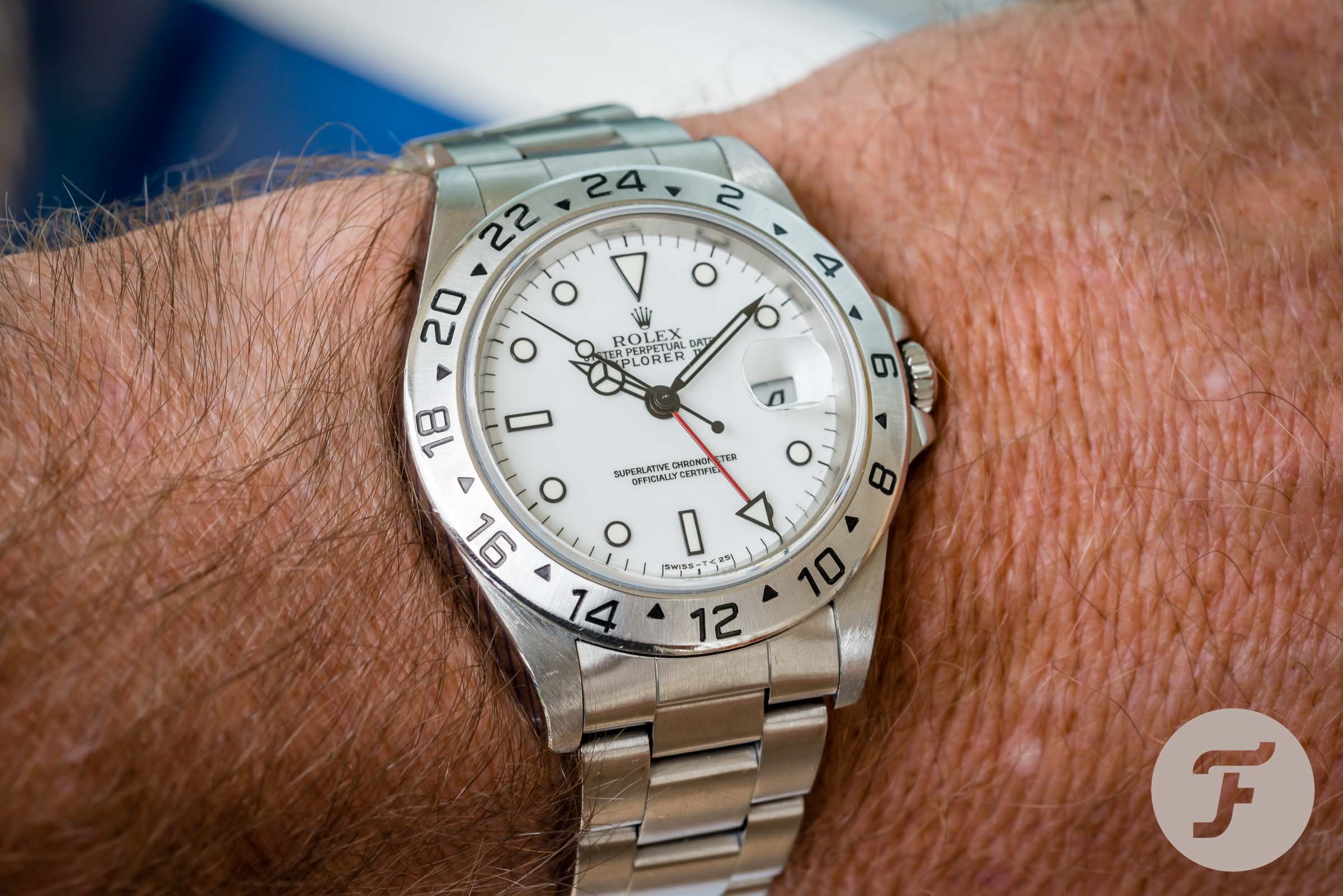 While I think the 16550 will become more sought-after in the future, and then quickly followed by a nice tritium 16570 that will show discolouration, the prices are still very acceptable today. You can source a white dial Explorer II 16570 for less than the retail of any other new Rolex sports model. It might take a while before prices increase as they did for the GMT for example, or perhaps it won't happen at all, but I happen to like the white dial Explorer II. The white dial makes it stand out from the crowd, and you will see less of them out there than the Submariner or GMT-Master. The latter should not be the reason to buy one, of course, but if you fancy a Rolex watch (which I can imagine) and want to have something different, consider the white dial Explorer II.
To me, the Explorer II with a white dial is just a beautiful watch. An undervalued watch for sure, but a Rolex with a nice (his)tory to it. As always, go for one with box and papers. Especially the Rolex Explorer II reference 16570 can be found as a complete set. I will be hunting one for sure this year, and I am sure it won't break the bank (yet).
More information, visit Rolex online.