Buying The Brand, Not The Hype — What You Can Buy From Patek For The Price Of A Nautilus
Comparing watches with the same or even lower market value
For many out there, Patek Philippe is the pinnacle of watchmaking. And rightfully so, with beautiful Complication and Grand Complication watches in the Patek collection. And then, of course, there are the Nautilus and Aquanaut collections, which have reached incredible heights of popularity in recent years. The Nautilus, especially, has been at the forefront of desirability for a while now.
But "Nautilus fever" has not always been a thing. I remember my colleague buying a Patek Philippe Nautilus 5711/1A right at list price when it came out in 2006. At the time of introduction, the retail price was €14,700. It increased to around €16K shortly after, though. Not too long ago, the local authorized Patek Philippe dealer told me that they could vividly remember when the Nautilus just sat in the display and only a few people paid interest in the model. Well, that was then, and this is now. The last known retail price of the Patek Philippe Nautilus 5711 with the green dial is €30,400. Today's going prices, though, are several times that last list price. A quick look at Chrono24's Watch Collection price indicator shows that the average price for a Patek Philippe Nautilus 5711/1A is €134,000.
Not The Patek Philippe Nautilus
Its direct competitor, the Audemars Piguet Royal Oak "Extra-Thin" reference 15202, is somewhat friendlier with an average price of €91,000 (retail price CHF 29,700, or €28,600). If you're looking for a Gérald Genta-designed watch such as the Nautilus, but don't want to spend this kind of money, there are some pretty interesting alternatives out there. They may not have been designed by Genta himself, but they offer a similar style with an integrated bracelet. Examples that come to mind include the H. Moser Streamliner, the Czapek Antarctique, Bvlgari Octo Finissimo, or even the Girard-Perregaux Laureato Eternity.
However, I thought it would be interesting to show you what other Patek Philippe watches you can purchase for the going price of the Nautilus 5711/1A (so I will use market prices rather than the official retail prices). Patek Philippe has more to offer than the Nautilus (or Aquanaut), and you will find that for the going prices of a three-hand Nautilus, you can actually purchase something from the brand's highly praised Grand Complication collection.
How about a dress watch?
I've cut up the price ranges a little bit to show you what's out there from Patek Philippe. In fact, I am contemplating buying my first Patek Philippe as I write this. In the past, around 2009 or so, right before I purchased my Royal Oak 15202ST, I did try the Nautilus 5711/1A for a few days thanks to my colleague Gerard. I quickly discovered that it was not for me and that I preferred the Royal Oak. Today, I am looking at something completely different, though. It might be an age thing (I am turning 45 this year if all goes well), but I have come to the point where I feel that I need a proper gold dress watch. I love my rose gold Globemaster for example, but due to its thickness (which I don't mind for an everyday watch), it's hardly considered a dress watch.
Calatrava
I want something smaller and thinner, and quickly found myself browsing for Breguet Classique, Lange 1815, and Vacheron Constantin Patrimony watches. And, of course, Patek Philippe Calatrava watches. I think one of the most beautiful dress watches out there is the gold Calatrava reference 5196, with a retail price of €22,300. To me, this watch embodies the perfect dress watch.
It has a discrete diameter of 37mm, and it is super thin at 7.68mm. More importantly, it has an incredibly beautiful and clean dial, with applied gold hour markers, gold dauphine hands, and a small seconds register at 6 o'clock. But one might also consider a 5227, a slightly larger Calatrava at 39mm with a date window. Both these watches are available around the retail price, even on platforms like Chrono24.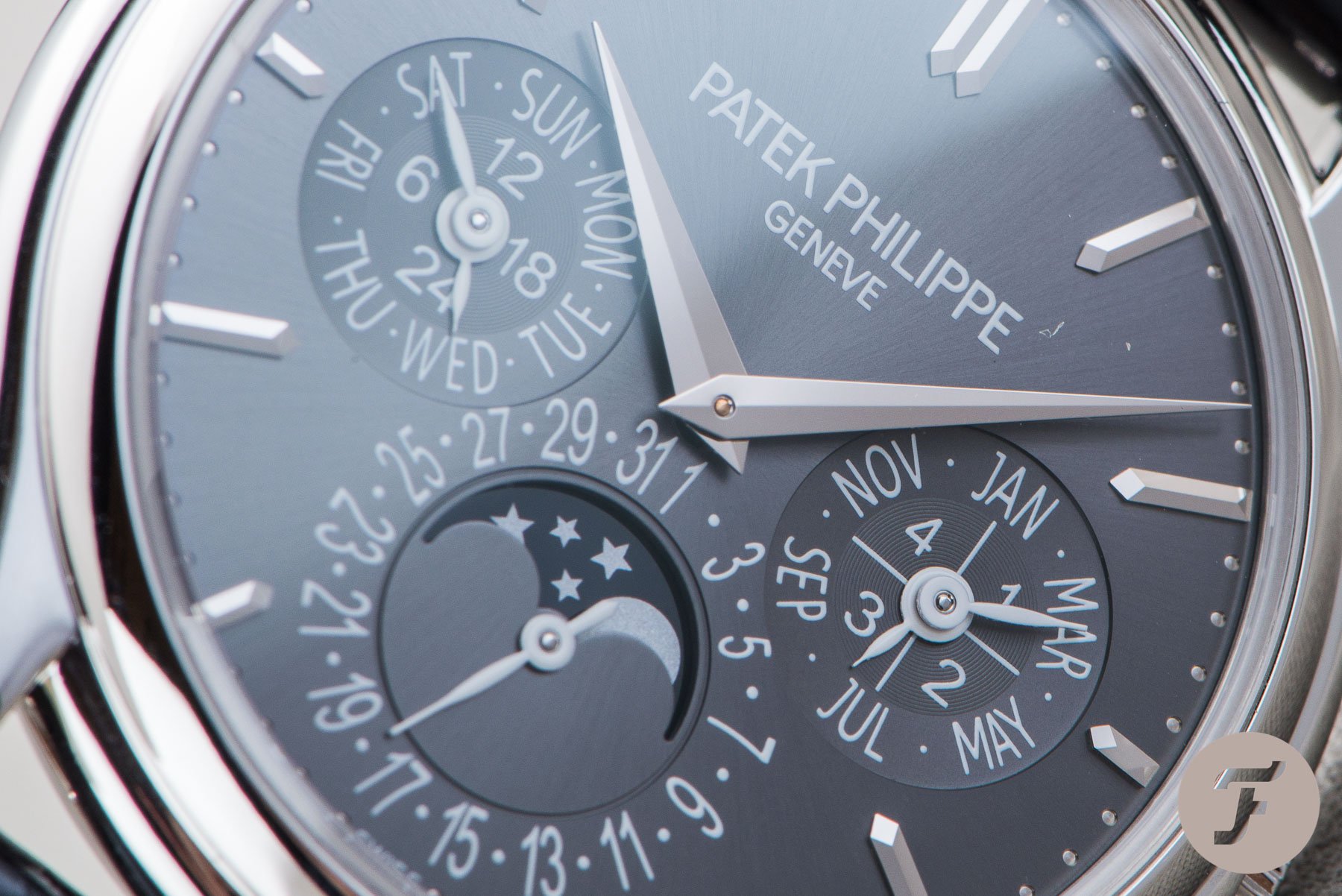 Patek Philippe Complications
But what if we take it up a notch? The €22,300 or €34,000 for the above-mentioned Calatravas are still far away from the going prices of the Nautilus 5711/1A. One of the most beautiful Patek Philippe Perpetual Calendars, in my opinion, was the reference 3940, replaced by the 5140.
The prices are a bit all over the place (€35K-60K), but I found beautiful pre-owned pieces around the €45K-50K price range. I have no specific preference for either the 3940 or 5140; both use the same Patek Philippe caliber 240 Q.
The 5140 is just slightly bigger at 37.2mm (instead of 36mm). Today's version of those watches is probably the reference 5327, also powered by Patek's caliber 240 Q. It has a slightly different dial with Breguet numerals and a case diameter of 39mm. This Grand Complication has a retail price of €87,700. Market prices, however, are a bit lower than that. It's available in white gold with a blue dial, but also in red or yellow gold with an ivory dial.
Reference 5172G Chronograph
Something completely different that can be had for under the price of a Patek Philippe Nautilus is the white gold chronograph with reference 5172G. This reference was introduced in 2019. The going prices of this watch are similar to the retail price (€70,800). This reference is one of the successors of the famous reference 5070 (after the 5170), which had the CH-27-70 movement, based on the Lémania 2310. Sounds familiar, right?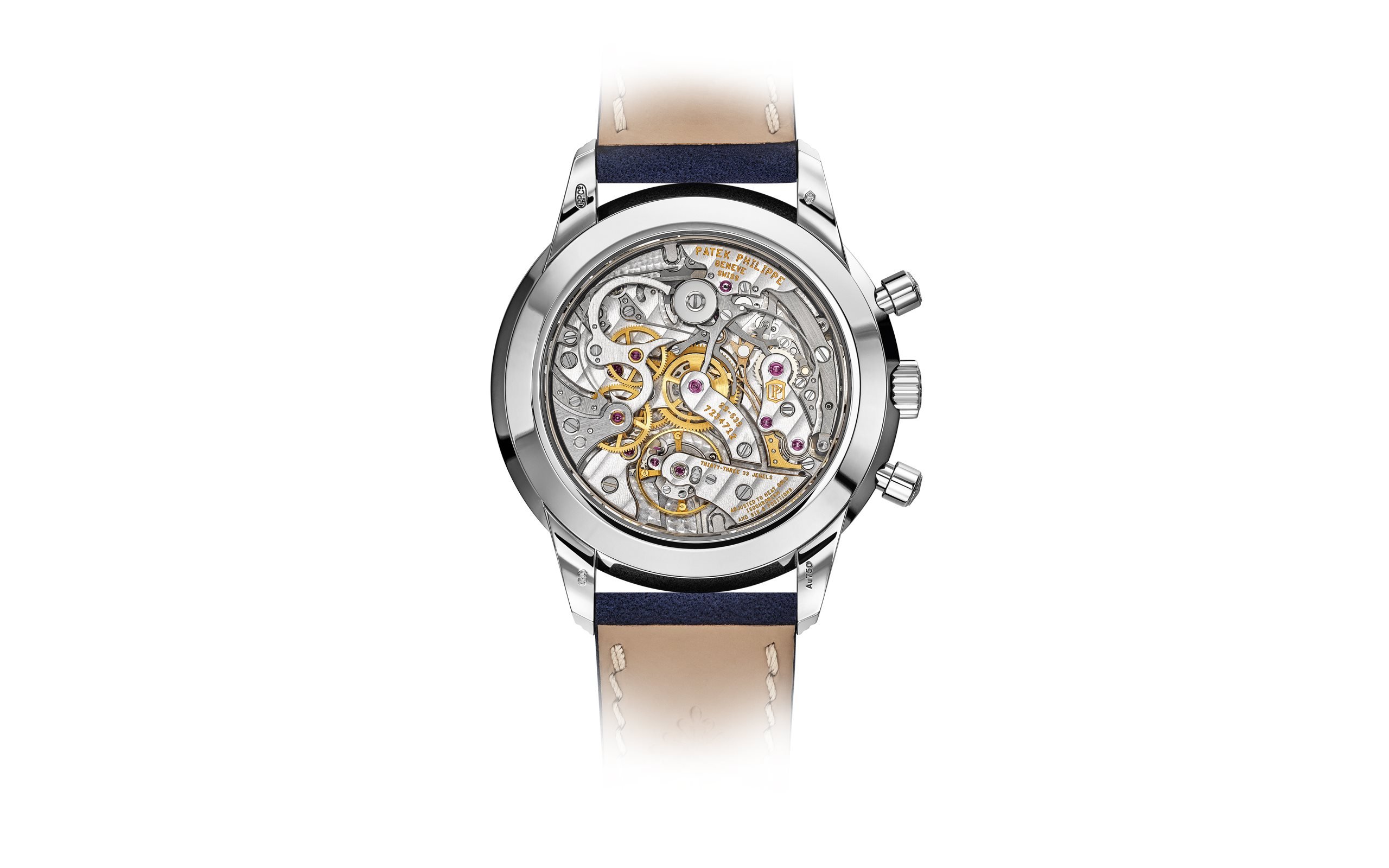 The 5172 has caliber CH 29-535 PS, which was the first in-house-developed, hand-wound chronograph movement by Patek Philippe. It was first introduced in the 5170 in 2010 and also used in the reference 5172. Never underestimate the complexity of a chronograph movement; watchmakers have told me it is one of the most difficult complications to develop. Just like the perpetual calendar models I mentioned above, it is interesting that these complications are priced below a three-hand Nautilus.
Reference 3970 Perpetual Calendar Chronograph
Last but not least, and also more on the expensive side of this overview, is the Patek Phillipe 3970. It's the successor of the famous and highly sought-after 2499 (in production from 1951-1986) and 1518 (produced from 1941-1954). The Patek 3970 was introduced in 1986 and remained in production till 2004, powered by Patek's caliber CH 27-70 Q.
As you probably already have guessed, the base movement is indeed again the Lémania 2310 with an added perpetual calendar mechanism. Even though this watch measures just 36mm in diameter, I think it is one of the most beautiful watches Patek has ever made. An interesting fact is that Patek decreased the case diameter from 37.5mm on the reference 2499 to 36mm for the reference 3970 in 1986.
The 1980s was not the best decade for watches, and I wonder how tough it was to sell these pieces. According to this article by The Hour Glass in Singapore, between 2400 and 3600 pieces were made during its lifespan. The successor of the 3970 is the 5970, which was introduced in 2004. Patek increased the case diameter from 36mm to 40mm, creating a more modern-looking watch. It was still powered by the same Lémania-based movement, and only got replaced with the caliber CH 29-535 PS Q when Patek introduced the 5270.
Round pushers
However, despite its smaller case size, I still prefer the 3970. I am not in favor of the rectangular chronograph pushers that you'll find on its successors. For the price of a stainless steel Nautilus 5711/1A or even a little bit less, you are able to source a yellow gold 3970 with this crazy yellow gold mesh bracelet. It's a stunning combination, and I would take that over a steel Nautilus any day of the week.
Buying the brand or just a specific model?
In the end, I am aware of the fact that those who want a Nautilus are mainly interested in a Nautilus, or perhaps on one of the similarly designed watches by Genta or the likes of Hysek. When Omega introduced its Speedmaster with an €80K price tag, some of the responses were, "You can buy a watch from Patek, Lange, or AP for this amount." And that's very valid, but not everyone is into that. In this case, it's a little different because you can stay within the same brand, with the same values when it comes to finishing, decoration, brand image, and so on. Is your appreciation for Patek as big as it is for the Nautilus? What would you do? Pay the market value for a Patek Philippe Nautilus or spend the same kind of money on one of the brand's complicated watches? Let us know in the comments.
*Header image courtesy of Xupes.