Have A Coffee And Some Wrist Shots From Geneva Watch Days 2022
Extravagant Haute Horlogerie galore by Greubel Forsey and others, but also a sophisticated gold Oris
That was quite the few days in Geneva last week. Experiencing exuberant and complicated watches in the laid-back setting of a lakeside five-star hotel is most definitely one of the perks of this job. But cramping the presentations of all these horological marvels into a very short timespan can also make your head spin. And after the spin, the memories of yet another double tourbillon in a three-dimensional, open-worked movement get mixed up. That's why I'm having a coffee while looking at wrist shots from Geneva Watch Days 2022 to sort things out and bring back some good memories at the same time. I suggest you grab a cup of coffee as well and join me on my short travel back in time.
Yes, complicated horology certainly shines at the borders of Lake Geneva. But the good thing is that no matter how many extravagant MB&F, HYT, and Greubel Forsey timepieces they throw at you, a more modest creation by Oris, for instance, can still catch your eye. And that is because, in essence, watch love is blind. It doesn't matter what the writing on the dial says. As long as the watch hits a nerve, touches your heart, and/or sings to you, it's worth a closer look. And that's why during Geneva Watch Days, a double spherical tourbillon and a Maurice Lacroix Aikon #tide with a quartz movement inside its recycled colorful plastic case can both make your heart jump for joy. It's all about how it looks, sits, and feels on the wrist.
Have a look at a selection of some of the most captivating timepieces I had the chance to put on my wrist during Geneva Watch Days 2022. And please tell me how you feel about them in the comments below.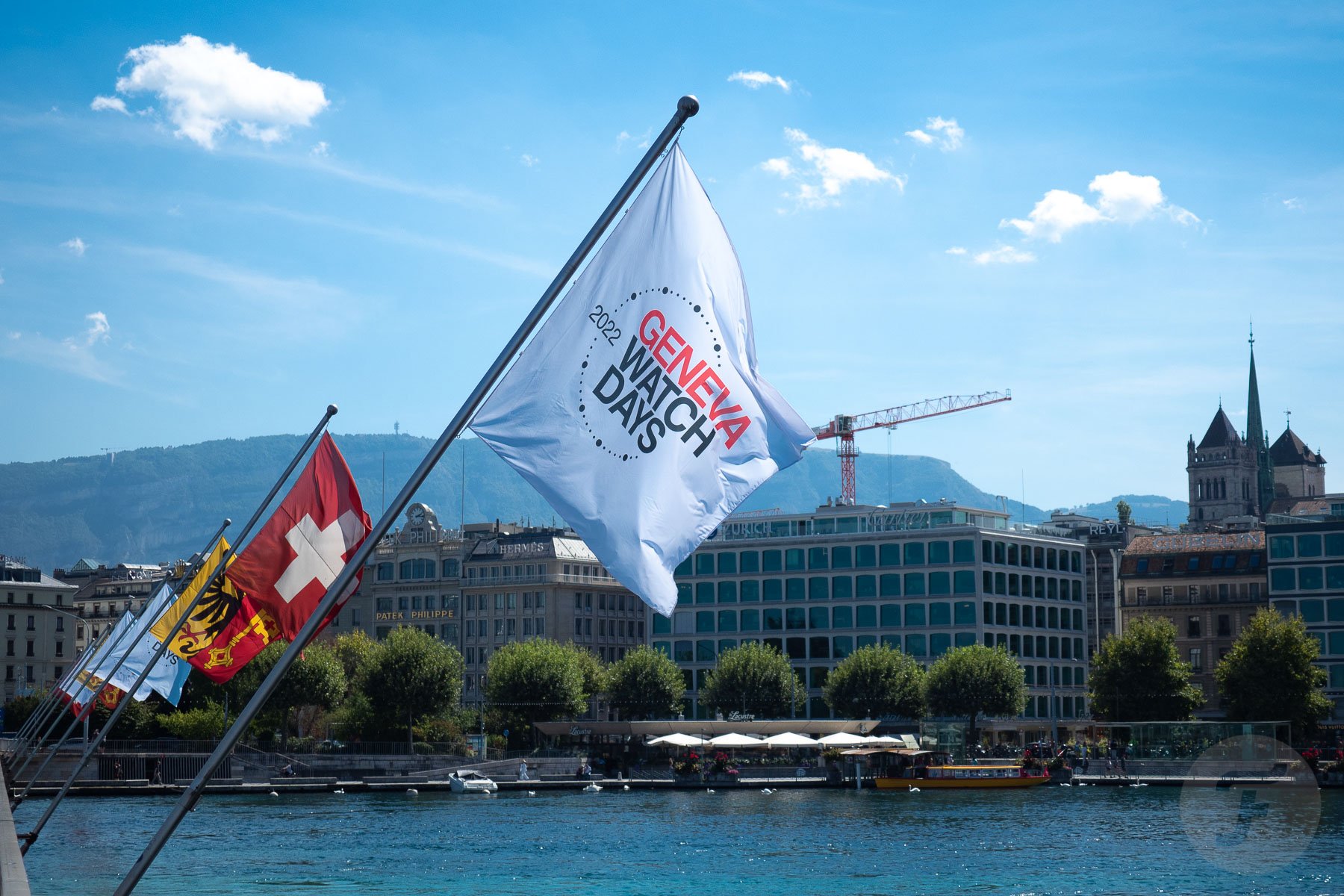 Wrist Shots From Geneva Watch Days 2022 — Purnell Escape II White Ceramized Titanium
It all started with a watch from Purnell and an espresso. An excellent espresso. That makes sense when you find out that Purnell's CEO is Italian. Maurizio Mazzocchi has been leading the brand since 2019. In the past, he played for AC Milan during the time when Liberian super striker George Weah — now the president of Liberia — was the 1995 FIFA World Player of the Year and won the Ballon d'Or in that same year. But that's irrelevant here. The strong coffee tasted great, but the impression of both the transparent Purnell Escape II Absolute Sapphire and the Escape II White Ceramized Titanium was much greater. The bright white 48 × 19mm soft-touch case of the latter was the first to grace my wrist.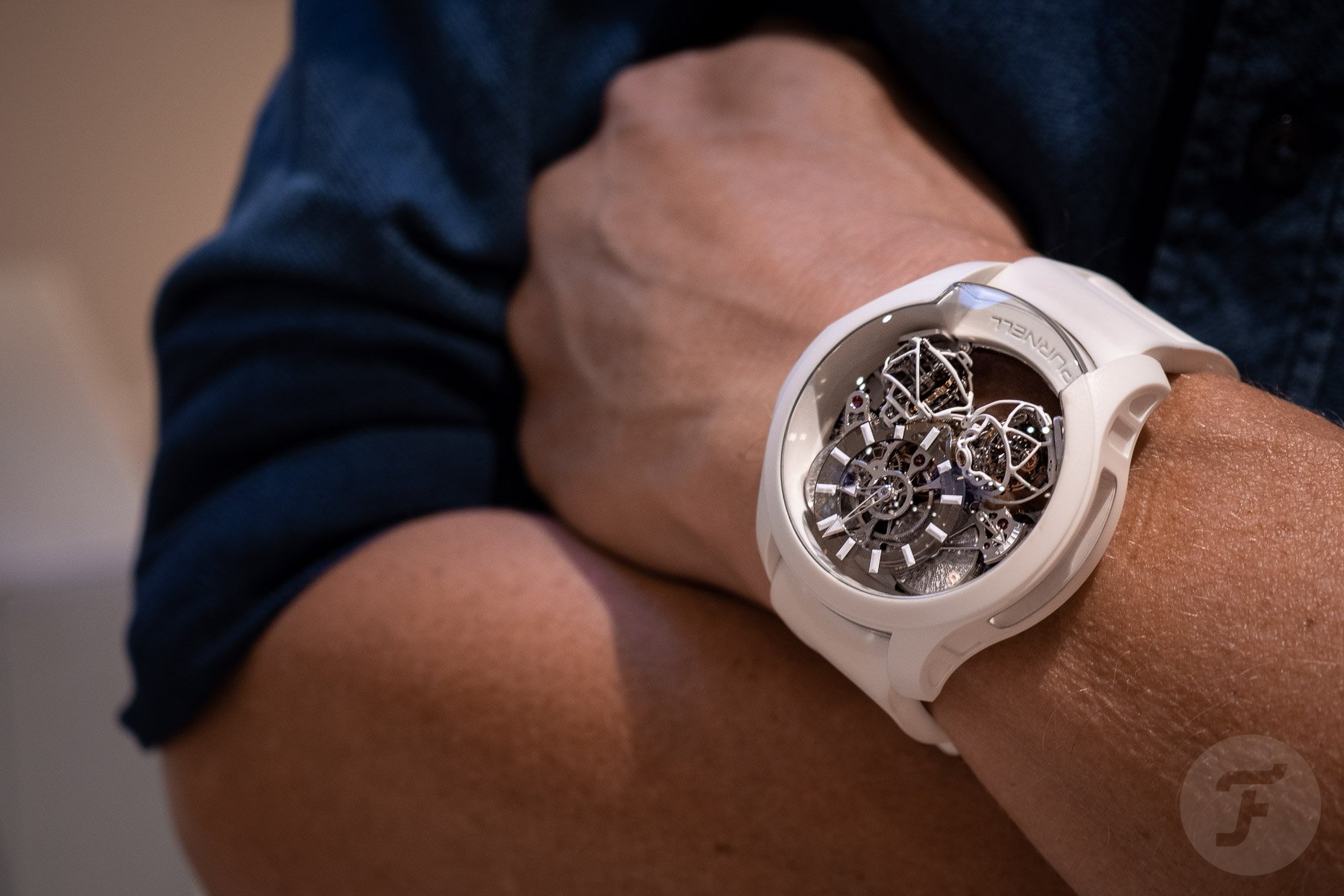 The fastest double triple-axis tourbillon in the world
The Escape II White Ceramized Titanium houses the world's fastest double triple-axis tourbillon. Purnell's three-dimensional tourbillon mechanism, dubbed the Spherion, is an invention of master watchmaker Eric Coudray. And it's quite the technical and visual spectacle. The same white color of the case also covers the outer tourbillon cages, which rotate in 30-second increments. The secondary and inner cages revolve every 16 and eight seconds respectively.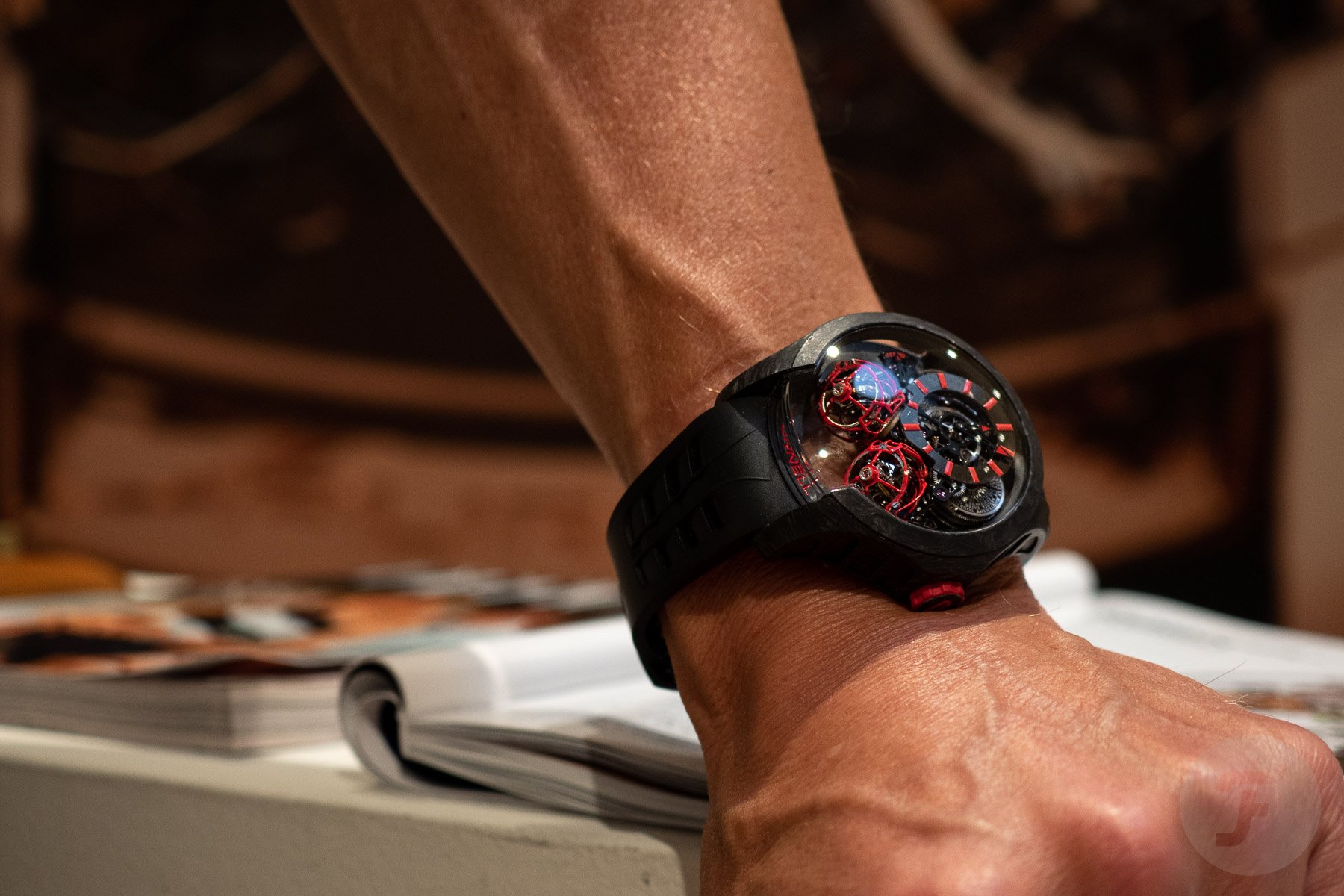 I also tried on the Escape II Forged Carbon. It's a lightweight watch with the spirit of a hypercar. The black-and-red color scheme in combination with the wild shapes of the marble-like carbon case made me think of the wild and exotic Pagani Huayra Barchetta. But if I had to choose between the two watches, I would pick the white creation. At Purnell, they have a name for the ceramized titanium that colors this creation white (and there are colors too). That name is ceranium. It does sound an awful lot like ceratanium, the ceramic mixed with titanium that IWC uses. But judging from Maurizio Mazzocchi's flabbergasted reaction when I told him about that material from a fellow brand, he had no idea of its existence.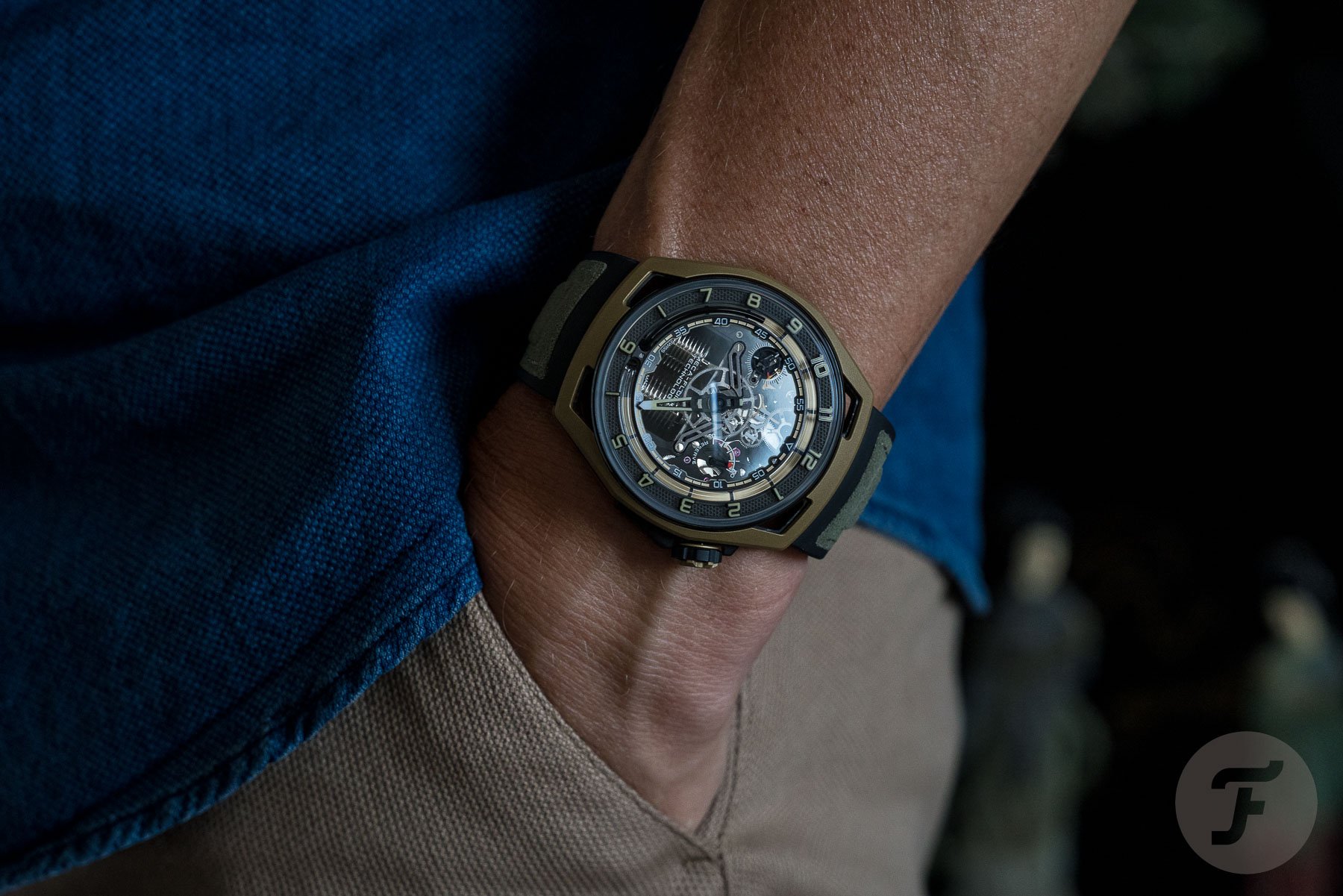 HYT Hastroid and Moon Runner White Neon
I mentioned the Moon Runner White Neon in a Monday-morning article before, but I hadn't seen it live. And the same goes for a new, less fluorescent version of the Hastroid by HYT. The reborn brand's CEO Davide Cerrato sure has a way of putting colors and shapes together, and the subdued, brownish, bronze-like colors of the stealthiest of Hastroid "spaceships" gives it a Blade Runner-like appearance. The colors set the stage, and the brand's mecafluidic technology powers the timekeeping in the most futuristic fashion.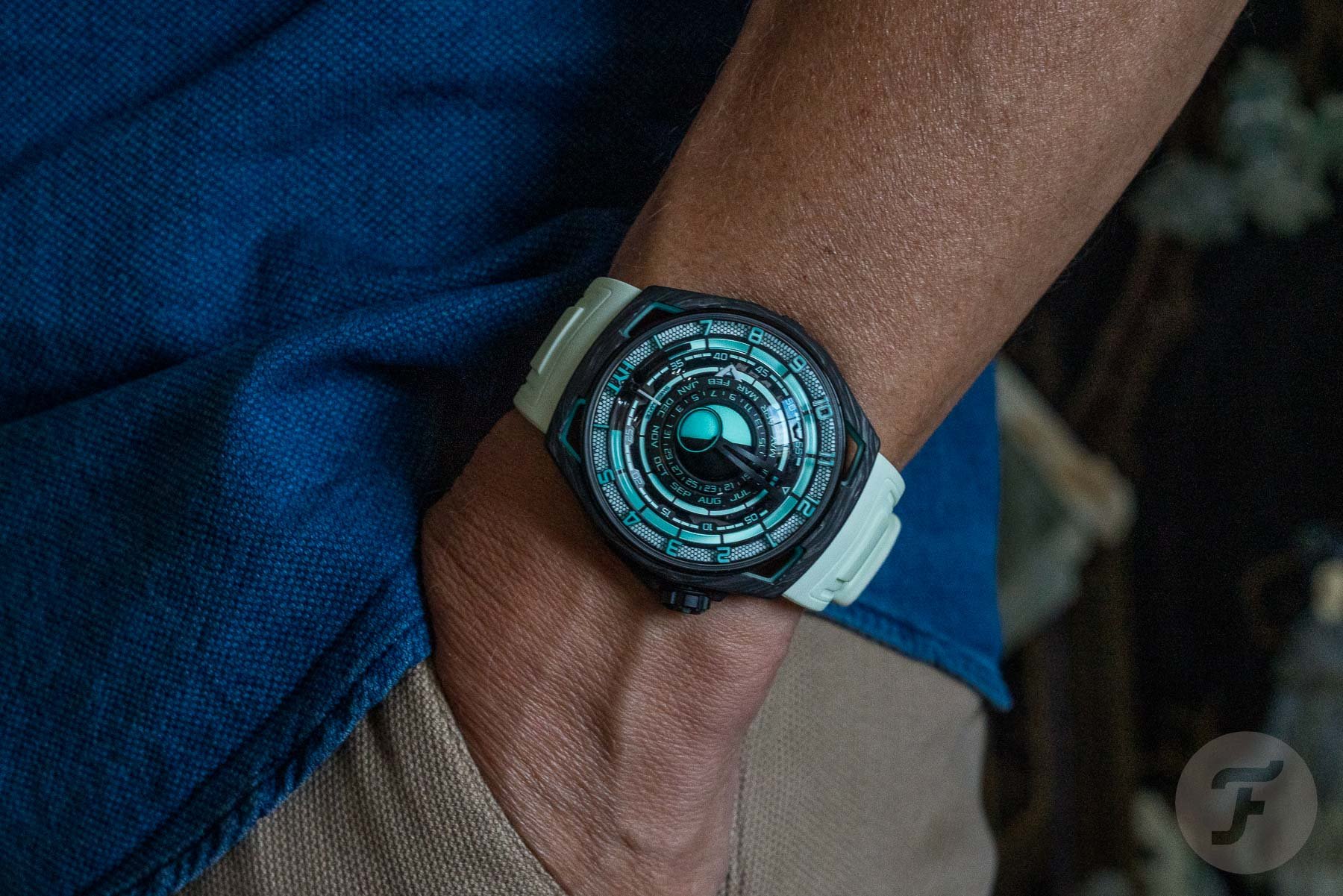 But it was the Moon Runner White Neon that stole my heart. If the Imperial stormtroopers had been issued a field watch, the Moon Runner White Neon would have been the right timepiece for the job. A bit expensive, perhaps, but money is no issue on the dark side. It's hard to describe the different white tones of this particular Moon Runner, but I will give it a short try. It's a bit of a blueish, slightly worn, dirty tone of white that clearly has seen action. Get it? Anyway, the Moon Runner White Neon is outer-worldly cool.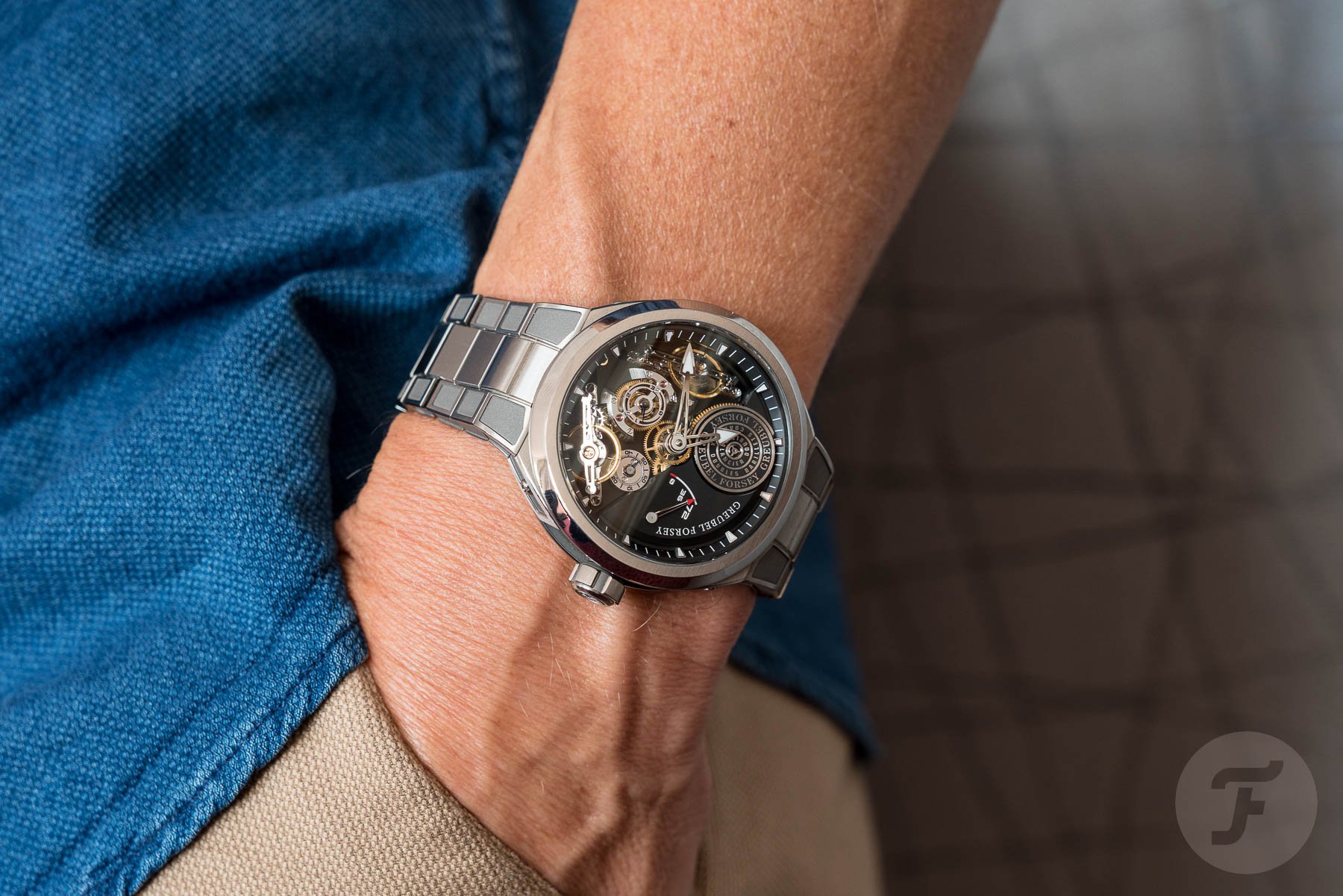 Greubel Forsey Double Balancier Convexe and Tourbillon 24 Secondes Architecture
It's hard to choose between the Greubel Forsey Double Balancier Convexe with its titanium bracelet and the Tourbillon 24 Secondes Architecture on a rubber strap. Both new Greubel Forsey creations use a convex case that looks complex and even a little weird when you hold the watches in your hand and look at them from different angles. But once you put a Greubel Forsey from the sporty Convexe collection on the wrist, it makes complete sense.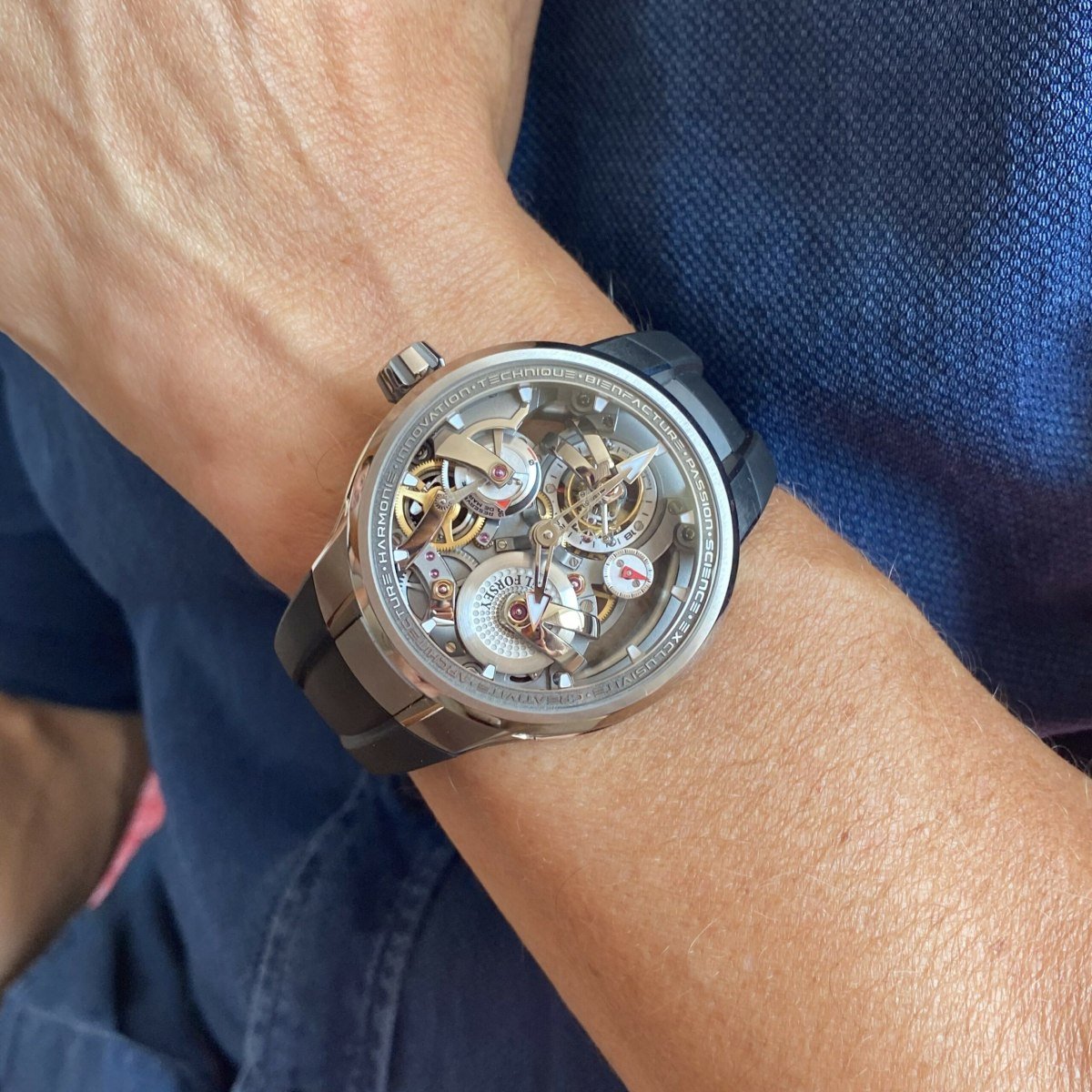 Once on the wrist, the rather large case looks perfectly round, and it sits solidly, firmly, and comfortably thanks to its curved shape. The choice between a tourbillon and two balance wheels, however, is a difficult one. But if one must choose between a rubber strap and a titanium bracelet that is both architecturally shaped and strikingly finished, for me, the choice becomes a bit easier. I'd choose the latter any day. You see, Greubel Forsey not only managed to construct a solid and comfortable bracelet from titanium (which is no mean feat by itself) but also managed to take full advantage of the lightweight alloy in terms of brushing and polishing. The matte gray provides an industrial contrast to the polished highlights, creating a unique look that sits somewhere between technical and organic.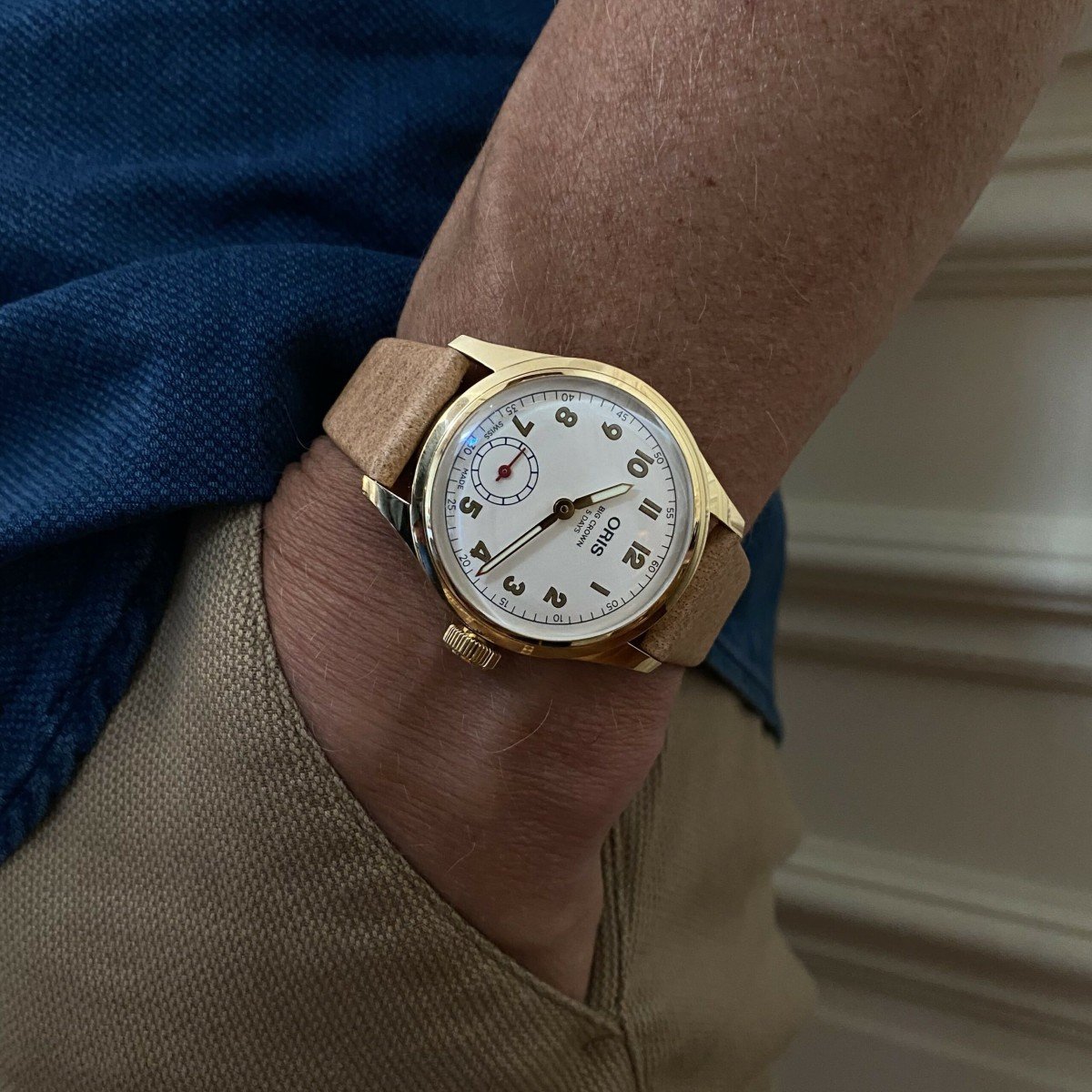 Oris Big Crown Wings of Hope Gold Limited Edition
The Oris Big Crown Wings of Hope Gold Limited Edition is a watch you have to experience live. I wasn't that impressed when I saw it in the press release. Once I strapped it on, however, they had to force me to take it off. The 100-piece limited edition of the Big Crown pilot's watch uses the Oris Calibre 401, which you can see in action through the display case back. And another highlight is the fact that the watch supports the aeronautical charity Wings of Hope. But the biggest highlight from an aesthetic point of view is the fact that this 38mm creation has the presence of a 41mm watch while still sending the subtle, balanced, and sophisticated vibes that only a "small" watch does.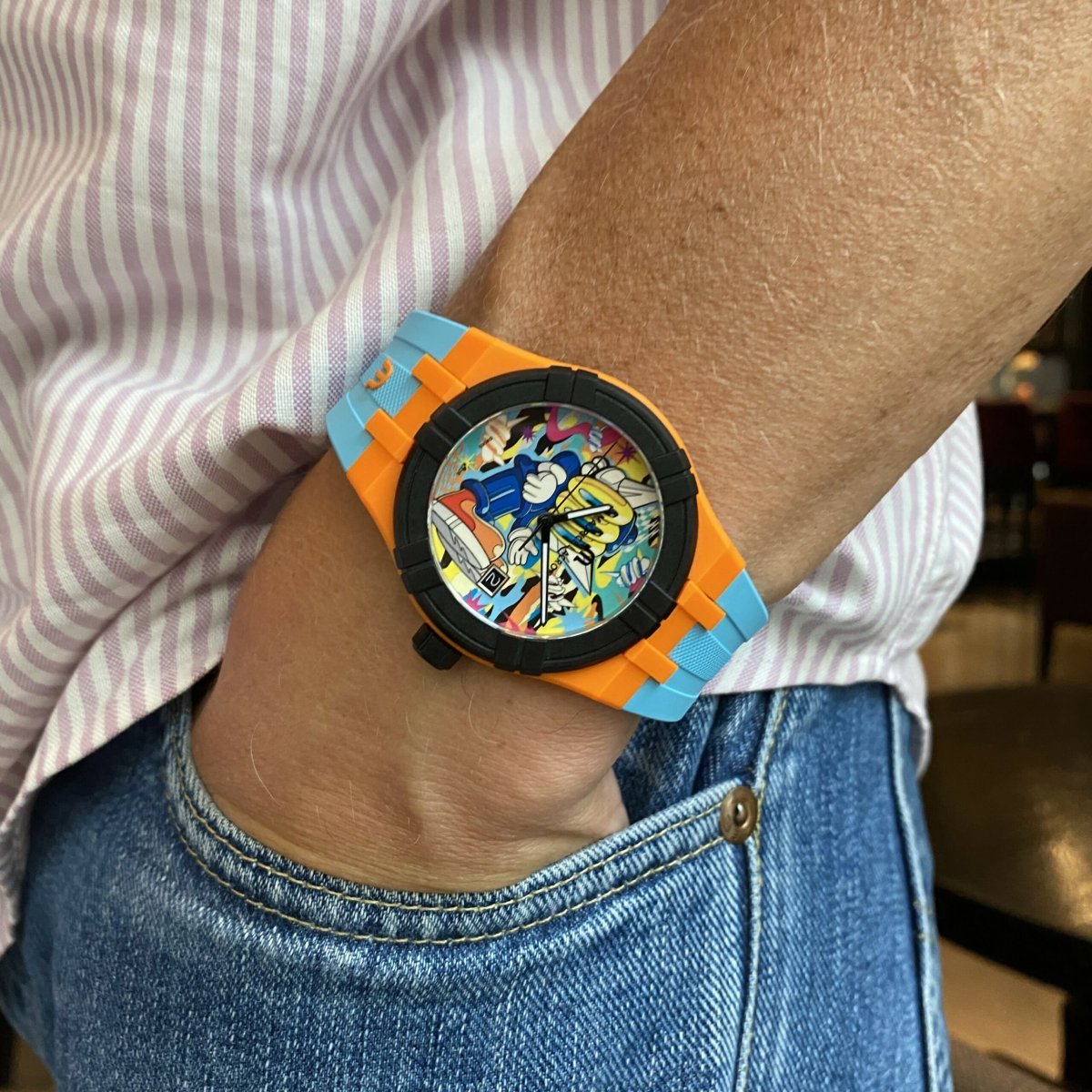 Maurice Lacroix Aikon #tide Benzilla
The Maurice Lacroix Aikon #tide is made from ocean-bound upcycled plastic. It takes 17 bottles to make one watch and its user-friendly packaging, and I did like it at first sight, unlike the previous Oris. But I didn't know how this Aikon would be in the metal — sorry, plastic — especially the version with its dial designed by Thai artist Benzilla. Maurice Lacroix put his three-eyed character LOOOK — an alien who came from nowhere to live among us — on the dial. And I'm glad the creature feels at home on our planet because his orange and light blue surroundings certainly suit him. This is what a fun watch should both look like and feel like. Inside this eye-popping 40mm Aikon beats a quartz movement that arguably should have been solar-powered, especially when you take the price of €750 into account. Still, both the battery and price didn't kill my buzz while wearing this Benzilla-decorated creation. And you know what? RJ liked it as much as I did. Can you believe it? I can.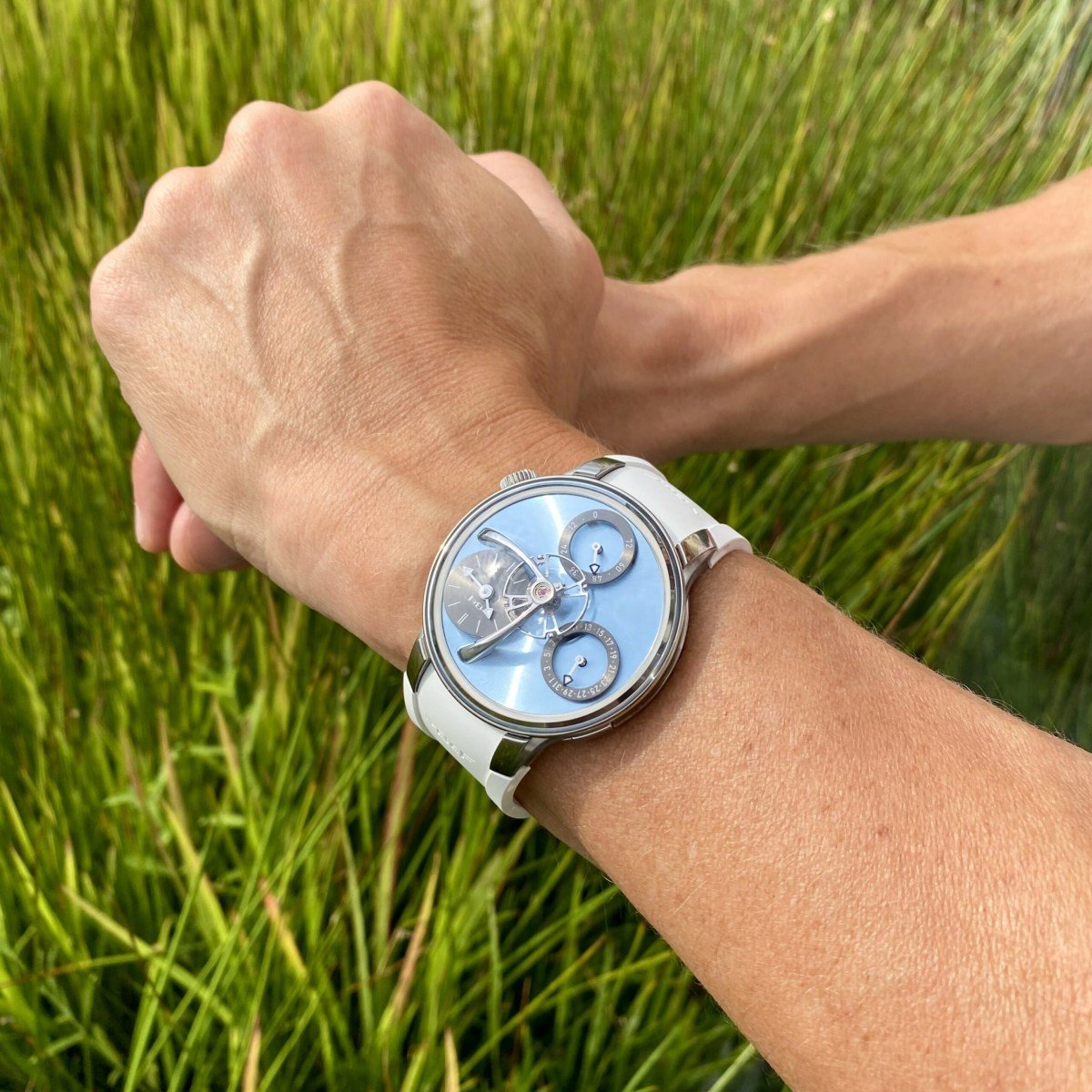 MB&F Legacy Machine Split Escapement Evo in two versions
It's a sports watch, but not as we know it. The MB&F Legacy Machine Split Escapement Evo comes in two versions that share the same white rubber strap. They also share the same movement, of course, but it's the strap that gives the model its athletic looks. You can take it for a swim, but the good people of MB&F made sure to emphasize that the Legacy Machine Split Escapement Evo is not an extreme-sports watch.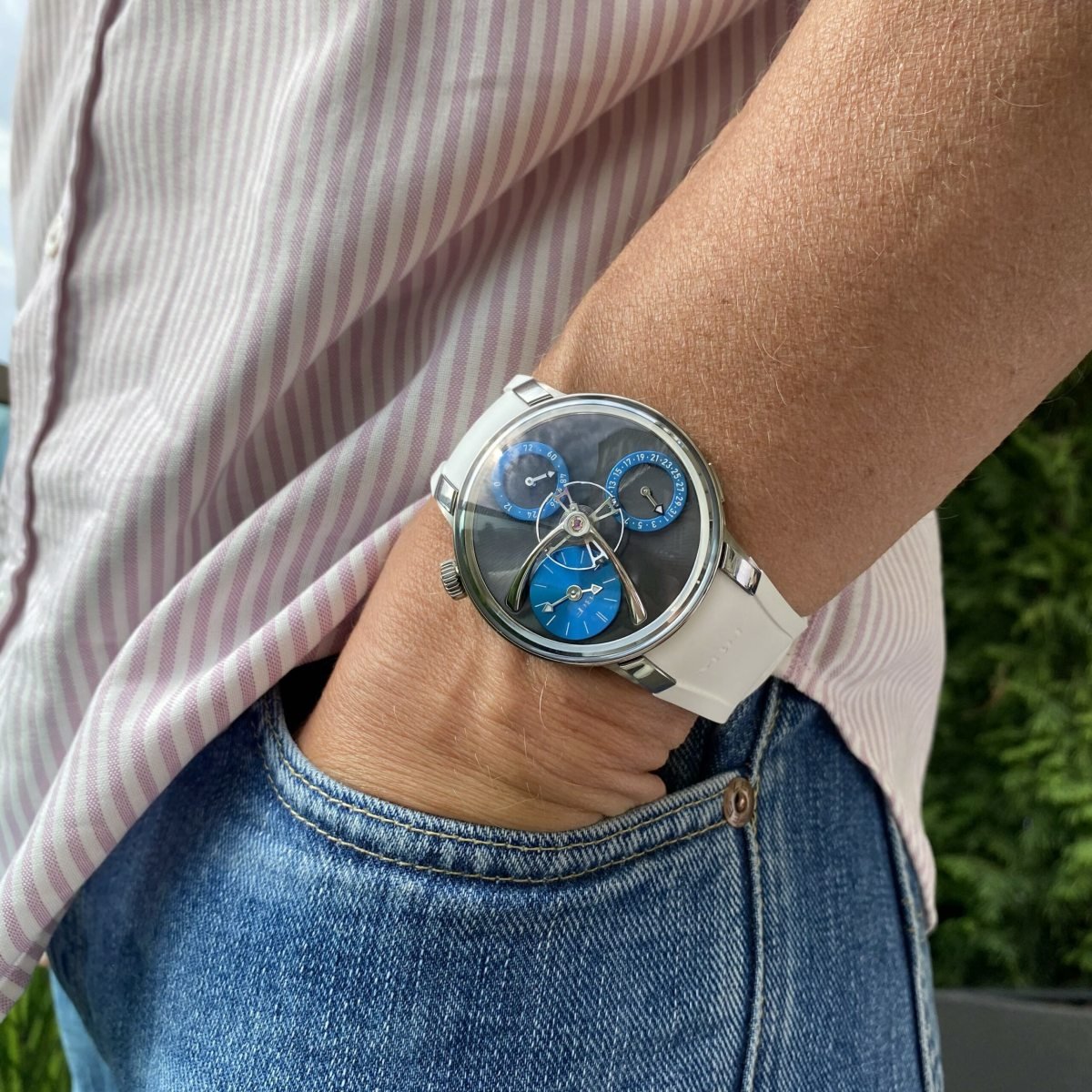 There are two versions of this sporty Legacy Machine. There's the "normal" one in light blue and a limited-edition Beverly Hills special with more contrast. Which one do you prefer? The baby blue or the brash blue and gray? For me, the choice is very easy. I choose the version that matches Lake Geneva best.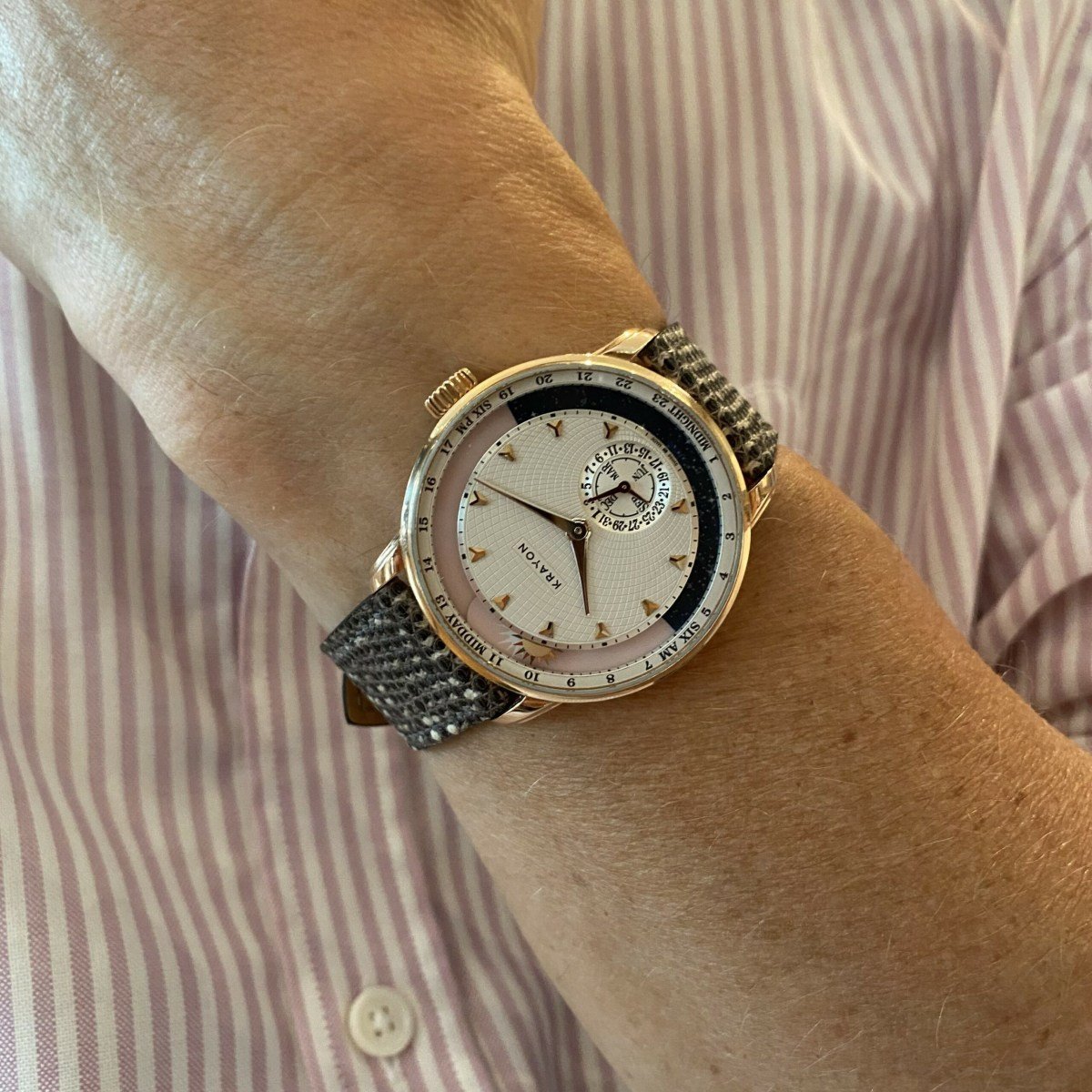 Krayon Anywhere
The Krayon Anywhere is pure, poetic watchmaking. Especially the one you see me wearing. Yes, the pink of the dial matches my striped shirt, but that's not what I mean. Krayon is the brand of watchmaker Rémi Maillat. He told me that before his wife became, well, his wife, he asked her to join him on a dive in the ocean just before sunrise. Why? Because that's the moment to spot fish. I don't know if this is true, but it sure sounded believable. Anyway, Maillat later married his diving partner, and the Anywhere is a mechanical memory of their first dive together. That's because the Anywhere shows the sunrise and sunset hours in your location of choice. It also shows the length of the day, but that is not such a romantic fact.
The Anywhere is impressive in a most understated way. The movement that Maillat designed offers a power reserve of 86 hours, for instance. But what's way more impressive is that the complicated, original, and inventive movement with day and night discs measures just 5mm high. Furthermore, that slim movement allows the case to measure a modest 39 × 9.5mm. This pink gold Anywhere was certainly the most romantic watch I encountered last week. Oh, and there's a new version coming out, but it's under embargo, so there are no pictures of that one yet. It's also already sold out. Is that weird? In the world of Rémi Maillat, stranger things happen, I'm sure.
There are still more goodies to come. You can expect an article on our editors' GWD 2022 favorites tomorrow. For now, have another coffee, daydream about wearing one of the above creations on your wrist, and have yourself a great watch week!
Find and follow me at Lex Stolk • Instagram.