Taking a Look at the Yemas at Watches of Knightsbridge
Here on Fratello Watches, we've featured a number of vintage Yema models on our site. These fun, often brightly colored watches represented the affordable side of the hobby: often mimicking far more expensive Heuers with semi-similar design motifs, but costing far less in the marketplace. They were plentiful, robust – with most containing 773x movements – and fun. Recently, though, Yema chronographs have become expensive and rarely show up when searching eBay. Like most vintage chronographs, they're popular now. So, when I became aware of 11 (!!) pieces coming up for auction on June 24, 2017 in London, I figured I'd provide a quick look at some Yemas at Watches of Knightsbridge and some thoughts. Just to be clear, I haven't handled these pieces (yet) and the photos are stock shots.  If nothing else, it's nice to see a large grouping of these watches in one place.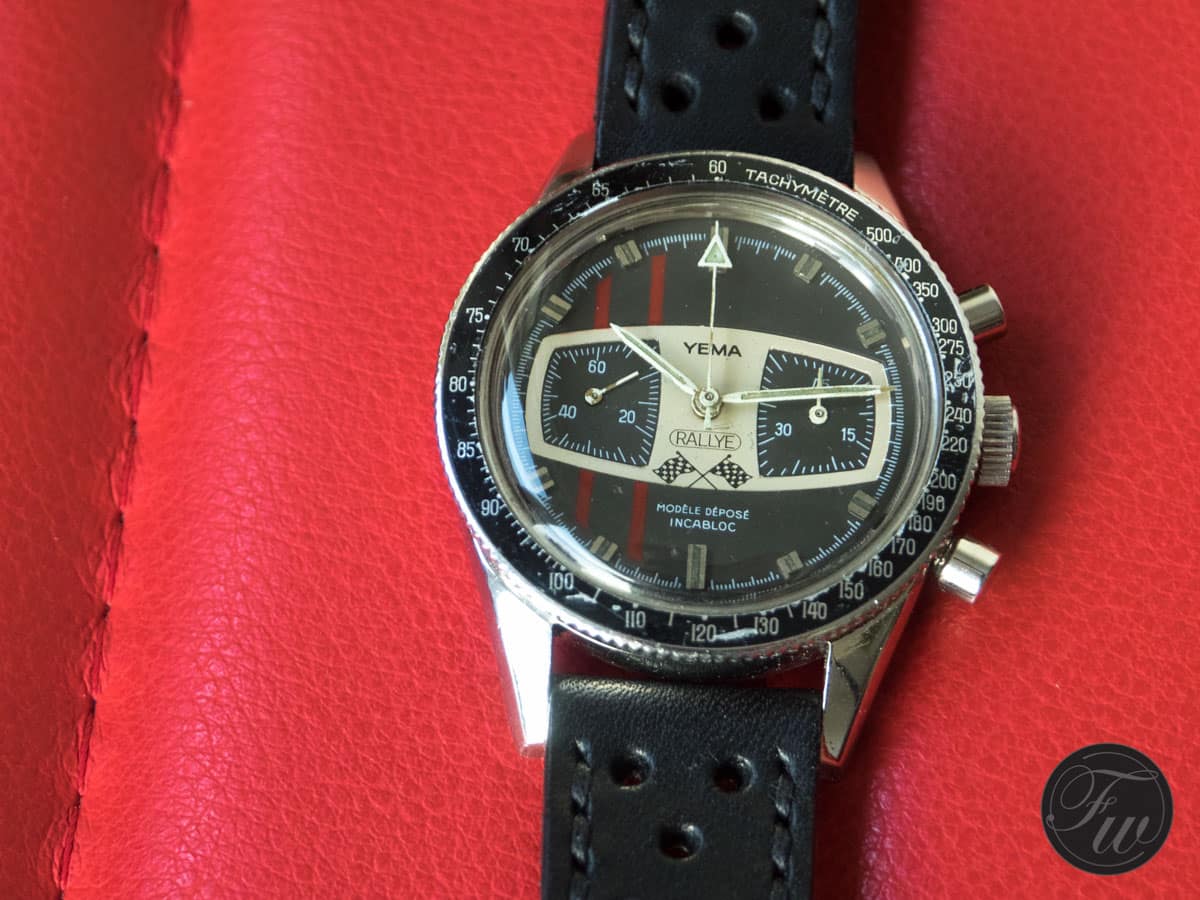 A couple quick notes are necessary about the brand before we get into the Yemas at Watches of Knightsbridge. As a site, we're fans of these watches.   I own a couple of them, an early Rallye (our title picture) and a Daytona, Teun owns a nice Rallye(shown above), and Blaise had one as well. Blaise also did a feature on the Wesley's that Mario Andretti wore during his sole win at the Indy 500 in 1969 – this was a co-branded Yema. The French brand was well known in the late 1960's and early 1970's for affordable chronographs that brought some very era-specific styling to the market – wood grain anyone – but as I've mentioned in articles, they're slightly less refined than other watches of the day such as Heuer or Omega. Don't take this as a damning slight; just know what you're getting into before spending your money.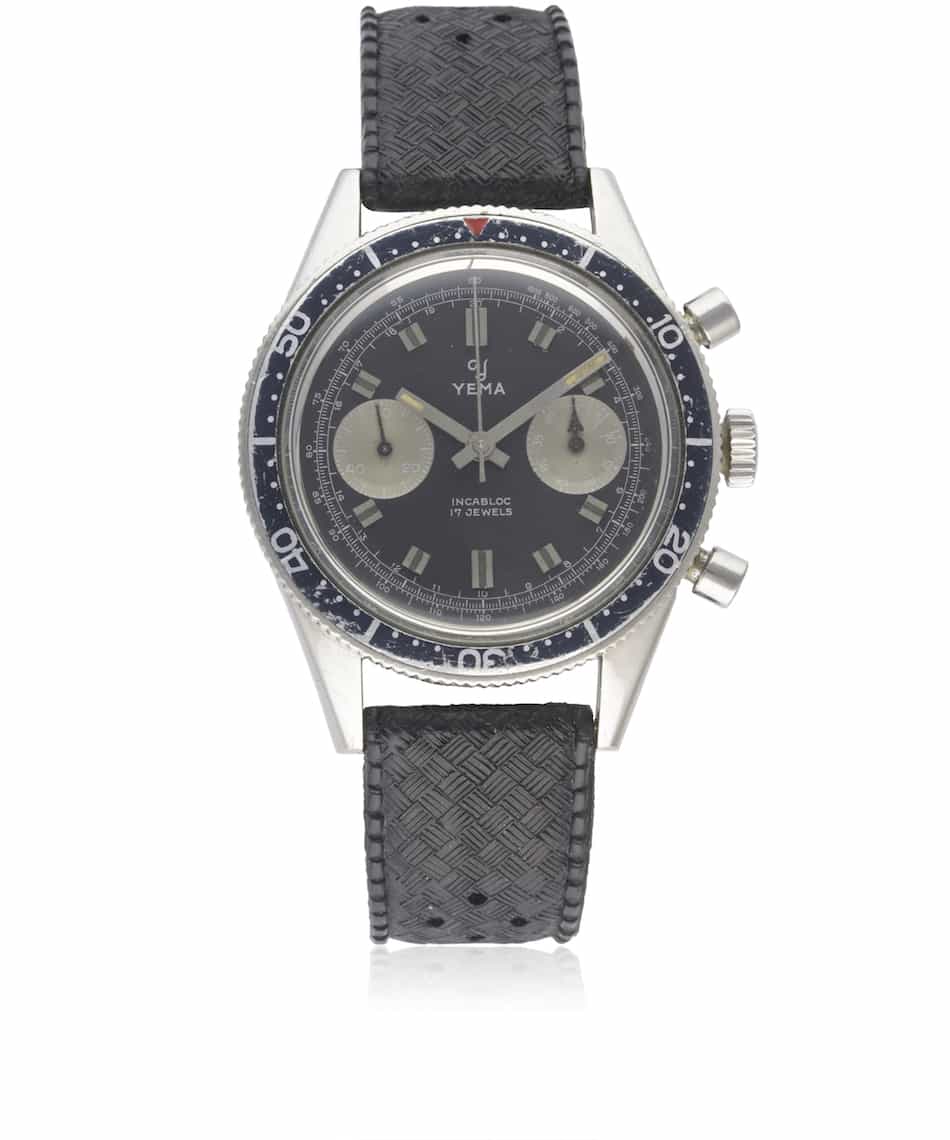 Lot 103: Yema Daytona

The first of the Yemas at Watches of Knightsbridge, the Daytona is probably one of the more sober designs from the French brand. It's highly similar to the Autavia "Andretti" of similar age in both dial and case design. This one looks like a nice example albeit with darkly aged lume (not atypical for these) and the correct rotating dive style bezel. This version features the robust Valjoux 7730 movement and a typical 39mm stainless case, which makes it identical to the model I own and enjoy. From this picture, the only thing that looks like a possible replacement is the crown. That's not a huge game breaker in my book, though, as the correct flat-topped crowns aren't exactly emblematic.
Price range: 1500 – 2000 GBP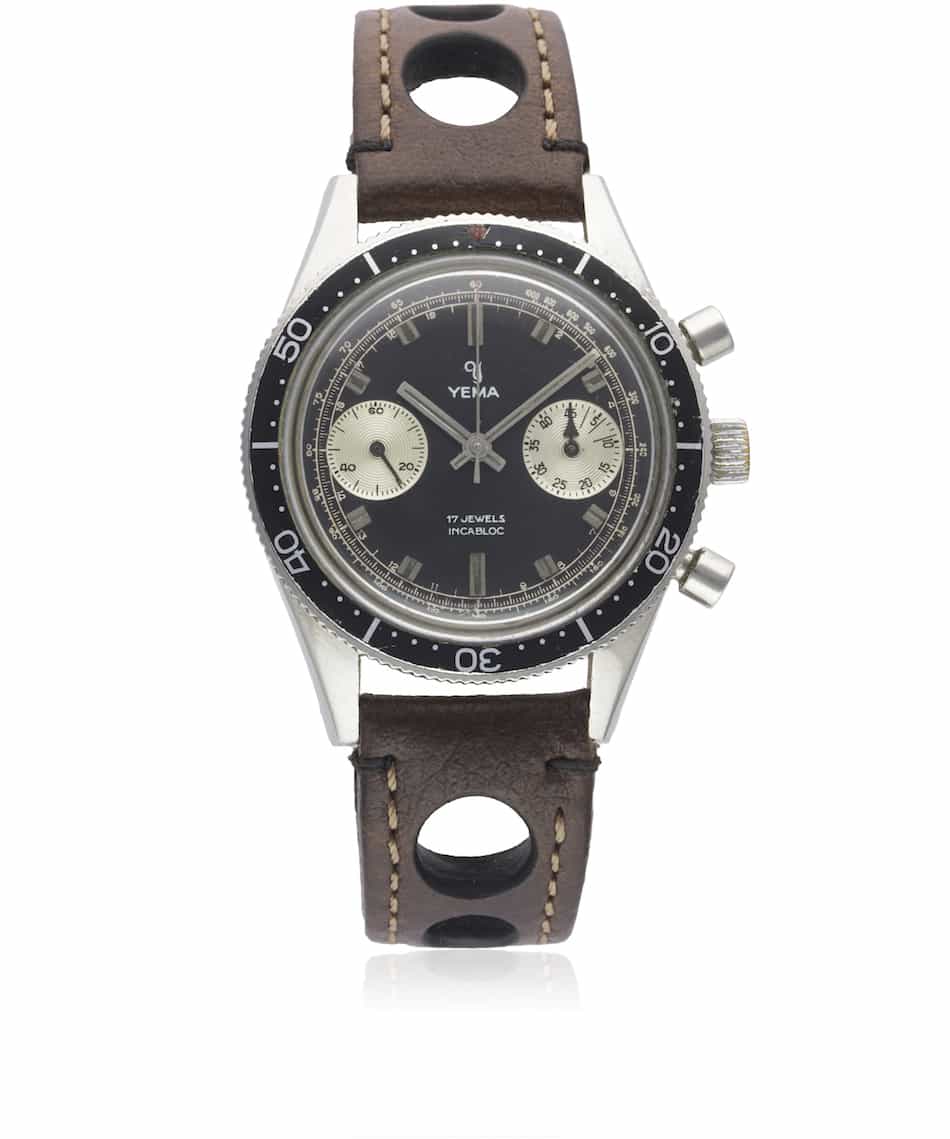 Lot 104: Yema Daytona

At first glance, this model looks identical to the previous lot we discussed of the Yemas at Watches of Knightsbridge, which makes it another Daytona. However, checking again will show some very subtle differences between the two lots. Note that the applied indices rest against the inner scale whereas they "float" on the earlier lot. Also, this model contains a chrono sweep hand with a red tip (correct) and the words "Incabloc" and "17 Jewels" are reversed in their stacking. All of this points to a slightly different generation watch and it happens to be a Daytona with a more desirable column wheel-equipped Valjoux 92. Note the asymmetry in the way the pushers are aligned and you see this more clearly. Overall, this Daytona is in nice shape with the only flaw coming from a crown that looks like it's been replaced.
Price range: 1500 – 2000 GBP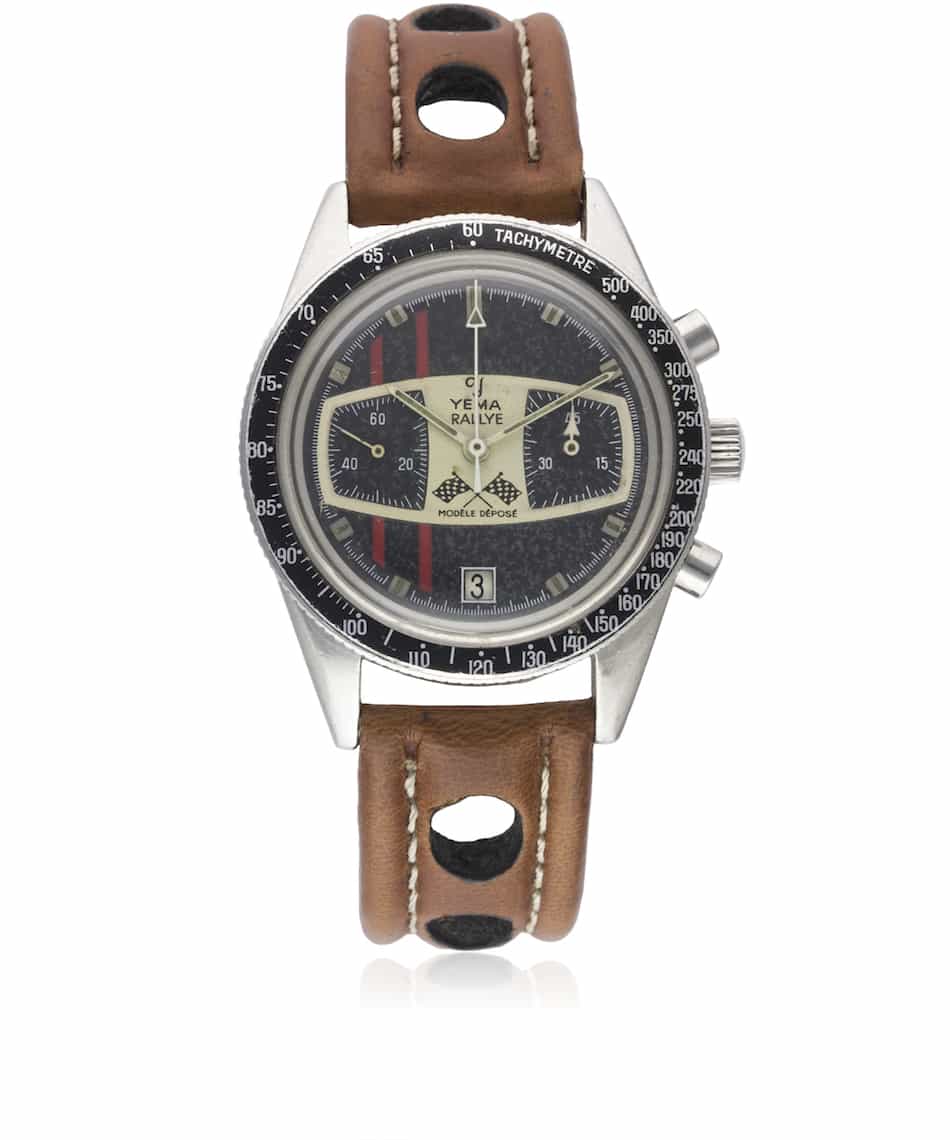 Lot 105: Yema Rallye with Date

Next up on our tour of the Yemas at Watches of Knightsbridge is a Yema Rallye with Date. The Rallyes are amongst the most popular of Yemas and collectors prize those with dates. Imagine that, a good-looking chronograph with a date? These watches were fitted with the Valjoux 7734 and this looks to be a nice, honest example aside from, once again, a replaced crown. The dial shows some age spots and the lume has turned. Also, the "dot next to ninety" bezel is perfectly ok on this piece.
Price range: 1800 – 2200 GBP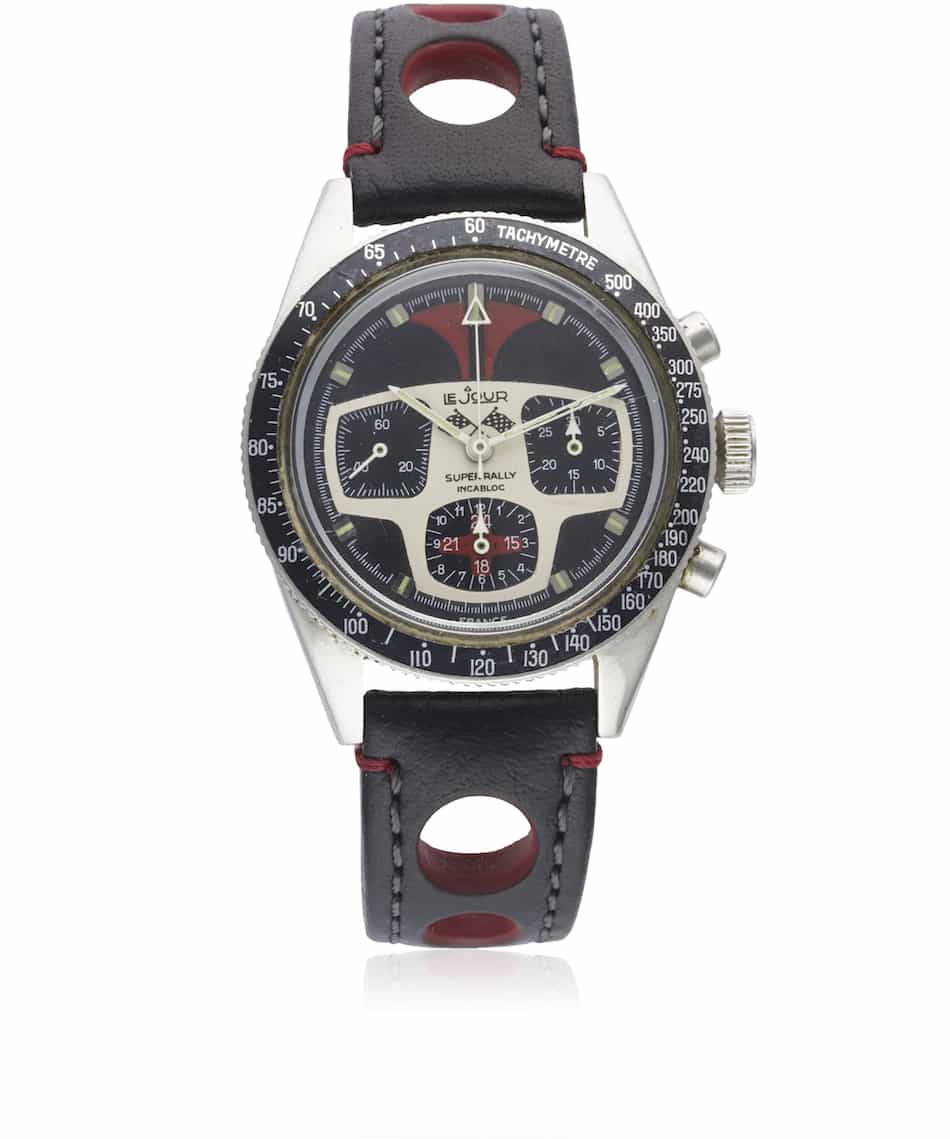 Lot 106: LeJour (Yema) Super Rally

For taxation purposes, Yemas were sold as "LeJour" in the United States. Ah, how I remember the not so distant days of looking for LeJours because they were available for a fraction of the price of an identical Yema. Sadly, those days are now long gone as collectors have become far more astute. Still, with an auction being held in London, this may be a chance for a decent deal. These 7736-powered Super Rally pieces are bright, bold and seemingly more rare than a normal Rallye – I unfortunately missed landing one a year or so ago at a great price and I've kicked myself ever since! Note the missing lume (not a surprise) on the minute hand, but everything else looks in order. The crown is correct, as is the "dot over ninety" non-rotating bezel. Amongst the Yemas at Watches of Knightsbridge, this is probably my favorite.
Price range: 2500 – 3000 GBP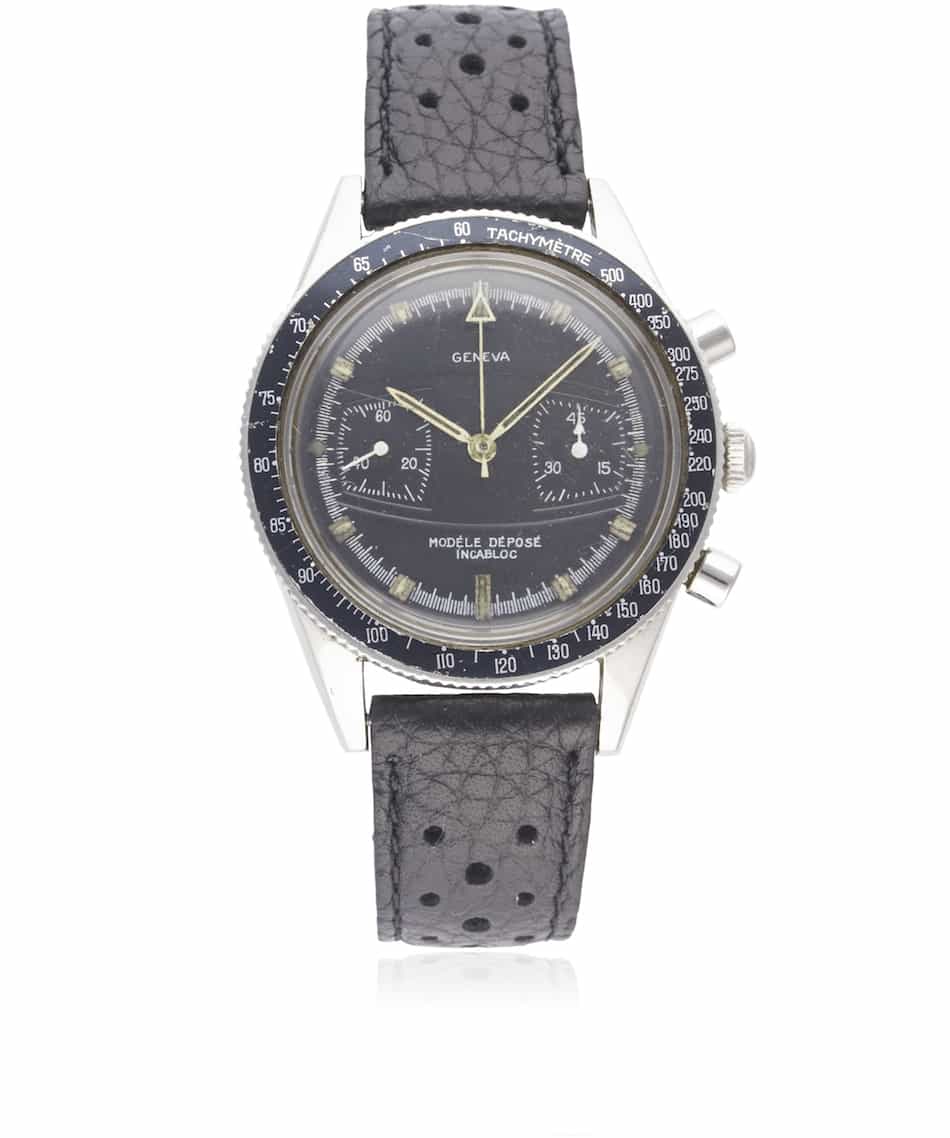 Lot 107: Yema Rallye "Blackout"

The next piece is what I'd call an eccentric Yema because it has an unsigned dial. The all black dial is definitely unique. Judging from the unsigned loose Yema-esque dials I've seen on eBay, I'd guess that this was made for sale to a third party that used Yema watches. These brands put their own names on the dial. In this case, though, it simply wasn't ever rebadged or badged at all. This watch has a 7730 and appears to have a replacement crown.
Price range: 1500 – 2500 GBP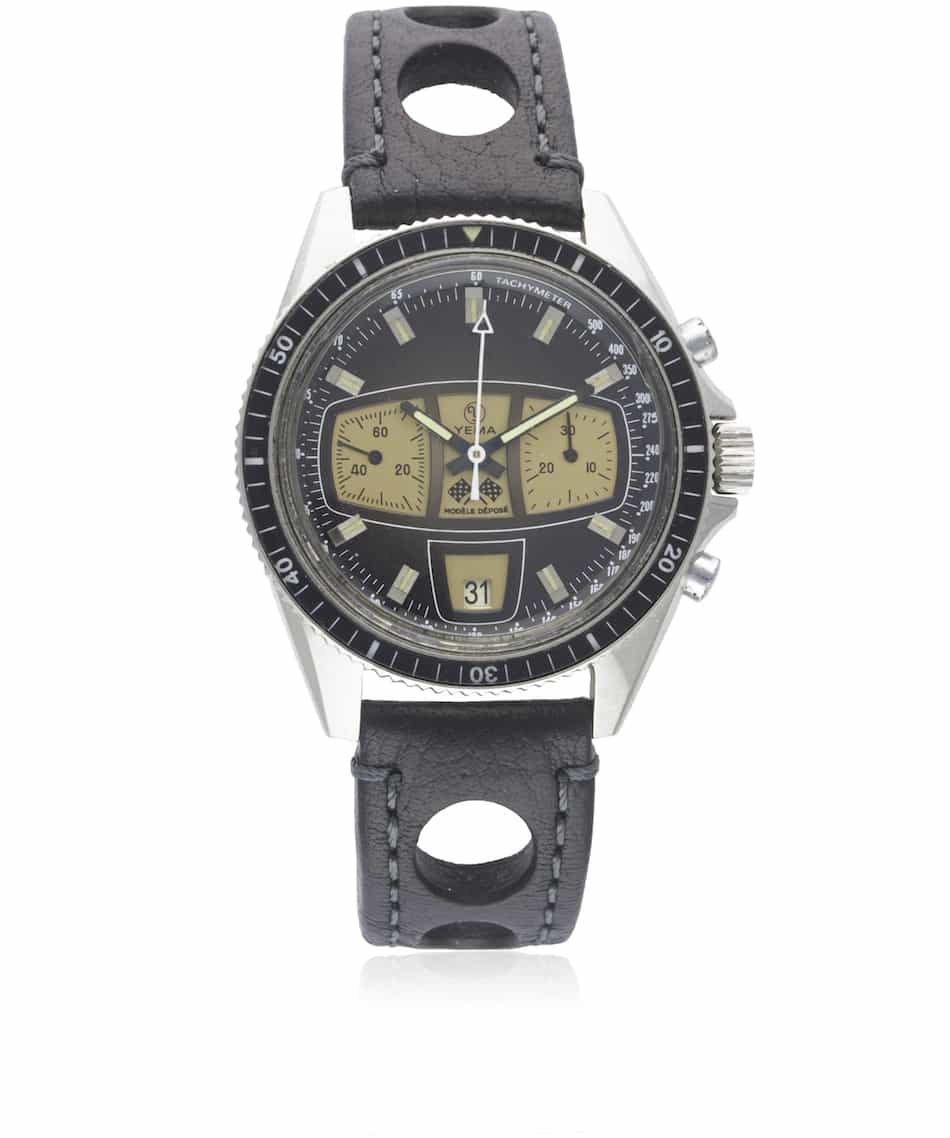 Lot 108: Yema Rallye "Brown Sugar"

Lot 108 is an interesting 1970's piece from the selection of Yemas at Watches of Knightsbridge. Note the crown guards (a larger 41mm diameter to boot) and the inclusion of an internal tachy scale alongside the outer rotating dive bezel with acrylic insert. Here again, we have a date function, which means power via the Valjoux 7734. It has a layered dial much like the formica pieces, with distinctive sub registers and date aperture that have turned a lovely color that lends the name "Brown Sugar". Also, take a look at the black, correct, hour and minute hands. From the pictures, this appears to be a really nice and rare Yema.
Price range: 3000 – 4000 GBP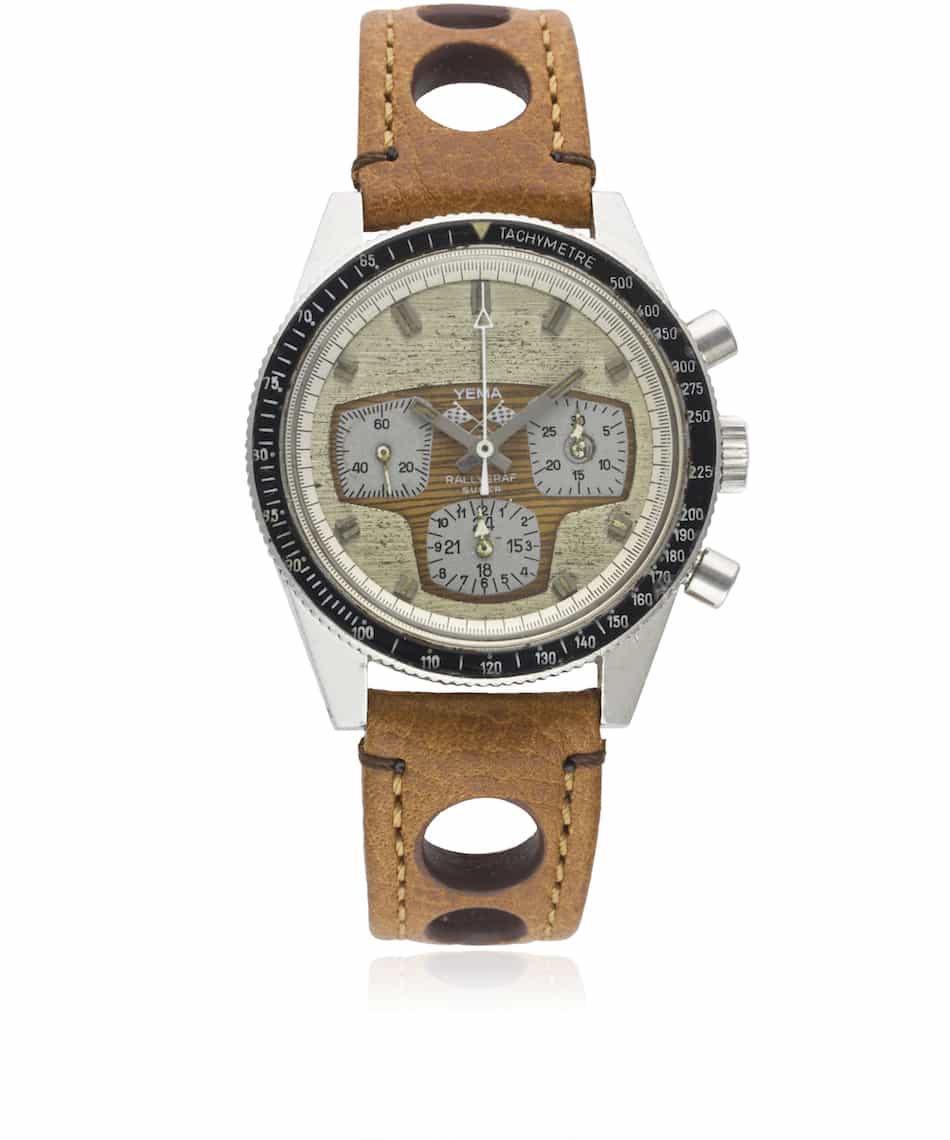 Lot 109: Yema Super Rallygraf (formica dial)

With Lot 109, we get into one of the truly unique Yemas at Watches of Knightsbridge. The "formica dial" chronographs from the brand have long been cult classics. They're very 70's and because of this, they formerly lagged the market due to being cast as an acquired taste. Well, it seems many are hungry for these because prices and availability have gone in opposite directions. This 3-register model with a Valjoux 7736 has some aging to the dial and hands, which may or may not strike your fancy – I tend to like it as I think blends well with the dial colors overall. It has a correct acrylic tachy bezel.
Price range: 2500 – 3000 GBP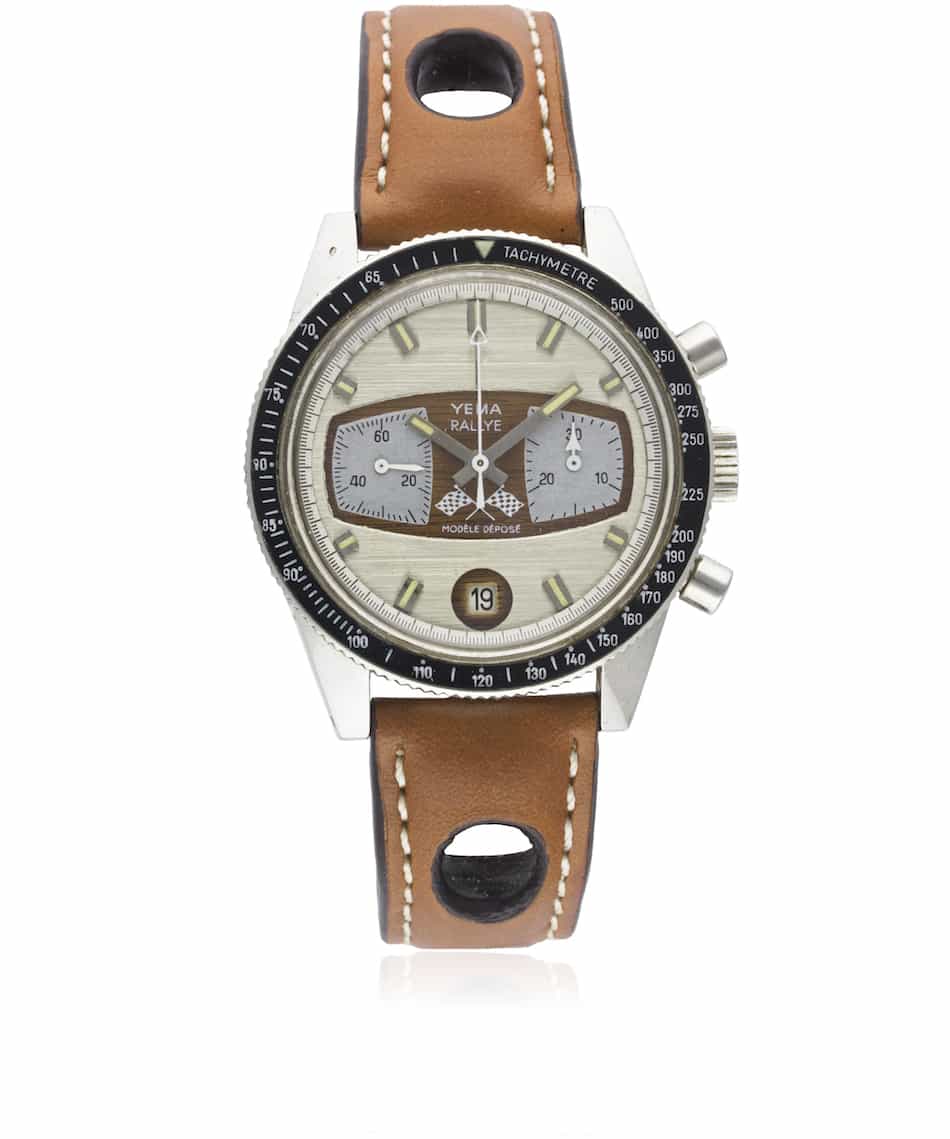 Lot 110: Yema Rallye with Date (formica dial)

Quite possibly in the running for my favorites of the Yemas at Watches of Knightsbridge, Lot 110 is a very clean looking wooden dashboard version of the Rallye with date (a Valjoux 7734 is inside). This piece looks to be in great condition and should attract decent bidding. The overall dial condition, bezel, and hands make this a really nice piece. Note what looks like an import customs stamp on the upper left lug (if I had to guess, I'd say Portugal as I've seen many vintage pieces with hallmarks in this location).
Price range: 3000 – 4000 GBP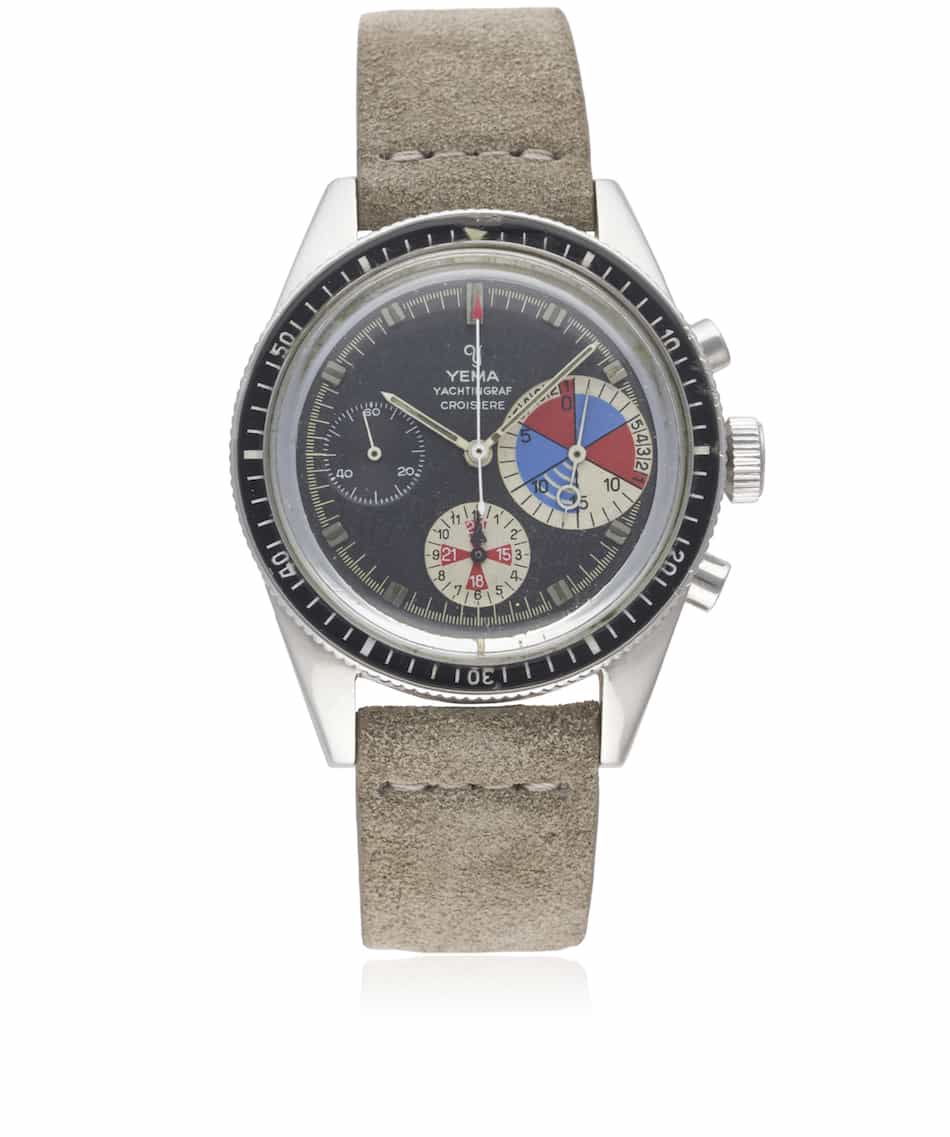 Lot 111: Yema Croisiere

Of all the Yemas at Watches of Knightsbridge, this model is likely the one to attract the most attention. The Croisiere, with its yachting minutes sub register and cross-shaped (hence the name) lower register with 24-hour scale, is a popular model. These are very colorful and attractive in person. This one has a worn, but original looking, acrylic inlay bezel, correct "submerged" pushers and original crown. The dial has patina, but looks evenly aged to my eyes. The sweep chrono hand looks to be a replacement as this should be all white with a "hollow" arrow tip. The positive is that this hand was used in many other Yemas, so a patient search should yield the correct part.
Price range: 3000 – 4000 GBP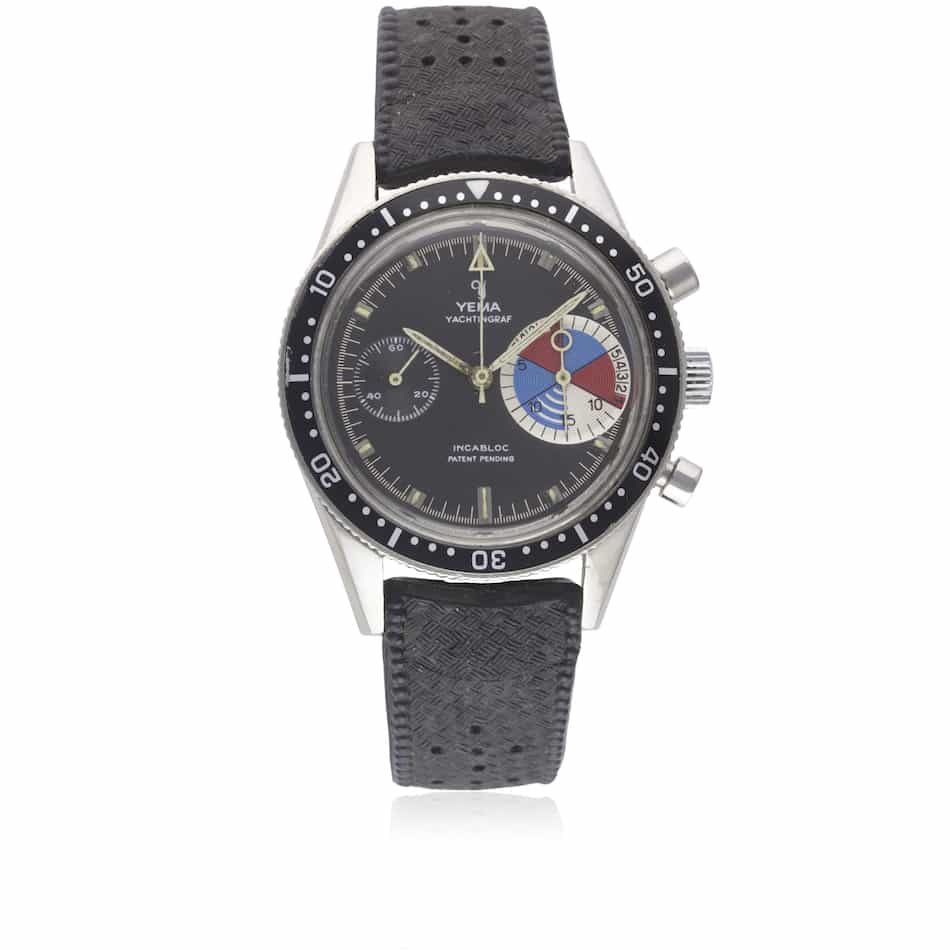 Lot 112: Yema Yachtingraf

Like the Croisiere before, the next of the Yemas at Watches of Knightsbridge is a colorful and desirable piece. Valjoux 7730-powered, it is another regatta timer with the correct countdown hand on the rightmost sub register. Aside from some typical dial aging, the watch does appear to have two different pushers and a replacement crown. I actually think the reserve takes this into account as these have become quite expensive.
Price range: 2200 – 2600 GBP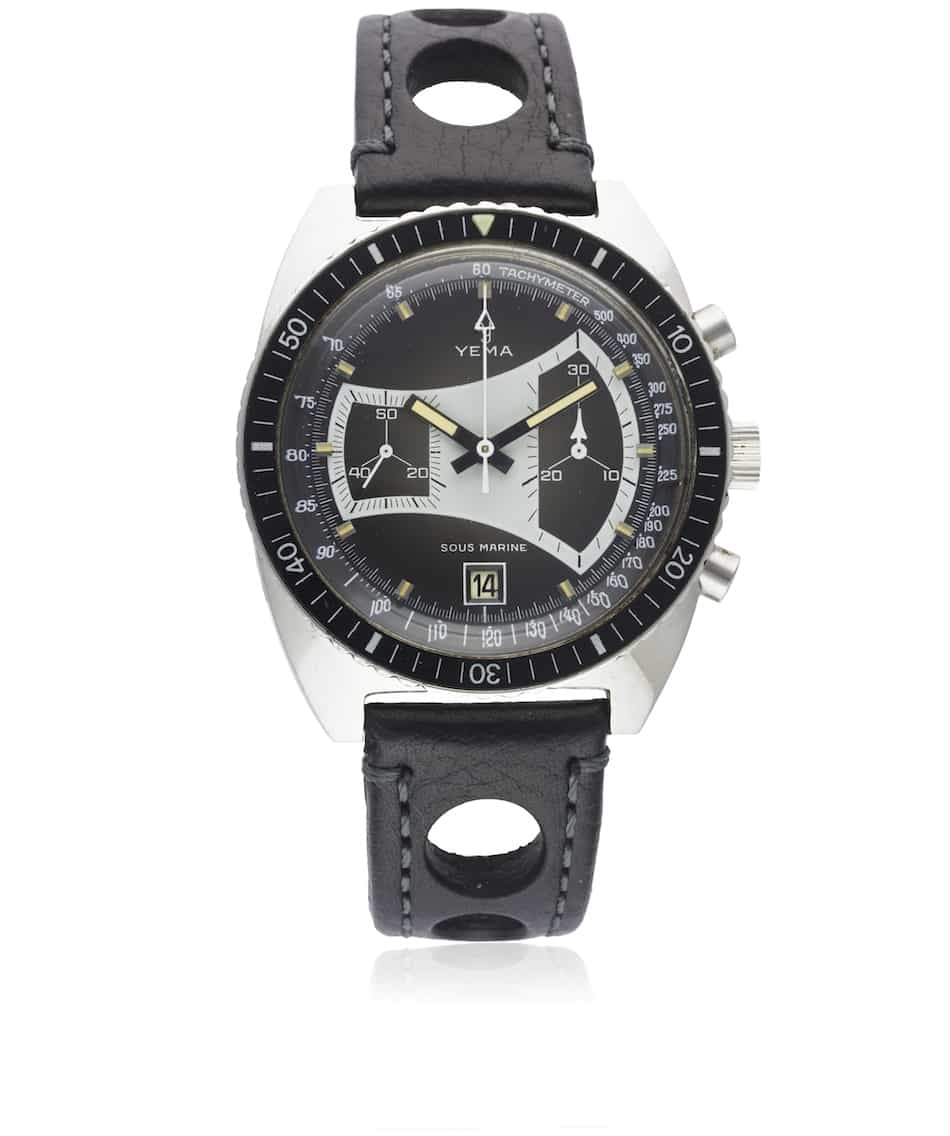 Lot 113: Yema Sous Marine "Jumbo" Divers Chronograph

The final lot in the Yemas at Watches of Knightsbridge is the c-cased Jumbo Divers Chronograph. This watch also features a Valjoux 7734 as it has a date along with a rotating acrylic bezel. These Sous Marine ("Underwater" in English) pieces ditch the traditional Heuer-esque case, but they retain the funky, French style as seen on the dial. If a 1970's Autavia is too boring for you, perhaps this piece provides more visual flair! From my research, everything looks correct on this piece.
Price range: 2000 – 3000 GBP
I am interested to see how the Yemas at Watches of Knightsbridge perform. Auctions are extremely unpredictable and I would say that the reserves have been set with market knowledge in mind (don't forget the buyer's commission, but do remember a relatively affordable GBP). Yes, many of these Yemas have a slight revision, but in the case of a crown, this is relatively minor and persistence can likely unearth one. I'll be watching to see what happens.
The Watches of Knightsbridge "Modern & Vintage Timepieces" auction will be held in London on June 24, 2017 at 11:00am GMT. The online catalog may be found here.