You Asked Us – What Watch Should I Buy To Celebrate a Life Event?
We receive a lot of questions from people that "give" us a budget and ask us about the best watch they can buy for that. That's too difficult to answer without knowing you to be honest. A watch is so personal, we wouldn't even recommend buying a watch for someone else only if you really know that person. We made an exception when an Italian reader asked us what to buy for his daughter (and give it to her in 18 years from now), but giving us a budget without any context is very difficult.
You Asked Us: What Watch Should I Buy To Celebrate a Life Event?
That said, we received an email last week from one of our readers by the name of Moe regarding a watch to celebrate a special occasion. He likes the idea of buying a watch to celebrate or commemorate the important things in life, as he already bought a Grand Seiko for his graduation and a Rolex GMT-Master for his wedding.
Moe wrote to us: "I am now about to sell the company I have built up over the last years and have a change of career; so I am again considering buying a watch.
So far, I am considering the steel versions of the Rolex Sky-Dweller and the Audemars Piguet Royal Oak. While the former is actually 100% of what I am looking for in terms of functionalities and the Royal Oak is, of course, a classic, I would prefer something a little smaller in size. Not to mention the wait list for both models which seems to be very long. During the last visit to my preferred watch dealer, he showed me the Daytona in white gold on the rubber strap. While this is actually a bit beyond my allotted budget, I am hooked.
Are there any other watches you would recommend for a budget of 15 to 20k Euro (with some leeway up or down)? I am going for functional, understated, and if possible a classic. If the choice is between dress and sports watch, I would probably lean more towards the more sporty models."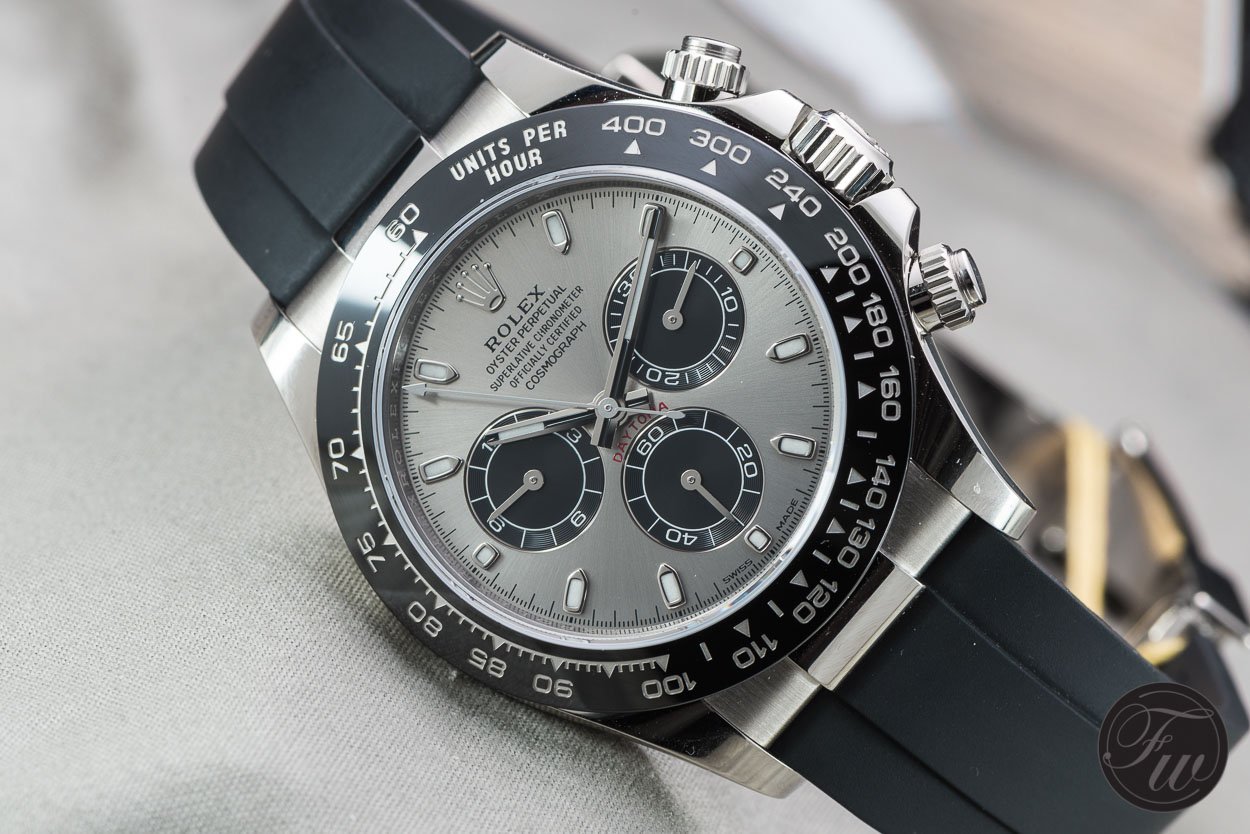 This Budget Buys You Everything
A budget of 15-20K (and even a bit of stretch possible) basically buys you any type of watch. Even a tourbillon if you want. Or a perpetual calendar. But that is not what Moe is after. If I read his message well, I think he is in the need of a classic watch, with a sporty look. Being already the owner of a Grand Seiko and Rolex GMT-Master, he's again looking at certain Rolex models. The Audemars Piguet Royal Oak (assuming a reference 15400 with a diameter of 41mm, based on his comment about the size) is simply an icon and considered to be a luxury sports watch.
As stated at the beginning of this article, it is simply impossible to just spill out some brand and models names, because that's like shooting with a shotgun. Any sales representative can do that for you. Let me run you buy the models Moe already selected and already speak to him. Perhaps give an alternative to these.
Rolex Sky-Dweller in Steel
The Sky-Dweller in stainless steel was introduced in 2017 and it left quite an impression on me, I even wrote it in my article on the Sky-Dweller last year. An annual calendar complication is useful and in all-stainless, this watch is still a bit "stealth" compared to the previous gold and bi-colour variations. The downside of this watch is the relatively large case of 42mm and the availability. At the time of introduction, this watch had a retail price of €13050 and I don't believe there was another increase since. That's a fair price for an annual calendar watch from Rolex. Moe made a remark about the size of this Sky-Dweller and the aforementioned Royal Oak though, and if that's something to comment about already in an early stage, it will stick on you. In the end, it might become something that will annoy you so much, you will find yourself ending up selling the watch.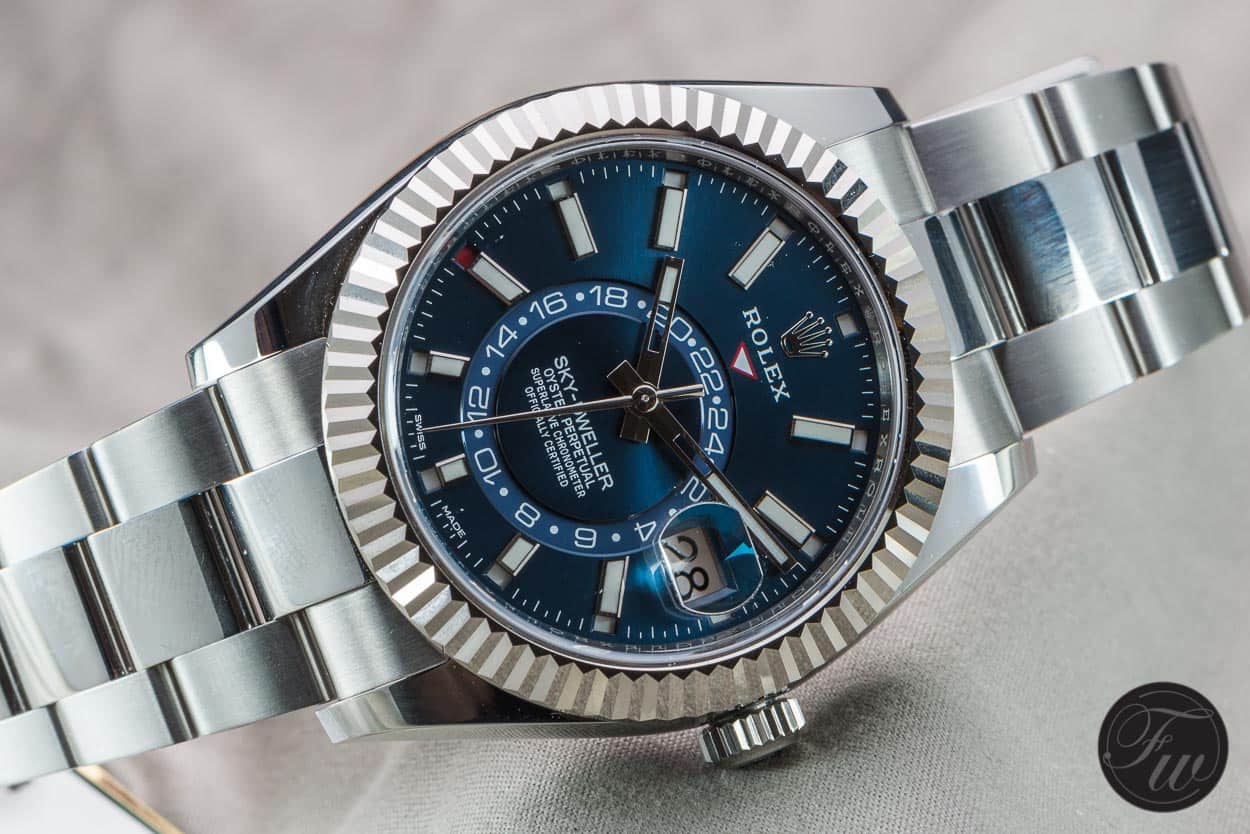 If you like this style though, Rolex has some other watches to choose from. Give the fact that Moe already has a GMT-Master, I will leave out the new Rolex GMT-Master II Pepsi, although, with a Jubilee bracelet, it is looking a bit more classic than the other models with Oyster bracelet. The annual calendar complication is definitely a nice feature, but my guess is that Moe is not specifically after a complication, but he seems to be looking for a certain style.
Rolex Daytona 16500
Staying with Rolex, the mentioned Daytona is an option for sure. A slightly smaller case at 40mm and in a precious metal. But it is beyond his budget as he wrote us. What about a stainless steel model? Even with his budget, you can buy one today if you're ready to pay a premium, you can also have yourself put on a waiting list (retail €11,400).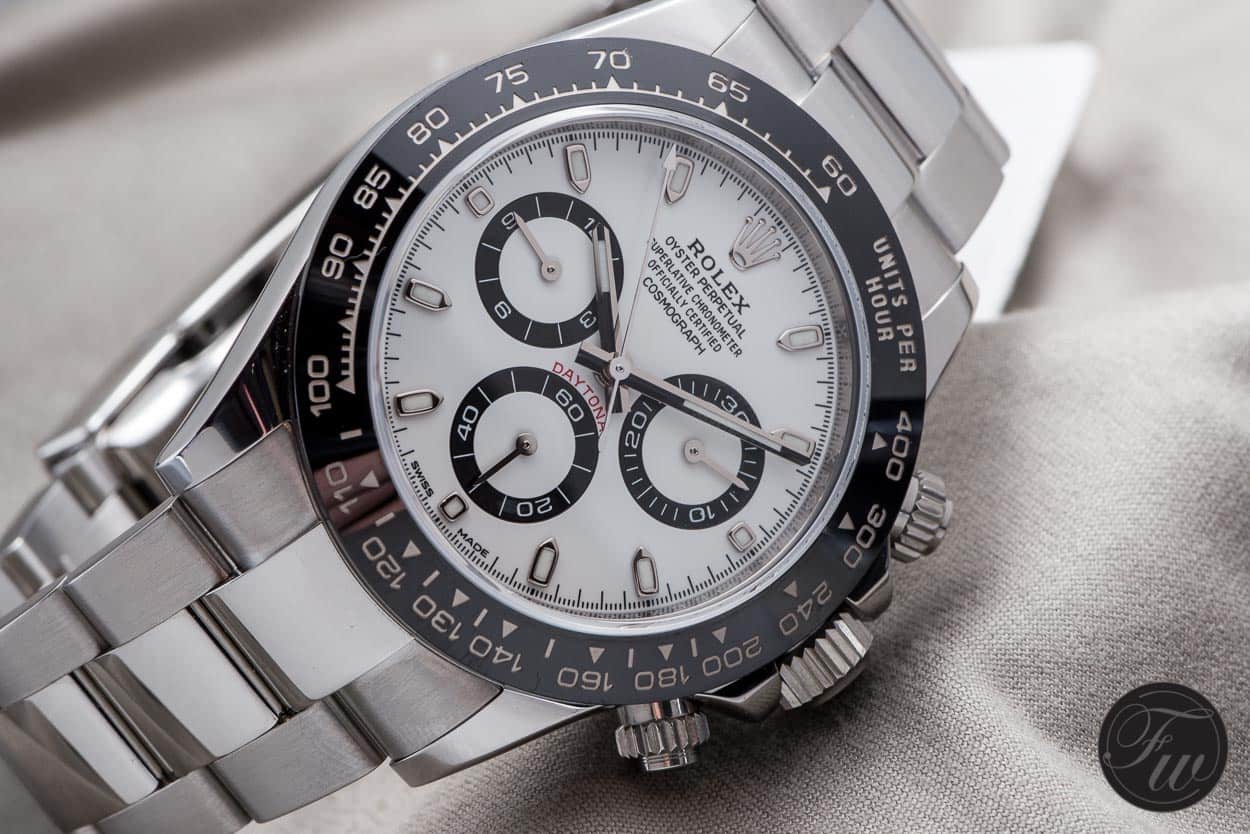 Rolex Datejust 41mm
Something more close to the style of the Rolex Sky-Dweller in steel though is the Rolex Datejust. It will also have a more friendly impact on the budget, perhaps even leaves some room to buy something on the side. I've written it before, but I believe that the Rolex Datejust is just one of those perfect watches for everyday use. They fit like a glove and never go out of style. Even if you bought a 36mm version in the 1990s and perhaps feel a bit sorry that they weren't offering the 41mm models back then, the 36mm still looks good! It is all between the ears with these smaller sized watches in my opinion. A Rolex Datejust 36mm (or Day-Date for that matter) is something you can get perfectly away with these days, it is just that our surrounding seems to be very focused on larger watches. Anyway, the Rolex Datejust 41mm is a tad bit smaller than the Sky-Dweller, but comes in more or less the same style.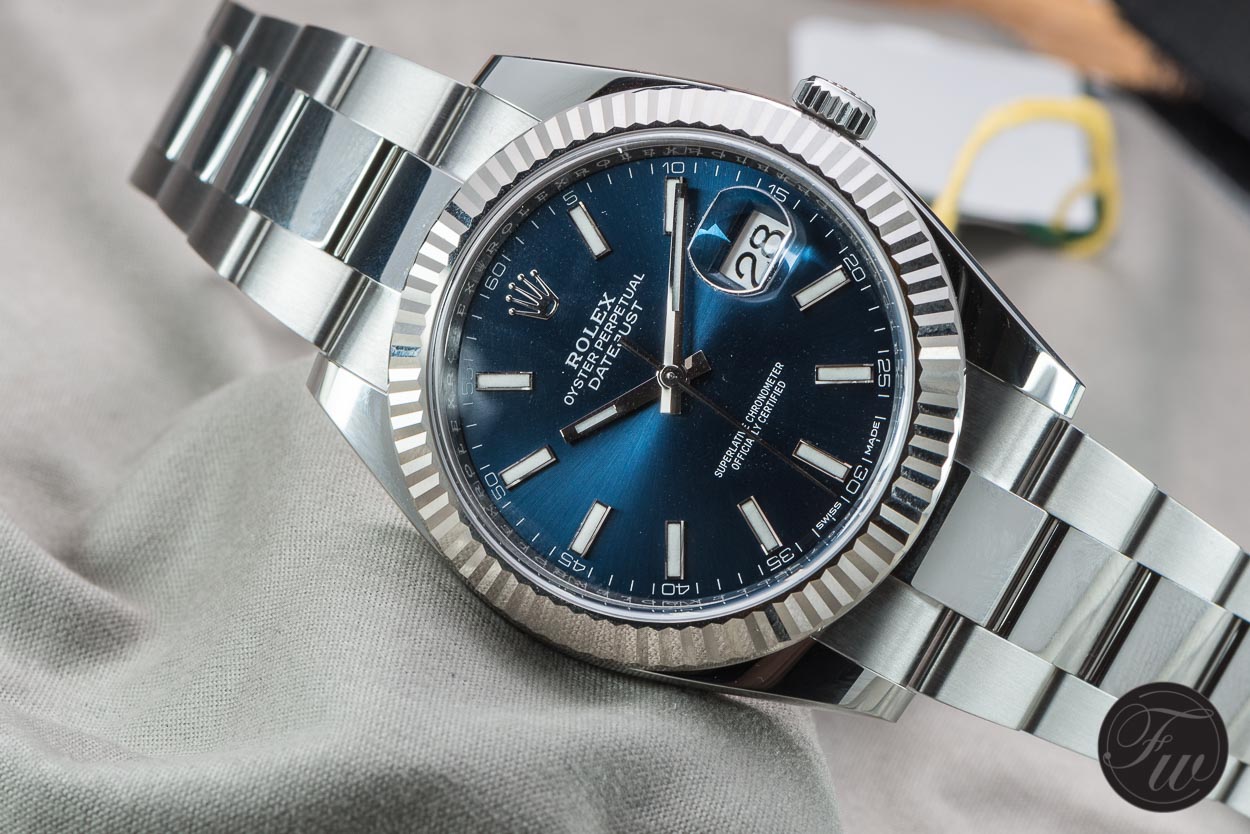 Alternatives
Breitling Navitimer B01
If you choose Rolex, it is getting a bit difficult to come up with an alternative as this brand is probably firmly set in your mind. What about a full stainless steel Breitling Navitimer B01 with in-house movement? Agreed, another one with a 43mm but the lugs of this watch are relatively sleek. This watch retails for €8190.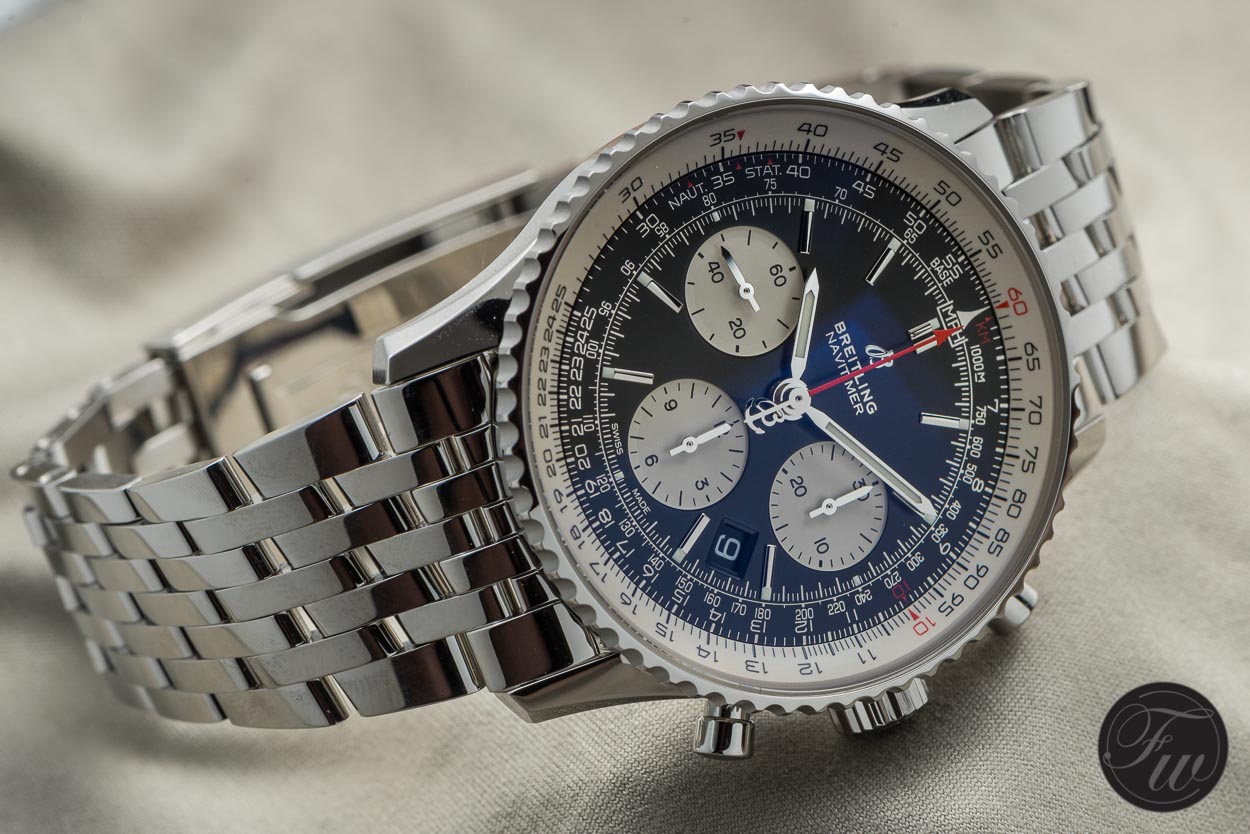 Grand Seiko SBGH267
Although you already have a Grand Seiko, and we don't know which one, what about adding something special to your collection like this limited edition from 2018? This is the Grand Seiko SBGH267 that celebrates the 20th anniversary of their 9S movement. Since you are already familiar with Grand Seiko, I am pretty sure you have an appreciation for the craftsmanship of this watch. With 39.5mm in diameter, it also matches your demand a bit better than the Breitling above.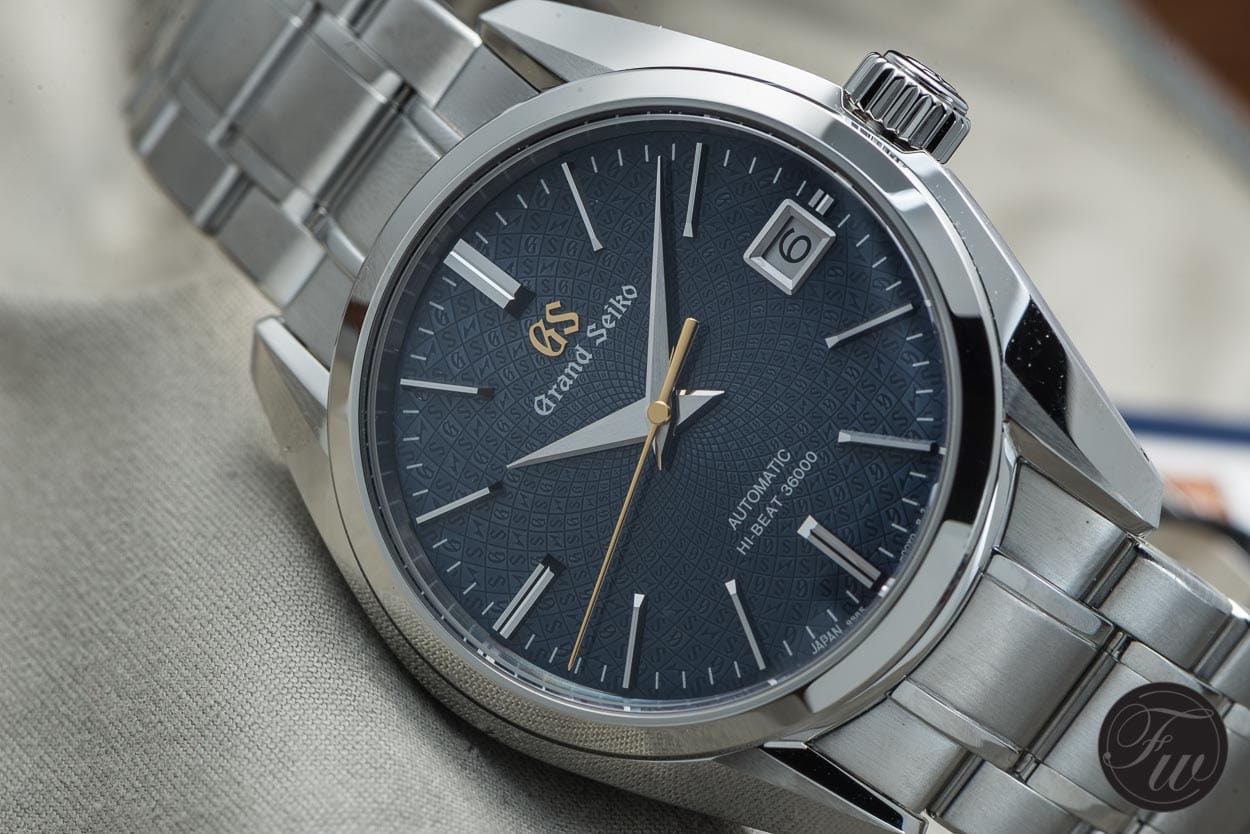 Omega Speedmaster'57
Officially sold out, but you can find one if you want: the Omega Speedmaster'57 60th anniversary edition. Limited to 3557 pieces, so enough out there you'd say. I picked this one because it matches a lot from your description. The size is very modest with 38.6mm and still sporty because of the stainless steel bracelet. It also comes with a leather strap and a NATO strap, which still keeps it relatively sporty. Inside you'll find the famous calibre 1861 movement. Retail price is €6800 which is also more or less the going price these days on the market (because sold-out). If Moe is more interested in an automatic watch with "modern" specifications, the Speedmaster'57 Co-Axial Chronometer might also be a good option, of which the diameter is still acceptable with its 41.5mm.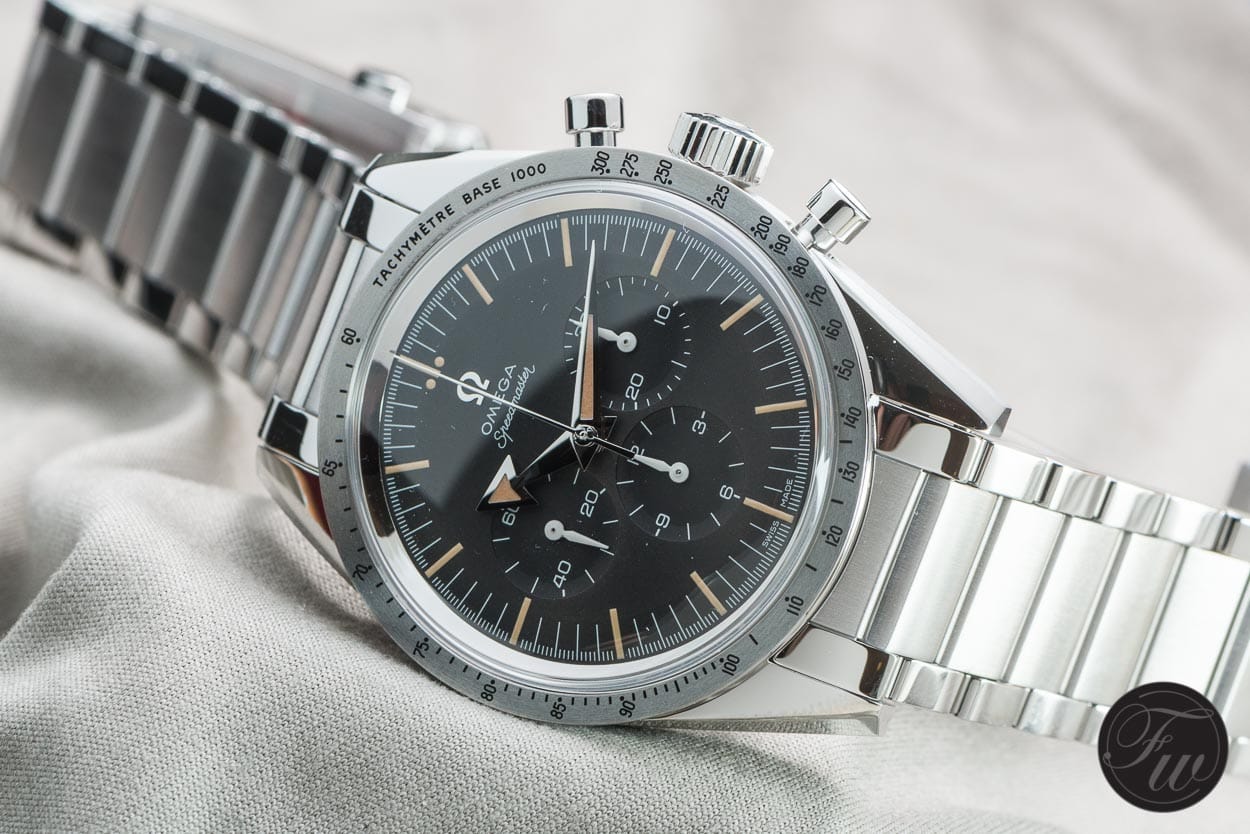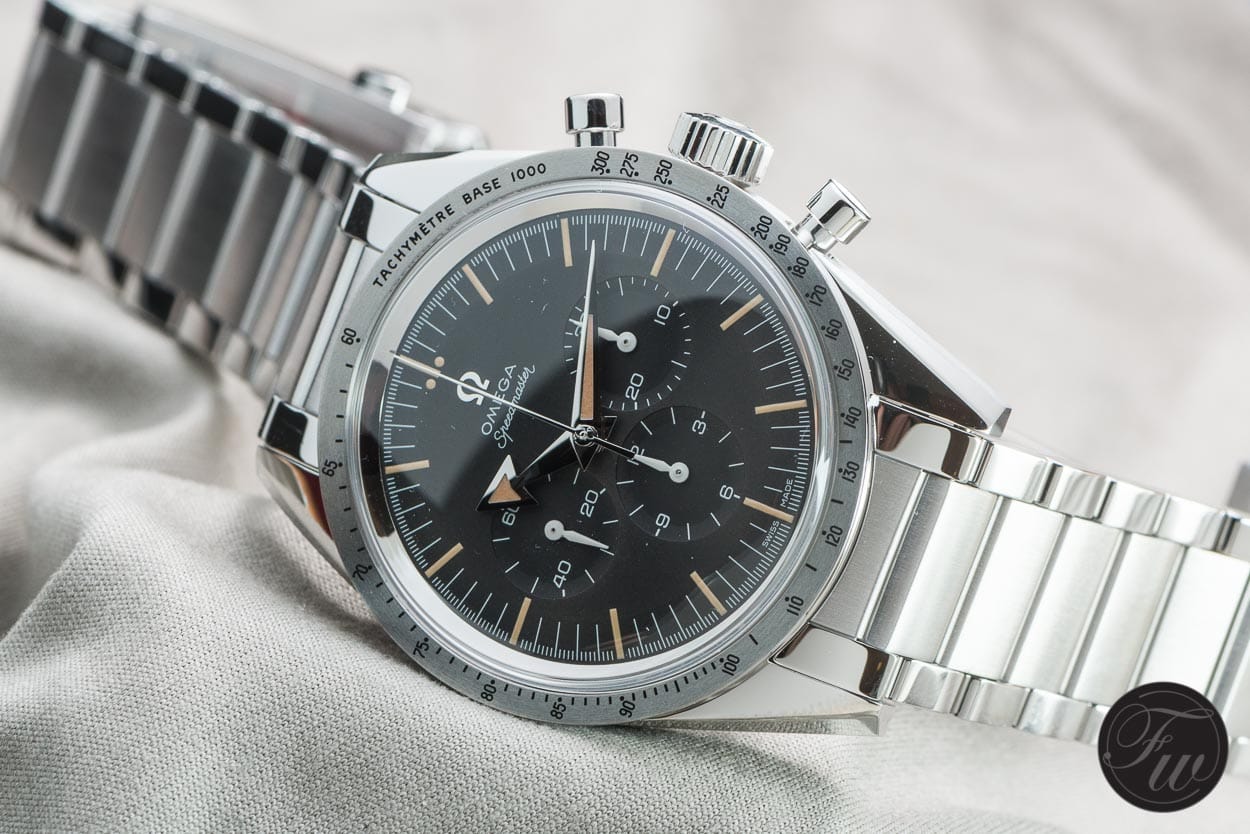 Audemars Piguet Royal Oak "Jumbo"
Stepping it up a bit, Moe mentioned the Royal Oak and the fact that he thought the size was a bit too much for him. Since I can only guess here, I assume that he has seen the reference 15400 with a 41mm diameter. To be frank with him, and you, I much prefer the Royal Oak Extra-Thin, or "Jumbo", reference 15202. Not only is this watch only 39mm in diameter, but it also uses another standard when it comes to watchmaking. The 15400 (and its predecessor, the 15300) use the in-house manufactured calibre 3120 movement. This is a fine movement, but it is for the large part finished by machines. The thin calibre 2121 movement that is used by the Royal Oak 15202 has been finished by hand, explaining the price difference for a substantial part. The retail price of this watch is around €23000, so Moe will need to stretch his budget a bit. It is still cheaper than the white gold Daytona on rubber, which retails for €26600. Pictured below is the 15202IP, but we refer to the full stainless steel model of course.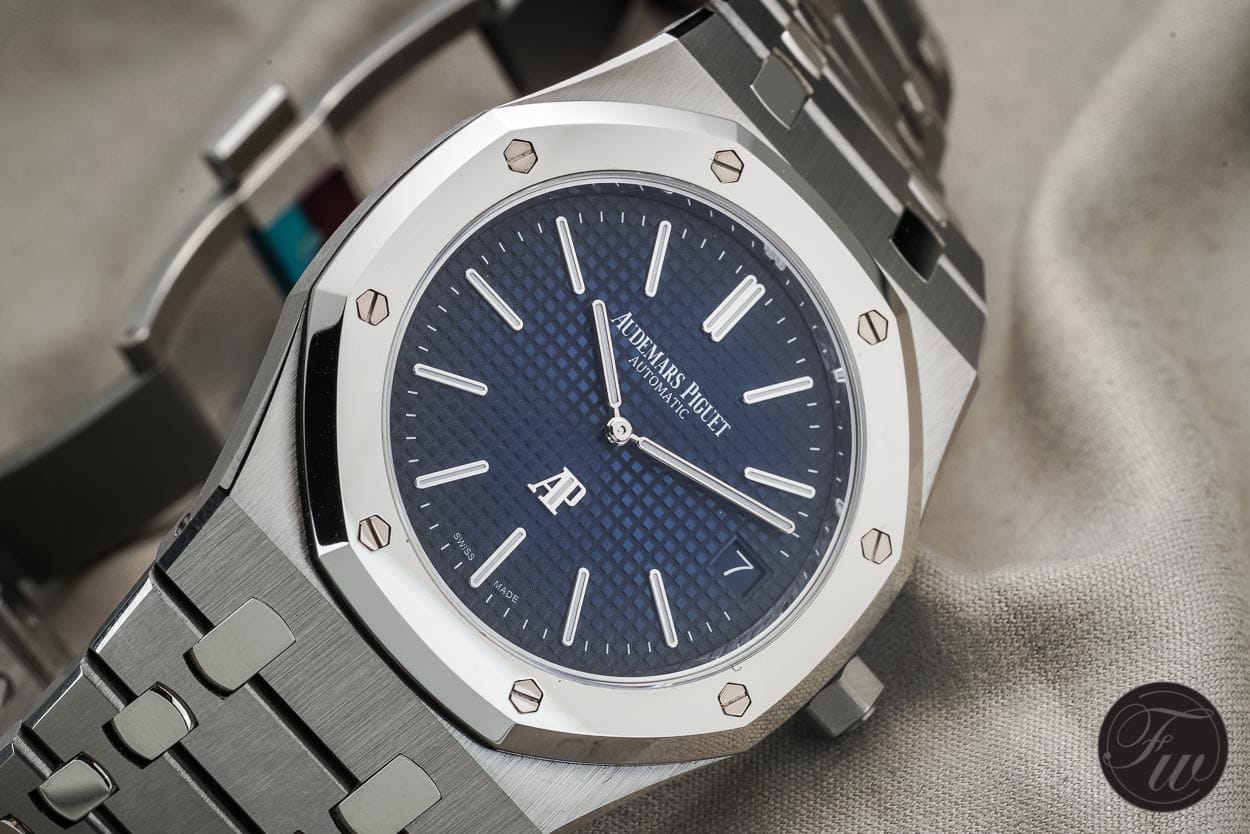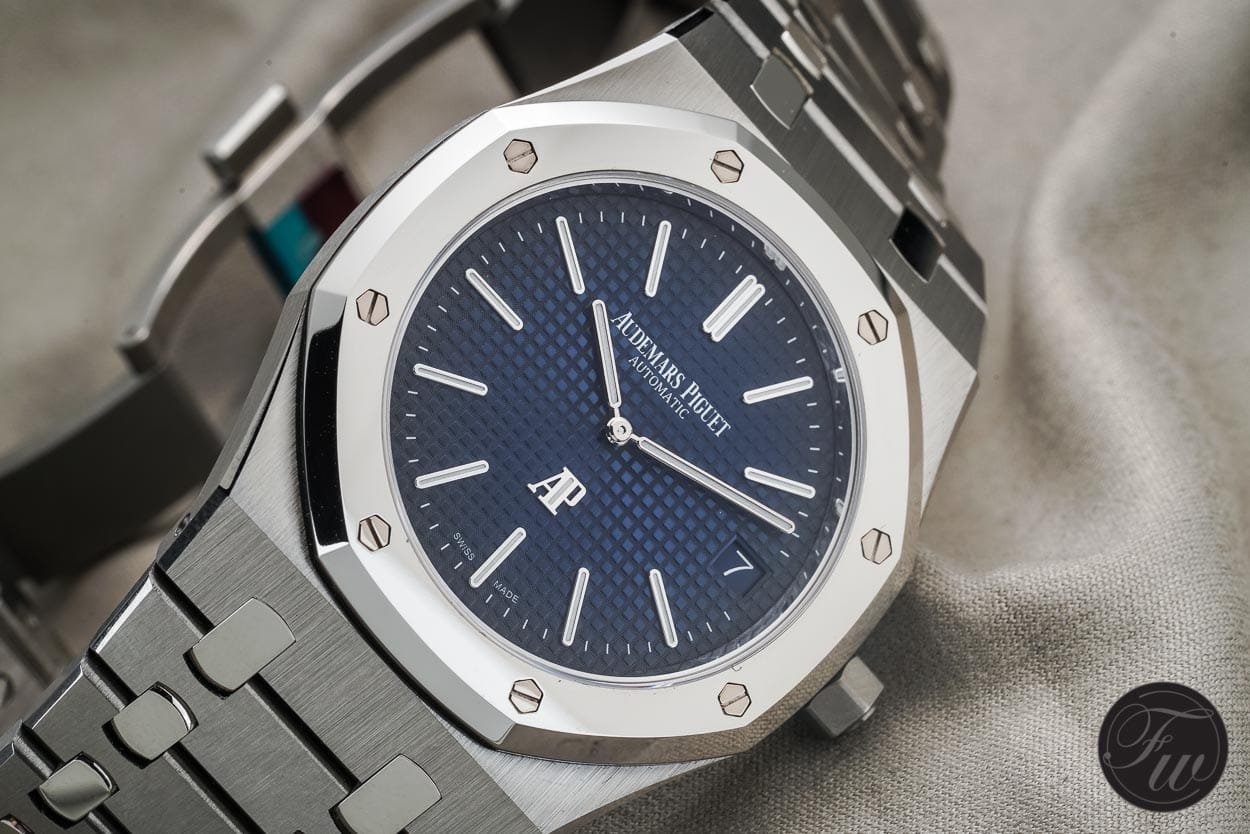 More Alternatives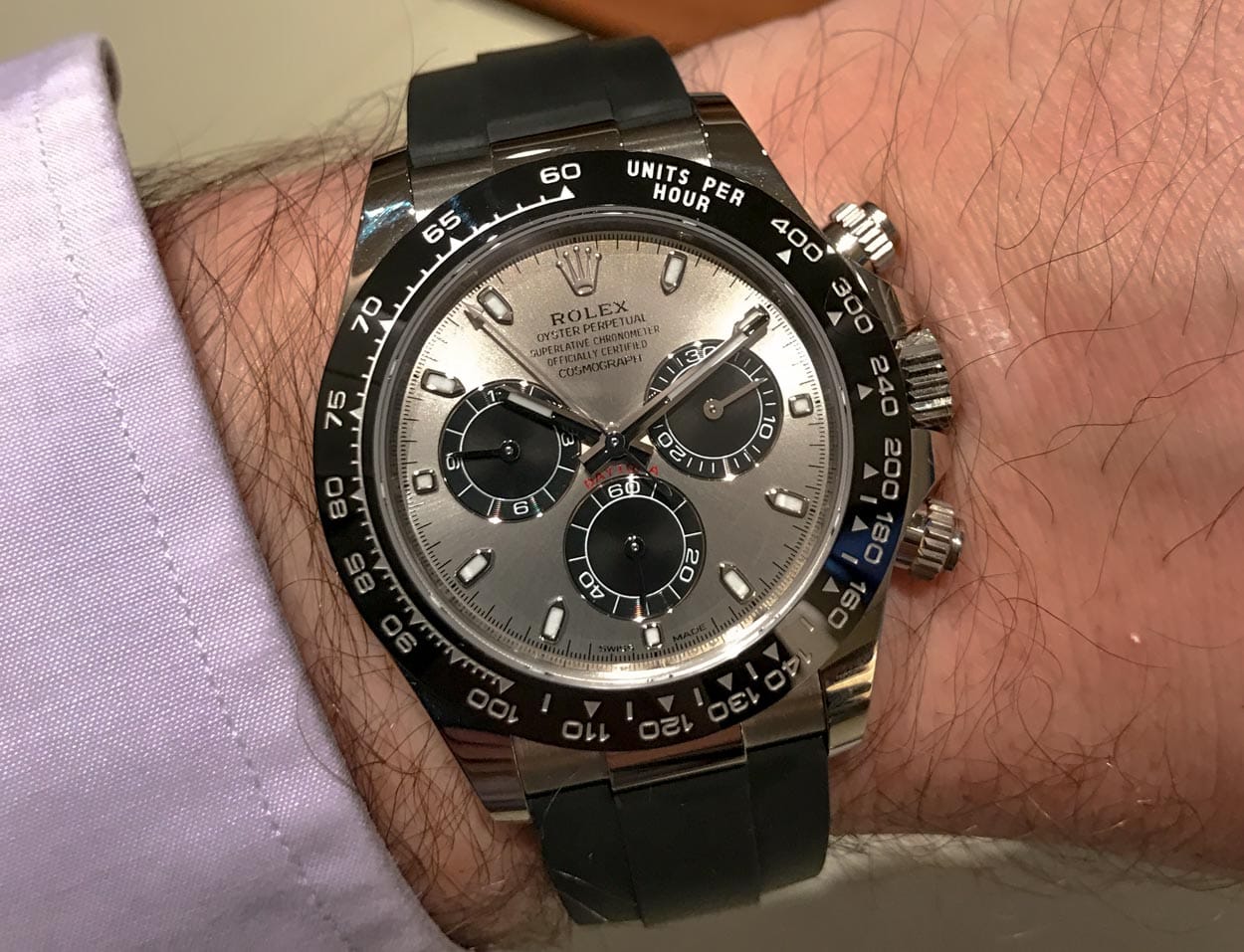 As you can see all my alternatives to Moe's selection have stainless steel bracelets and are, mostly, considered to be classics. If he is daring enough to step away from that, other interesting watches will also cross his path for sure. I left out watches that usually come on a leather strap (like the IWC Big Pilot's Watch for example), or the ones that are not a classic (yet), like the Octo Finissimo from Bvlgari, but might become one in the future. It is easy to be all over the place once you just have a budget and no real insight into someone's personality. Moe has to do it on his own I am afraid, but that's a big part of the fun in my opinion. The hunt is most of the time the best part. If budget was not an option, or easy to stretch, I would go for the Royal Oak "Extra-Thin" for sure. But if I were Moe, I would go for the white gold Daytona with a rubber strap, as that watch ticked all of his boxes at first sight.