The Best Of German Monochrome — From Laco To Lange With Restrained Elegance
As Henry Ford said, you can have any color, "so long as it is black."
Sometimes I feel slightly schizophrenic, probably a normal feeling for a horological obsessive. Some days, I feel like only wearing patterned, bright-colored socks (well, that's every day) with a searingly yellow Doxa. On other days, I hanker after the crisp monochrome, graphic panache of a matte black dial. Tool-zen, if you like. This story is my take on the best German monochrome watch design. There's an emphasis on functionality and tool watches, no matter how used-up that term might seem in 2022.
To be fair, here at Fratello Watches, the Speedmaster is the king of monochrome. But this is about Germany's best. There is a reason we associate pilot's watches with Germany, whether it be Sinn, Laco, or Hanhart. And Bauhaus? That particular strain of architecture and design, its spare colors, and lack of embellishment is eminently present in wristwear from Nomos and Junghans. A sharp, monochrome dial from a German brand can guarantee you an understated design that is both elegant and timeless. And yes, that'll cheer me up just as much as a sunny pop of color, and do so in a soothing and very functional way.
Hanhart 417ES — Steve McQueen's Bunded choice
I'll confess, I own one of these, and the bund strap was my natural choice. I am a huge fan of Steve McQueen, and the original Hanhart 417ES was a pilot's chronograph. But for Steve, it was on his wrist for a three-day Motocross Enduro, rattling over ruts and racing over rocks. Mic dropped and provenance underlined. The 417ES with its Sellita 510 manual movement sits very comfortably on its Bund strap and is pretty much made to order. Hanhart offers two lengths of the Alcantara-lined leather Bund strap, and it sits softer than a 42mm classic pilot's chrono has any right to. Here, Hanhart re-introduced its swoopy old logo, and the matte black dial is balanced to a tee. A rather elegant tool at €1,840, the delicious spot of red lacquer at 12 o'clock makes it non-monochrome. But forgive me, as God is in the details, and this is a popping one
Nomos Club Campus 38 Night — Bauhaus elegance with a pop of orange
After the Hanhart 417ES, I might as well carry on bending the rules of monochrome. A tiny and judiciously placed touch of color lifts a black dial to another level of cool, even if it's only the seconds pointer. The long lugs of the 38mm Club Campus make it wear larger than its diameter suggests. And with its in-house-manufactured Nomos Alpha caliber, it is perhaps the best-value German watch under €1,500. The round, pebble-polished case frames a black dial with a twist. A cheeky gray-tinged California dial design has a classic recessed small seconds register with the pièce de résistance, a flash of orange-red in the pointer. That is before the sun sets, and the fat lume print on the numerals comes to life with a vibrant glow. At around €1,400, the Club Campus 38 Night easily becomes a favorite with its cheeky charm.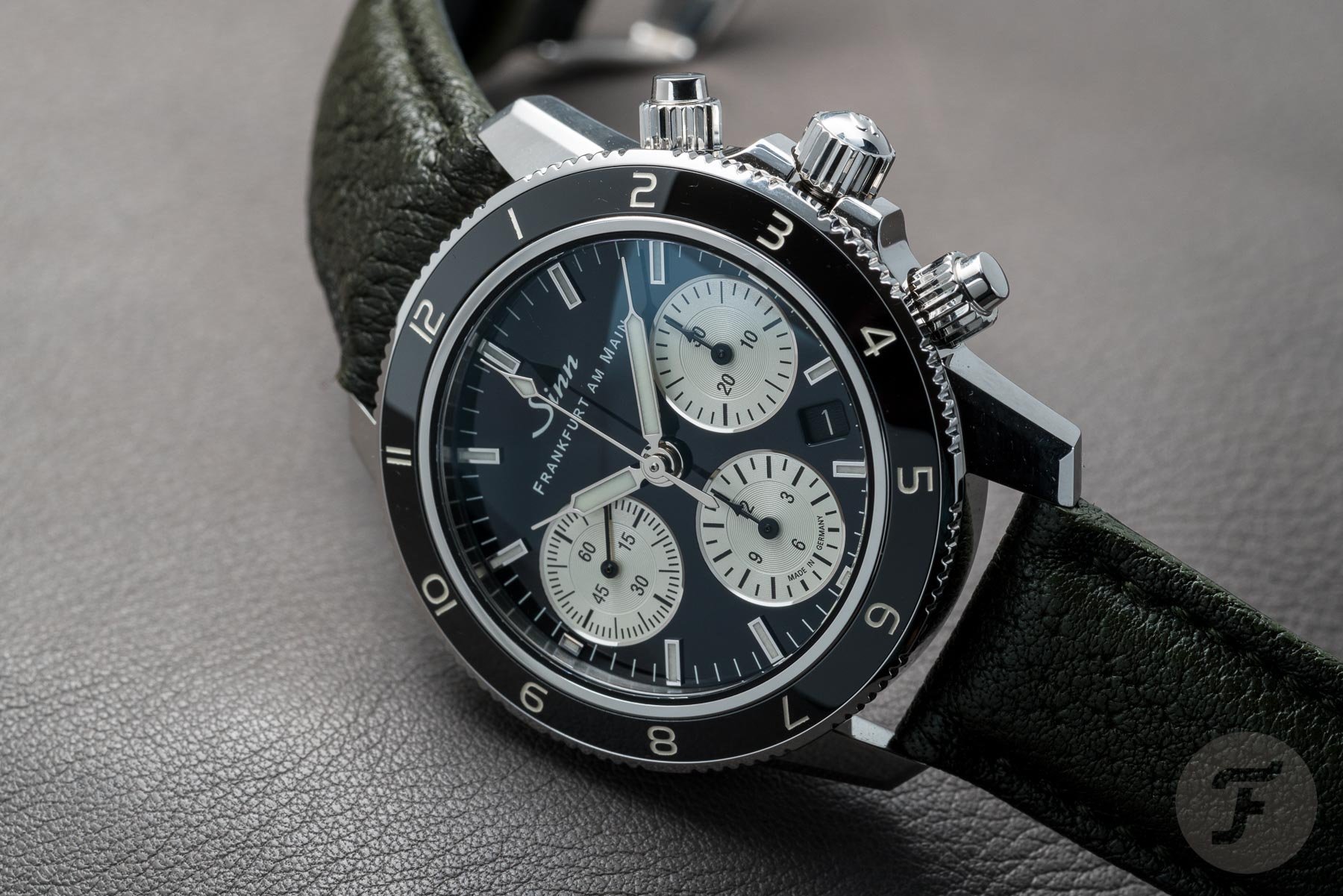 Sinn 103 Classic 12 — the classic German Speedmaster alternative
The 103 model is a Sinn mainstay and exists in many different variants. From titanium to steel, and from black to green metallic, the Sinn 103 is still an understated tool. Most variants have versions of the Valjoux 7750 caliber, which are plentiful but off the radar of the trends. The 103 has been in production for many years, but last year, it once again appeared in the spotlight. I quite fancy the bulbous acrylic dome and black bezel of the 103 St, but the Classic 12 is a more glitzy piece from the toolbox.
This is probably the dressiest version of the 103, but not with the cheeky glitz of the green metallic 103 Sa G. Here we have a suave reverse panda chronograph, a polished case, and dial details that underline a classic design. The caliber is now the Sellita SW510 — consider it a celebration of the Sinn 103. While it might seem fat at 17mm (well…), this 41mm chronograph seriously tickles my fancy. It's sold out from Sinn, but available starting at $3,955 on Chrono24.

Laco Flieger Stuttgart Pro — a minimalist pilot's watch
Laco has always made solid pilot's watches, and you'll find Miyota-powered versions for as little as €390. But this is the Flieger Stuttgart Pro. Yes, finally, a simple pilot's watch sans date, polish, and any unnecessary frills — and it's customizable! Try Laco's charming configurator, and choose from three sizes, two crown positions, and a plethora of options. Mine? I would choose a no-date 37mm hand-wound with the top-grade movement. The dial is simply meant for razor-sharp legibility and pure function. On a black riveted leather strap, my customized option would come out at €980. With its blued hands, brushed case, and double-domed sapphire crystal, this might just be pilot perfection for less than €1000.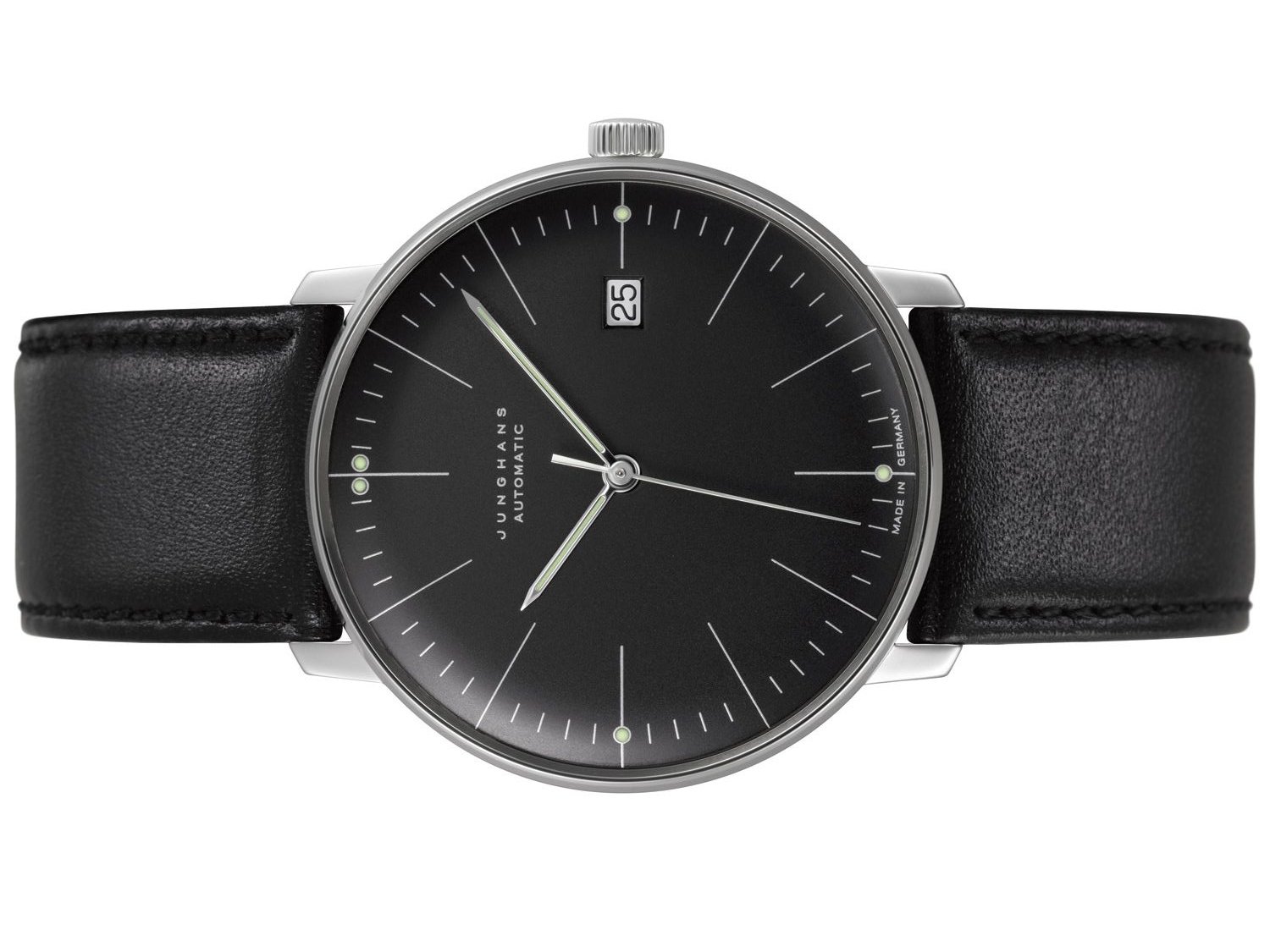 Junghans Max Bill Automatic — for the raffish architect
The minimalist architect's style — thick-rimmed glasses (me!) and a black polo neck — might be a cliché, but it's a definite vibe. And in the Max Bill by Junghans, it's a strong vibe indeed. While the brand has had a renaissance, I still don't think that Junghans receives enough well-deserved accolades. Its design language is a spare Bauhaus style close to Art Deco. With an ultra-slim bezel, any 38mm Junghans will visually appear more like 40mm. The Max Bill has a domed sapphire crystal and impossibly thin silver indices. There is a clarity of German elegance in the strict code, and it doesn't fit with scruffy sports casual — time to start dressing up again after two years of tracksuit pants and crumpled t-shirts. The self-winding caliber J800.1 is classily hidden from view behind a smooth steel case back. This range has a broad choice of straps and dial alternatives for around $1000.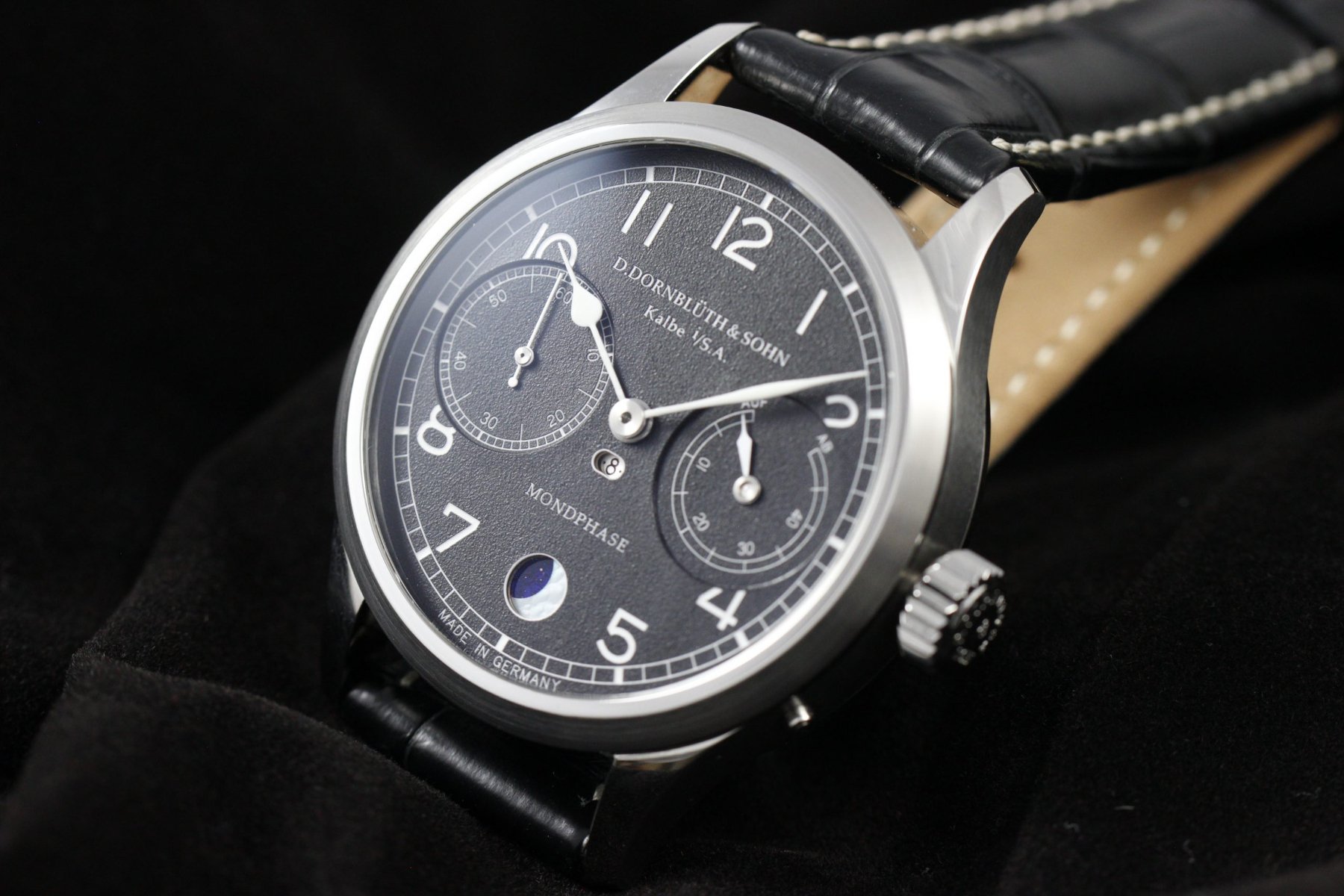 D. Dornblüth & Sohn 99.6-M Mondphase — quietly spoken hand-finished elegance
I used to exclusively collect time-only watches, reveling in their balanced dials. That changed with my first uni-compax chronograph. I have developed a deep affinity for these symmetrical dials, and Dornblüth is a quietly spoken German brand that deserves attention. The brand's 99.6-M Mondfase is a discreet take on a moon phase complication, set within a textured black dial.
You have the choice of a black or white dial, with a wide range of straps, and white lacquer or blued hands. At around €6,000 to €7,000 you'll have a rare piece of wristwear, with a wide range of ceramic (yes!) dials in rich colors should you eschew monochrome perfection. This month, Dornblüth launched an aventurine dial option for that sparkly night-sky view. Turn the 99.6-M around, and you have another very German reason to discover Dornblüth & Sohn. The intricate classicism of the hand-engraved balance cock with its swan neck regulator will leave you suitably impressed.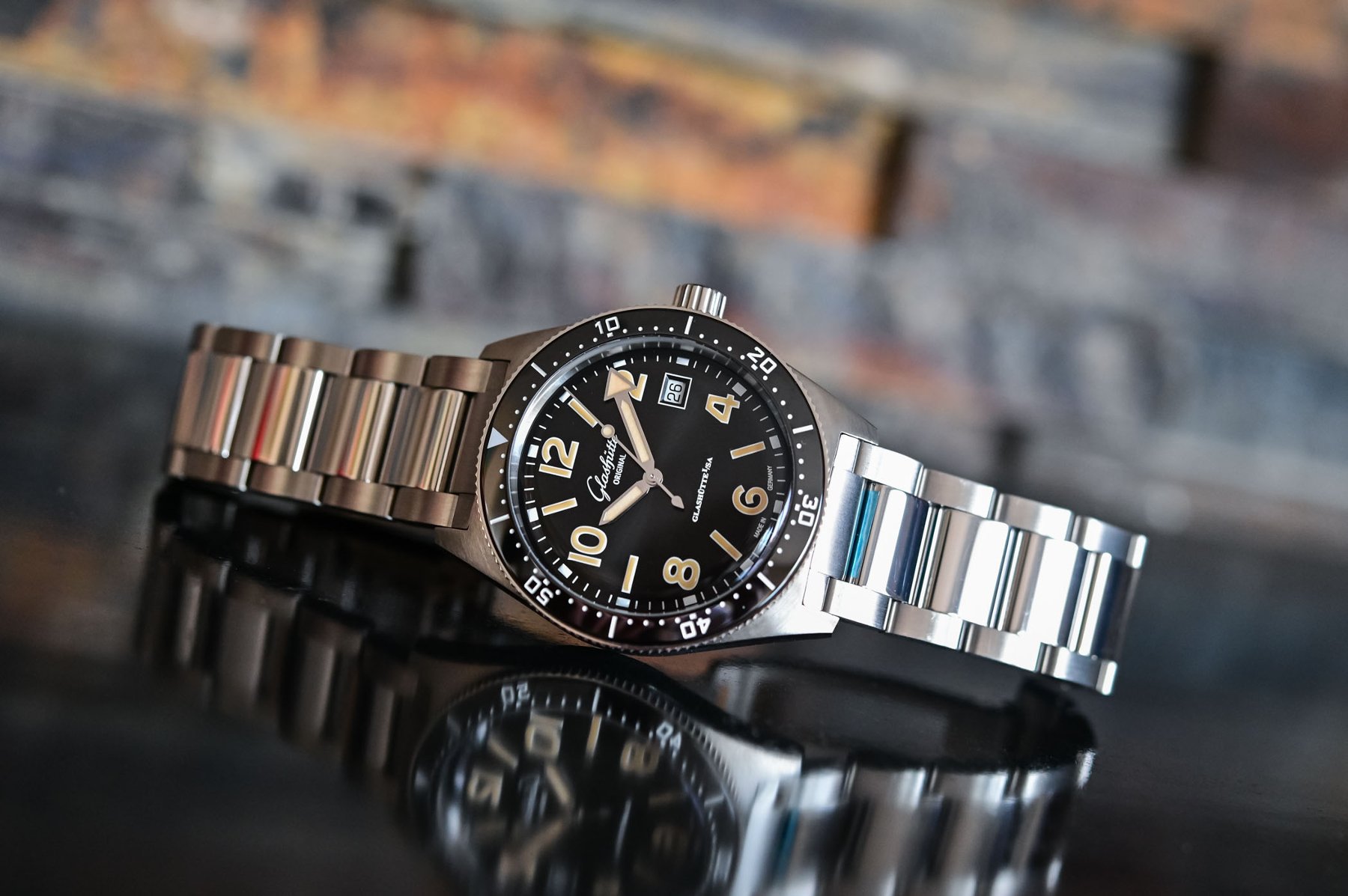 Glashütte Original SeaQ, the unexpected diver's watch from Glashütte
Glashütte Original has a solid vintage tool watch in their catalog, and it's the odd one out. That is exactly why I love it, and the rest of Glashütte Original's portfolio is split. On one hand, the brand's classic German horology encroaches on Lange's territory with consummate ease. On the other end of the scale, GO knocks the ball out of the park with lusciously bright fumé dials.
The SeaQ exists as the brand's only pure dive watch, of vintage descent from the original Spezimatic. The range has expanded to gold and diamond-infused versions, but the 39.5mm black-dial version remains the coolest. With large Arabic numerals, charmingly exaggerated for legibility, this is a deeply refined reissue. When you include the in-house caliber 39-11 and a dial manufactured under the brand's own roof, the perfectionate detail makes this well worth its price of €10,300. With its only sports-dive watch, Glashütte Original simply pulled out all the stops, and it certainly shows.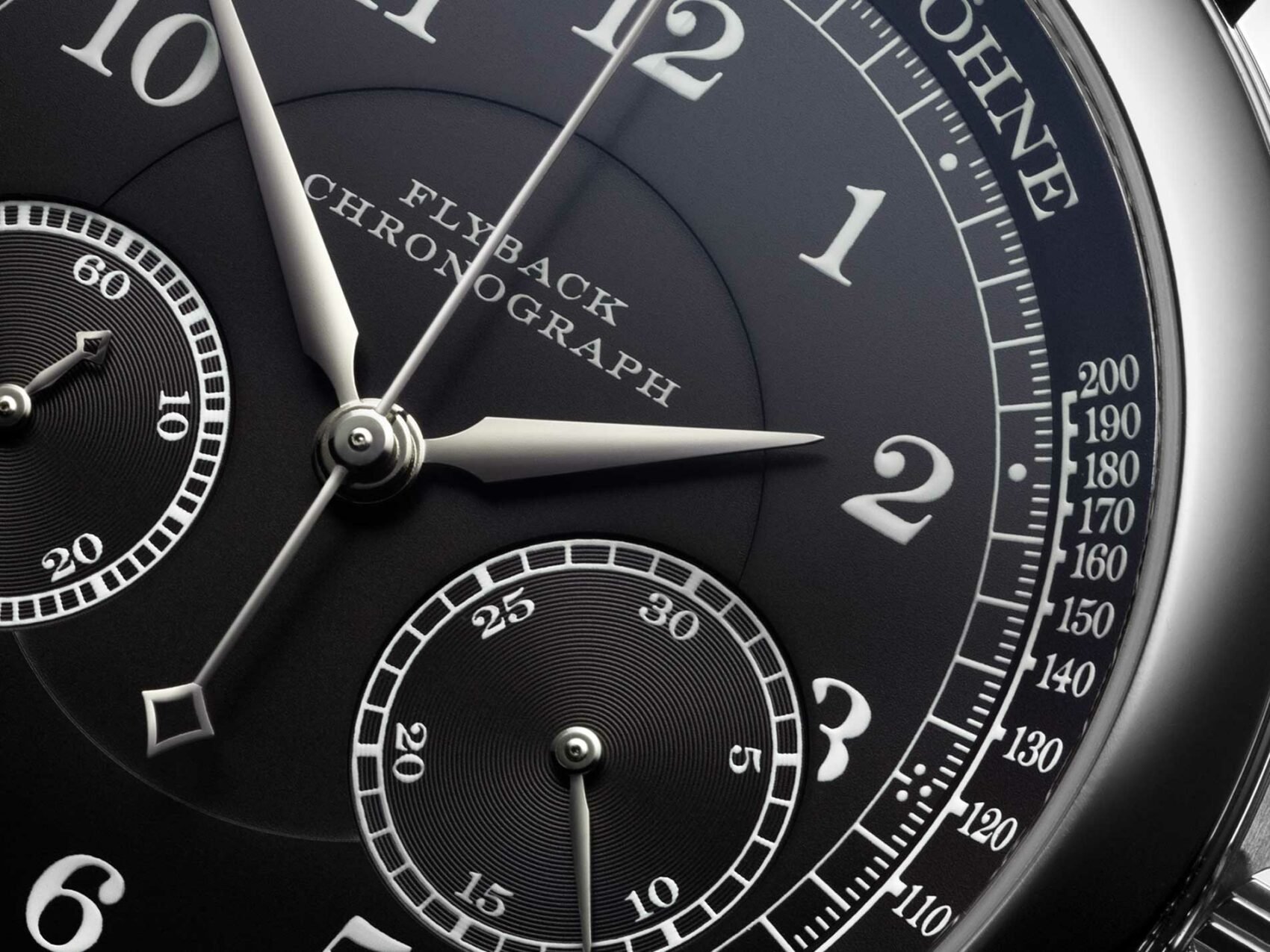 A. Lange & Söhne 1815 Chronograph — the standard-setter
Yet another uni-compax, and one I seriously fell in love with when I tried it on at the Oslo Watch Fair back in December. It is 39.5mm and quietly elegant with an 11mm thickness — a textbook example of "stealth wealth". The 1815 Chronograph is a serious investment at €57,400, but you get what you pay for. Every detail, from the rhodium-plated gold hands to the distinguished glint of white gold will remind you of one thing — perfection might just exist outside Switzerland. And I'll tell you another thing. Once you try on an A. Lange & Söhne, your entire scale of quality and perception of finishing might shift.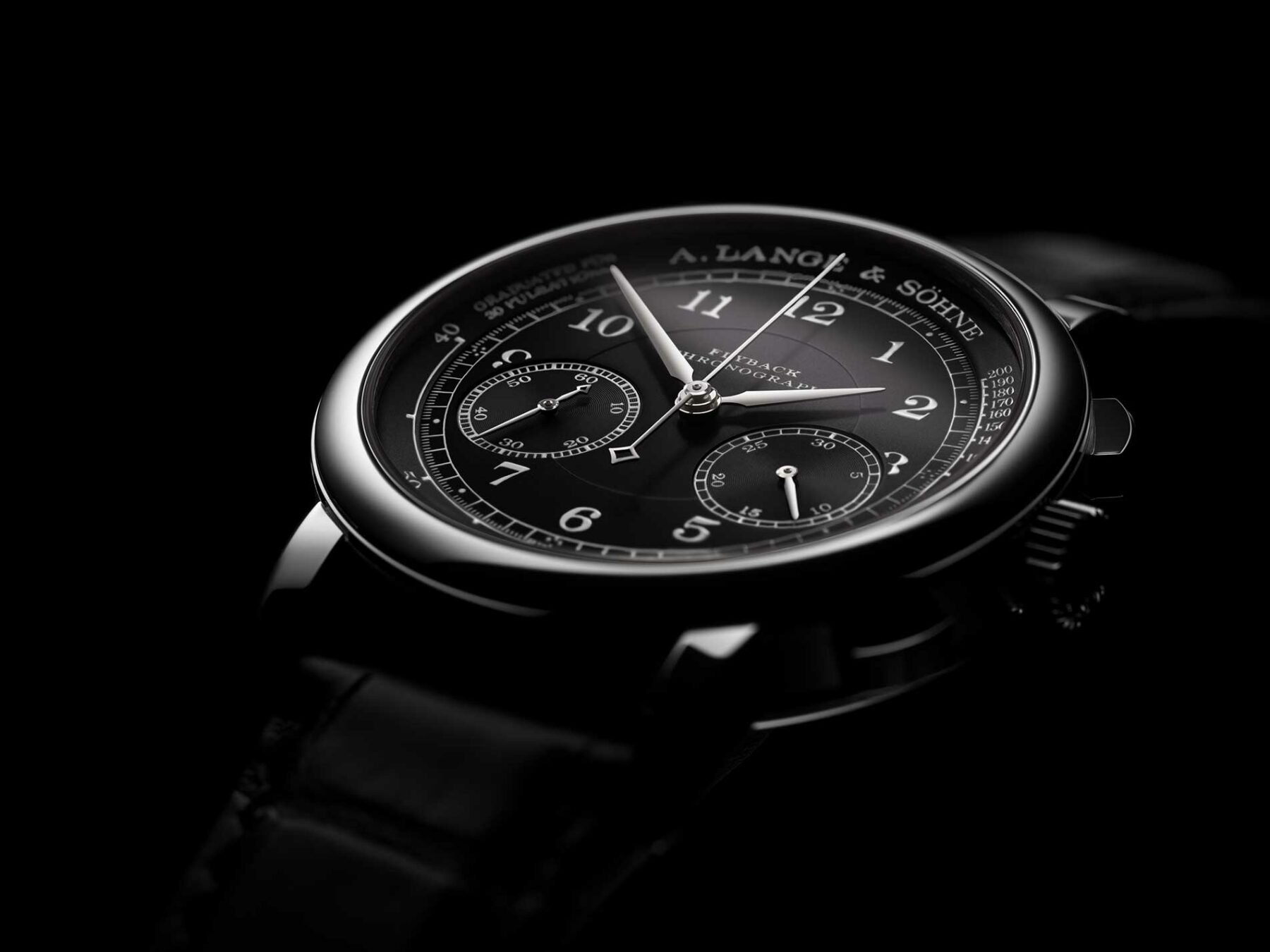 Though it has a style well known from mid-century designs like the Patek Philippe 5170, the 1815 range has a decidedly German flavor with its off-center registers. Behind the solid silver dial lies the intricate L951.5 caliber, its white print being a lesson in pad-printing excellence. Even the strongest loupe would challenge you in finding a trace of imperfection, even in the smallest of dots or serif angles. With its bottom-heavy layout, the 1815 Chronograph still manages to pull off a delicate balance of proportion with its stepped dial. The registers appear slightly darker with their snailed surface, and they are set apart by sword-shaped and diamond-ended pointers. For me, the A. Lange & Söhne 1815 Chronograph is one of the best German mechanical chronographs ever made, full stop. Start saving up.
Yes, this was a personal account of German monochrome style, and not meant as a complete list. Do you have other suggestions? Let us know in the comments. Who knows? There might even be a part two!
Follow me at @thorsvaboe