Building The Perfect Watch Collection With €25,000 — Brandon's Picks From Tudor, Parmigiani, Breitling, And More
A varied bunch of six pieces to satisfy my desires
Yes! Here's a challenge that's right up my alley! You see, in our last budget-related series, the rule was that we could only highlight one pre-owned watch. Man, what a bummer… I don't know about you, but as a diehard secondhand shopper, I rarely feel passionate about new watches between €3K and €5K these days. Unfortunately, the few that do set my heart ablaze got snapped up by colleagues in no time, so I stayed out of the game. This time, though, the only real requirement is staying within the €25,000 total budget. We can pick any number of pre-owned watches we want as long as we reference sales listings or average prices on Chrono24. With that in mind, I can certainly put together a lovely little watch collection for €25,000.
To keep things interesting, as Thomas did, I will limit myself to watches that I have never owned. Yes, I love my current collection, and I've dedicated years to planning it and following through. However, if I were going to start all over, I wouldn't want to squander the experience with rebuys. That's why there's only one "variation" of a watch I currently own in today's six-piece lineup. The other five are all from brands that I've wanted to experience, and this exercise provides the perfect hypothetical chance. In addition, each watch ticks a specific box or two, with the overall collection reflecting my varied horological desires. Finally, although I live in Japan, I'm going to pretend I live in the Netherlands like many of my Fratello teammates to keep pricing straightforward. Now that you know my guidelines, let's jump in!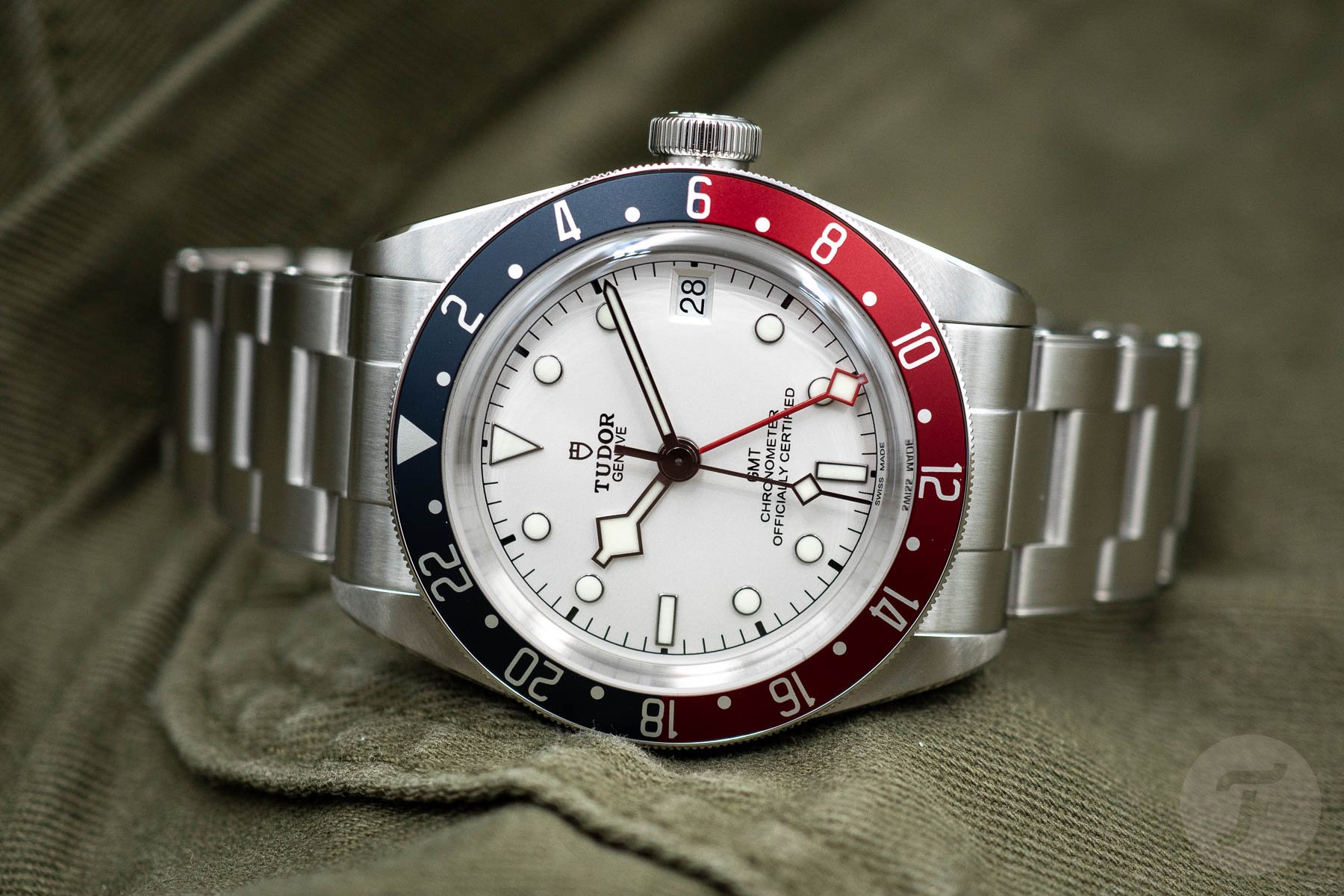 The everyday/travel watch: Tudor Black Bay GMT ref. M79830RB-0010 — €4,360
How appropriate to start my new collection with a watch from Tudor! After all, my current collection began with one as well. If you've followed my writing, you may know that the Black Bay 79220R was my first "big-boy watch." I still love it and wear it often, and I'll never sell it. However, if did have to start my collection over, the opaline-dial Black Bay GMT would be a must. I've had a soft spot for "Pepsi" bezels with white dials for years. As you might expect, then, when Tudor launched this watch back in March, I sat straight up in my chair. I finally got a chance to check it out at a Tudor event back in August, and in person, it was everything I'd dreamed of and more.
The bezel insert's metallic finish is striking, with rich colors that no ceramic can match. Not only that, but the dial also has a similar finish that glistens silvery-white like freshly fallen morning snow. Though I tried on most of the recent Tudor novelties at that event, this Black Bay GMT left the biggest impression on me. Crucially, although many complain that it's beefy, I didn't find the 15mm thickness excessive on my wrist at all. I'm already used to the 41mm diameter and 50mm lug-to-lug, so I'd pick this as my new daily wearer in a flash. The MT5652 caliber would be useful for tracking the time back home, and the flyer GMT function would be perfect for when I travel there too. With its €4,360 price, this Black Bay GMT is one of the few new watches in this segment that I honestly love. Sign me up!
The chronograph: Breitling Navitimer Cosmonaute ref. D12022 — €4,896
Any well-rounded watch collection needs a chronograph, right? I'd take this chance to get one I've wanted for years, the Navitimer Cosmonaute. One of the first chronographs that I ever fell for back in high school was the Breitling Navitimer. Its busy design spoke to me then, and it does to this day. Now, though, I also adore the history behind it. The most characterful version, I feel, is the 24-hour-dial Cosmonaute. I'm a sucker for the mid-'90s D12022 with its 41mm case, hand-wound movement, yellow gold bezel, gold hands, and tritium lume. Oh, and the blued hands in the white sub-dials are the delicious icing on the cake! Now, in real life, I'm hunting for a blue-dial version since I've reached my self-imposed limit of two black-dial watches. In this scenario, however, I'd opt for the equally attractive and even more classic-looking black-dial version.
I would choose this specific example and import it from Japan (remember, for this exercise, I live in the Netherlands). The reason is that it still has its tritium-lumed hands, which are often the first things to go bye-bye when these neo-vintage pieces get serviced. Especially with such beautifully aged tritium on the dial, I'd hate to lessen the impact with bright Super-LumiNova on the hands. Furthermore, this particular piece seems to be in nice shape, showing great definition on the beveled lugs and notched bezel. The Lemania 1877 caliber inside should be straightforward to maintain, and this example even comes with its box and papers! At the time of writing, it'll cost me €3,777 plus €95 for shipping. With the 4.5% Dutch import tax and 21% VAT, that should bring the total to just about €4,896. I've spent €9,256 so far, so I've got over €15K left!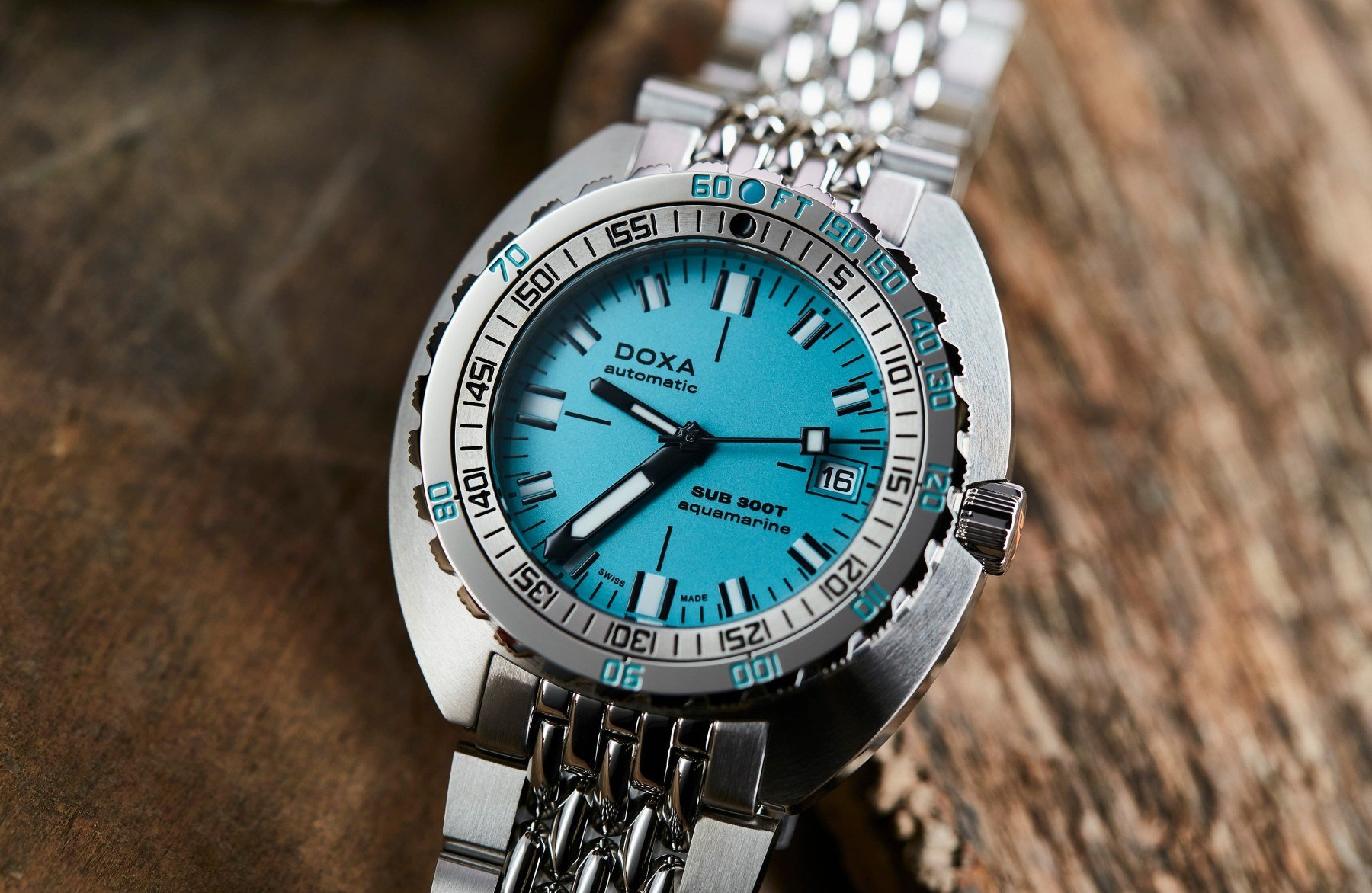 The diver/summer watch: Doxa Sub 300T Aquamarine — €1,990
Here's another piece that just won't let me go. In fact, I should call it my "Kylie Minogue watch" because "I just can't get [it] out of my head." Back in June, I wrote about the Doxa Sub 300T Aquamarine and labeled it one of the best summer watches out there. Even now, as winter inches closer each day, my desire for this turquoise-dial diver burns strong. In a world where I didn't have my Submariner 114060, I would certainly want a worry-free water-going watch. Plus, the Doxa Sub 300T is so different from the Submariner that it makes the idea of owning one even more attractive to me. I've never owned a piece from Doxa, a beads-of-rice bracelet, a C-shaped case, or a 1,200m-rated dive watch. I have indeed owned a few blue dials in my time, but I've never had one this light, and it's calling my name!
Is the Doxa Sub 300T as versatile as the Submariner? Most definitely not. But I think I've got some reasonably versatile pieces in my new watch collection already between the white-dial Tudor and the black-dial Breitling. From here on out, as a lover of color, I want eye-catching dials, and this one fits the brief. I also find the 42.5 × 44.5mm case quite intriguing, and the beads-of-rice bracelet is gorgeous to me. The 1,200m depth rating is far more than I'll ever need, but it should keep the SW200 movement inside nice and dry for summers on end. Not to mention, the Doxa Sub 300T is a veritable cult classic, and I'd happily drop €1,990 to bring one into my new watch collection. That puts my total outlay at €11,246 so far… I'm thinking it's time for some high-end watchmaking!
The Haute Horlogerie/purple-dial watch: Parmigiani Kalpa Forma Grande ref. PF009260 — €5,589
The Tonda PF is certainly Parmigiani Fleurier's sweetheart these days. Unfortunately, at over €16.5K on Chrono24, the value isn't there for me. Instead, I'd love to have a model from the sadly discontinued Kalpa line. It was a pillar of Parmigiani's catalog for 20 years, and I still love its brilliant tonneau-shaped form. Thankfully, with my remaining budget, I could easily afford one, and this purple-dial beauty has my name all over it!
Purple and green are my two favorite colors, so my perfect watch collection needs to include dials in those hues. I find the lavender shade of this dial quite striking and a perfect canvas for the Grain d'Orge guilloché in the center. The radial brushing around it works perfectly with the angled indices, and the individualistic font for the numerals is unmistakably Parmigiani. I feel that the luminous hands and hour markers give it a sporty touch, which the bracelet's wide, brushed center links only hammer home. A bracelet also means year-round wearability, which is a huge plus.
Can we take a moment to appreciate those signature teardrop lugs? Just admiring their beautiful, drooping shape nearly brings a tear to my eye… They will ensure that the 34mm × 46mm case dreamily wraps around my wrist. But that, my friends, is not where the magic ends.
No, this watch is a proper piece of high horology, and it houses the 4Hz manufacture caliber PF311. It debuted in 2001 as Parmigiani's first automatic movement. As you can see, the stunning gold rotor bears the same Grain d'Orge guilloché as the dial. Below it, we find bridges with Côtes de Genève and hand-polished bevels and, under those, a perlage-laden mainplate. Even the holes for the screws and jewels have beveled edges, showing Parmigiani's great attention to detail. This movement also has a 55-hour power reserve and two mainspring barrels in series for consistent torque throughout. All things considered, €5,589 feels like a fantastic deal for this limited edition of 100 pieces! After adding it to my collection, I'd still have €8,165 left. You know what? I think it's time to go for the gold!
The funky complication/gold watch: Chronoswiss Digiteur MSA ref. CH 1371 Rrg — €5,900
Yes, I know; for this price, I could get a 34mm vintage Vacheron or Patek. Some might call me crazy for picking a watch from Chronoswiss instead, but this one simply reflects my desires much more. I already have a three-hand Haute Horlogerie piece with the Parmigiani Kalpa. I want a gold watch that lets me say, "Look, Ma, no hands!" And that's exactly what this Digiteur MSA is. "MSA" stands for montre sans aiguilles, meaning "watch without hands." And if I do say so myself, this one in full rose gold is a beaut'! I adore the facets around all three digital displays, but that sloping window around the jumping hour is a sight to behold! This is one of my favorite "funky" complications, and housed in this curving rectangular case, it's a recipe for true love. Check out the flaring of those lugs — hubba hubba!
OK, I know this watch isn't for everyone, but looks-wise, I adore it. It only gets better when checking out the curving lugs from the side. Plus, at 27.7mm wide, 45.5mm long, and 11mm thick, this case should fit me perfectly. I even have the same wrist size as the mannequin in the picture.
Inside this watch is an FEF 130 movement with an in-house Chronoswiss digital module on top. The base caliber hails from sometime between 1933 and 1963. Gerd-Rüdiger Lang, the brand's founder, reworked it and dressed it up to the nines! Vertical Côtes de Genève, perlage on the mainplate, and even gold chatons are present here, and they look fantastic.
In total, just 990 Digiteur MSA watches were produced, and this all-rose-gold variant was part of a run of 99 pieces. The examples pictured above are sold out, but I found this one in Germany for €5,900. I would snag it, and with the €2,265 I have left, there's one more box that I would like to tick…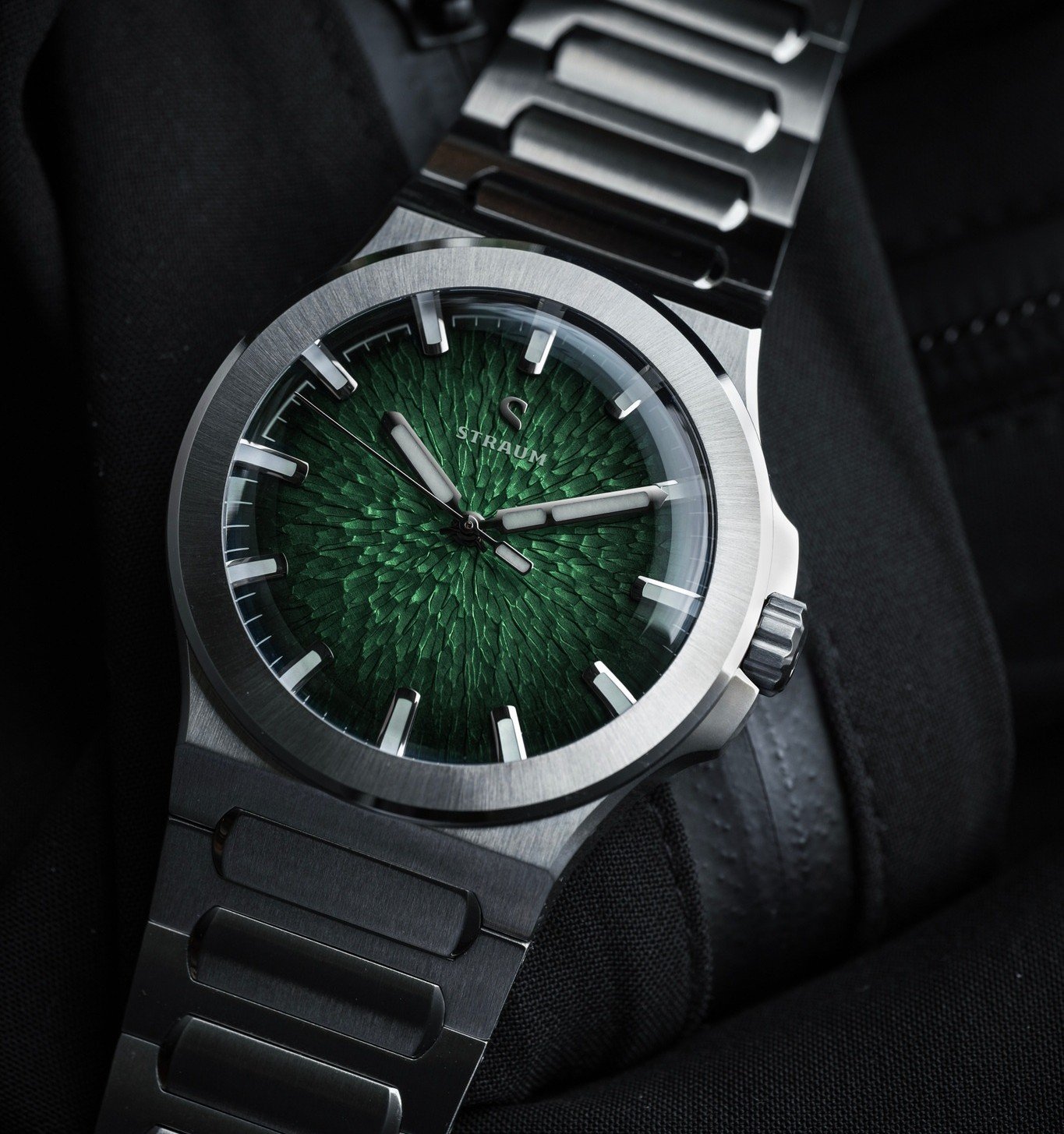 The green-dial/integrated-bracelet watch: Straum Jan Mayen Green — €2,023
The final piece in my new watch collection would most definitely need to have a green dial. I wear a lot of green, and it has been my favorite color since kindergarten, so not having a green-dial watch is a no-go for me. In real life, I own a Campanola with metallic green lacquer and a Zelos Mako GMT with a malachite dial. Those are lovely, but I'd want something that feels fresh, so I'd pick the new Straum Jan Mayen Green.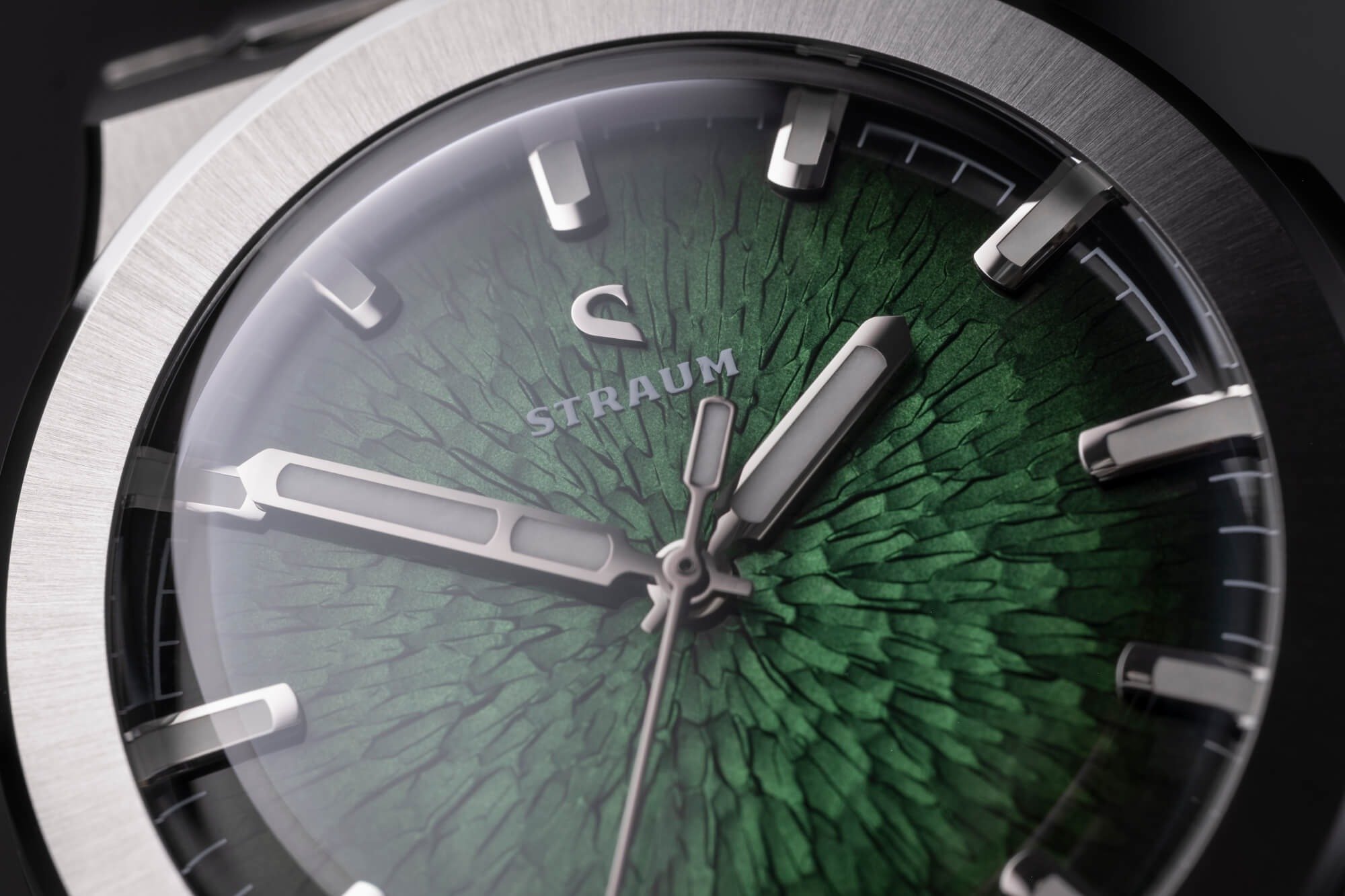 The texture on this dial is nothing short of spectacular. It is achieved through a multistep stamping process, giving it so much detail and depth. Not only that, but the shade of green here is also precisely the deep, forest-like hue that I've loved since I was little. Housed in this 39mm × 45.82mm × 11.3mm case, I have a feeling that it would look and feel terrific on my wrist. My Fratello colleagues, many of whom have worn our collaborative edition, have raved about the high level of finishing on this case and bracelet. Judging just from the brushing on the bezel in the picture above, it looks several steps above most watches at the sub-€3K price point.
I've also never owned a watch with an integrated bracelet, so I'd like to experience firsthand why people love them so much. And finally, I want to try out the La Joux-Perret G101 movement. With its 68-hour power reserve, I'm excited to see how it fares in daily life compared to ubiquitous ETA or Sellita calibers. This Jan Mayen costs €1,600 before import taxes and VAT. Calculated for the Netherlands, that should bring it to €2,023 total. It would be a great way to round off my new six-piece watch collection, which, all assembled, would look like this…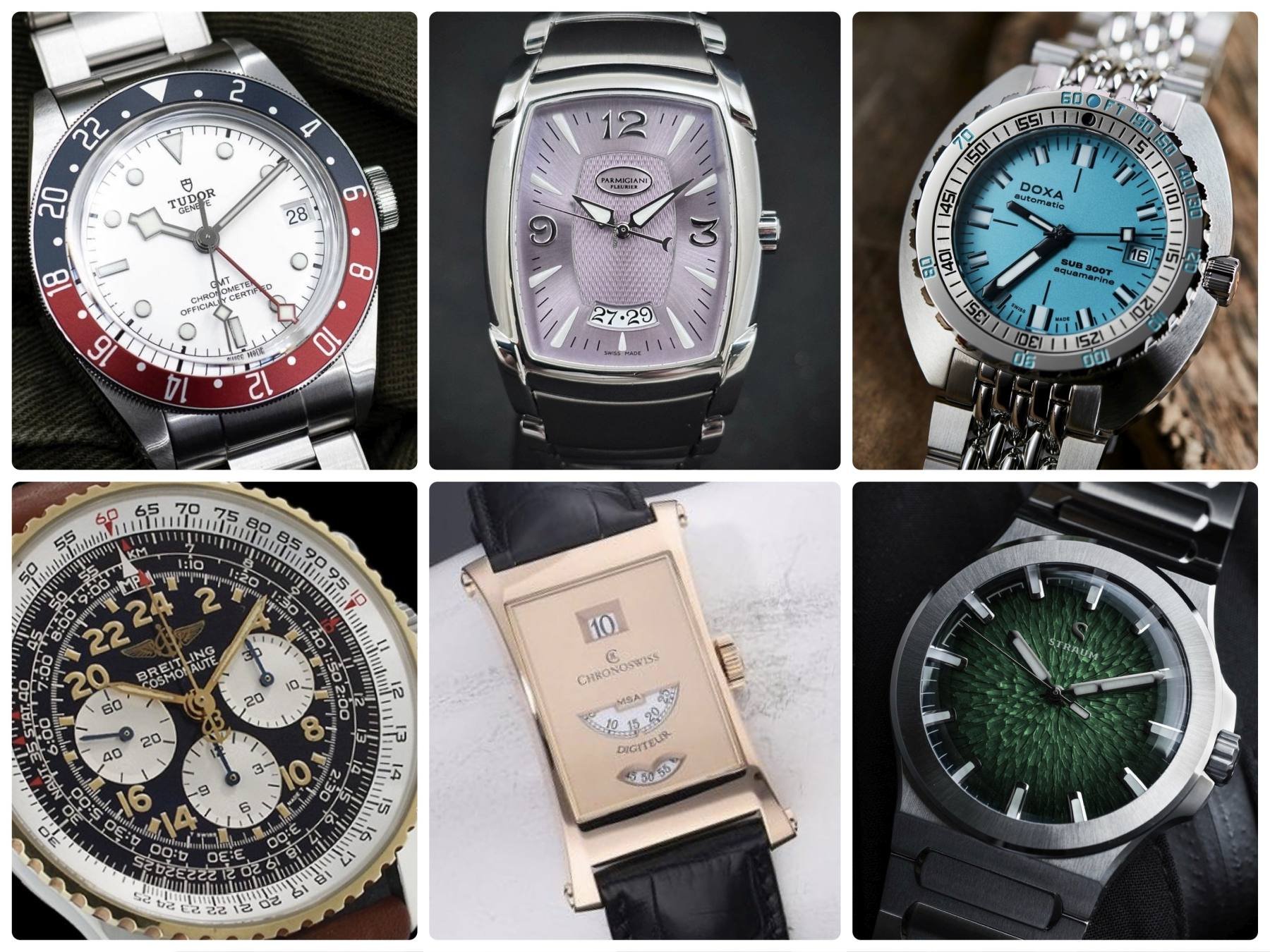 Total cost of my new watch collection: €24,758
Woo, there we go! That's a nicely balanced collection if I do say so myself! Not a single watch has the same main dial color as another, and I've even stuck to my real-life rule of one watch per brand. Not only that, but I also have a nice mix of shapes, complications, and genres represented in these six pieces. As you can see, my taste in watches is all over the board, but having variety (and lots of color) makes things exciting for me.
In the end, I do love my real-life watch collection too. I'm grateful to have my favorite Rolex, Zenith, and Cartier models, a purple-dial unique piece, a gorgeous Hanhart "Copperhead," and more. I even recently added one of my favorite Speedmasters ever, which is waiting for me at Fratello HQ. I've put a lot of thought and effort into assembling those pieces, and I'm glad that I don't have to give them up. Still, building another hypothetical collection from scratch with €25K has been a super fun time! I'm quite confident that I'd be thrilled to own these watches. I don't even feel like I'd "need" to buy another Rolex or a Holy Trinity piece. While my tastes may not mirror yours, I hope you liked my approach. Let me know what you think in the comments below!