Finding The Best Beater Watches Today — Five Highlights From Seiko, Hamilton, Citizen, And More
A selection of affordable watches that have it all — good looks, great quality, and plenty of charm to match
"Daily beater". It's a term we hear quite often in the world of watches, but what it means to each one of us is personal. Some will tell you that a cheap Seiko is the perfect daily beater, while for others, a Submariner is the ideal choice. For this short list, we decided to go in the vein of the former. We have established some principles as guidelines for our choices, but at the end of the day, guidelines are just that. Nothing is set in stone when it comes to great daily wearers. We did, however, want to take the opportunity to see what is out there. Let's take a look at some of the best daily beaters on the market today.
The term "daily beater" might sound negative at first, but give it some more thought, and you'll realize that it's actually a great compliment. What's better than a practical daily watch that you love wearing, especially if it can take a beating, gets more soul with increasing wear and tear, and is affordable to boot? The combination of those factors makes a daily beater a special watch, but not one to be babied. That's a good distinction to make because we care about these watches a lot, but we're not careful when we wear them. In creating this list, we used these principles to select what we feel are the best currently available daily beaters.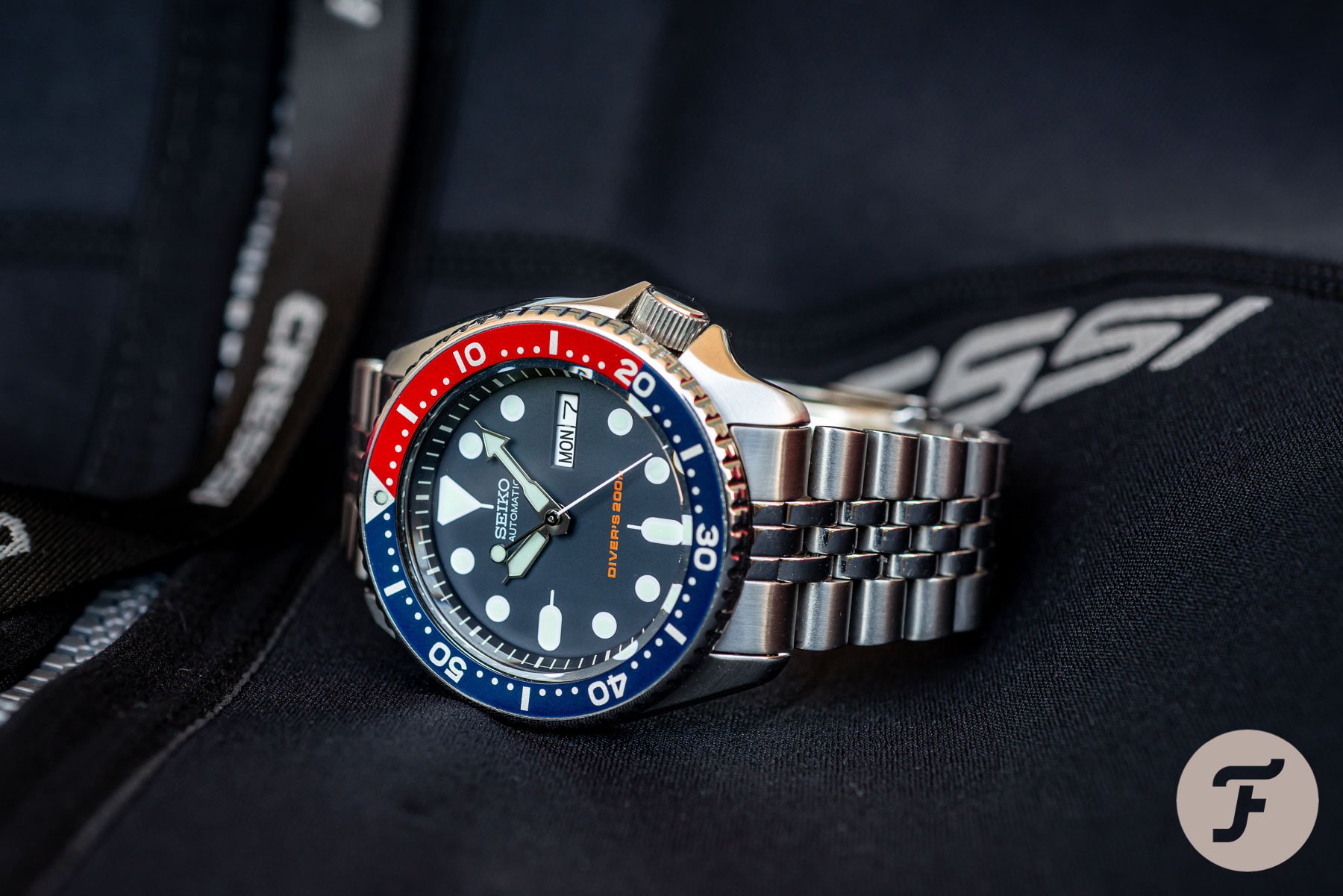 The daily-beater paradigm
The first watch that probably comes up in the minds of many watch enthusiasts when talking about daily beaters is the Seiko SKX. And it's the perfect example of what we are after for this list. The Seiko SKX would not cost you an arm and a leg, would do its job every single day for years on end, could take daily wear and tear gracefully, and was very affordable. I'd like to add two more things to that. The SKX was very versatile in its presence. It looked good on a bracelet as well as a variety of straps. Finally, it was (and still is) a great platform for modding, but that's not critical to daily-beater status, of course. The versatility is something that we have taken into account for this list. But I have spent more than enough words explaining our criteria. You probably get the idea, so it's time to jump in!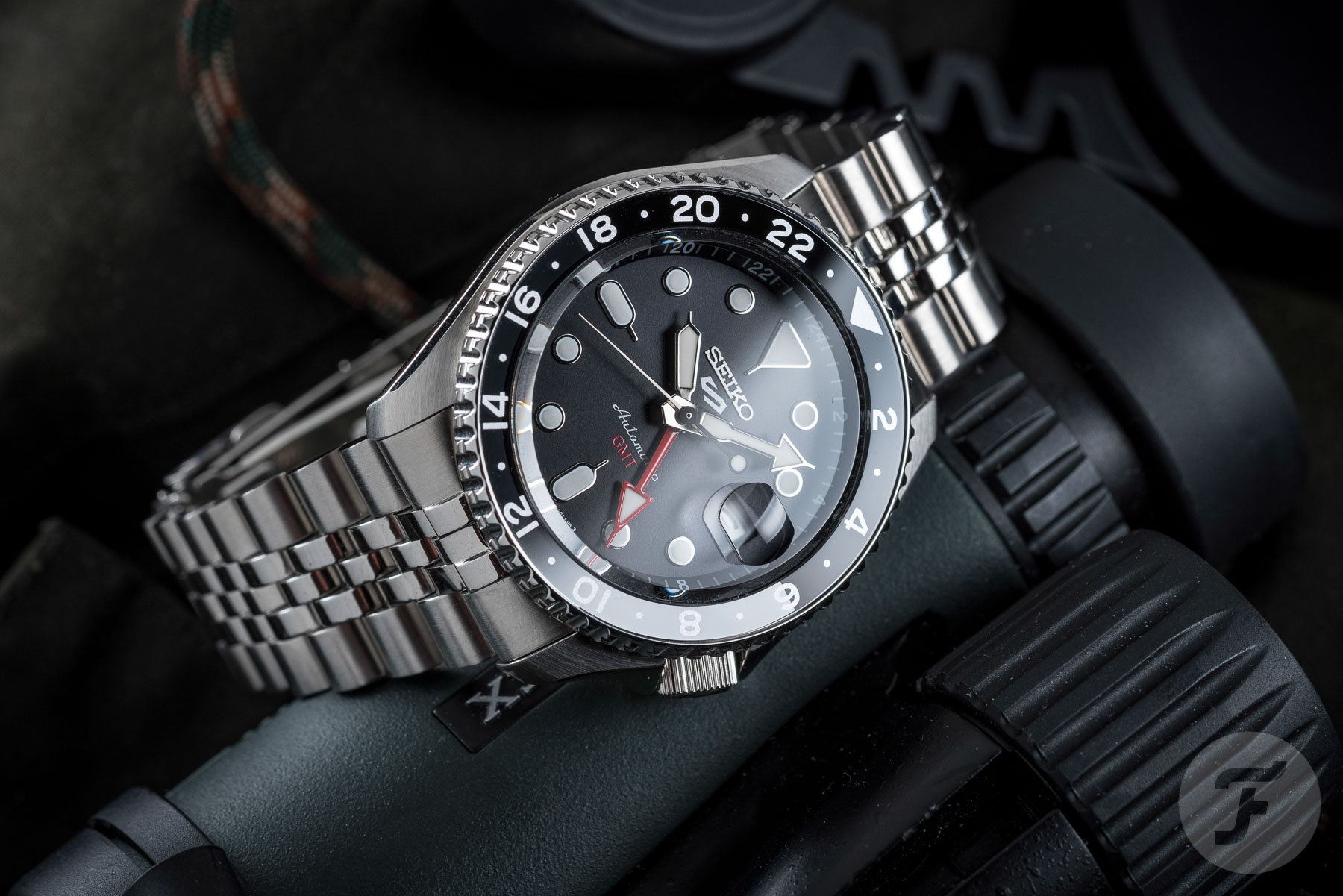 Seiko 5 GMT series
It only makes sense to start this list with the Seiko watches that are closest to what the SKX represented. But we'll add something to that. The new Seiko 5 GMT series is an absolutely great trio of watches that takes inspiration from the SKX but is also somewhat different. In essence, however, it can take the place of the SKX as the perfect Seiko daily beater. As Nacho explained in his review, the Seiko 5 series is no longer a dive watch at heart as the SKX was. But it definitely looks the part and with 100 meters of water resistance, it will get the job done as well. These new models also come with the added capability to display the time in two additional time zones. That makes them even more interesting if you love a daily wearer that helps you keep track of family or business contacts abroad.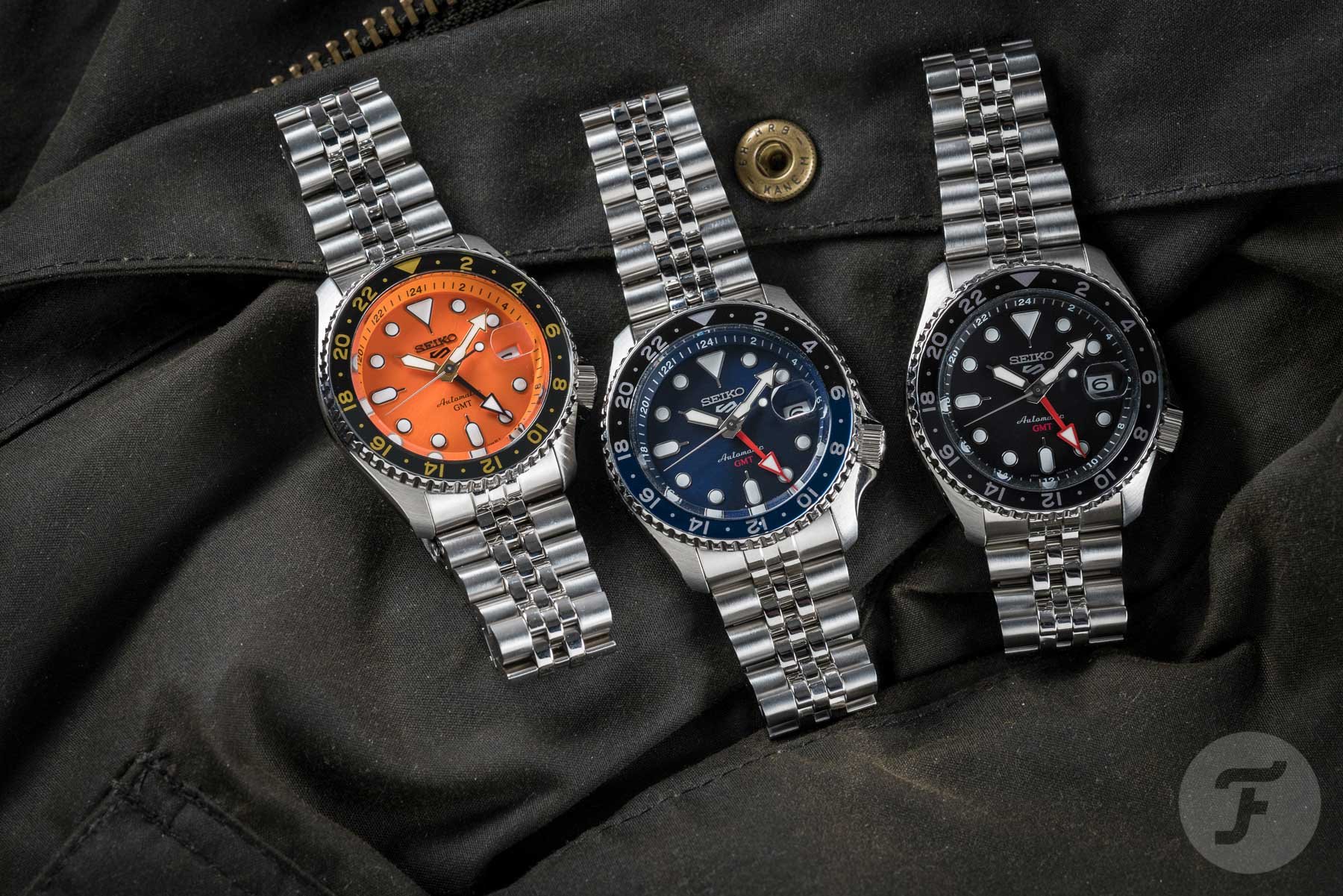 In terms of specs, the Seiko 5 GMT features a 42.5mm stainless steel case that is 13.6mm thick. You have the choice of three different models. The first comes with an orange dial and a black-and-gray bezel, the second has a blue dial and blue-and-black bezel, and the last comes with a black dial and a black-and-gray bezel. The blue and black models feature a red GMT hand, whereas the orange model features a black GMT hand. Through the exhibition case back, you can see Seiko's 4R34 movement. This 24-jewel automatic caliber runs at 21,600vph and provides 41 hours of power reserve. The watches are so-called "office GMTs" that allow you to adjust the 24-hour hand by pulling the crown out to the first click and turning it clockwise. At €470 on a sturdy Jubilee-style bracelet, these Seiko 5 GMT models are a great option as your new daily wearer.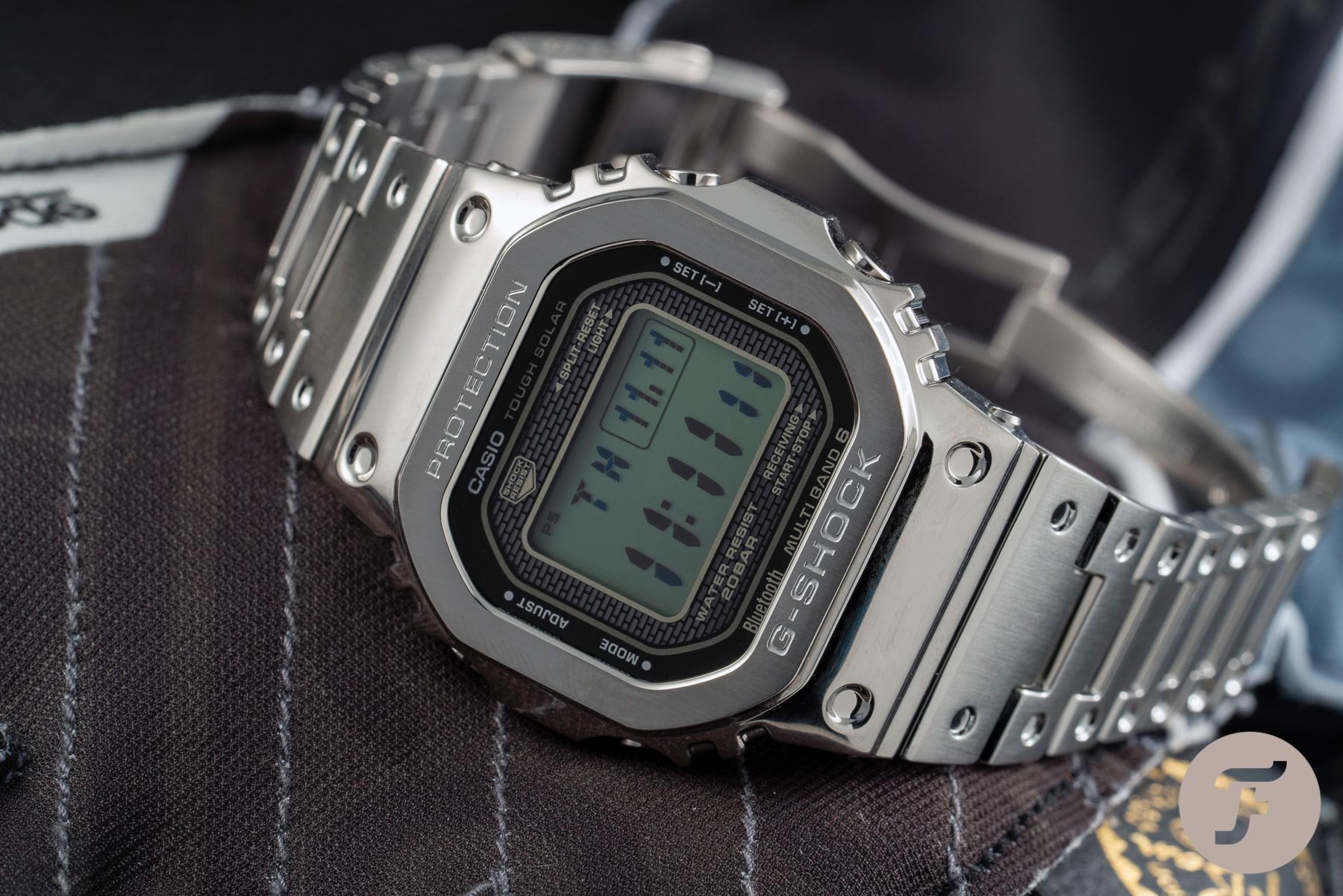 G-Shock GMW-B5000
This list would simply not be complete without a G-Shock. When it comes to picking the right model, there are tons of different options. I own five different G-Shocks that I love to wear when going out to play tennis, for instance. My most worn is, without a doubt, the blacked-out G-Shock Square DW-5600BB. But any G-Shock has the potential to become your daily beater. After all, that's what they are made for. My pick for this list is another one of the G-Shock Square models, the "premium" stainless steel GMW-B5000D-1ER. I had the chance to wear the watch multiple times, and it never failed to amaze me with how incredibly well it wears. In terms of comfort, the watch is hard to beat.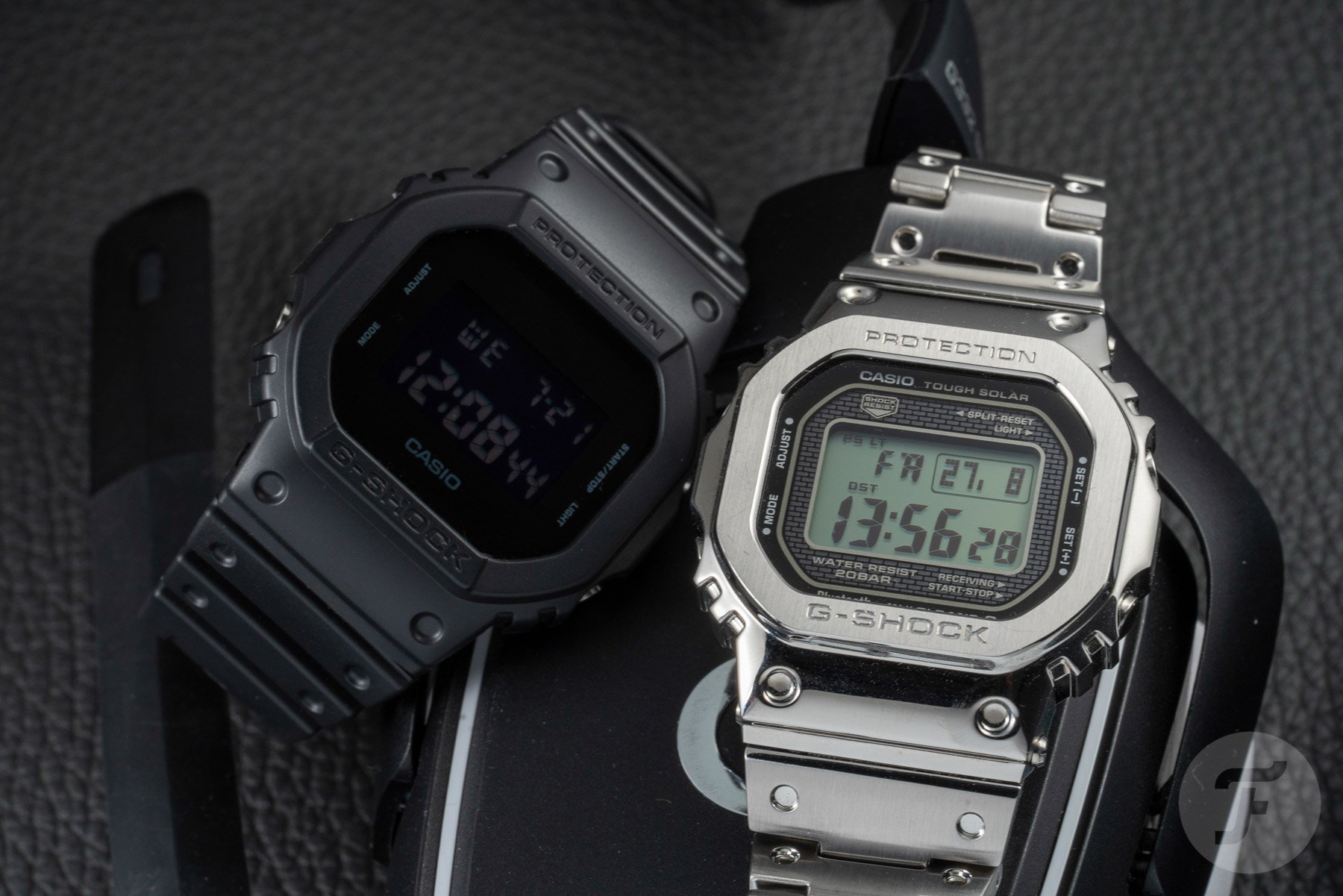 The case of the watch measures 43.2mm wide, 49.3mm long, and 13mm thick. While that seems quite substantial, people who own the watch or have worn it can tell you that it wears great on a variety of different wrist sizes. As with every G-Shock, the watch comes with a ton of functions. The radio-controlled quartz movement is great for an accurate time indication. Furthermore, the watch comes with Bluetooth connectivity, five alarms, world times, different timekeeping functions, and an automatic backlight. In short, it offers the same great functions as any other G-Shock while standing out in its steel construction and extreme comfort. It makes this a serious contender for the best daily beater at €499. If you pay a little more, you could also opt for the more flashy yellow gold or rose gold option. Or, if you like a bit of color, you could pick something like the purple Twilight Tokyo model that Nacho reviewed.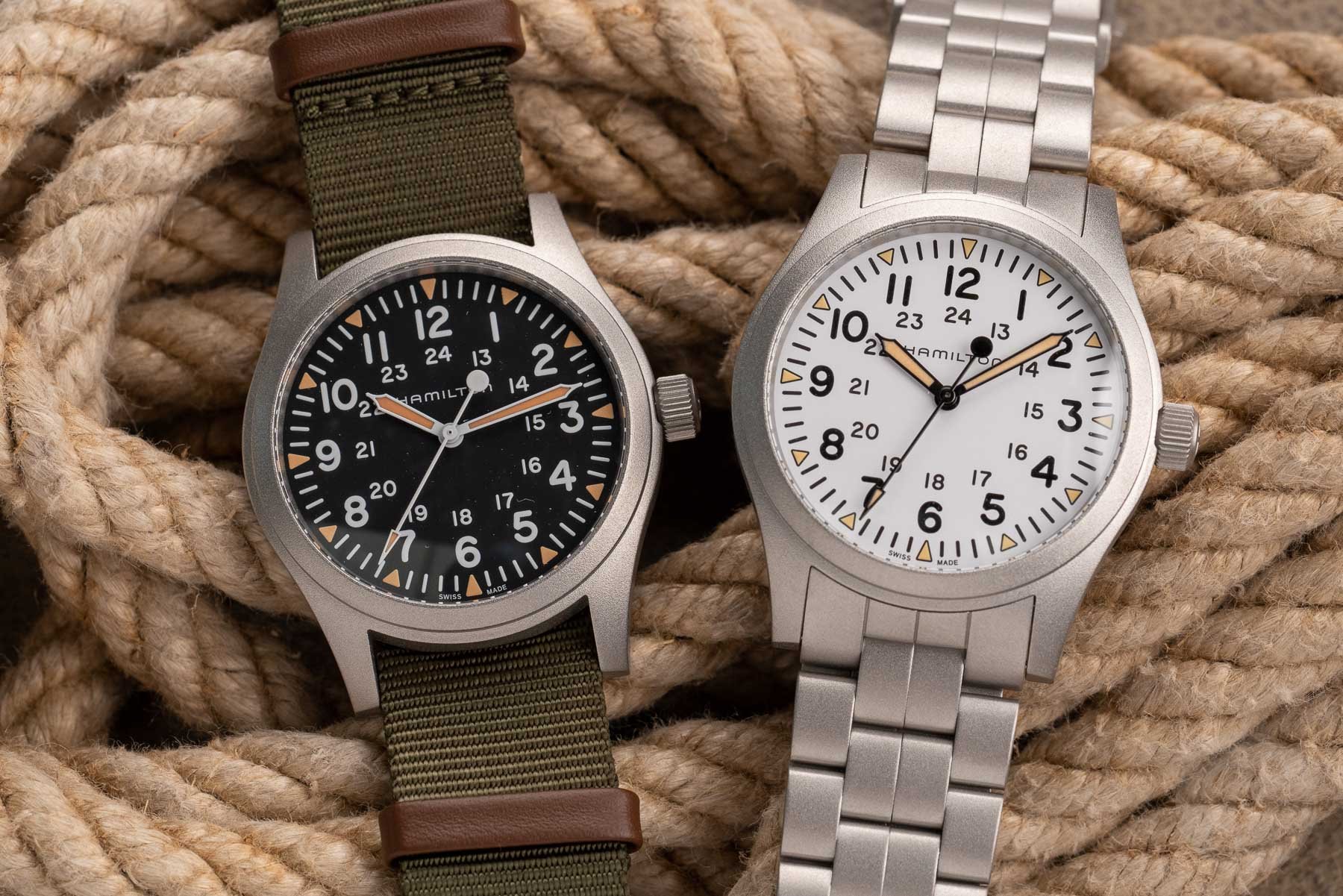 Hamilton Khaki Field Mechanical
Another series of universally loved daily wearers is the Hamilton Khaki Field line. This collection has grown into an extensive family of watches that come in different sizes and materials with both manually wound and automatic movements. A Fratello favorite is the manual-wind Khaki Field Mechanical. It perfectly captures the vintage military style and combines it with a modern-day execution. The watch is available in 38mm and 42mm sizes. Pictured above, you see the 42mm Khaki Field Mechanical that comes with either a black or a white dial. Both are available with a signature khaki-green NATO strap with leather keepers or a bead-blasted steel bracelet.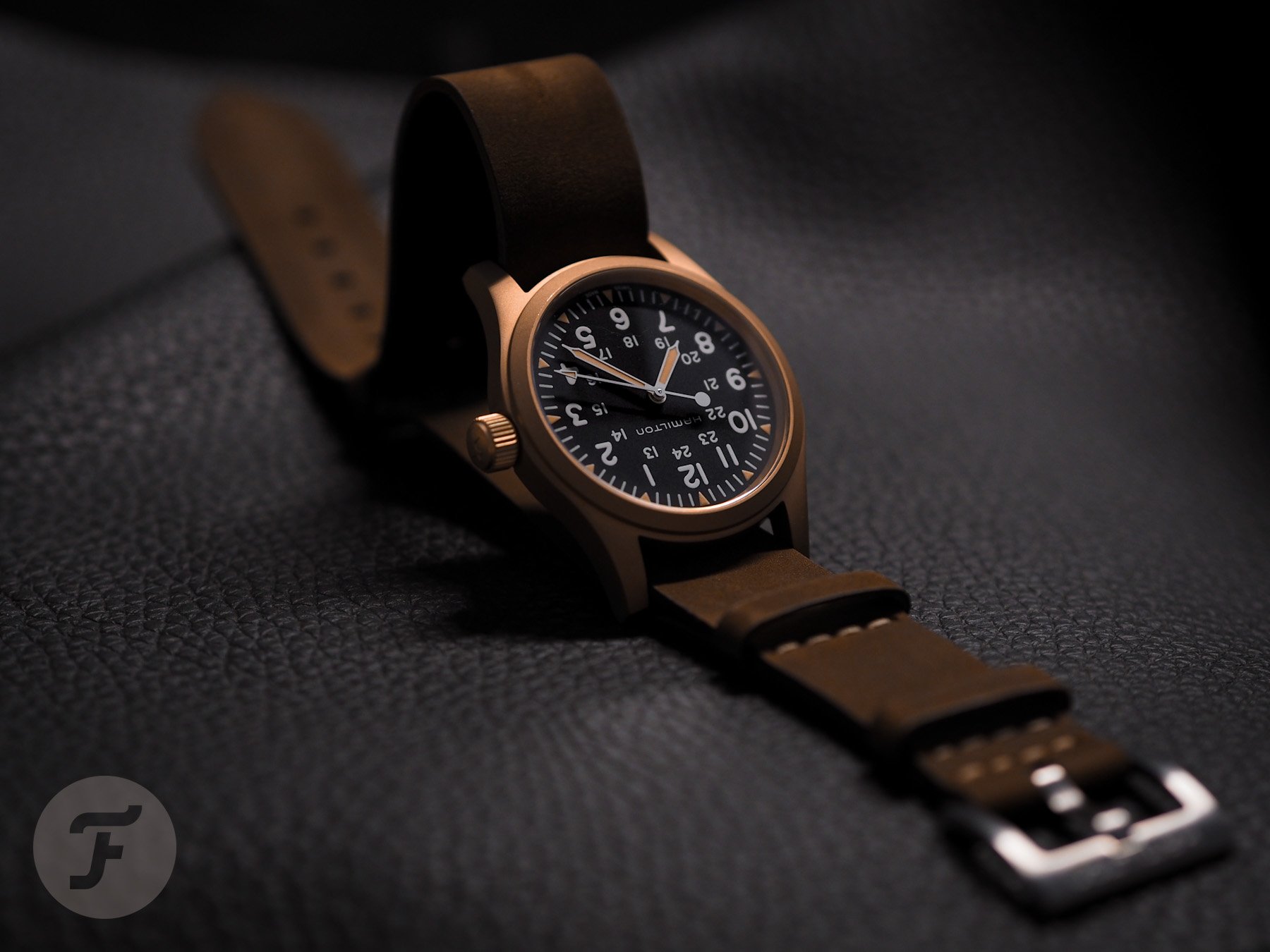 Hamilton offers a lot more 38mm options when it comes to dial colors, case materials, and finishes. There are regular stainless steel models, those with a PVD coating, and the brilliant bronze version as well. The Khaki Field Mechanical in bronze is my personal favorite out of all of them. It features a 38mm bronze case that will develop a great patina serving as your daily watch. Combined with a brown nubuck NATO strap, it packs tons of vintage charm. The 38mm case is only 9.6mm thick and has a nice lug-to-lug of 44mm. That makes it a great fit for a variety of wrist sizes. All the Khaki Field Mechanical models are equipped with the Hamilton H-50 movement, a manually-wound caliber with an 80-hour power reserve. The 42mm model in steel is €595 on a NATO and €695 on a bracelet. The 38mm model in steel starts at €495 on a fabric NATO and goes €525 on a leather NATO and €575 on a bracelet. The versions with a PVD coating are €545 and €575, and the bronze version comes in at €795. Steel versus bronze? There is no wrong pick here.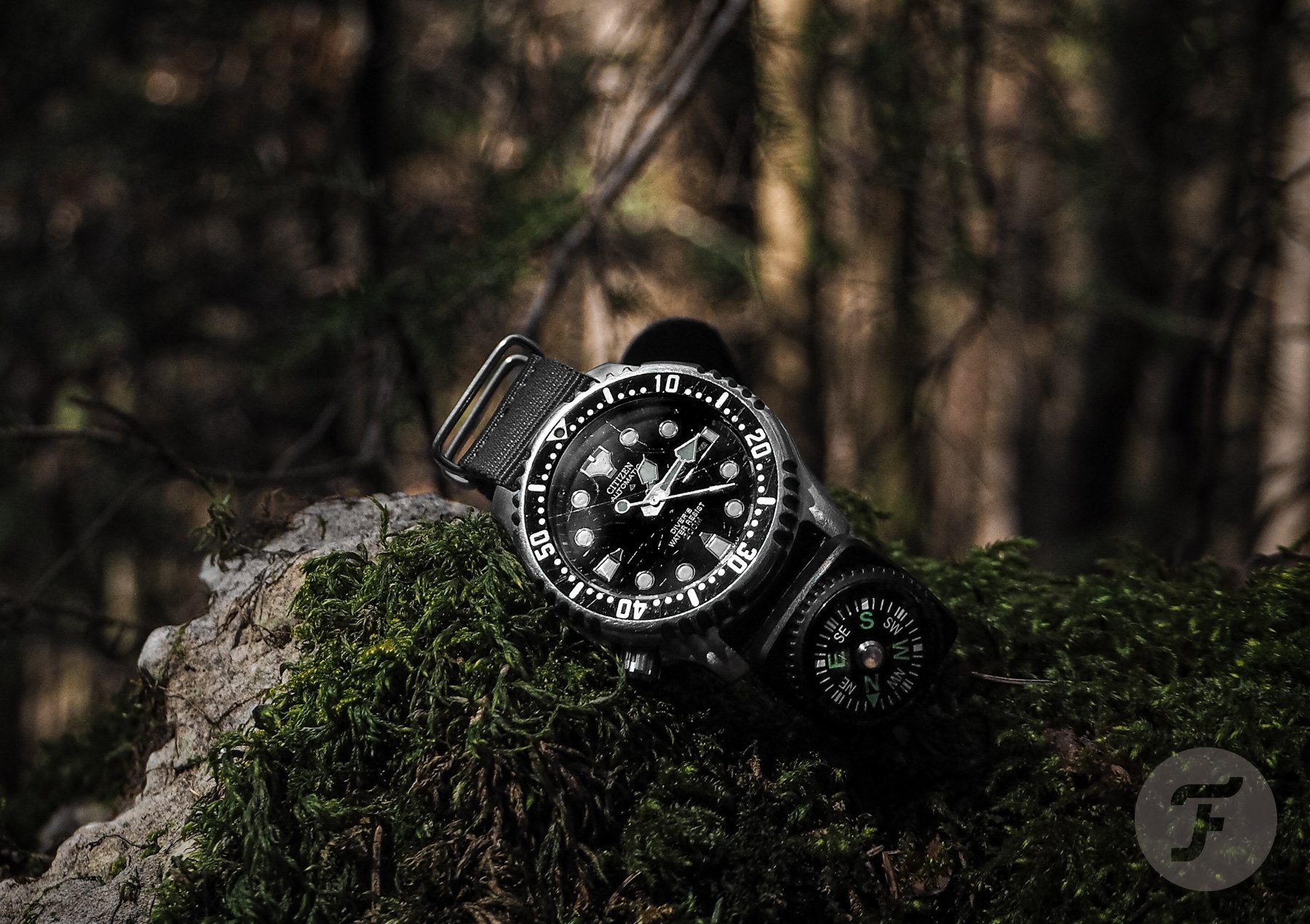 Citizen Promaster NY0040
One of the most iconic affordable dive watches comes courtesy of Citizen. The Promaster NY0040 is a great option that has been part of the Citizen collection for years. Fratello's own Nacho owns one of these classics, and he has put it through its paces over the years. As you can see in the pictures, the watch wears its scars with pride. It features a 41.5mm stainless steel case that is 12mm thick and water resistant to 200 meters. Currently, Citizen offers the watch in a version with a black dial and bezel (ref. NY0040-09EE) or a version with a blue dial and blue bezel (ref. NY0040-17LE). Both come on a 20mm rubber strap that is easily replaced with a cool NATO strap. Previous versions like Nacho's also came with a jangly steel bracelet. While not the best in quality, it does add to its status as a daily beater.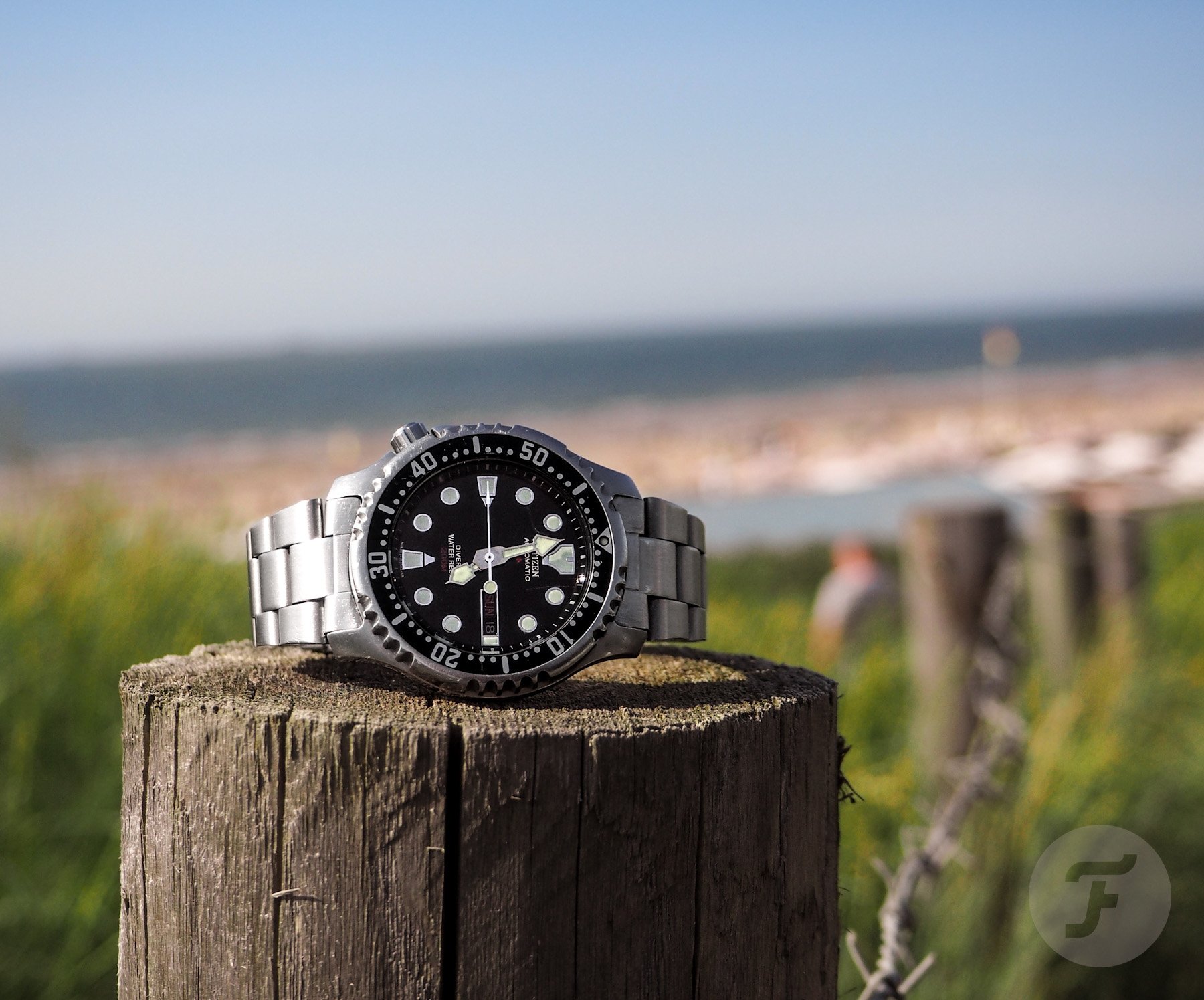 Inside the stainless steel case, Citizen equips the current NY0040 with its Miyota caliber 8203. This automatic movement is part of Miyota's 8200 series of workhorse calibers. It operates at 21,600vph, has 21 jewels, and provides a power reserve of approximately 40 hours. The movement features a day/date display and can be hand-wound and set using the crown at the 8 o'clock position. As you can see in the pictures, the mineral crystal is a bit of a scratch magnet. As Nacho already explained, there are aftermarket sapphire crystals available to upgrade the watch. But if you like a bit of character, it's one of those elements that make this ISO-certified Citizen diver one of those perfect daily beaters. Plus, it can be yours for only €229. What's not to like?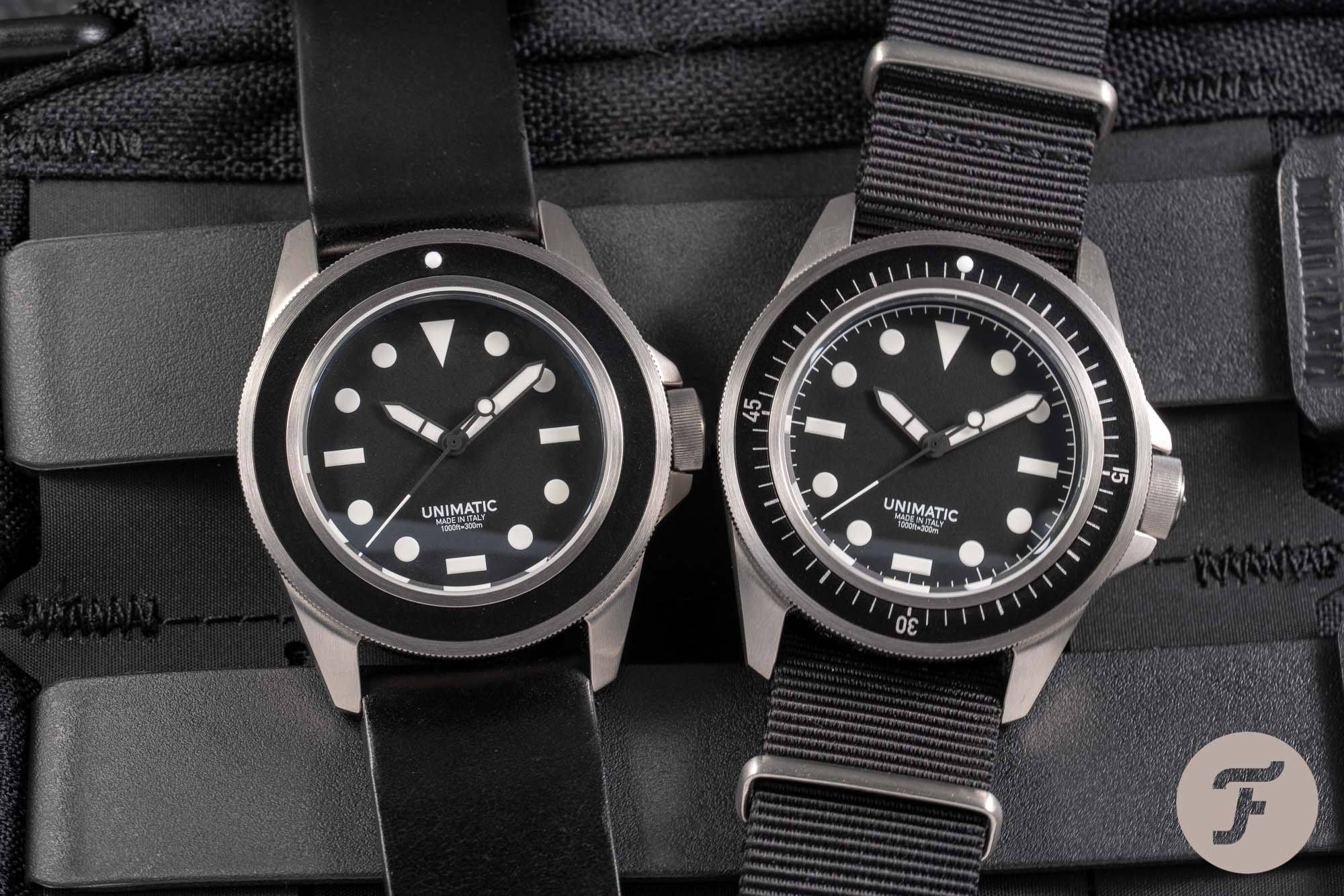 Unimatic Modello Uno
The last pick for this list is the Unimatic Modello Uno. The Milan-based brand made a name for itself with this minimalist dive watch that has since been released in a string of different versions. Unimatic started its Modello Uno range as an exercise in stripping back the decoration on a dive watch. Rather quickly, it turned into a great expedition of creating some amazing minimalist divers that perfectly balance the utilitarian character of the genre with a great modern style for a unique image. Unimatic started out creating all of its releases in limited runs. Because of the great variety in designs, the brand quickly gained both momentum and fans amongst serious watch lovers and the more fashionable types alike. Not too long ago, Unimatic added a permanent range to its collection containing the four core models. The Modello Uno U1 Classic from that range is the perfect mix of my Modello Uno U1-F and U1-FM pictured above.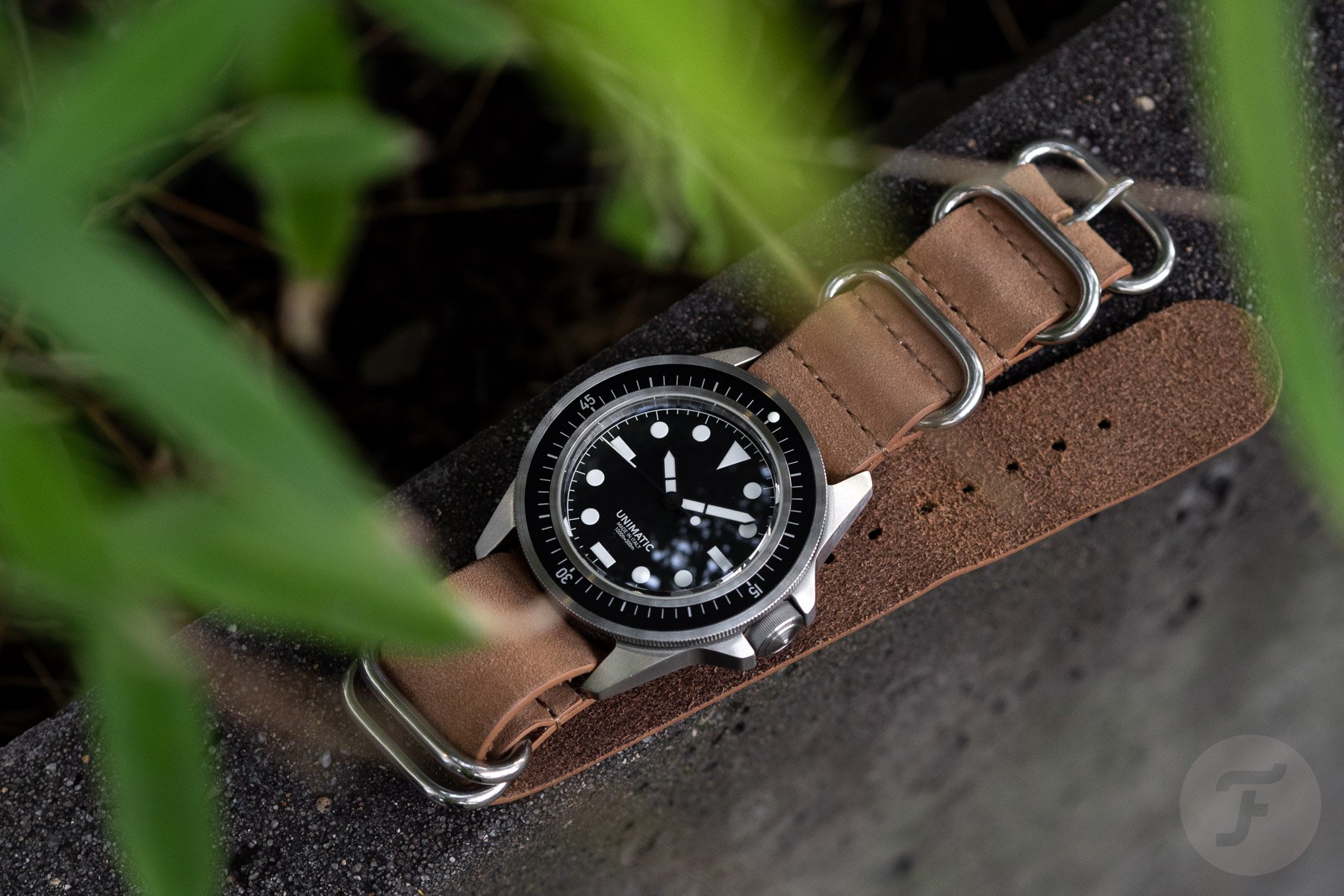 The Modello Uno watches feature a 40mm modern-styled stainless steel case with a 41.5mm bezel. The case measures 13.6mm in height and has a 49mm lug-to-lug and a 22mm lug width. The watch is water resistant to 300 meters thanks to the substantial (some would say chunky) case fit with a 2.5mm-thick double-domed sapphire. Inside the case, Unimatic equips the Modello Uno with the Seiko NH35A movement. This automatic caliber operates at 21,600vph, has 24 jewels, and delivers 41 hours of power reserve. For some of Unimatic's new limited editions, the brand has upgraded the movement to Sellita caliber. This, of course, also had effects on the price, an element that makes the "standard" version such a great daily watch. I have been wearing my Modello Uno models a lot over the past two years. Just ask my fellow Fratello team members. I love the Modello Uno's looks. On top of that, these watches can truly take a beating and are absolute strap monsters. At €635, the Unimatic Modello Uno is my perfect daily beater.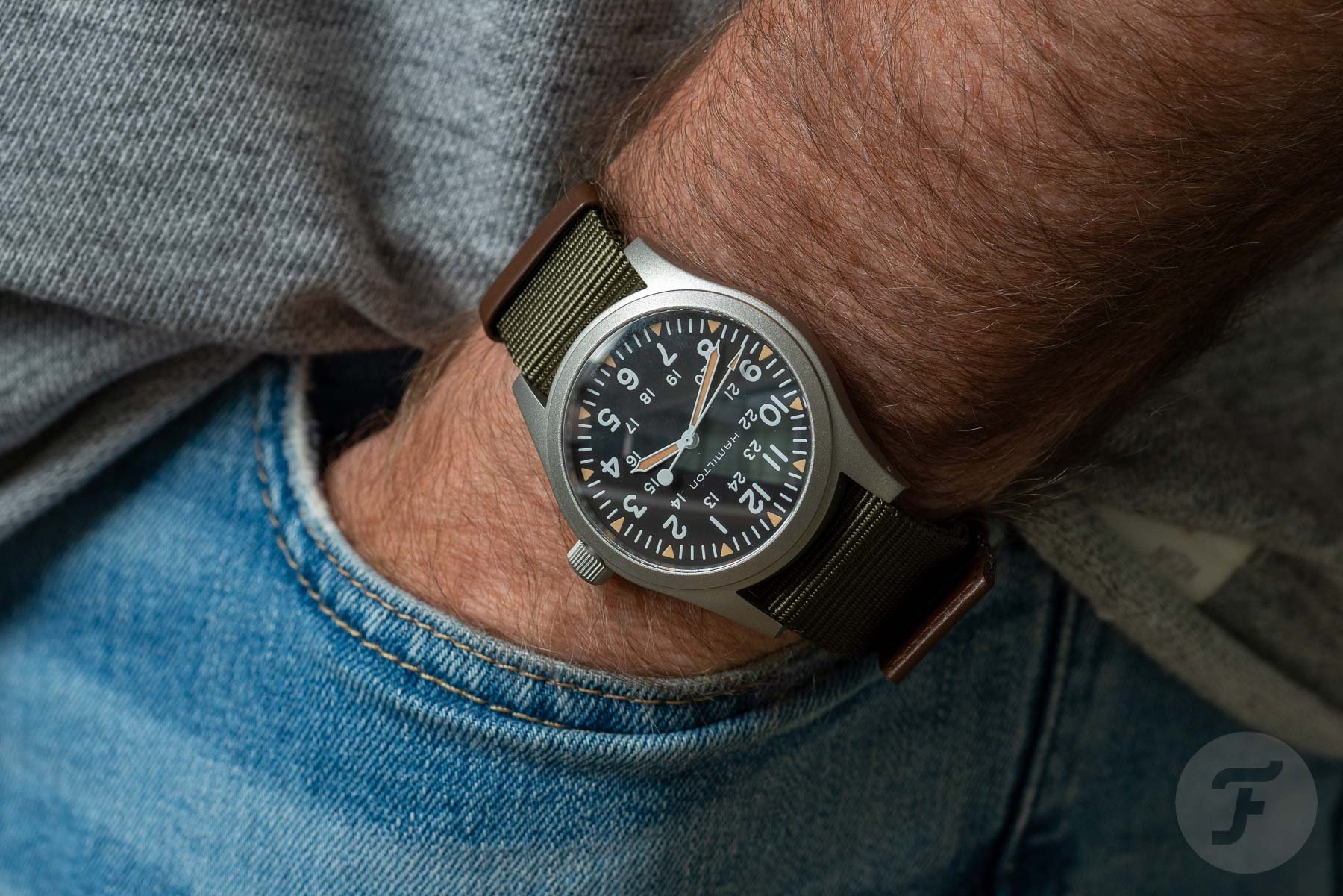 Final thoughts
This is just the tip of the iceberg when it comes to great daily beaters. We are truly spoiled for choice when it comes to great, affordable watches that can take a beating and handle it with ease. That's why I want to pass the question over to you. What would be your pick for the perfect daily beater? Please let us know in the comments section what your watch of choice would be and why.