A Much-Awaited Hands-On Encounter With The New Green Omega Seamaster Professional 300M
Did this denizen of the deep live up to expectations?
Green watches — they're a thing! Call it a fad, trend, or craze, but it seems that for these last couple of trips around the sun, the color green has taken a firm grip over the watch industry. And this particular Seamaster Professional 300M model aligns with the vogue of green iterations in Omega's flagship lineup. But I'm not here to talk about this pattern. In fact, I find the topic rather tedious. A particular color prevailing in popularity is something that happens all the time. In fashion, colors come in and out of style as consistently as the seasons roll by. Green watches being a thing is about as interesting as straight-fit jeans or crop tops being a thing (again). It's a trend that's perhaps worthy of some acknowledgment, but it's not worth getting annoyed, let alone genuinely upset about.
And as much as there's a tendency in the watch world to get hung up on these things, I'm here to say that I'm officially over it. Should you really be upset that both Zara and Uniqlo carry a similar trendy periwinkle jacket in a season where that's one of the most popular colors? Yeah, I didn't think so. It's the same with watches. We should instead embrace that a watch that most of us enjoy now exists in a color that some of us prefer. Now, this past week I got to spend some quality time with the green Omega Seamaster Professional 300M. I wanted to get to the bottom of whether or not this green Seamaster would be the one I'd put my money on if I were in the market. I'll let you know what I like and don't like about it, and we'll see if it's the best Seamaster for me.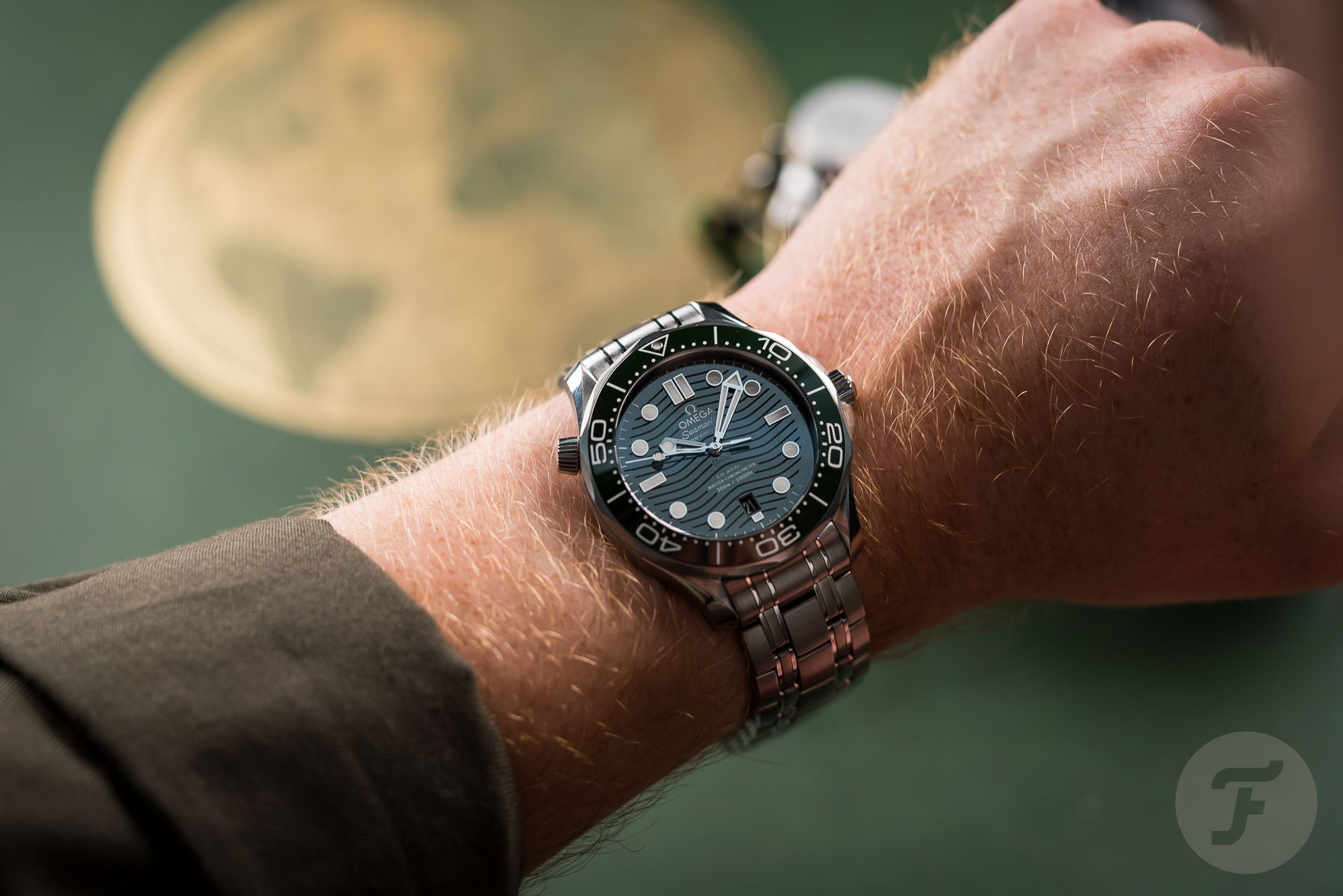 Not a first for Omega, but a first for me
I mentioned in the intro that there's a cyclical nature to trends. That goes for fashion, music, or even facial hair — have you noticed the mustachioed millennials roaming the streets? And as much as the color green is making its debut in the SMP 300 line here, it's not the first green Seamaster diver that Omega has produced. No, sir! Turn the clock back to the mid-1960s, and take a look at the Omega Seamaster 120 ref. 566.007. This 30mm "ladies'" model already adopted a shade of green similar to the new SMP. I can only guess why Omega only created a "ladies" model in this color, but if we consider the watch industry conservative today, back then, it must have been even more so. Back then, green was not a color that people could take seriously on a professional dive watch.
But as Robert Allen Zimmerman famously sang, "the times, they are a-changing," and a green Seamaster Professional 300M today makes perfect sense. But is it the SMP 300 to buy? Obviously, this comes down to personal taste, but in a world filled with black and blue dive watches, something a little different seems quite appealing. Plus, one or two details set this particular model apart from the others. I was lucky enough to spend some time with this Seamaster, which was particularly exciting as it was my first experience with the model. And after far too much talk about the color green and its relevance, I think I'm ready to share my thoughts with you.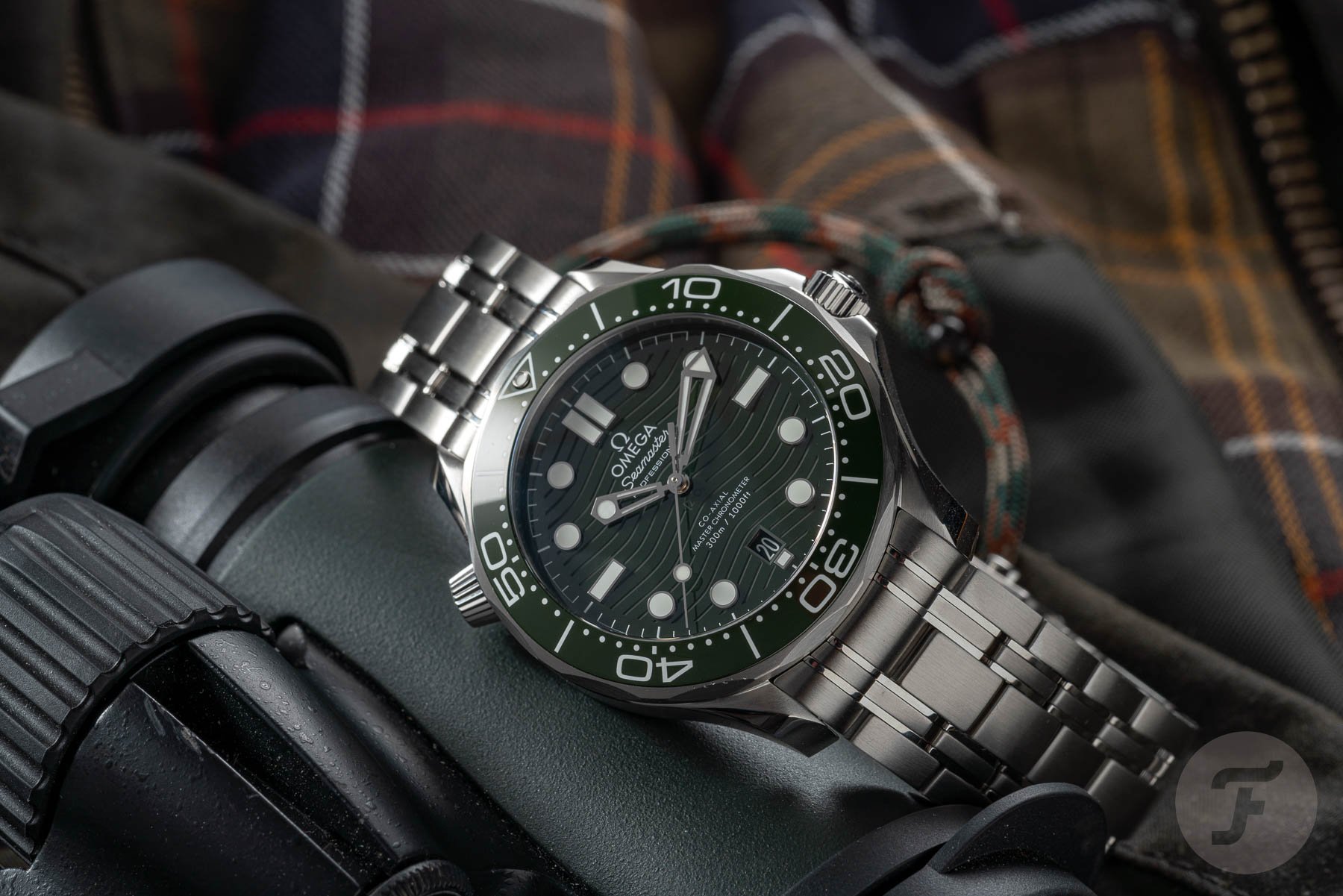 The green Omega Seamaster Professional 300M
This green Omega Seamaster Professional 300M debuted earlier this year. A flurry of releases also welcomed two Moonshine Gold Speedmasters, the impressive Ultra Deep, a handful of Speedy '57s, and a pack of colorful Aqua Terras to Omega's lineup. My first impression of the green SMP was quite a positive one — you can read my first thoughts in the introduction article here. Opening the box sent to us by Omega, I couldn't help but be a little starstruck. There, nestled between two gold Speedmasters and the titanium Ultra Deep, was this lovely green-dialed Seamaster.
OK, so my excitement wasn't particularly shared by some of my colleagues that day. But that didn't phase me. I took it home and enjoyed a weekend of mesmerizing glances at the shimmering emerald pool on my wrist. And I know that this is nothing new, especially to those who have already had a chance to wear one of these ceramic Seamasters, but there's something magical about how the material catches the sun. To me, the current Seamaster Professional is the ultimate luxury dive watch available today. Sure, it's still a capable tool watch, but the way the watch glimmers and shines detracts from that side of its DNA. It doesn't feel purposeful and tool-ish like the "Schwerty" ref. 2254.50. The experience is a totally different one.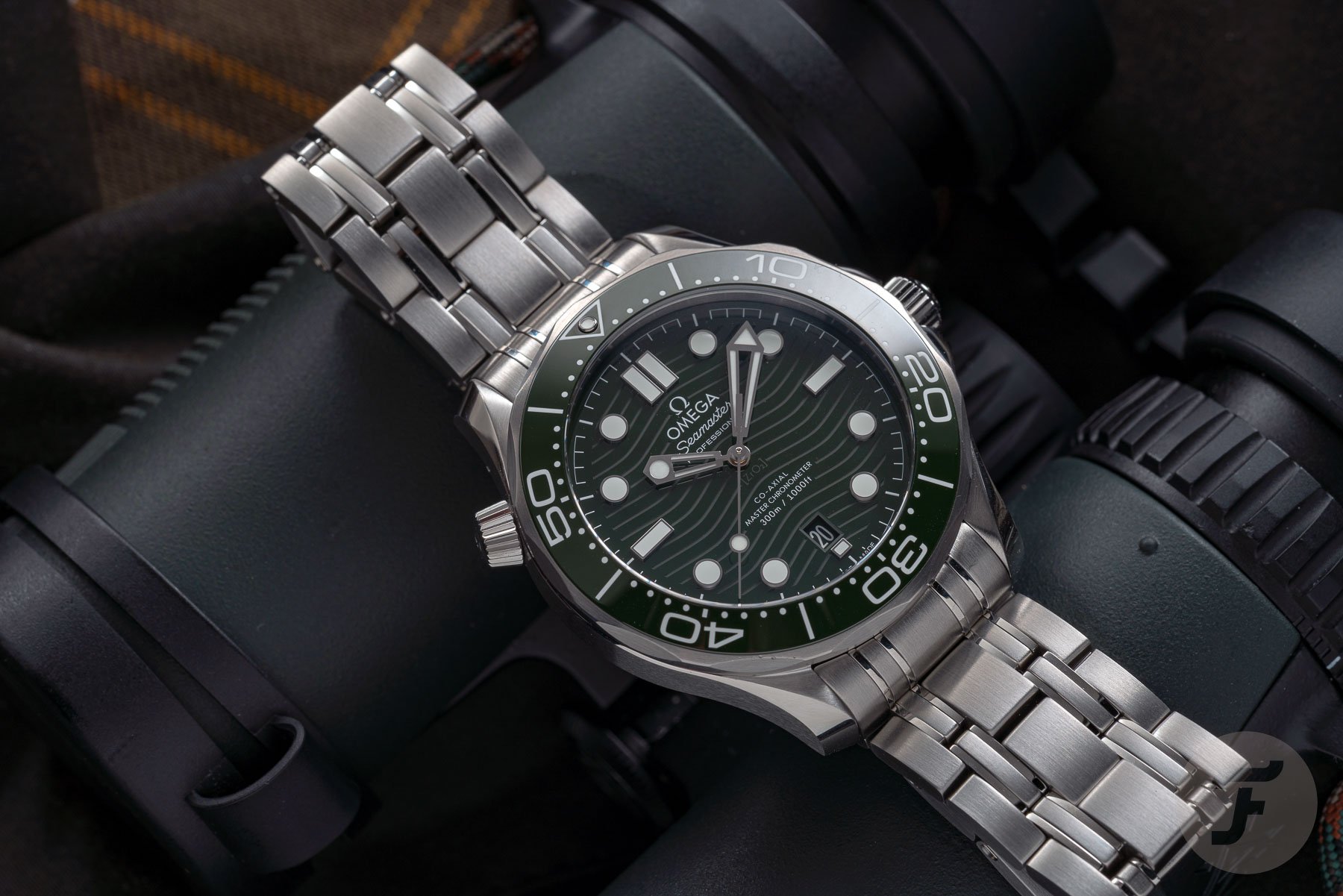 Is green the way to go?
After a couple of days of wearing the watch on a few different straps, there were a few things that surprised me. The first was just how big the watch feels. It's hard to believe that my Speedmaster and this Seamaster share the 42mm sizing. It's more of an optical illusion than anything else, though, as the watch is incredibly comfortable to wear. That was the second thing that struck me. The watch sits nice and slim on the wrist, especially for its size. Even on a NATO strap with two layers of nylon separating my wrist from the watch, it still felt balanced. And after having worn the Tudor Black Bay Pro just a few days prior, this was a nice change of pace (that's right, I just went there).
The shade of green that Omega uses for this watch was aptly described as "seaweed green" by someone on Instagram. It plays nicely with the light, shifting from an almost-black tone to a bright Kelly green. However, side-by-side with the blue SMP, it feels slightly less vibrant. That is probably thanks to the lack of red accents, a design choice that I feel suits the watch. You could say it makes it boring, but I'd say it makes it focused and more versatile. One thing to note is that as much as I wanted to like the bracelet, I think this watch shines on rubber. Either the green Omega OEM strap or an off-white third-party Tropic-style strap would make for a killer combination. That said, I'd still buy it on the bracelet as it's always more expensive to get after the fact.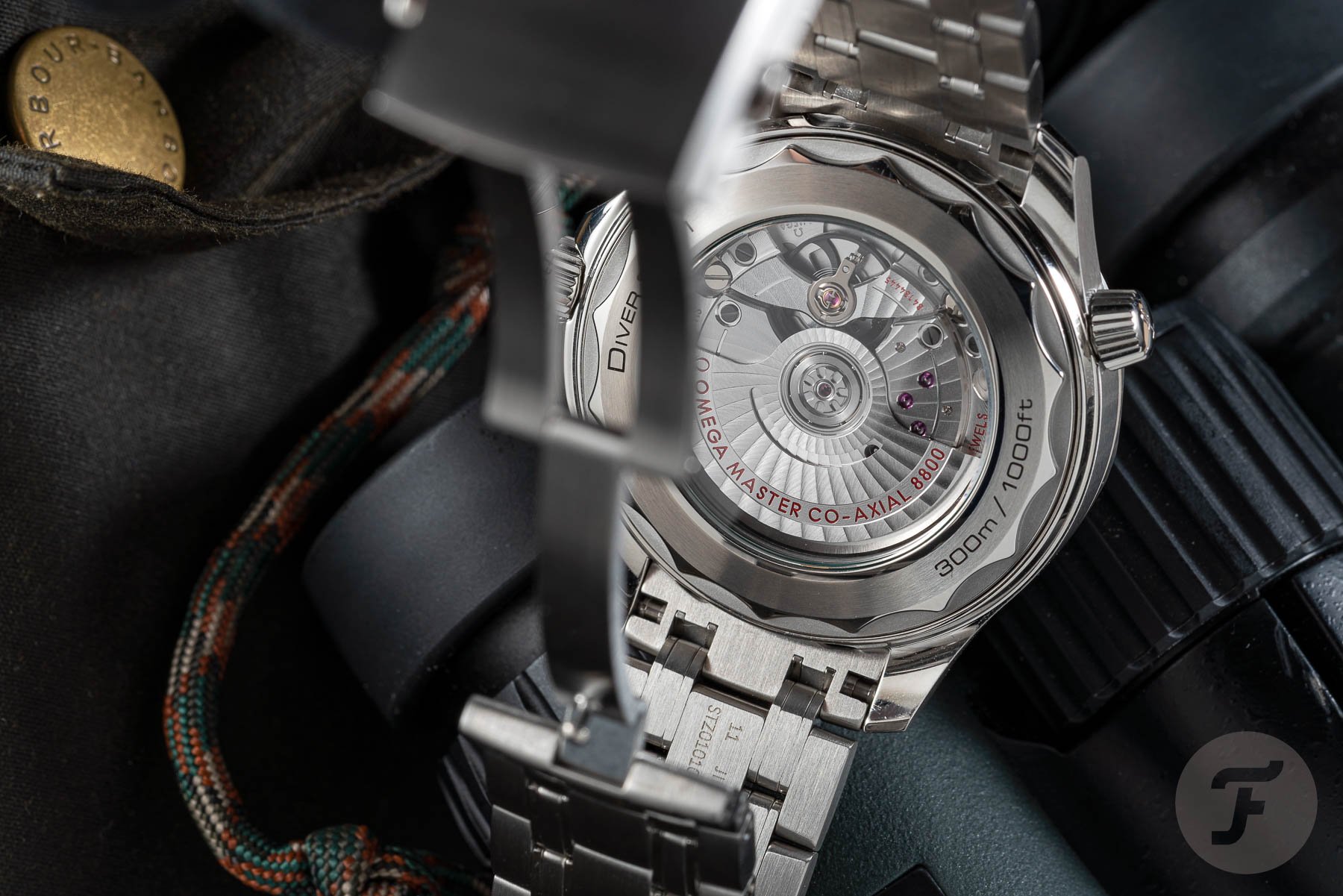 Final thoughts
Overall, I thoroughly enjoyed my time with the Seamaster Professional 300M. But I must say, I don't think the color had much to do with it. The watch is simply and objectively brilliant. Is it for me? Is it my ultimate Seamaster? Unfortunately, I think the answer is "no." Or perhaps even "not yet." Yes, the watch itself is excellent, but it's all a matter of individual preference. Ultimately, I find the watch just a bit too shiny and luxurious for my taste. And sure, I get it; it's a luxury watch. It should look and feel luxurious. But that's not what I want from a dive watch today. To me, the perfect Seamaster diver is still the ref. 2254.50. Nevertheless, the current-generation SMP is undeniably impressive, and I must say, if I were going to buy one (as a follow-up to the 2254.50), there is a damn good chance it would be the green model.
Check out the Omega website for more information and technical details on this watch.
Now that you've read my thoughts on this watch, I'd love to hear your own! What do you make of the green Omega Seamaster Professional 300M? Is it a welcomed breath of fresh air in a world dominated by black and blue dive watches? Or is it just a trend-chasing piece that will be passé in a year or two? Is it perhaps even a future oddball classic? As always, leave your thoughts in the comments below.