Hands-On: Baltic HMS 002 Silver — An Affordable Looker With A Sector Dial
Baltic presents the HMS 002 collection with an updated caliber. Here's why we like it!
I don't know if it's just me, but I feel that sector dials are making a solid comeback. My first renewed attraction to them was in 2017 when Jaeger-LeCoultre presented a 25th-anniversary Master Control Date with a sector dial. The second one that caught my eye was the Longines Heritage Classic in 2019. And last year, in 2022, Omega presented the rather stunning CK 859 Master Chronometer. What I completely missed, however, was the Baltic HMS 002 that came out in 2019.
Back then, the brand wasn't really on my radar yet, but it is now. The HMS 002 recently returned to the spotlight because microbrand Baltic updated the Miyota movement inside. Now is a good moment to put this attractive watch through its paces.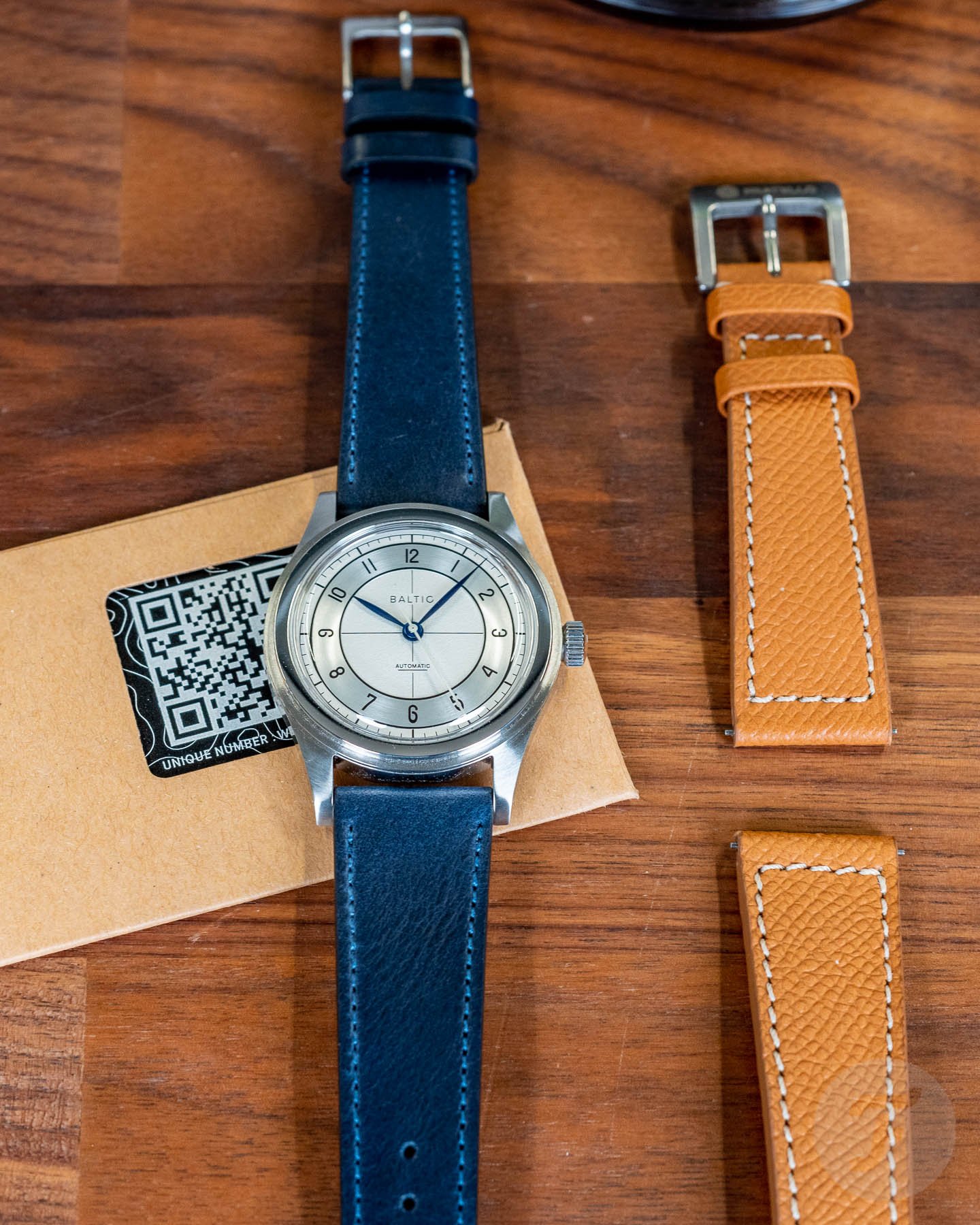 A brief historical note
Let me first explain why a sector dial is called a sector dial. I think it's quite obvious because such a dial clearly shows radial divisions of the minute and hour tracks in, well, sectors. This style of watch dial was popular in the '30s, '40s, and '50s. Alongside the aforementioned brands, others like Zenith, Tissot, IWC, and even Rolex had it in their portfolios. Sector dials have been used for both wrist and pocket watches.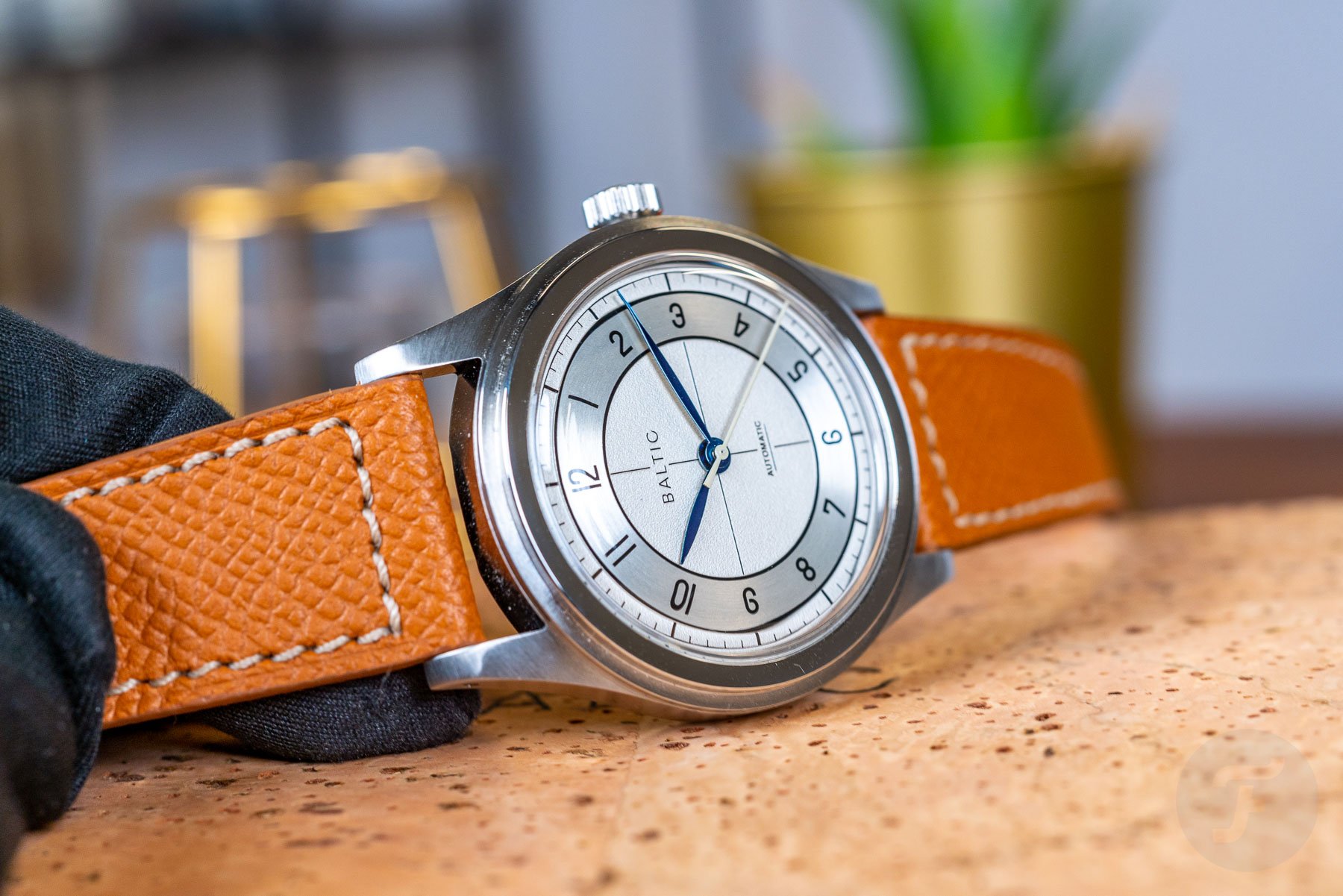 Baltic HMS 002 Silver — available in three colors
Now Baltic offers the HMS 002 with sector dials in three dial colors — silver, blue gilt, and black. The silver one is my favorite and the subject of this hands-on write-up. When I think of a sector dial, I think of silver. The design choices of the previously mentioned brands seem to approve of that. My second choice for the Baltic HMS 002 would be the black-dial version because blue is my favorite dial color on only very few occasions. Speaking of the Baltic dial, it truly looks stunning. Pictures probably make its stepped, circular-brushed chapter ring and sandy, matte dial texture difficult to determine, but in real life, it's a class act.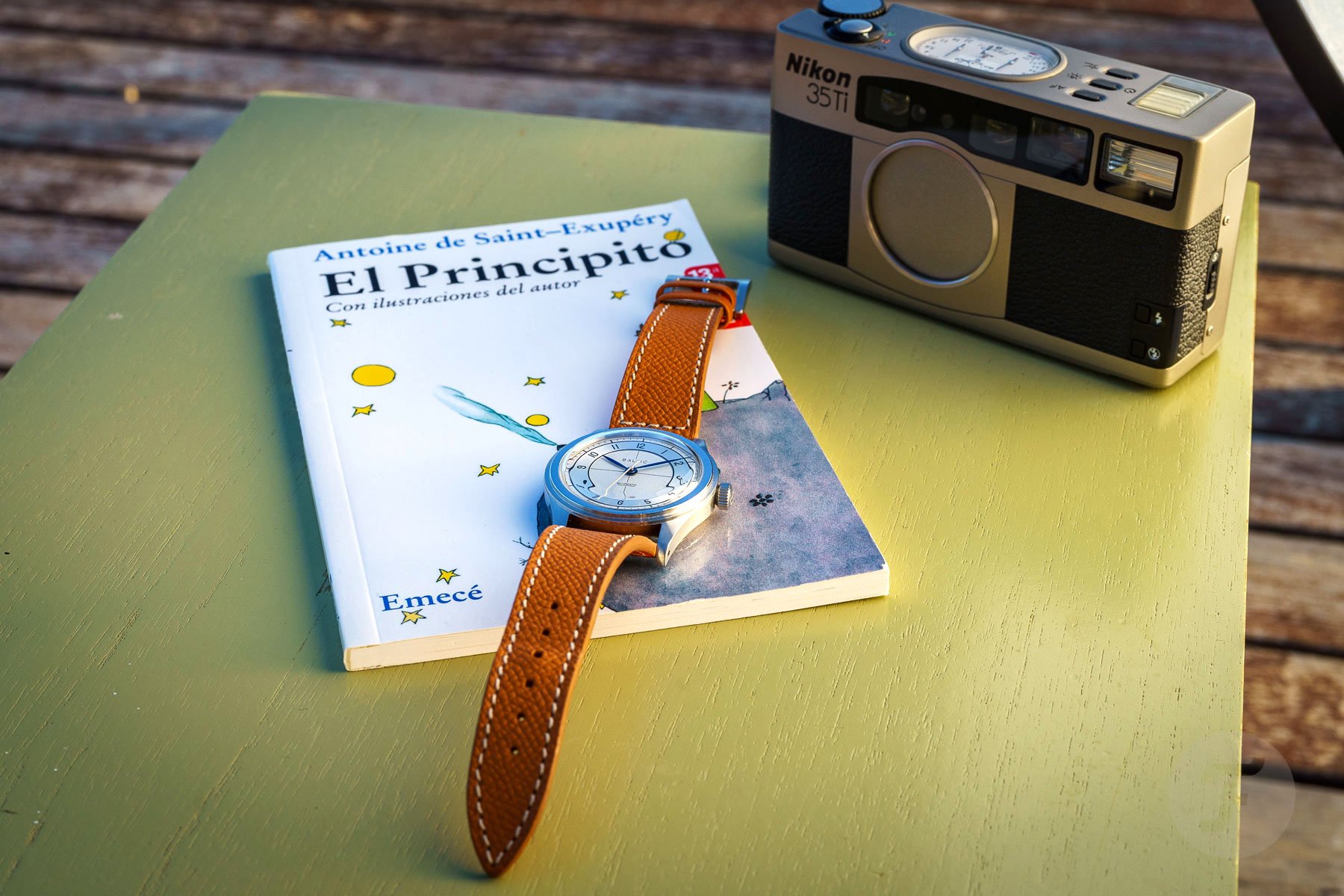 The price of the Baltic HMS 002
I hate to bring the price of a watch up so early in my review, but I have to today. I probably shouldn't compare sector-dial watches that are so far apart price-wise, but I still do. While the previously mentioned Jaeger-LeCoultre, Longines, and Omega offerings each cost thousands of euros, the Baltic HMS 002 has a base price tag of €435.60 (or €465.85 for the execution of this review). And that includes VAT and shipping. So what aspects can we reasonably compare? Actually, that'll just be the looks. Yes, all of these watches are made of stainless steel, measure 38–39mm, and sport a sector dial inspired by designs from long ago. The comparison falls apart when it comes to the movements. And precisely on that point, Baltic has now upgraded the movement in its sector-dial watch.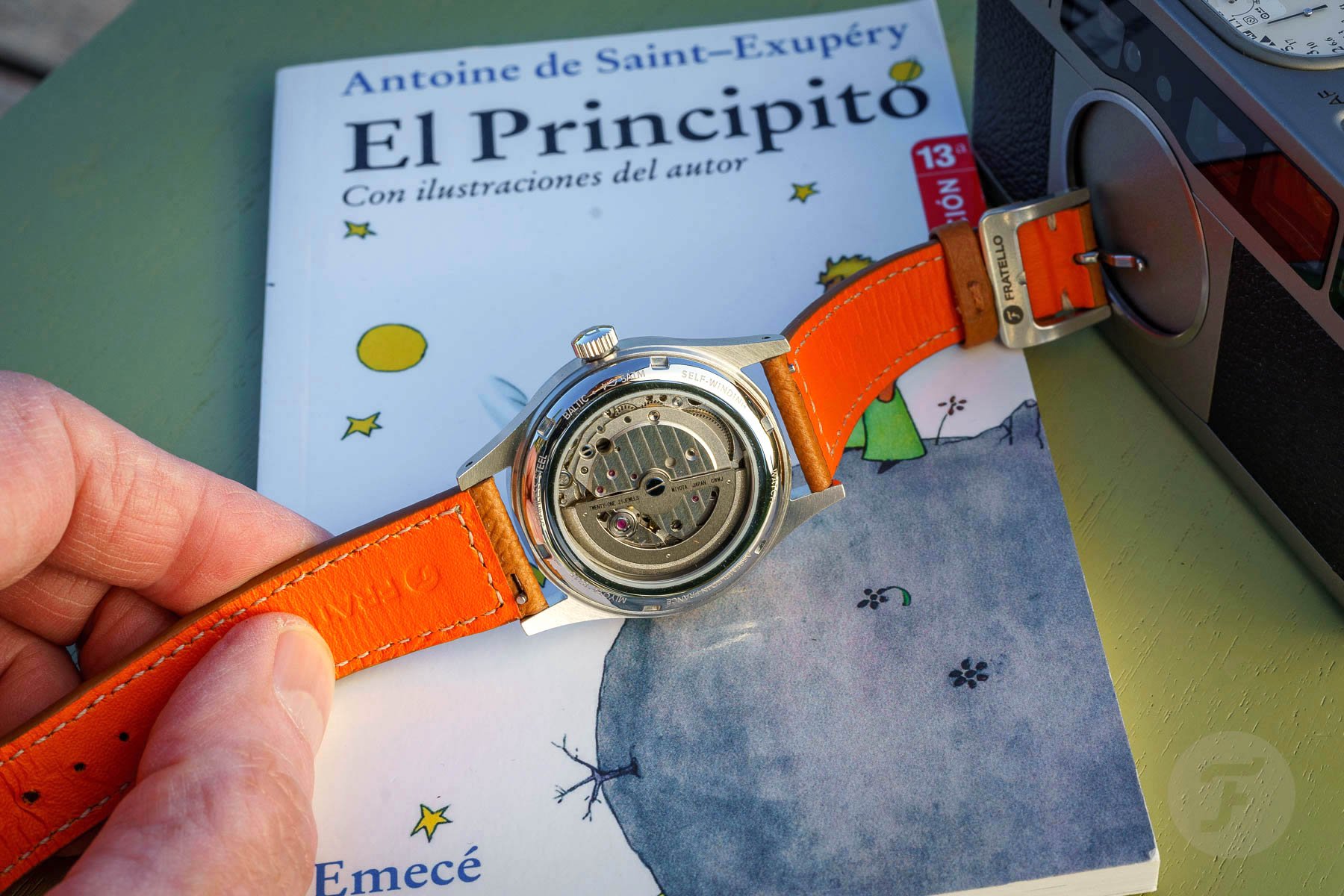 An improved caliber
The HMS 002 was born in 2019 with a Miyota 821A caliber inside. There's nothing wrong with that, but the 821A was a further development of the 8215, which was not much more than a rattly workhorse. So for the rather elegant watch that the HMS 002 is, Baltic correctly decided that there was room for improvement in the movement department. It was an easy choice when Miyota presented the 8315 with quite a few advantages over the 821A.
First, the power reserve has increased to 60 hours, coming from only 42. But a new bearing and rotor system was also good news as it made the movement less noisy (although, occasionally, I still could hear it spin). Lastly, the 8315 got a direct-drive seconds hand, making it sweep over the dial much more smoothly. A minor upgrade was done to the aesthetics of the movement, now sporting some blue — not thermally blued — screws. A minor setback to the 8315 is the ghost date position, while the HMS 002, fortunately, has no date. I think the 821A had the same issue, though.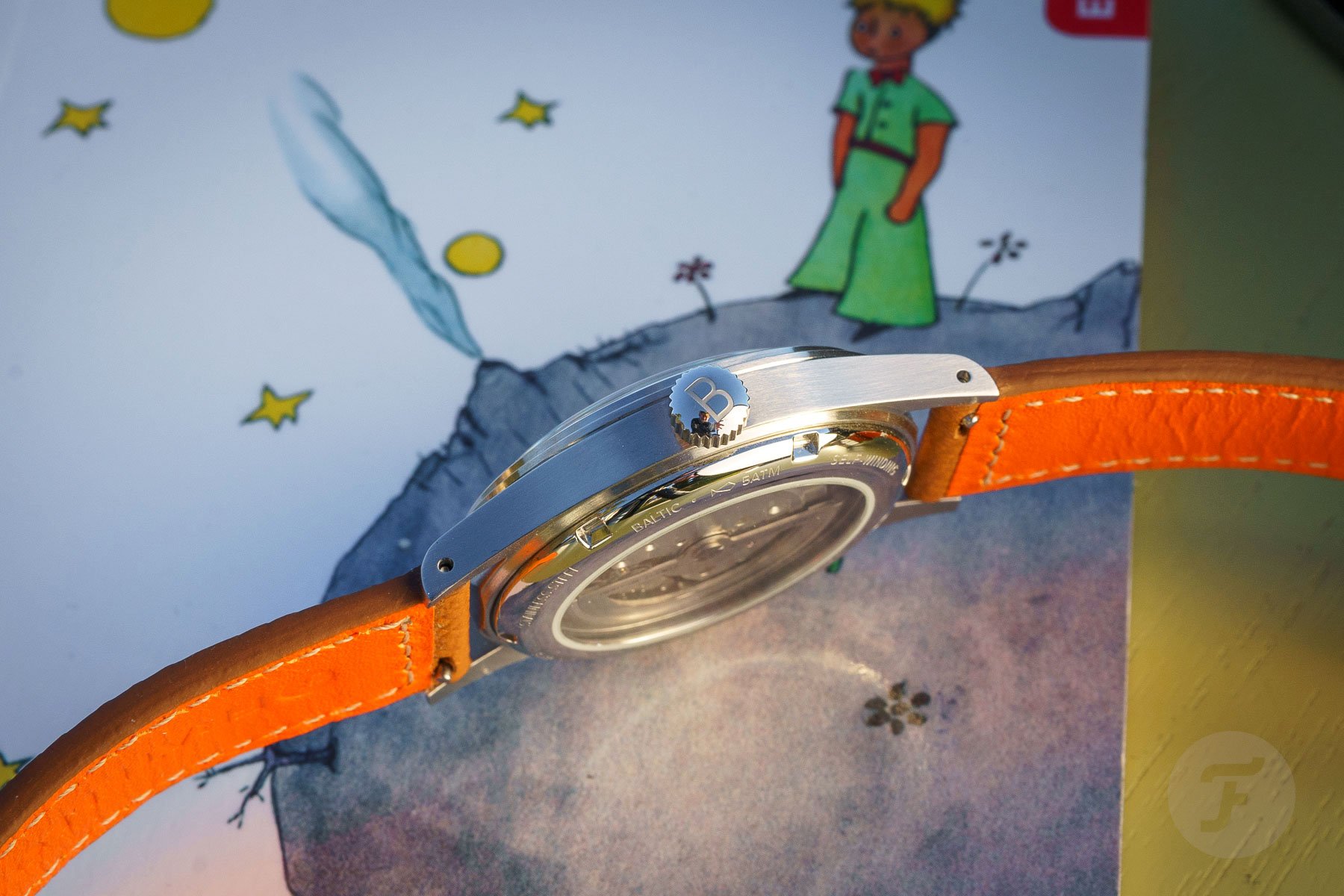 Case back and case
I'm not a big fan of watches with a glass back that only sport a generic movement. This is probably a bit arrogant, but I think I've been there and seen that. Why am I happy that Baltic sent us a watch with a glass back, then? Well, it's to say that I didn't see a Miyota 8315 that often before, and it was surprising to see how nicely finished it was. On a side note, I usually prefer a beautifully executed case back over a glass back showing a generic movement. But I have to admit that Baltic's closed case back doesn't appeal to me. It's not much more than a very basic affair.
The attractive 38mm HMS 002's stepped case is inspired by watches from the 1940s. And I must say its finish is much nicer than one would expect from a watch in this entry-level league. There's linear brushing on the side, circular brushing on the lugs, and mirror polishing on the last step of the case. These different finishes each catch the light in their own way and make for a very attractive case. With an engraved "B" and a polished, domed top, the crown perfectly fits the case.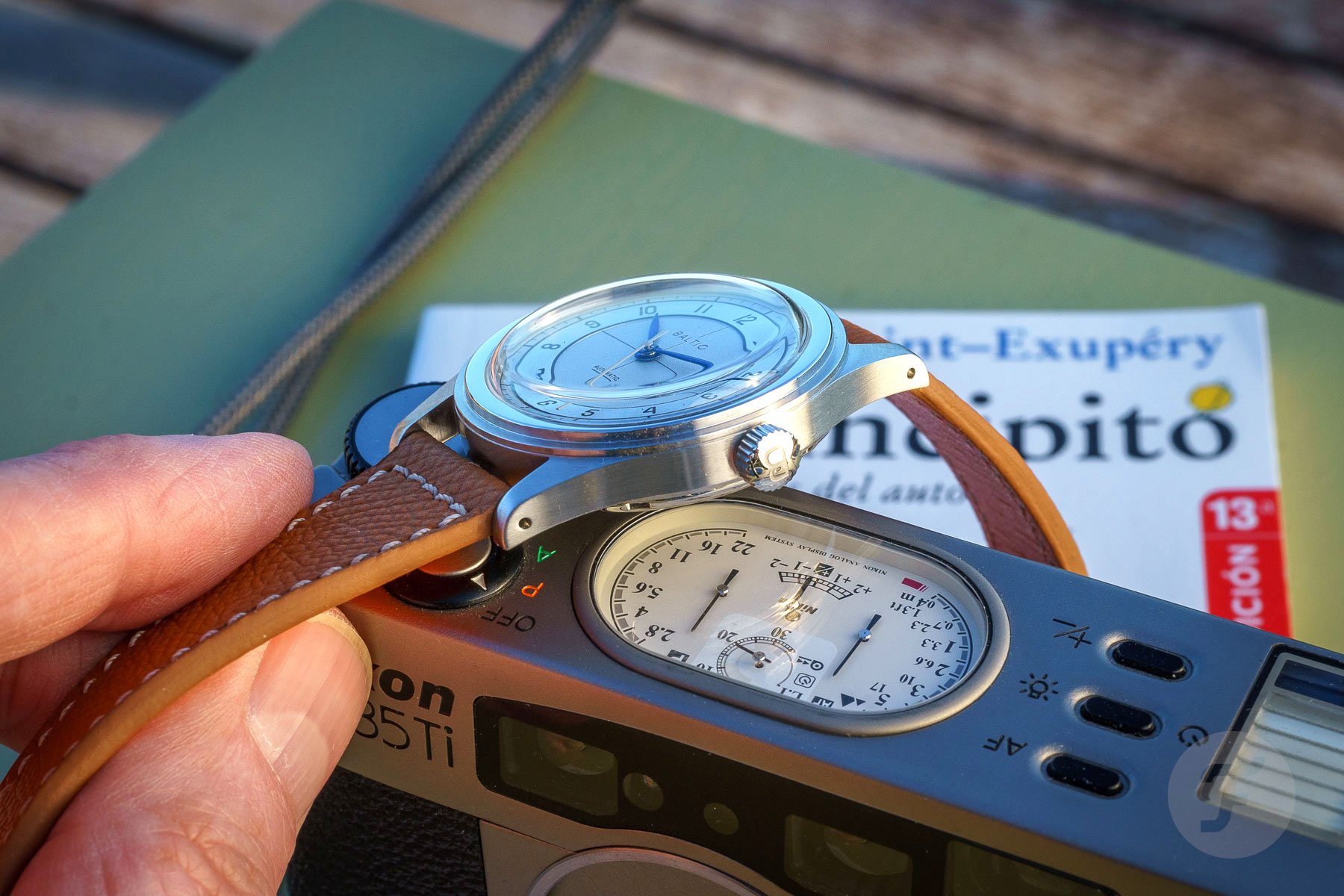 Crystal
What might be a disadvantage for one person is an advantage for another. With my background as a Speedmaster collector, I'm fond of acrylic crystals, not only because they're fit for professional use but also for the vibe that they give to a watch. Acrylic crystal (or Hesalite) is so different than sapphire. It has a different refractive index (it breaks the light differently) and therefore shows the dial in another, much softer, more attractive way if you ask me. Since a mineral crystal is out of the question, and a sapphire crystal in the highly domed form used on the HMS 002 would be expensive, I'm so glad that Baltic chose acrylic.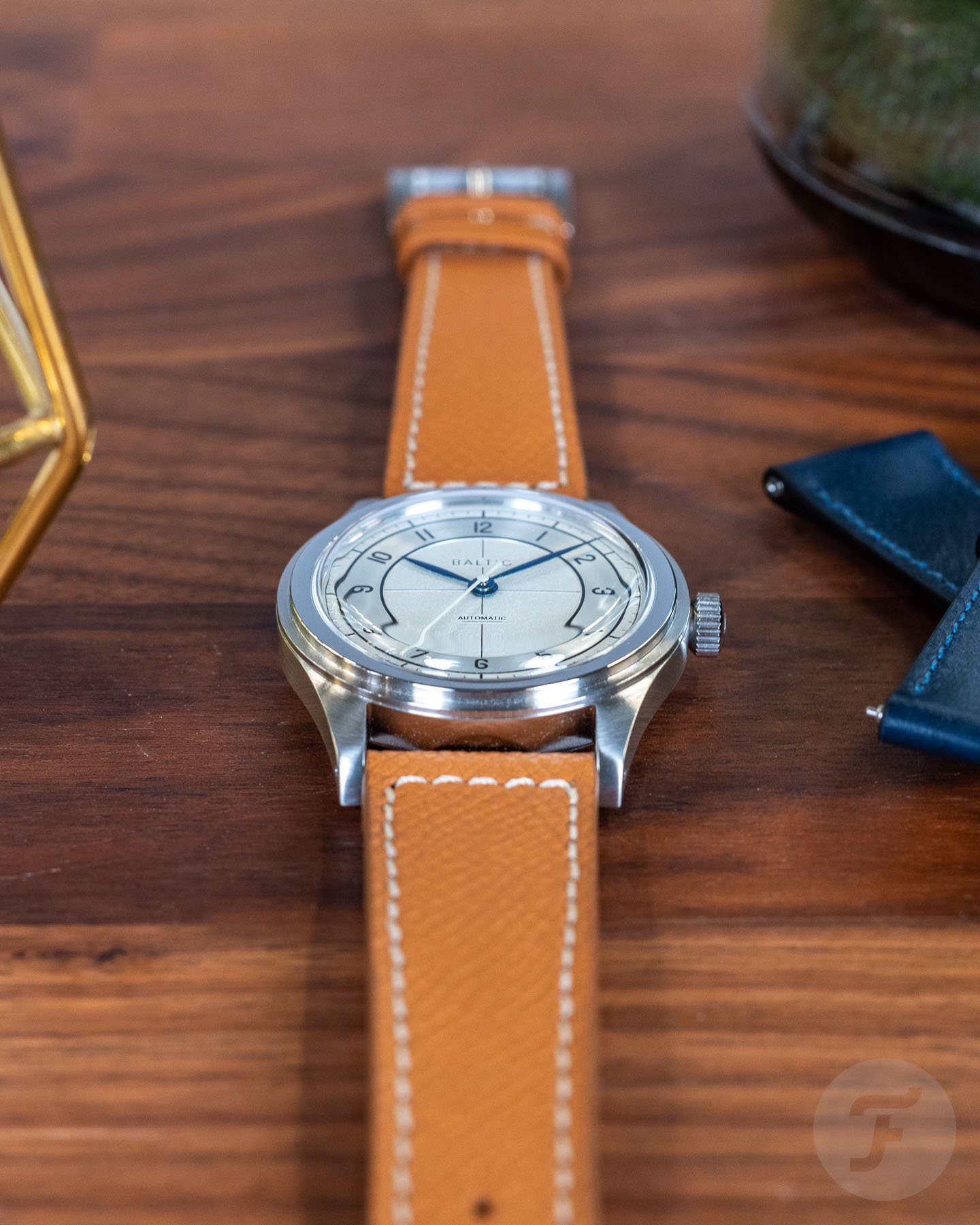 What about the strap?
Baltic offers the HMS 002 with a variety of leather straps and even a stainless steel beads-of-rice bracelet. As you probably noticed from some of the pictures, this watch came on a flat, soft, blue Italian calf leather strap. It perfectly matches the blue hour and minute hands, plus it comes with quick-release pins. I wore the watch alternately on that strap and one from our Fratello Shop, the Epsom Cognac. The latter sports quick-release pins as well, which makes it easy to switch between the two straps. I ended up wearing the lighter cognac-colored strap more often as I think it adds to the vintage style of the watch more than the blue strap.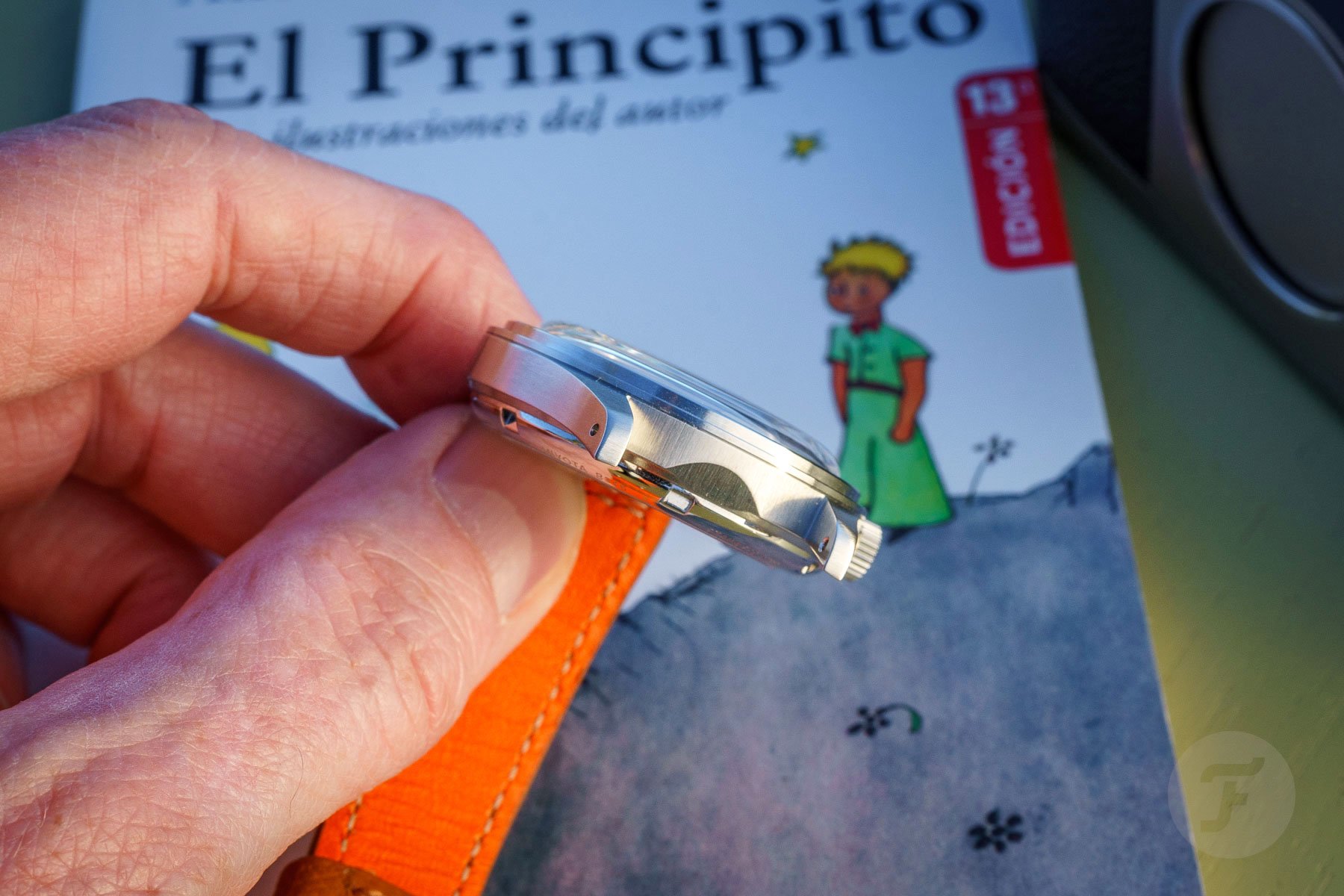 Comparing the HMS 002 in its own league
To put things back into perspective, I'd like to compare the Baltic HMS 002 to another microbrand sector-dial watch, the Merci Instruments LMM-01 Nationale. In fact, my colleagues Daan and Thomas did so already in an installment of our Sunday Morning Showdown series. Although I voted for the Baltic, the results fell in favor of Merci Instruments. Both brands make compromises to operate in an entry-level league (although Merci's price is 35% higher than that of the Baltic). Now it's about which compromises weigh more heavily for you.
I'm rather positive about the new automatic Miyota 8315 caliber in the Baltic HMS 002. Still, I understand why the hand-winding Swiss Sellita SW210-1 movement (with only a 42-hour power reserve) is probably more attractive to you. A huge plus for me is Baltic's choice of an acrylic crystal. Merci Instruments' mineral crystal is very much a wrong choice in my book. It's either acrylic or sapphire.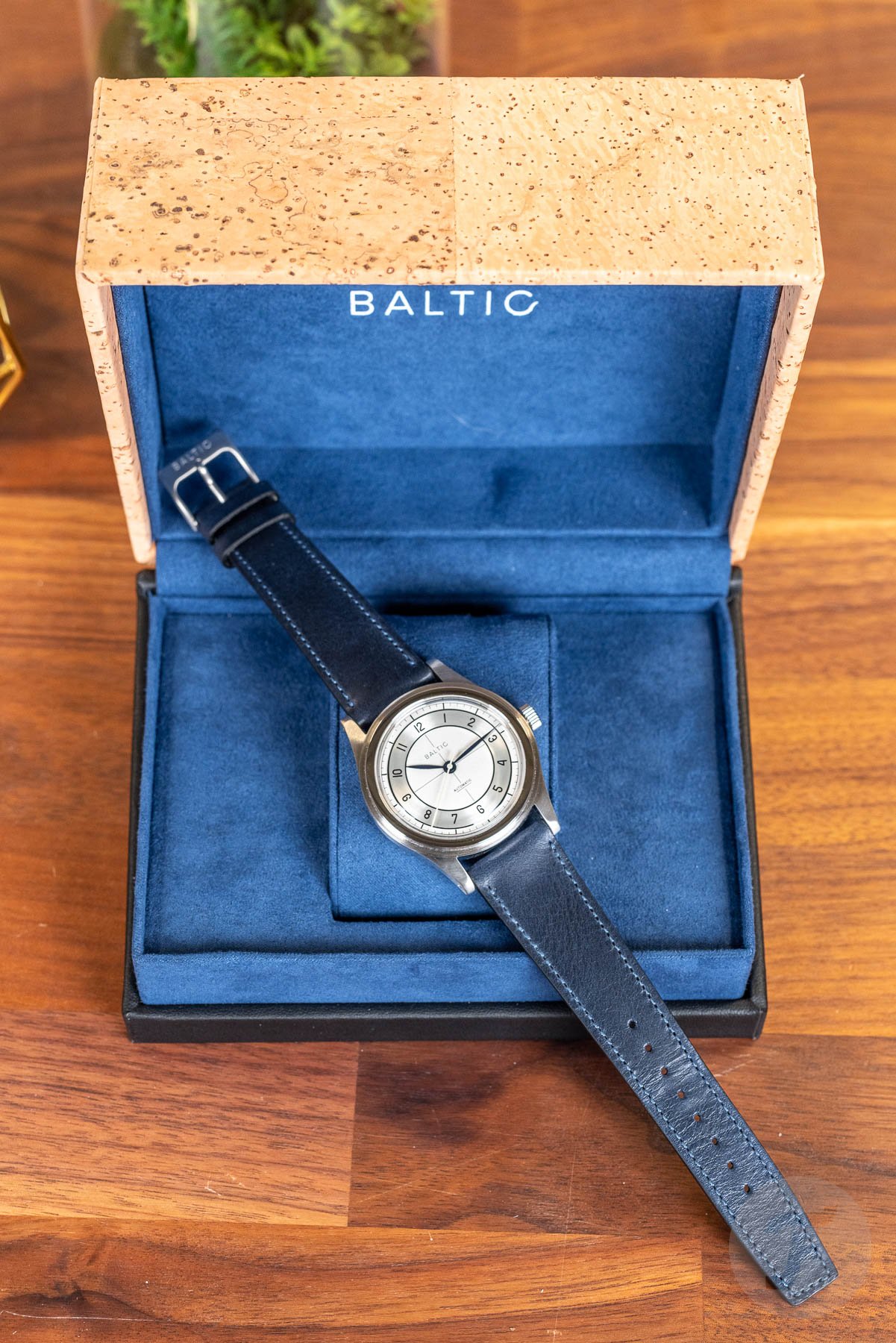 Conclusion
What can I say after writing a love song? I can only add that the Baltic HMS 002 comes in a very nice cork box with adequate documents and a QR code to activate your 24-month warranty. The only minor drawbacks I can think of are the not-entirely quiet rotor operation and the ghost date position. But again, consider the price. You really can't go wrong with this watch for €435.60 (or €465.85 with a glass back) delivered to your doorstep. I've been wearing the watch on and off for the last month or so, and every time I wear it, I really enjoy it. The HMS 002 Silver is versatile, light, clearly legible, and suitable for many occasions and clothing styles. And even after a month, I can't find a scratch on the acrylic crystal, but I have to admit that I'm not much of a gardener or car mechanic. I'd also like to say that I wrote this review on my own initiative and have not received any compensation from Baltic for it.
For even more information, you can visit Baltic's website. You'll find me on Instagram @gerardnijenbrinks. And for analog-camera lovers, no harm was done to the Nikon 35Ti during the photo shoot. 😉
Watch specifications
Dial
Silver-colored, circular-brushed chapter ring with sandy-textured matte center
Case Material
Stainless steel 316L
Case Dimensions
Diameter: 38mm - Thickness: 12mm - Lug to lug: 47mm
Crystal
Highly domed acrylic
Case Back
Optional display back or closed
Movement
Miyota 8315 — automatic, 60-hour power reserve, 21,600vph (3Hz) frequency
Water Resistance
50m (5 ATM)
Strap
Italian calf leather strap or optional steel beads-of-rice bracelet
Functions
Hours, minutes, seconds
Price
€465.85 incl. VAT and shipping as reviewed (€435.60 with a solid case back)