Let's Get Twisted: An Exploration Of Twisted And Almost Twisted Lugs From Omega, Nivada, Serica, And More
What wonders some history and beveling can do
Lugs are often a "make it or break it" feature on any watch. Of course, here at Fratello, one style of lugs is quite popular — twisted lugs. Known as twisted, lyre, or sometimes Bombé lugs, they've been a defining feature on Speedmasters for many decades now. But their elegance is not relegated to just one watch or brand. With almost 100 years of history and some unique interpretations of the form along the way, there's no one way to twist a lug. Twisted lugs also happen to be one of my favorite looks on a well-designed watch.
It's been almost a year since Jorg wrote his article on different lug styles. As he stated there, it's usually easier to spot when lugs don't work well design-wise than to spot when they've been done well. I'm not sure I'm at the point where I can spot excellence; I just like what I like. In this case, that happens to be some key examples of twisted lugs.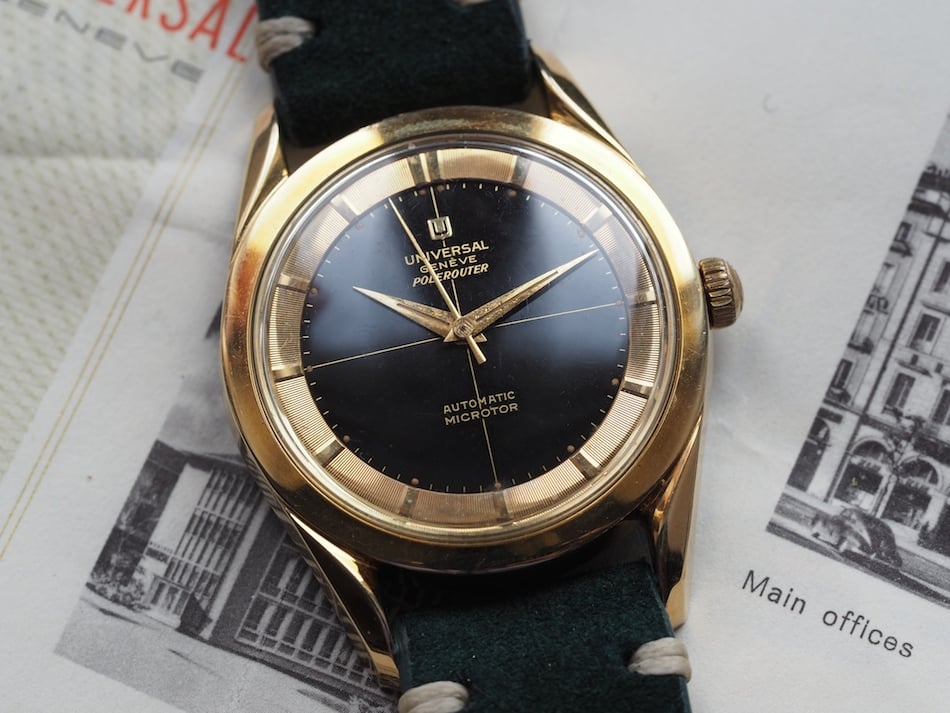 Historical references
I haven't found one source that can point to the first use of the twisted lug style in a wristwatch. Omega was early, with the Speedmaster shifting from straight to twisted lugs in 1964. Before then, Omega had some other watches that used the style. Many point to the Universal Genève Polerouter, introduced in 1954, as the first widely popular watch with lyre lugs. But examples from other brands from as far back as the '40s exist as well.
It seems the 1950s and especially the '60s were the heyday for twisted lugs. Watchmakers from Longines to Omega to Rolex employed the style in some of their standards at the time. This phenomenon was driven in part by watch companies sharing common sources for case manufacturers. Huguenin Frères, an engraver, minter, and case maker, was one such company supplying cases to companies. The Huguenin Frères "HF" stamp can be found on the inside of case backs from pre-1968 lyre-lugged watches from companies such as Omega, Universal Genève, and Certina, to name a few.
Twisted lugs etched into history
On July 21st, 1969 Neil Armstrong was the first person to walk on the Moon. He had no watch strapped to the arm of his spacesuit, electing to leave it in the lunar module as a backup for a faulty electric timer. Buzz Aldrin, however, did have a watch on — his Omega Speedmaster ref. 105.012. The rest is history.
And what a history it is. The first Omega in space was a Speedmaster ref. CK 2998 worn on the wrist of Walter "Wally" Schirra during the 1962 "Sigma 7" mission. This reference had straight lugs. In the few years between the first Omega leaving Earth's atmosphere and the first Omega stepping out on the Moon, the lugs changed from a bland, straightforward affair to the elegant, twisted lugs we know and love today. Considering how dear the historical details of Speedmasters are to both enthusiasts and Omega, I think we can consider ourselves lucky that fate decided to push the Moon landing until Omega figured out its lug situation. We might've ended up with something very different.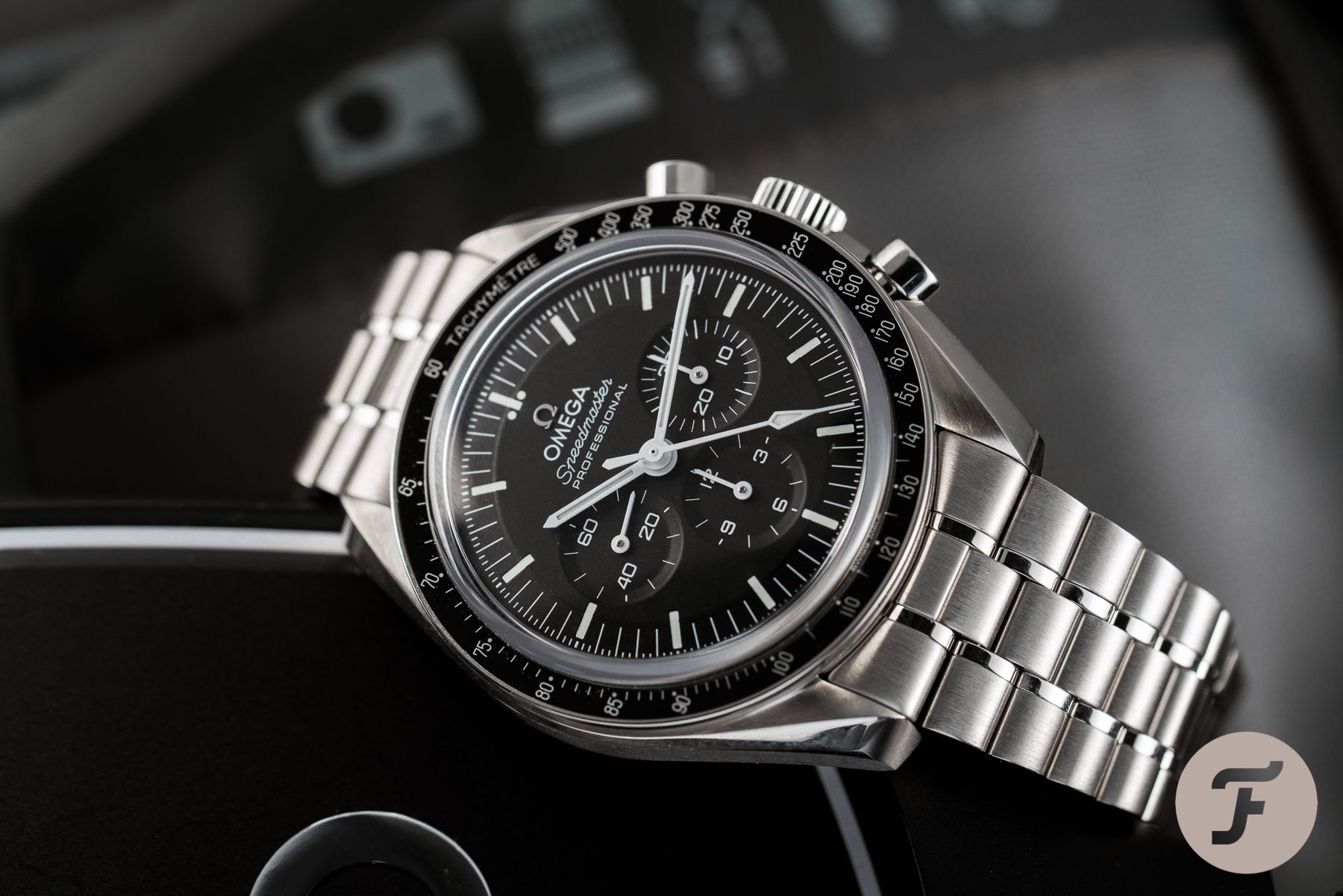 Modern-day references to history
And so today, in part because of Omega's continued production of the largely visually unaltered Moonwatch Professional up to the present day, we watch enthusiasts have options available to us for twisted-lug watches. Of course, the obvious choice is a Speedmaster in one of its many contemporary or vintage iterations. Available too are the other watches mentioned above from the 1950s and '60s. But other brands have leaned into twisted lugs as well, either as recreations of past models or reimaginings of vintage design in uniquely new watches. Omega didn't leave twisted lugs exclusively to the Speedmaster line either. Omega knows something good when it sees it.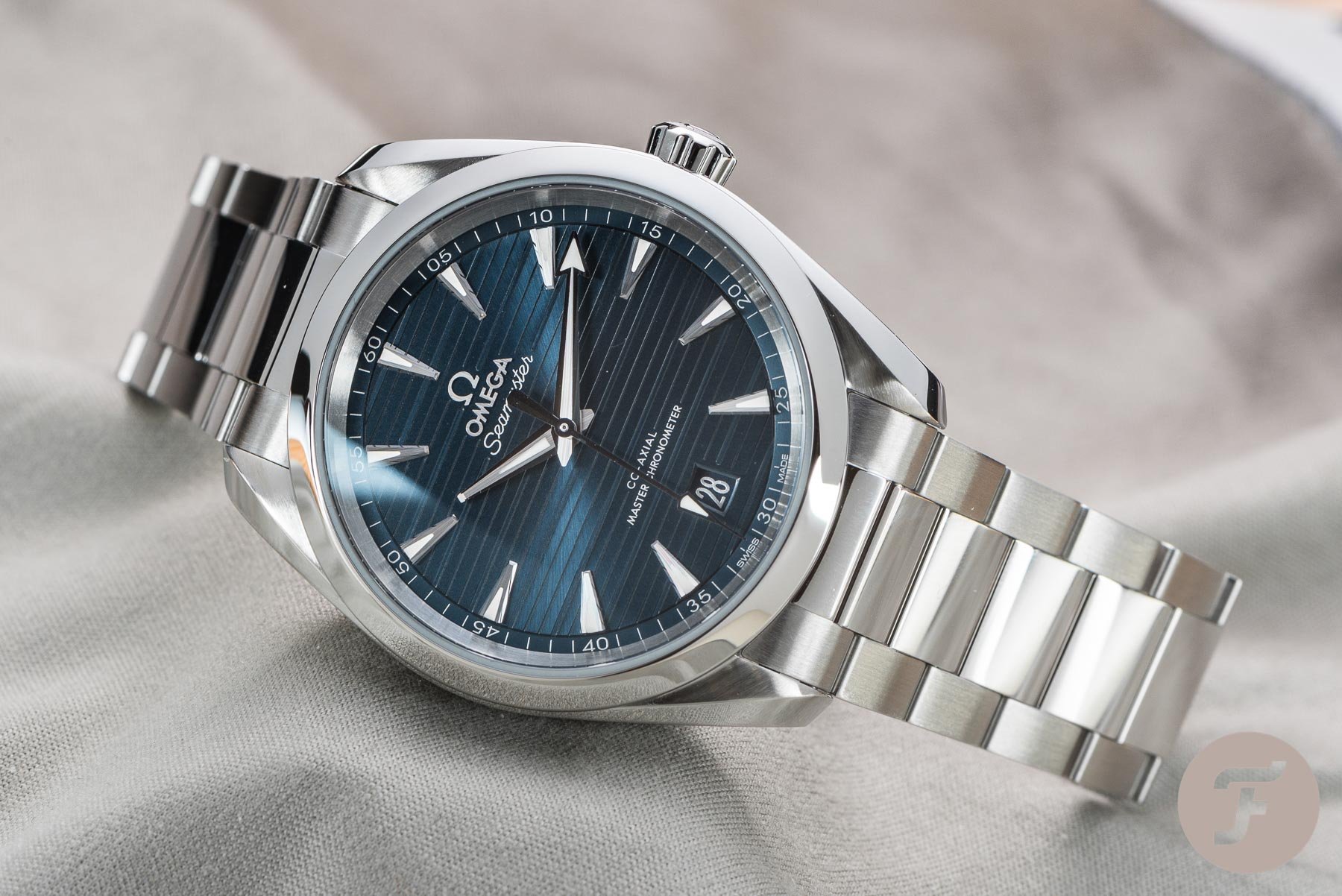 Omega's twisted lug watches
As a design trademark, twisted lugs are almost synonymous with Omega's tool or sports watches. The watch lines that initially received the treatment in the 1950s and '60s — Seamaster, Speedmaster, and Railmaster — still utilize the design today. The Seamaster 300 (ref. ST165.024) was Omega's dive watch from the '60s and had twisted lugs that spruced up the bulky tool case. It can still be found for sale, but decent-quality specimens easily run upwards of $5,000.
As it did in the 1960s, Omega's modern Seamaster line includes both tool watches and daily, dressier watches. The Aqua Terra, Diver 300M, and Planet Ocean lines all use lyre lugs. It's only the Heritage models that hark back to before the mid-1960s that have straight lugs. Today, the Railmaster line is nestled within the Seamaster collection, but rest assured that its watches have twisted lugs as well.
Omega's Speedmaster line obviously still employs the style. It's such a strong element of the original Moonwatches that have sustained Omega throughout the years that it would be unthinkable for them not to have twisted lugs. As with the Seamaster line, the only Speedmaster watches without them are certain Heritage models like the FOIS (First Omega In Space) whose designs date from before the shift to twisted lugs or Heritage models that departed from the traditional Speedmaster case at some point, such as the Mark II. Even some of Omega's futuristic watches employ the lyre lugs, like the Skywalker X-33. The Spacemaster Z-33, however, has no lugs, going the way of a no-nonsense ultimate tool. This is the case for the Omega Ploprof as well, the Seamaster equivalent to the Z-33.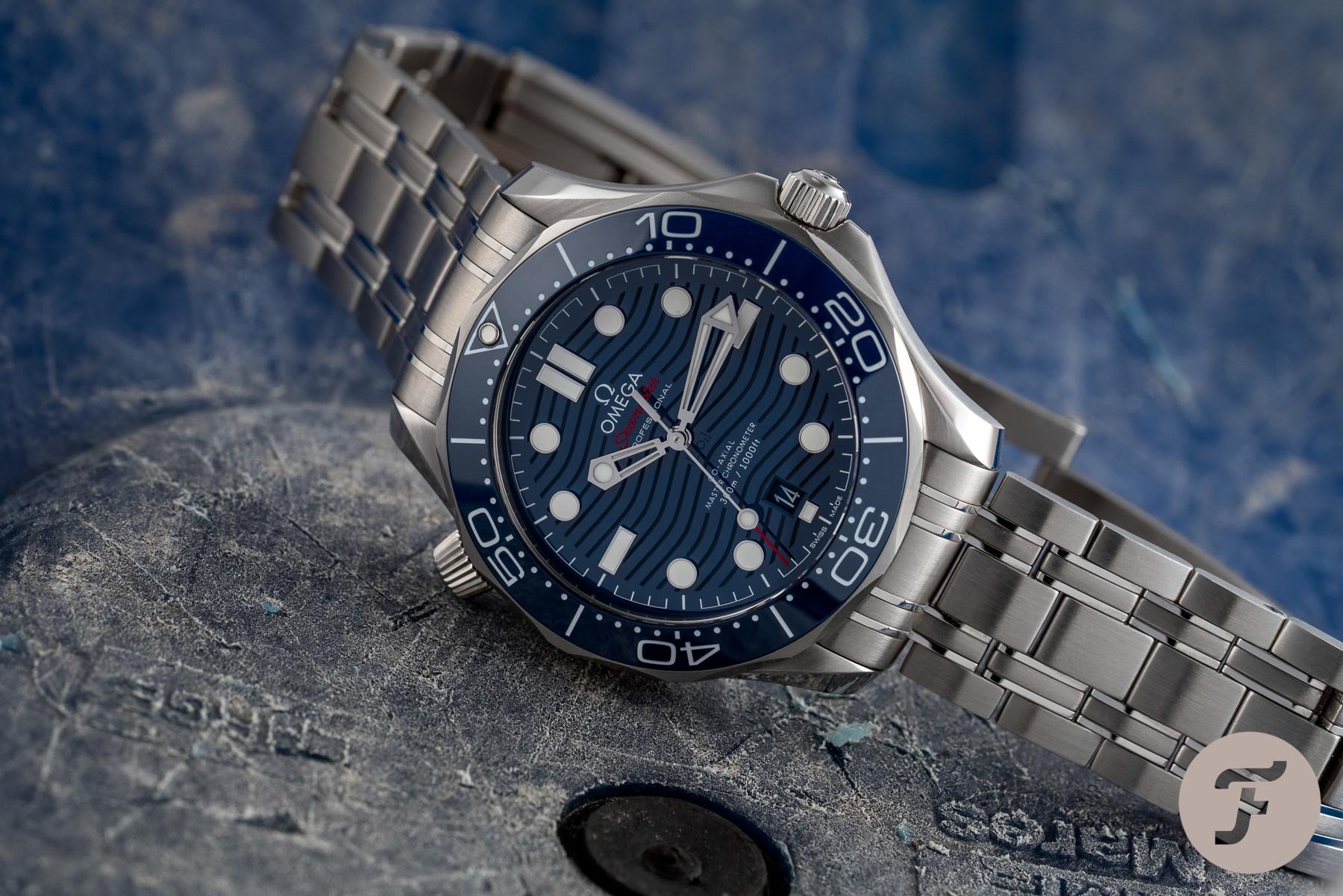 Omega's lugs
The lugs themselves don't vary much from one another. The profile features the iconic straight taper down towards the strap or bracelet, leaving all the curves to the actual twist. The proportions change from watch to watch, with small ladies' Aqua Terras appearing to have longer, stretching lugs whereas some men's models appear somewhat stubby as they sweep in to meet a 20mm-wide strap.
It's with the Diver 300M line that one sees any real variation. These watches feature twisted lugs that curve out towards the bracelet or strap, adding some flair to the design and curve to the overall profile. All in all, Omega's twisted lugs are measured exercises in design, continuing to breathe life into a concept the brand got very right in the 1960s.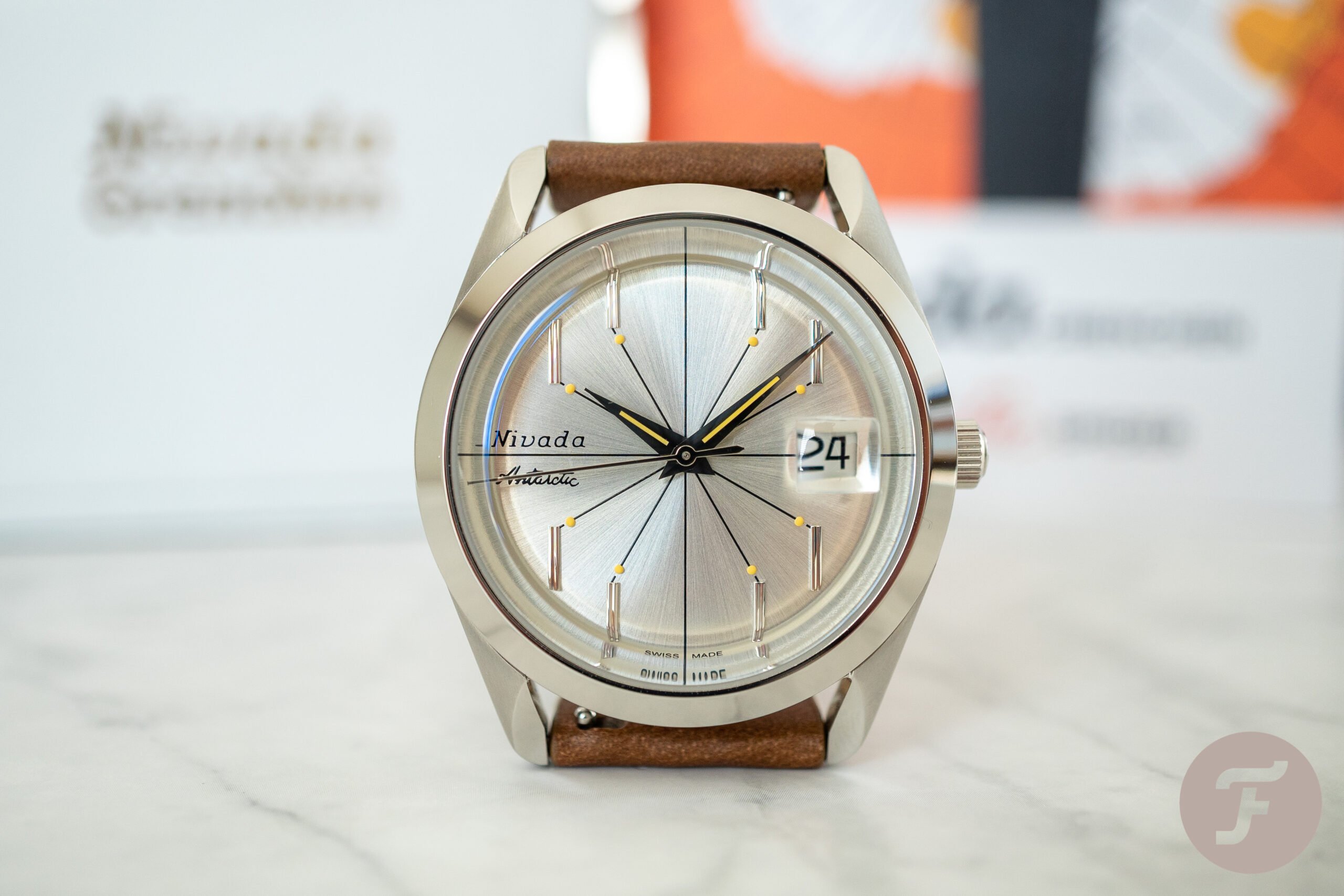 Nivada Grenchen's twisted lugs
Beyond Omega and its lugs, there are other companies that recreate twisted-lug watches from the past. Nivada Grenchen's Antarctic watches have historical significance rivaling that of other better-known companies. Nivada Grenchen supplied watches to the US Navy for an Antarctic Expedition in 1957. The requirements for the watches were that they be waterproof, self-winding, and resistant to magnetic fields. Nivada met those requirements with the Antarctic watch. It also happened to be quite good-looking.
Ignoring all other aspects of the watch, the lugs have a unique quality to them that no other watch company (to my knowledge) has replicated. They are not true twisted lugs. They are, in fact, heavily beveled from the top, which creates a scooped effect down to the end of the lugs. It's a simple manipulation of the metal, but one that pays off in good looks it has no business having. In certain lights, the lugs absolutely looked twisted in their own way.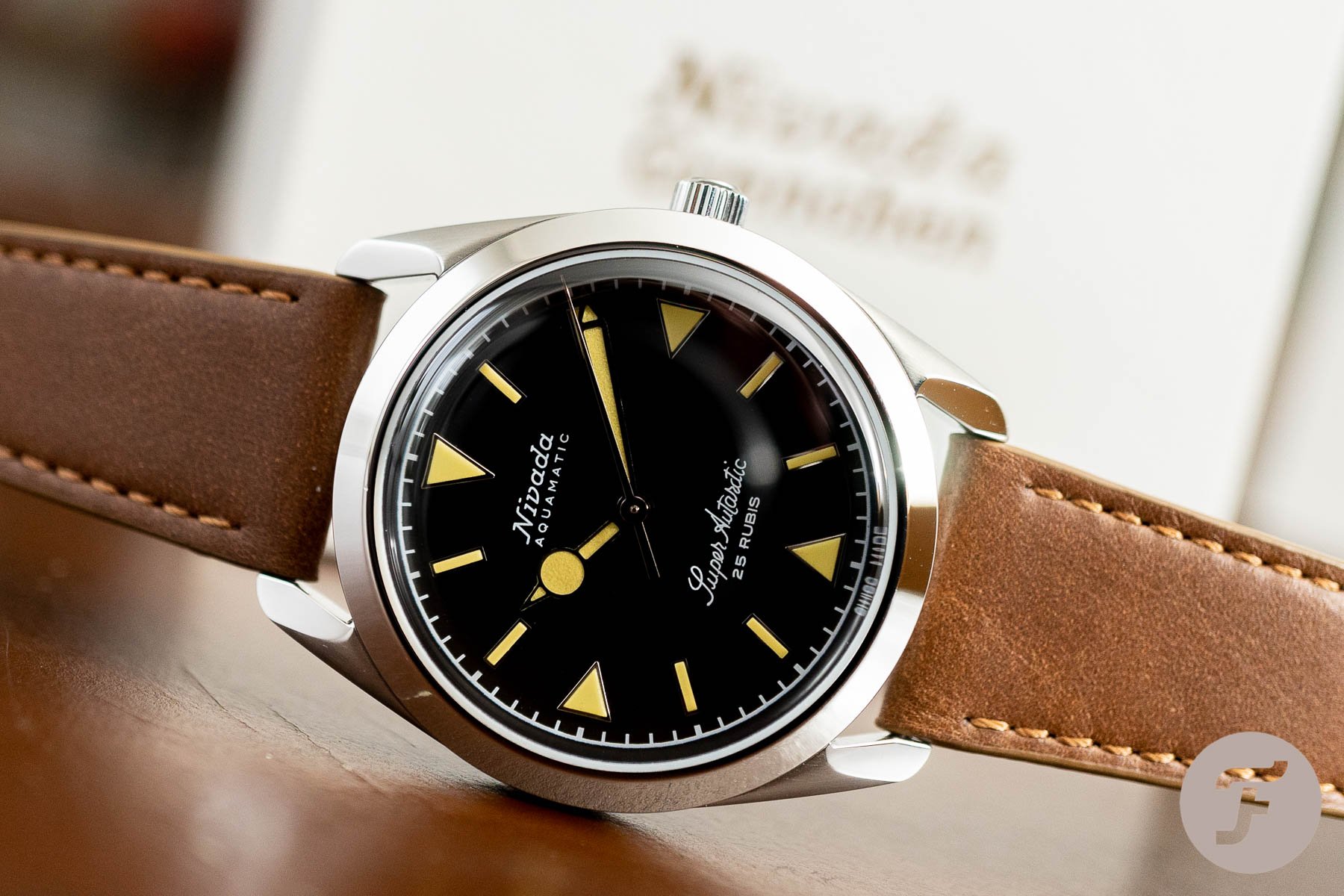 The 1950s were when twisted lugs were coming into their own. The design hadn't solidified yet, and consensus on approaches seemed to be more reliant on widely distributed generic watch cases than discussions on design purity. Nivada might've seen the trend and looked for a way to emulate it inexpensively. Or, Nivada might've happened upon the beveled lug and decided it was good enough, and maybe even better than some other examples of twisted or especially Bombé lugs.
Nivada Grenchen makes certain models from the original Antarctic line today, recreated with modern amenities like a Soprod P024 automatic movement, sapphire glass, and contemporary sizing at 38mm. But no matter what has changed in these modern iterations, still present are the Antarctics' striking beveled lugs.
Serica's "half-twisted" lugs
Serica, French watch brand and watch enthusiasts' darling, is nothing if not intensely design-focused. It pays, too, as its 4512 field watch and 5303 dive watch look good and are highly sought. It's in the 5303 dive watch that we find some novel approaches to watch design, including in the lugs.
The lugs on the 5303 are what I can describe as "half-twisted" in appearance. In actuality, they are little more than downward curving lugs that have been heavily beveled from the outside. The visual effect from straight on is of twisted lugs à la Omega, but whereas Omega's lugs are truly twisted and have downward-sloping surfaces on the inside of the lugs, Serica's 5303 does not. Instead, the "inner" part of the lug is flat and the outer surface of the lugs slopes down and away from the center. Are the 5303's lugs truly twisted? Like with Nivada Grenchen, no, they are not. But for appearances' sake, they are, and the approach imparts a unique quality to the 5303 that I haven't seen anywhere else.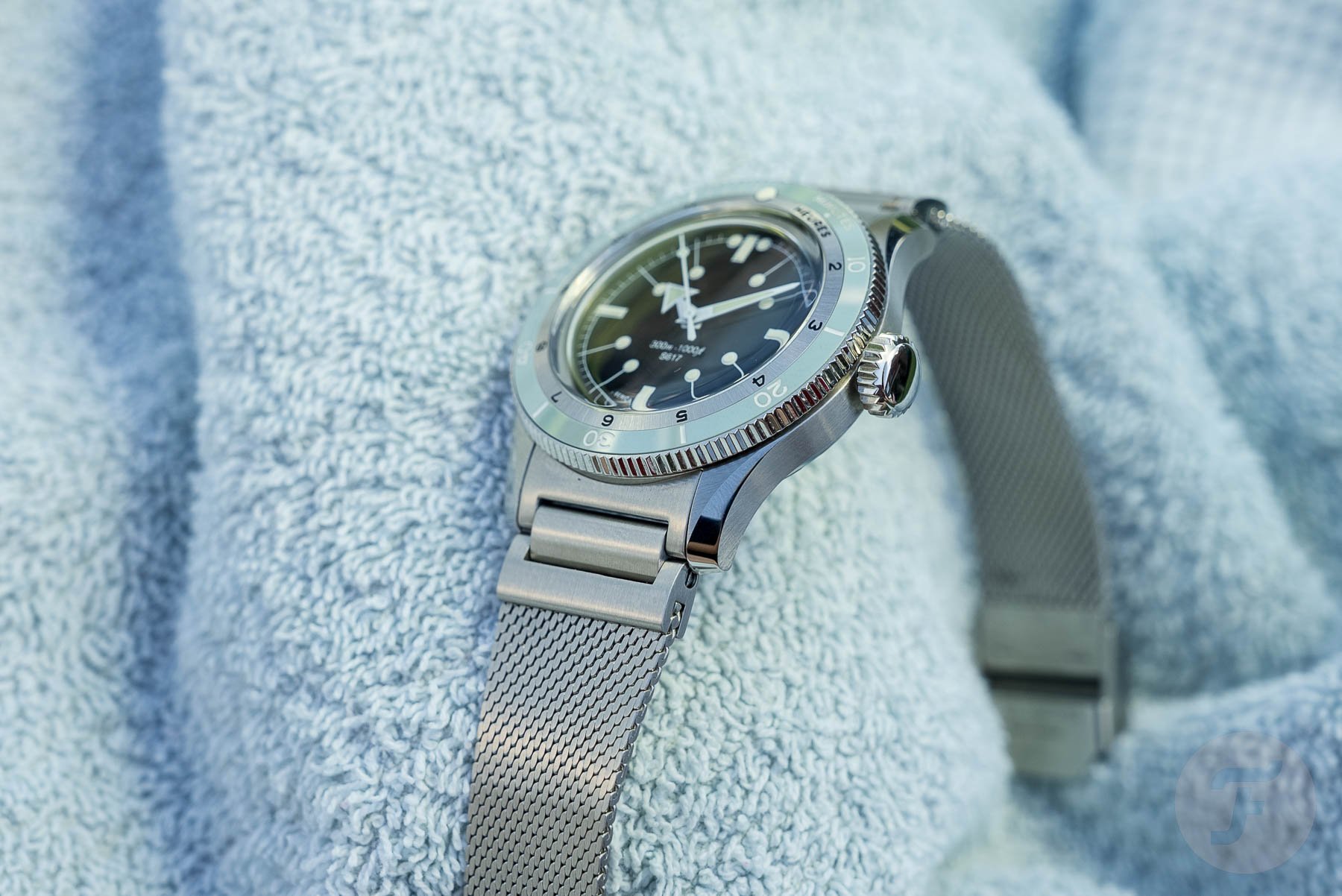 With Serica's mesh bracelet that accompanies the 5303, the half-twisted lugs are a definite win. The horizontal tops of the lugs match the incline of the end links of the bracelet perfectly, forming a cohesive union. For a tool watch, it really seems like the best of both worlds. One is able to have the appearance of twisted lugs without the crevices (perfect places for gunk to accumulate) that accompany them. They may not be truly twisted, but to what extent are any lugs physically "twisted" to achieve their shape? Twisted is all about appearances, and as far as appearances go, the 5303's lugs look good.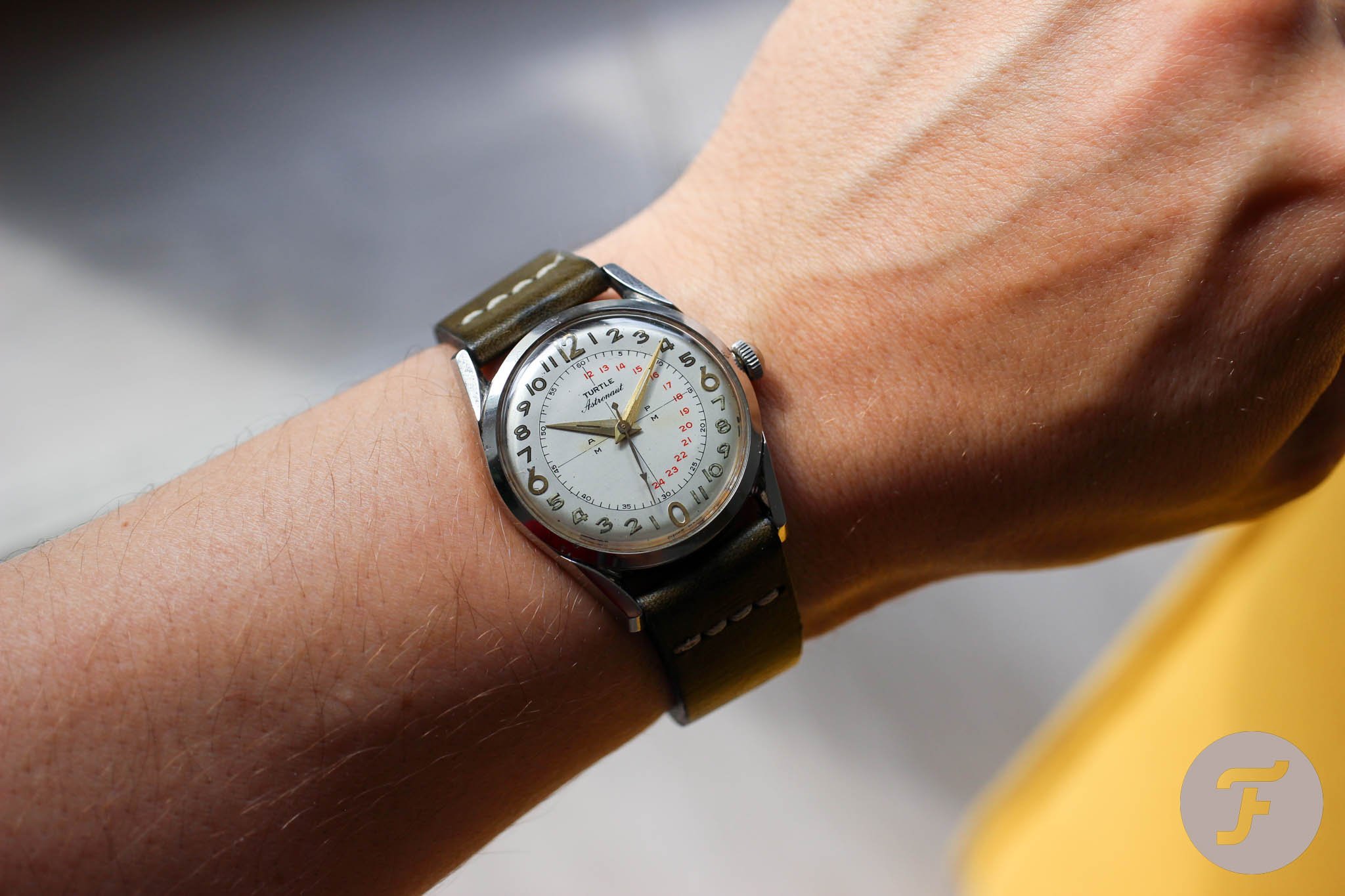 Some twisted and not-so-twisted lugs
Twisted lugs and their relatives are classy elements of watches. By my tastes, they're also a little too rare today. Is it that they will forever be relegated to watch design from the middle of the last century? Will they only be thought of as Moonwatch derivatives? Is there hope in novel, non-twisted alternatives that play the part, like in what Nivada Grenchen and Serica bring to the table? I don't know, but if you do, let us know in the comments below.
And what do you think about twisted lugs? What watches with the form do you most admire? A lot has happened since NASA sent men and their watches to the Moon. Regarding watches, sometimes it seems not much has changed. That can get frustrating at times. But in the case of twisted lugs, it's a relief.
You can find more of me on Instagram @WatchingThomas.