#TBT My Woven Salmon Jardur
Finding pleasure in the little things
If you're after a simple watch with lots of charisma, you should definitely look at some vintage Jardur military pieces. Here is a watch that fits that perfectly fits that description — a 34mm beauty with a salmon dial.
With a budget way south of €500, you can discover some pretty amazing time-only vintage pieces branded Jardur. If you're lucky enough, you can sometimes even find them for just north of €10. I follow them on eBay, even after I scored this one maybe three years ago. I was just too lazy to delete my email crawler, so eBay keeps me fed with new listings once they go live. And I'll tell you, they don't come every week or month, but they do pop up quite regularly, at least a few times a year.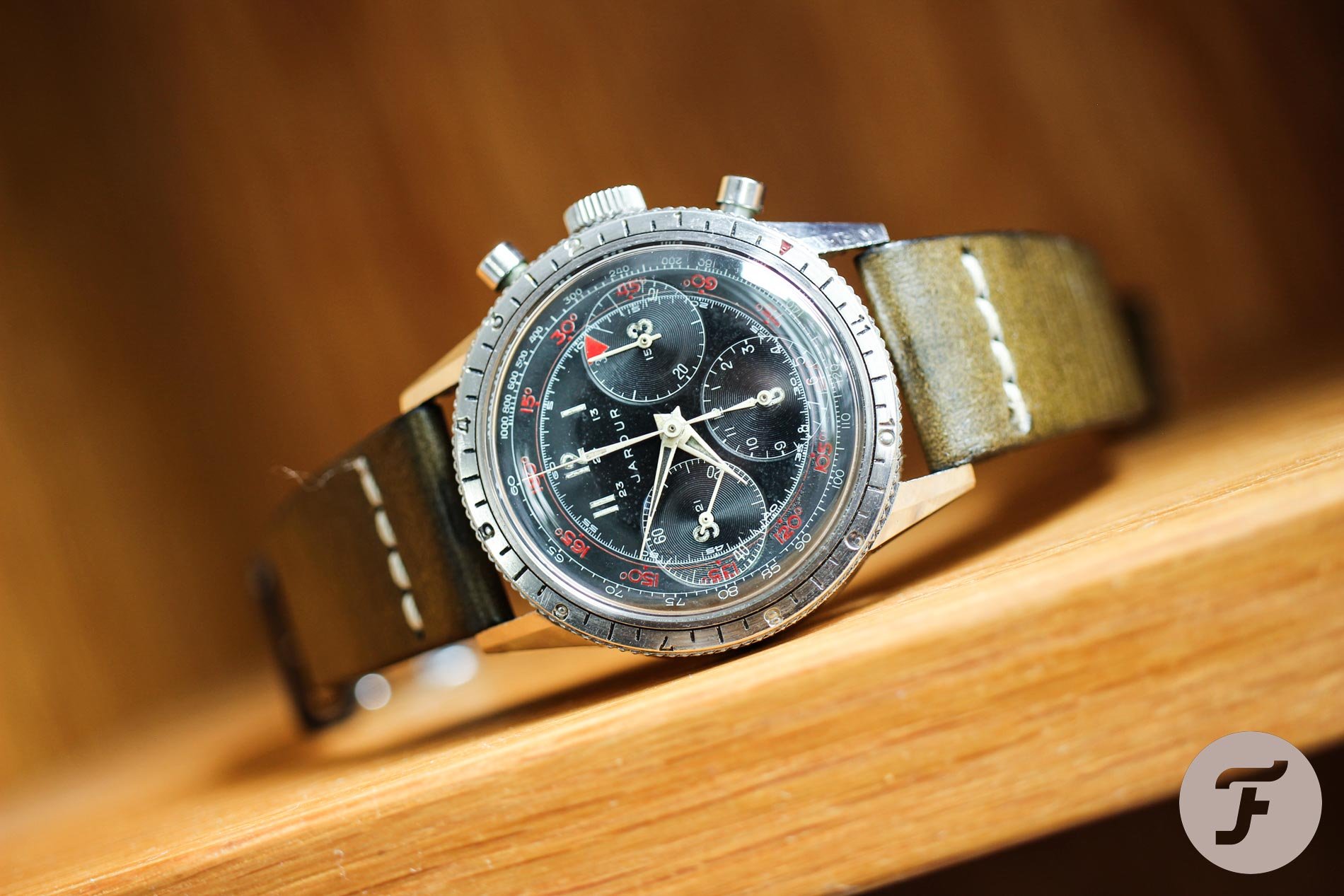 Jardur again
Jardur is not the most familiar name for many collectors, but it's highly rated among educated collectors specializing in chronographs. The Jardur Bezelmeter Chronograph not only has an unmistakable and outstanding black/red design but also a unique degree-meter scale that allows pilots to use it with the chronograph to calculate turns. It was calibrated to a standard turn rate of 3° per second. If the pilot wanted to make a 90° turn and activate his chronograph at the beginning, he just had to look carefully at his wrist. At 3° per second, the pilot would reach 90° right after the central chronograph hand passed the 30-second mark.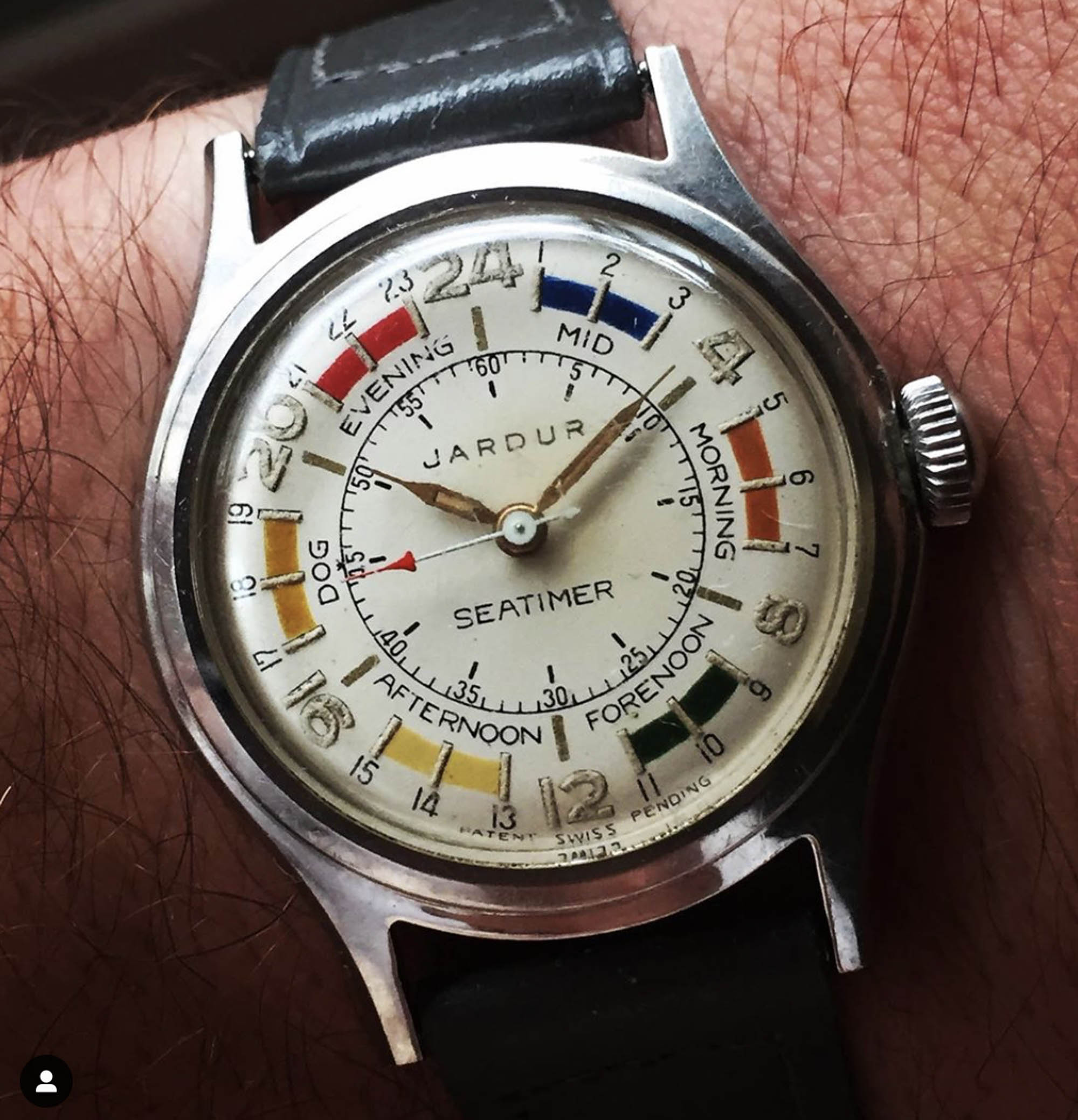 Dog watch
Jardur had even more truly unique pieces in its product lineup, one standout being the Jardur Seatimer. It's also one of the watches that I allowed to slip through my fingers. It's one of the most playful, vivid, and intriguing 24-hour watches I have ever seen. I am not sure if I will ever bump into another one, especially in such crispy condition. And if you're wondering what the "Dog" marking on the dial means, you might want to look into naval history. In marine terminology, "dogwatch" is a two-hour work shift sometime between 16:00 and 20:00 (here, between 17:00 and 19:00). What a timepiece!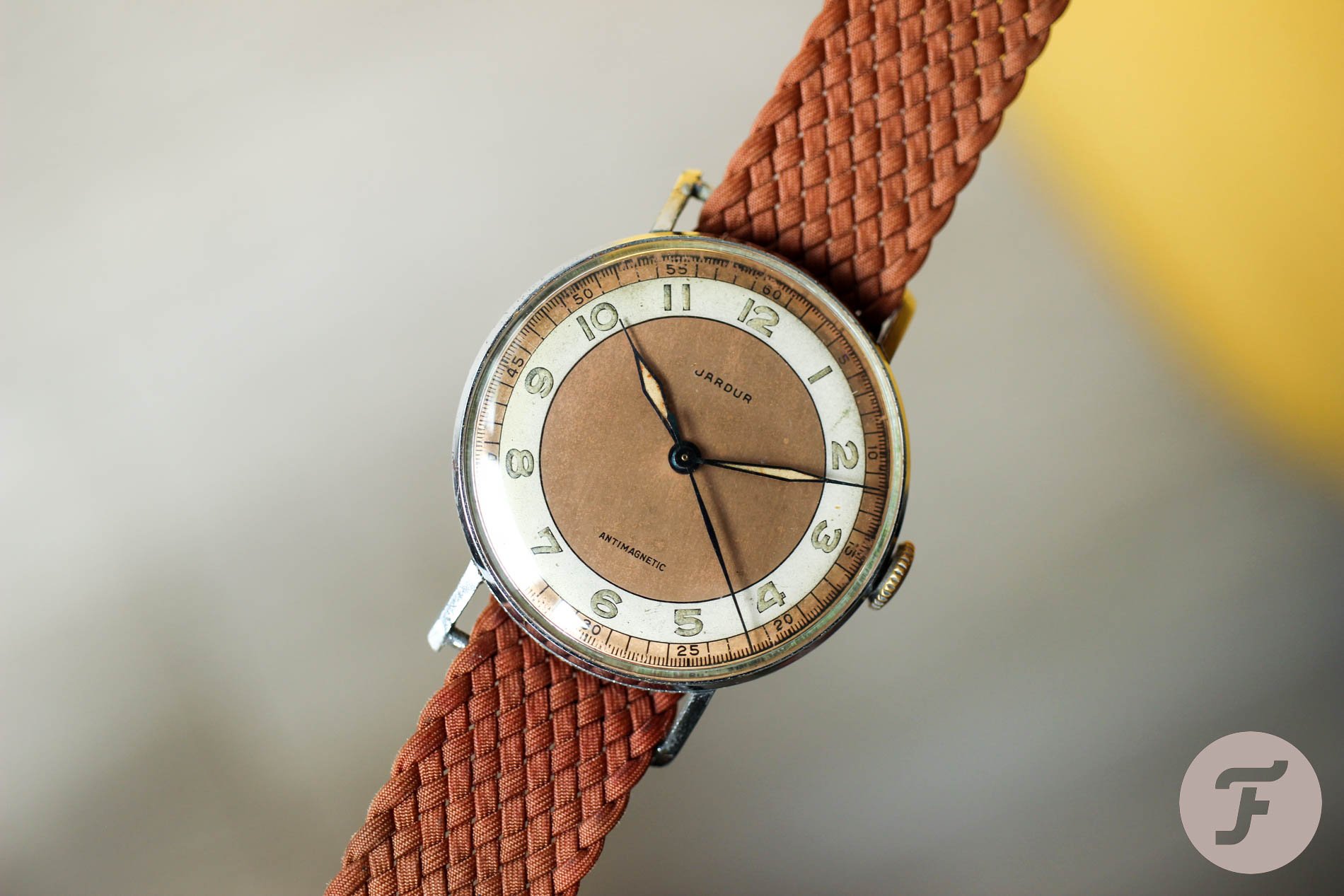 Salmon time
As I mentioned, today's hero popped up on eBay three or four years ago. The seller did not put much effort into the photos and listed the watch with pictures taken indoors. They didn't show the watch in the best light, but the warm salmon dial instantly reeled me in. I believed it would come alive once the crystal was cleaned and the watch was taken into the sunshine — and I was right!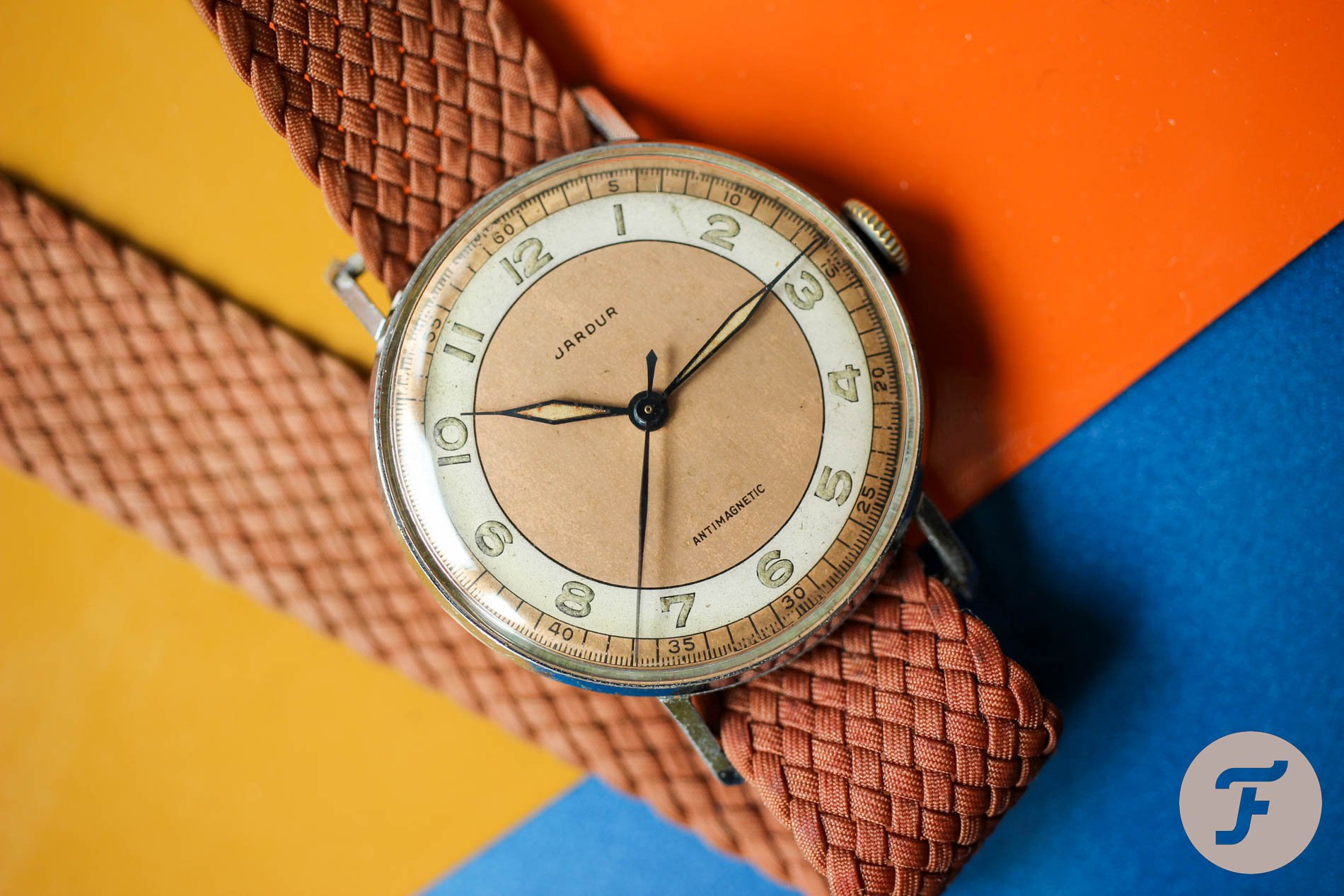 The perfection of the dial
The central salmon disc is outlined with a thin black ring that contrasts nicely with the white hour track. The salmon color runs under the hour track and bleeds out to the minute track around the edge of the watch case. That means the striking hour track sits "sandwich style" between two layers of salmon. It's not only a nice design element, but it also makes the dial clean and perfectly legible.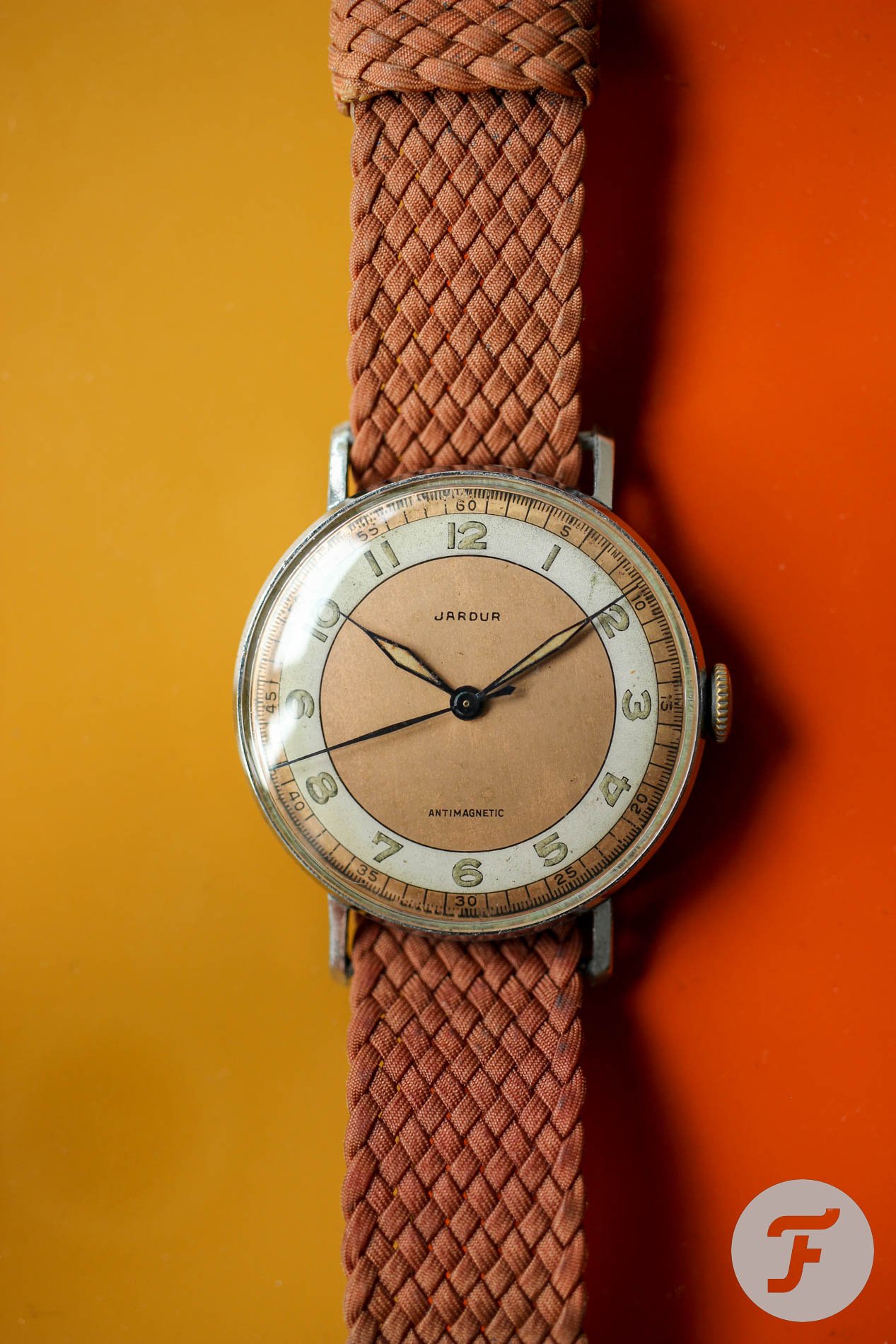 Long hands
The rotation of the hour numerals underlines the round and concentric design language. This font is quite fresh and sporty, and the beefy radium gives the numerals a warming vintage feeling. The best thing is that the elegant sword hands still have the original lume, which has aged consistently with numerals. The warm yellow patina that develops dark or rusty spots around the hands' edges is what you pay for when looking for an original vintage watch. Notice also the shape of the central seconds hand, which gives the watch a touch of detailed craftsmanship.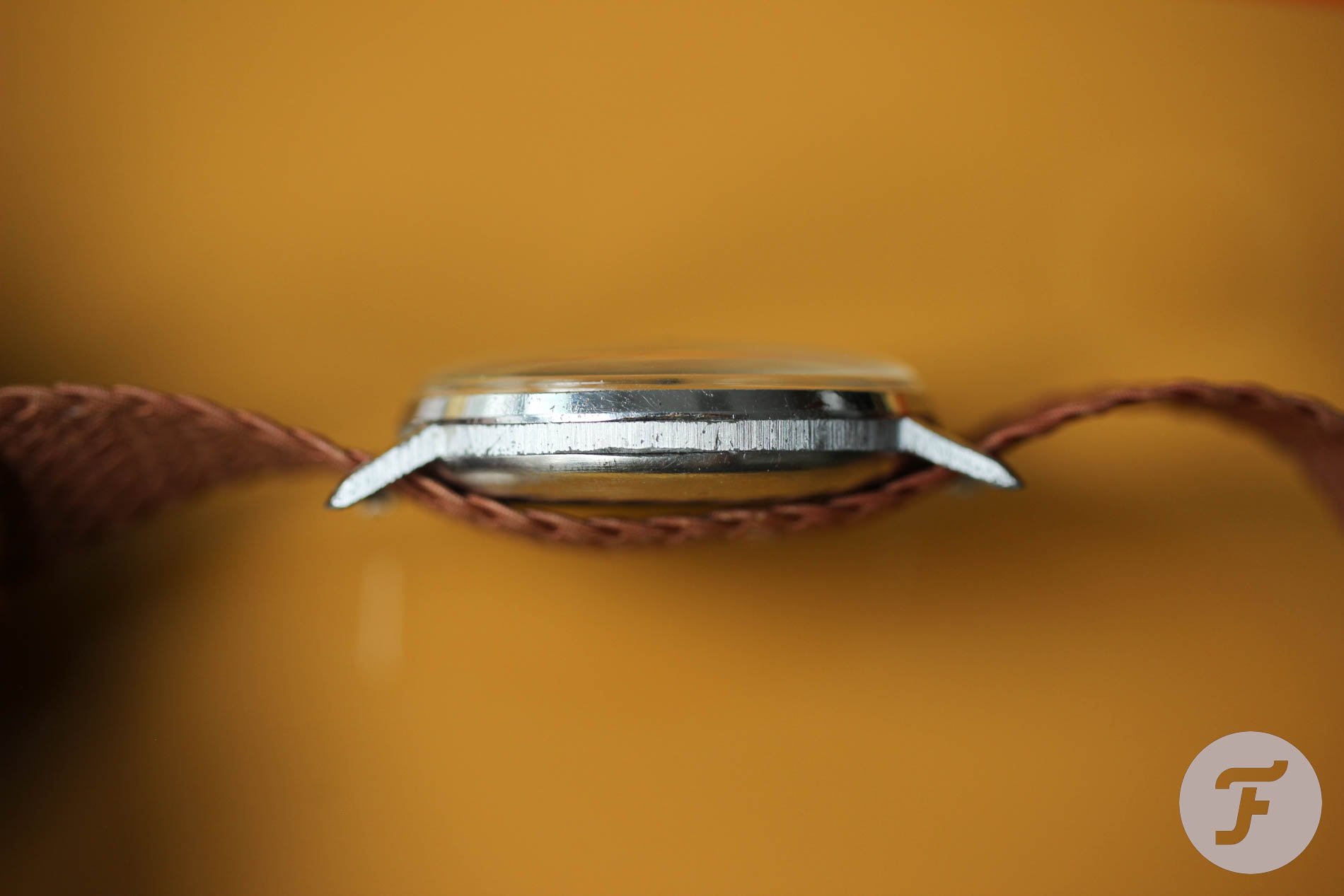 The case
Some might feel disappointed that this Jardur has a chromed case. Well, I don't mind at all. Even at 34mm in diameter, the dial is so eloquent that the watch doesn't get lost on the wrist. In direct sunlight, it's blindingly warming, while in a dark meeting room, it feels metallic and cold. The slim case with stick-like lugs developed a lot of tiny dings and scars all over its surface, but these only add to the charm. The thing is, this case doesn't cross that line where too much of the chrome is gone. Once that happens due to aggressive sweat, what we now call "character" can easily become a gross show-stopper.
Woven experiment
As this salmon Jardur has fixed lugs, it was not easy to find a strap in my inventory to pair with it. Looking through some old stock, I found a light brown woven strap on the bottom of my strap box. I'm not even sure why I decided to keep this one. I remember that it arrived all dirty, but instead of throwing it away like I always do, I gave it multiple spa sessions. I felt potential, and it paid me back, I believe. If you look carefully at it, you can notice that I changed the old buckle myself and stitched it again with a matching but striking orange thread.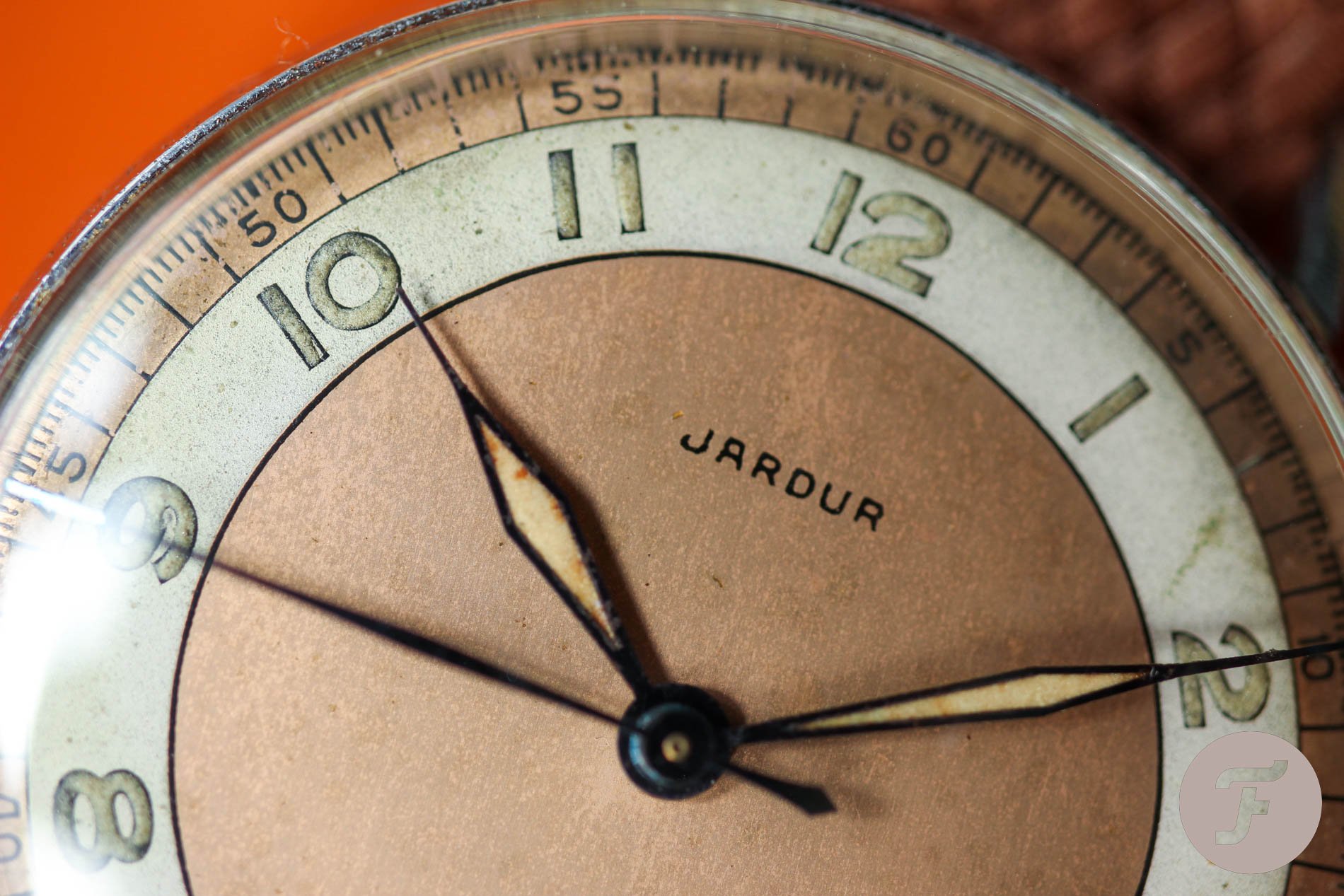 Last thoughts
Winding the Pilgrim-signed movement is quite a pleasure, thanks mainly to the slim crown, which I believe is original to the watch. The long lugs give this salmon Jardur more substance than it actually has when it sits on the wrist. The watch pairs well with a shirt and a sweater, and I wear it on different occasions. I am happy I went the extra mile with this strap too. Instead of throwing it out, I put in some effort, and after a while, I found a watch that was a perfect match. Happy hunting!