#TBT To Relume Or Not — What Does One Do With Vintage Watch Hands?
A troubling Thursday question
I thought I was an "as-found" kind of a watch collector. Just get a watch serviced, and that's it. That was until I found a beautifully patinated all-black Gallet Multichron 12 with a portion of lume missing from the minute hand. That got me thinking… should I relume or not?
What was I to do? One part of me wanted to keep it that way as almost a sign of respect for what the watch was. Now, I don't want to overcomplicate the sentiment here, but just as I don't try to change people and I take them "as-is", I always thought I'd prefer to take a watch with all of its dents, scratches, and even little cracks on its Plexiglass crystal.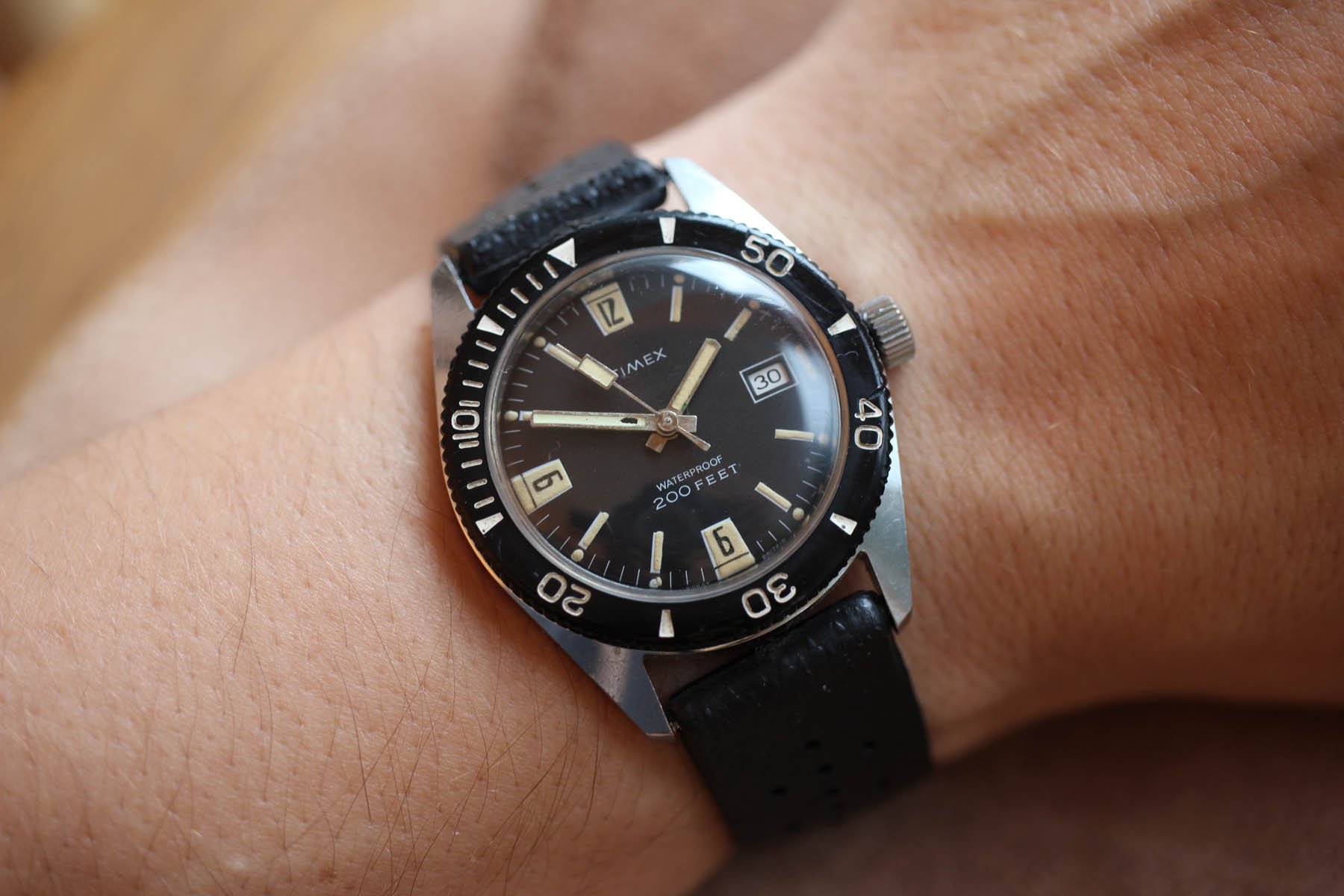 Missing lume
Honestly, I had not faced this dilemma before because I always preferred to buy watches in a nice condition. When I saw a watch with lume missing, it was a show-stopper for me. I decided I'd rather skip it and wait for another one to pop up. I assume that question gets a bit trickier when it comes to rare watches. In cases like those, you can't be as picky.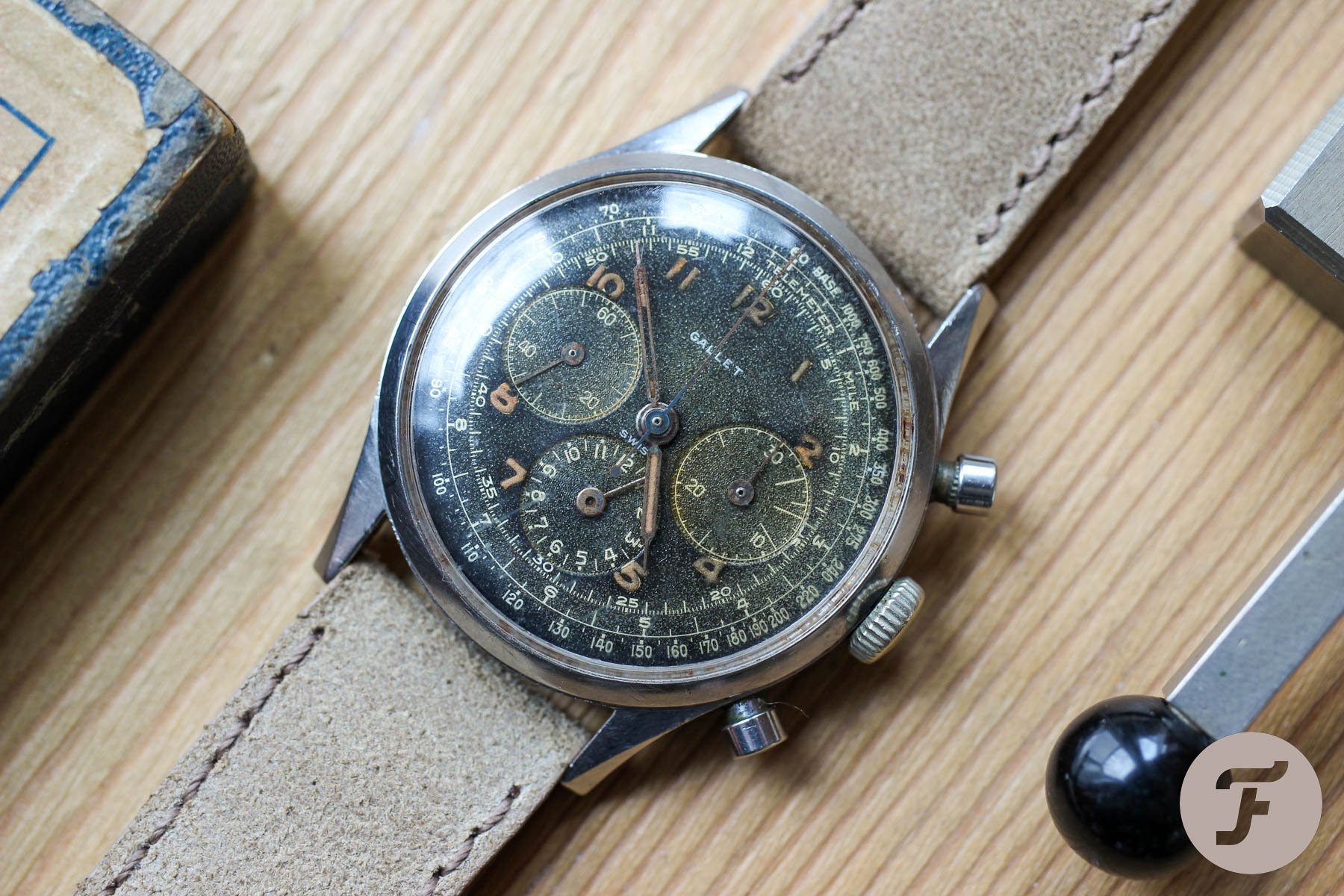 Legibility issue
Last year, I bought a beautifully patinated Gallet Multichron 12 and wore it proudly since day one. I really liked how it came alive in direct sunlight. The only problem was that the minute hand was slightly bitten by rust and missing some lume. On the pale "stardust" dial it really got drowned out, and I had a real problem reading the time quickly. The more I wore the watch, the more got the feeling that I should relume the hand.
Months of indecision — to relume or not?
The "keep it as-is" part of my consciousness couldn't bear the idea of reluming that hand. The other part of my brain, however, always asked, "What does 'original condition' actually mean?" This term is used to describe an unmolested watch that hasn't any replacement parts or a refinished case. If you think again, though, "original condition" also means that the watch comes with the lume sitting where it's supposed to. So I had a Gallet Multichron 12 in original condition that was not so perfectly original anymore.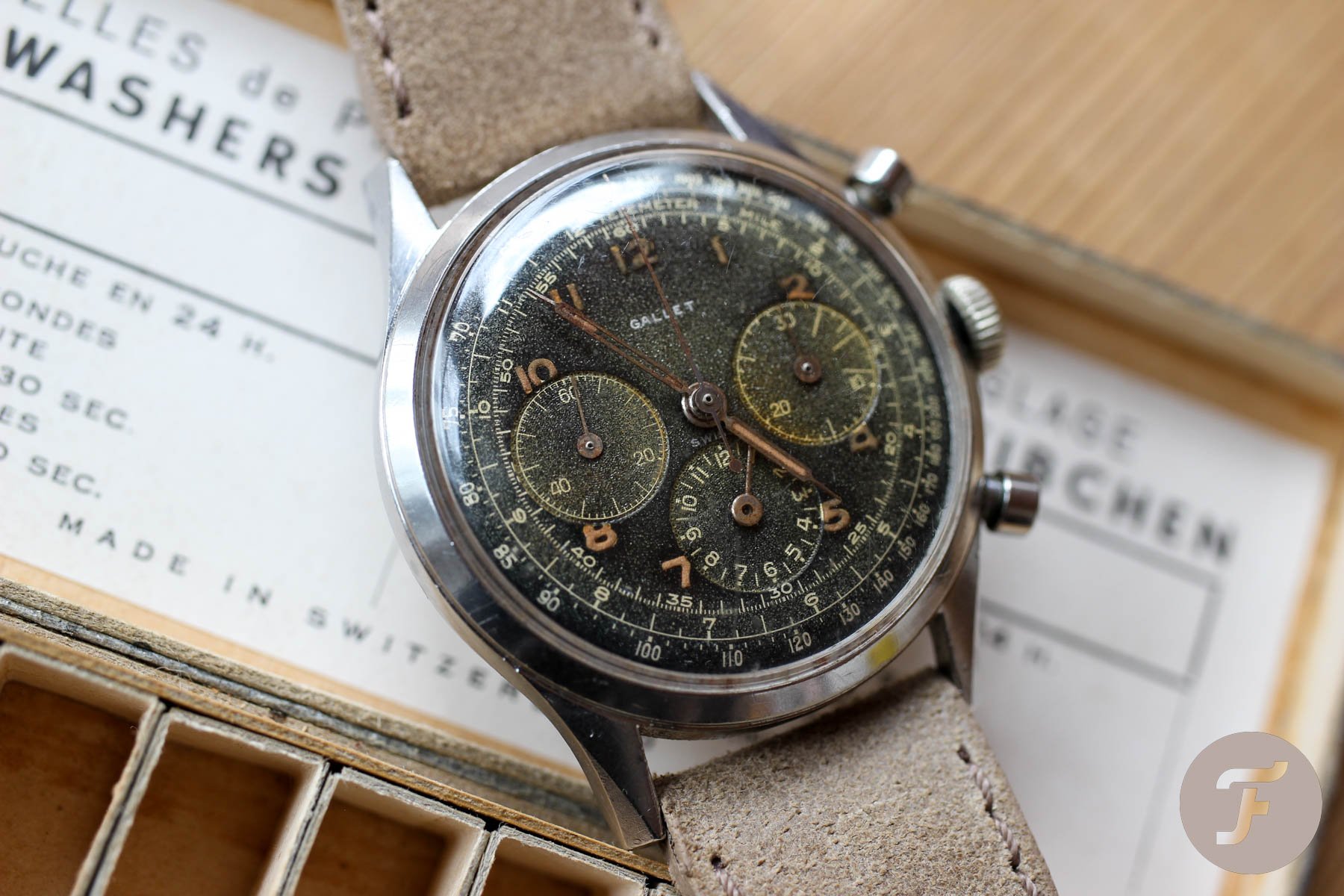 Individualistic approach
I believe that each watch needs to be treated individually. The scarcity, historical significance, or provenance also plays an important role in making a decision of what to do with the hands. My Alpina 10 Seastrong comes from a Swedish diving pioneer who got it when he was 16 years old. He is almost 80 today. I gently removed a small stain on the dial, but I didn't touch the crystal. It has hundreds of dives, and for some reason, I felt it needed to be left there as a memento. On the contrary, I had no problem giving a light polish to the Gallet Yachting I also got from an original owner. As you can see, there are no overarching rules on how I treat my vintage watches.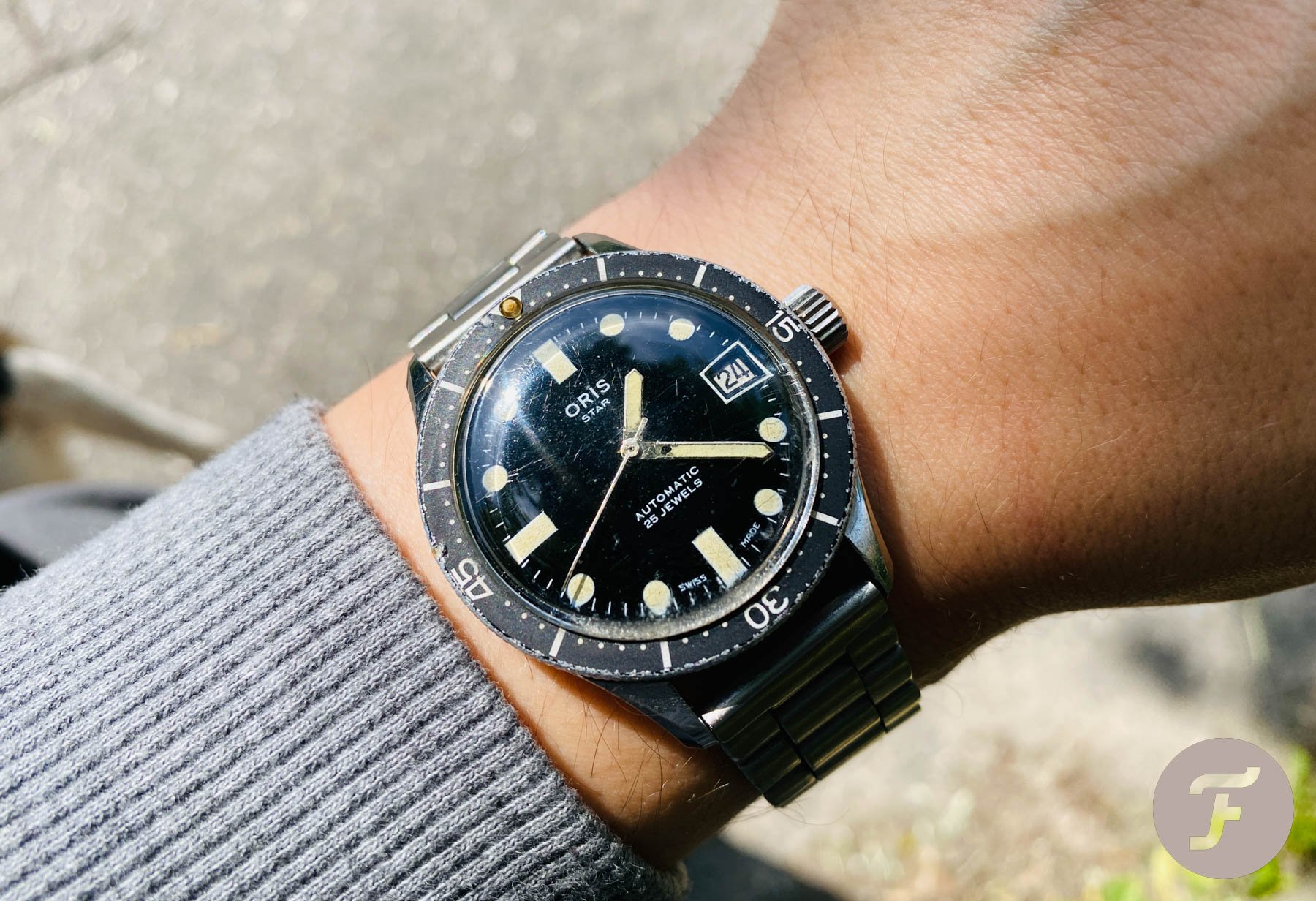 Making a decision
And there are way more examples. Last year, I wrote an article on my Oris Star, a watch on which the lume gets premium attention. This watch also came in original condition and with an original bracelet as well. I wrote an ode about hands back then. You realize that the bit of metal is there just to hold the big, fat slab of lume in place. Despite the slightly disturbing chip in the lume, I haven't thought for a second to get it fixed. It looks just a bit more badass with that hole in it.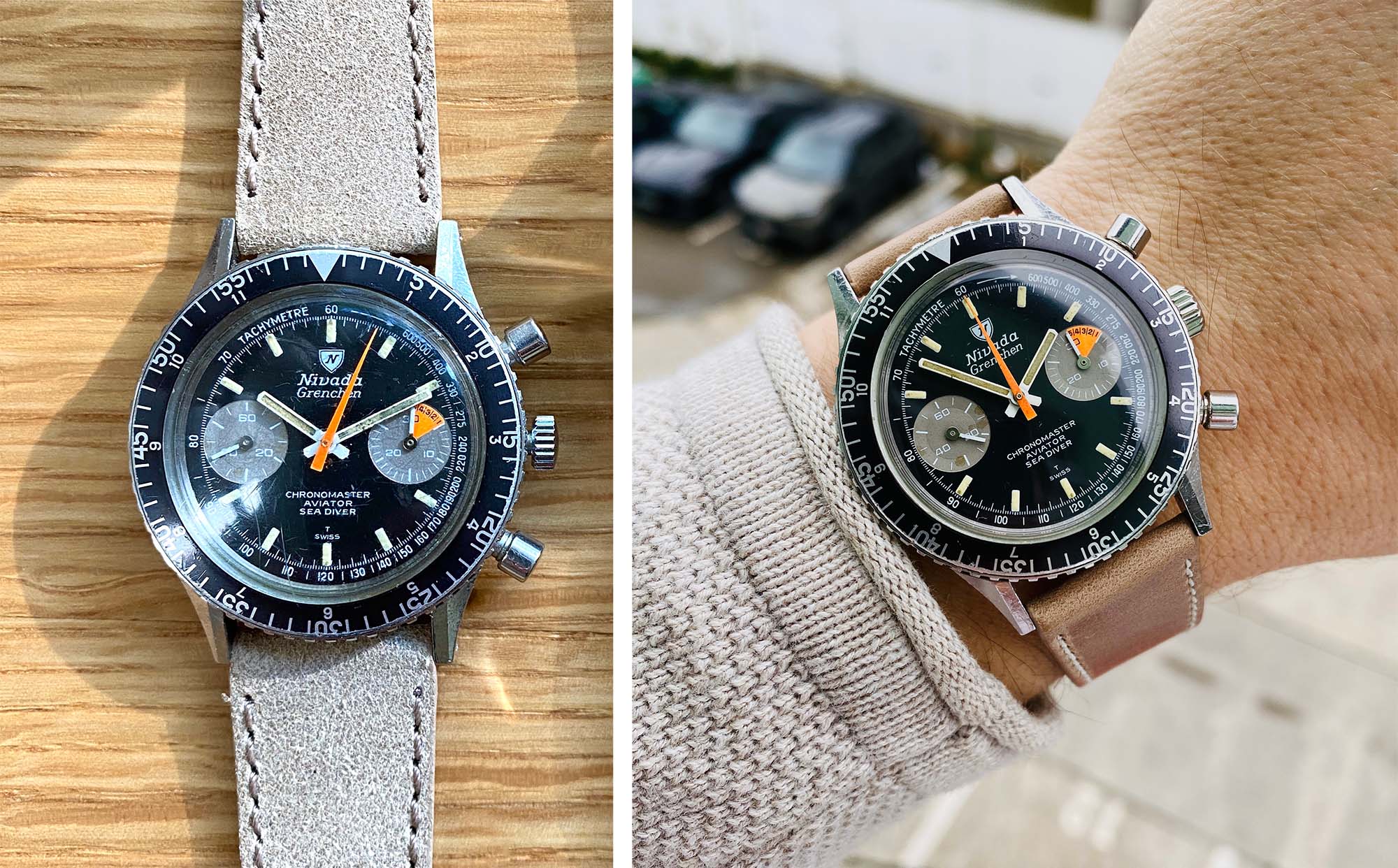 When lume reapplication becomes inevitable
I also have quite-rare Nivada CASD with white baton hands, gray sub-registers, and an orange five-minute countdown indicator. It came in fully original condition with a not-so-often-seen original crystal. It came from a priest in Austria who thought that the watch had never been serviced. The chronograph was stuck, so it went to my watchmaker for the spa treatment. Unfortunately, despite my watchmaker being super careful, the lume was so rotten that it fell off instantly. That was before we managed to fix it from beneath. The good news was that we could use the same material again. As a result, I got matching and basically still-original lume.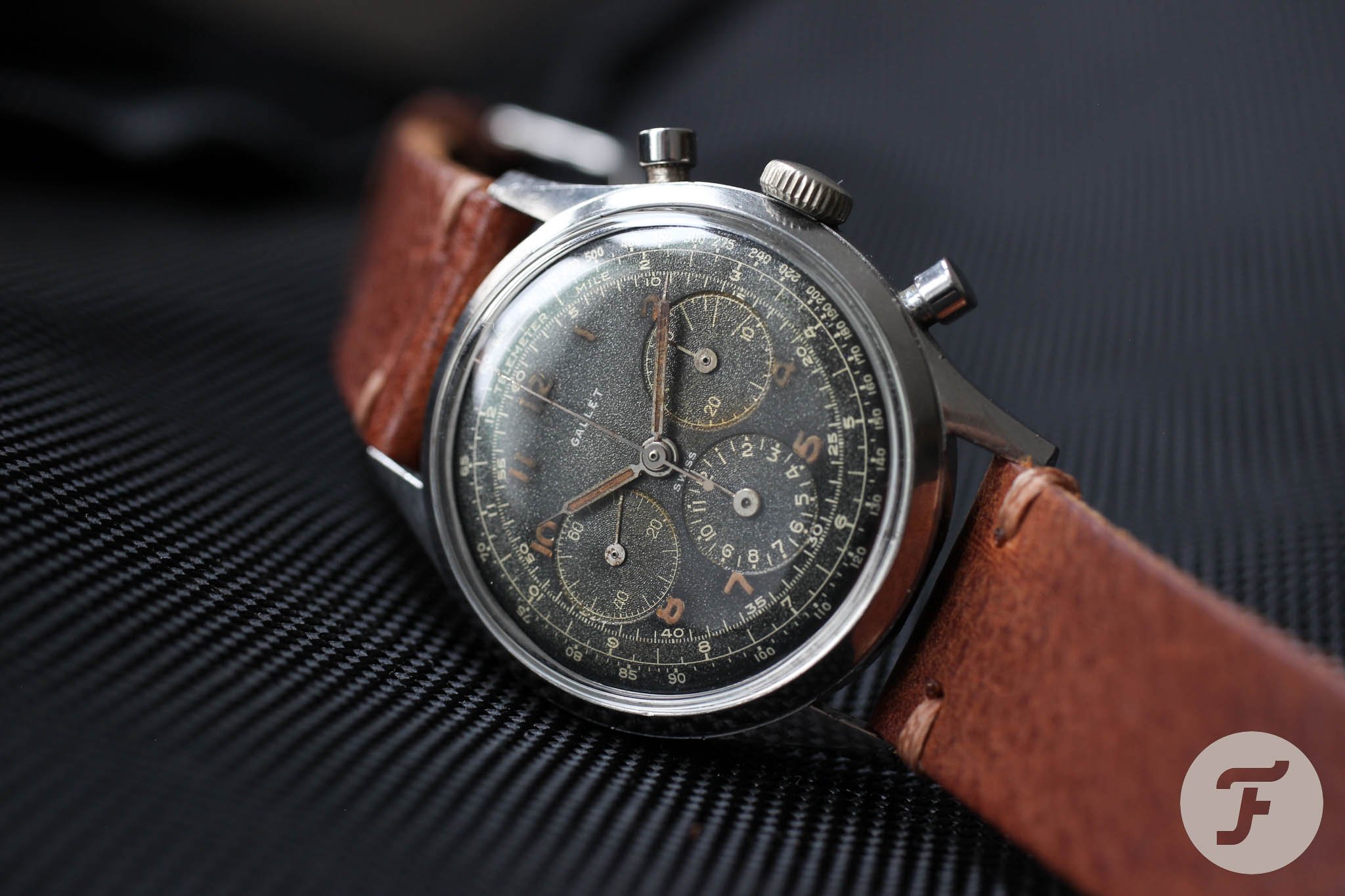 Back to the Gallet Multichron
I had no material to re-use this time, but I couldn't look at the bare minute hand any longer. I decided to relume it in a gentle way so it matched the hour hand perfectly. My watchmaker had to "mix" it so precisely, so even the best collectors wouldn't guess the hand was relumed. Above, you can see the result for yourself. Even under UV light, the hand doesn't shine strikingly, and it matches the original lume of the hour hand.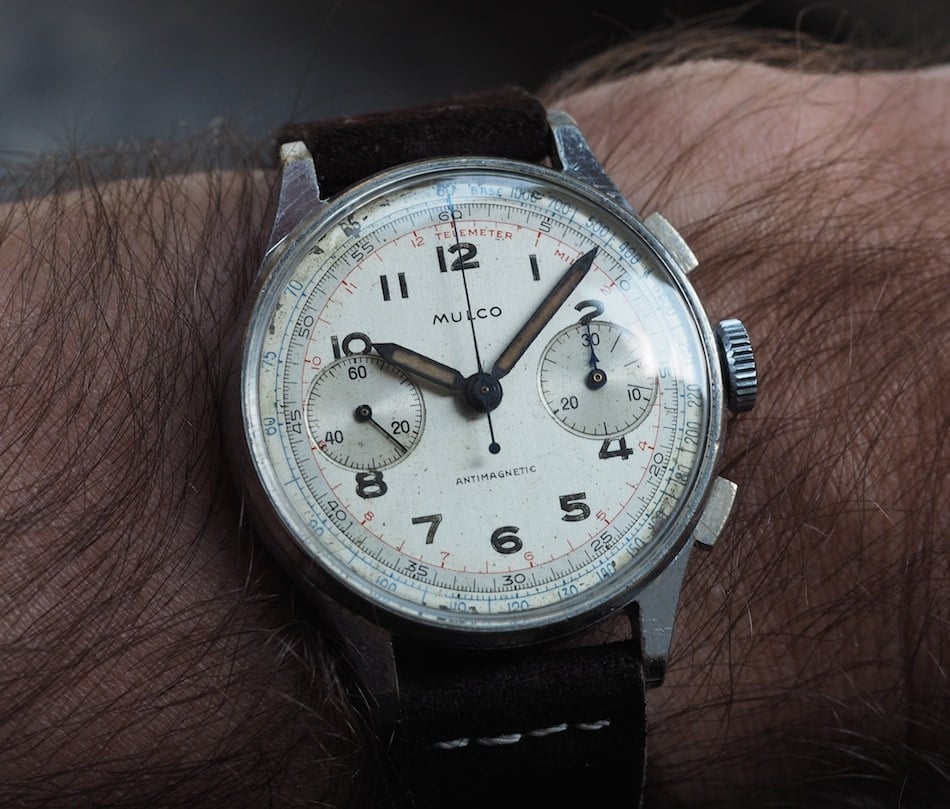 What do others think?
I reached out to some respected collectors to see what they think about reluming hands. I showed them high-quality photos of my Gallet Multichron 12 in both as-found condition and after I got it relumed. "It depends on how well it is done. If the after-lume picture is the result, I would relume," says RJ. Mike chips in with his opinion too, and says, "I think with adding lume, if there is nothing there, it's fine." Mike did that with his Mulco and correctly points out that it can be reversed.
A delicate job
Getting the lume done right is not a trivial task to accomplish, and it requires some real skill and experience. "I put it there like five times until I was completely happy about it," says my watchmaker Tomas with a grin on his face. He knows how demanding and critical I can be sometimes. RJ adds, "Thing is, I had a relume job done once, and it was a disaster. On a Speedy. But if the result is really good, I don't mind. To me, the fun in collecting and enjoying watches is also about the visual appearance/aesthetics."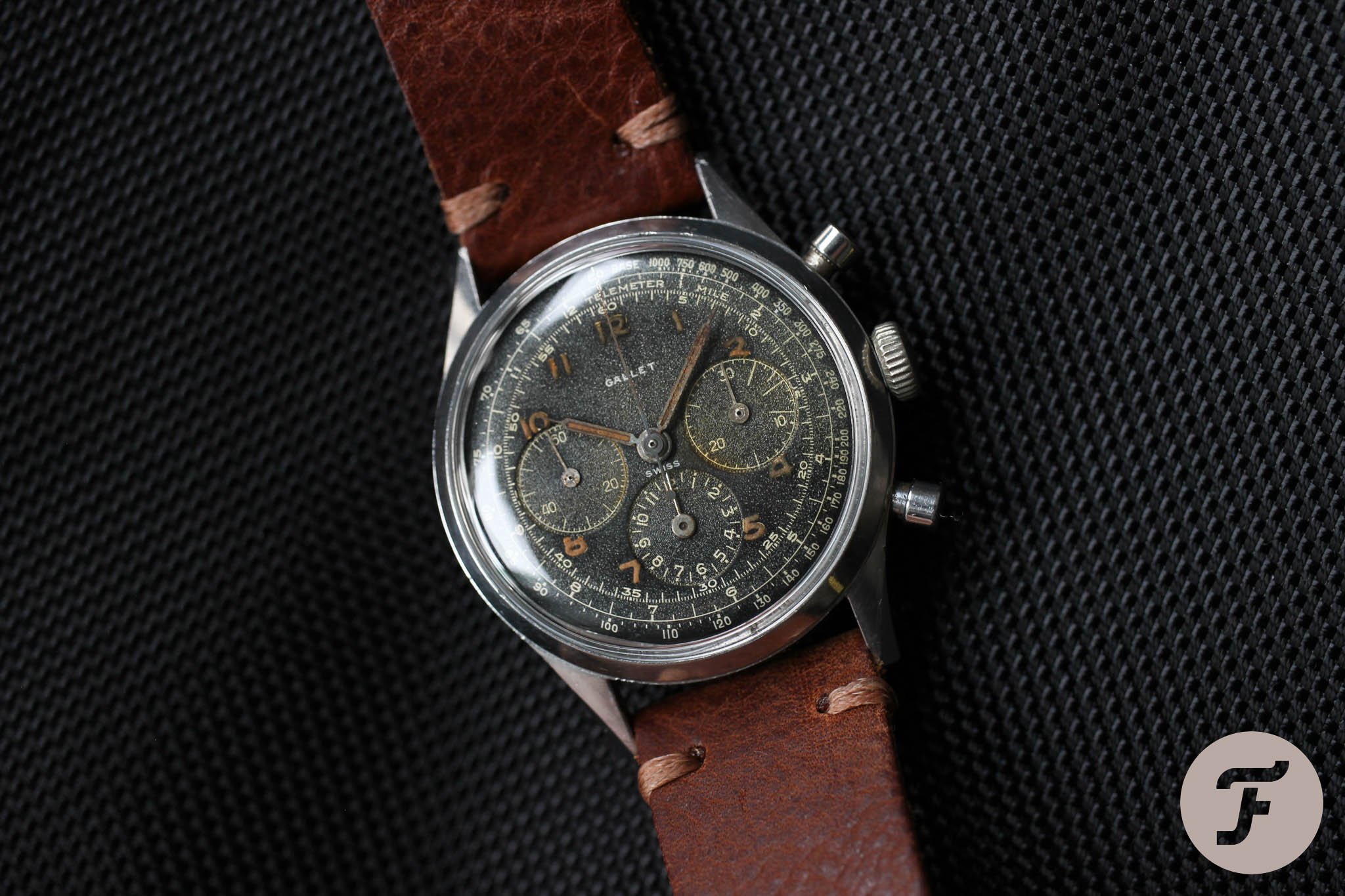 Sharing his opinion, renowned vintage-watch dealer Eric Wind adds, "My first instinct is to keep watches as original as possible. In general, though, I am not a huge fan of hands missing lume. It is sort of like a model missing a front tooth — not as appealing. In addition, when lume is missing, it seems there is a greater chance of the rest of the lume falling out, and if the lume dust goes down the center post, it can damage the movement." For that reason, he is also in favor of stabilizing the lume as needed.
Untouchable? Maybe not
Avid Breitling collector Fred Mandelbaum offers another angle to take into consideration. "I have done that on several of my watches over the years where there was missing lume in the hands. None of us know how often that was done on our watches anyway. It was standard procedure during professional service."
So, here is a question for you — would you have kept the hand on my Gallet Multichron 12 "naked", or would you have gotten it relumed like I did? Let us know in the comments.