The Sky's The Limit: Blowing All Budgets With Six Glamorous Uni-Compax Chronographs — Patek Philippe, Omega, Hublot, And More
Whether you choose to daydream or sell your car, your grail chronograph could be in this story
Did you read my stories on uni-compax chronographs within $1,000 and $5,000 budgets? If so, you might already have a newfound love for this genre. While you might expect this part to have a $10,000 budget, I'm jumping the shark and going straight to chronograph heaven. With a budget envelope saying, "The Sky's The Limit," the choices are as difficult as they are dangerously tempting.
What if you are unrestrained by monetary worries, or like me, you enjoy a good daydream now and then? What do you buy? At this level, the chronographs available range from classic elegance to futuristic panache. Choose between stealth wealth, heavy glamour, and a micro-mechanical monochrome masterpiece. Not all of these will require you to sell your house, but maybe you can make do with only one car in the family.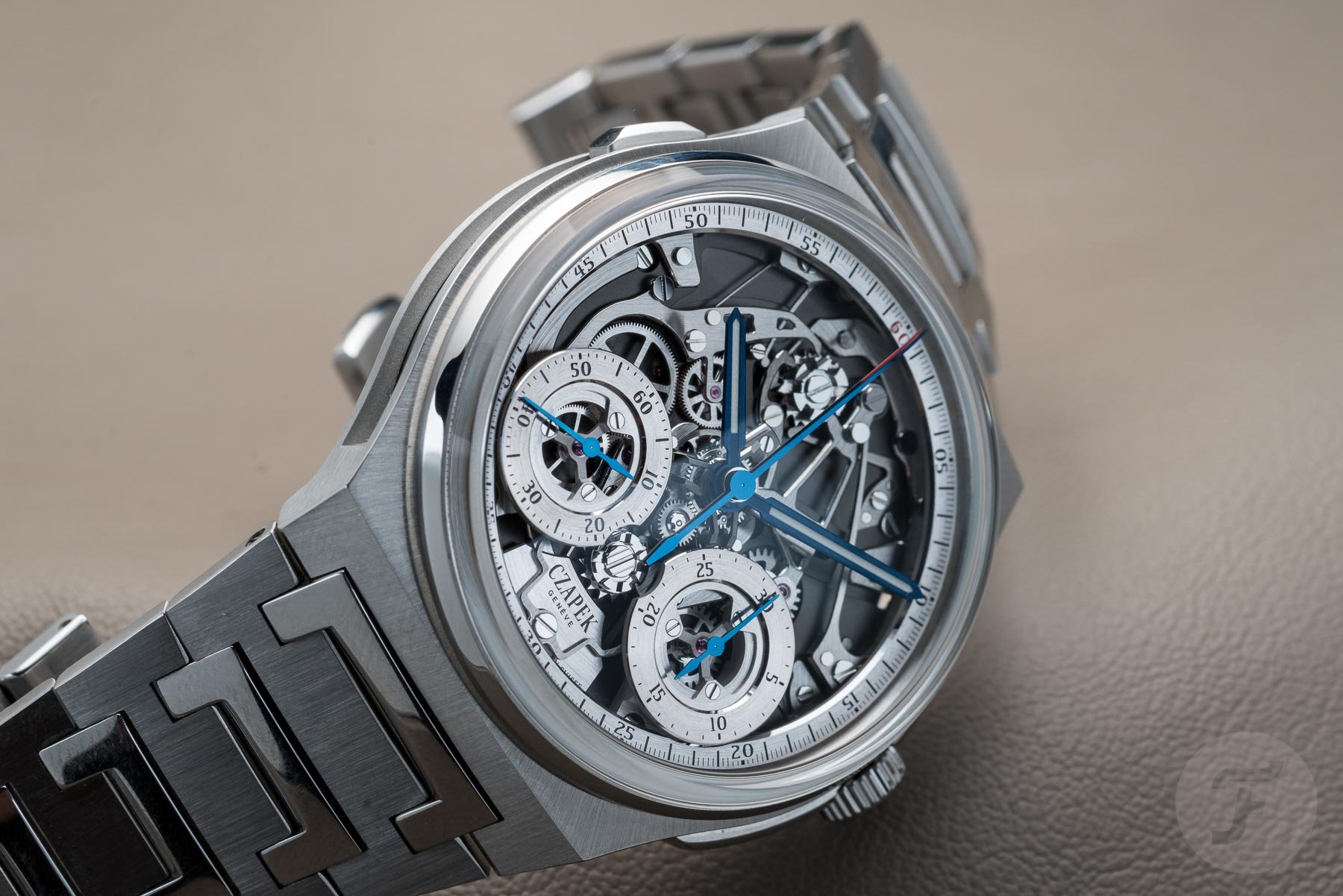 Independent panache — Czapek Antarctique Rattrapante
In a story of classic lines and precious metal, the Czapek Antarctique Rattrapante emerges as micro-industrial high tech. At last year's Geneva Watch Days, this was the first watch I tried on. I had the honor of getting the first press appointment at the Czapek showroom, and this set the bar mighty high indeed. I'm not a huge fan of skeletonization, but this one got me good. I equate open-worked dials with traditional designs and precious metal. Czapek has taken its signature dial design of two lower registers and made it a futurist inside-out dream. Set within the contemporary case we recognize from our own Antarctique, it is transformed. Über-complex while quietly confident, it's a monochrome showcase of functionality. I will admit to not fully understanding the inner workings of a rattrapante, but here is your open-worked course of chronography. Surely, this was one of the best chronographs of 2021 at $43,400.
A classy white gold uni-compax chronograph — Patek Philippe 5172G
At 41mm, some of you might consider the Patek Philippe 5172G big, and you would prefer a more svelte vintage model. But, considering the service complexities and auction prices of today, why complain? You're going to wait for your 5172G, but unlike the Nautilus, you can actually order one. And the understated elegance of the white gold case is worth it. It might be over 40mm, but the 11.45mm case thickness and short, striated lugs make it a comfortable fit. And therein lies the crux of any precious-metal manually wound Patek talisman. Wear it, for God's sake, and push the intricately detailed Tasti Tondi-style pushers. The vertically off-center registers want to relay information to you, just as the central chronograph needle hands want to time something of importance.
Believe me, if wristwatches had a soul (and they do), they would not want to remain locked in a safe. I once had the joy of reviewing a scratched-up Aquanaut, and it felt alive. At dusk, each white gold lume-filled numeral of the 5172G will glow to remind you of the functional beauty only a €71,800 Patek Philippe can bring. Obviously, any Patek Philippe is a lot more than a pretty face, powered by the caliber CH 29-535 PS. As the first in-house manually wound chronograph movement from Patek, the Geneva Seal is there for a reason. The movement was introduced in the ref. 5710 about 12 years ago, and ironically, this is rather good value compared to the ubiquitous Nautilus, as observed in RJ's story here.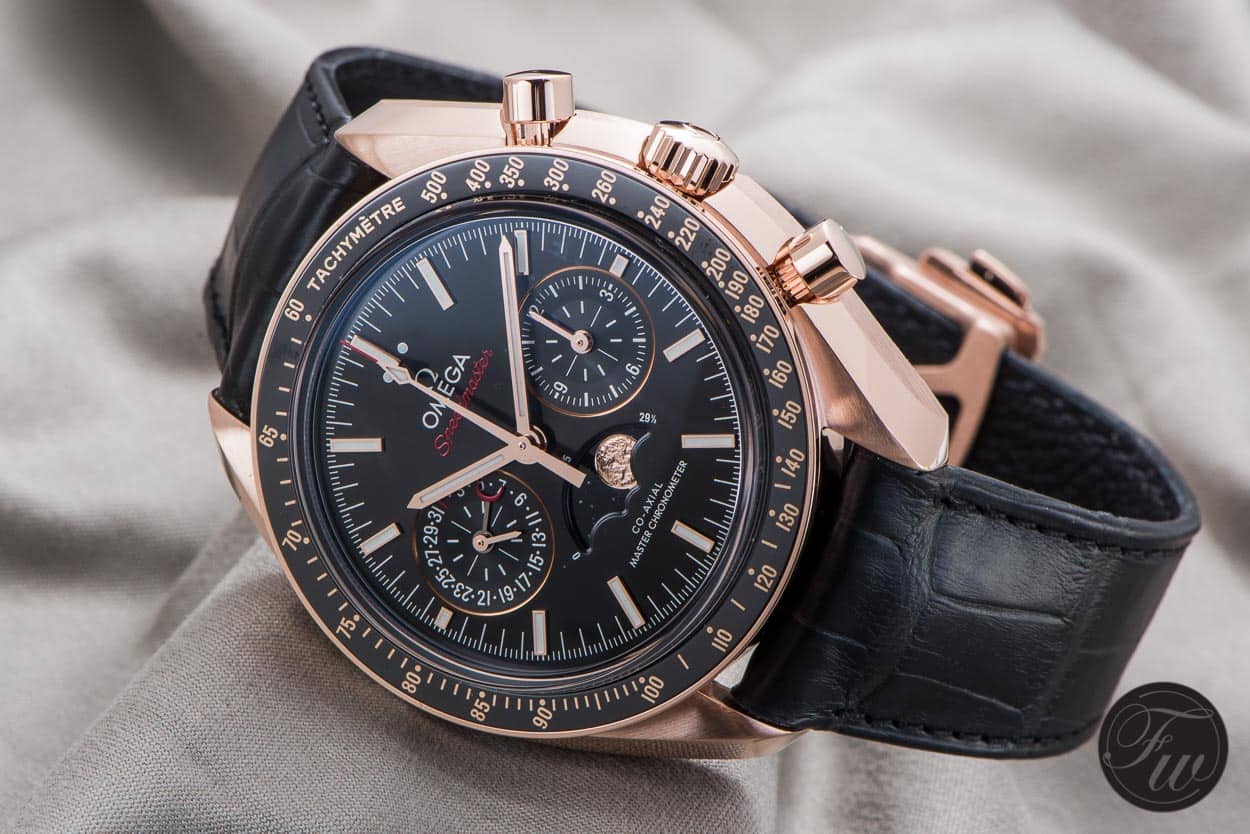 Speedy glamour — Omega Speedmaster Co-Axial Master Chronometer Moonphase Chronograph
Oh, the delights of a well-executed moonphase display. I'm sort of cheating here, as the complexities of this quietly black dial transcend a mere uni-compax chronograph. But it only took one glance at the 18K Sedna Gold hand-engraved moon floating within its crescent window to feel a pang of desire. The small rotating disc is filled with enamel and sprinkled with silver powder to represent the stars. This detail alone would make me more than happy to wear the large 44.25mm case of this glitzy iteration of the venerable Speedmaster.
The sweep of recognizable case sides is only accentuated by the deep glow of Sedna Gold, elevating the classic shape. Gold and black dial details framed by the tachymeter bezel have three touches of red to lift the design. My favorite is the jam-packed 9 o'clock register, which still manages to be very legible. The charming co-existence of a gold pointer with its partner, the red-tipped calendar hand, is simply sub-dial perfection. Available for $29,000 on a black leather strap, I'd be happy to see it on a full 18K Sedna Gold bracelet. It might make it rather weighty, but don't be shy Reinald; you can pull it off.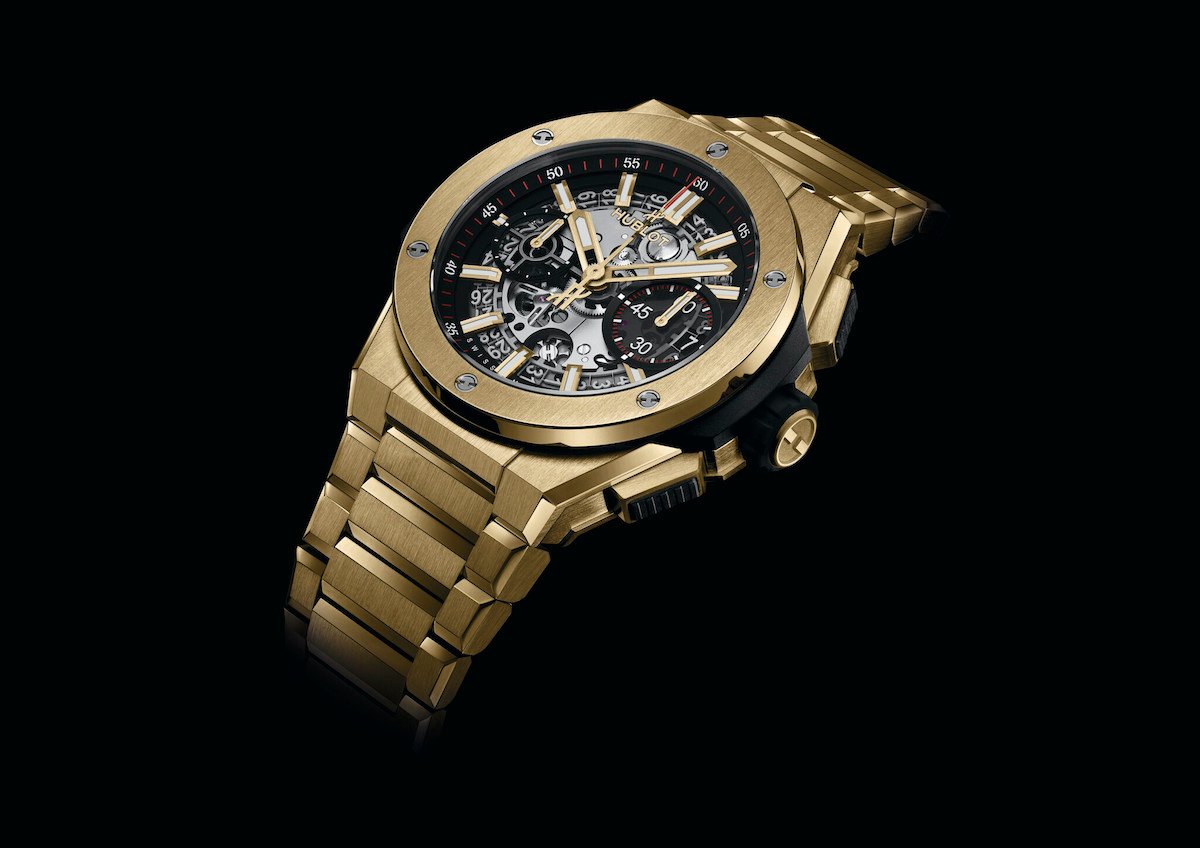 An angular heavy-hitter — Hublot Big Bang Integral 42mm in yellow gold
Should I feel guilty for wanting this? Hublot is not a brand for the wrist-shy, but it's not a brand to be scoffed at either. Hublot might do some way-out-there pieces that many of my fellow editors shy away from. But in between the bright red ceramic Big Bang Unicos and diamond-encrusted 45mm glam, there are gems. And I'm not talking about precious stones, but rather, the more downplayed style of the Classic Fusion line as well as this brash entrant into the integrated-bracelet game. You can get it in the light-weighted shade of Hublot's King Gold alloy, but I'm a bit conflicted on this. If I want ceramic I'll buy ceramic, knowing it is scratch-proof and high-tech cool. But gold is gold, and I'm not going to wear it every day, so who cares if it is softer? This is the real deal.
I'm not even going to check the weight of this 42mm blocky piece of glinting tool. I love it, even with its $52,500 price tag. With Hublot's own version of a classic big-eye layout, the Unico 2 caliber provides proper functionality with a 72-hour power reserve. Most of us will not time much on this dazzling piece of haute (should that be heavy?) horology, but let's face it — the muscular angularity of the brushed-and-polished 18K yellow gold case and chunky bracelet is cool. It's quite the opposite of stealth wealth, but why not be a bit flashy once in a while?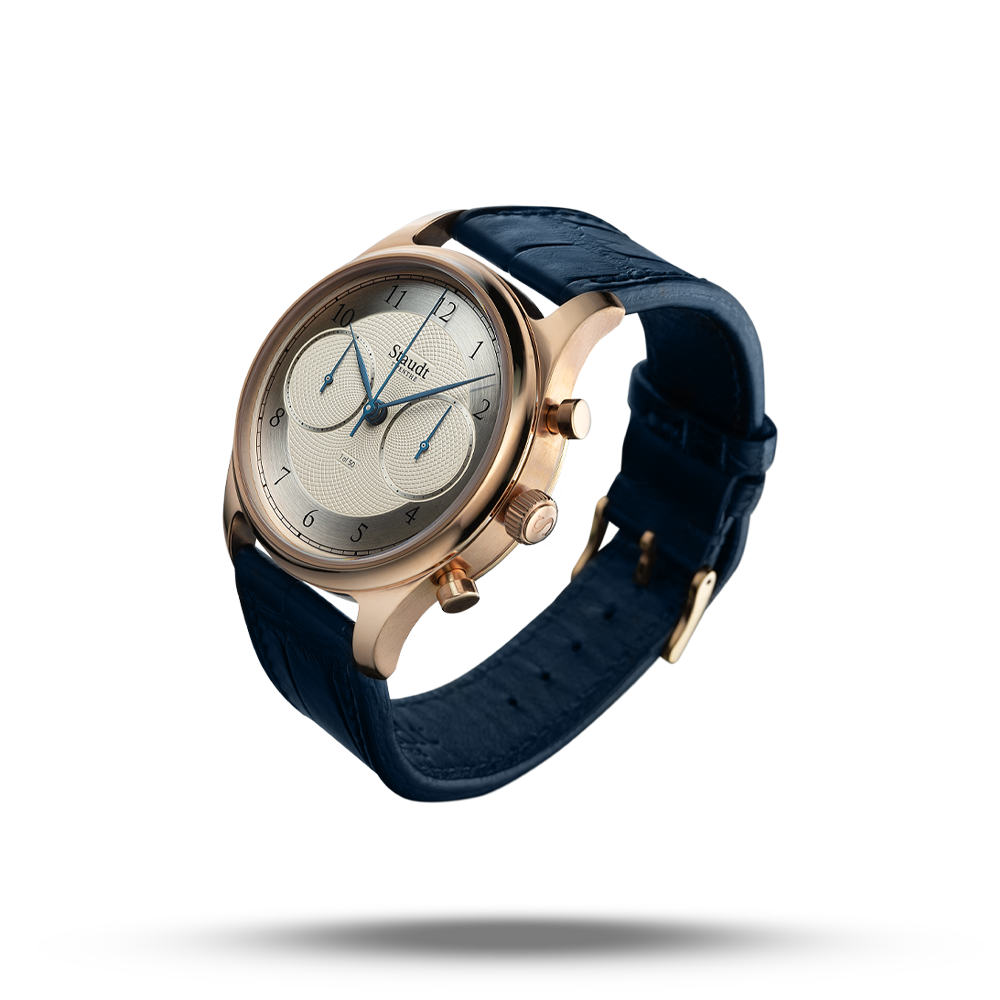 Dutch guilloché and rose gold — the Staudt Guilloche Chronograph
Staudt Chronometrie is run by the ebullient, accordion-playing Yvo Staudt, and his language is one of classicism. But this classicism is still reinterpreted into a contemporary case that is reasonably sized at 41mm. It takes three days to produce one hand-finished guilloche dial, but it might just be worth it. I do love the dark blue dial in the stainless steel case, but with the limited 50-piece ref. P42.072-A02, €17,989 gets you gold. A solid 18K rose gold case with a dark blue leather strap frames a handmade silver dial. The flame-frosted surface is patterned by hand using a rose engine, a time-consuming task we know best from pocket watches and the dials of Breguet. The Valjoux 7753 caliber presents us with two balanced registers framed by brushed chapter rings and thin, delicate blued hands. The craftsmanship alone makes the price seem like rather good value, especially for such a balanced and timeless chronograph in rose gold.
Fifties uni-compax perfection with a twist — the Vacheron Constantin Historiques Cornes De Vache 1955
I'll be honest with you, this is probably my favorite bi-compax, uni-compax, or chronograph period, so don't expect objectivity. Whichever term you choose to describe its function as a timekeeper, for me, this incites nothing but deep desire. The Historiques Cornes De Vache 1955 will always have a place on my top-three list of grails for a good reason. Last autumn, I got to try it on for size, and the experience only underlined its perfection. Its size is close to the original, but what first hits you are the lugs. As its name implies, the now-forgotten touch of swoopy cornes de vache (cow-horn) lugs brings a swoopy elegance to a formal polished case. You might find them frivolous at first glance, distracting even, but on my wrist, they simply completed a delicate picture of mid-century elegance.
Even at $43,300, the feel of the soft Serapian leather on my wrist made me giddy with desire. The silver-and-white dial has not got a single index out of place, and the blued seconds hand has a sharp sword-like counterweight and is needle-thin at its endpoint. When touched by the smallest sliver of light, its blue sheen makes it pop off the dial. The 38.5mm case has a rounded and stepped form typical of the 1940s and '50s, but now more refined. For what it's worth, I would almost say those smooth, sensual lugs make the design. Their contrasting shape soldered onto the round case just works wonders for the already proportionate look. I know, this was gushing praise, but this Vacheron on its fume-rich cognac strap is simply divine. I'll have that cold shower now.
Now to come up with the money…
OK, I'm off to see my bank manager about a loan. How about you? Do you view a chronograph as a pure time-telling tool and find precious metals frivolous? Maybe one of these is the dressy tool you need to change your tune. Let us know in the comments.
Find me and follow me at @thorsvaboe