The Watches I Took On My Summer Holidays — Gerard's Picks From Christopher Ward, Oris, And Vaer
Perfect for a motorbike trip, scuba diving, and beach dwelling
I had my holidays early this summer, so I'm one of the first to look back on them. My holidays were split up into two parts. The first part was a 3,600km motorbike trip around the Iberian Peninsula. The second part was in Croatia — locally known as Hrvatska — and was all about scuba diving. So, as my summer holiday activities were twofold, I needed to bring two types of watches as well. And I didn't make any obvious choices this time.
My general attitude when choosing watches to bring on holiday is to keep them a bit under the radar. I'm not the type of guy who likes to attract attention anyway, but when I'm on holiday in unfamiliar places, this seems even more important to me. Besides being inconspicuous, I like my holiday watches to be sturdy and robust. I don't want to worry about them getting scratched or worse, so I probably wouldn't bring overly expensive ones or watches in precious metal.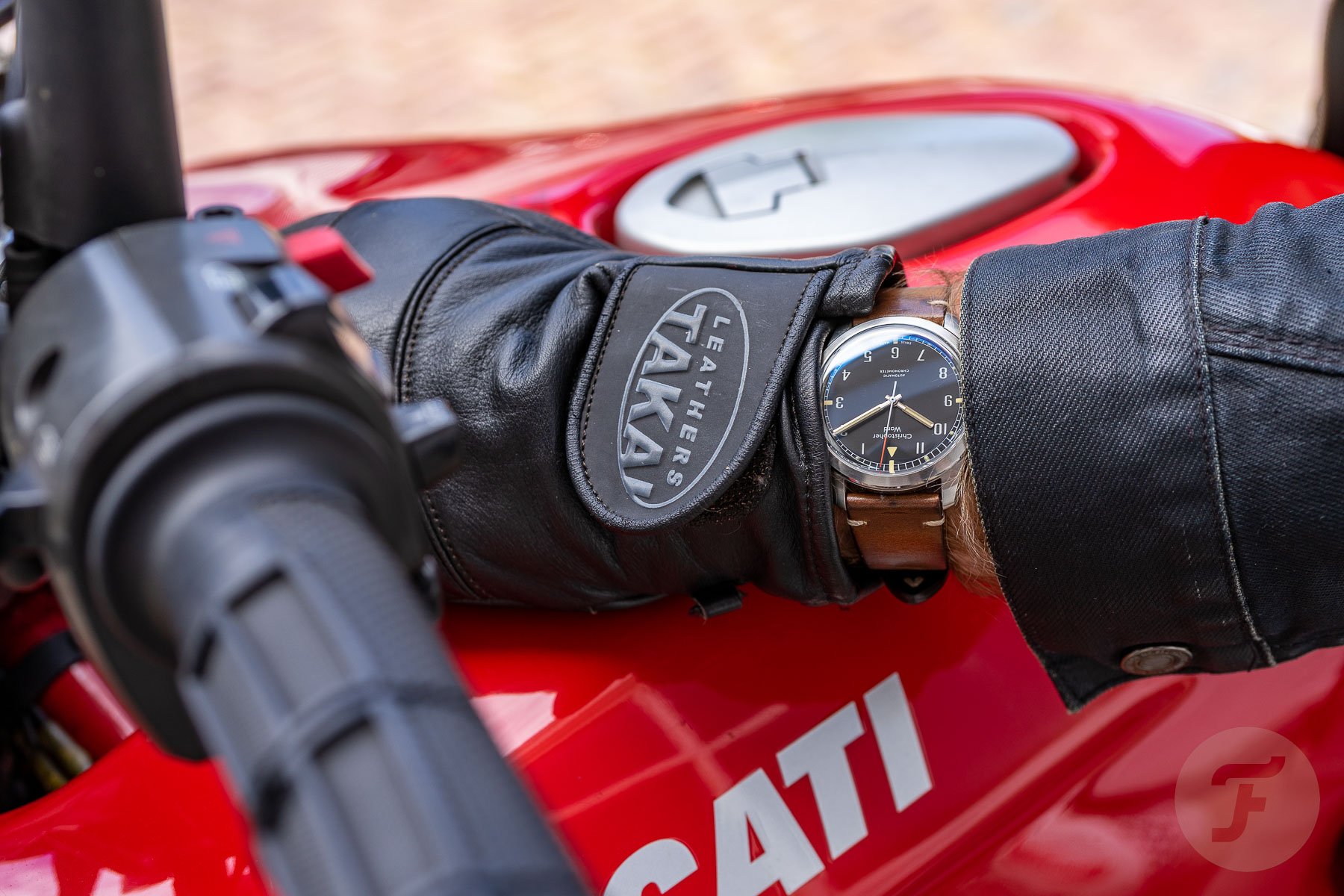 Christopher Ward C65 Sandhurst
For my motorbike trip, I needed a slim but sturdy watch to fit under the sleeve of my jacket. It also had to be quick and easy to read. I can imagine that any field watch could do the job. Browsing through my watch collection, my eye fell upon the Christopher Ward C65 Sandhurst — again, I must add, because it was my weapon of choice during my summer holiday last year as well.
My motorbike trip took me from Valencia on Spain's east coast to Tarifa, the southernmost point of continental Europe. I went up again from the south coast, into Portugal, and onto Coimbra, almost on the Portuguese west coast. Then I went north out of Portugal and into Spain once more. There, the weather forced me to head more southerly again. Led by the presence of mountain roads, avoiding highways and larger cities, I squirmed back to Valencia. My wife accompanied me for the first week. Covering the 3,600km of the entire trip took me approximately two weeks.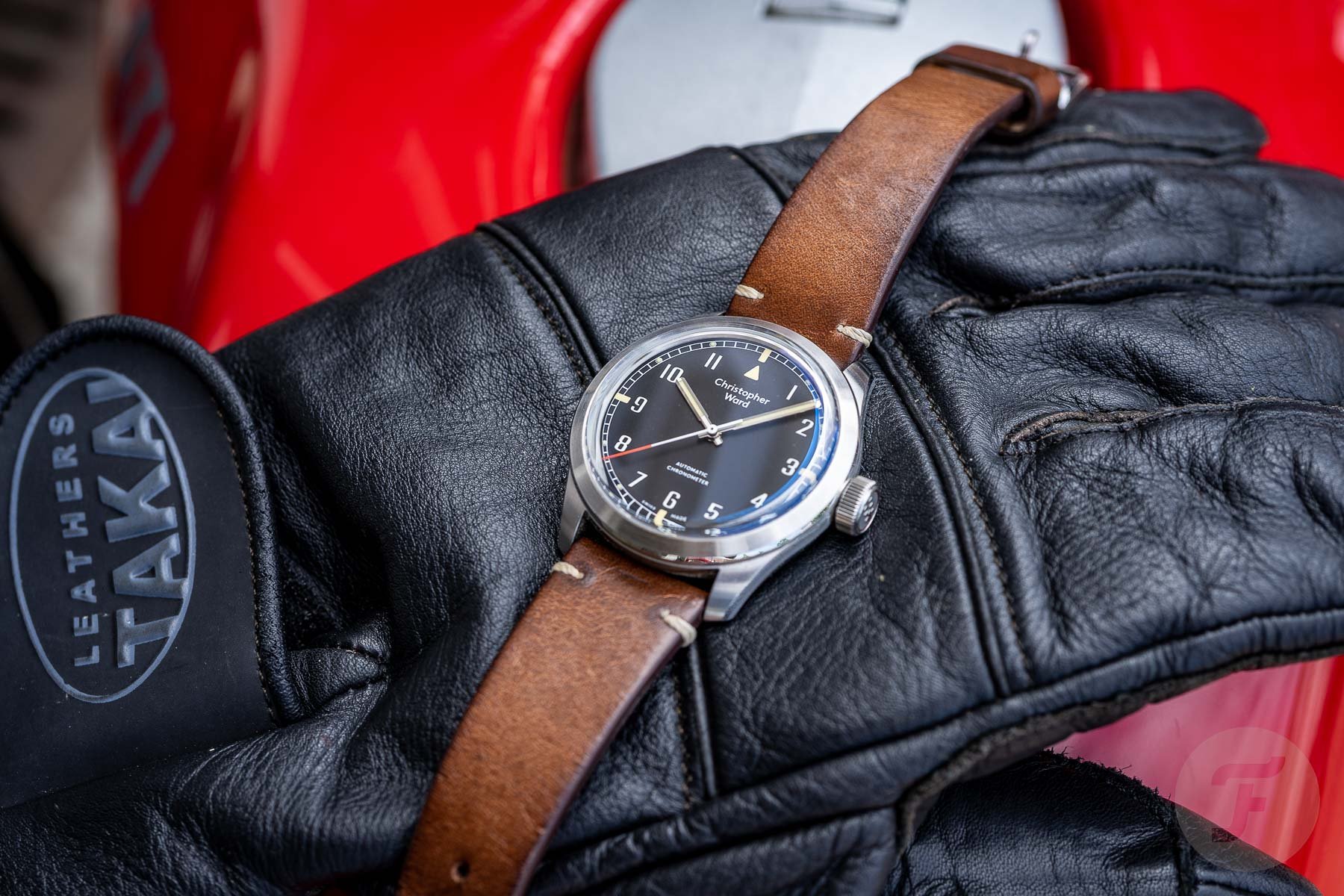 The Sandhurst is a no-nonsense — I called it boring in my previous article — watch that's slim, sturdy, and perfectly readable. As my experiences with the original straps weren't all positive, I changed the CW strap to another one; I think it came from my Undone watch. It gave the watch a somewhat different appearance that I liked even more. I won't write much about the watch today as it was already sufficiently covered in earlier articles.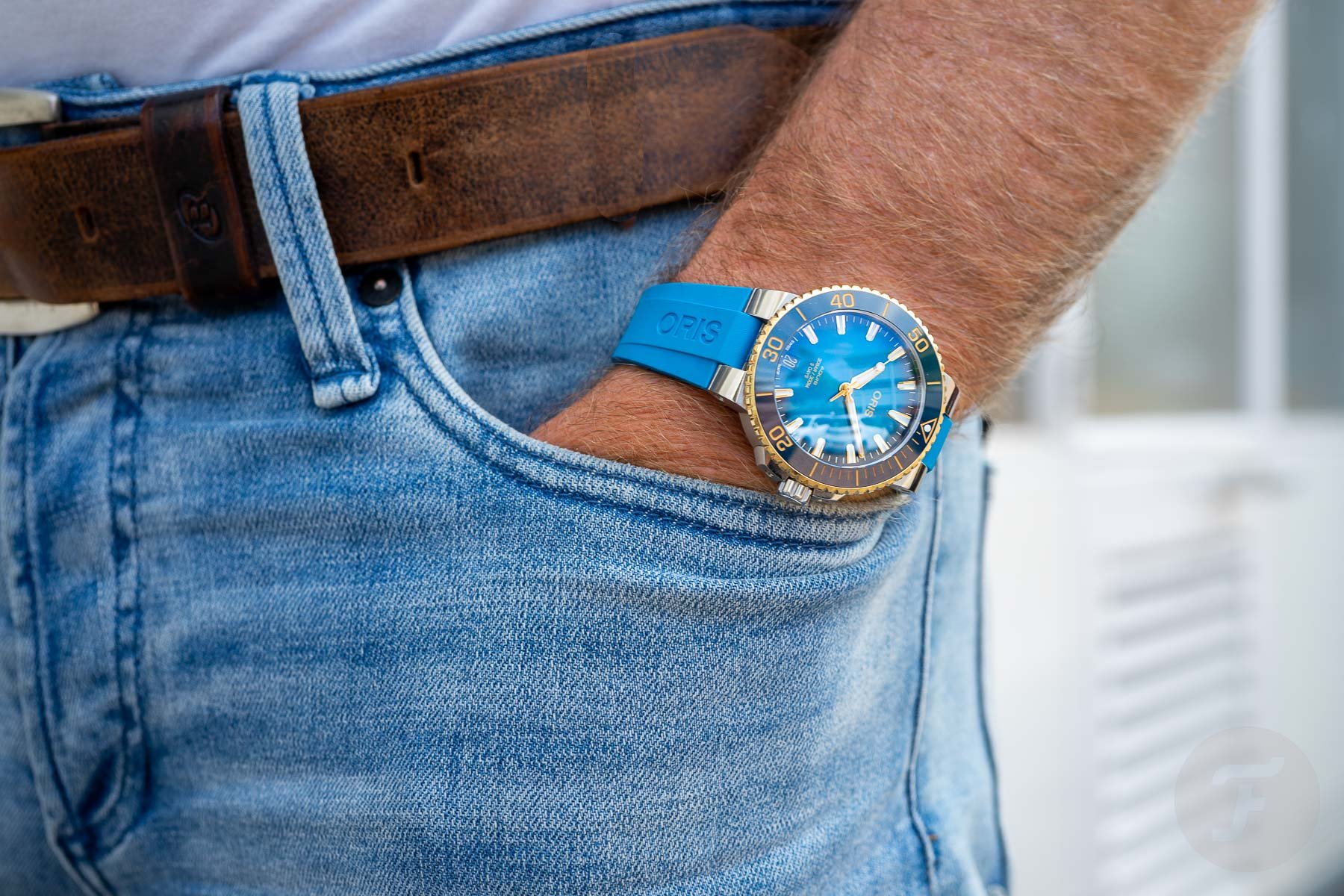 Oris Aquis Date Calibre 400 in steel and gold
The second part of my summer holiday was all about scuba diving. I was thinking about which watch to take with me when Oris offered to lend me one of the newly introduced bicolor Aquis Date models. As I explained in this article, I had to go way beyond my comfort zone and general attitude when choosing watches to bring on holiday. It didn't match my conservative taste for watches in general and especially not my intention to bring inconspicuous watches. An almost fluorescent blue rubber strap, a radiant blue dial, and a solid yellow gold diving bezel aren't under the radar.
For the scuba diving part of my holiday, we — my son joined me here — chose to go to Croatia. I'd never been there before but received recommendations from dive people in the know. We flew from Rotterdam to Split and took the boat to Korčula Island. From a little village, Vela Luka, the peeps from Croatia Divers took us out to some of the most beautiful dive spots I'd ever seen. This plus the rest of the summer context made my discomfort about the bicolor Oris Aquis quickly fade. This watch felt at home here.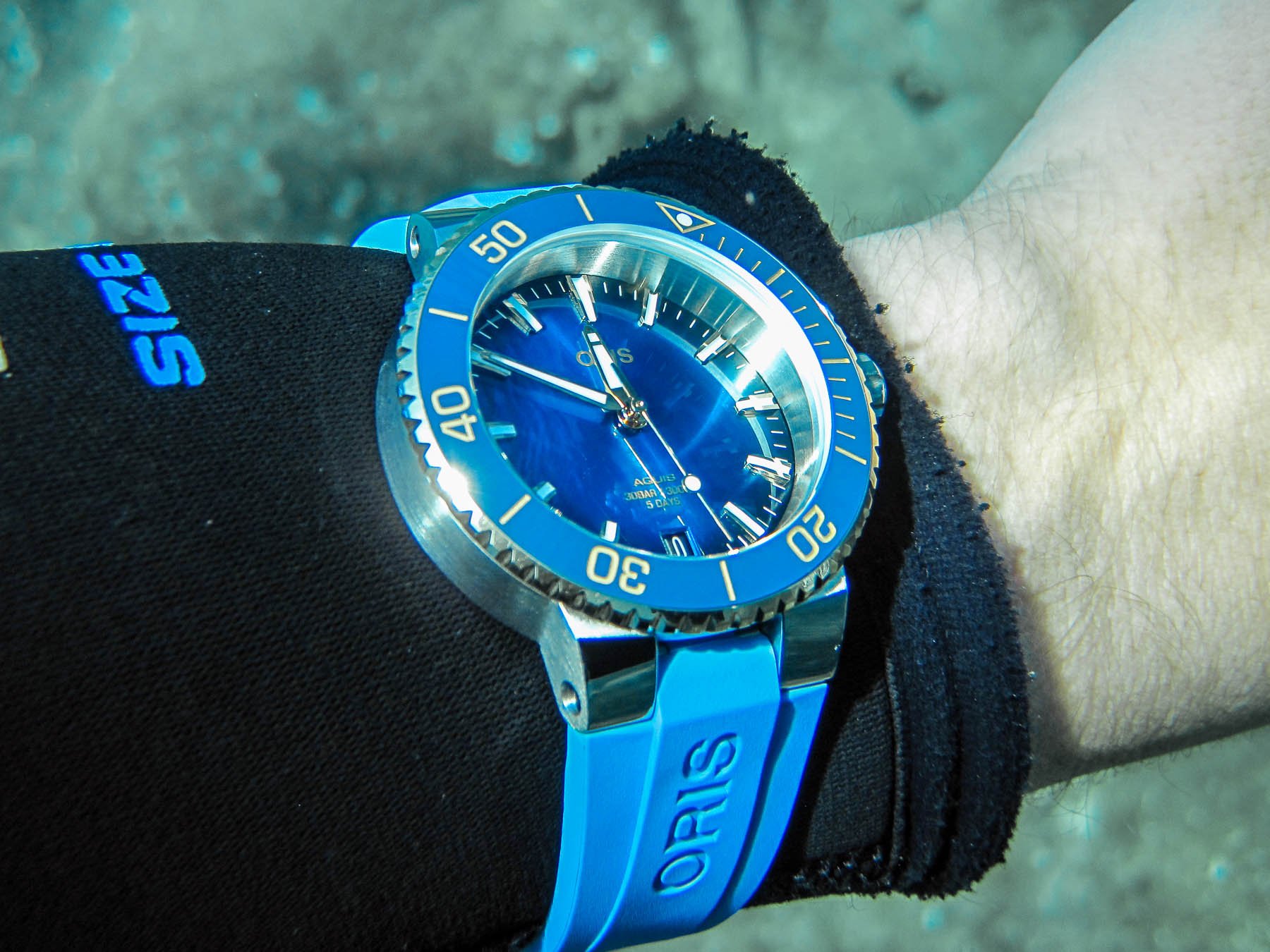 The Oris did perfectly well on the sunny beach supported by a Croatian Karlovačko beer, but it was also very good as an actual diving watch. After dipping it while snorkeling, the watch accompanied me on all my dives. I started to like it, but using it as my dive companion made me appreciate it even more. The Oris Aquis Date Caliber 400 is functional and comfortable to use. The rubber strap is easily adjustable while firmly attached to the watch and the folding buckle. The strap on my 18cm wrist is long enough to be worn over a 7mm dive suit with two holes left.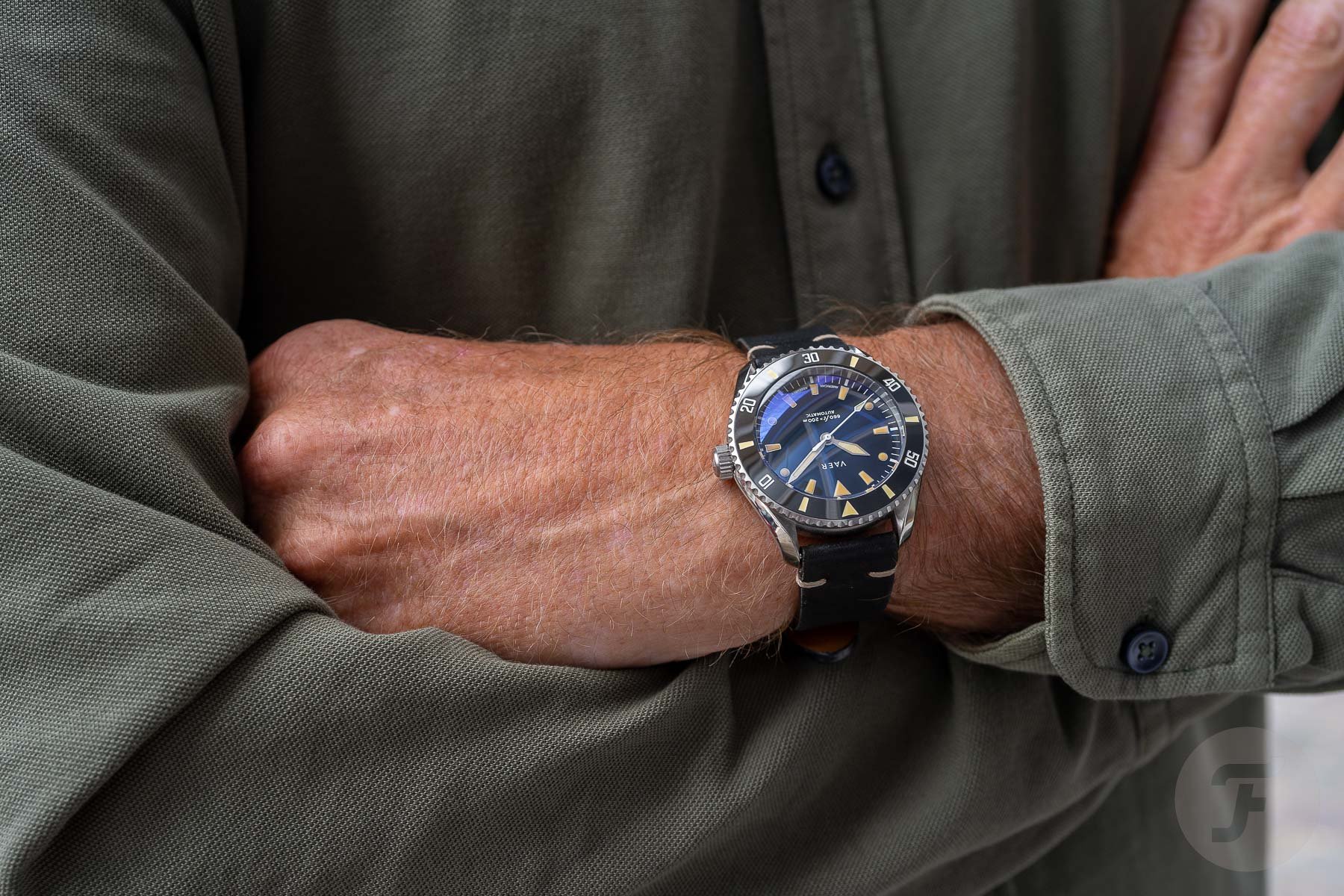 Vaer D5 Arctic Automatic
The second watch that I brought with me to dive was a Vaer D5 Arctic Automatic. And that was for a reason. When we received the Vaer for review at Fratello HQ, the watch arrived on a leather strap. Our general assumption, however, is that it's never a good idea to go diving with a watch on a leather strap. The people at Vaer must have known that as well, and while they meant to supply this diver on leather. we thought that was a good chance to investigate. It quickly became clear that the leather strap wasn't just any leather strap. It was a Horween leather strap made in the USA.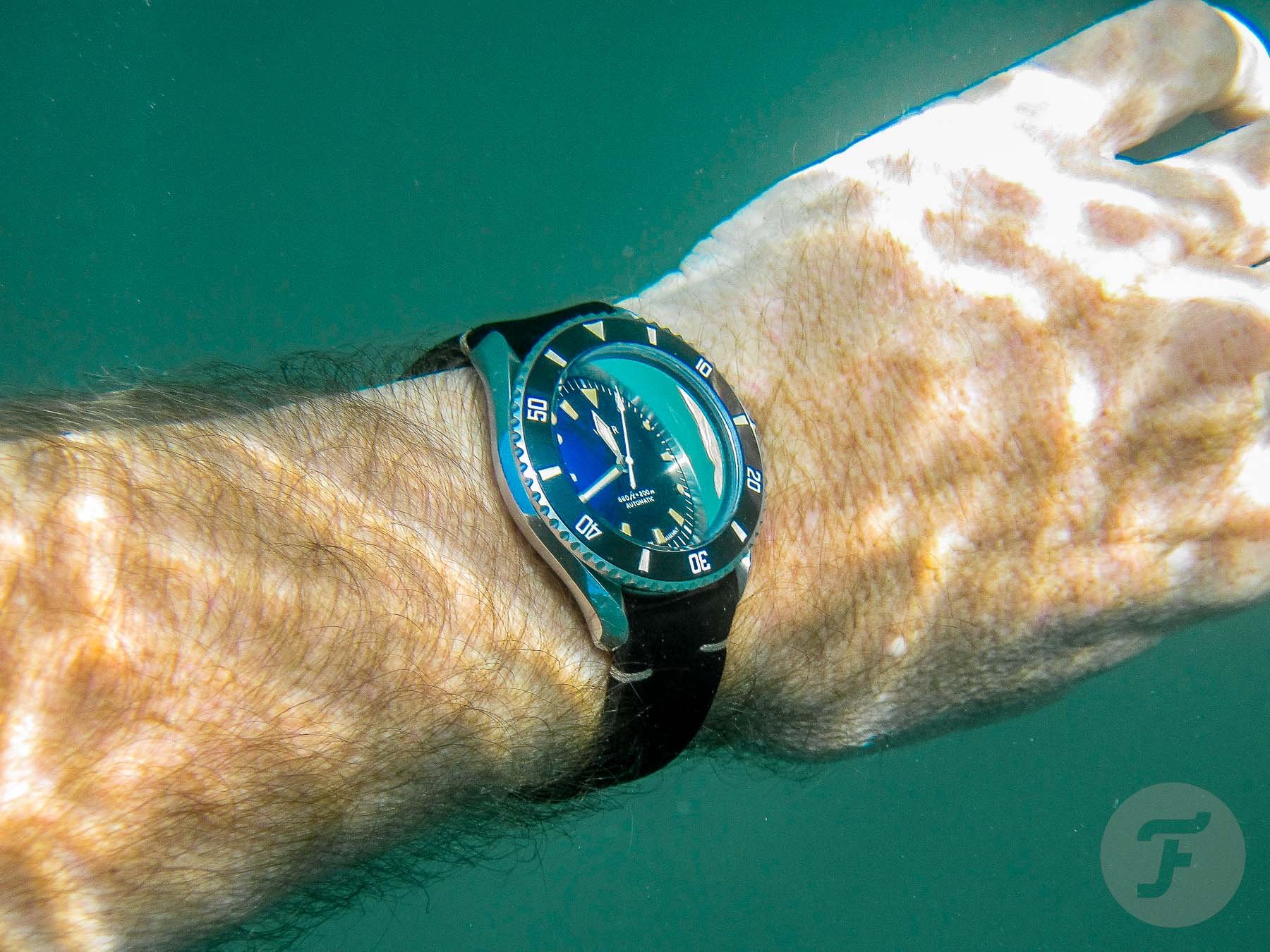 So who knows? Maybe an American-made Horween leather strap is suitable for getting wet and does suit a divers' watch. What would be better than putting it to the test? So that's what I did. I used the Vaer D5 Arctic with its black Horween leather strap during my diving holiday. It was in seawater every day while swimming, snorkeling, and scuba diving, and to be honest, I didn't expect it to hold up so well. Even after the "abuse", it still looked great, and there wasn't more wear and tear than I would have expected when just wearing the watch as a desk diver.
Summer holiday watch wrap-up
My summer holidays are over, so I'm looking forward to the next one with others watches to enjoy. Of the three watches I brought with me this time, the Oris probably surprised me the most. The Christopher Ward and the Vaer are both predictable and easy on the eyes, but I wouldn't have thought I'd like the Oris so much. Perhaps my taste isn't as conservative as I think. Or was it just the context that made the watch look so good? What do you think?