Thor's GADA Watch — The Casio G-Shock GMW-B5000RD-4
Advertised as red, it looks purple to me, and it ain't got no hands
I'm lost trying to pick my GADA watch. It's another incredibly difficult task from the editorial team in The Hague, probably conjured up to test us non-Dutch editors to see who cracks under pressure. And it worked by giving me a panic attack for about 30 seconds (that felt longer). Any story about one favorite watch of my choosing is near impossible, regardless of whether it's the perfect "beater" (no, I don't use that term either), a party piece, or a no-holds-barred dream watch.
"GADA" is a term I have never used in a story, to friends (well, mine are mostly virtual Instagram buddies), or on an IG post. Why? Because it is impossible to pick just one watch for everything. But when I have twenty-something watches, is The One already in my possession? Or do I write about the one I see as my ideal GADA watch, as Jorg did with the 16600 Sea-Dweller (an astute choice, J)?
The head-scratching begins
My theoretical starting point could be selling half of my collection for one great watch. I imagine buying a glorious tool watch for everything and getting it scratching up, even if it's solid 18K gold. Perhaps something like a Rolex, a Vacheron Overseas, or a big Hublot nugget of Big Bang Integral in King Gold (a guilty pleasure). A scratched-up rose gold Nautilus with a chocolate dial would be tops. But I'm not a huge fan of coronet-bearing dials, and with any of the others, I'd faint if I got the tiniest hairline scratch. I'm one who enjoys stories of beat-up €100K grails while babying my Seiko Marinemaster. Beach sand scuffing up the Zaratsu would make me cry, so I'd rather wear my Casio F-91W, loss of street cred included. Then an epiphany hit me: what is the watch I've worn the most for the last two years? Surely, that's it?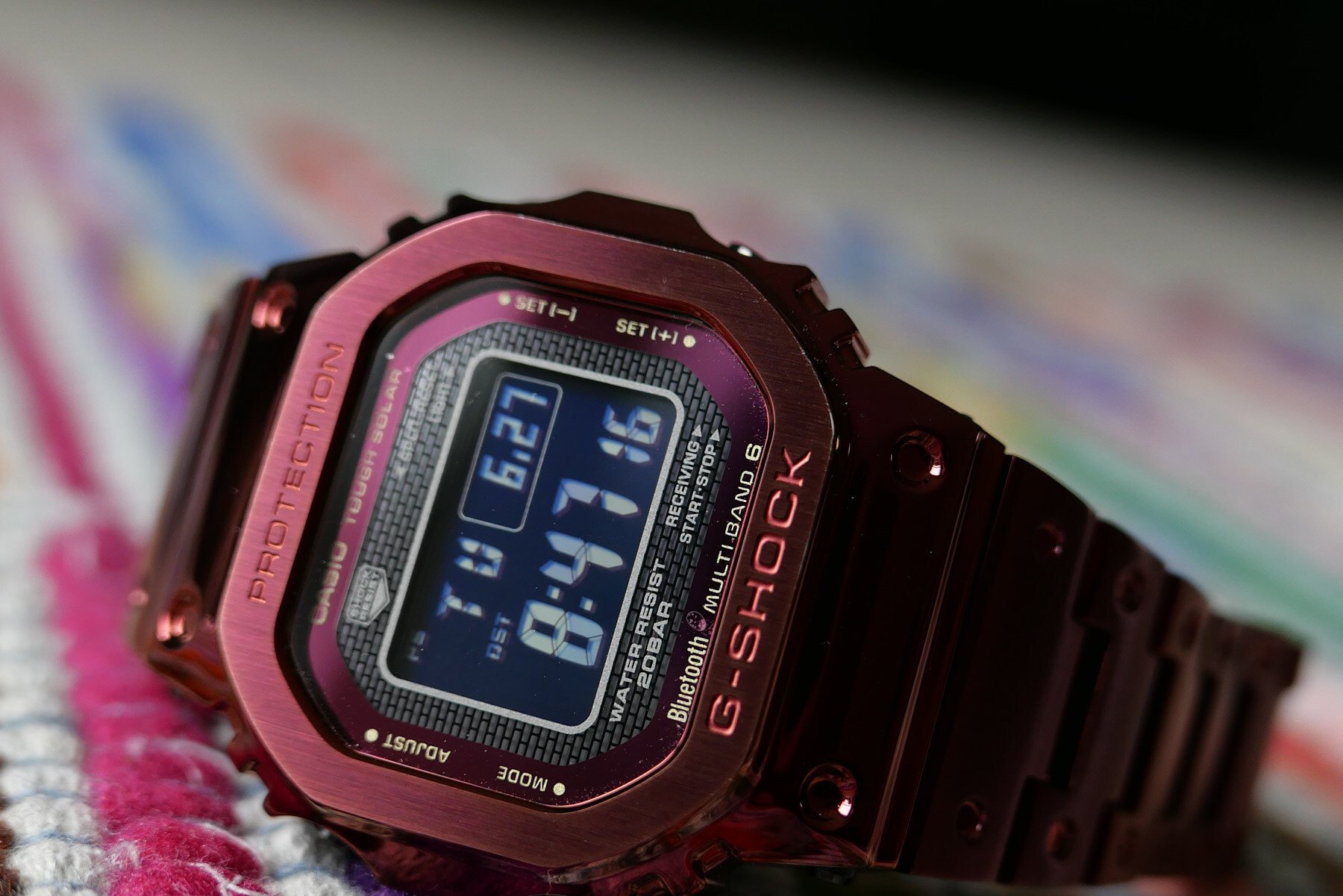 A colorful Casio that makes me feel younger
Then I realized that my GADA watch is already in my cabinet. In fact, I wore it today at the office — a purple G-Shock cheekily hiding under a suit jacket, for real. Ironically, at home with a well-worn tee, I changed to a glittery Grand Seiko for the evening (I do that often; am I sane?). But even with failed attempts at consolidating my collection, a GADA watch should be a monochrome neutral go-with-everything piece, right? Nope. This is indisputably ion-plated burgundy, even purple. It was advertised as red, but I strongly disagree. Nevertheless, the GMW-B5000RD-4 is gorgeous. And a mad pop of burgundy goes with most things if you're a contrarian, even slightly eccentric. Mix color with a tough, ion-plated steel case and bracelet, add dependability, and for me, that spells GADA. In fact, it is the one watch I wear the most.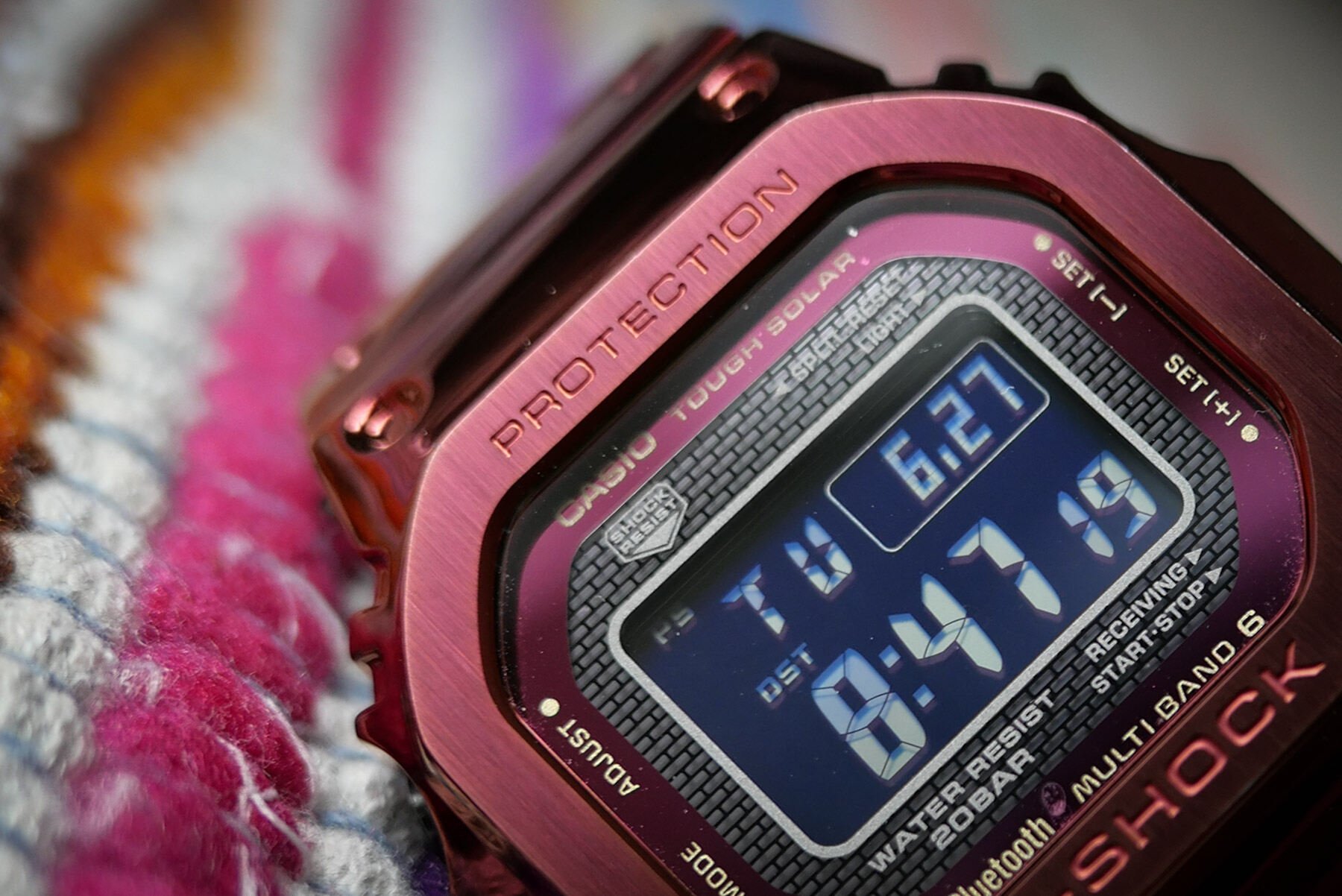 How can a big purple tool watch be versatile?
Let's try to be analytical here. First of all, it's in my nature to not give a toss about others' opinions on my style. Whether it be my neighbor's chuckle at my crisp almost-pink Nike AF1-07s when I'm way past 40 (10+ years) or a colleague asking me why the hell I don't just buy a decent Rolex, I'm immune. I've tried resin square G-Shocks, but they fit jangly large or strangle-tight. I've had a few anyway, and I enjoy my Bamford DW-6900. But when I tried on the first metal square G back in 2020, I was blown away. It was the perfect blend and a fresh contrast to my 10–15 mechanical watches.
While being a cool G-Shock, it simultaneously felt like a quality watch, indicating how much metal and pure weight make a difference. The bracelet might be rattly, but it still feels G-solid, and the key is in the comparisons. Compared to a Seiko Prospex or a mid-priced Swiss piece, it'll feel cheap. But compared to a resin 5000-series G, it feels like a million dollars. That, my friends, is the key to metal G-Shock success. It's like a grown-up version of yourself as a kid, feeling indestructible and fun but more solidly built and with brains — a Multi-Band, Bluetooth-connected, upgraded brain even.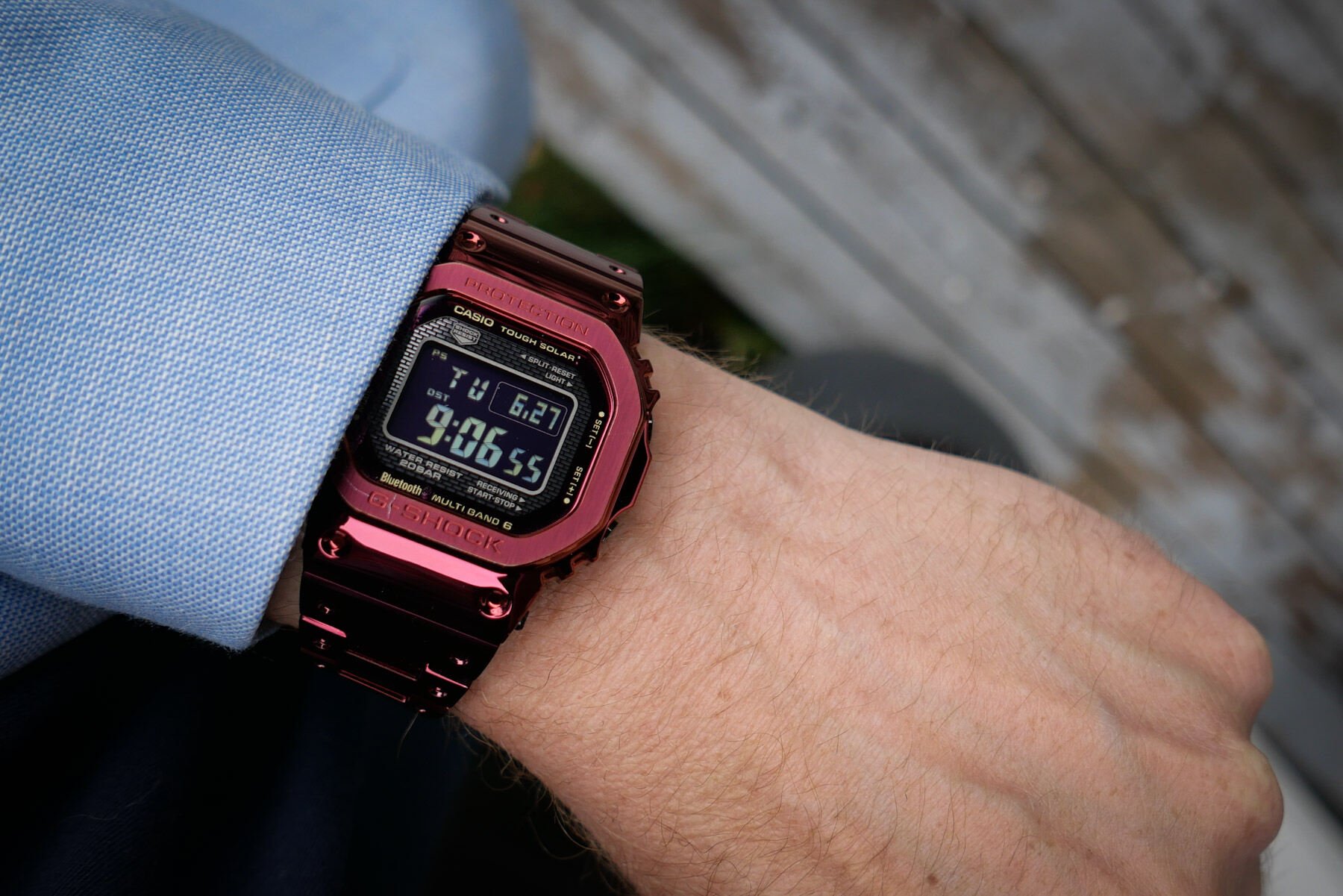 A versatile, accurate beast
For me, it reigniting my love for G-Shock and the square shape I couldn't afford as a kid back in the '80s (stop counting the years!). The title of a launch article back in January 2021 that caught my watch-writing eye was "Casio blasts us with a super-cool red metal G-Shock." And I was hooked, even if I thought roughly €600 was steep for a G. The mid-case has a delicate blend of brushed sides with a polished top, including the lug-less end, while the bracelet is mostly brushed with some polished details. And just like a "proper" watch, the bezel is brushed with a polished edge. Sure, there's no beveling here, and the details are semi-sharp at best, but it sure pops on the wrist.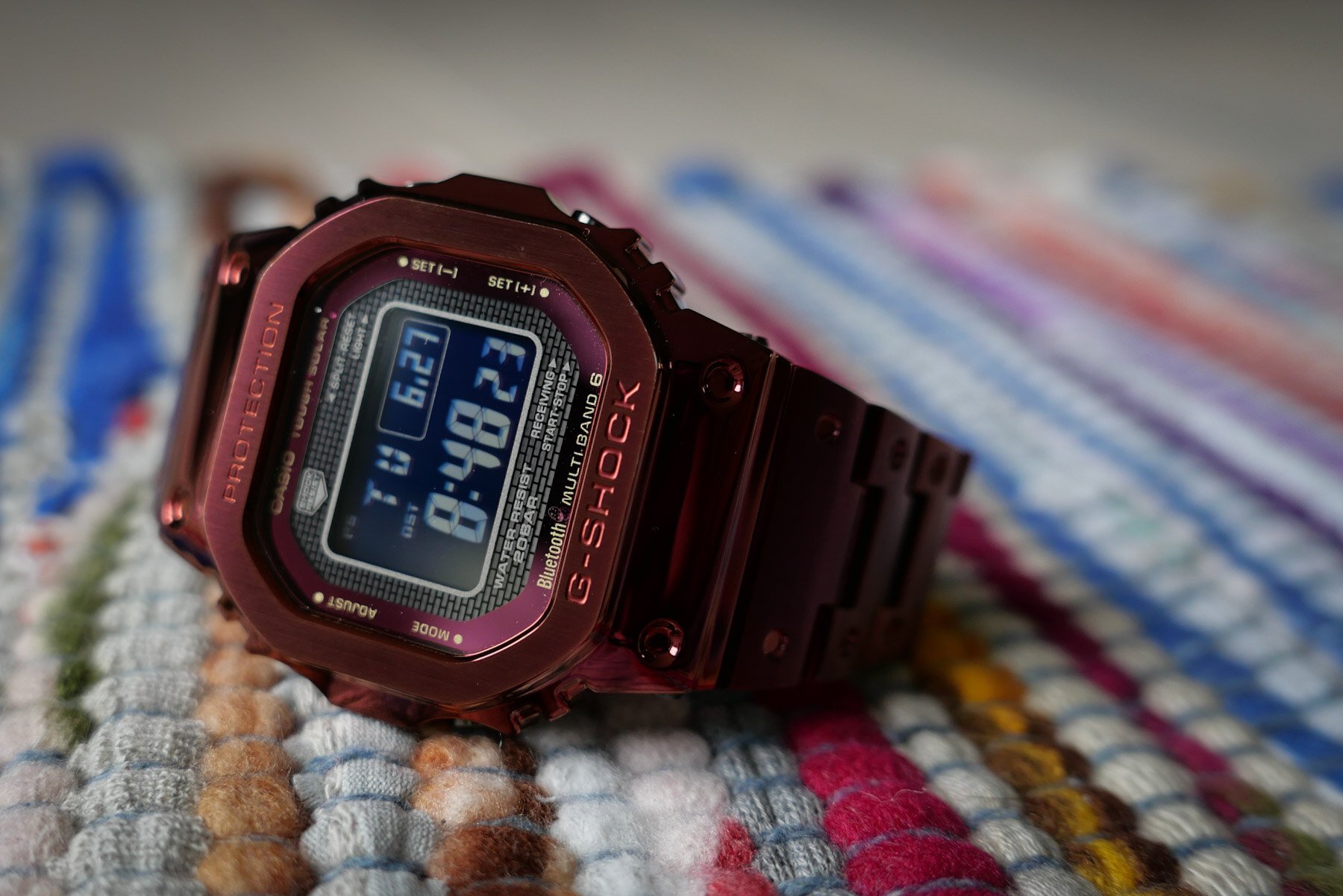 A colorful wrist buddy
An Instagram story with this watch produced a comment from a non-G-familiar colleague. "Jesus Christ, this is state of the art!" she exclaimed. That might have been an overreaction, but she knows her watches and wears a Hublot Classic Fusion daily. Anyway, the premium technical features are all present, including Bluetooth connectivity and Multi-Band 6 atomic timekeeping for self-adjusting, razor-sharp accuracy anywhere on the globe. The STN-LCD black-reverse digital display makes the watch easy to read from any angle, and Tough Solar Tech helps it charge up even with low sun exposure. As with any G-Shock, I feel guilty for not exploiting its timing and countdown functionality, but that's life.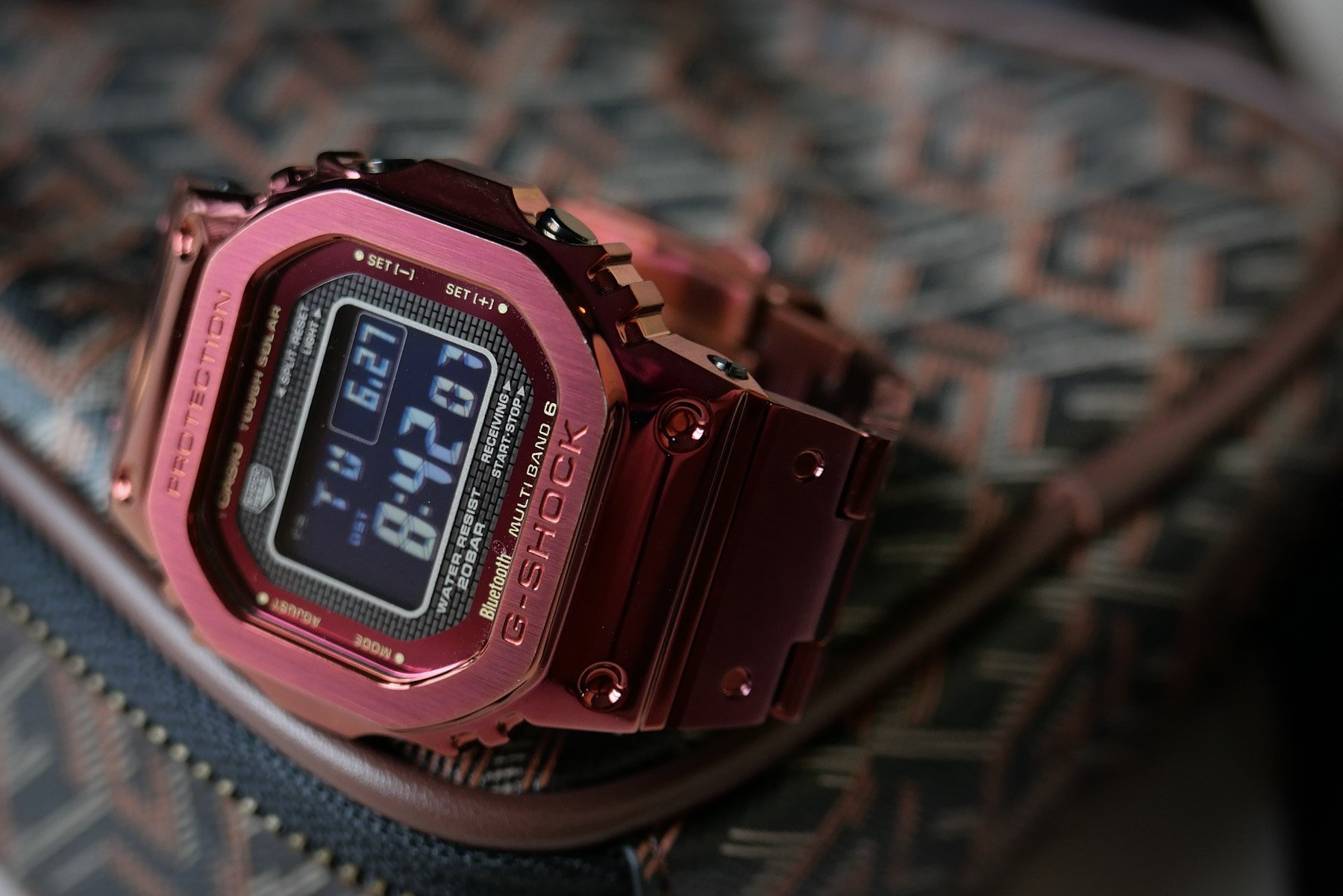 Too big but still great
I love 37–39mm watches, though lately, I'm being tempted back into the solid embrace of 42mm+. The steel G-Shock "Squares" are not small at 43.2mm wide, 49.3mm long, and 13mm thick, but they are remarkably comfortable. The GMW-B5000RD-4 is quite weighty at 167 grams, but it still feels more comfortable than a resin Square because of the admittedly simple bracelet. Sure, you can get these for around €600 in steel or gold-tone, but this purply-red finish makes me smile. Add that to the tough-as-nails body with hardly a scratch on the ion plating and the 200m depth rating, and it's a winner (for me as an OCD watch collector, that is, with a fear of hairlines).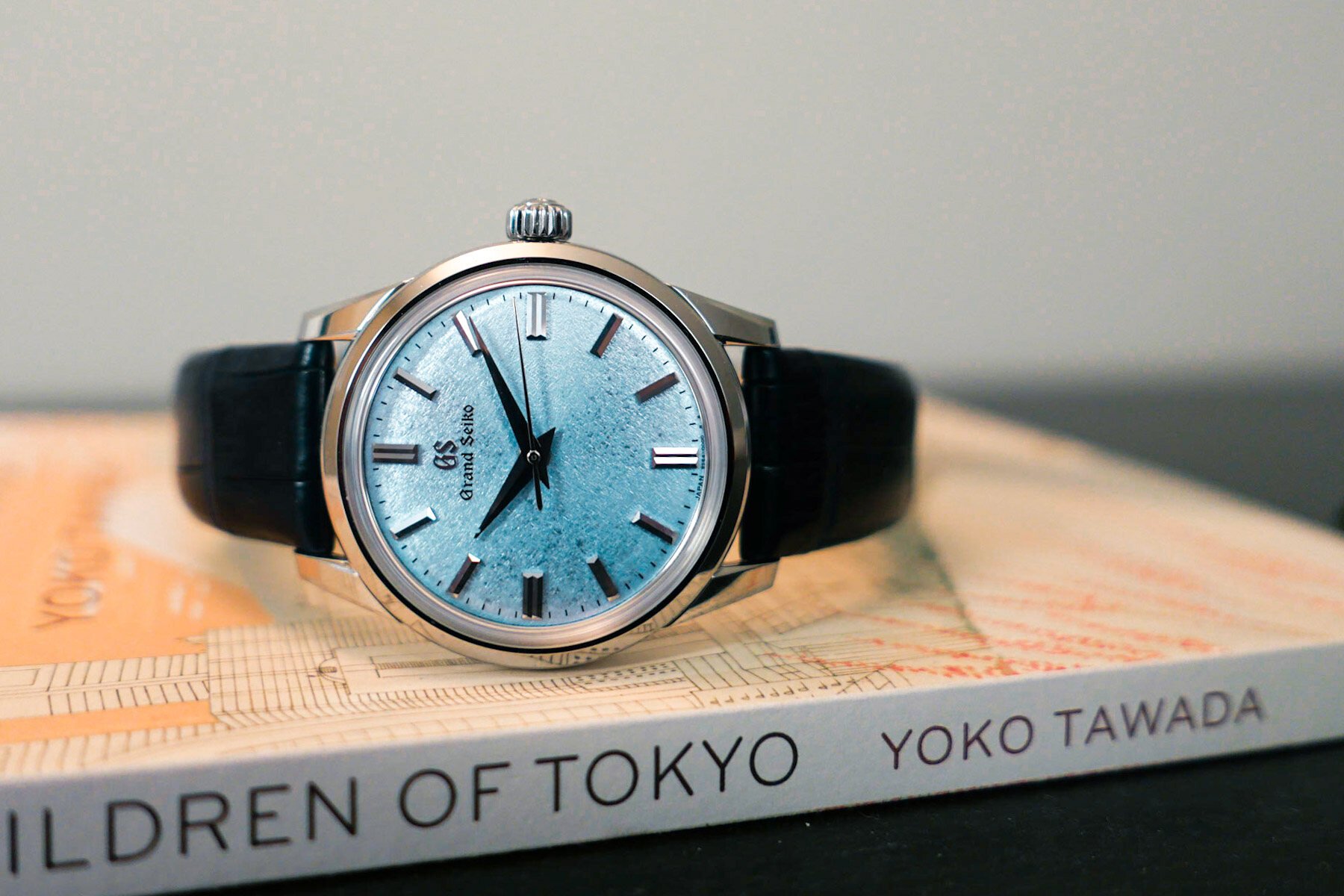 Am I just an overly cautious coward?
My favorite watch should be my GADA, surely. It makes sense, yes, but only in an ideal world. In that world, I wouldn't care about scratches and would just accept that lived-in look. My true favorite is my 37.3mm Grand Seiko SBGW283 "Kishun." The dark navy crocodile strap is silky-soft sublime, and its size is almost too perfect. Even the dial alone makes this my perhaps absolute fave watch out there — I mean, look at it! The blue transcends definition, making it an ice-frosty lake at night and a glittering summer sky in the sun. I love it, but at the €5,000+ price, I don't want to scratch up the Zaratsu. I might be a coward, but I love it too much. For now, the G-Shock and a few divers are great GADAs for me. Maybe I need a pre-scratched quartz Grand Seiko for the everyday chores? Chances are, though, that I'd have it refinished, baby it, and be back at square one — a supposedly red metal G-Shock Square. Unfortunately, the GMW-B5000RD-4 is discontinued, but there are a lot of tempting square metal Gs to choose from. Check out this trio from the 40th Anniversary Recystallized series.
Fratelli, what is your verdict? Am I a traitor for not naming a lovely mechanical wrist grail my GADA Watch, or am I just honest? Let me know in the comments below. I'm ready for it.