Dear Tissot, Bring Back The Manual-Winding Valjoux 7733-Powered Seastar Navigator Chronograph
Or any other brilliant model from the 1970s Navigator lineup
Tissot is one of my favorite watch brands. It is also one that, until last year's release of the PRX, didn't have one watch in its current catalog that I was interested in buying (something which, luckily, seems to be changing). In fact, I think many of you will likely agree with my saying that the majority of the brand's Moto GP and NBA special editions weren't exactly doing the brand's long heritage and wonderful past any favors. To be fair, Tissot did, from time to time, release models in its Heritage line that did grab my attention. But, unfortunately, a lot of the time they were far bigger than their predecessors, feeling the influence of the early 2000s watch-size peak — back when 46mm was what 39mm is today. 
That said, looking back to the past of Tissot, there are far too many amazing models to count. With heritage models popping up from time to time, the brand seems to be open to dipping into its archives. We have seen examples of this in the Visodate, the Heritage 1948 Chronograph, the Heritage Petite Seconde, and the Heritage 1973 Chronograph. I do feel that bringing back some of these models should be encouraged. And though I may be biased when it comes to this specific watch, I do feel it's one that could make a brilliant comeback today.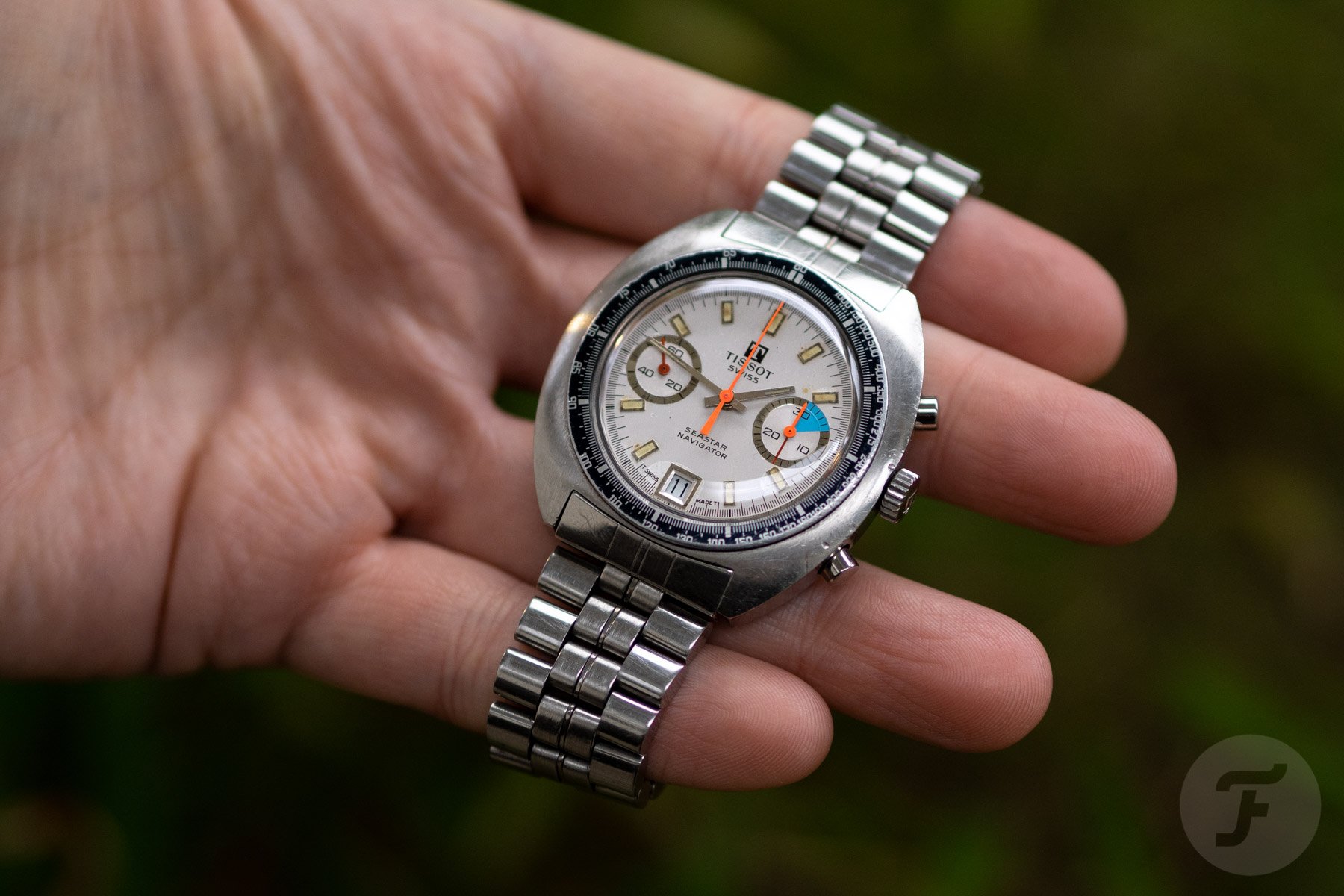 The 1973 Tissot Seastar Navigator chrono
Our very own Balazs, also a die-hard fan of Tissot, wrote an in-depth piece on his own Navigator Chronograph from the '70s. Tomas also covered his own Tissot Navigator, an unusual model with only a single register. They both agree that these are watches that deserve far more attention than they currently receive. And I absolutely agree. Both of these articles featured the advertisement you see below.
In fact, you can spot both Tomas's and Balazs's watches in the ad. And between those two, completing the 1973 trio, is a dark-dialed variant of my own Seastar Navigator. I haven't spoken with those two about this, but I think it would be fair to say that the modern reissue, though undoubtedly cool, was a bit too big for its own good. As Balazs, Tomas, and I explained in our respective articles, the original models' case sizes ranged from 38–41mm — the sweet spot.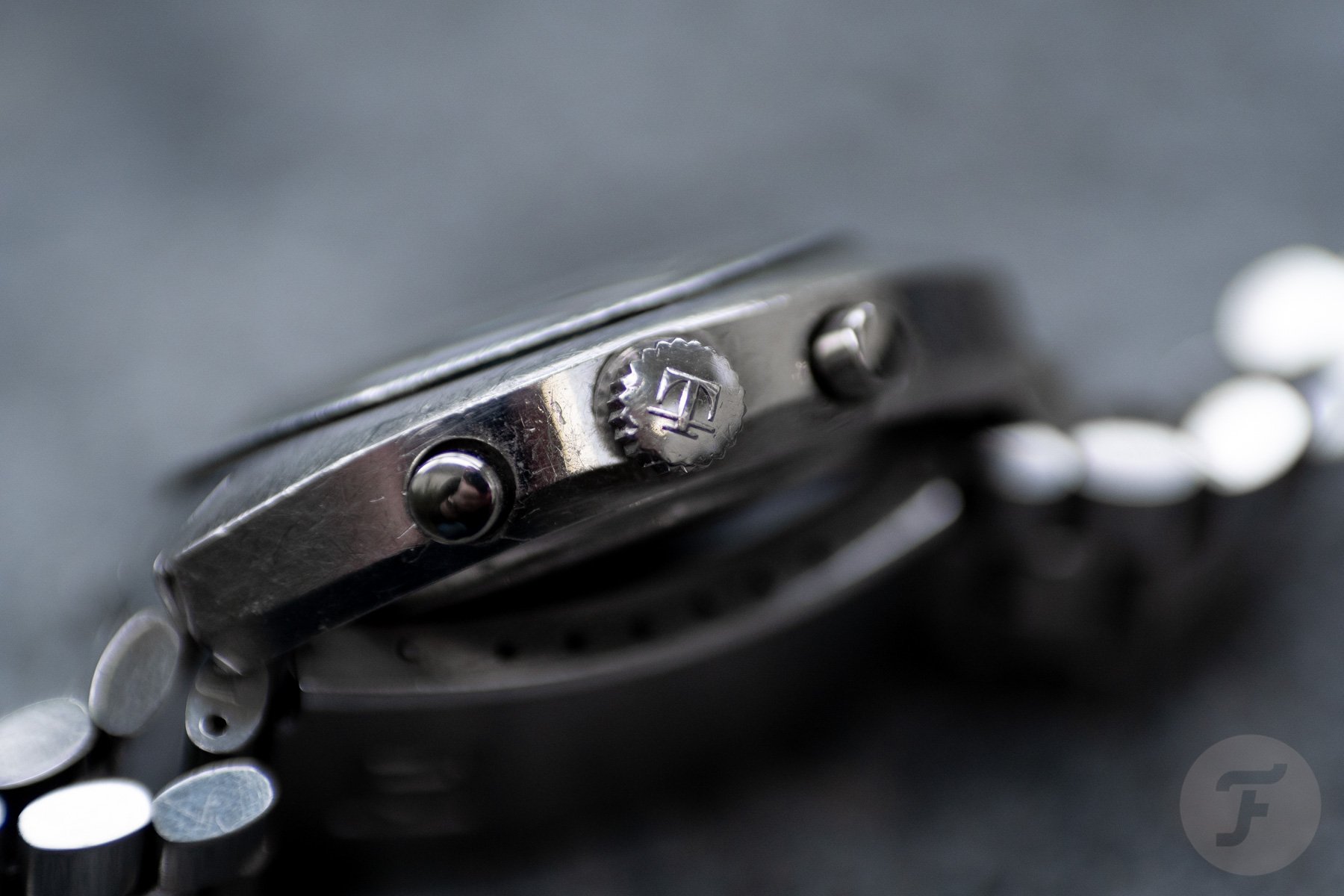 Though I'm making the case for the watch you see in this article's pictures — my silver-dialed Seastar Navigator — I'd say it would be great to see the Navigator line make a comeback in general. These three models are just the tip of the iceberg. As soon as you delve into Google Images, you will find an unlimited supply of funky, cool, racing chronographs. And they all have that unmistakable '70s look, reinforced by the brilliant orange and blue accents. With the PRX, Tissot has proven that it can take inspiration from the past, and bring it back to life in an appealing way. And what better way to follow up the integrated-bracelet wonder-watch than with a beautiful vintage-inspired chronograph?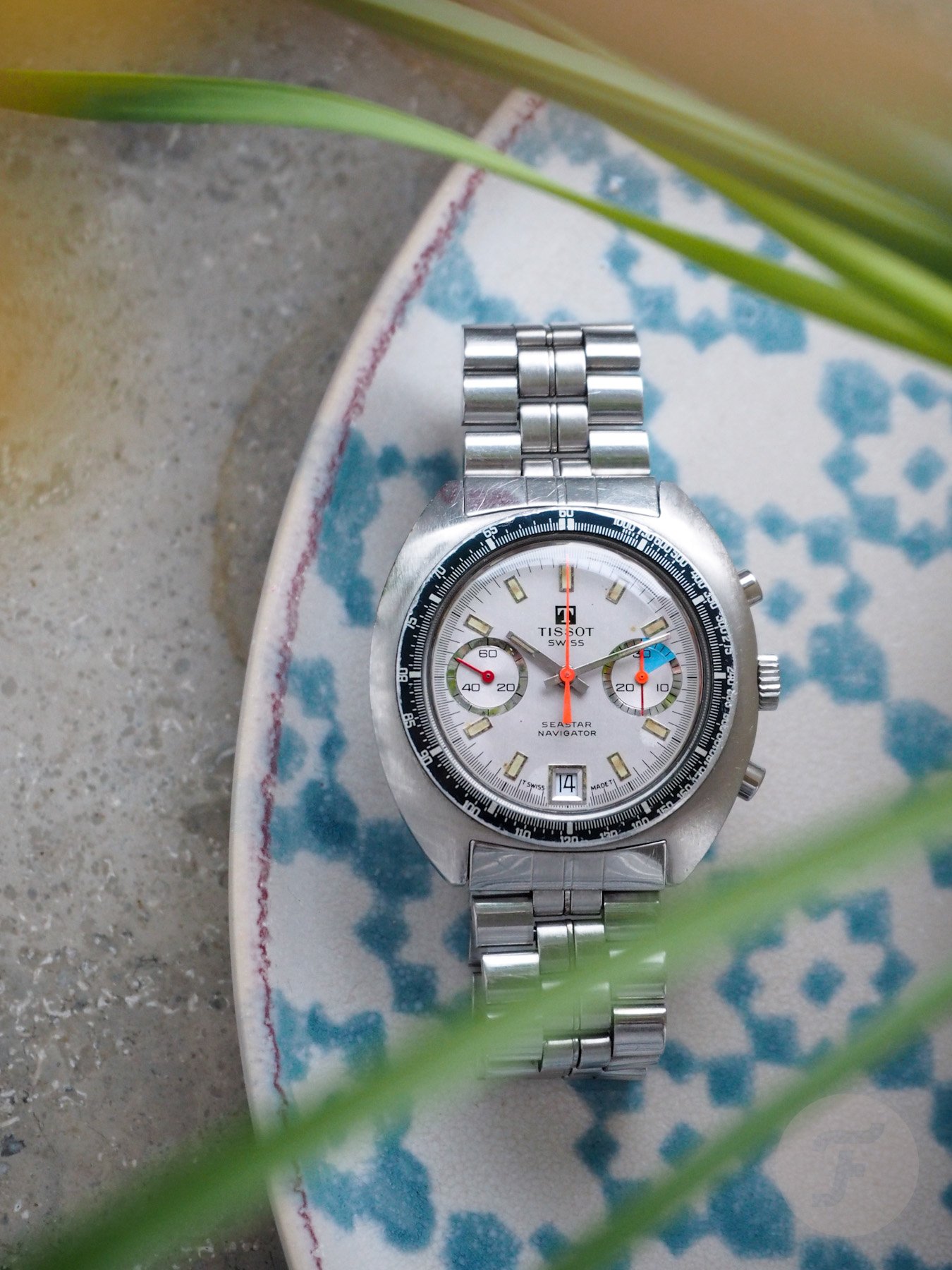 The many flavors of a vintage chronograph
As I said, the desired outcome would be a number of watches making a comeback. But if I could only pick one, it would be my own Seastar Navigator, in all its 41mm, hand-winding glory. This model was released in a number of dial variants. They included a dateless full-blue dial with matching sub-dials and a silver outline; a gray dial with matching sub-dials and the same silver outline (these two with only the "Seastar" name on the dial); a black-dialed version with different sub-dials and hands; a panda-dialed version with red hands; a gray-dialed model with black sub-dials; and a blue panda-dial. My favorite remains the silver dial, with orange and red hands, and the blue five-minute and red 15-minute layout on the minutes register.
Why the Seastar Navigator?
There is something so crisp and light about the color combination on the sunburst silver dial. The reflective outer track on the registers and radial grained inner portion certainly beat the flatter dials on the black or panda models. Those dials also don't feature the applied frame around the 6 o'clock date window — a feature that seems almost out of place in a watch from the 70's. There is also something so perfect about the dial layout. It's perfectly balanced, extremely legible, and timeless. The applied markers are filled with tritium, as shown by the "T Swiss Made T" text that straddles the date window. The outer minute track is mirrored by the black tachymeter scale, separated only by a slim polished rehaut. A domed acrylic crystal and wonderfully jangly bracelet are the whipped cream and cherry on top. Bracelet or rally strap, either way, I'll take it!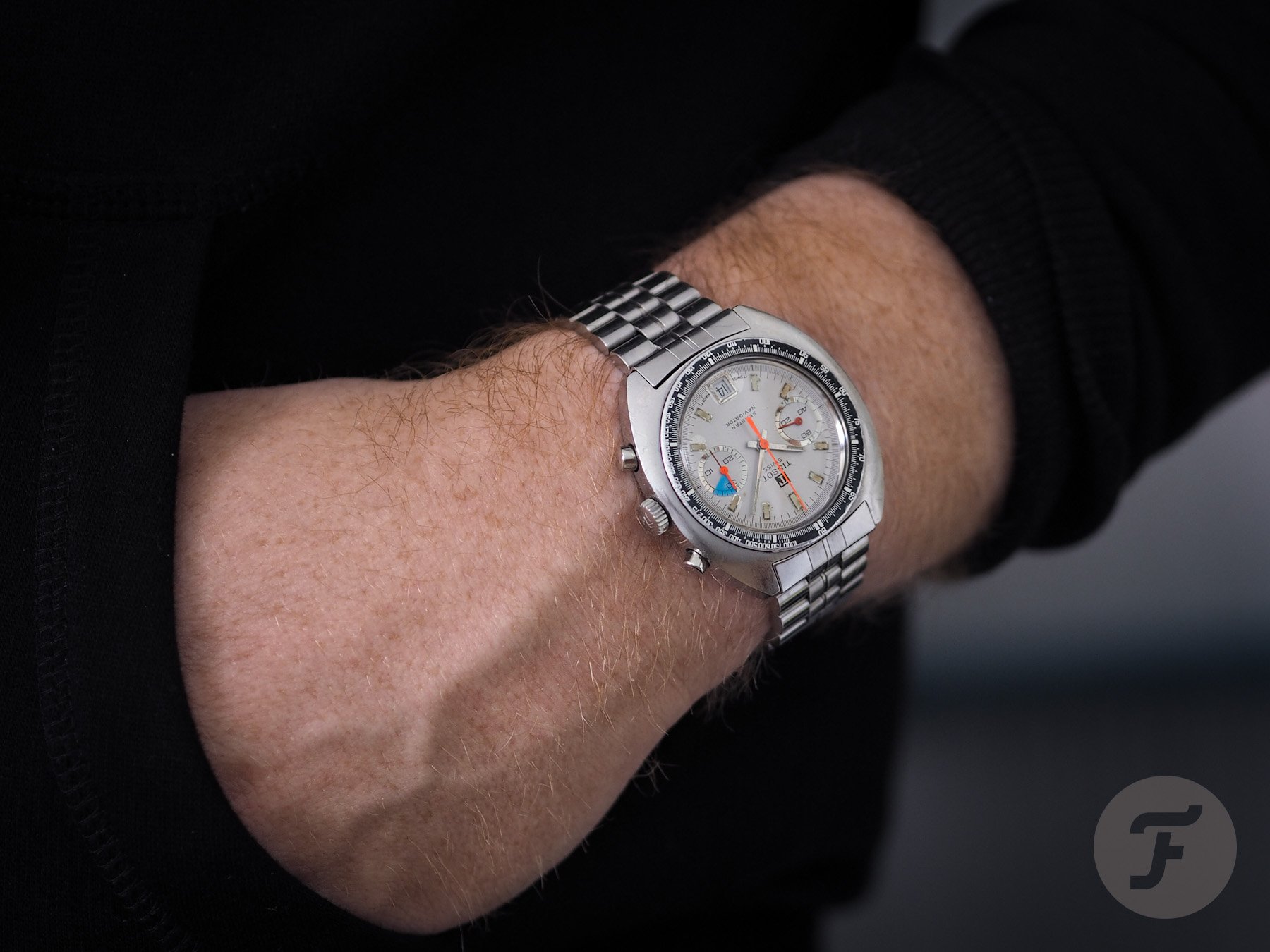 Final thoughts
Whether Tissot decides to bring back the Navigator line in a new and reinvented way, or even just one of these models as a reissue, it will be a great step in the right direction. And especially if Tissot should decide to keep the dimensions true to the original and within the 38–41mm sweet spot! It could be a fun idea for them to bring back multiple colorways — after all, I'm a bit biased when it comes to the silver dial, but all other models are also amazing in their own right.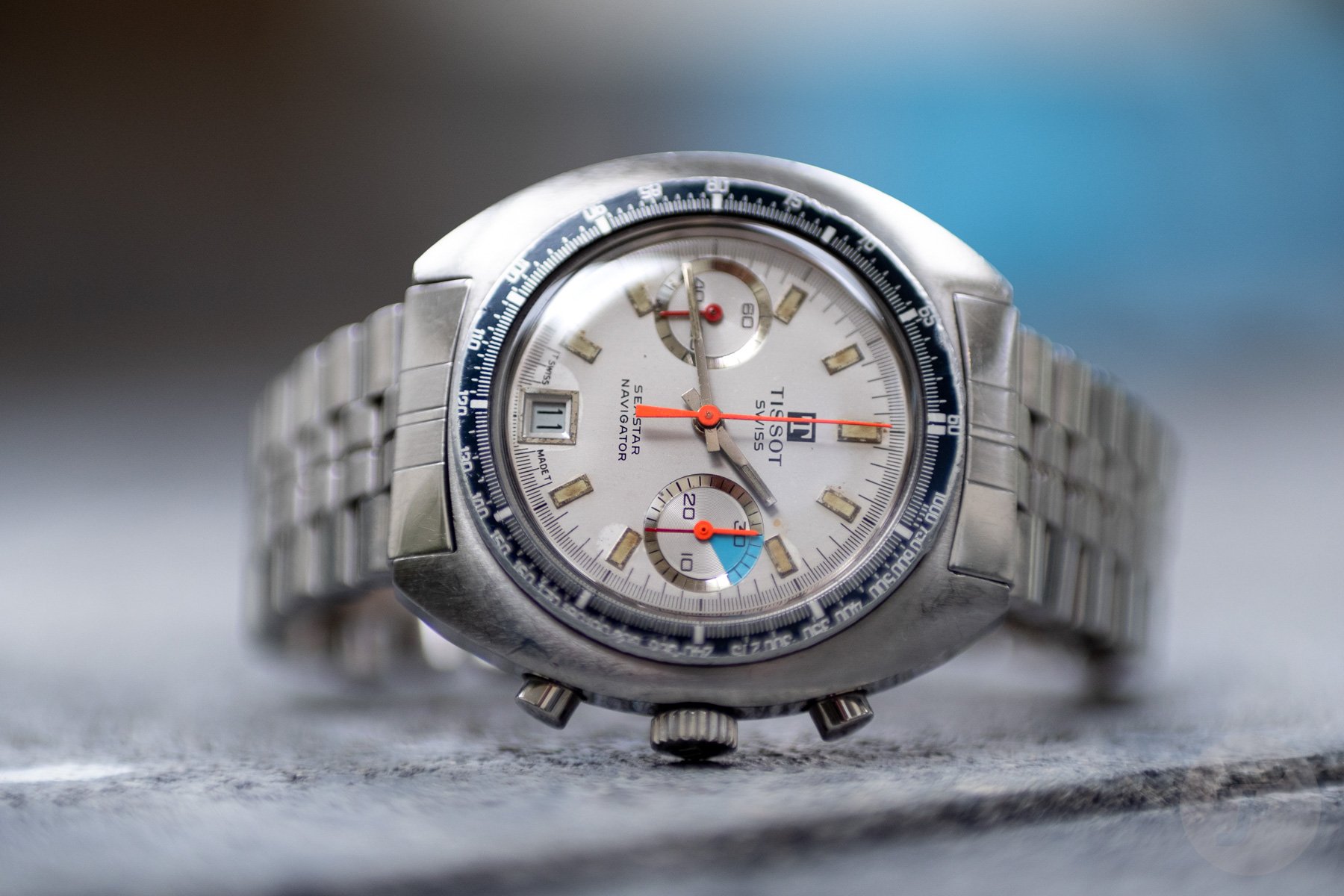 There you have it! Yet another call for a watch I'd love to see make a comeback. Would you also enjoy seeing these quirky vintage Tissot chronographs return? Or are there other models from the brand's back catalog that you'd enjoy seeing reissued? Let me know in the comments below. And as always, make sure to tune in next Sunday for the next installment of the series.
Follow me on Instagram @ncgwatches