Black-And-Orange Dive Watches — Stealth Divers With Flair From Seiko, Squale, And Doxa
All hail the Great Pumpkin!
It's not often I come across a watch that really sparks my imagination. Correction, that happens relatively often, but I look at so many watches that it occurs more rarely than you might think. When Seiko unveiled its newest The Black Series divers (which I got to introduce for Fratello) and I saw the Willard cushion case of the SPB257J1 in a fully coated black case with orange accents, something lit up in my brain. A chunky black and orange dive watch is not something I ever thought I needed until I saw the SPB257J1. Now I know I need one. The question is, which one? Turns out there are quite a few Great Pumpkins to choose from. But between the Doxa SUB 300 Carbon Sharkhunter, Squale 1521 PVD, and the abovementioned Seiko, it's become difficult to crown a "Pumpkin King".
If the pumpkin references aren't making any sense, I apologize. The United States, where I'm from, goes a little crazy every October 31st for a holiday called Halloween. Besides being a lot of fun, from dressing up in costumes to parties and lots of candy (seriously, too much candy), it has a very strict color palette: black and orange. And orange pumpkins — often carved to resemble grimacing faces or creepy scenes and placed on the front porches of homes — are the unofficial mascot. If "The Great Pumpkin" or the "Pumpkin King" mean nothing to you, I suggest searching them out for some exposure to the classic films and themes surrounding Halloween.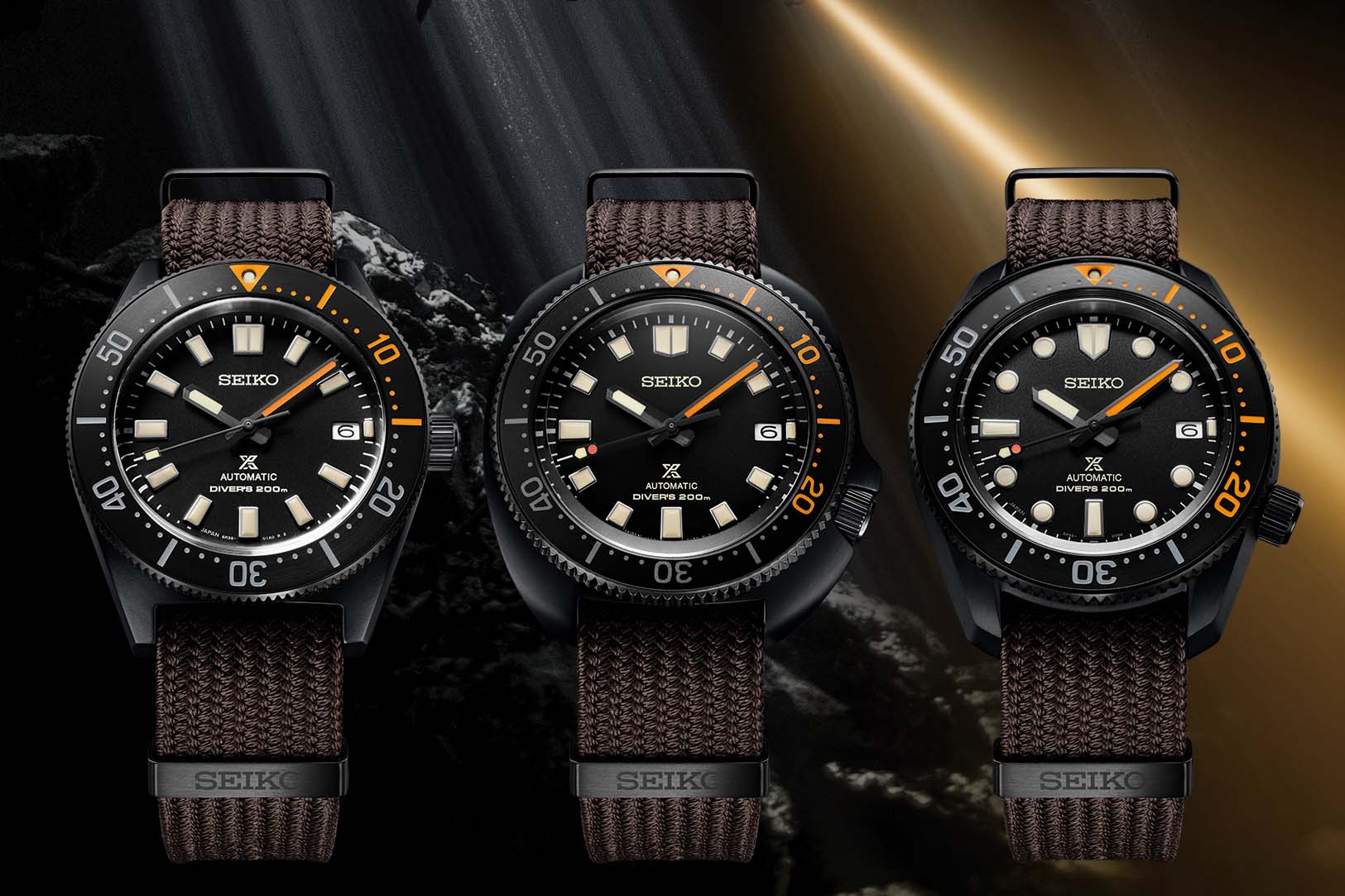 But what is a Great Pumpkin watch?
Now that you know where I'm coming from, let's look at what makes these watches "great pumpkins". They all have black cases with some element of orange accenting. The cases are either cushion cases or at least on the chunky side (pumpkin-like, eh?). And they're all divers. I have no idea how to tie diver's bezels to a holiday, let alone a vegetable. But for my sake and continuity, each of these watches is a dive watch. Let's start with the diver that incited this madness, the Seiko SPB257J1.
Seiko "The Black Series" 1970 Mechanical Diver's Modern Re-interpretation SPB257J1
Seiko has long relied on its fanbase to develop and circulate nicknames for its watches. Looking at the full name of the SPB257J1 above, it isn't hard to imagine why. I'm unabashedly putting in my bid for calling the SPB257J1 the "Willard Pumpkin". If it sticks, you read it here first. The common name for the distinct case shape is the "Willard", named after Martin Sheen's character, Captain Willard, in Apocalypse Now, who wore an original example of that watch. It's a unique watch in all of its iterations, with a lot more history than just as a movie prop.
The Seiko 6105, the original name for the original watch, has been to the North Pole, rafted down the Amazon river, and summited Denali, all on the wrist of late Japanese explorer Naomi Uemura. It's also gone to space and undersea laboratories on the wrist of Canadian astronaut and diver Dr. David Williams. I say all this to make the point that this watch has some serious history behind it. It's earned the right to let off some steam and have fun.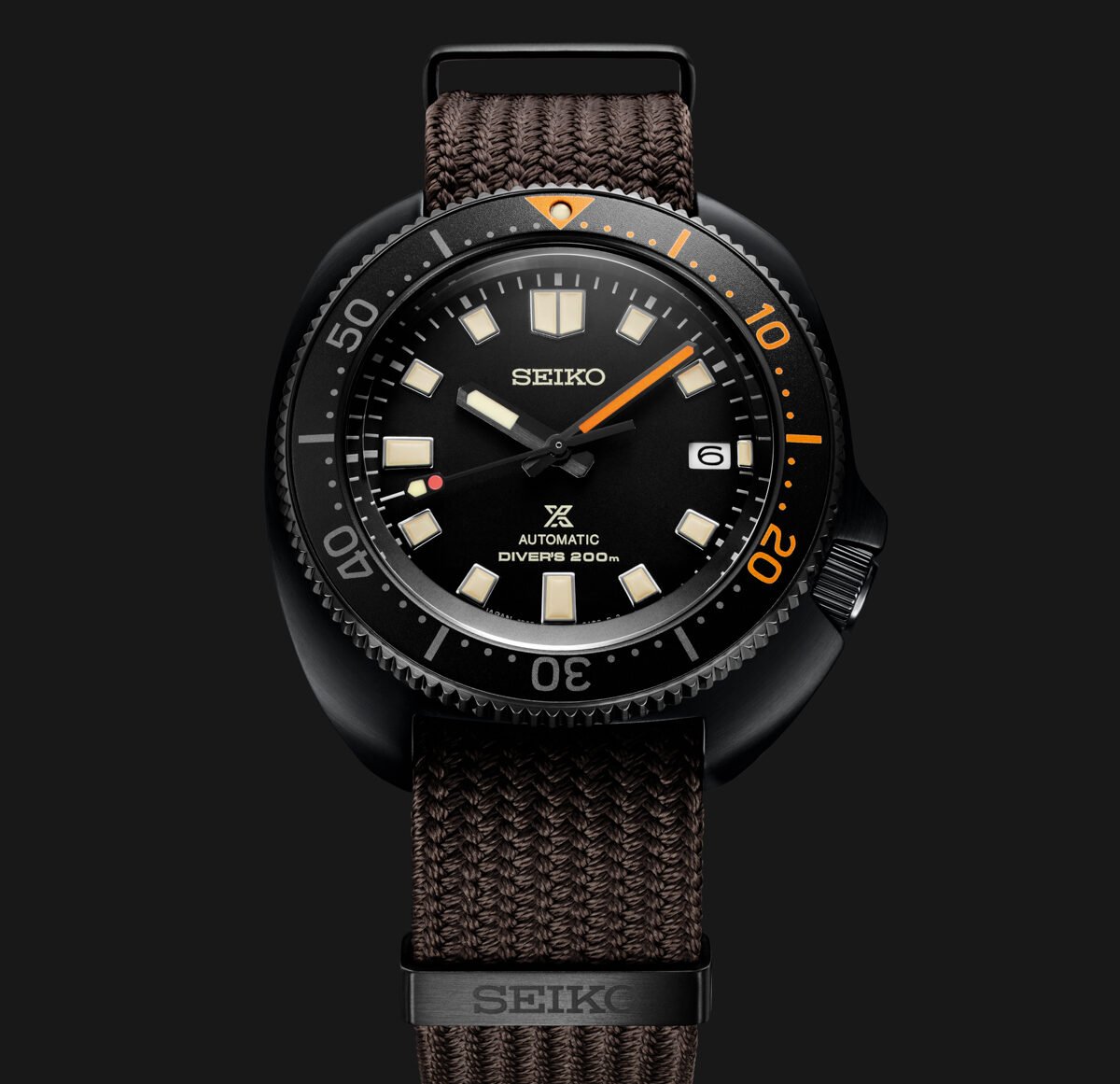 Seiko SPB257J1: The "Fun-pkin"
To everyone's detriment, I've committed to the pumpkin theme. The Seiko SPB257J1 is the most fun of our selection of pumpkin divers. It made finding worthy contenders that much more difficult. But that's par for the course with Seiko. Across its catalog, the brand typically infuses an element of fun that's often lacking with other, stiffer brands. The SPB257J1 offers a foundation of strong, simple dive watch design to build off of, and Seiko clearly had fun doing so.
Perhaps it's an unorthodox place to start, but the SPB257J1 is lumed in three distinct LumiBrite colors. The applied hour indices and seconds and hour hand receive a standard bright blue treatment, a stark difference to their warm ivory "fauxtina" in daylight. The bezel pip glows green, because why not? And the minute hand, perhaps the star of the show, glows in bright neon orange. There's no difference between light and dark here, as the minute hand remains orange no matter the lighting conditions.
…the alarming warmth of the orange creates a watch that is far from stealthy despite the black case coating.
The orange minute hand and the first 20 minutes on the diver's bezel comprise the orange accents for Seiko's SPB257J1. Against the black backdrop, with other subtle touches of color like the ivory of the hour indices and the red dot on the seconds hand, the alarming warmth of the orange creates a watch that is far from stealthy despite the black case coating. It positively pops. All of the black surfaces are matte, soaking up the light and accentuating the brightness of the orange. Even the non-orange markings of the diver's bezel are subdued in a neutral gray tone.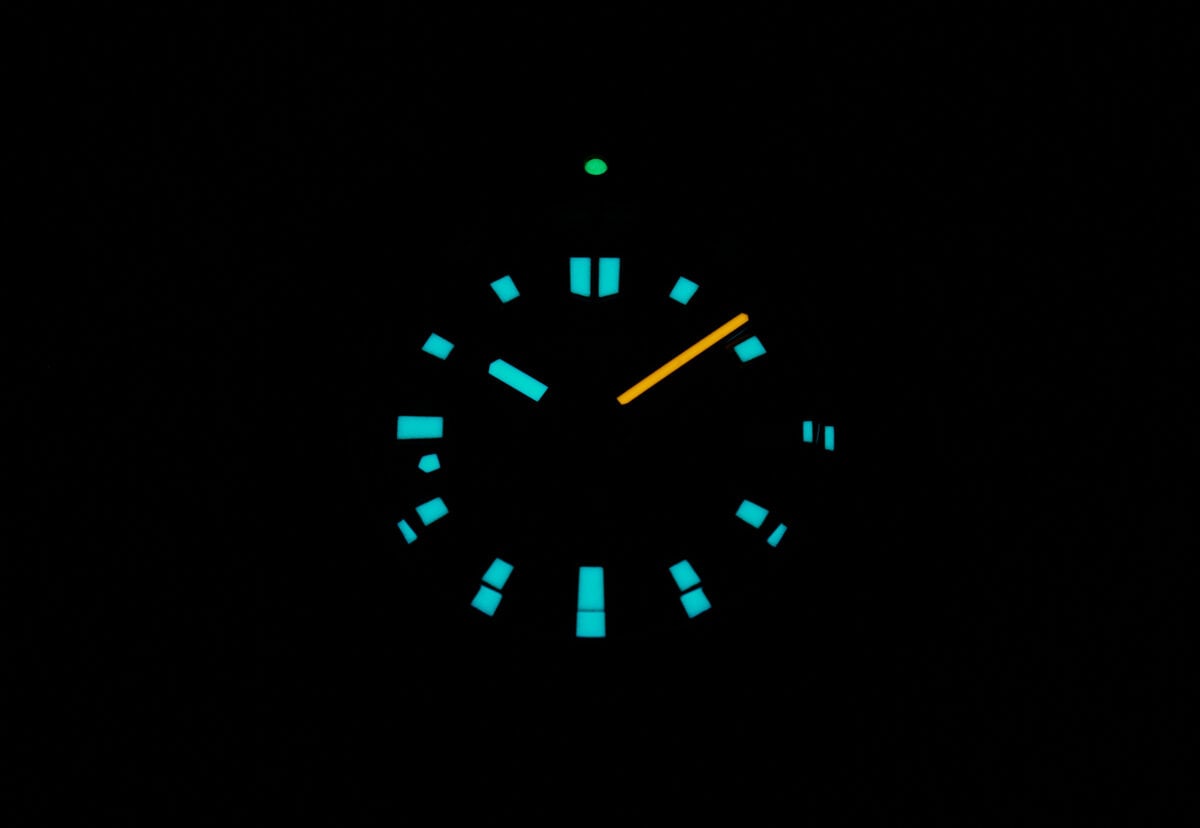 SPB257J1 Specs
The focus for this article is color, specifically two, but the rest of the watch is solid too. Seiko's 6R35 beats beneath the solid black case back, with 70 hours of power reserve, a date indication, a stated accuracy of +25/-15 seconds per day, 24 jewels, and hacking seconds. The case is hard-coated stainless steel and measures 42.7mm in diameter, 13.2mm thick, and 41.6mm from lug to lug, wearing smaller than its diameter might suggest. The crown screws down for 200m of water resistance, and a curved sapphire crystal with an internal anti-reflective coating sits above the dial. This is a limited edition of 5,500 pieces, and each example is individually numbered on the case back.
Some interesting choices
The fabric strap it ships on just may be the cherry on top. Seiko is showing the world that brown does go with black, and quite wonderfully in this case. There are no rules to fashion anymore (thank goodness). I'm thinking any of these black-coated watches might look just as good with the right brown strap. Seiko's strap has an added Easter egg of being braided in the traditional Japanese style of Seichu. It looks good and causes the strap to instantly look older than it is, as if it might've once been black and faded to a solid tropical brown. For good measure, Seiko also includes a black rubber strap for serious diving or for those trying to keep the funk factor down (though I don't know why they would).
The dreaded lume in the chapter ring at the outside of the date window is an attack on symmetry this Seiko fan hasn't yet been able to get over.
My only qualms about the SPB257J1 are centered around the date window. The dreaded lume in the minute track next to the date window is an attack on symmetry this Seiko fan hasn't yet been able to get over. And for all the warm ivory of the indices, the bright white background of the date begins to undo some of the warm-color magic Seiko has worked on this watch. I would much prefer a black date background with white numerals.
All in all, the Seiko SPB257J1 — or Seiko Willard Pumpkin — is a striking watch that inspired an article (and perhaps purchase). It's just hitting the market now with an official list price of $1,300 USD. If you're at all thinking about getting it, you may want to move fast. I have a feeling they won't stick around. More information can be found on Seiko's special The Black Series page.
Squale 1521 PVD "50 Atmos": The Serious Pumpkin
After being exposed to the Seiko SPB257J1 "Willard Pumpkin", I went on a rampant search for similarly themed watches. Thus, this article. The first alternative I found was the Squale 1521 "50 Atmos" PVD. Squale, like Seiko, has some serious history in dive watches. Over the years, the brand provided dive cases for Blancpain, TAG Heuer, Doxa, and Sinn, among many others, as well as maintaining a small presence among professional divers as a watchmaker itself. Squale is currently a smaller, yet long-lived brand; historically a mini-brand, if you wish. The black-and-orange "pumpkin" 1521 PVD dive watch, while not as fun as the Seiko, is an elegant and more sober approach to the motif.
The Squale 1521 PVD also incorporates a matte-black-coated stainless steel case with a black bezel and a sapphire crystal. Like the Seiko, the 1521's crown nestles into the case around 4 o'clock. Unlike the Seiko, however, the case, while sizeable, does not have the characteristic bloating of a cushion or pseudo-cushion case. The Squale comes much closer to an earlier modified skin diver, which is fitting for Squale's long history in dive watches.
1521 Specs
Like the Seiko SPB257J1, the Squale 1521 also has an orange minute hand and white date window. That's about where the comparisons end. Because where Seiko went for nuanced and varying details, Squale instead has focused on utility. The lumed indices are simple, borderless affairs. All the lume glows a simple bright green that only Super-LumiNova can deliver. The solid case back covers an automatic Sellita SW200-1, the reliable go-to of the Swiss watch industry. With 38 hours of power reserve, a 28,80vph beat rate, and 26 jewels, it ticks all the boxes for a standard workhorse.
Hardly orange, hardly fun, but just fine
Alongside announcing its Swiss origins on the dial is "50 Atmos". Five hundred meters of water resistance and no-frills (except for the orange minute hand) firmly establishes the 1521 PVD as a tool watch first and something for me to objectify second. There's no tri-color lume, no ivory fauxtina, and certainly no ill-placed lume in the chapter ring. That's all fine. And I'd have no trouble wearing the Squale 1521 in scenarios in which I'd be nervous about roughing up the gorgeous limited-edition Seiko SPB257J1. Throw the 1521 PVD on a brown fabric strap, collect some scrapes, and I'd say it's perfect.
Measuring 41mm in diameter, 12.5mm in height, and 48mm from lug to lug, it's accessible for most wrists, mine included. There's no arguing with the price either. At $994 USD, it's a solid Swiss diver at a deal that checks all of the pumpkin boxes. RJ had the opportunity to review a limited-edition variation of the 1521 and came away impressed. More info can be found at Squale's site here.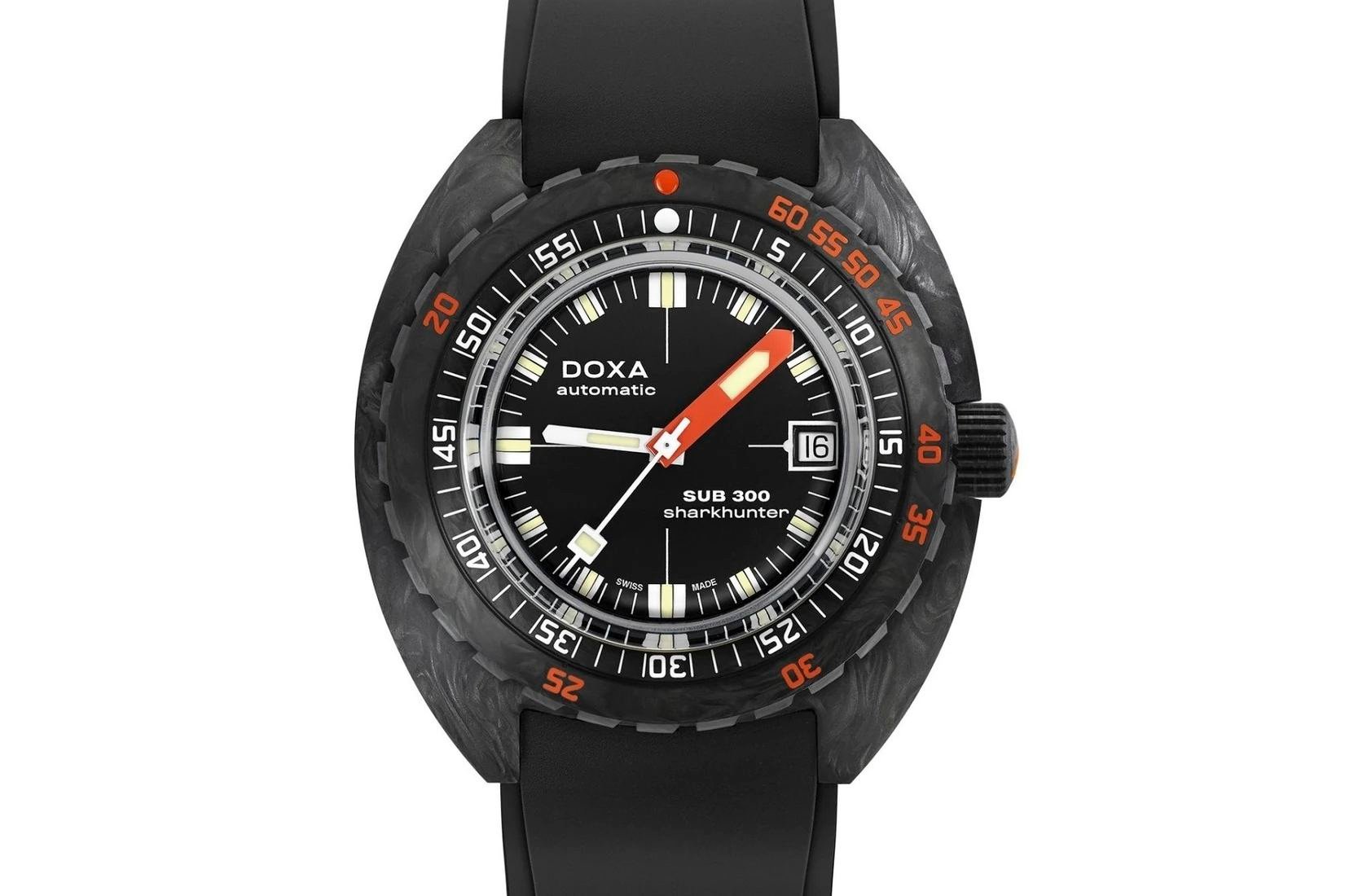 Doxa SUB 300 Carbon Sharkhunter: The "Pro-mpkin" (not sorry)
Doxa takes the seriousness of the Squale 1521 and ratchets it up a few notches with the SUB 300 Carbon Sharkhunter. Like Seiko and Squale, Doxa has its own proud history of serious dive watches. Jacques-Yves Cousteau? He wore Doxa, as did (and do) many other serious divers. Doxa has held steadfast to its professionalism even as the wave of fashionability swept through the dive-watch world. That doesn't mean you have to be a diver to wear a Doxa. It just means that if you do, you have a watch that's very serious about diving.
Unlike the previous watches, which utilize different coating techniques for their stainless steel cases, the Doxa SUB 300 Carbon's case is made of forged carbon. This creates an extremely lightweight yet strong case, with no coating necessary to achieve a cool, marbled, black look. As our own Balazs Ferenczi noted in his hands-on review of the SUB 300 Carbon, it "feels like wearing a rubber bracelet." Not bad when the 42.5mm diameter cushion case usually means some serious heft when left metal.
The middle ground between work and play
Since lume has become as much a theme as the rest of the color palette, you may be pleased to read that the SUB 300 Carbon Sharkhunter straddles the difference between Seiko and Squale, giving us blue lume for the hands and indices and a green-lumed bezel pip. Perhaps the minute hand doesn't get orange lume, but it certainly makes up for it with sheer orange presence. Atypical for most watches, the minute hand is much wider than the hour hand, an important feature when relying on it for timing minutes underwater. Continuing with bridging the gap between Seiko and Squale, the Doxa gives us plenty of orange on the signed crown and the bezel for the numerals of the built-in "no decompression limits" calculation.
Now, the Doxa SUB 300 Carbon in "Sharkhunter" black is hardly Doxa's orangest of the Carbon 300s. The "Professional" coloration features a fully orange dial. I like orange as an accent, not a hammer, so I went with the Sharkhunter, but know that a much oranger SUB 300 Carbon exists if you fancy it.
SUB 300 Carbon Specs
All the watches featured in this article are large pieces that wear well on regular-sized wrists. That's a signature characteristic of cushion cases. The Doxa SUB 300 Carbon measures 42.5mm in diameter, 45mm lug-to-lug, and 13.4mm thick. This is the only watch of the three that doesn't feature a crown around the 4-o'clock position, opting instead for a traditional 3-o'clock placement. It recesses somewhat into the case, using it for protection. Sapphire crystal adorns the top.
Under the hood is a chronometer-certified ETA 2824, yet another reputable workhorse movement rounding out our trio. Similar to the Sellita in the Squale (because the Sellita is based on it), it features 38 hours of power reserve, 25 jewels, and beats at 28,800vph. The added accuracy of the chronometer certification is a huge plus.
…the texture of the forged carbon case and bezel lends a certain stylishness that makes it approachable.
As is the theme, the SUB 300 Carbon's water resistance sits between that of the Seiko (200m) and the Squale (500m) at 300 meters. Meant for serious diving, it comes on a black rubber dive strap. I, of course, would promptly swap for a brown fabric strap. The Doxa is by far the most tool-ish of the black-and-orange divers featured here, though the texture of the forged carbon case and bezel lends a certain stylishness that makes it approachable. It's unique in appearance, even if its focus is on performance.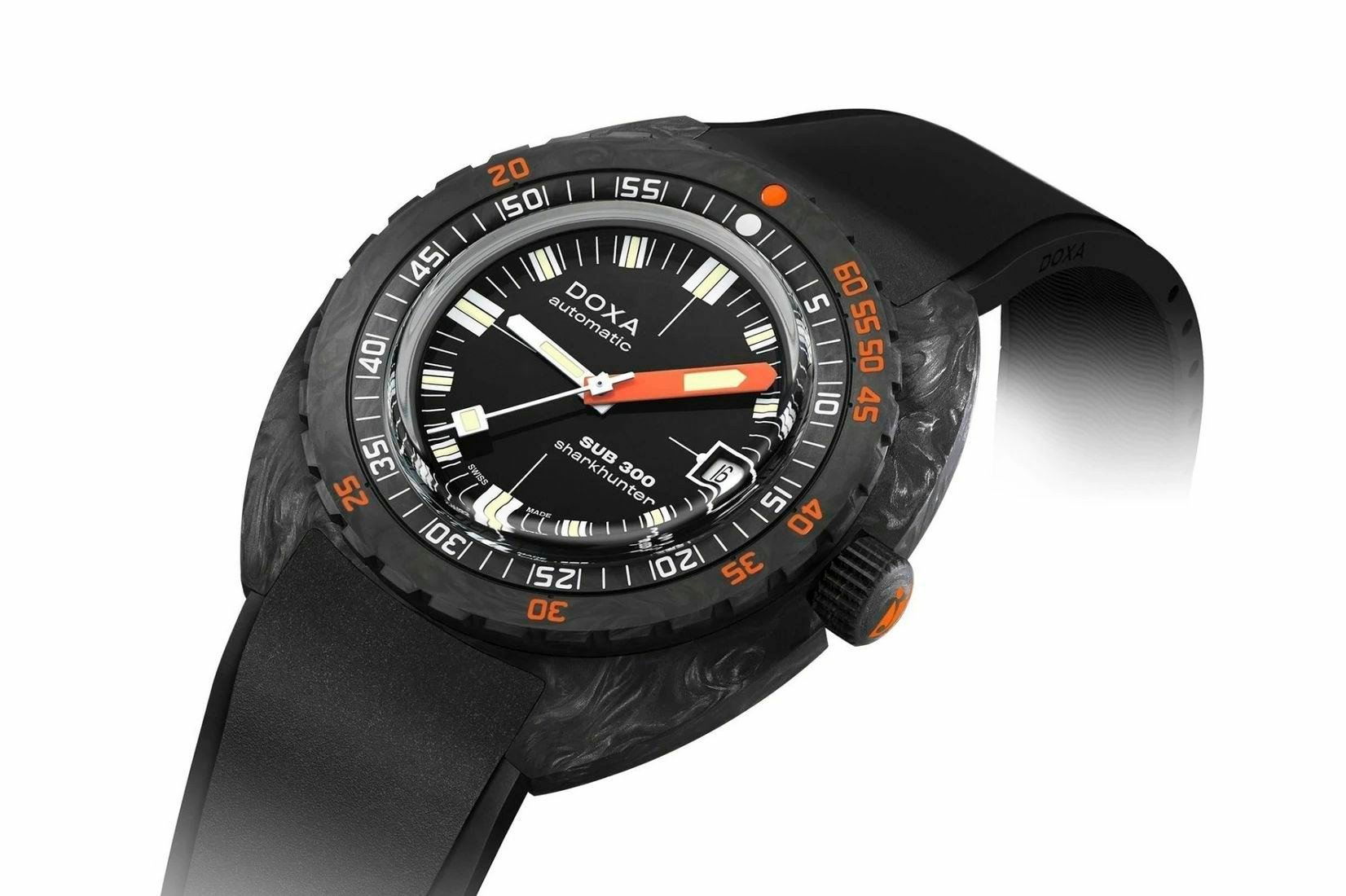 Works hard, looks nice
For being so work-oriented, I'm thoroughly pleased that the date window has been symmetrically tucked into the dial at 3 o'clock, mirroring the hour index across from it perfectly. I have no idea what I'd do with a "no decompression limit" metric on the bezel, but at this point, I'd be happy to have it exist solely for its color. Andy Warhol famously never wound his Cartier Tank. I don't mind being guilty of wearing a tool watch with features I don't use. The Doxa Sub 300 Carbon retails at $3,890 USD. More information can be found at Doxa's site here.
Crowning the Great Pumpkin
Between the Seiko SPB257J1, the Squale 1521 PVD, and the Doxa SUB 300 Carbon Sharkhunter, one must emerge triumphant. My bank account can't handle purchasing all three. I figured by completing this article, I'd have more of an idea of the perfect black-and-orange dive watch for me. Unfortunately, I've achieved just the opposite. If anything, I like each model a little more. I'm not ready to pull the trigger on my own pumpkin watch just yet (though if I wait too long, I'll miss the Seiko). I hope this article helped you find your love for black-and-orange divers. Let us know in the comments below which you'd choose or if there are others worth checking out.
Honorable Mentions
I could keep going, I really could, but this article and the pumpkin references have gone far enough. I'll leave you with three other black-and-orange dive watches that didn't make the cut to be fully featured but are still worth checking out if you too are in the market for something Halloweeny.
For those of you that are well aware of what Halloween is and are scratching your heads at why such a targeted article about an October holiday is publishing in March, let me contend that Halloween is not an event, but rather, a state of mind. And with a black-and-orange watch to wear year-round, I'll get to celebrate its eternal nature with the unending sweep of a Halloween-orange minute hand. Boo!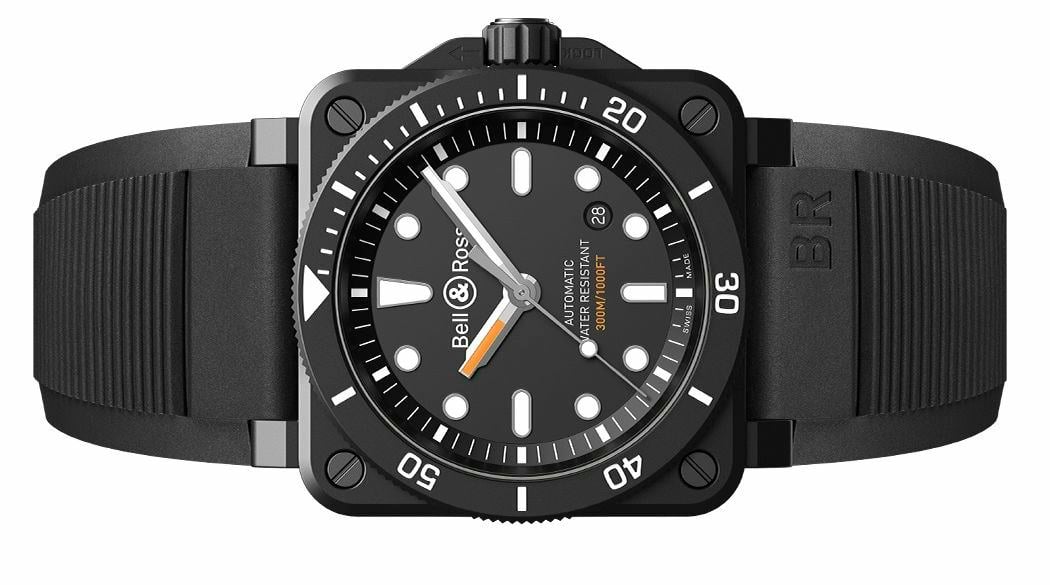 Bell & Ross BR 03-92 DIVER BLACK MATTE
Bell & Ross is not known for "cushion cases". But if ever there was a square case with any "cushion", it would be a Bell & Ross. Check out Nacho's review of the BR 03-92 in white, and find more info on the Bell & Ross site.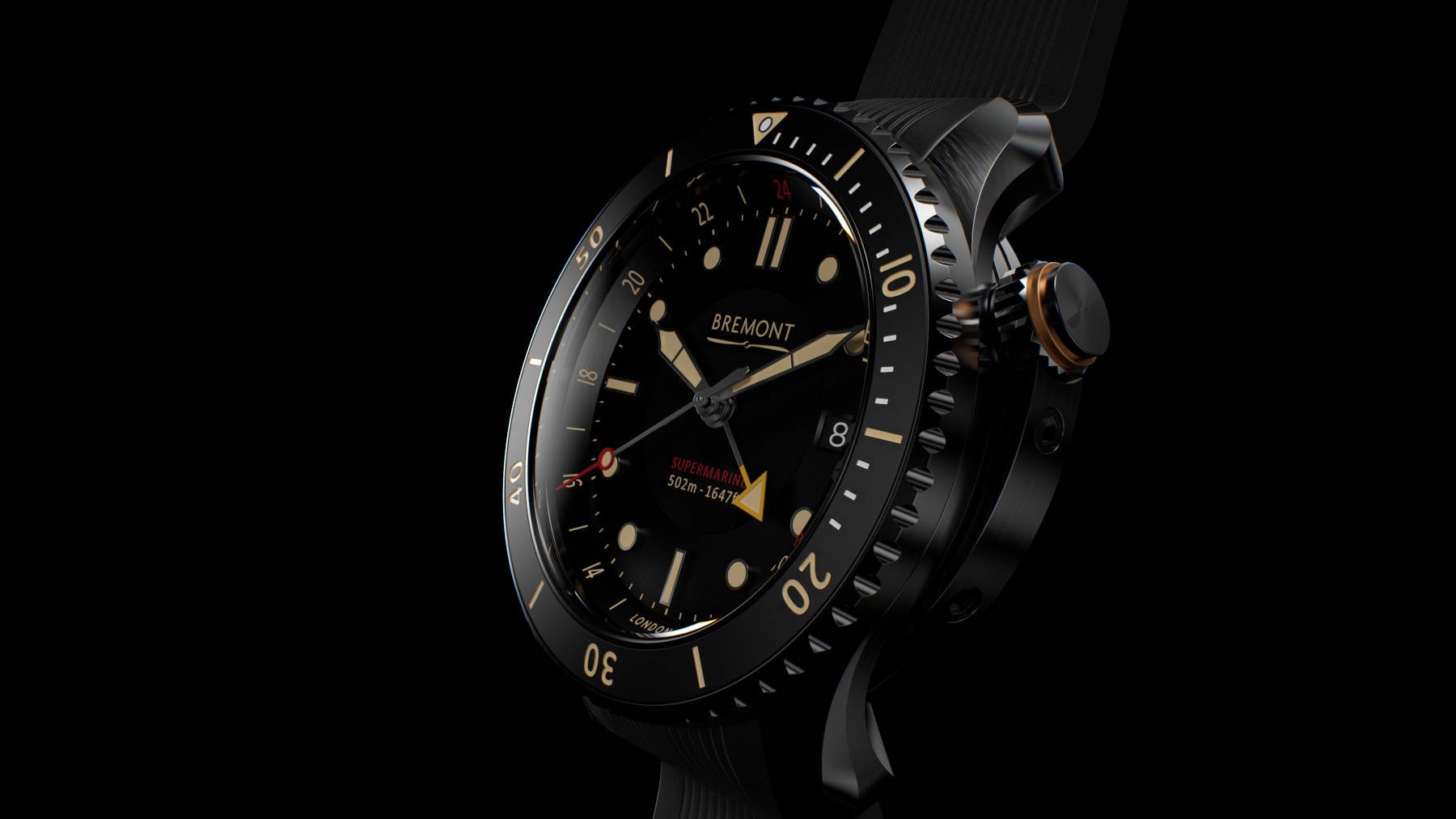 Bremont Supermarine S502 Jet
It's black, but are those accents really orange? I can't tell. Either way, the Bremont S502 is a cool watch, as Dave breaks down here. Get more info on Bremont's site.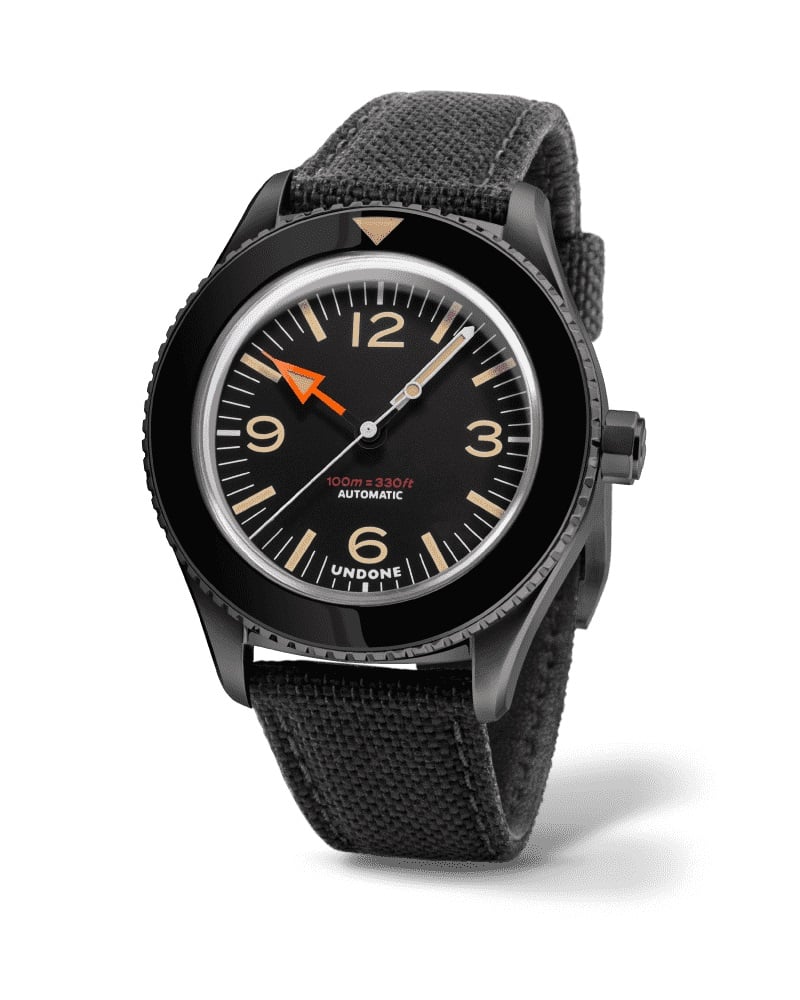 UNDONE Basecamp "Blackout"
The budget entry of the pumpkins is nothing to dismiss. It just didn't make the cut because the case wasn't bulky enough for me. But the UNDONE Basecamp "Blackout" checks all the other boxes, and Gerard loved it. Find more info about it on UNDONE's site.