Hands-On: The Nodus Avalon II Bronze — Defining 21st-Century American Watchmaking
A guest post by Vincent Deschamps
When we speak about the history of watchmaking, we typically mention France, Switzerland, the United Kingdom, Germany, and the United States. The last was made famous by Hamilton, Elgin, Waltham, Benrus, and Ball, among others. Of all these brands, Benrus is perhaps the only "survivor" of the OG American watchmaking tradition. That doesn't mean that some of these brands don't still exist, such as Hamilton and Ball, which moved their home bases to Switzerland. However, the boom of independent brands over the past few years has defined 21st-century watchmaking in the United States.
Given that Hamilton and Ball are no longer American brands (both moved their HQ and production facilities to Switzerland in the early 2000s), what is left today of the American watchmaking tradition? As mentioned above, Benrus may be the only historical American brand still based in the US today, but even it was only revived in 2020. Some of my colleagues have covered American-based independent brands. For example, our very own Nacho talked about the Vaer Atlas and Thor about Lorier. There is another American brand that I believe we should talk about more, and that is Nodus.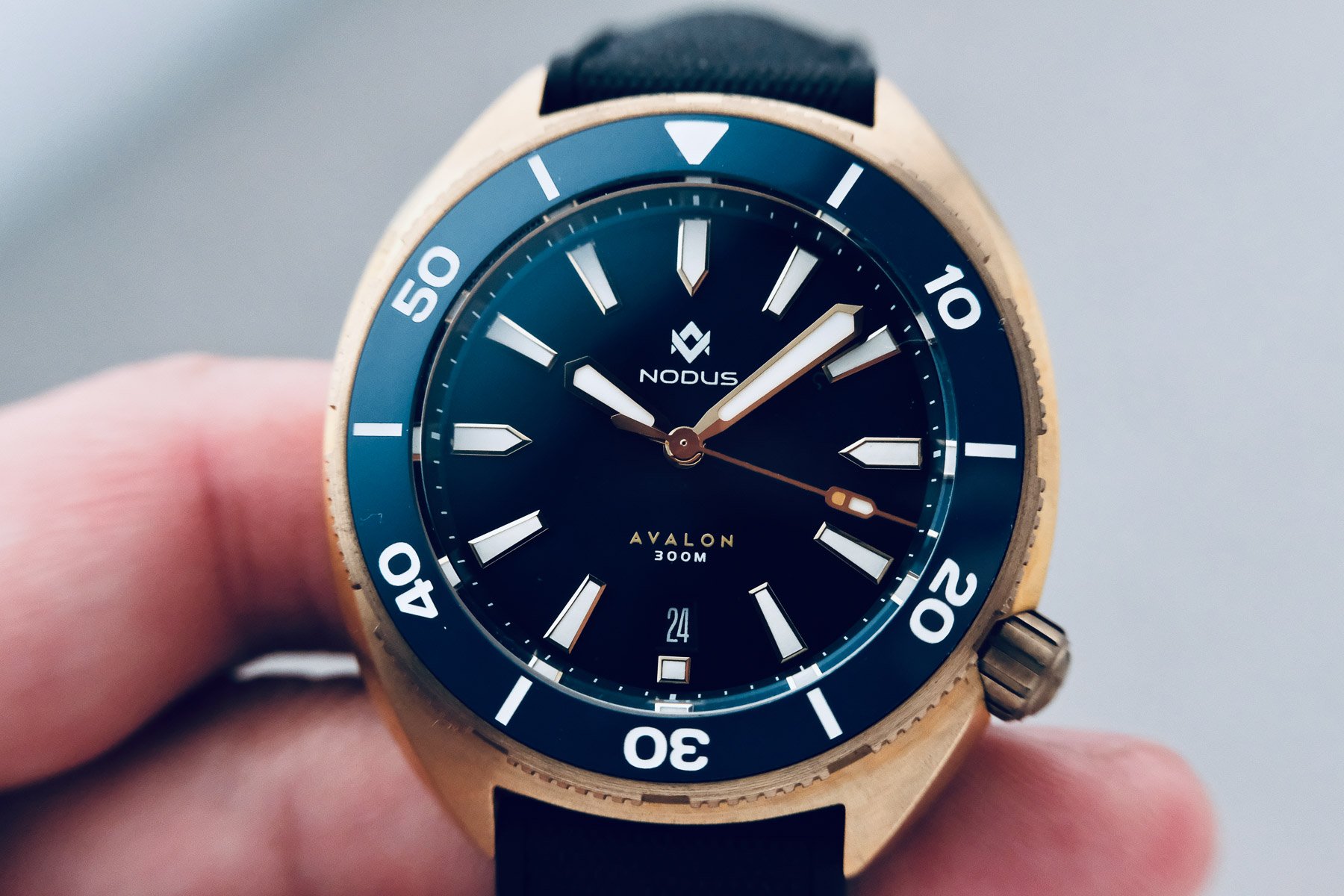 What "independent watchmaking" means
But before we talk about Nodus and the Avalon II Bronze, I wanted to nuance the term "independent watchmaking." A brand owner once proposed the following definition: independent brands get their watches made abroad but assembled, tested, and quality-controlled in-house. Opposite of that are microbrands that get everything done abroad except for quality control and shipping. By this definition, an independent brand, therefore, is involved in parts of the assembly process, in addition to the design. This means an overall greater involvement in the products they sell.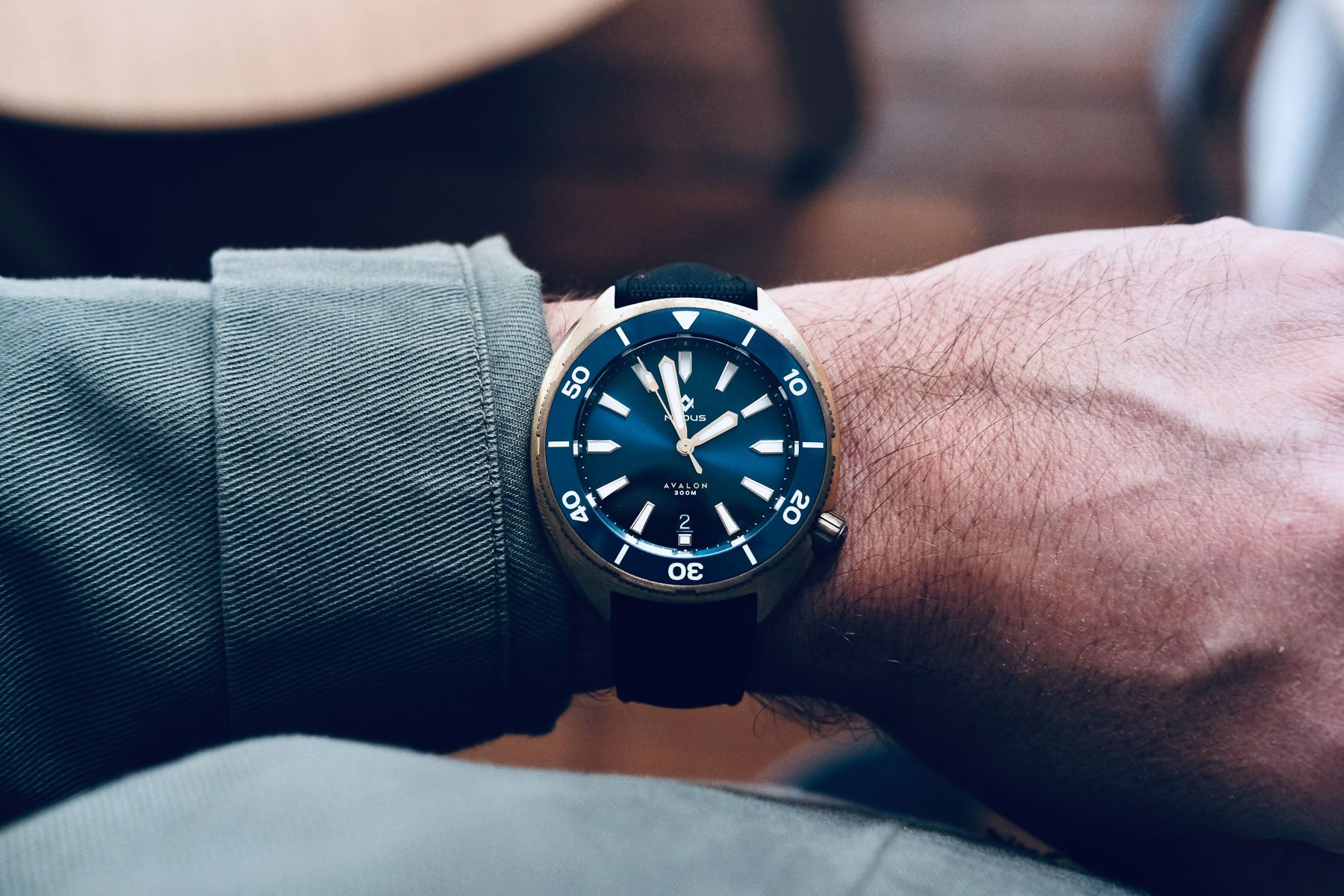 This is an important nuance to point out because, in my experience, independent brands produce higher-quality watches. In general — and only speaking from experience — the finishing and assembly tend to be better, and the movements tend to run more accurately. The Nodus Avalon II Bronze follows that new tradition. And I've got to say I was impressed by its quality as it relates to its $749 price tag. There is no shortage of American brands that get their watches done abroad. But they are not all created equal. Some truly stand out from the crowd. 
In the spirit of this article, I would propose that we qualify Nodus as an independent brand. Nodus, therefore, can be added to the group of brands that Oak & Oscar, Benrus, and others belong to (if you don't agree, please leave your comments below!).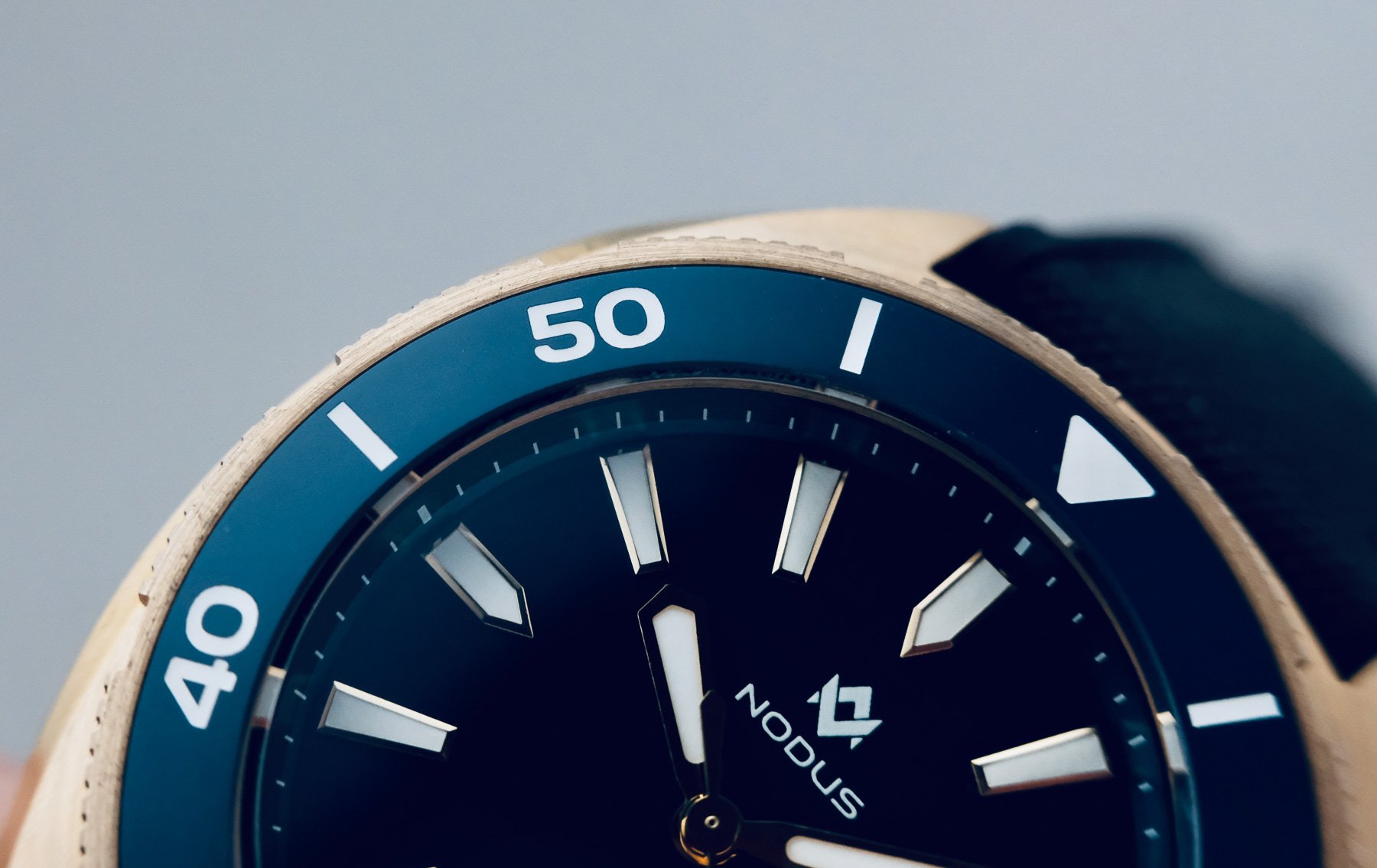 The Nodus Avalon II is all about quality
Dave reviewed the Avalon II in stainless steel back in March of 2022. He provided background information about the brand and the reasons for its popularity, namely, the exceptional finishing and quality of construction. I know, I'm sounding biased here and perhaps a bit too enthusiastic, but I do so because the Avalon II is a quality timepiece. Over the past two years, I've reviewed dozens of watches from independent brands, and I was often disappointed. More often than not, the design was great, but the finishing or construction left something to be desired. 
What can kill a watch is, for example, a crown stem that comes out while setting the time. And how about blemishes on the hands, dust particles underneath the crystal, rough finishing on the applied markers, or even scratches on the inner anti-reflective coating? I've seen all of these in many watches. While I've come across brands that got it right, they would tend to retail for 1,000 euros/US dollars and above. The Avalon II Bronze retails for $749, and you get more than you pay for.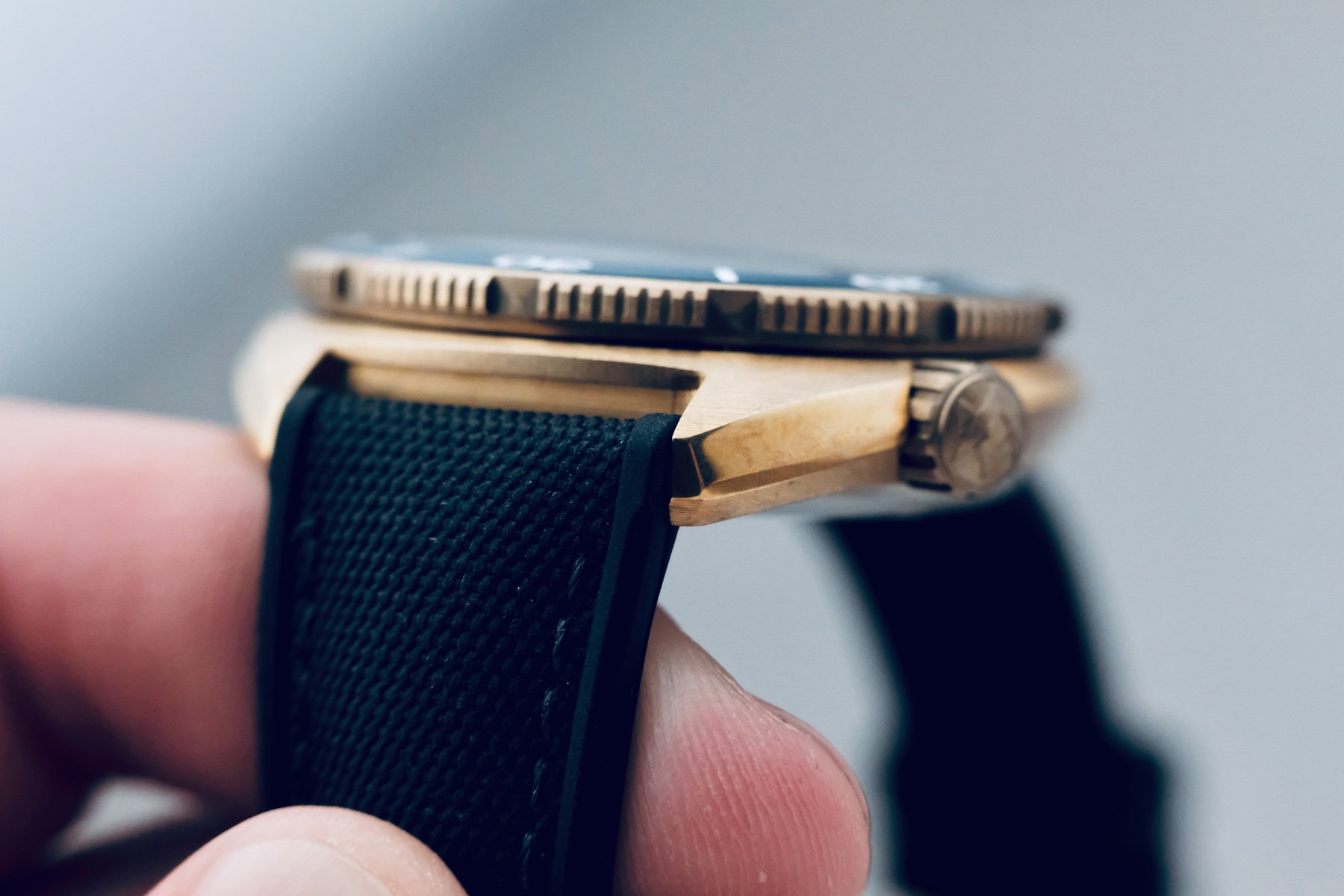 All about that bezel
The finish on the hands and applied markers of the Avalon II is crisp. It even looks better than on the stainless steel version that Dave reviewed. This is mainly because the hands and accents are gold-colored. In general, "gilt" touches like these shine brighter than polished stainless steel and have a more elegant look. That means you better not mess up the finish as imperfections will show more easily. The printing on the dial is crisp as well, and the beveling on the date aperture is precise.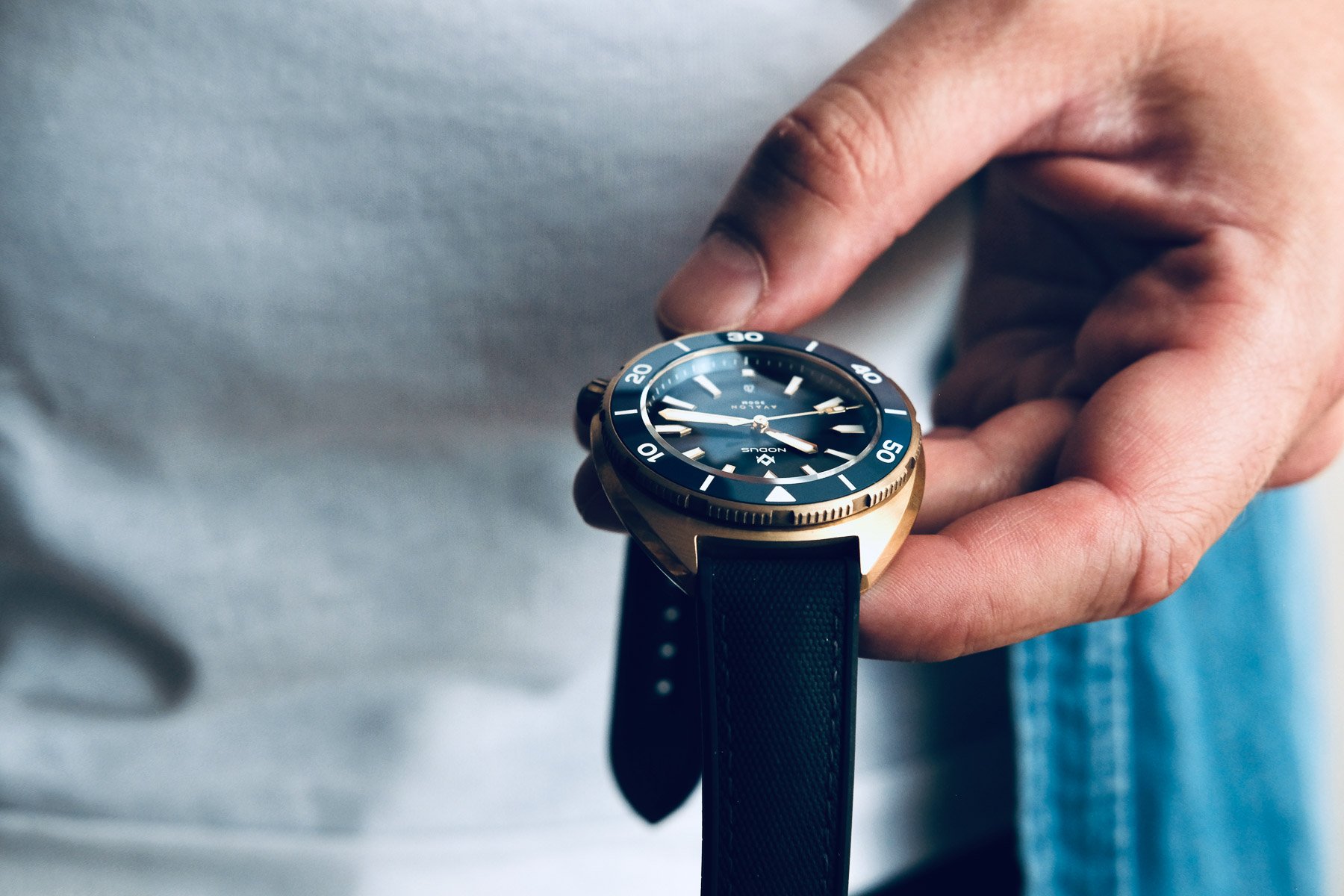 The case construction is solid and the machining on the crown, bezel, and screw-down case back is nice. I have developed somewhat of an obsession with the deep grooves on the coin-edge bezel. They look and feel purposeful and akin to a precision tool. Speaking of precision, the bezel action is rather unusual as it feels metallic and springy. The bezel uses a ball-bearing click mechanism instead of a traditional click spring. In a way, I can feel the metal parts of the bezel construction moving against one another. However, as unsettling as that may sound, it is rather enjoyable. I've rarely had so much fun spinning a bezel to time something.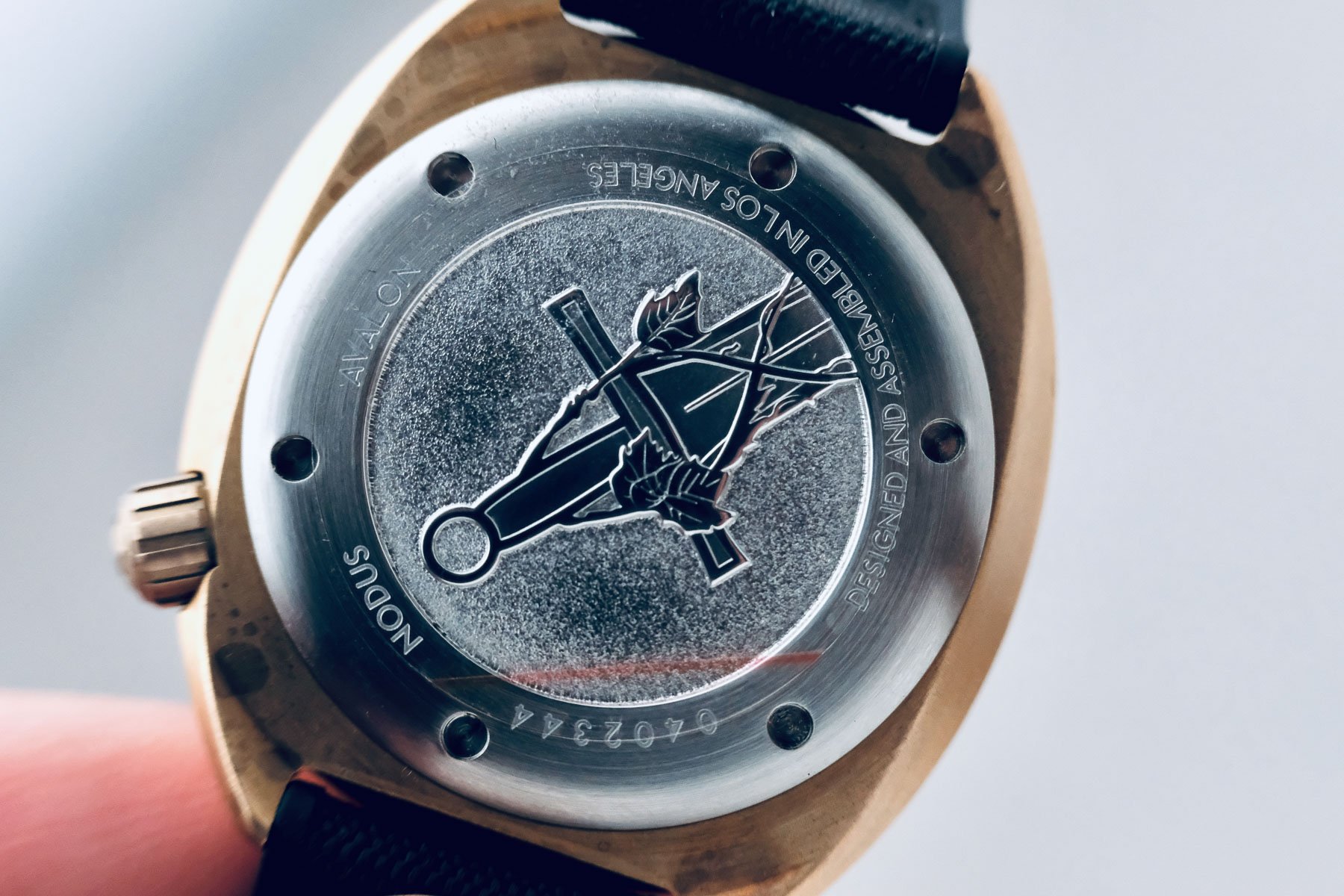 Specs of the Avalon II
The Avalon II is not perfect, however. Its dimensions are not for everyone as the case measures 43.5mm in diameter. And although its lug-to-lug is only 48mm, it commands a certain wrist presence. I do not mean to contradict RJ's opinion on watch sizes, but more in line with Daan's view, I would love to see a smaller version of the Avalon II. That said, the tonneau-shaped case is very well executed and the watch sits low on the wrist thanks to its 12.5mm thickness. A particular bonus point goes to the angled case sides that flare upward. They allow the case to follow the contour of the wrist while visually lifting the dial and bezel. 
The Avalon II comes with the Miyota 9015 movement, the same caliber found in the stainless steel version. Nodus regulates the movement in-house to ±8 seconds per day, and it does run according to those specifications. The 24-jewel 9015 beats at 28,800vph (4Hz) and delivers 41 hours of power reserve. Other specifications include 300 meters of water resistance thanks in part to a screw-down crown and case back, a sapphire crystal, a lumed ceramic bezel insert, and heaps of T-C1 X1 SuperLumiNova on the dial, hands, and bezel insert.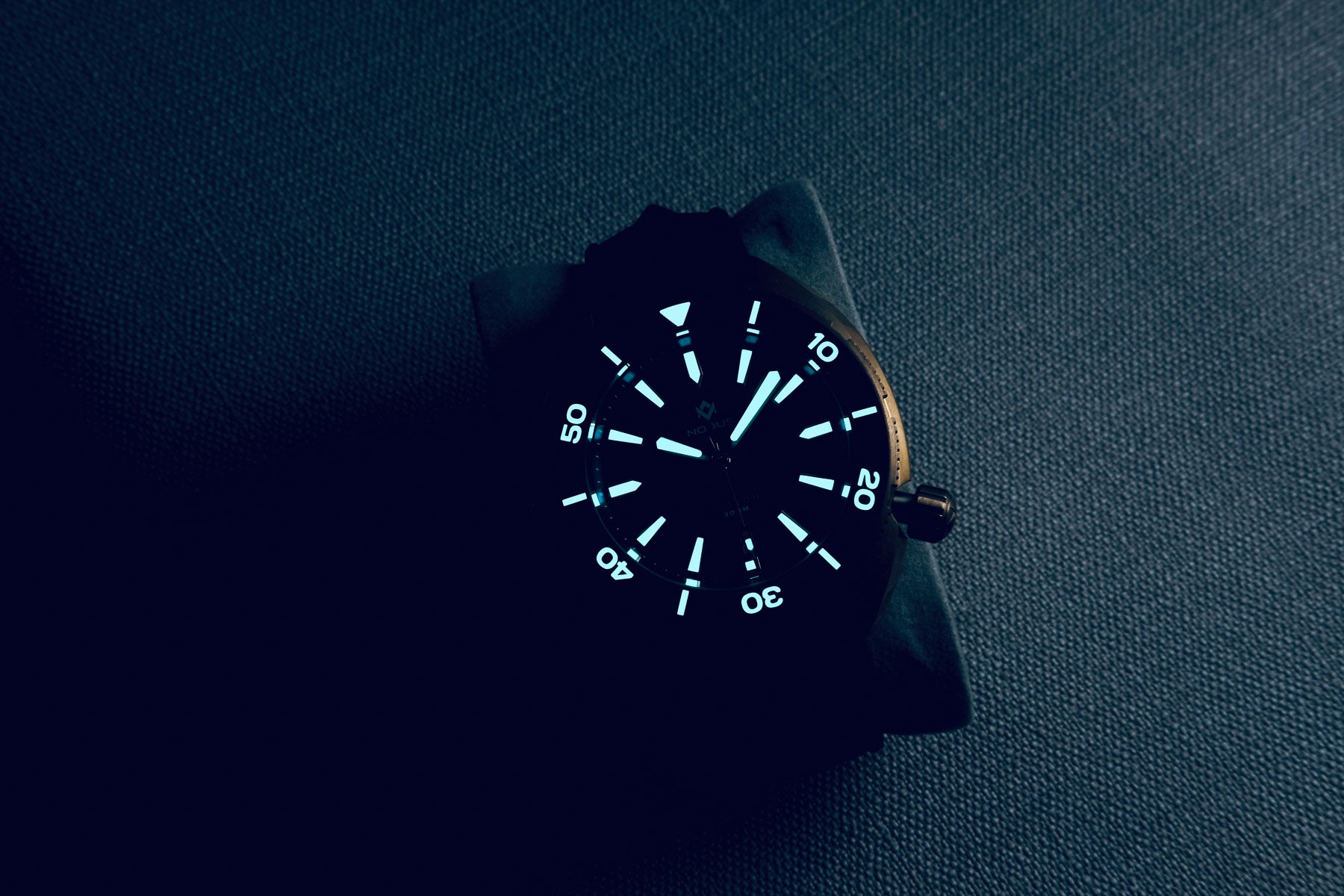 Maybe it's a little odd to have left one important specification for the end — the case material. As the model name indicates, the case is made of bronze, and we find the same material used for the hardware on the hybrid strap. The latter is made of a proprietary rubber compound the brand calls "Tecstuff" (interestingly enough, it was by shopping for a rubber strap several years ago that I first came across Nodus). To make matters even more interesting, the case is made of an aluminum-bronze alloy called CuAl5. This alloy is particularly resistant to corrosion and magnetism.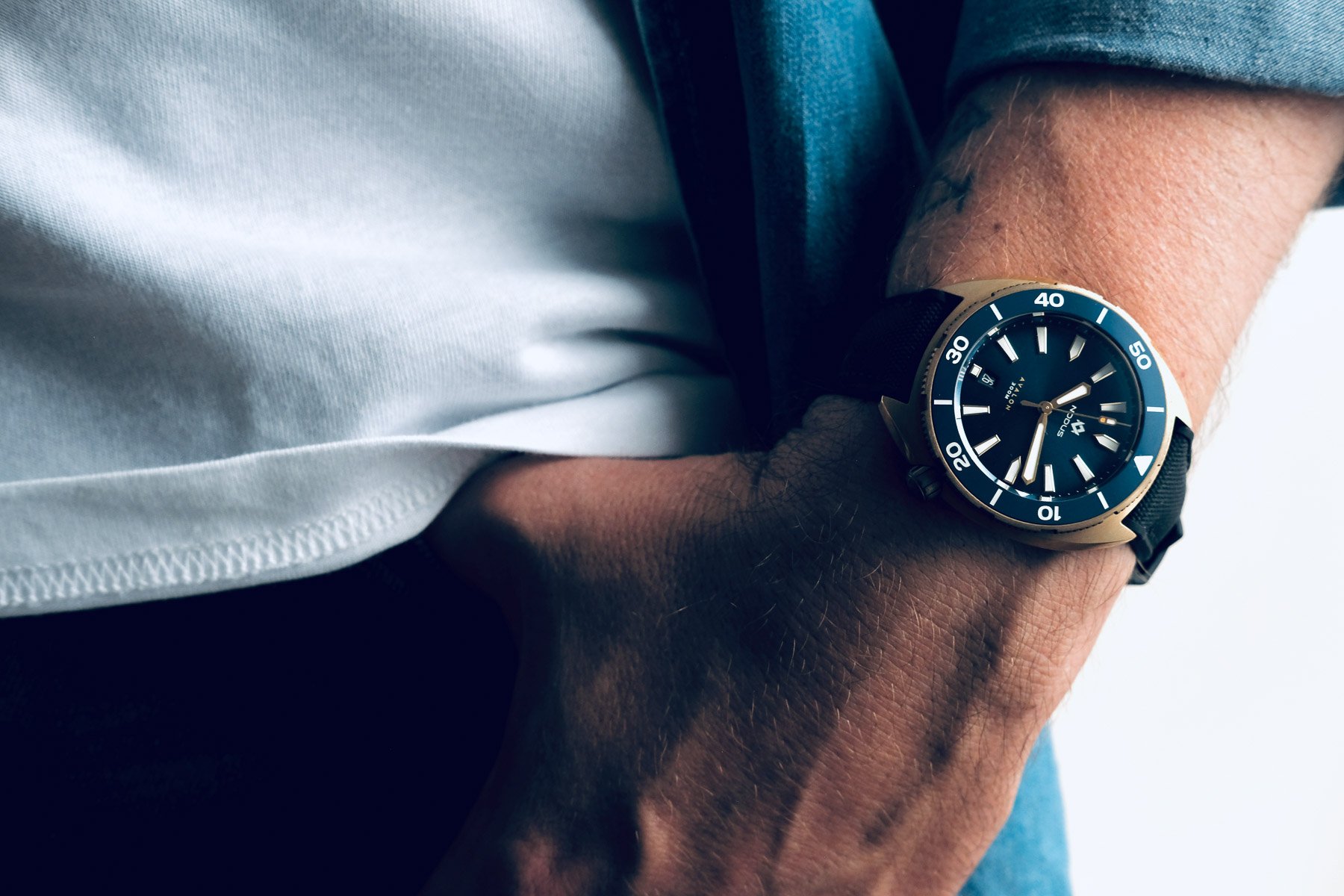 Final thoughts
When you add up all specifications of the Nodus Avalon II and put it against its price tag, you do see what a good deal it is. Of course, we each have our own definitions of what a good deal is. However, looking at the specs alone, you get a great movement, a strong case, powerful lume, and top-notch assembly and finishing. Yes, I guess we can also debate what "top-notch" means. Anyhow, enough of my personal opinion on this watch! I would like to know what you think of it. Are its specs more important to you, or do you prefer its design? Leave your comments below. 
For more information on the Avalon II or Nodus in general, check out the brand's website.