Lightweight Luxury Titanium Takeover By Bvlgari, Grand Seiko, A. Lange & Söhne, Oris And A Few More
Applying a new mindset to high-end watches
Since the earliest civilizations — be it Inca or Egyptian — gold was something special. The metal is indeed a meaningful one thanks to its real and symbolic value for mankind. Moreover, gold has been used as money for exchange, as a store of value, and as precious jewelry and other artifacts. The saying that someone is worth his or her weight in gold says a lot. It also brings to my mind the topic of weight. We, very literally, feel gold as an expression of wealth and luxury. But does an exclusive watch always have to be done in gold to feel luxurious? It's a question that some have a hard time answering. But it's worth searching for an answer, as we're experiencing some kind of lightweight luxury titanium takeover at the moment. More and more brands are pushing high-end titanium watches with price tags that are sometimes just as heavy as those of gold timepieces.
A watch made in titanium is noticeably lighter than a gold timepiece. That comes in handy when the timepiece in question is a tool watch. But nowadays, more and more luxury watches are executed in titanium, and that's forcing people to change their perspective on this much-lighter metal. That's also because titanium is 45% lighter than a less-costly steel watch with more or less the same look. Let me put it this way: when you buy a 1kg steak, you pay for a 1kg steak, not for a 550g steak. In a nutshell, I think that's what people don't like about titanium. I will address the color later.
Lightweight luxury titanium takeover — A mythic metal
The Titans were the deities in Greek mythology that preceded the Olympians, and titanium is named after them. Titanium has the chemical symbol Ti and the atomic number 22, and it's a silver-colored metal with low density, high strength, and excellent corrosion-resistant properties. Grade 2 titanium is commercially pure titanium that provides a light weight and corrosion resistance, but it isn't quite as strong as Grade 5. And Grade 5, or Ti 6Al-4V, is titanium alloyed with 6% aluminum and 4% vanadium. It's also the most popular titanium alloy in the watch industry.
… it's the grayish appearance, which some regard as dull, that often poses a problem.
Titanium has a darker gray hue than steel, the metal that most watch enthusiasts compare it to. The hue is a layer of oxidation that forms on the surface. And it's the grayish appearance, which some regard as dull, that often poses a problem.
Discussing titanium at Fratello HQ
The instrumental, grayish look of brushed titanium can be seen as a sporty or masculine characteristic. Especially when the metal is used to build a tool watch like a diver's or a pilot's watch. But the use of titanium to create more refined, way less instrumental watches is increasing. And at Fratello HQ, we quite regularly have discussions about the use of titanium in certain watches. Most often, we have diametrically opposed opinions about Grand Seiko creations. I applaud GS for creating watches in titanium that blur the boundaries between sport and dress watches. The zaratsu polishing of a titanium watch is a thing of beauty that adds refinement to the Grand Seiko's Evolution 9 GMT SBGE285 "Mist Flake" (€8,500). The weight is perfectly comfortable, and the bracelet doesn't have the "cheap" rattle a titanium bracelet often has. But lightweight titanium was also one of the reasons RJ didn't buy a GS "Snowflake".
Early, exclusive Ti examples
I guess there are a lot of people like RJ — he really is a one-of-a-kind guy, but you know what I mean — who want something shiny and heavy for their money. And although a number of high-end watch brands have discovered titanium as a way to express themselves in a new way, historically, it's been a fairly exclusive endeavor. Titanium is no biggie for brands like Richard Mille, sure. But of the more traditional brands, there are only a few who have used it. Patek Philippe had a few exceptional pieces and one-offs, for example. Audemars Piguet dabbled in titanium a bit more. In 2018, the brand presented a Royal Oak "Jumbo" Extra-Thin (15202IP) in titanium and platinum — platinum was used for the bezel and the polished links in the titanium bracelet. Two years later, AP presented a titanium Royal Oak Selfwinding Flying Tourbillon (26530TI) with a sandblasted dial. And in 2021, the brand from Le Brassus introduced a Royal Oak Perpetual Calendar in titanium.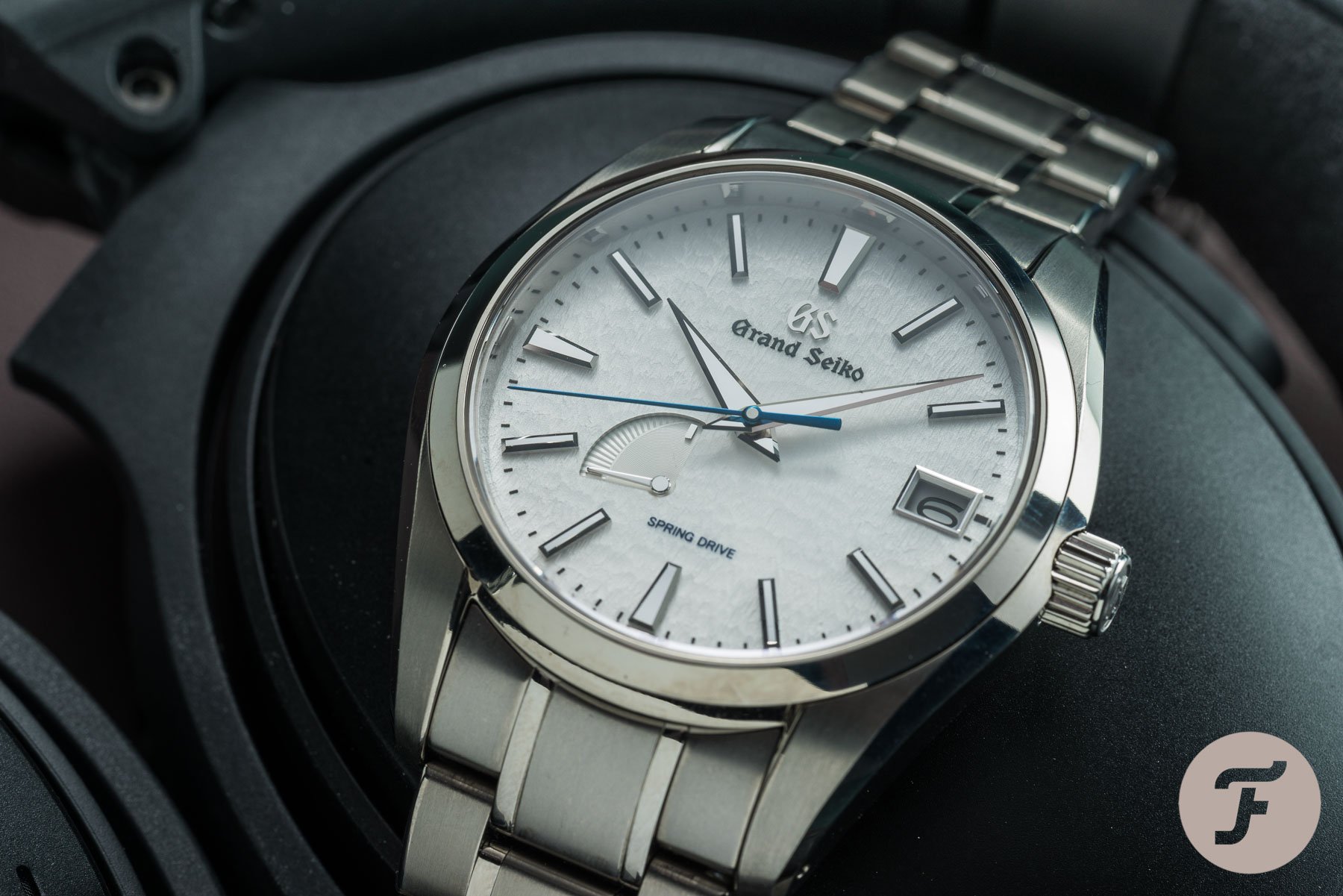 On a more approachable price level, Grand Seiko is proof that titanium has a rich appearance and oozes luxury when treated right. And there are more and more brands that have "discovered" titanium as a versatile, not just functional metal. Titanium allows a number of brands to create watches that are "meant for" that metal from a functional and aesthetical perspective. Allow me to present a few recent examples of watches that work best in lightweight titanium.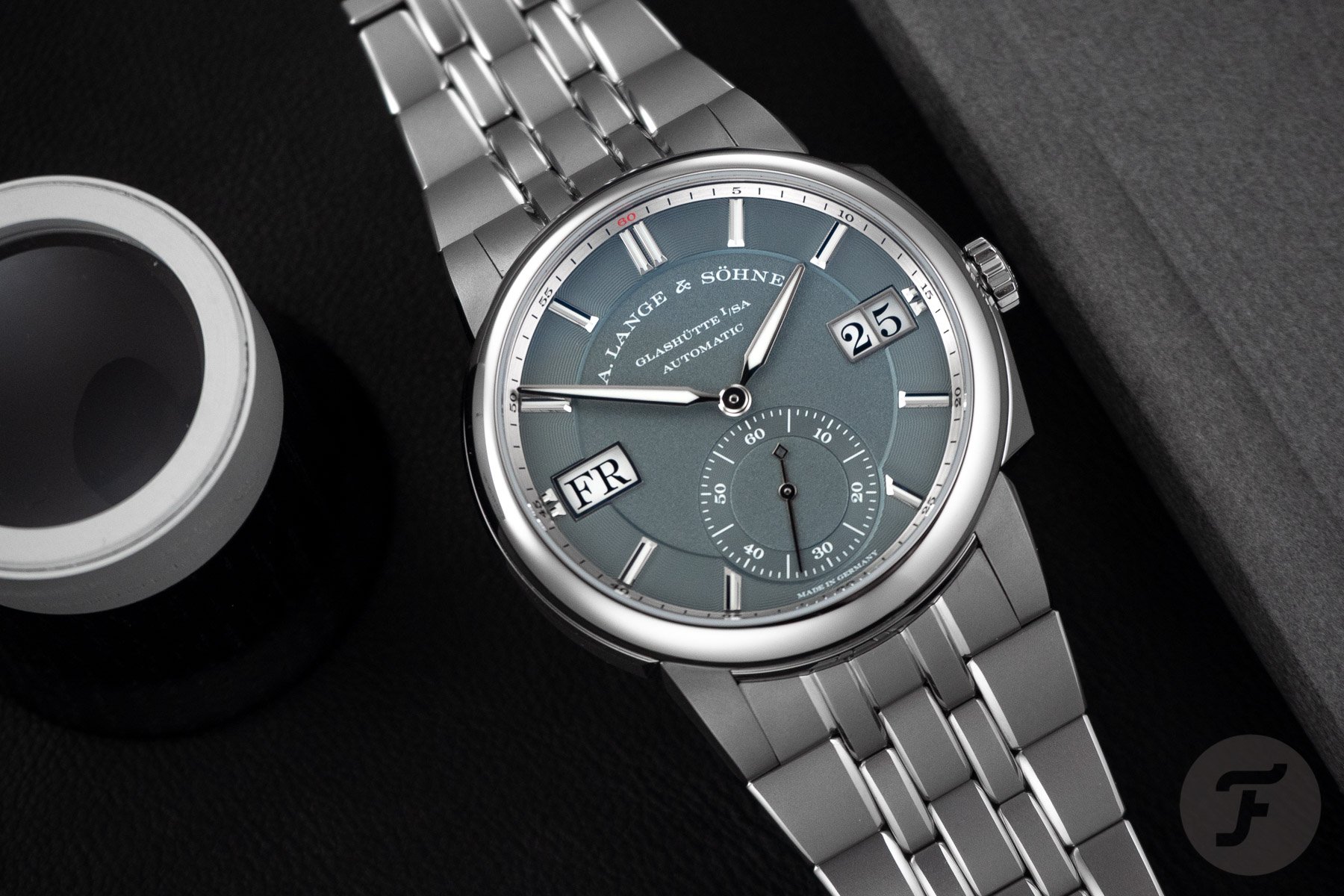 A. Lange & Söhne Odysseus — A remarkable German titan
The A. Lange & Söhne Odysseus in titanium was one of my favorite Watches And Wonders 2022 novelties. The layout and purpose of the watch work best in titanium, period. The latest Odysseus with a case and bracelet in Grade 5 titanium shows micro-blasted surfaces and polished angles to capture and reflect the light. At just 104 grams, it's 44 grams lighter than the steel Odysseus. And the steel Odysseus costs €33,000 whereas the new lightweight titanium version has a price of €55,000.
I expressed my thoughts about this price point before, but while putting this story together, I came up with an extra theory. Maybe Lange wants to teach people that titanium is a precious metal that is worth paying extra for. The 250 pieces of the titanium Odysseus are all sold out, so you could say that at least 250 people learned a lesson.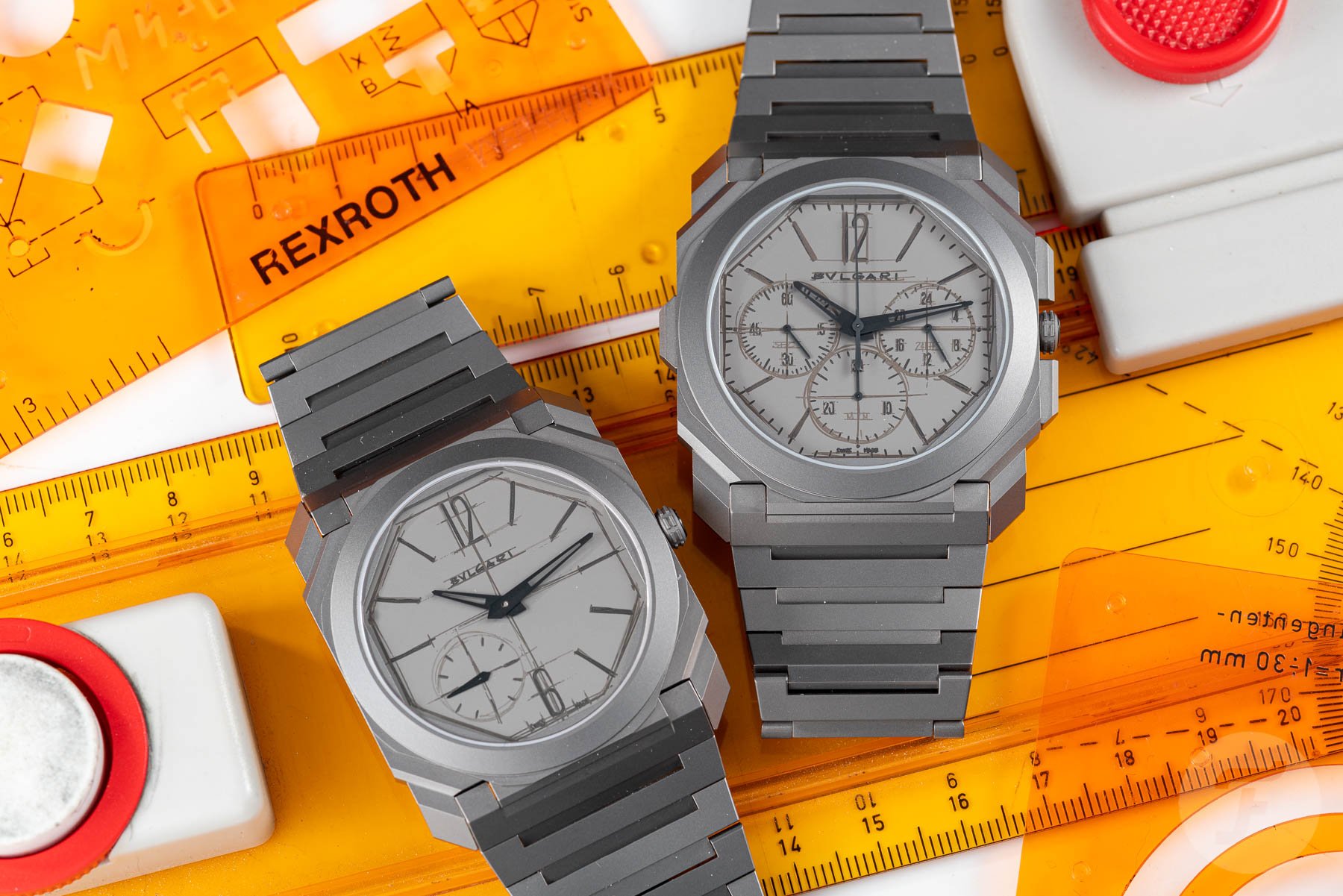 Bvlgari — Titanium architecture
Very thin, very matte, and very gray indeed. Bvlgari has done a lot for titanium. Although the Octo Finissimo has a sporty side, the range of thin, sometimes boundary-pushing models shows a distinct and unique design language. Remarkably, it has the qualities of both a fashionable trend and a time-defying future icon. Take the limited edition Finissimo Anniversary Models reference 103672 (€14,800) and chronograph GMT reference 103673 (€18,200), for example. The use of the original pencil sketches of Bvlgari's Product Creation Executive Director Fabrizio Buonamassa Stigliani on the dial is an artistic touch. Not in a pompous way, but rather, in a playful one that is also quite functional. The dial design underlines the architectural roots and qualities of the Octo and makes the watch come alive in a human way. You can almost see the designer in action on the dial.

Laurent Ferrier — Titanium incognito
The two most recent novelties from Laurent Ferrier were titanium watches. There was the (in my humble opinion) worthy Nautilus alternative, the Sport Auto, of course, but also a more unusual suspect. It was the classically shaped and styled Classic Origin Blue (priced at CHF 31,000 before taxes). This watch has a trademark crosshair design, hand-polished Assegai (African spear) white gold hands, and of course, a beautiful movement inside the case. It's a "tradition 2.0" watch you could wear every day for decades to come. And people who see you wear it will perceive the Classic Origin Blue as a valuable timepiece, one you merely look after for the next generation. After all, Laurent Ferrier did, at one time, work at Patek Philippe.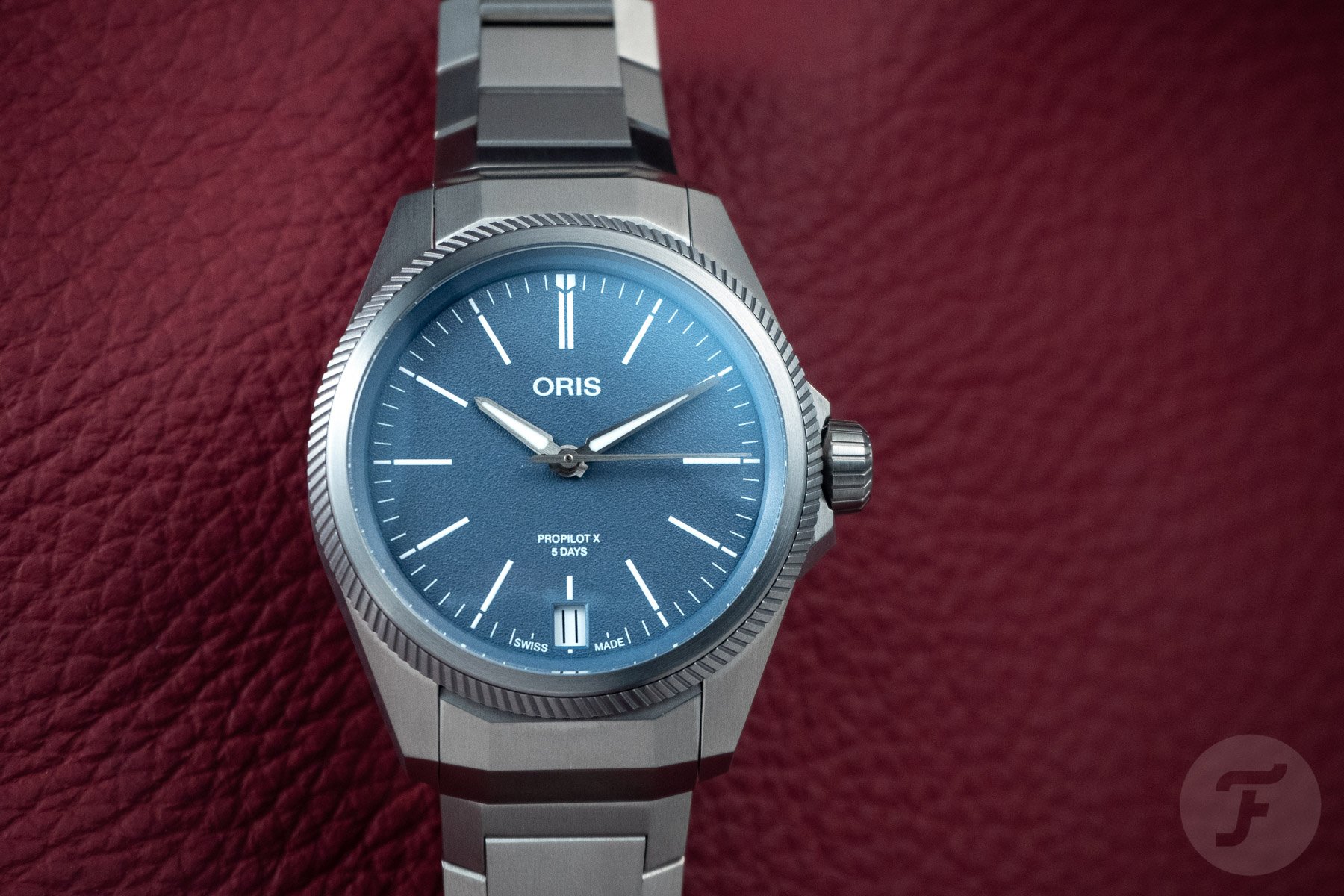 Oris ProPilot X — A new Ti generation
The name suggests that the ProPilot X is a pilot's watch and therefore some kind of toolish timepiece. But please, look at the watch and you will have to agree with me that this latest Oris is something else. The ProPilot X Calibre 400 (€3,800) is available with three different dials and a moderately sized 39mm titanium case with a matching lightweight titanium bracelet. Inside the watch beats the Oris Calibre 400, a five-day automatic movement with the date at 6 o'clock.
But the most striking features of the ProPilot X are the angular lines of the bezel and the bracelet. And the version with a salmon-pink dial is the most daring one. A sun-brushed salmon dial is an Haute Horlogerie tradition, but the pink that Oris uses has a touch of orange and is matte. The grayish complexion of the titanium Oris makes for a fashionable, comfortable daily beater with timeless qualities.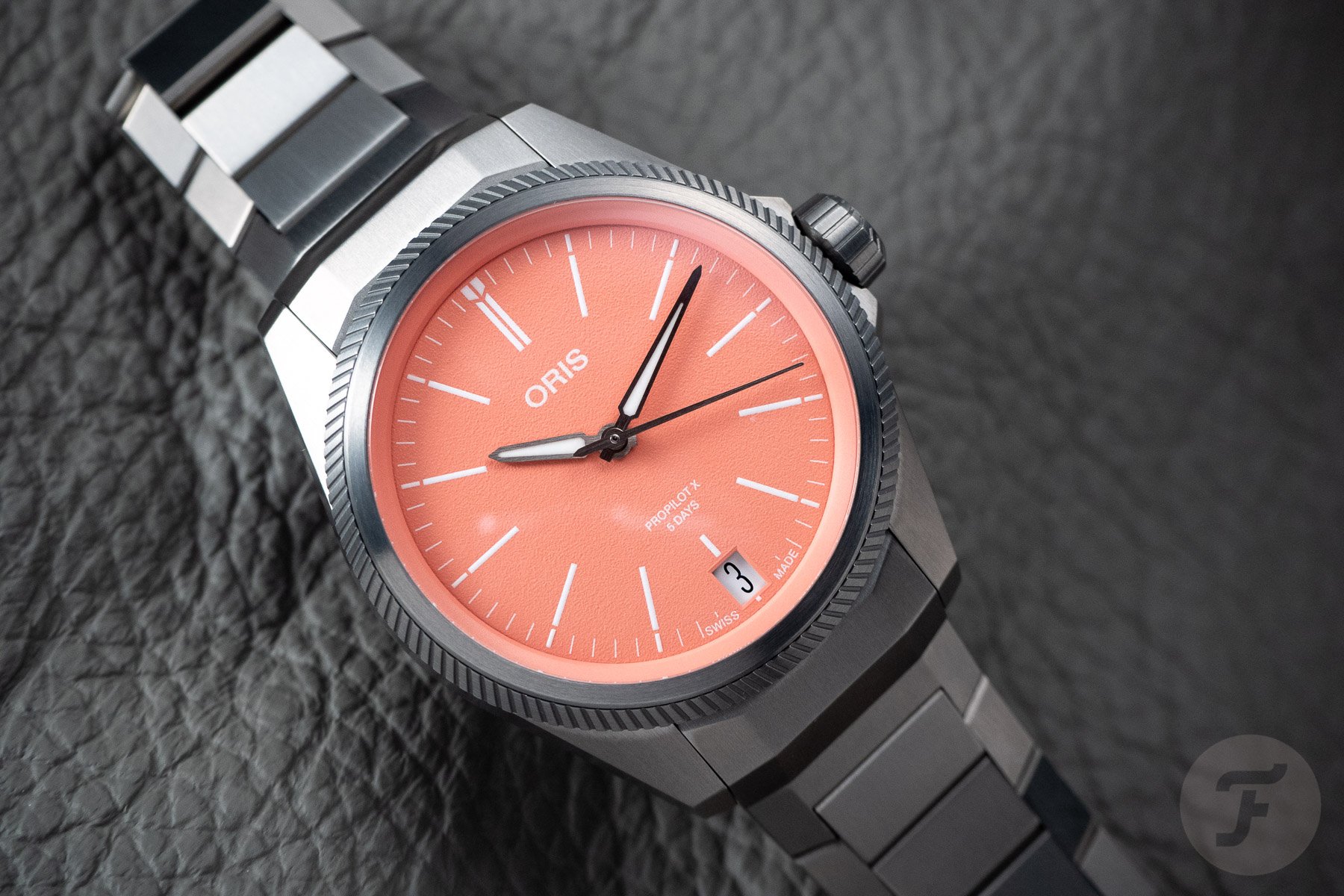 Lightweight luxury titanium takeover — Final thoughts
Titanium is making a transition from being a strictly functional material to a luxury one. Luxurious sports watches such as the Royal Oak make a lot of sense in titanium, especially now that brands know how to finish the metal in a more lavish way. I think a Patek Philippe 6711T — that would be the evolution model of the Nautilus 5711A in high-tech titanium — makes more than a lot of sense. And the recently introduced  1/10th of a Second Monopusher Chronograph 5470P-001 in its round, more traditional case is an impressive watch for sure. But I honestly believe that the "P" should have been a "T". A "T" with subtly brushed and radiant polished finishes in the best Haute Horlogerie style possible
I believe I'm ready for a lightweight luxury titanium takeover.
We have to shake our centuries-old prejudice that weight and luxury go together like peanut butter and jelly. Luxury can also be feathery light and comfortable. And when titanium receives a proper high-end finishing, it can indeed look like a precious metal. I believe I'm ready for a lightweight luxury titanium takeover. Are you?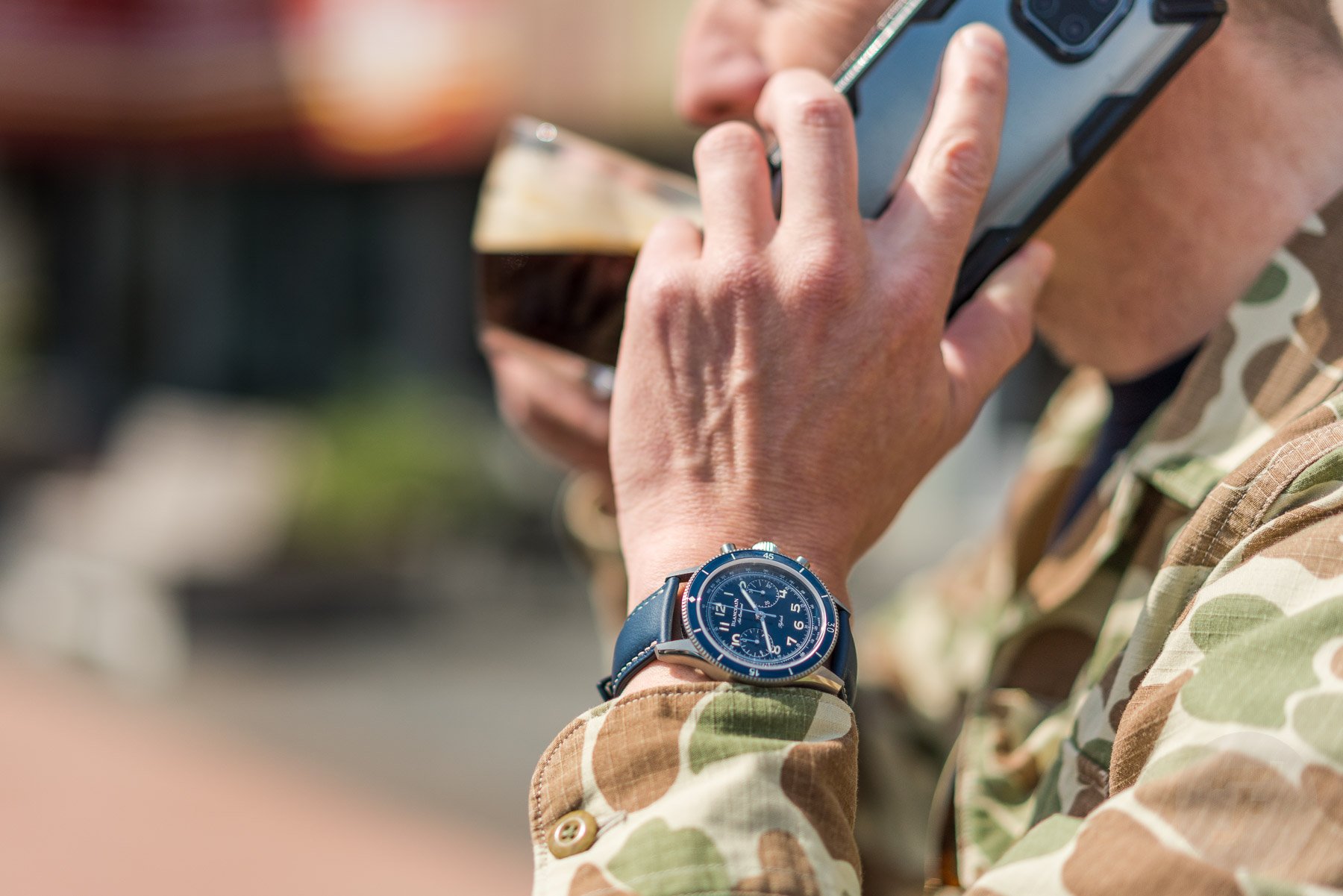 P.S. I forgot to mention the titanium Blancpain Air Command Flyback Chronograph I announced last Monday. Sorry about that. Maybe that's because it's too much of a time instrument at heart, albeit with a price that soars high above that of most other functional tool watches. But what I do have to mention is that the Air Command comes in Grade 23 titanium (Ti6Al4V ELI). And that's an alloy with reduced levels of oxygen, nitrogen, and iron that's not common in the watch industry. But it is the titanium alloy of choice in the medical industry. Just so you know.
Please find and follow me at Lex Stolk • Instagram