March Mania: Quarter Finals — Breitling 765 AVI Vs. Lange & Söhne Zeitwerk Date
Wow, this is all happening so fast. When we started the competition, we had 96 watches. Now we have started the end game! We are at the stage where our writers go head to head and hope to battle their way through to the final. At this point, each of our writers has only one watch remaining. So today, we have our third quarter-final that sees Mike and Tomas battle it out for a spot in our March Mania Final Four. We need your help to find out who will be one of the four final contenders. Where will your votes fall?
We're at the sharp end now. Every writer has one watch left. We need you to pick your favorite in this March Mania quarter-final. Today is our third quarter-final that sees Mike and Tomas fight for a place in the Final Four. Tomorrow in the last quarter-final Ben and Bert go head to head. The Final Four stage commences this coming Monday so you've not got long to register your opinion. Go hard or go home. It's time to leave it all on the court…
Login to your Fratello account and drop us a comment. Who did you vote for and why? What's your prediction for the later rounds? With the Omega Speedmaster 321 out, it is anyone's guess who will come out on top… Who knows? You decide!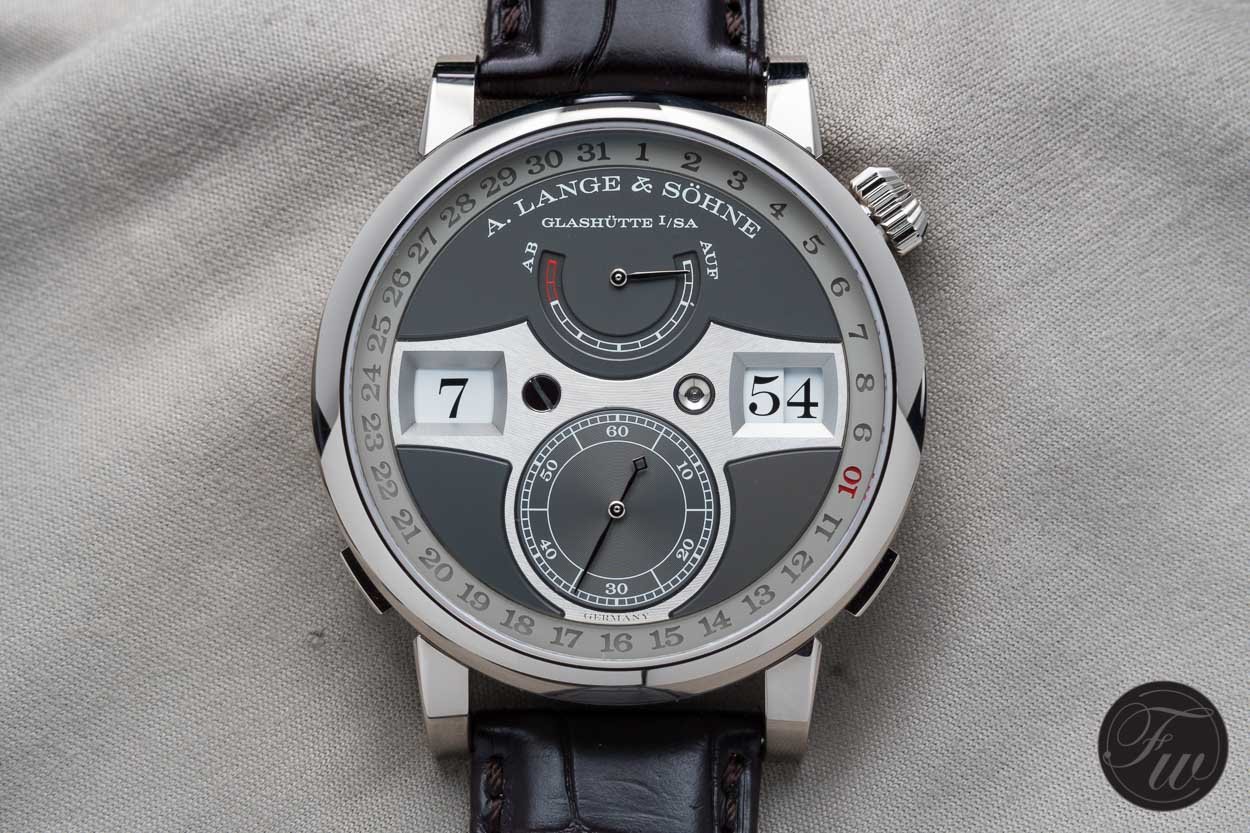 Breitling 765 AVI Vs. Lange & Söhne Zeitwerk Date
Tomas: True to my vintage watch nerd reputation half of the candidates I shortlisted for the preliminary round were older than me. I was amused to see the digital Quartz Seiko Astronaut A829-6029 Rotocall making it into the first round. With just a bit more luck and a few more votes, it would have defeated the Louis Erard × Alain Silberstein Regulator. That didn't happen and I ended up with three modern pieces and only the vintage Cartier in the second round. My contender today, the A. Lange & Söhne Zeitwerk Date made it through each round like the knife through butter on a hot day. How did you end up with the Breitling 765 Avi?
Mike: Well, this was one of those situations that where the number one seed made it unscathed all the way to the quarterfinals. I think I chose great watches in my grouping, but none were what I'd label as clickbait. in the end, it turned out to be rather Breitling heavy in the later stages and, if nothing, else that shows that the brand is doing something right. We even had a lot of comments (including one from the illustrious G2) about how Breitling has truly turned things around! Other watches such as the Seiko Alpinist SPB199J1 and the MING 18.01 H41 brought some heat to the competition, but the "killer B's" (the 765, the Top Time, and the Superocean Heritage '57) took them down.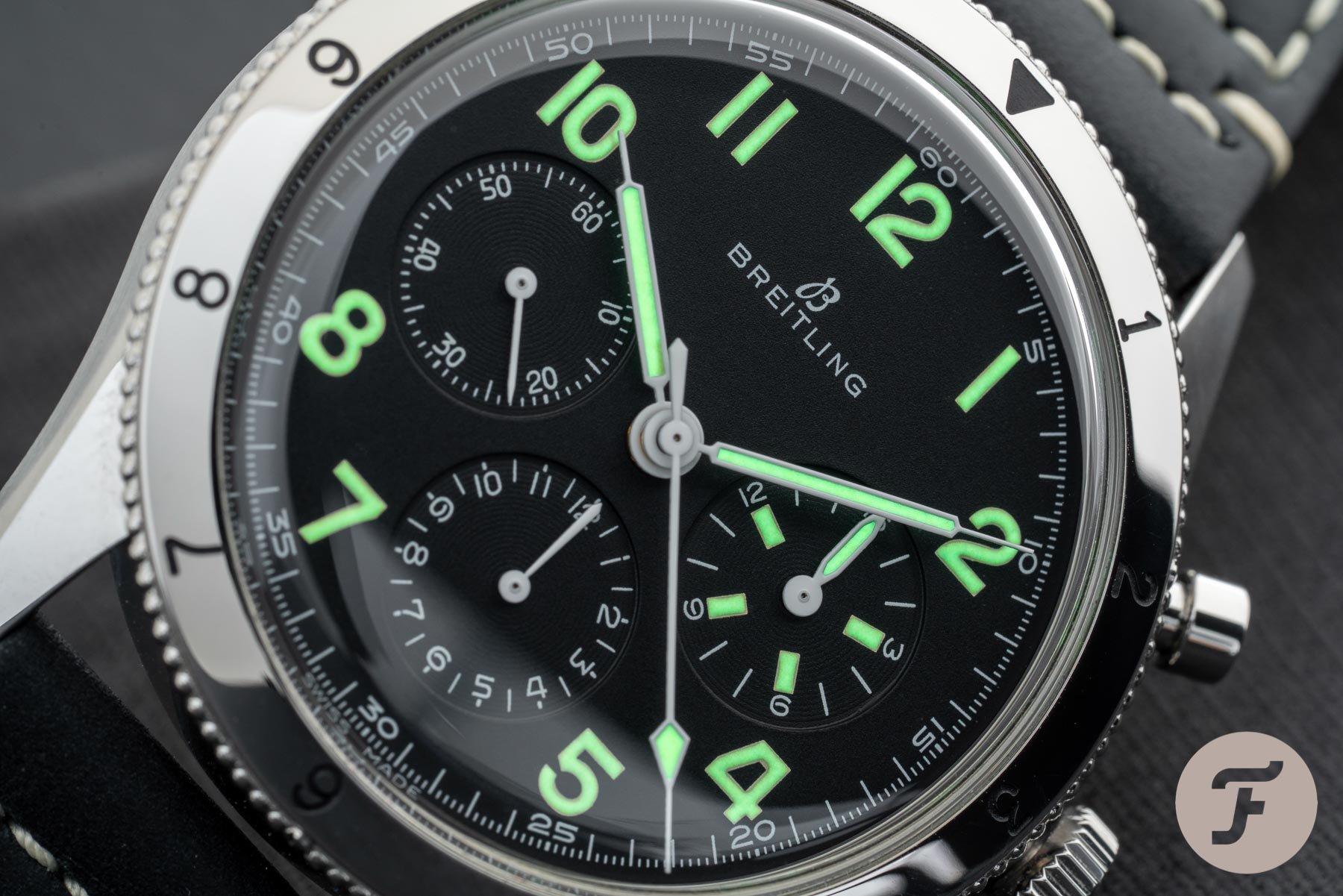 Things are friendly
Tomas: Before we get to the fight of the day, let me highlight two other points from previous rounds. The Laventure Transatlantique GMT, my nominee, apparently had a winning streak and defeated both the Yema Superman 1963 and the Cartier Santos Galbée in the last two rounds. Alas, the Laventure was too short to reach Zeitwerk's height. The other surprise was to see your nominee, the Ming 18.01 H41 beating the Breitling Heritage '57 in preliminary votes. Well, I guess it's luck seeing that the Breitling made it through at the end of the day. But come on, did you expect that three Breitling watches will make it into the final four of all 12 nominees?
Mike: I didn't to be honest. Breitling is one of those brands that is seriously on the way up and they're making some incredible stuff right now. Still, I think they came into the competition with a heavy chip on the reader's shoulders if that make sense. People still think about big, bulky watches from the recent past. I'd like to think that March Mania shed some real light on what's happening today and people really like it. One thing is for sure: if Breitling were making ugly watches, they wouldn't have had so many watches make it into the round of 8.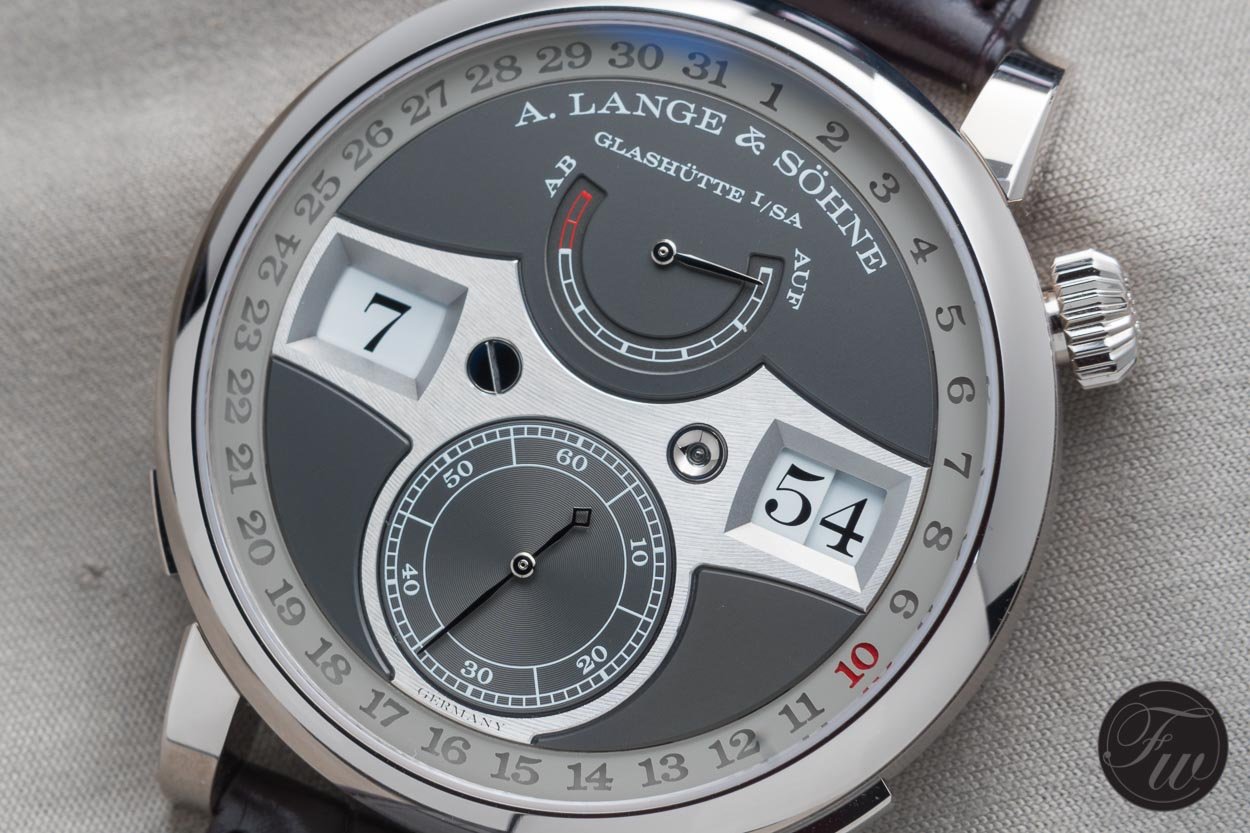 The conversation continues
Tomas: It's not going to be an easy write-up for me. If the readers would have put my Zeitwerk Date against Balazs' Moser, I would enjoy counting the reasons why I can't look at the watch. But badmouthing the Breitling 765, that's like forcing me to say which child you love more…
Mike: Yeah, I respect that. When we are at this stage of the game, all the watches are good and I truly do believe that one of the best watches in my group made it to the quarters. It's such a beautiful watch and the amount of work that went into it's development and production is pretty astounding these days. Things like hand applied lume, an in-house manual wind movement, and spot on dimensions show that Breitling really cares.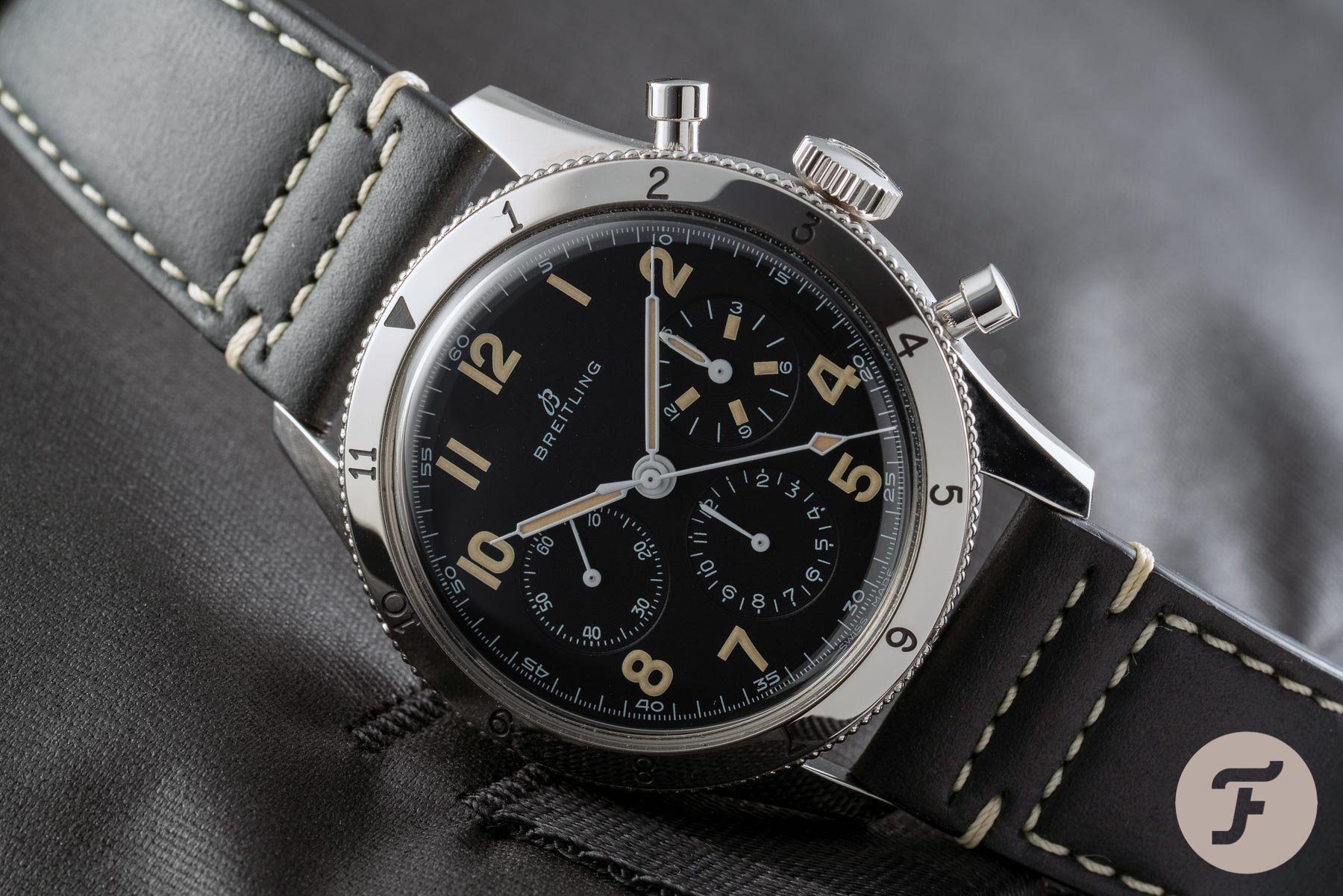 The trash talking begins
Tomas: Well, the game is the game and we have to play hard, right? So let me reach deep today and pick all the arguments why even you should not vote for the 765 AVI today. First and foremost, it's a clone of a watch from the 1950s. Seven decades ago, the 41mm diameter was quite a move, but not today. If we would have the beautifully patinated OG standing here today, even I would vote for it. But not for this one as it represents a problem I currently have with Breitling that I summed up here. The bottom line is I am not sure if I feel excited about the best three Breitling watches in March Mania just being re-editions. Exciting on a micro view, but a bit boring and sad from a higher-level perspective, don't you think?
Mike: I respect your point, but as I said above, the 765 AVI is not another lazy reissue. It's perfectly executed and people who love it today will kick themselves years down the road for not buying this gem. Moving on, I won't harp on your Zeitwerk too much other than to say that I just don't like the looks of this watch. I don't doubt its incredible movement, build quality, and exclusivity. It's that the Lange is, dare I say, ugly. I know you like funky ways of displaying the time, but I just find this thing goofy and a bit awkward. There are plenty of Lange watches I do like (I was scoping the website this past weekend and thinking about selling a kidney), but this isn't one of them. People will say it's a tour de force, but I'd say it's an unattractive one. Like a car with an amazing engine, if the coachwork is repulsive you can't count me out!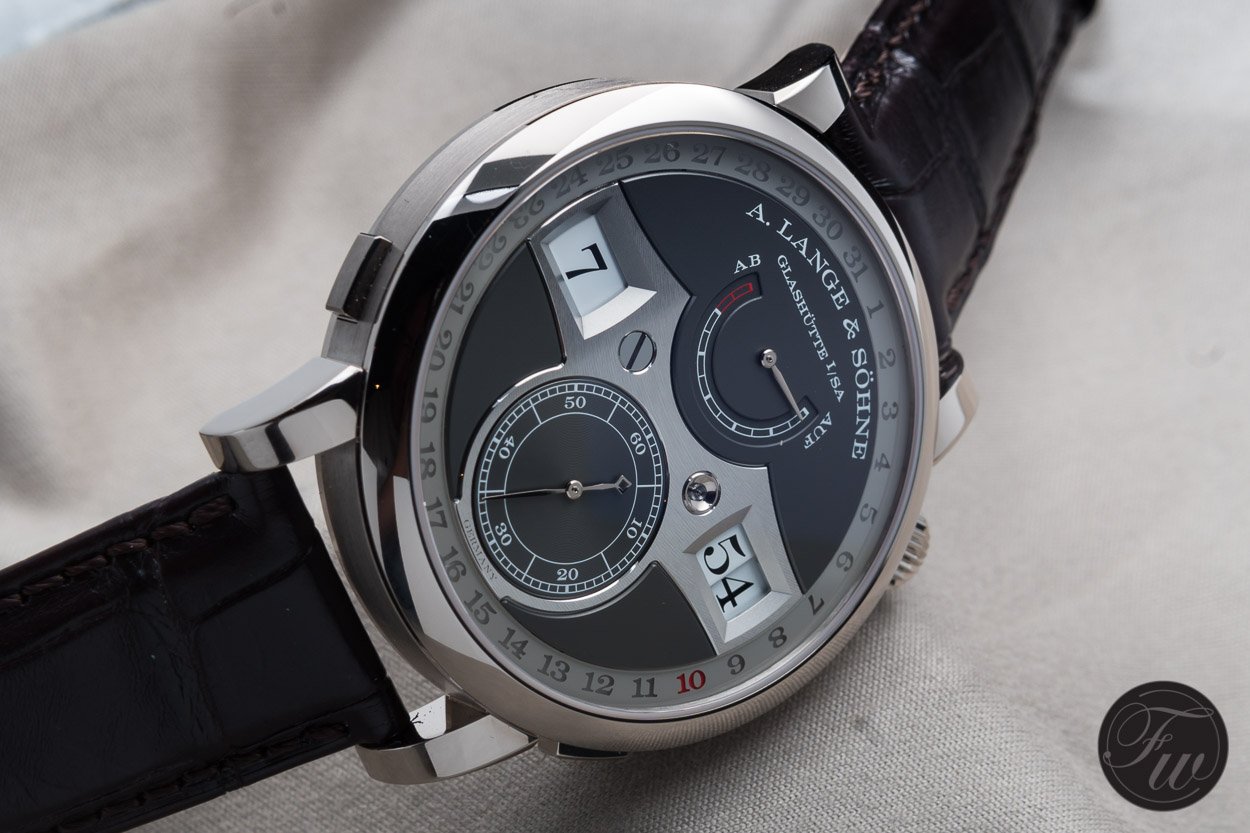 Tomas — A. Lange & Söhne Zeitwerk Date
I know the price tag on any Zeitwerk is to be hated. I know some watch purists can't get their heads around it and explain why there is no hour hand and minute hand. Trust me, if there is someone more conservative around, guilty as charged as 97% of my watch collection is vintage. Yet I was always open to novel interpretations of time telling and the tech or complications that horology masterminds managed to put into our wrist time factories.
You can't deny the epic visuals. As crazy and unorthodox it looks, it's almost ridiculously simple. It almost irritates you with the functional structure that is utterly bizarre, yet also natural. I remember the impression it made on me when I saw it for the first time. It looked like it came from the future and stopped by to show us how to design a watch for 2099.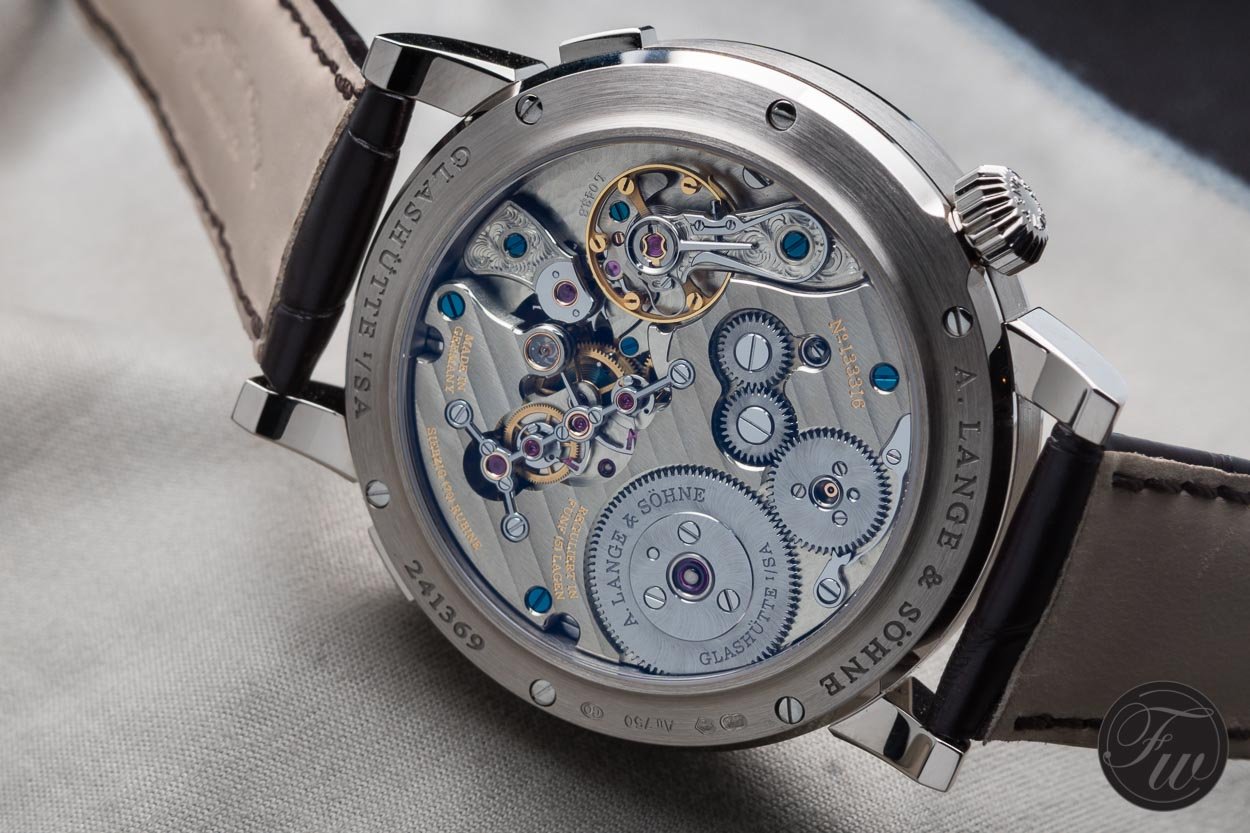 Lange & Söhne Zeitwerk was first launched in 2009. Six years later A. Lange & Söhne added the Minute Repeater to the line. It instantly underlined the beautiful monstrosity of the Zeitwerk concept and endless flexibility to add whatever they want to it. The visual simplicity was stunning, as was the fascination by the genius making it possible. To mark the 10th anniversary of the Zeitwerk, A. Lange & Söhne added a date function.
And they did it big time, literally. While the watch grew 2,3mm in diameter, it lost 0,3mm in height. Getting the date and the thinnest Zeitwerk at the same time, that's not a bad deal.
And it's not a typical date display either. The glass date ring has an inverted print that leaves the numbers highlighted in red thanks to the underlying ring. To adjust the date you press the button at 8 o'clock. Or to be precise, you release the button, as it jumps the moment your finger goes off.
I guess that's enough of glorifying a pinnacle of high watchmaking. I hope we see each other in the next round. Or do you see it differently, Mike?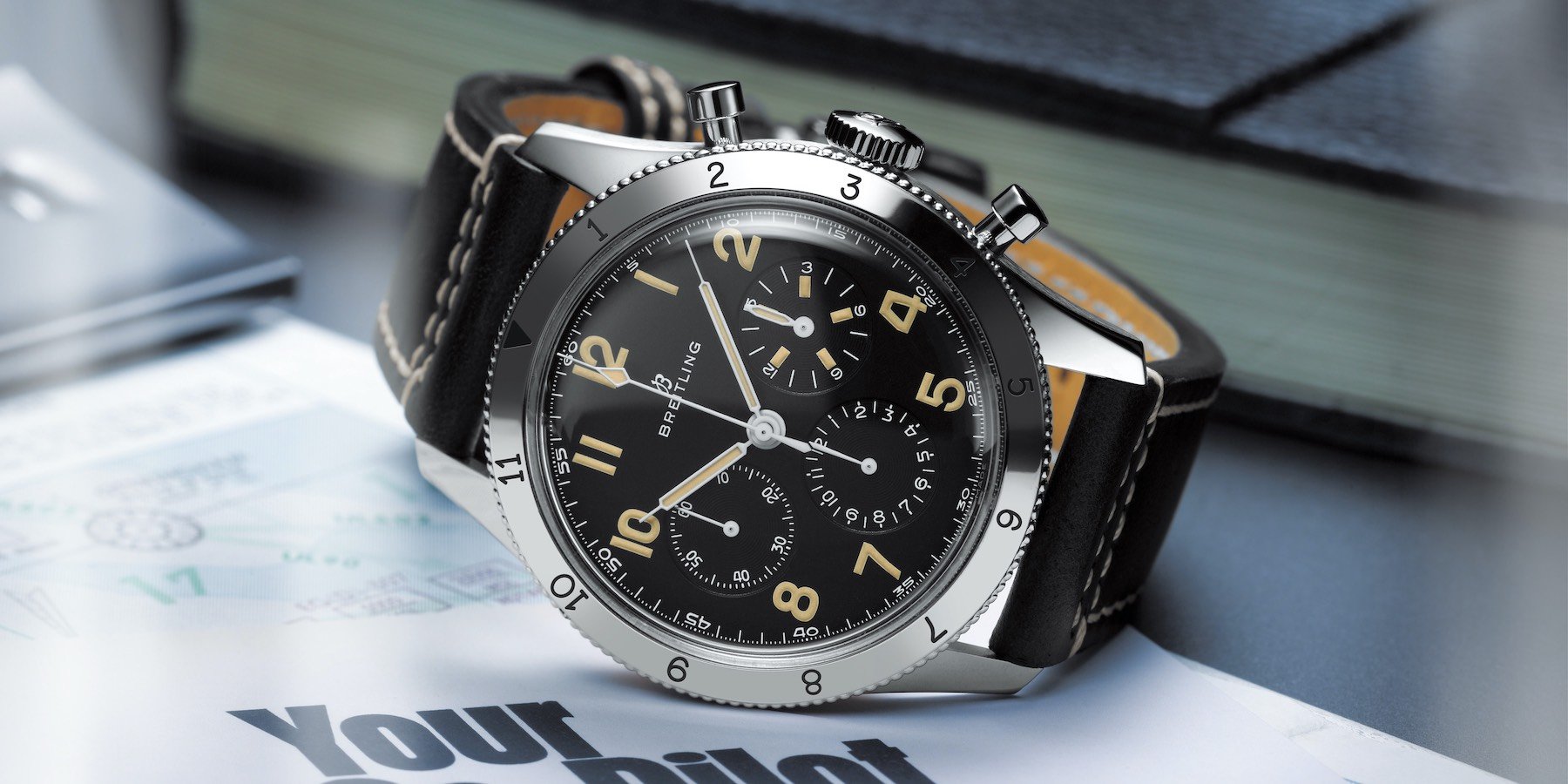 Mike – Breitling 765 AVI
Well said Tomas. You make a great case for the Lange Zeitwerk and I suppose those who like super high end watch making already have their minds made up and mouse clicks ready. Still, take a moment to enjoy the Breitling 765 AVI. Finding a used one of these 41.1mm lovelies from back in 1953 makes sourcing a steel Submariner sound easy. They're rare and while nowhere near as expensive as the Lange, they're still pricey in the €20K plus range. More than that, though, this watch kicked off a design craze seen on so many other military watches from other brands later in the decade. Breitling was truly ahead of the times.
With this 765 AVI limited edition, collectors and plain old admirers have ample opportunity to grab one. Breitling made 1,953 pieces of this watch and that's fairly ample. Then again, when a watch looks this good, maybe that's not enough. The balance is just perfect with those big fat lume numerals. Then, there's that stunning 15-minutes counter with the star-shaped lume stripes. Hubba hubba!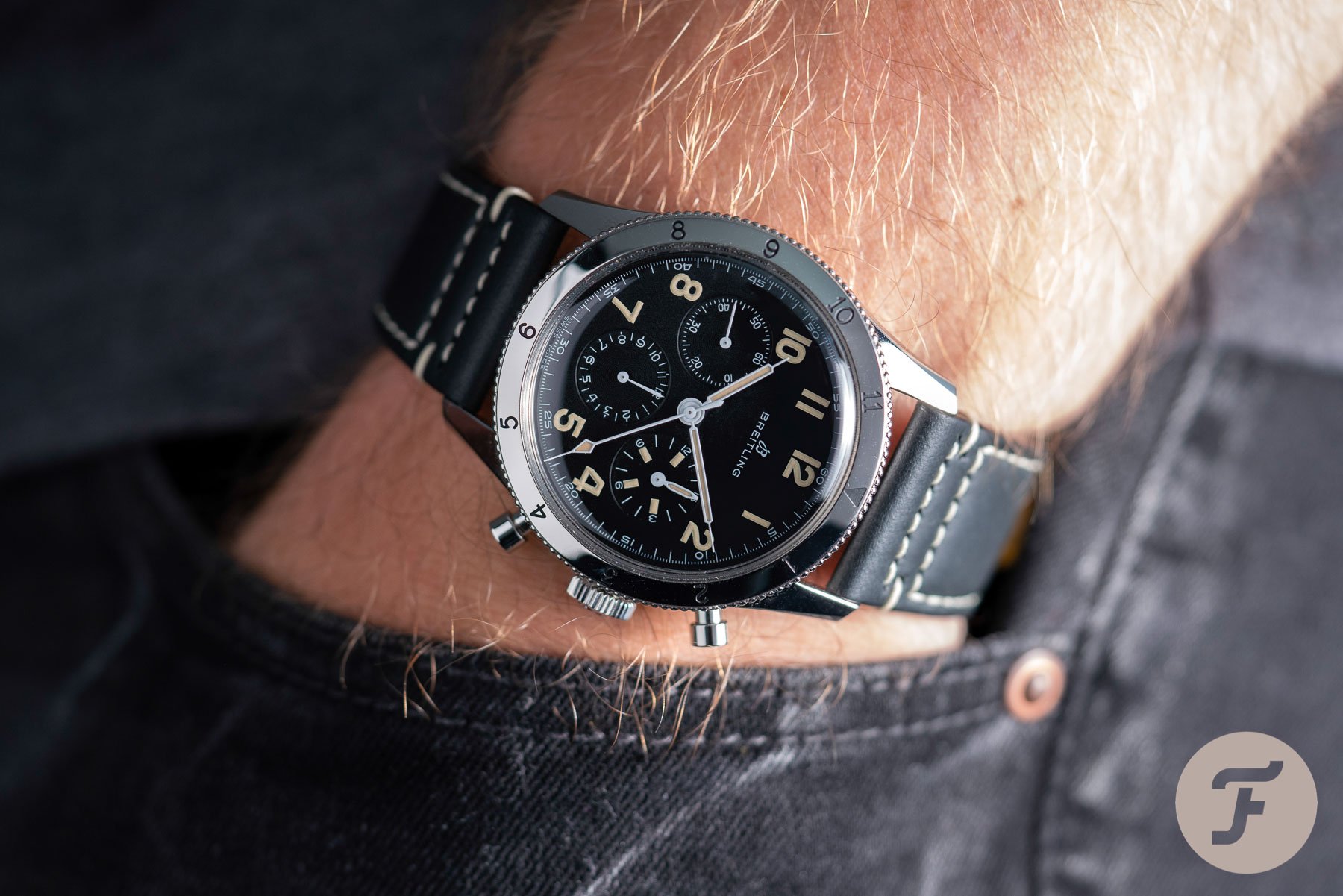 I'm not going to argue that the Breitling 765 AVI stands up to the Lange on modern day innovation. This is a reissue after all, but it's no dinosaur. The bezel clicks neatly into place at every hour. The 15 minutes subdial is a modification to the lovely in-house chronometer B09 manual movement. Finally, if you wanted to, you could get it wet with 30 meters of water resistance.
For €7,800, the Breitling 765 AVI isn't cheap. However, it's a pittance compared to the Lange. That's not a fair comparison at all, but if we look at it versus its competition, I think it fares very well indeed. The attention to detail, the lovely finishing, the size and presence, and the straight up good looks make this a real beauty.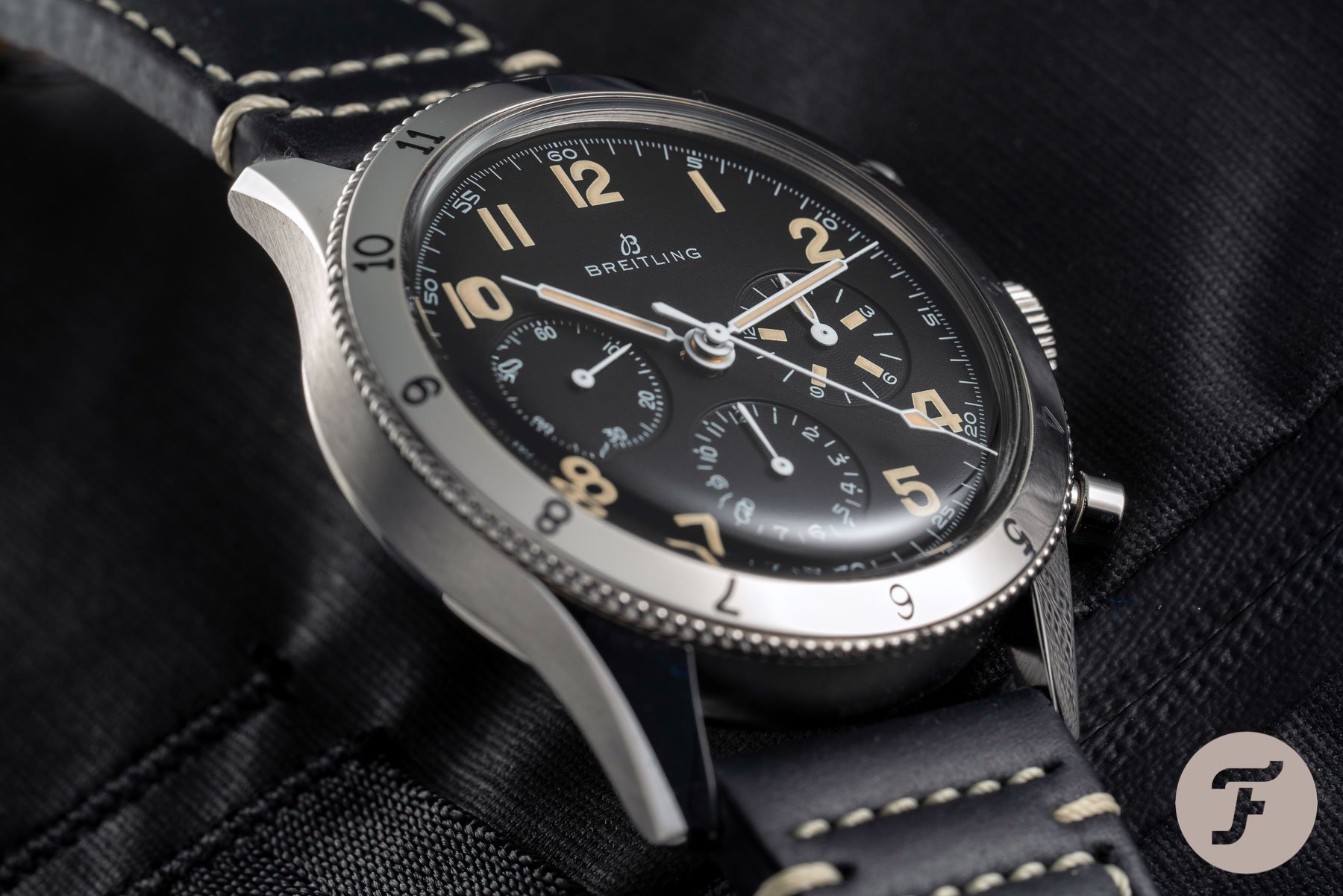 I have no clue whether this watch has a shot in this match, but I'd like to think that it does. It's fine to admire the Lange, but would you actually wear such an unattractive watch if this lovely chronograph were staring you in the face?
In this stage, it's hard to choose incorrectly, but choose you must! Vote wisely and let us know why you chose what you did.

Win the Hamilton Intra-Matic Chrono by participating!
So now it's over to you! We want your votes, but we also want to hear your thoughts. Better still, by sharing them with us, you'll put yourself in the running to win either a LIC leather watch strap or (drum roll, please) the HAMILTON INTRA-MATIC AUTO CHRONO. Yes, that's right, as Karina detailed in her post yesterday, we will be giving away one of Hamilton's most popular models for one lucky commenter. How do you win? Comment on the March Mania tournament as often as you can, engaging with other readers, helping to create a happy community atmosphere. The best contribution will be handsomely rewarded, so what are you waiting for? Let your voice be heard!
March Mania: Quarter Final 3