My Grail Watch: The URWERK UR-100V FTJ — One Watch To Rule Them All
An ode to URWERK's finest
Over the last couple of months, some members of the Fratello team have written about their grail watches. The term "grail watch" can mean slightly different things to different people, but the concept of the term suggests it should be a watch that you will chase and likely never own. I mean, did King Arthur ever actually find his Holy Grail? To others, the grail-watch concept is the "exit watch". It's the one watch that would allow you to retire from watch collecting. I find it doubtful that any of us could ever truly retire, but I appreciate the thought. My grail watch is a combination of the two concepts rolled into one. What watch is the object of my heart's desire? Simple, the URWERK UR-100V FTJ.
My lust for the UR-100V FTJ existed since the moment I saw it, but I had always had to lust from afar. The avant-garde creations of my beloved URWERK are not exactly a common sight when out and about (something I particularly like about them!). So, how could I really know that the UR-100V FTJ was my one true grail? It was quite the conundrum. Surely, I'd need to experience the watch first…? There's an old saying about never meeting your heroes as it'll only lead to disappointment. Of course, there was a chance that seeing this watch up close and personal might not match up to the lofty expectations I had built up in my mind. What if the experience was as anticlimactic as the final episode of Game Of Thrones? Yes, I am still sore about that.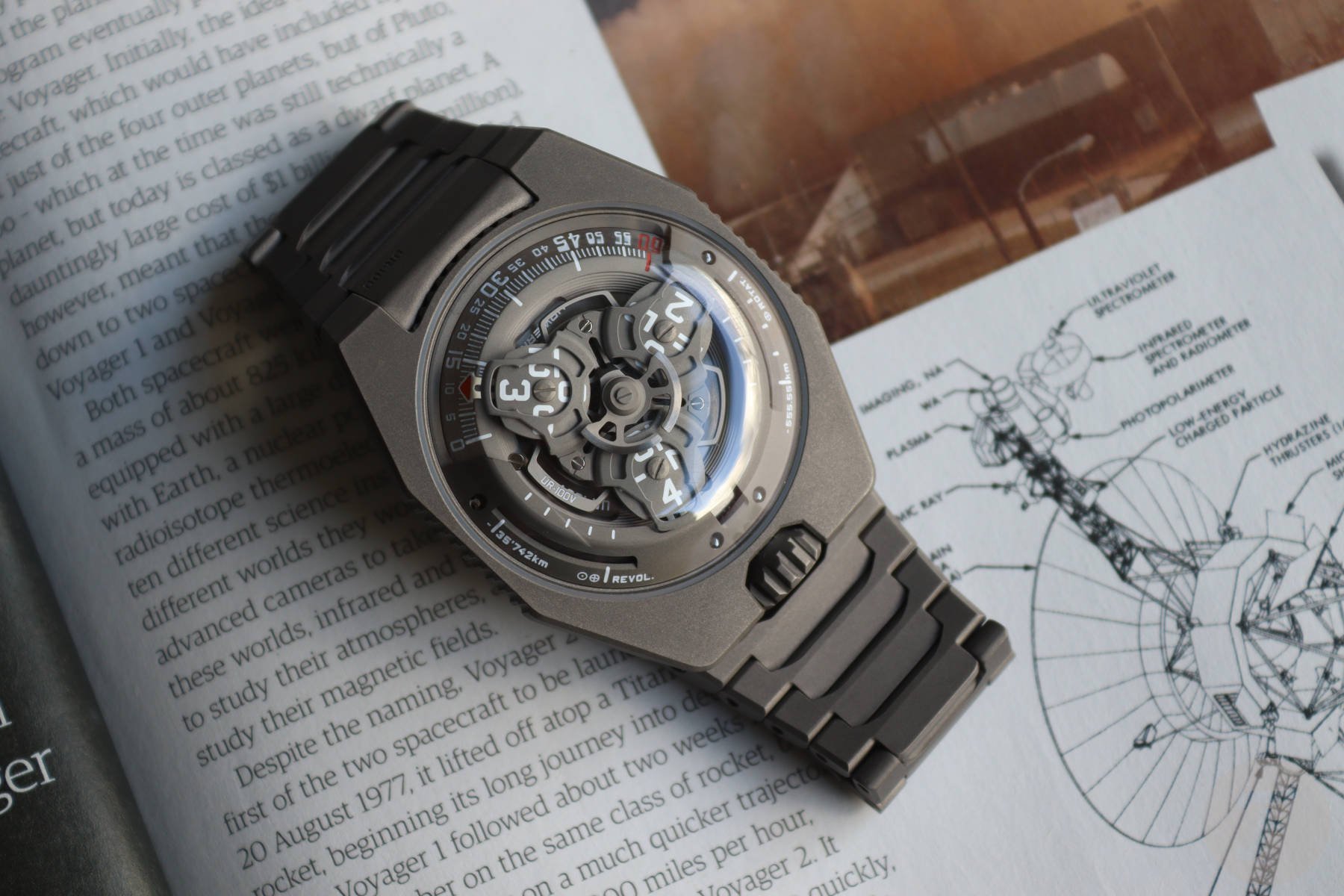 My grail quest
There was only one way to find out. I would have to take the risk and embark on my quest to encounter my holy grail of watchmaking. To call it a quest is a little bit of an exaggeration. I emailed the very fine folks at URWERK and begged them to let me borrow the watch for a couple of weeks. Thankfully they were most obliging; otherwise, this poetic article introduction would have been for nothing. Now wouldn't that have been quite the anticlimactic plot twist!
Many people dream of this day, and it never comes.
I remember the moment the doorbell rang. Often, my doorbell rings, I look outside and see a courier standing there with a parcel, and I haven't the foggiest what's awaiting me. That was not the case on this occasion. I knew full well what delight the delivery guy was patiently waiting for me to sign for. Feeling like a kid at Christmas, I rushed downstairs, signed for the parcel, and hurriedly ran back to my office. The excitement was nearly overwhelming. While I knew that this was a temporary relationship, I had the watch that I believed to be "the one" in my possession. Many people dream of this day, and it never comes. I had firmly expected to find myself in that category until the day I died. But here I was. It was at this point that the worries and nervousness kicked in.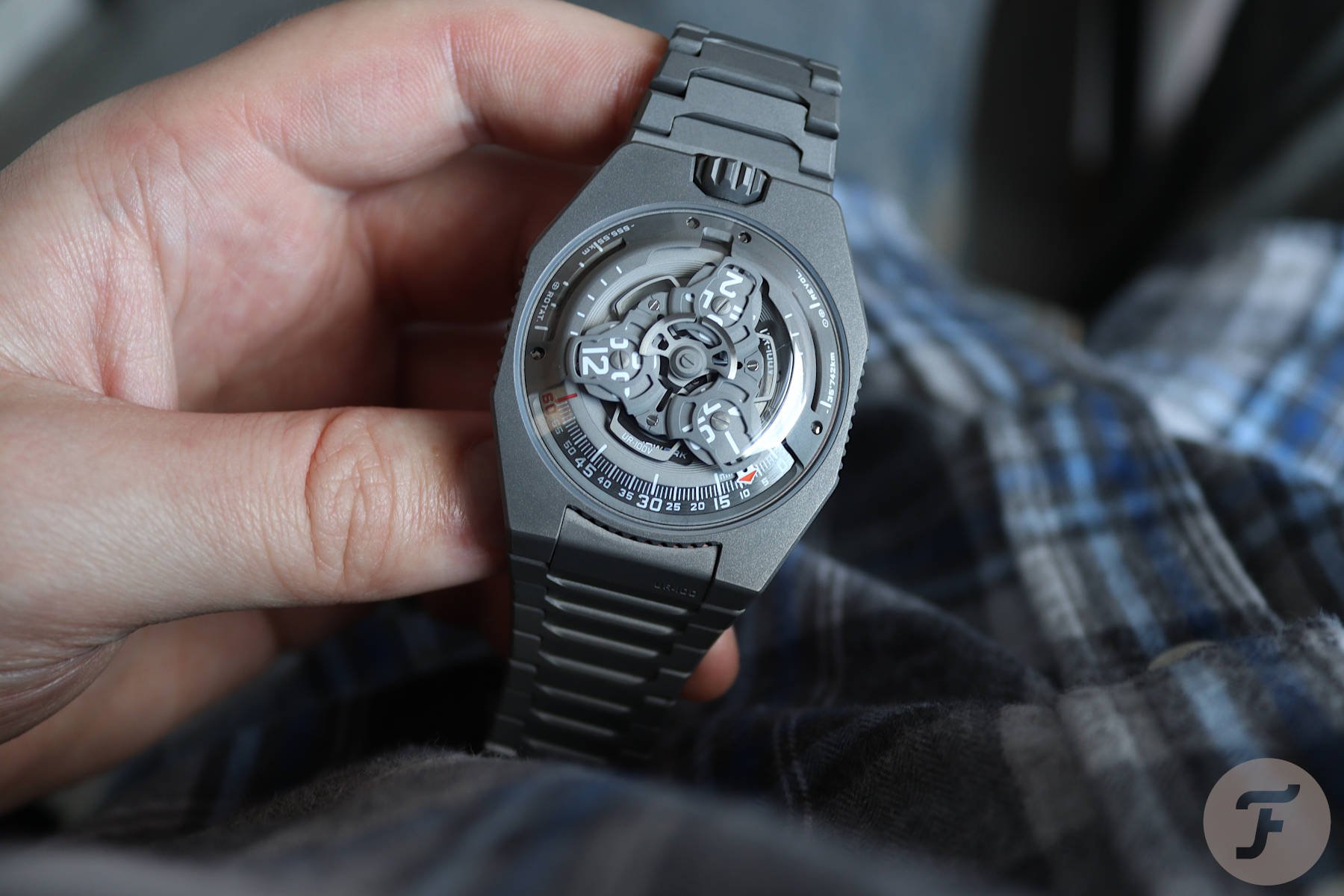 Is the UR-100V FTJ "the one"?
It was Shrödinger's URWERK. Until I opened that box in front of me, it both was and was not the grail I wanted it to be. But, once I opened it, there was no going back. What if this watch was not everything I'd built it up to be in my mind? What if my expectations were about to come crashing down around me in a sobering dose of reality? What had I done? With a heady dose of #firstworldproblems, it was terrifying.
Those fears melted away…
Inside the box, the UR-100V was shipped in a simple travel sleeve. Those fears melted away once I unzipped the pouch and exposed the watch. Holding the watch in hand was as cathartic and memorable a moment as I'd hoped it would be. I know it's a cliché to say this, but I'm going to say it anyway. Photographs do not do this watch justice. In my humble opinion, the UR-100 case is a design masterclass, but combined with the bracelet, it's taken to another level.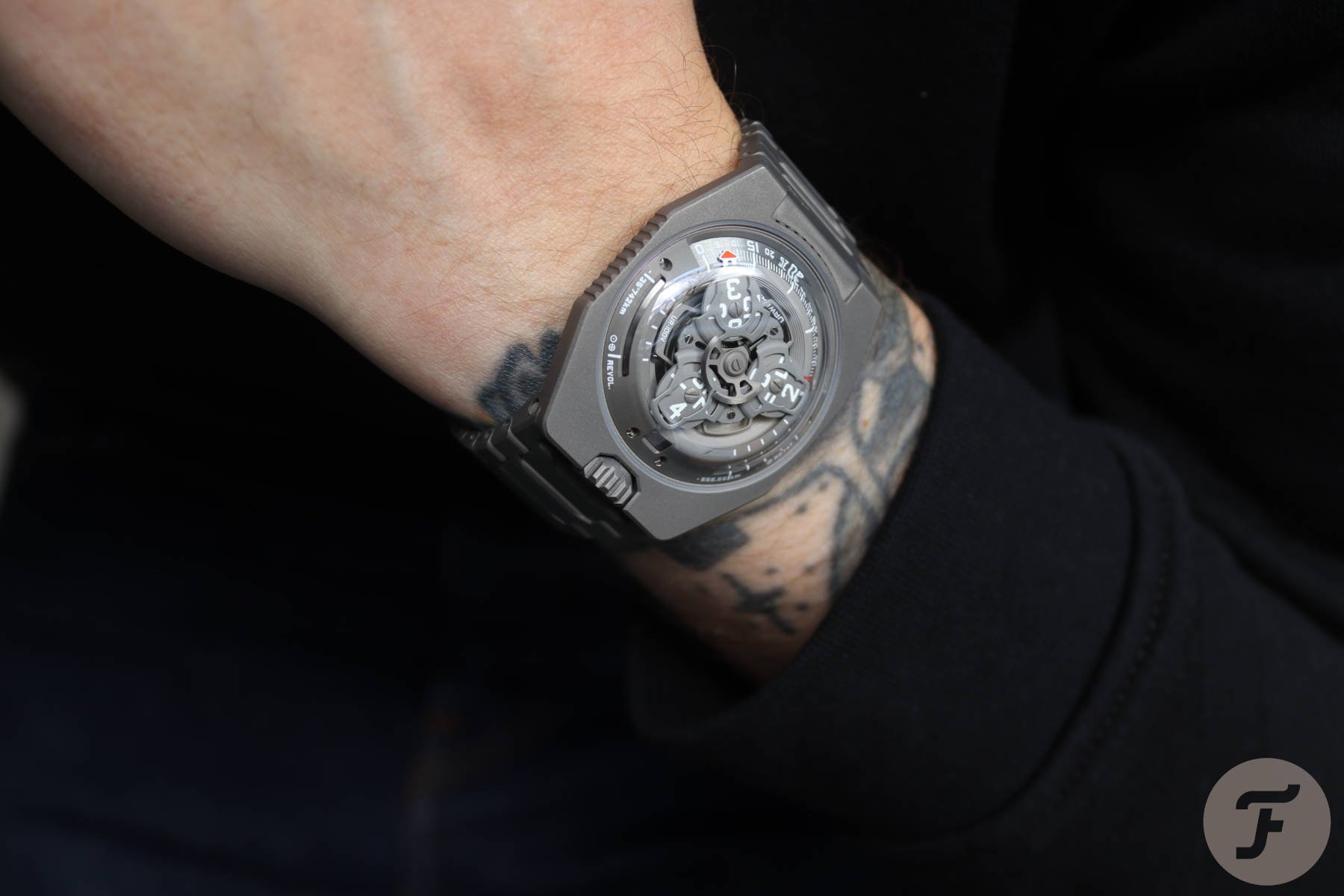 Not my first time writing about it…
I did cover the URWERK UR-100V FTJ back in November of last year when it first launched. You can read that article here, so perhaps do so if you're not familiar with the basic specs. The matte titanium that URWERK used for the case has been one of my favorite case materials for a while. Unfortunately, my collection does not yet feature a single watch of this ilk, but that's more down to a lack of funds than a lack of want. Watches like the Zenith Chronomaster Revival Safari and Poker Chip are two watches I adored from the moment I saw them. I love how the titanium cases turn to an anthracite gray color when blasted.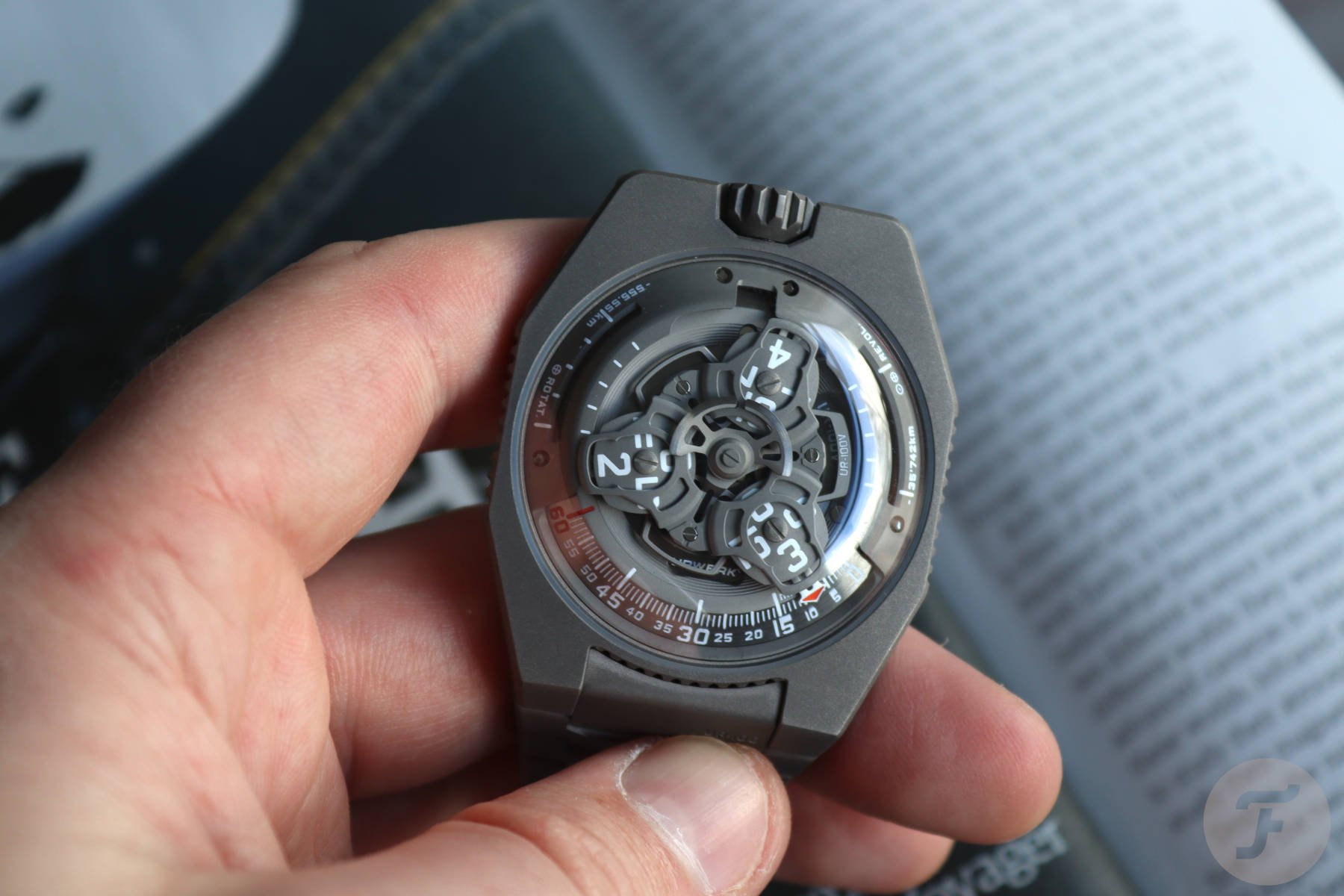 The blasted titanium case
I wondered if there was a trick to this color change, but after speaking to URWERK's team about the process, I found it's relatively simple. There is no heat treatment or color treatment required to achieve the color. The particle size used to blast the metal's surface dictates the shade. Larger particles create a darker color and vice versa. I had never seen a blasted titanium case with the exact shade of URWERK's UR-100V FTJ before, and I found out that this is because the brand uses a secret recipe for its media-blasting particle. URWERK also utilizes a transparent anti-stain coating, which oddly darkens the metal very slightly, despite being transparent.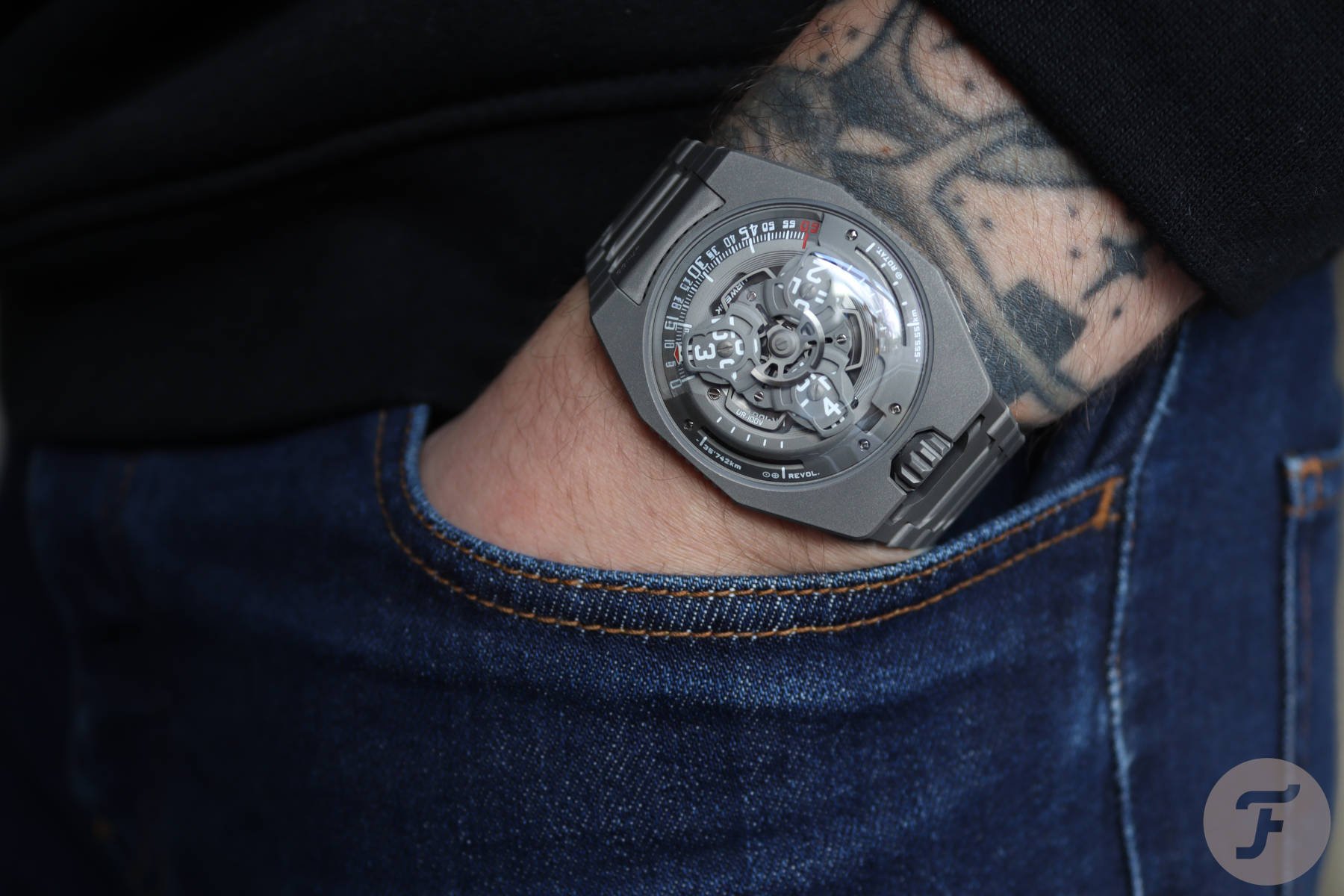 A versatile canvas
The UR-100V FTJ is one of several different models in the UR-100 collection. I've long described the UR-100 as incredibly versatile despite its unique appearance. I stand by this proclamation, as we see vastly different characters such as the Blue Planet, the carbon-clad C52, or the new Time and Culture collection. The Electrum is a flash of luxury, and the P.02 for Collective is a space nerd's dream. The UR-100 is such a multifaceted canvas.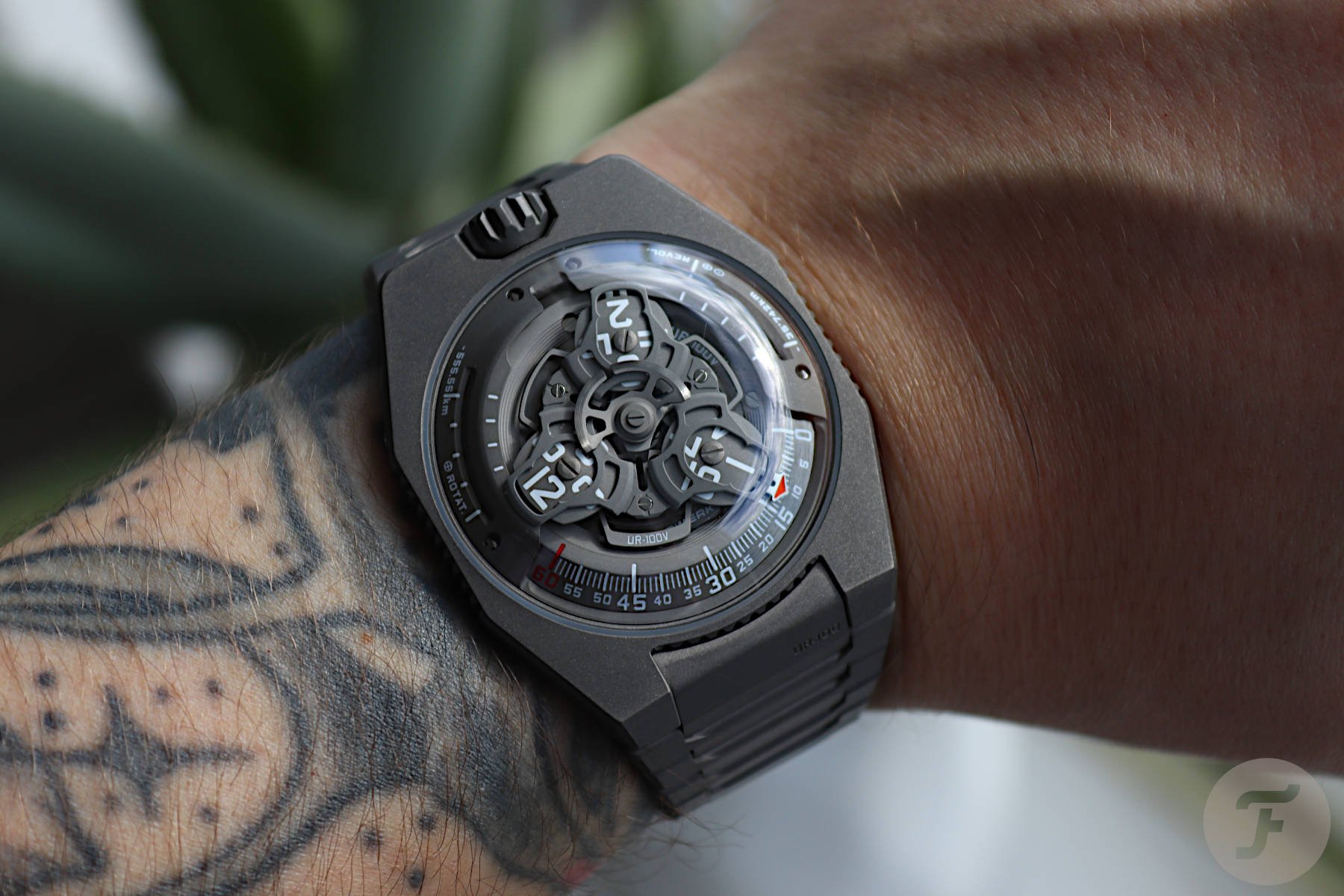 Flying under the radar
I guess the important thing is how I found the watch after spending some time with it on my wrist. A watch looking and feeling great is all well and good, but watches are made to be worn. So, it's understandable that one would hope it wears just as well? It's funny; when you walk around with €55,000 on your wrist, you become a little more inherently aware of it. At first, it was a slight concern for my safety and that of the watch should anybody notice it. But that quickly melted away to a certain smugness that reality was quite the opposite. Nobody noticed it at all. Not one single comment from anyone, unless I made a point of showing the watch to them.
I enjoyed feeling comfortable wearing it out and about without nefarious eyes being drawn to it.
I liked that. I know some people want to be noticed, and they want their watch to draw attention and start conversations, but I enjoyed the fact that this watch went somewhat under the radar. I think the matte gray color scheme helped it blend in a little bit. I enjoyed feeling comfortable wearing it out and about without nefarious eyes being drawn to it. I could take it off and show it to friends and family, and it did indeed start all sorts of conversations, including "How do you tell the time?" courtesy of my dear mother and "How much?!" from my father.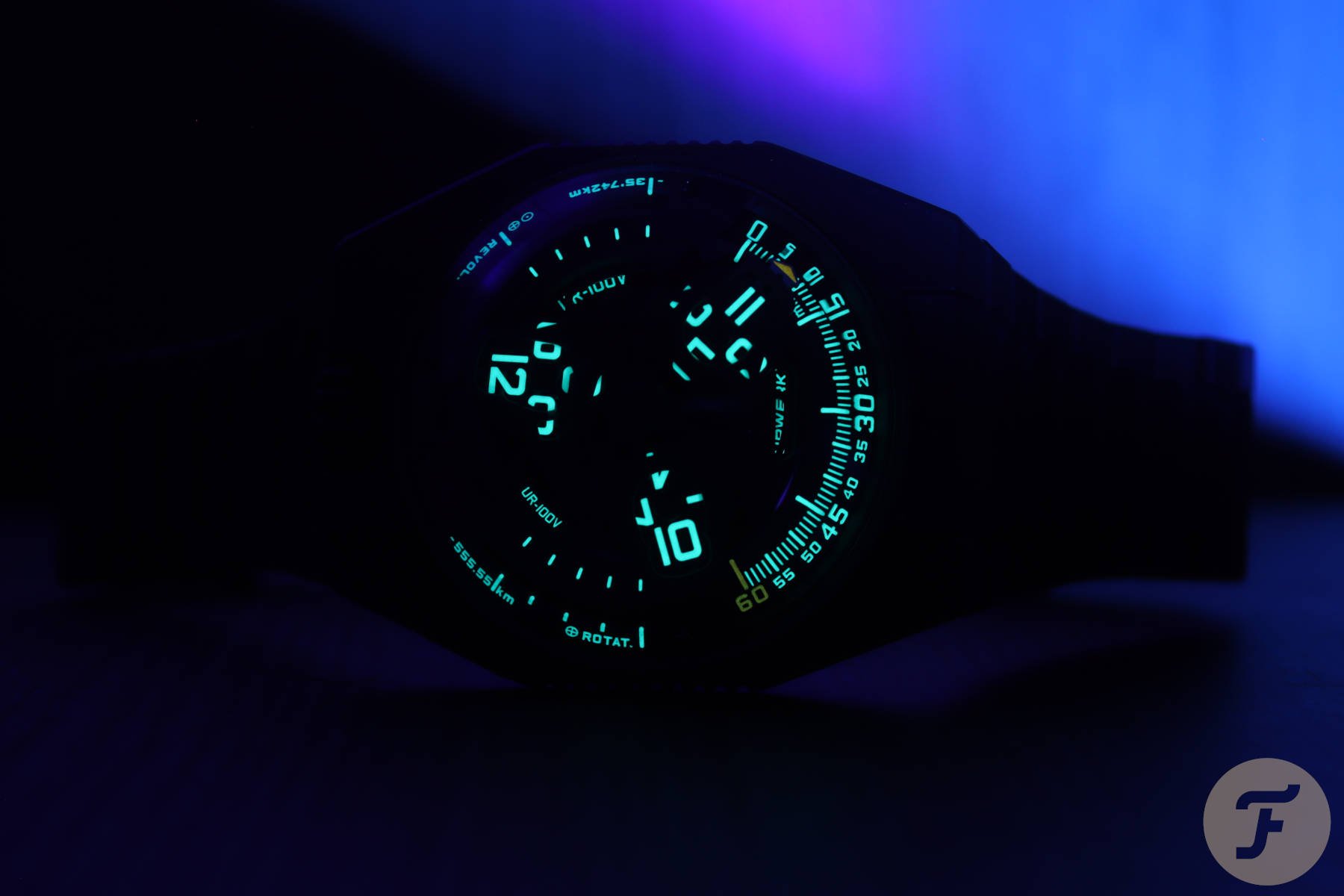 A glorious, beautiful mistake
I think I made a mistake in borrowing the URWERK UR-100V FTJ. A big mistake indeed. It didn't just match up to everything I had hoped for. No, it was more. Wearing this watch confirmed my suspicions that this was indeed the watch for me. The positive side effect is that I find myself getting "the new watch itch" far less often. I feel like I can appreciate and enjoy my humble collection even if I will never own the UR-100V FTJ. It's allowed me to realize that I can trust my instincts to know what I like and not always think ahead to the next watch because the next watch will never be this watch.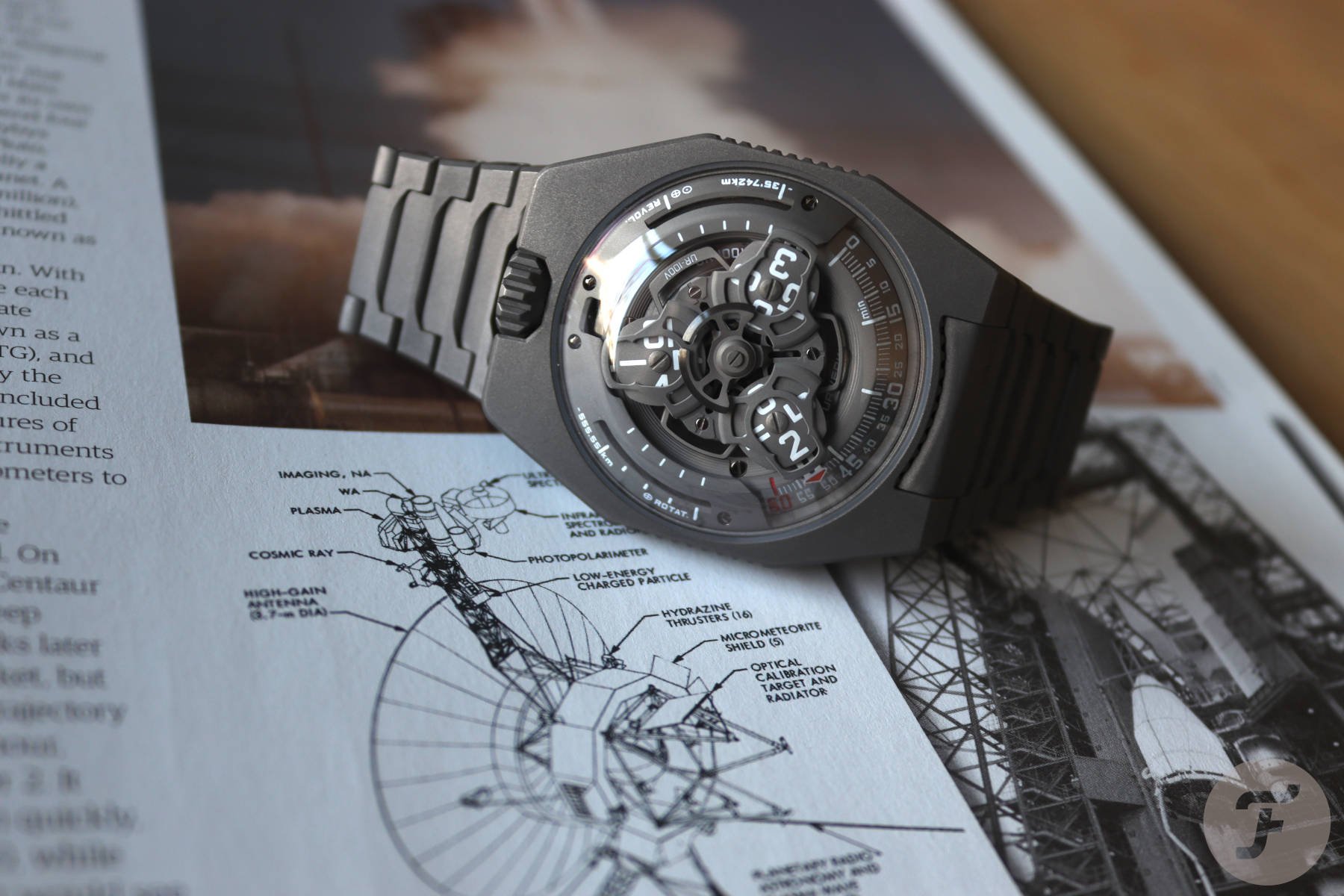 I guess it's entirely possible I may one day be able to call a URWERK UR-100V FTJ my own. I could win the lottery, but I'd probably need to start playing it first. I could also have an insanely wealthy and long-lost relative bequeath me a small fortune in their will. Without one of these options, it's most likely that the UR-100V FTJ will remain my grail watch, out of reach, but that's OK. I can happily appreciate the things in life I cannot have. I enjoy going to museums and galleries, so there are parallels, right? At least, that's what I tell myself. Oh well!
Follow me on Instagram: @davesergeant | @fratellowatches