An Analysis Of The Speedmaster Phillips Auction Results
Let me start by saying that it always amazes me that there is such a gap between results from auctions and from the 'normal' marketplaces for watches. Today's Phillips auction results are no different, and you also need to deal with buyer's premium and deal with taxes. The latter should be always dealt with if you buy abroad (or outside EU for EU residents for example). I will get back to the differences in prices later, let's have a look first at the Speedmaster watches that were part of today's Phillips auction in Hong Kong.
The Hong Kong Watch Auction: SIX
Today, there were 10 Omega Speedmasters up for sale during the Phillips auction this morning (my local time). Phillips was so kind to send me a catalogue, so I could study the lots a bit. Among them is a vintage pre-Moon model like the 105.012 that is basically considered being the Moonwatch as per our story here that has been validated by Omega. Worn by Aldrin and Armstrong (Collins wore a 145.012), it was the 105.012 that was used on the Moon during that first moon landing. At a later time, also the 145.012 would be used on the surface of the Moon. Another vintage piece that was auctioned this morning is one of my personal favourites, the Speedmaster BA145.022, better known as the yellow gold Speedmaster Apollo XI 1969 numbered edition. Only 1014 pieces were produced and sold of this specific watch. Then, there is a 145.022-69 with a tropical (brown) dial. The other Speedmasters that were sold at the Phillips auction are more recent (limited edition) models, the oldest being from 1996 (the Apollo XIII limited edition). Without further ado, let's have a look at a number of the sold lots.
An Analysis Of The Speedmasters From The Phillips Auction
I will start with the one I love, the 18-carat gold Speedmaster Professional BA145.022-69 that we covered here so often in the past 6 years for Speedy Tuesday.
Lot 808 – Speedmaster BA145.022-69
This watch was made to commemorate the Apollo XI landing in 1969 and was presented to President Nixon, his vice-President Agnew and a number of officials. Also, the watch was presented to Apollo astronauts. This all happened at a special banquet in Houston on November 25th 1969, where 19 astronauts attended. Watches #3 up to #28 have been given to astronauts, as well as #1001 to #1008. We also note that officially, there is no registration of the watch being given to Swigert and Haise (Apollo 13), but according to what we've heard they must have received them later on. Watches #1001 to #1008 were presented to astronauts in 1972 and 1973, so much later than the banquet of 1969, as not all Apollo missions were accomplished at the time. We covered this watch from various astronauts (as they came up for auction) and the ones that were sold on the public market (#33 to #999). You can read about it here, here, here and here. But also here, here and here and for example. Yes, I really love this watch.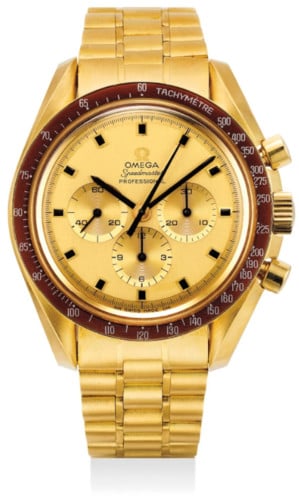 Anyway, this morning the Speedmaster BA145.022-69 referenced Apollo XI 1969 watch fetched a stunning $450.000HKD, which converts to $57.000USD (~€49,000).  The watch sold at the Phillips auction was apparently an early one, having number #163 engraved on the back (the auction catalogue says #169 but the website says differently, also the image of the case back in the catalogue shows a clear #163) and was sold to the Japan market in February 1970. That said, the dial is one of the 3rd generation, as it has a round 'O' and not the sought-after oval 'O' (as in 'Omega').
There is no box and papers with this watch, which would be a rarity indeed. The (textured) crater box is rare as hen's teeth. My watchmaker has one, which he sourced for his own gold Speedmaster Apollo XI and paid about 500 Euros. That was at least 10 years ago, today's price would be close to adding a 0 to that I am afraid.
Although 57.000USD or 49.000 Euro is a crazy amount of money, (including 25% premium) and perhaps a bit of taxes as well, this is a rare piece. The 1980 gold Speedmaster Apollo XI (345.0802) is much rarer with only 300 pieces, but the 1969 model has the story of the astronauts and Nixon, of course. However, the 1980 one might be a good alternative as it can be found for much less. That said, I feel that the price fetched is fair when compared to some of the Rolex watches sold but I also have to step in here and tell you that in the regular market, these watches are often offered for much less than this. However, with this price, I sense that people who have this watch in their possession see it as a good reason to up their prices as well.
Lot 809 – Speedmaster Professional 105.012
If you want the real deal, this is it. The reference 105.012 is the one that was – together with the 105.003 and 145.012 – used by astronauts during the Apollo missions. The 105.003 was a left-over of test purposes assumingly, but Omega sent a number of batches of 105.012 and 145.012 to NASA for use in space (and on the Moon). The 145.012 is a bit cheaper normally, although it has the better construction of the chronograph pushers. Anyway, the 105.012 has the story, as it was on the wrists of Armstrong and Aldrin. Aldrin used his Speedmaster for sure on the Moon itself.  What we have here is a later 105.012, with serial number 24.951.484. According to the archives from Omega, production of this particular watch finished on June 19th, 1967. On the case back of this watch, there's an inscription to be found ('TAT Flying Club') and engraved wings, but despite all efforts, no-one could find out anything about this.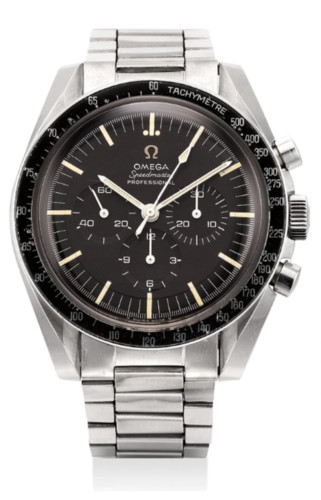 This Speedmaster 105.012 fetched $200.000HKD during the Phillips auction this morning, which converts to $25,490.- USD (~€22.000). Usually, these watches go between roughly $10K USD and $16K USD, so the paid price of $25,490 (including 25% premium) is a hefty price tag for this reference. It shows that speculators and collectors are willing to invest quite a bit in these last references using caliber 321 though. It does come with an original bracelet, stamped (Q)2 / 67. It has a beautifully aged dial, some light patina and a Dot-Over-Ninety bezel. It has a 'fitted' presentation box which probably means they added a time correct box for this Speedmaster. To me, this has no real value unless there's proof it really came with the watch in the first place. Paperwork would have been more interesting and given the fetched price, kind of to be expected. In the end, this watch will definitely be worth 25K USD sometime soon with today's demand for Speedmasters.
Lot 807 – Speedmaster Professional Apollo XIII (Ref  3595.52.00)
Although there is another vintage Speedmaster sold during the Phillips auction of this morning, the 145.022-69 with tropical dial, I want to jump to this 1996 Speedmaster Professional Apollo XIII. Apollo 13 was a very important mission for NASA. Although Apollo 11 was the first moon landing and Apollo 12 went rather good as well, the public lost interest a bit in the space race after Apollo 11. The thing that needed to be done was done, so what was the point in spending a tremendous amount of money in further exploration of the Moon? Apollo 13 changed that. Because there was an explosion of one of the tanks of the Apollo spacecraft, it suddenly became very uncertain whether Swigert, Haise and Lovell would have a safe return. We told the story here and elsewhere (<- Speedy Tuesday Magazine download) numerous times. Omega played a huge role in the success of the return of these astronauts and NASA rewarded them with the Silver Snoopy Award in October 1970. The Speedmaster was a key factor in timing the rocket boost on their way back to Earth, in order to enter the atmosphere correctly (not correctly means the spacecraft would just completely burn, including the astronauts).
The story on Apollo 13 was told in the 1995 blockbuster movie with the same title, featuring Tom Hanks as astronaut James 'Jim' Lovell. If you haven't seen that movie, log off now, go home and watch it. Don't be back until you've done so. Also in 1995, Omega introduced the Speedmaster Professional Apollo XIII as you see here. Only 999 pieces (at first), with a special certificate of authenticity (as all limited editions get) and a black box embossed with 'Apollo 13'. Buyers would also receive the mission badge of Apollo 13. On the dial of this watch, the mission patch at 9 o'clock. This inspired later Speedmasters also to have one for missions, hence the 1997 Missions Case with 22 Speedmasters having such a badge at 9 o'clock, including again this Apollo XIII model.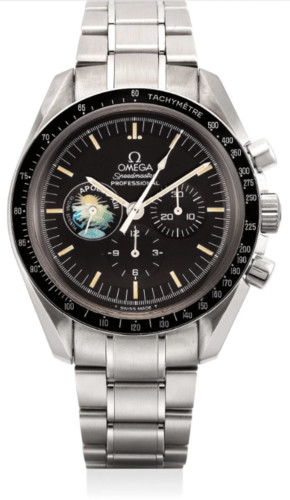 This number 958 of 999 pieces, and this number is engraved in the case back. Because it is a later production, in 1996, you will find that this watch already has the later bracelet. When it first came out, it has the much-appraised reference 1479 bracelet. Later on, Omega put these watches on the more modern looking 1499. This is the design that is still being used today, be it with screwed links and a different clasp etc. It still has a tritium dial and hands, and a caliber 861 movement. In 1996/1996, this changed for the regular production Moonwatch to Super-LumiNova and the caliber 1861 movement. The funny thing about these 1990s Speedmasters with tritium is that they develop this beautiful yellow patina as you can see on this watch. I have an Apollo 13 limited edition myself as well (from 1995) and it has the same ageing. People who want to buy a cool Speedmaster without breaking the bank, a 1990s model with tritium dial and hands is the way to go.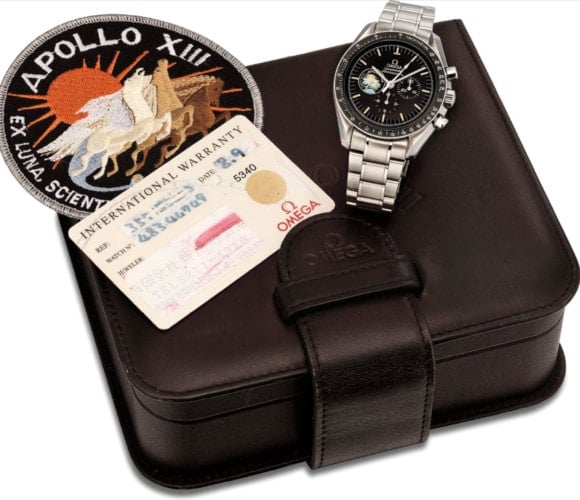 This watch fetched $100.000HKD this morning at the Phillips auction, which converts to about $12,745USD (~€11.000) including the 25% premium. I think I paid about €5000 in 2013 for this watch, which was on the high side at the time. I feel this watch was always a bit under-appreciated in terms of value, as for a long time it just stuck at 9000 Euro. And you can sometimes still find them for this amount, but perhaps this auction changed it. Why do I feel it is justified? It has a low number for an Omega Speedmaster limited edition (999 pieces) and it simply looks stunning. The colours of the mission patch (with yellow and orange) are very nice and in my opinion, it is one of the best-looking watches with a (mission) patch at 9 o'clock.
A more thorough write-up about this watch can be found here.
Some Of The Others
I was surprised to see the Snoopy 2003 watch (lot 803) going for $100.000HKD as well, although this one and the Apollo 13 are somewhat related. The production number on the Snoopy from 2003 was relatively high, with 5441 pieces, and not a quick seller at the beginning when it was introduced. However, once the word got out, the demand increased and so did the prices. Prices are approximately 25% lower in the market right now, but I guess that's what happens at auctions. In this case, it is exactly the premium for Phillips auction that makes the difference.
Then there is the Alaska watch, that we covered here a while ago, that was introduced in 2008 as a commemorative model for the 1970 Alaska watch. In the link I've given you, you will find both watches. The original and the re-edition. The 2008 model suddenly became a highly sought-after watch and fetching some crazy prices at the moment. So the $118.750HKD is quite similar to the current market value. Prices on Chrono24 are all over the place for this one, starting at around $10.000USD.
For an overview of all the sold Speedmasters at the Phillips auction in Hong Kong, click here.
A Couple of Thoughts
A number of Speedmasters are really tough to find. Like the gold model or the Apollo XIII in this case, perhaps even more so than a nice 105.012 or tropical 145.022. You have to have a bit of luck, and perhaps a great network to make a purchase of one of those. I clearly see added value in bidding on them in an auction. Some other models, like the Alaska 2008 and the 2003 Speedmaster Snoopy, can be found easily. It is a matter of having the rights funds, and you can at least keep the 25% premium in your own pockets. For relatively easy-to-find pieces, I don't get the use of an auction house, unless you want to have some security perhaps. Please note that if you are a European bidder for example, the Hong Kong auction can become very expensive as you can add approx. 20% when shipped to Europe (customs). Always make sure to find out these things, before you have an unexpected and unpleasant surprise.
Let's not forget that a big part of the value of some of thee watches is in the auction itself, not the watch. 25% premium is quite a bit, and if a watch gets auctioned again, at least another 20-25% goes into the auction house. We see this with the Daytonas for example, where the value is much higher. In the end, if a watch gets auctioned two or three times, does it really still has the given value? In my personal belief, I think a lot of hot air is being created this way. This doesn't mean someone is not willing to pay for it, but in my book the real value, or even market value, gets a bit skewed. That said, for real unique pieces (like the Paul Newman Daytona Paul Newman or the Elvis Presley Omega watch) or hard to find watches, an auction house is a very good solution.