Speedy Tuesday – My Top 5 Vintage Omega Speedmaster Watches
Last week I showed you my Top 5 of modern Omega Speedmaster watches and it immediately became clear that a lot of you also want to see a Top 5 of vintage Omega Speedmaster watches. Before I will do so, I have to admit that only 5 different references numbers is a bit low, so when I mention a CK2998 for example, it means any watch of this specific reference (-1 to -62 or even a CK2998 FAP model).
My first Speedmaster was actually a vintage Speedmaster Professional (Pre-)Moonwatch, the 1967 reference 145.012-67. I bought it in 1999 for 2000 Dutch Guilders (about €800 Euro these days, without inflation) and it is – of course – still in my collection. It isn't perfect, but it surely was my first serious mechanical watch and first Speedmaster. After that one, many followed and unfortunately I made some wrong decisions as well and sold a couple of those caliber 321 Speedmasters a bit too early.
Top 5 Vintage Omega Speedmaster Watches
This Top 5 of vintage Omega Speedmaster watches is purely based on what I like to see in a vintage Speedy. It is not based on the most sought-after or most expensive vintage Speedmaster watches, just based on what I like best.
1. Omega Speedmaster CK2998
The second generation of Speedmaster watches, actually the one I do prefer over the Speedmaster CK2915 (1957 – 1959). This CK2998 collection was in production from 1959 till 1962 and has the alpha hands and black bezel. The last reference CK2915 also had a black bezel already, but still… the Speedmaster CK2998 is closer to what eventually became the Moonwatch than the CK2915. The Speedmaster CK2998 is something I don't have yet, but is high in my wish list. During its production period, Omega used a couple of different dials and hands for this reference number, but frankly I don't really have one that I favor. The models with the lollipop second hand might be the one I would crave for in the end. Prices are going up steeply on these watches. You could find a very decent one around the €8000 Euro mark just a few years ago, now you almost have to double that for a really nice and original example. Some references that have a nicely faded dial (to brown) and other specific aesthetics might be even valued higher. I personally believe it will go up in price even further, as these watches are for example more rare than a Daytona and demands more than only a fat wallet. In 1962 Omega started using a new coding system for their watches and the CK2998 was briefly (6 months only) sold and produced as a reference 105.002.
2. Omega Speedmaster Professional 105.012
It was a tough call between the mother of all Speedmaster watches, the CK2915, and this one. Of course, the CK2915 is very rare, very expensive and very beautiful, but if you leave 'value' out of it, the 105.012 has something very special. The Speedmaster Pro 105.012 was the reference number that was used on the Moon by Buzz Aldrin in 1969.
The watches that Omega delivered to NASA were reference 105.012 and 145.012. Both were used by astronauts and on the Moon, but the very first watch worn on the Moon is the Omega Speedmaster Professional 105.012. In any case, the Speedmaster Pro 145.012 and 105.012 are the last models with the column-wheel caliber 321 movement. Even though these were the real Moonwatches, the prices are still fairly low compared to some other Speedmaster references. It might be a good idea to invest in one of these watches now, as they are still below the €5000 Euro mark (with box and papers this can go up of course). Some times, I am surprised that the watch is almost worth more in parts. A nice condition DON90 bezel for a 105.012/145.012 fetches around €1000 Euro alone.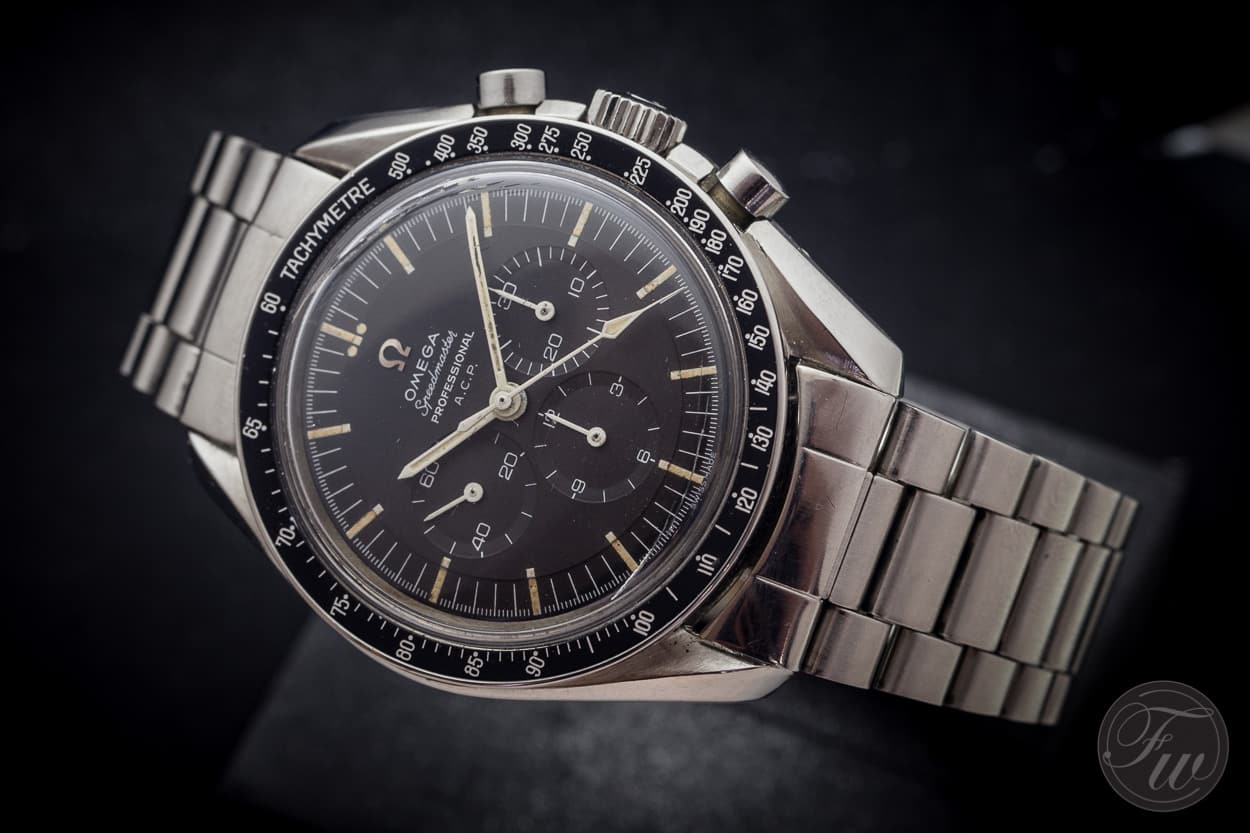 3. Omega Speedmaster CK2915
Of course, even though I prefer the CK2998 reference Speedmaster watches, the CK2915 does belong in everyone's Top 5 of vintage Omega Speedmaster watches overview. The CK2915 doesn't need much introduction I guess, it was the first Speedmaster ever. Introduced in 1957 together with the Seamaster 300 CK2913 and Railmaster CK2914. This trio was a set of 'professional' watches that Omega brought to the market, each with their own specific functionality and audience.
The Speedmaster was the only chronograph of the three and meant to be a sports watch. It would take a couple of extra years to become linked to NASA's Apollo program. I have to admit that whenever I strap a Speedmaster CK2915 on my wrist, it does feel a little bit of magic. More so than when I wear a Rolex Daytona from the 1960s or 1970s. Prices for a CK2915 are €40.000 Euro and up these days (if you can even find one), given that they are all authenticated and original. My guess is that these CK2915 Speedies will quickly hit the 6 digits when they are being picked up by serious collectors and bidders in the future. Although the price is already impressive, it doesn't have the status of a vintage Paul Newman. Yet.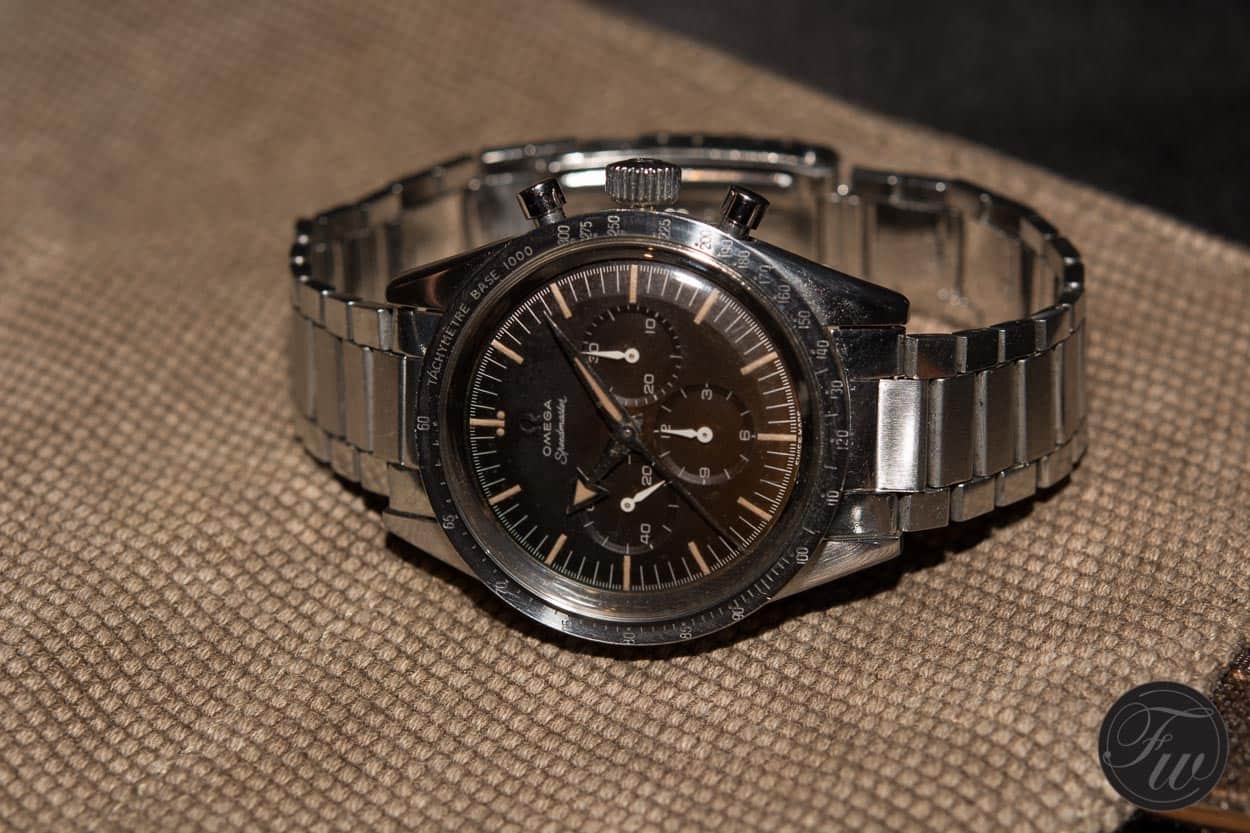 4. Omega Speedmaster 105.003
The Speedmaster 105.003 is the successor of the CK2998/105.002 and the last model with straight lugs. This model was tested and selected by NASA in 1965 and used as an official watch during the Gemini missions. For the Apollo programme, Omega shipped the later 105.012 and 145.012 references. The Speedmaster pre-Professional pre-Moon 105.003 is also being referred to as the "Ed White" as he used the watch during his space walk in 1965. The last case reference is 105.003-65 but it is known to be in production till the end of the 1960s.
Funny enough, this model co-existed next to the 105.012 that was introduced in 1964. The 105.003 is lacking a crown guard and has the straight lugs design. A very attractive combination and much sought-after currently, prices going up from €6000 Euro for a decent model with everything (dial, bezel and hands) correct. 105.003s that are in better shape go up rapidly and seem to be in the footsteps of the CK2998.
5. Omega Speedmaster Professional 145.022 Apollo-Soyuz
The one specific limited edition timepiece in this Top 5 of vintage Omega Speedmaster Watches overviews. Only 500 pieces were made in 1976 for the Italian market, to commemorate the Apollo-Soyuz mission. A thorough write-up about this particular mission and watch can be found here. I've only come across one of these for sale approximately 15 – 16 years ago (not including the one shown here that was offered on the OmegaMania auction in 2007), I remember it had a €5000 Euro price tag, which was a lot for a Speedmaster at the time.
Those days are over and to be honest I don't have a clue what a watch like this would fetch today. 500 is not the lowest quantity Omega did on a Speedmaster, as they did a MIR limited edition for example of just 28 pieces (and only 7 in gold). Either they all ended up in (important) watch collections or perhaps some just ended up on wrists and might be still in drawers or boxes (or on wrists) in Italy. You never know. The logo makes it an incredibly cool timepiece, makes me wonder why later 'patch' models had the logo printed on the sub dial at 9 o'clock.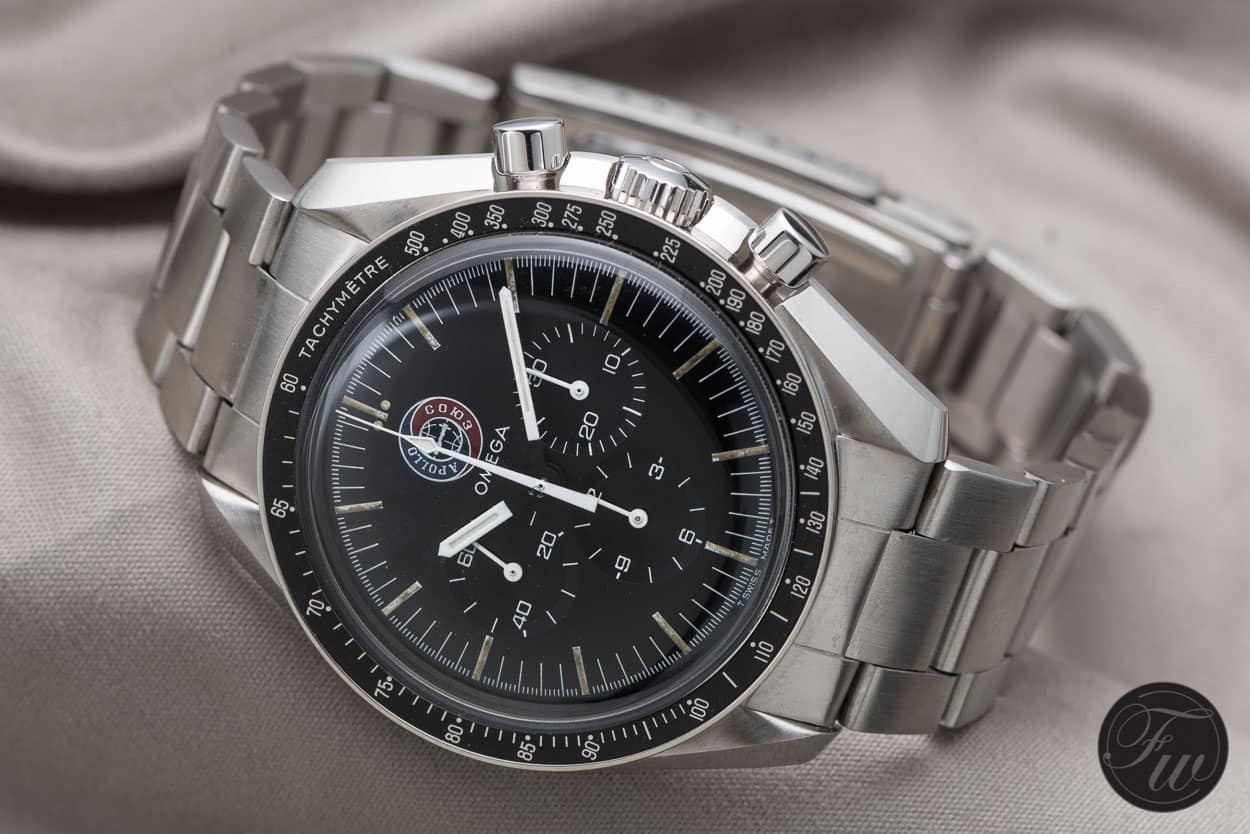 You can't be serious, that's all?
Well, I promised myself to keep it at 5. That said, the order or reference numbers might change at some point. For instance, I didn't include a gold Speedmaster Professional (1969 BA145.022 or the 1980 345.0802 'Stafford') for example, while it is one of my favorite Speedies. Another interesting bunch are the Mark models (I love the Mark II, IV and V), the Speedmaster 125 and Moonphase models of the 1980s.
So, please list your favorite vintage Speedmaster in the discussion section below (with picture). I am curious to learn what you've picked.