Summer Splash — Round 3: Nacho's Serica 5303-3 Vs. RJ's Oris ProPilot X In Pink
A summery diver takes on this year's most popular pilot
Are you ready for round three of the Fratello Summer Splash 2022? Well, ready or not, it's about to begin. This year's contest is all about finding the best colorful watches to keep you happy all summer long. Sure, warm weather and long days might already put a smile on your face, but a brightly colored watch on your wrist always kicks things up a notch. Much like a bold pair of sunglasses, a Hawaiian shirt, or even your summery cocktail of choice, a suitable watch for the warmer months is a cornerstone of summer fun. Last year we narrowed this down in a rather technical way with requirements as to water resistance, price, and availability. This year, all we ask is that the watches are currently available and as colorful as possible! So, without further ado, we have our first match-up of the week.
In the blue corner, we have Nacho rooting for the all-new Serica 5303 in crystal blue. And in the pink corner, we have RJ, who is fully backing the Oris ProPilot X — the salmon-dialed model, to be precise. Now, initial predictions might give Nacho and his Serica the edge. Dive watches are the summeriest of all indeed. But when it comes to color, the PPX could be more in line with this year's Summer Splash theme. As always, we can only guess who will be the winner. But if you're reading this (that's right, you!) the decision is in your hands. After you've finished reading Nacho and RJ's arguments for their watches, make sure to vote for your pick. Only one of these two can make it to the next round.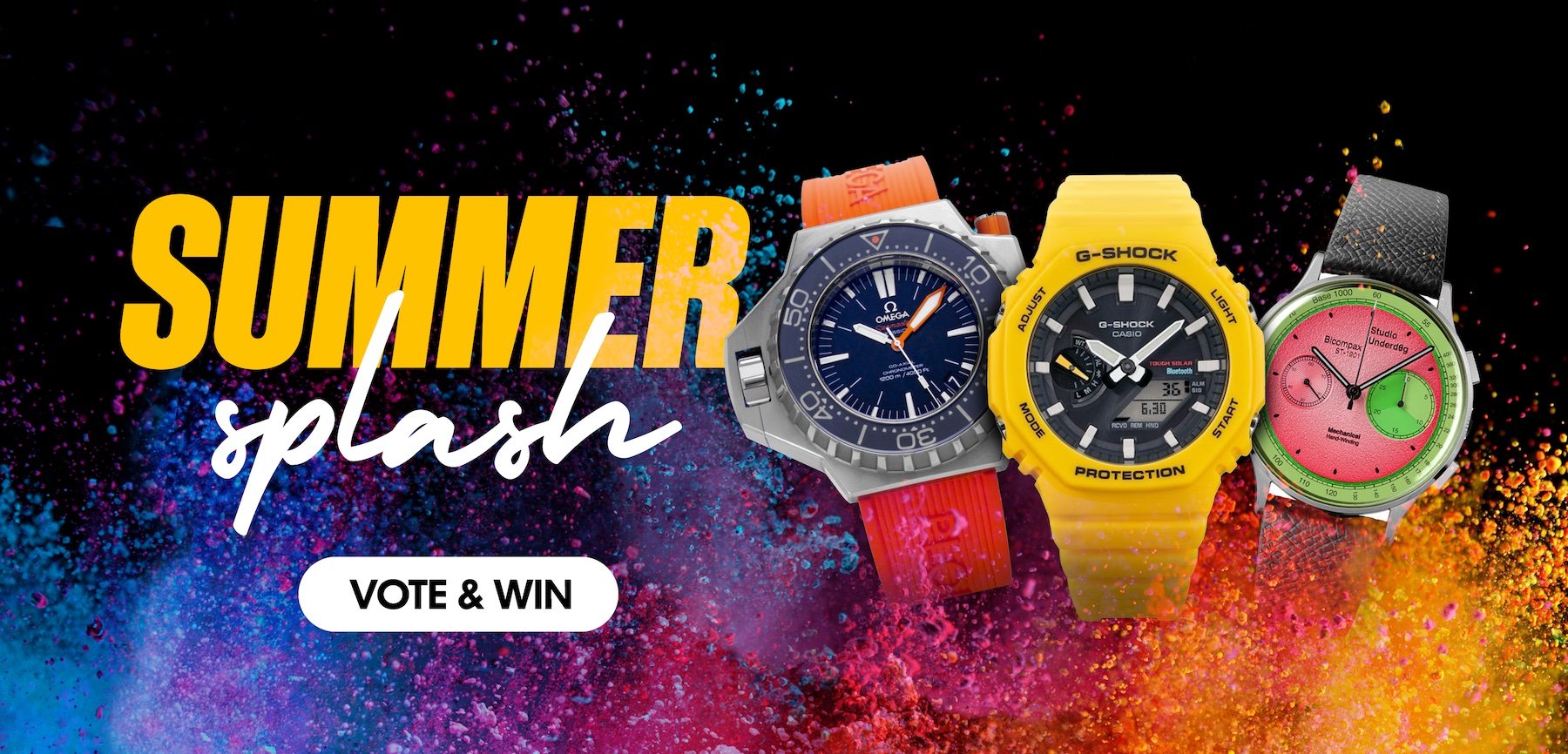 Last week's Summer Splash results
Before we jump into this round, let's first have a look at last week's winners. The first round of the 2022 Summer Splash saw Thor and his Doxa SUB 300 Divingstar go up against Daan and the lovely Autodromo Group B Aqua. The bright yellow-dialed diver took a clear-cut win, sweeping up 80% of the votes. But I don't think it came as much of a surprise. There's something about Doxa watches that makes them ideal for summer. It's not just the vintage aesthetics, but also the fact that they are more-than-capable divers that can take a bump or two and shrug them off. These are watches that look even better battle-scarred. And the warm sunny yellow dial of the Divingstar made short work of the Autodromo's racing-themed efforts.
In the next round, it was Lex versus Jorg, and Hublot versus Tudor. Surprisingly enough, the Hublot Big Bang Integral Ceramic Sky Blue was off to a strong start, taking an early lead in the votes. However, we all knew that, realistically, it would be the Tudor Pelagos FXD that would sprint ahead for the win. Ultimately, the Pelagos FXD took 64% of the votes, leaving the Big Bang Integral Ceramic Sky Blue with 36%. Was it a closer match than initially expected? Absolutely. Yet, it was a diver that once again came out on top. Will this repeat itself this week? Will Serica take down Oris? Or are we in for a change of pace? It's all up to you. Read on, and make sure to vote for your pick at the end of this round.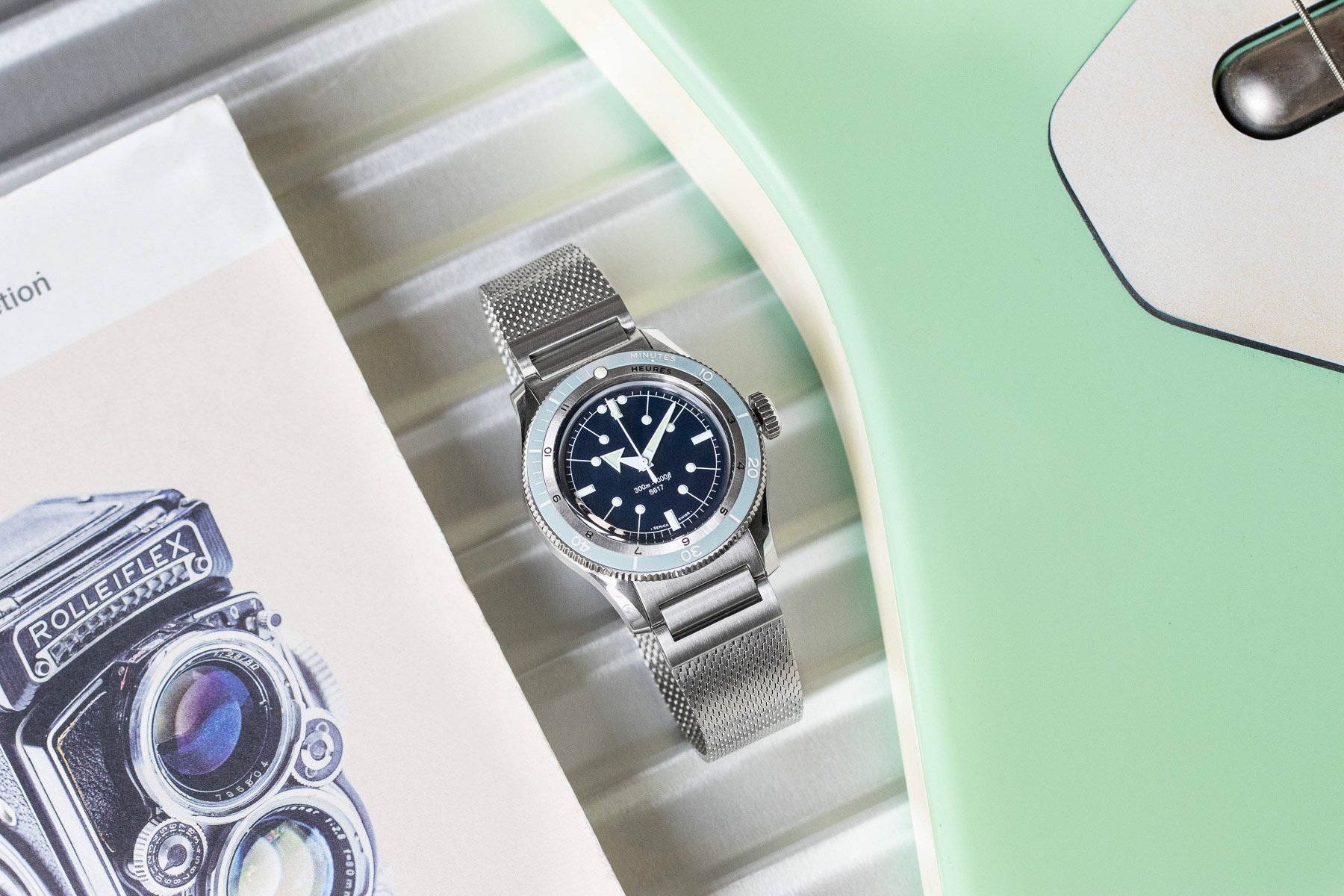 Nacho's pick: The Serica 5303-3
My pick for this year's Summer Splash competition was set in stone from the moment I first saw it. The Serica 5303-3 launched just a couple of weeks ago and is the Parisian brand's latest offering. The timing of this release could not have been better. In fact, it came just two weeks before the official start of summer (which was just yesterday, June 21st). A perfect colorful counterpart to the previous 5303 models in black and white, this latest iteration not only meets the criteria to enter the Summer Splash, but I strongly believe that it has the potential to take the crown. The 5303-3 features a summery colorway with a light and refreshing crystal-blue ceramic bezel and a deep, dark midnight-blue dial.
Like a clear blue sky above the blue waters of the ocean, this brilliant diver has been elevated beyond the usual monochromatic color schemes that these watches often comfortably settle for. Now, don't get me wrong, I do love a classic black-and-white diver. Most recently, I was very impressed by the HTD Aquatíc divers. But there's something so refreshing about wearing a watch that brings a bit of levity to a world that takes itself too seriously. The Serica not only offers one of the best original designs for a dive watch that I've encountered in recent years, but it also now gives the basic form a unique splash of color. Let's just say that at least one has already been pre-ordered by the team here at Fratello. Something tells me it won't be the last Serica that one of our editors will own.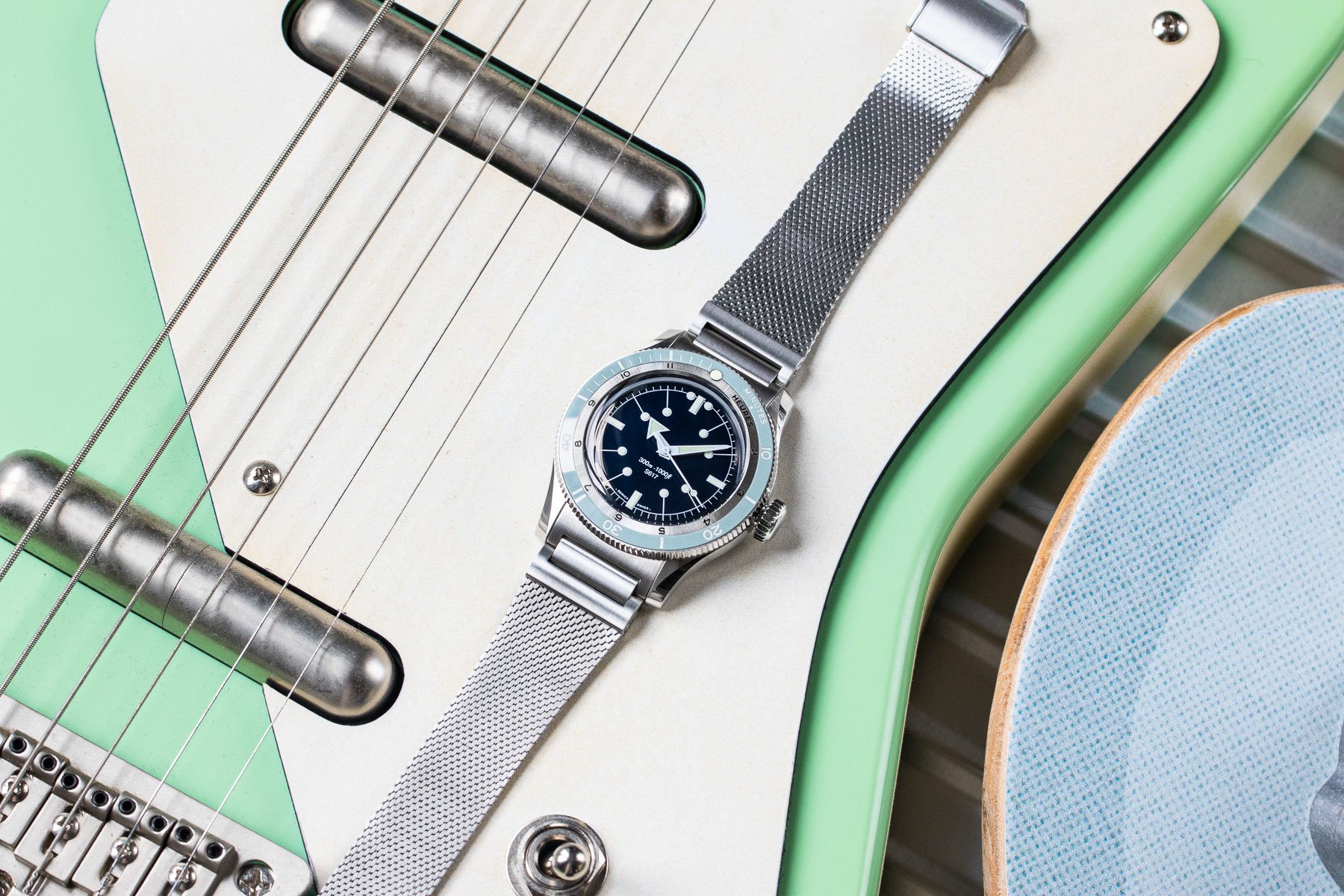 Why the Serica 5303-3 is my summer watch of choice
Now, when it comes to dive watches, we are more than spoiled for choice. This is especially true at the price range that the Serica 5303 exists in (about €1,300). For that same price, there are heaps of perfectly good offerings from classic brands like Seiko, Citizen, and even Doxa. There are also plenty of offerings from microbrands like HTD, Peren, and Zelos (and many more). To me, none stand out quite as much as the stunning offerings from Serica. There's a perfect balance struck in this watch's design. It's familiar but completely different and unlike anything else out there. Having met the brand's founder and the man behind these designs (Jérôme Burgert) I can attest that there's also plenty of passion going into these watches.
Other than that, a fantastic mesh bracelet will keep this perfect summer diver securely fastened to your wrist. But, should you wish to slip into something even more comfortable, you can always opt for a NATO or even a Tropic-style rubber strap. These 5303 divers just so happen to be extremely versatile when it comes to strap combinations. To me, this is a significant advantage. Instead of taking multiple watches on a holiday abroad, it's always better to just take one and switch straps whenever you feel like something a little different. And if all of these reasons don't convince you to vote for the blue-eyed beauty that is the Serica 5303-3, just have a look at the images.
Now it's RJ's turn to wax poetic about his Oris ProPilot X with a rather fishy dial.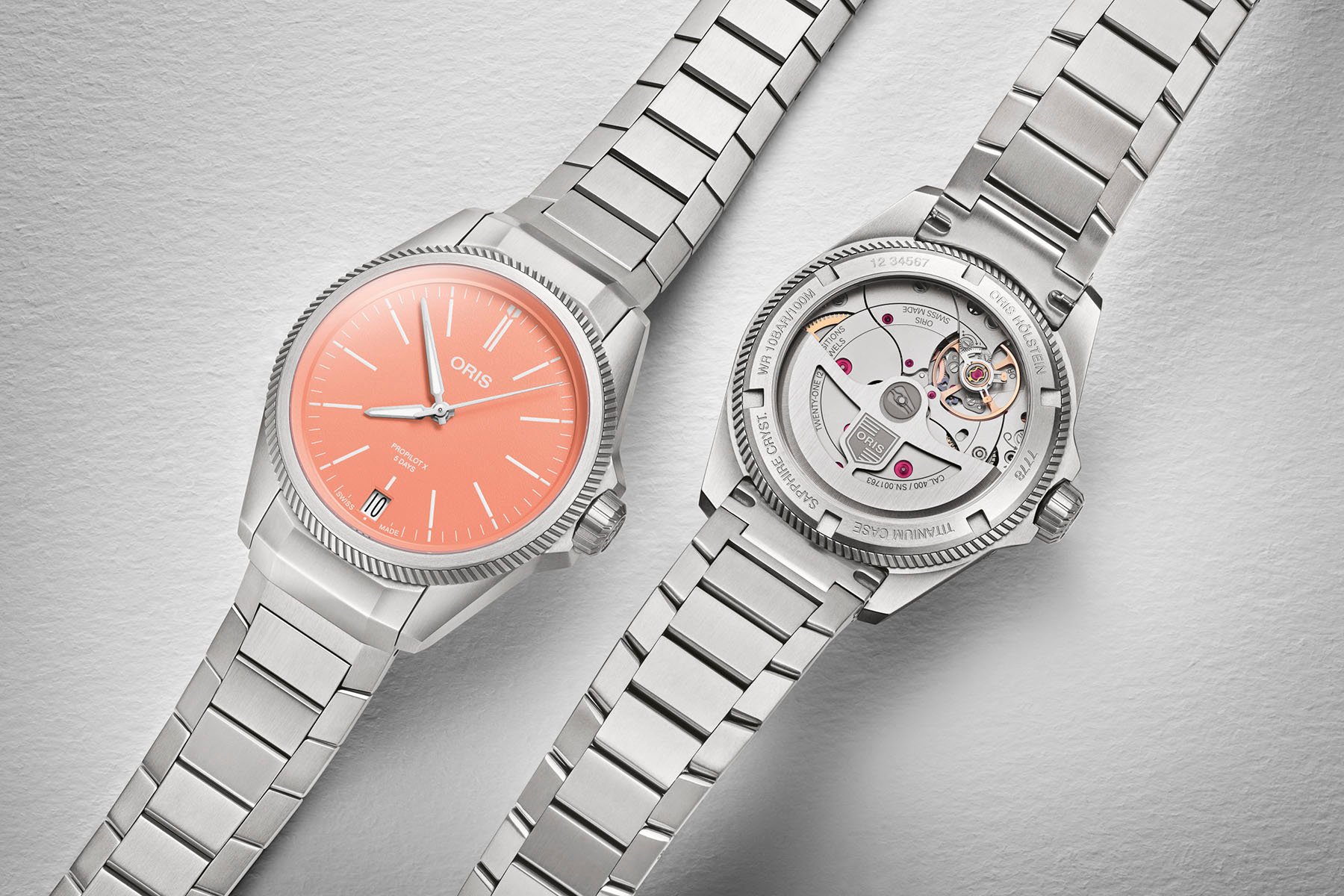 RJ's pick: The Oris ProPilot X with pink dial
I decided to pick something for under €5K for my submission. It rules out some of the obvious brands, but I also would like to keep it sane, for a change. It is still much more expensive than the Serica, but I like to buy watches from proper brands that will still exist decades from now to service or repair my watch. However, I do appreciate what Serica is doing and the price tags on its models.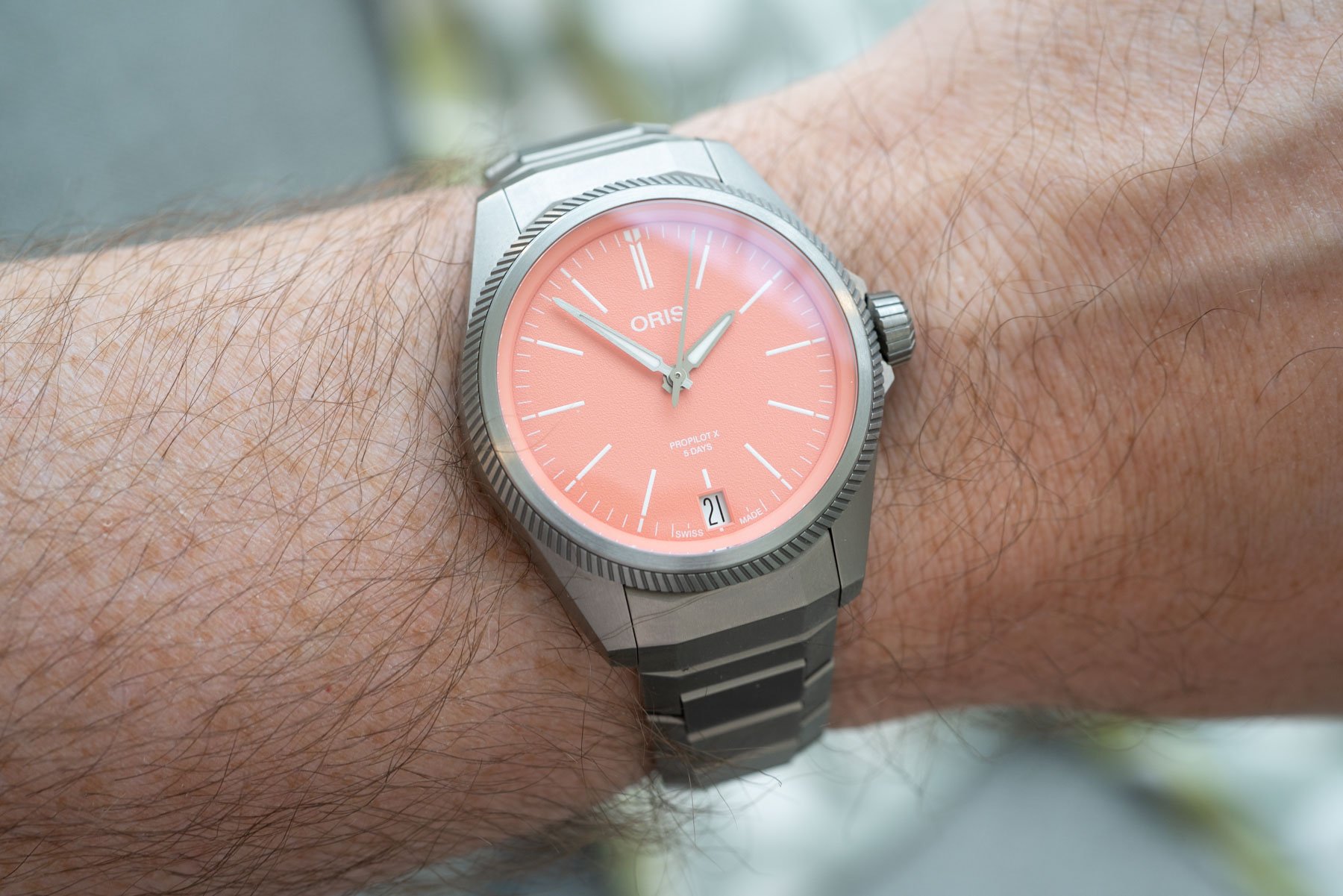 Oris showed us the new ProPilot X during Watches And Wonders. It quickly became a favorite amongst our team, but also with many of the readers. However, it is not a watch for everyone and not a watch without a bit of controversy. Oris has been using proprietary movements for a while now, and with this Calibre 400, the brand is also able to offer no less than a 10-year warranty.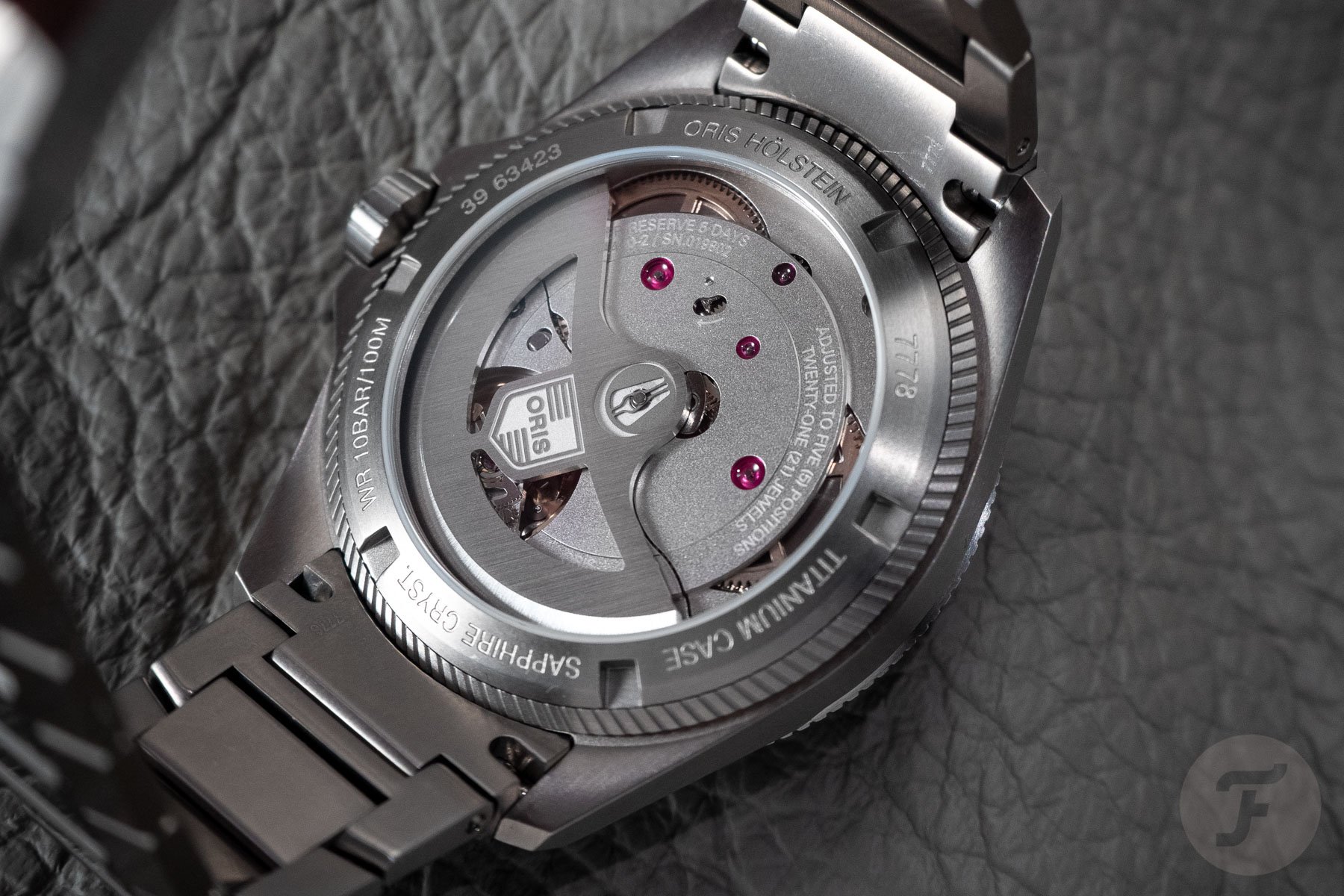 Of course, this adds up to the price of the watches. With these new Calibre 400-powered watches, Oris moved up to the €3,000–€4,000 price segment. The sweet spot for Oris always used to be around (or even under) €2,000, but those models were powered by Sellita movements. What makes this Oris ProPilot X special, though, is the titanium case and bracelet. With a diameter of 39mm, the ProPilot X hits a sweet spot with the collectors and enthusiasts. The times when watches always needed to be big are over. The lug-to-lug size is 46mm, and the height is 12mm. The ProPilot X is friendlier on the wrist than the initial model, the Big Crown ProPilot X with Calibre 115, which measured 44mm.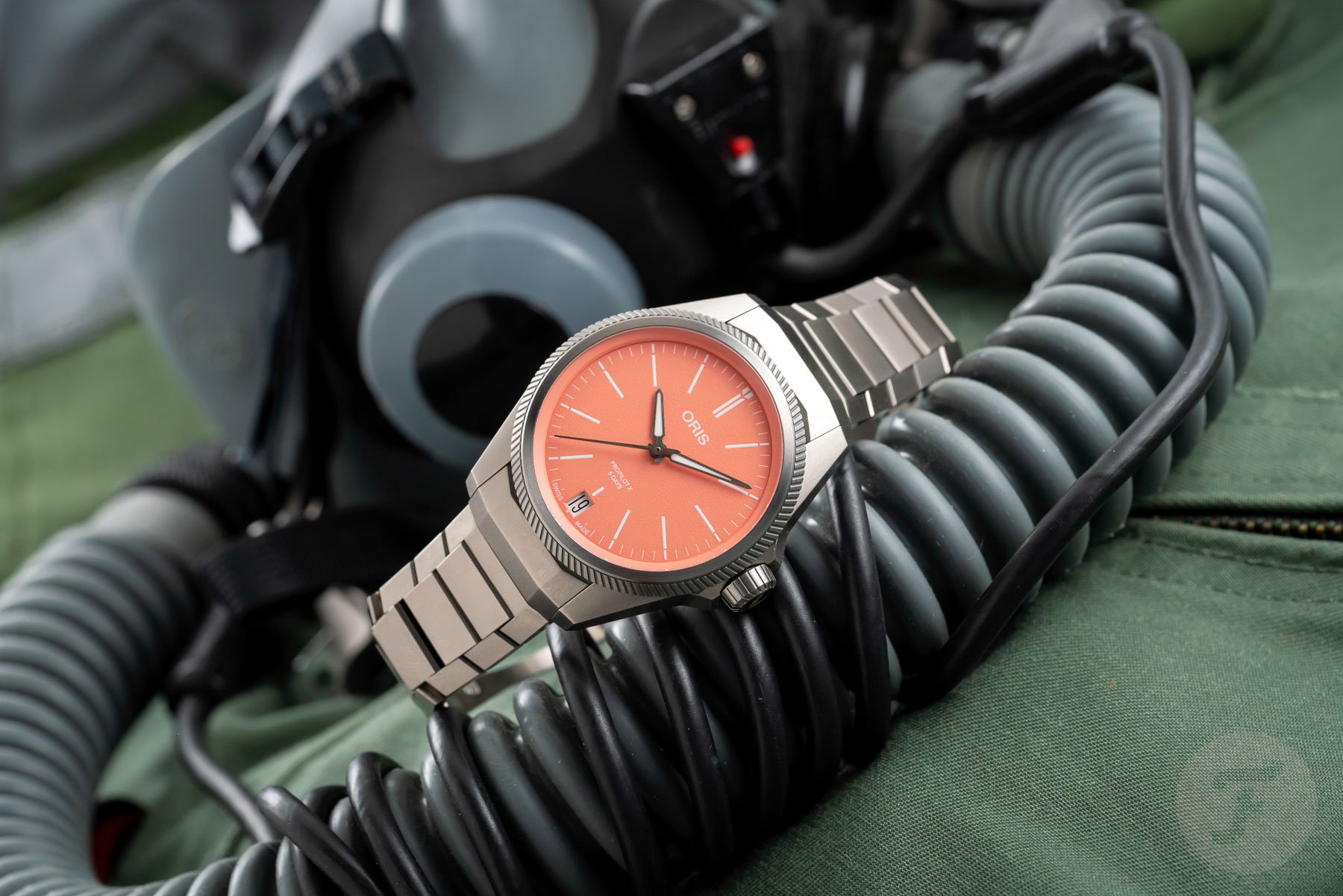 Oris decided to bring some different colors to this watch, too. Although two of them are a tad bit conservative — blue and gray — the third version has this bright pink color. It is not the typical salmon color you see more often today. Rather, more vibrant and perhaps a bit more daring. It looks especially amazing when wearing this watch in the sun, and it's hard to not notice the dial from afar.
But it's not just the bright pink dial color that makes this Oris a perfect watch for summer. It's also the use of titanium. This makes the watch so comfortable to wear that you hardly feel it's there at all. Especially during hot summer days, wearing a watch can be a bit bothersome, at least to me. I start moving it around, taking it off, and so on. The lighter, the better, I'd say. The combination of this large pink dial and the titanium also works better than expected. On the dial of the Oris ProPilot X, the hour markers are printed in white, making it a very legible watch.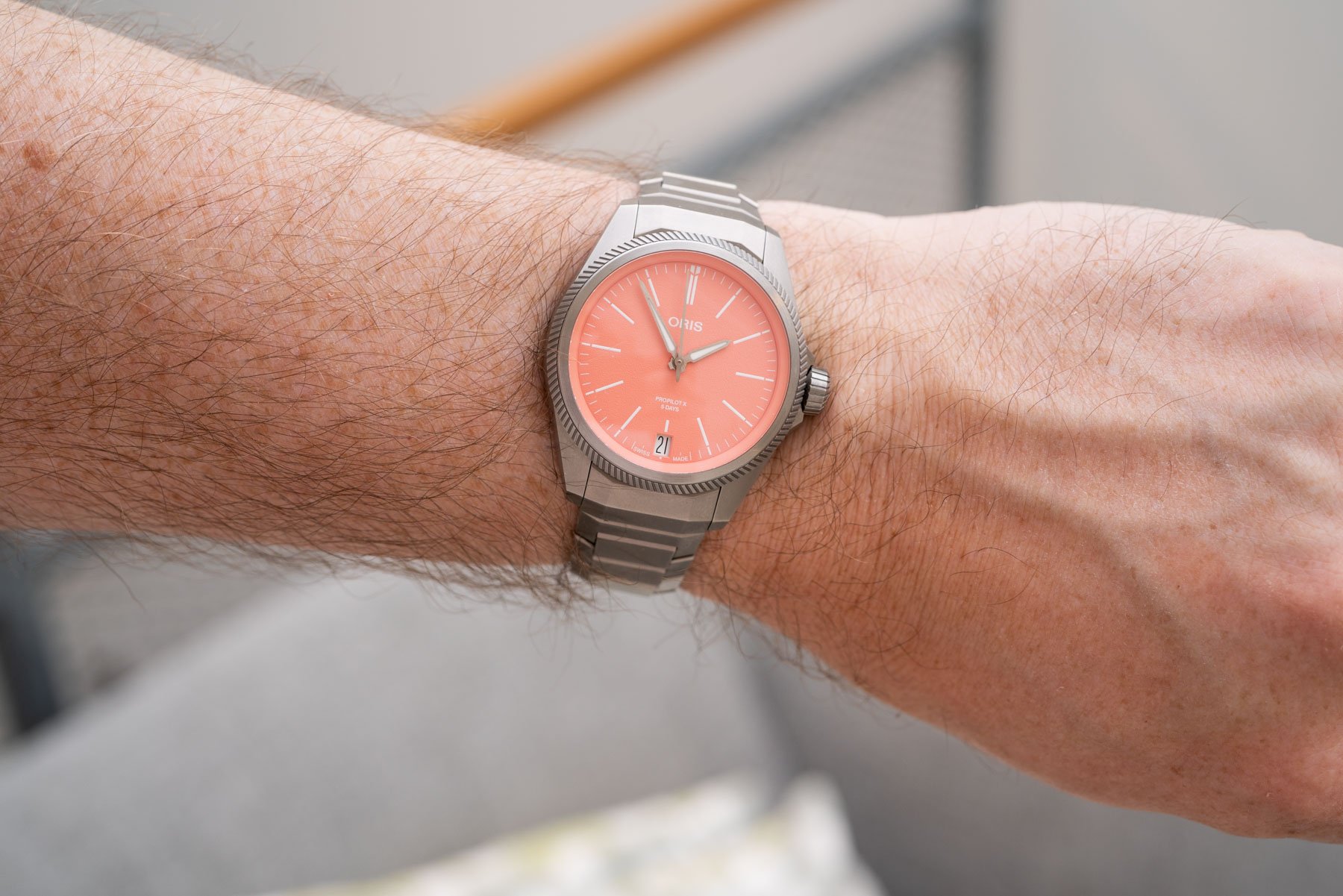 I don't want to make this Oris ProPilot X submission about the movement, as I feel the color is what counts in the Summer Splash contest. However, mentioning the ProPilot X without a word on the Calibre 400 is also a bit strange. It's a proprietary movement, meaning it has been designed by Oris, but the manufacturing and assembly take place elsewhere. The Calibre 400 has a power reserve of no less than five days, it's anti-magnetic, and it comes with a 10-year warranty.
Now it's your turn!
So, there you have it, ladies and gentlemen. Which one of these two fantastic summer-ready watches goes on to the next round and on to potentially win this year's Summer Splash? Is it the Serica with its brilliant design, stunning colorway, and charming aesthetics? Or is it the Oris, the lightweight comfort-forward pink-dialed flagship model? Make sure to vote below for your favorite. Also, don't forget to tune in on Friday for the next round, where we'll see Thomas and Ben go at it. This matchup will feature the return of Oris and brings back a favorite from last year's competition, the NOMOS Club Campus in Future Orange!
So, which watch will it be? Serica or Oris? Cast your vote below.
Serica 5303-3 Vs. Oris ProPilot X