The Top Watches with Integrated Bracelets
There's a surprising variety of these dressy sports watches
Integrated bracelets have been in vogue for several years and most brands now offer a choice in this highly competitive arena. We're here to take a look at the contenders.
The Audemars Piguet Royal Oak and Patek Philippe Nautilus are popular icons. Aside from the fact that both are 1970's Genta concepts, they also share a major design trait. Namely, they feature integrated bracelets. This look seems to fit the current trend of what has become an ever-widening grey zone between dressy and sporty. And so it makes sense that these watches are blazing hot today and nearly impossible to source. But what's a person to do if they're not on a first name basis with their local AP boutique? Well, the positive is that many brands have come to the market with surprisingly good alternatives.
The rules of the game — Integrated Bracelets
Just to be clear, most of these watches actually have integrated bracelets. Some don't, but look like they do. We're not being too picky as some of these dressy sporty watches "look" like they have an integrated bracelet. Plus, most are available in a dizzying array of variants. Complications, exotic materials, and a plethora of diameters are just some of the options.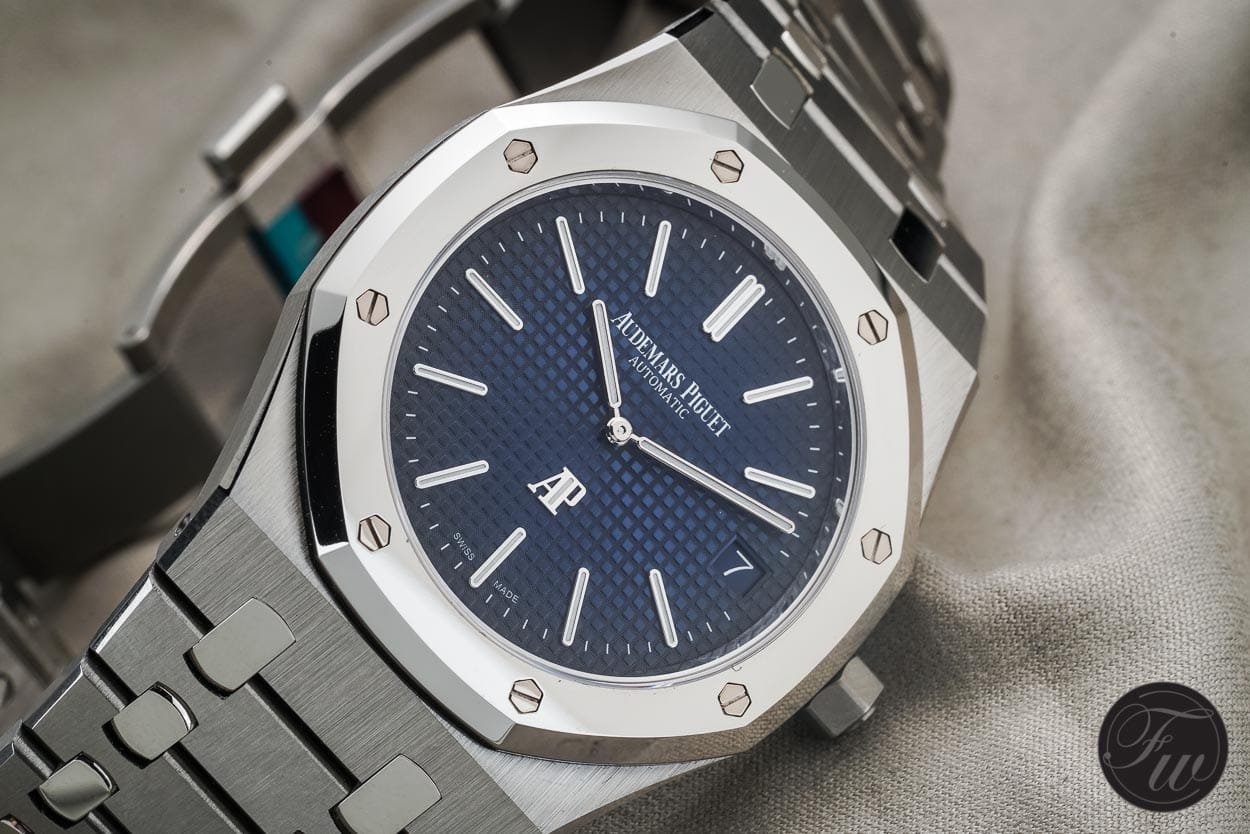 Audemars Piguet 15202 Royal Oak Jumbo Extra-Thin
I guess the undisputed king in the integrated bracelets game is the AP Royal Oak Jumbo. Reference 15202 is the watch to own and most closely resembles the 1972 original. At 39mm in diameter and only 8.1mm in thickness with calibre 2121, it's a seriously smooth operator. The "Petite Tapisserie" dial pattern is known the world over and there's good reason. The watch, especially with a blue dial is hard to fault. On the wrist, they look great, but I find that the bracelet starts a riot with my deeply forested wrists. For me, it actually makes the watch unwearable. But at €26,800, it's almost like having pure liquidity on one's wrist. I took a look at the used market and there's nothing out there for less €31K. Visit Audemars Piguet to see other options. I do find it somewhat hilarious that you can actually add this to your "wishlist". Good luck!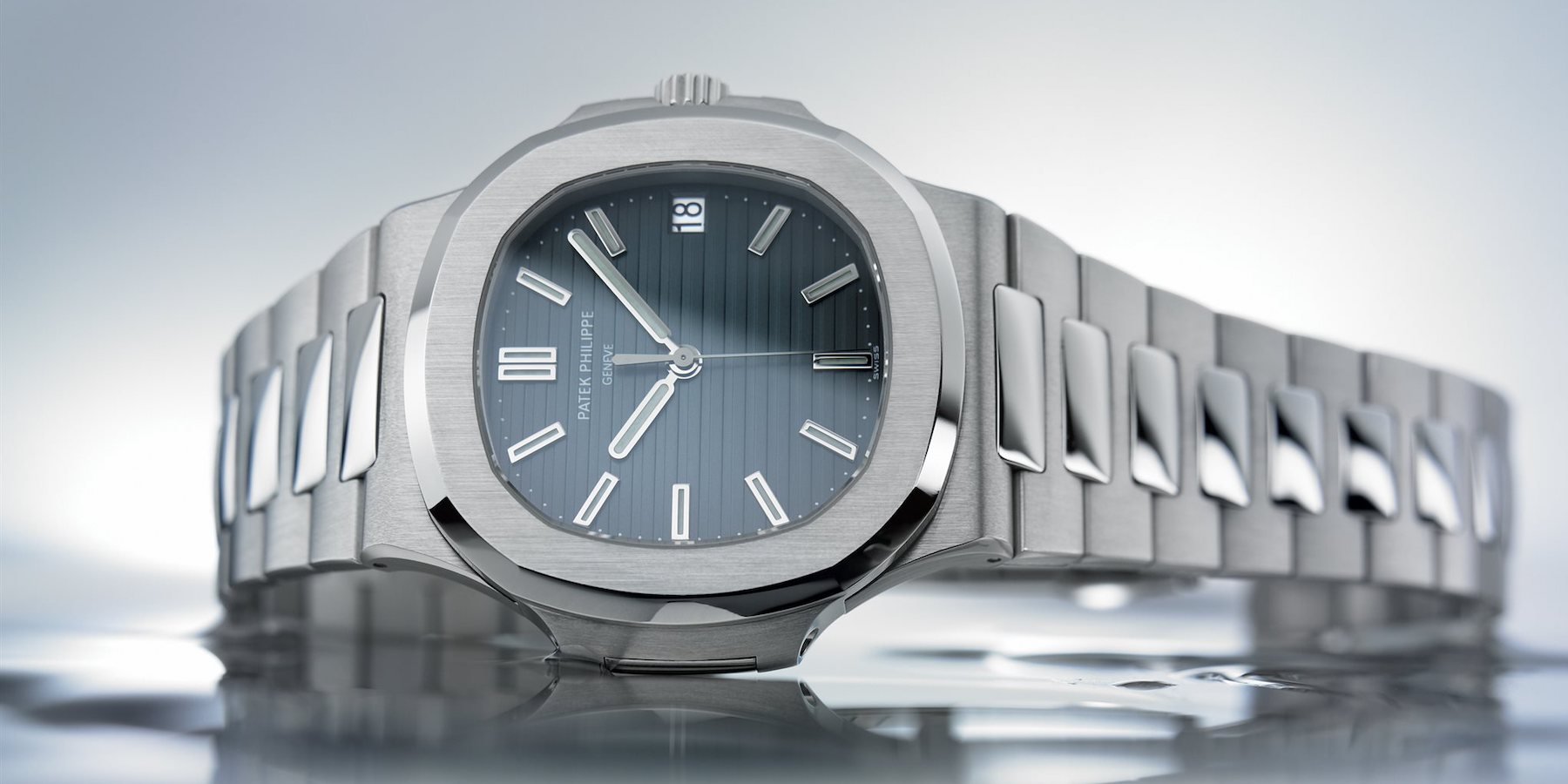 Patek Philippe Nautilus 5711
The other heavyweight in the integrated bracelets category is the Patek Philippe Nautilus 5711. This model originally debuted in 1976 and the current 40mm jumbo version is by far the most desirable. With a blue dial, a slim height of just 8.3mm and the 26-300 automatic, this is also a stunning watch. When you speak with people, they often have strong feelings about the Nautilus versus the Royal Oak. We even held a battle royale in the form of a Sunday Morning Showdown. I honestly don't know which I'd choose, but the Nautilus has a much better bracelet for my wrists. It's smooth, supple, and looks more expensive to me. Amazingly, these retail for "only" CHF 27,000, but plan on paying double that in the used market. Ridiculous… You can also add this one to your laugh-worthy wishlist on the Patek site.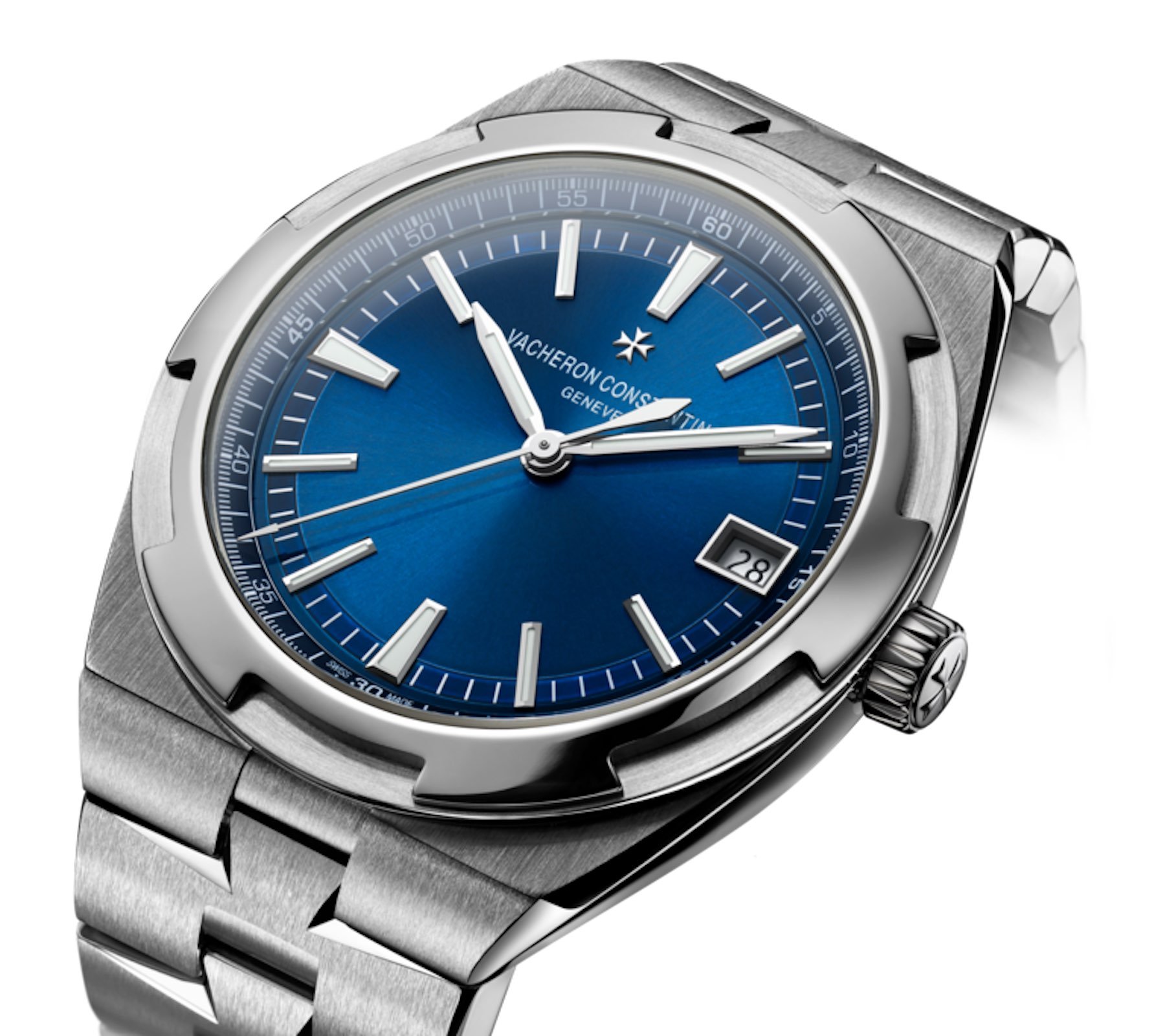 Vacheron Constantin Overseas 4500V
With the Vacheron Constantin Overseas, we move into watches with integrated bracelets that you actually buy. The 41mm Overseas 4500V also takes a page from a 1977 Jorg Hysek design and that's pretty apparent. There are angles here along with a unique bracelet that exudes class. Speaking of that, the watch has a unique and easy quick change system. This is a good thing because the watch actually comes with both rubber and alligator — yes, they actually offer some value! At 11mm thick, it is a tad beefier than the two legends, but it's still reasonable. The watch uses the 5100 calibre (debuted in 2016) that cracks along at 28,800 vph. At €20,500, you can save some money and enjoy it right away. More information is on the Vacheron site. Also, Rob and Jorg debated this watch earlier this year.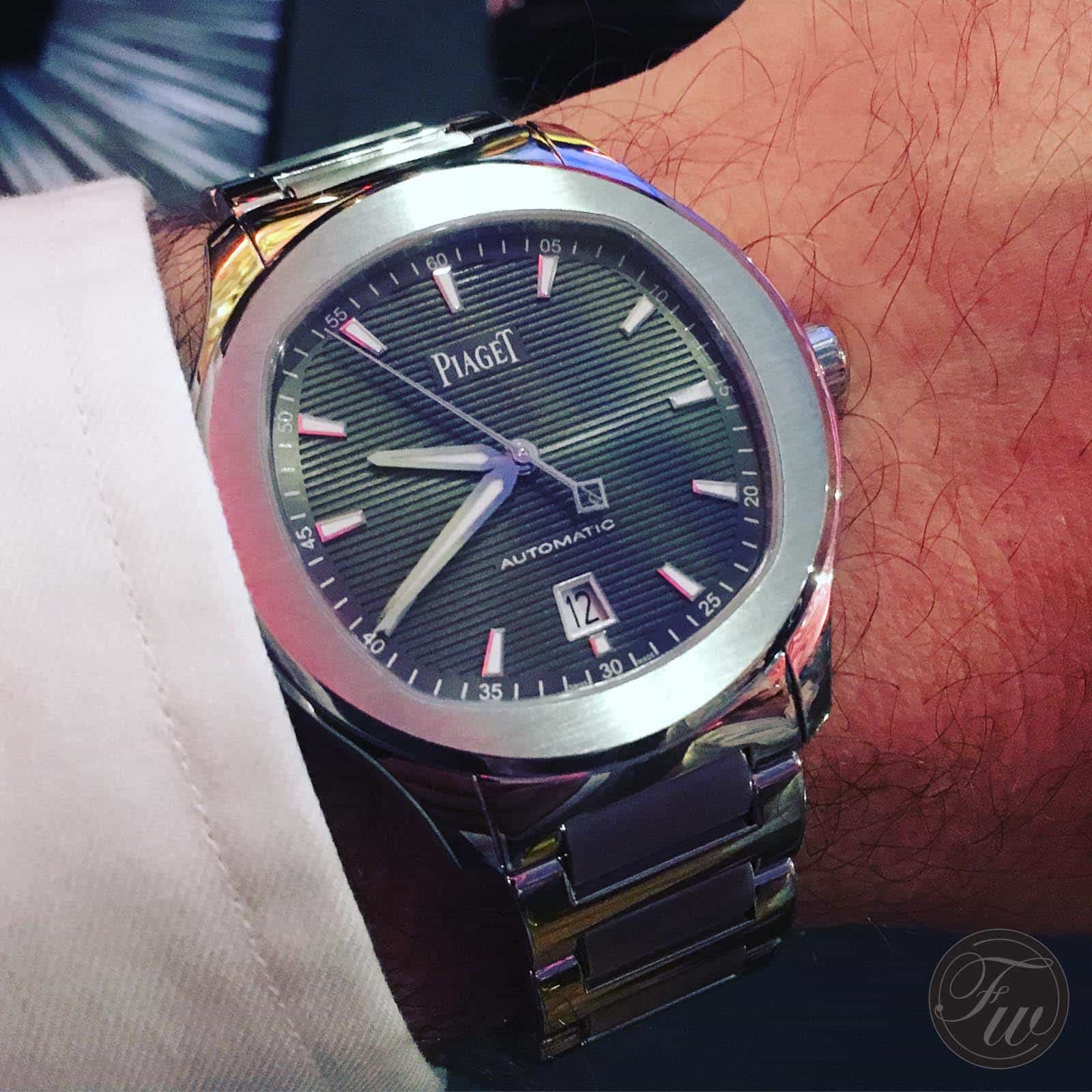 Piaget Polo S
The Piaget Polo (re)debuted in 2016 and it was immediately greeted with criticism. The original Polo from 1979 looked appreciably different whereas this rendition brings in loads of Nautilus styling. That being said, this Piaget Polo S has carved out a niche for itself for those who aren't such a fan of domineering integrated bracelets. At 42mm in diameter and just 9.4mm thick, the watch head grabs the spotlight versus the narrower H-link bracelet. This watch also sports an in-house caliber in the guise of the caliber 1110P. Robert-Jan wasn't a fan of the bracelet in his review because he felt it was rough and not up to the €11,200 retail price. Still, you can head to the Piaget website, order one, and even return it if it's not to your liking.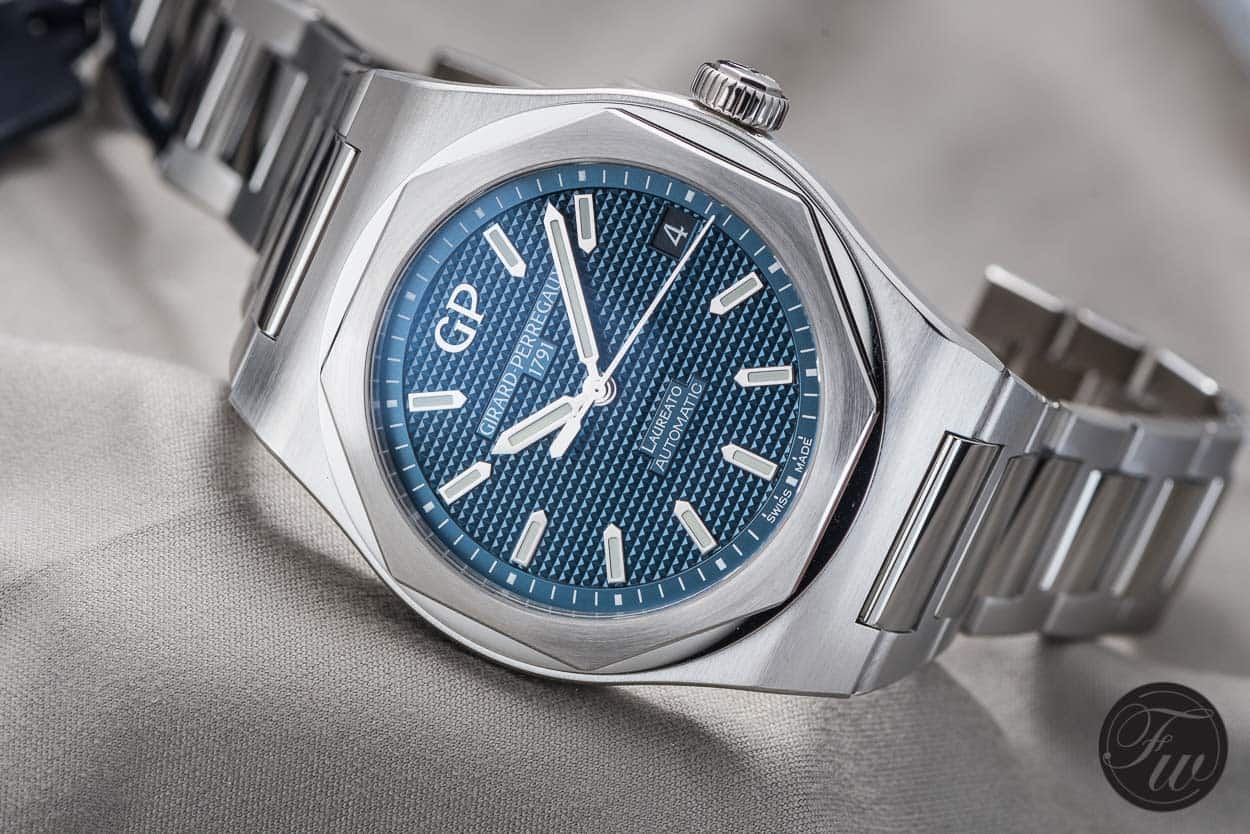 Girard-Perregaux Laureato 81010
The Girard-Perregaux Laureato made its return in 2017 and takes its inspiration from a 1970's original. If the Piaget has a lot of Nautilus cues, then the GP tags onto the AP with its similar dial. The Laureato is a 42mm stainless piece with a height of 10.88mm. It contains the in-house GP01800-0013 automatic with a frequency of 28,800 vph. As an aside, the more I write this article, it's amazing how many in-house movements now exist! GP offers loads of colors on their website, but we like the blue — it just seems to work on watches with integrated bracelets. We tried on the limited edition Infinity version with onyx dial at Geneva Watch Days and Robert-Jan loved it. He also said that the bracelet is fantastic on this watch. At CHF 11,600, it's also pretty competitive.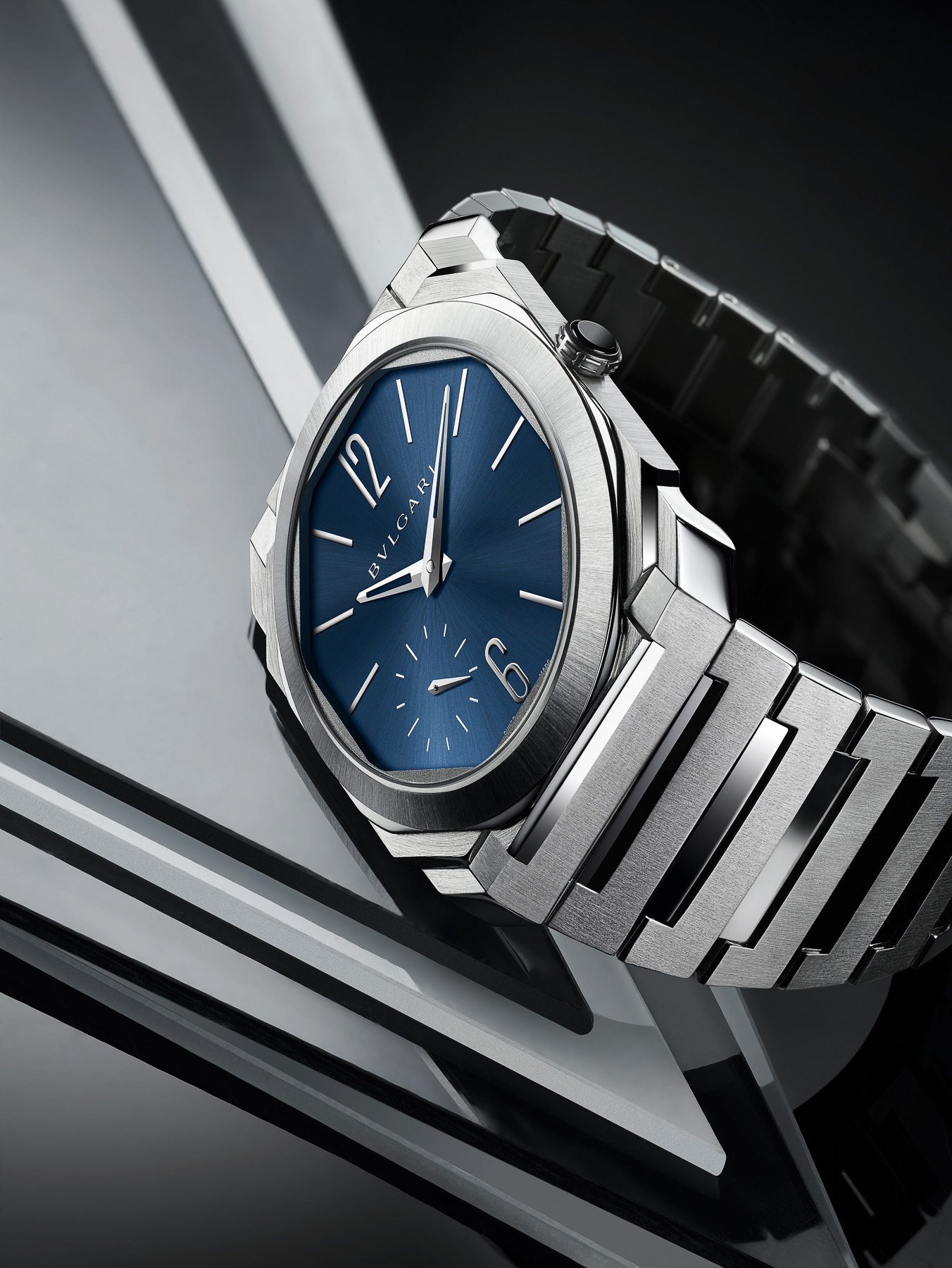 Bvlgari Octo Finissimo 103431
If you grab a group of watch nerds and ask which current watch has cemented itself as a future classic, the Bvlgari Octo Finissimo rises to the top. Instead of aping the classics, Bvlgari has given us a clean-sheet design and it's stunning in the metal. The 40mm by 6.40mm(!!) stunner is truly something to behold in the metal. Somehow, this ultra-lithe watch is usable down to 100 meters and has one of the most exceptional bracelets on the planet. The BVL 138 automatic with microrotor is a joy to behold as well. There are several editions of this watch with bead-blasted titanium, a newish steel black dial piece, and the new blue dial 103431 in steel. I tried on the blue one and it is truly wonderful. Yes, it's wide in a lateral sense, but my word is this a positively different watch. At €12,100 (and it's available), this is the newest icon in the integrated bracelets game. Visit Bvlgari more more information.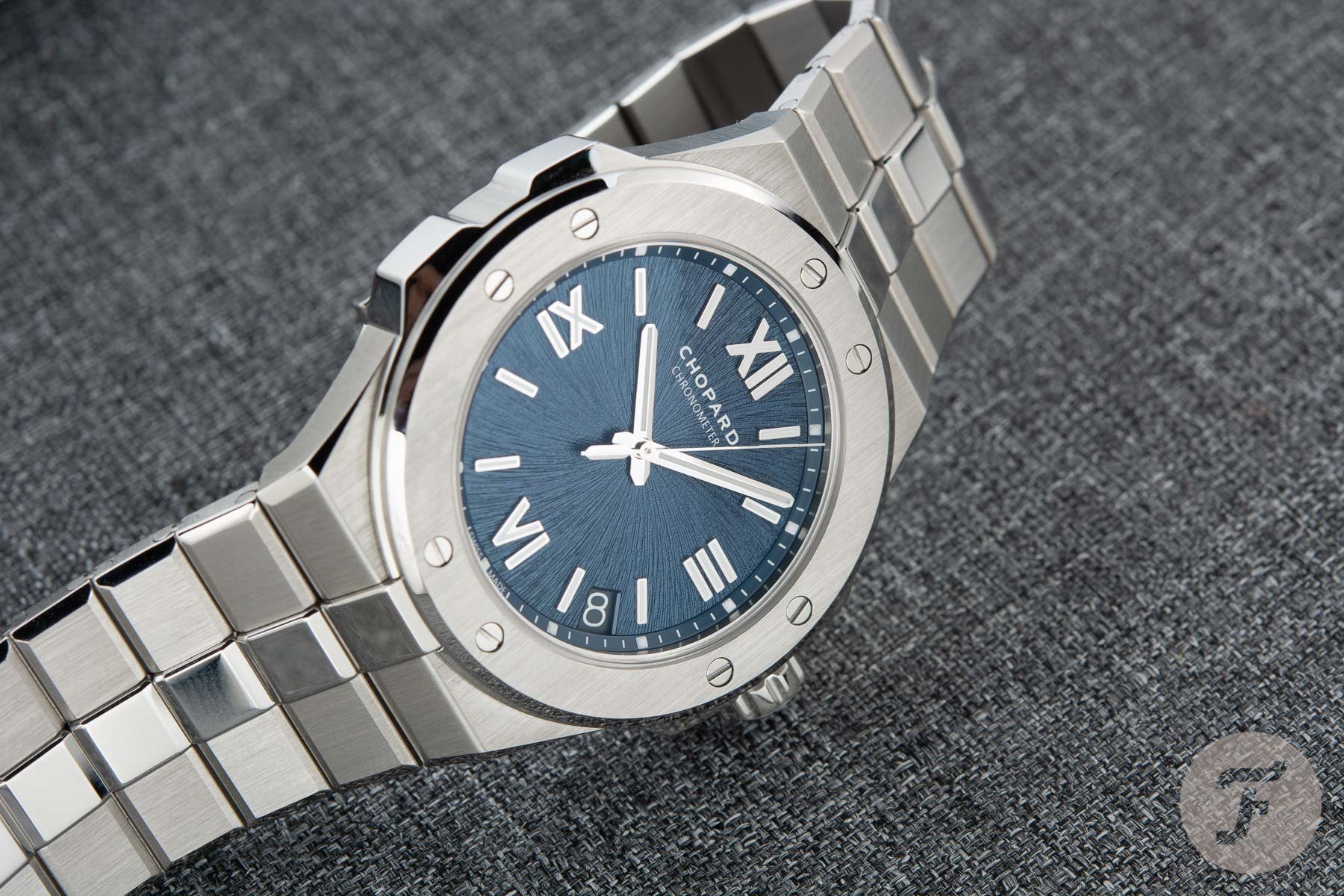 Chopard Alpine Eagle 41mm
The Chopard Alpine Eagle reared its head in 2019 as the rebirth of a 1980's model called the St. Moritz. And unlike the stalwarts from AP or Patek, this watch brings in a totally different style of dial to the integrated bracelets game. The dial is said to look like the iris of an eagle and I'll confess that the sunburst finishing is sublime in person. At 41mm by 9.7mm it also wears well. Credit a comfortable and smooth bracelet with matte and polished links. RJ complained (man, he's tough) about the screw on the underside of the bracelet and concerns about looseness, but I really liked the quality. The in-house 01.01 automatic beats away at 28,800 vph inside. This is definitely a watch that needs to be seen in person to enjoy all the details and fantastic finishing. At €12,200 it's also right in the wheelhouse of much of its competition. Visit Chopard for more detail.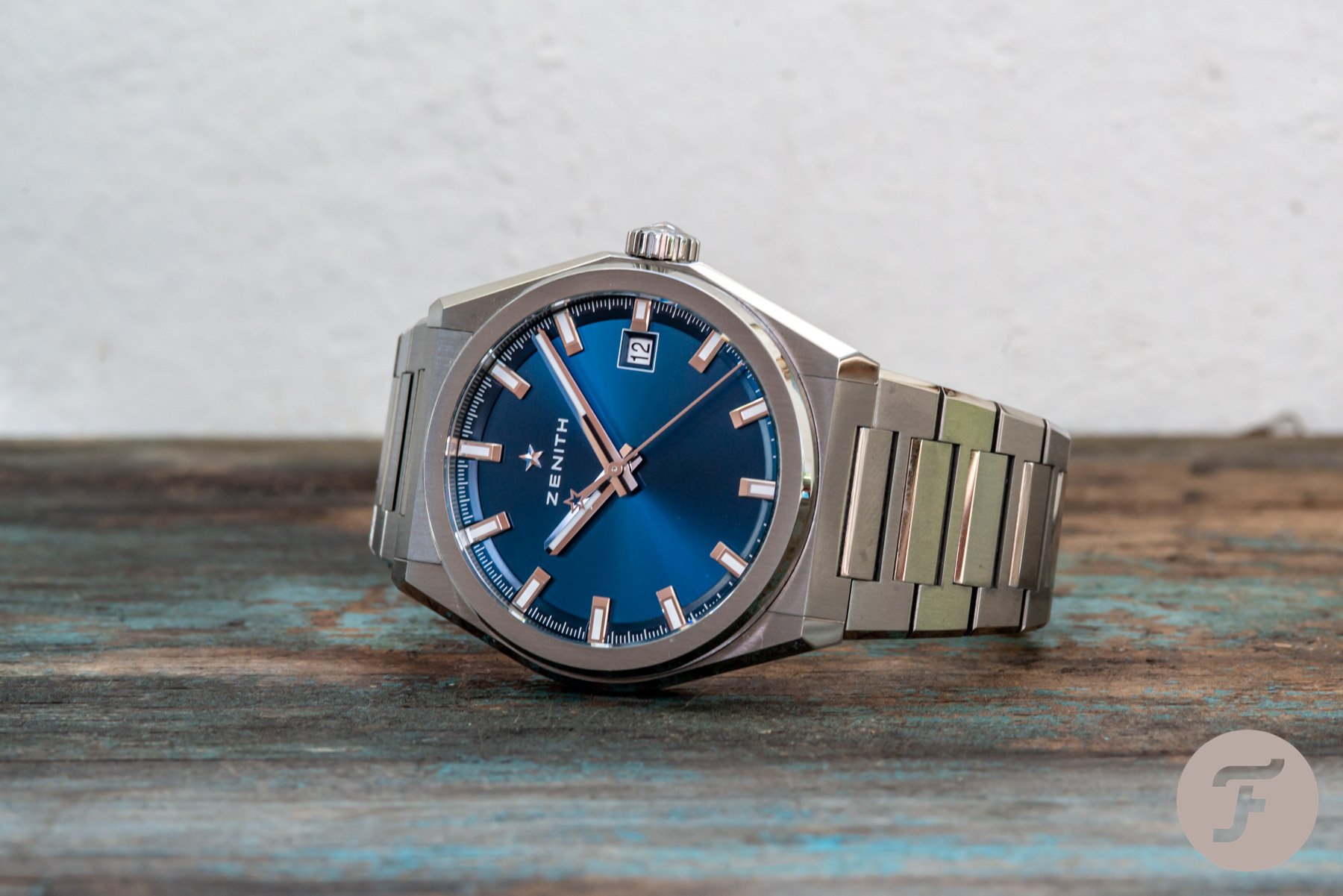 Zenith DEFY Classic 41mm
The Zenith DEFY Classic has to be one of my favorite watches in the integrated bracelets conversation (despite the fact that it's not actually integrated). Sadly, I think it gets overlooked in favor of the brand's El Primero chronographs. That's a shame because this is one of the least fussy designs out there. It debuted in 2018 and is also based on a historic design, but it looks fresh and clean. Gerard actually owns the model above and he wears it constantly. The titanium watch comes in at 41mm by 10.75mm thick and uses the brand's own Elite automatic that runs at 28,800 vph. The bracelet on this watch is extremely smooth and the best thing is that it retails for an approachable €6,900. G2 wrote a fantastic article on the DEFY Classic and you can visit Zenith for more info.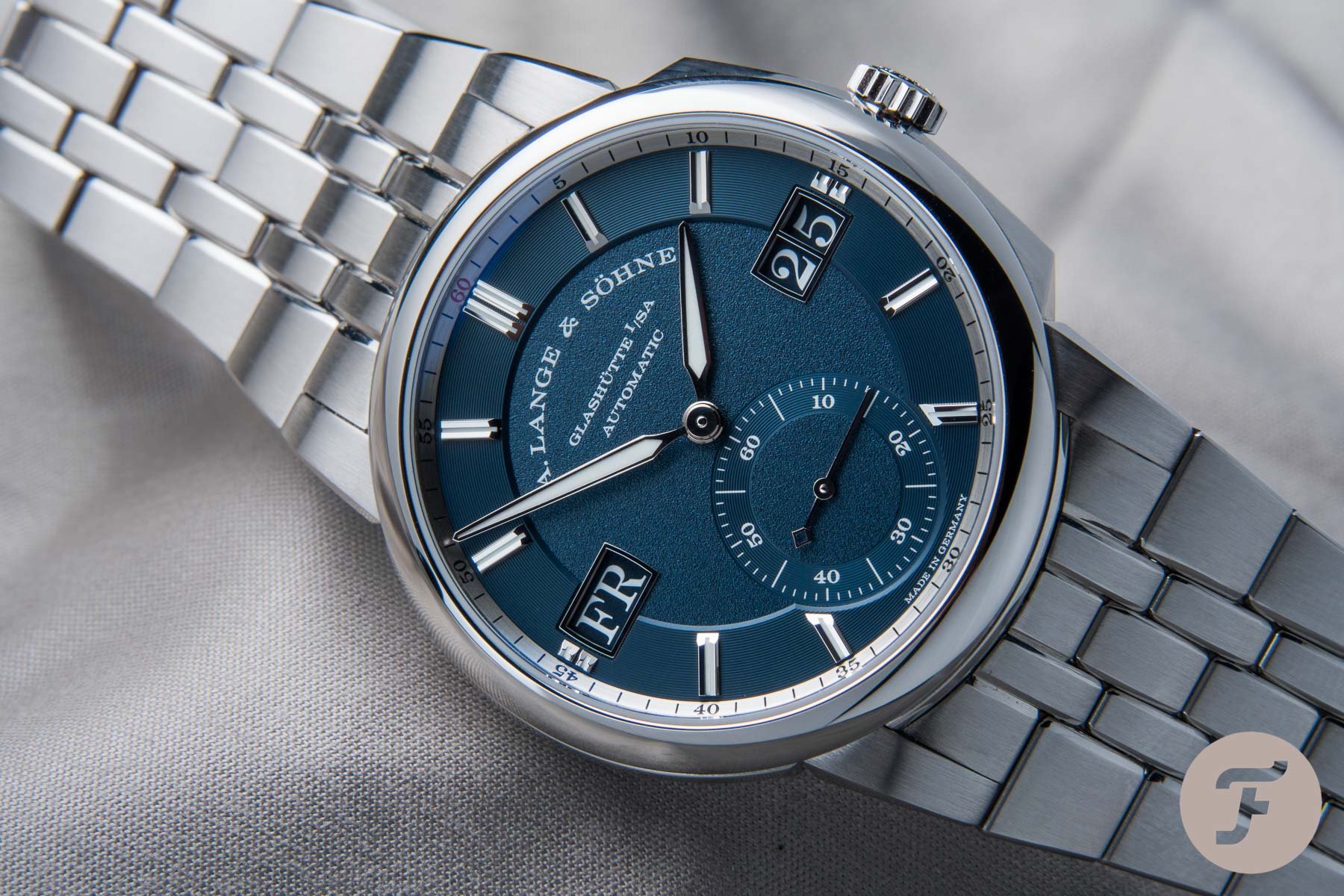 A. Lange & Söhne Odysseus
If the Zenith is a bit too inexpensive for your blood, we have one of the most expensive watches in the integrated bracelets debate. The A. Lange & Söhne Odysseus was introduced in late 2019 and it's been a bit controversial. For certain, it wasn't a surprise that Patek's most noted competitor wanted to join the dressy sport fray, but most feel that it lacks grace. Count me in as a member of that crowd, but you can't argue with the quality. Bert did the article (and the photos) and found the bracelet amazing in terms of finishing. He was also highly impressed by the dial detail and how the company worked in its signature date display. At 40.5mm x 11.1mm in thickness, the Odysseus uses the L 155.1 datomatic. At €27,300, it's pricey, but you were probably expecting that. Head here for more detail.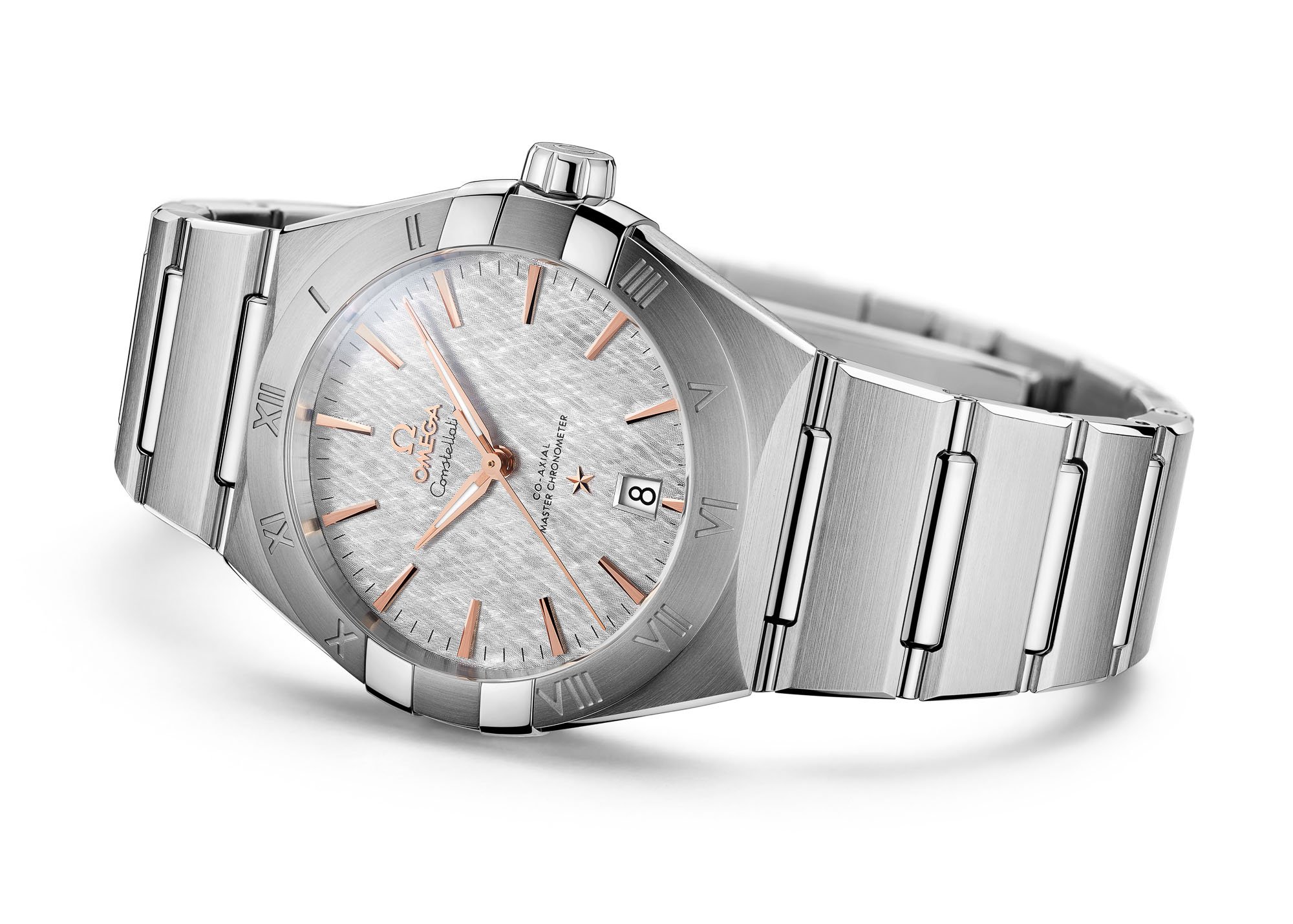 Omega Constellation 39mm
With all the hubbub about integrated bracelets and new models, it's easy to forget that the Omega Constellation has offered this type of configuration for years. And earlier this year, Omega revamped its Constellation lineup (RJ took a look at a gold version here). The 39mm watches now contain the co-axial 8800 automatic and receive Master Chronometer certification. Best of all, the watches come in at a reasonable 12.5mm in thickness. This style of Constellation kicked off with the Manhattan series back in the 1980's and they've lasted long enough to become iconic in their own right. Best of all, these watches are priced at €5,455 and that makes it one of the most affordable. I personally like the black dial version you can see here on the Omega site.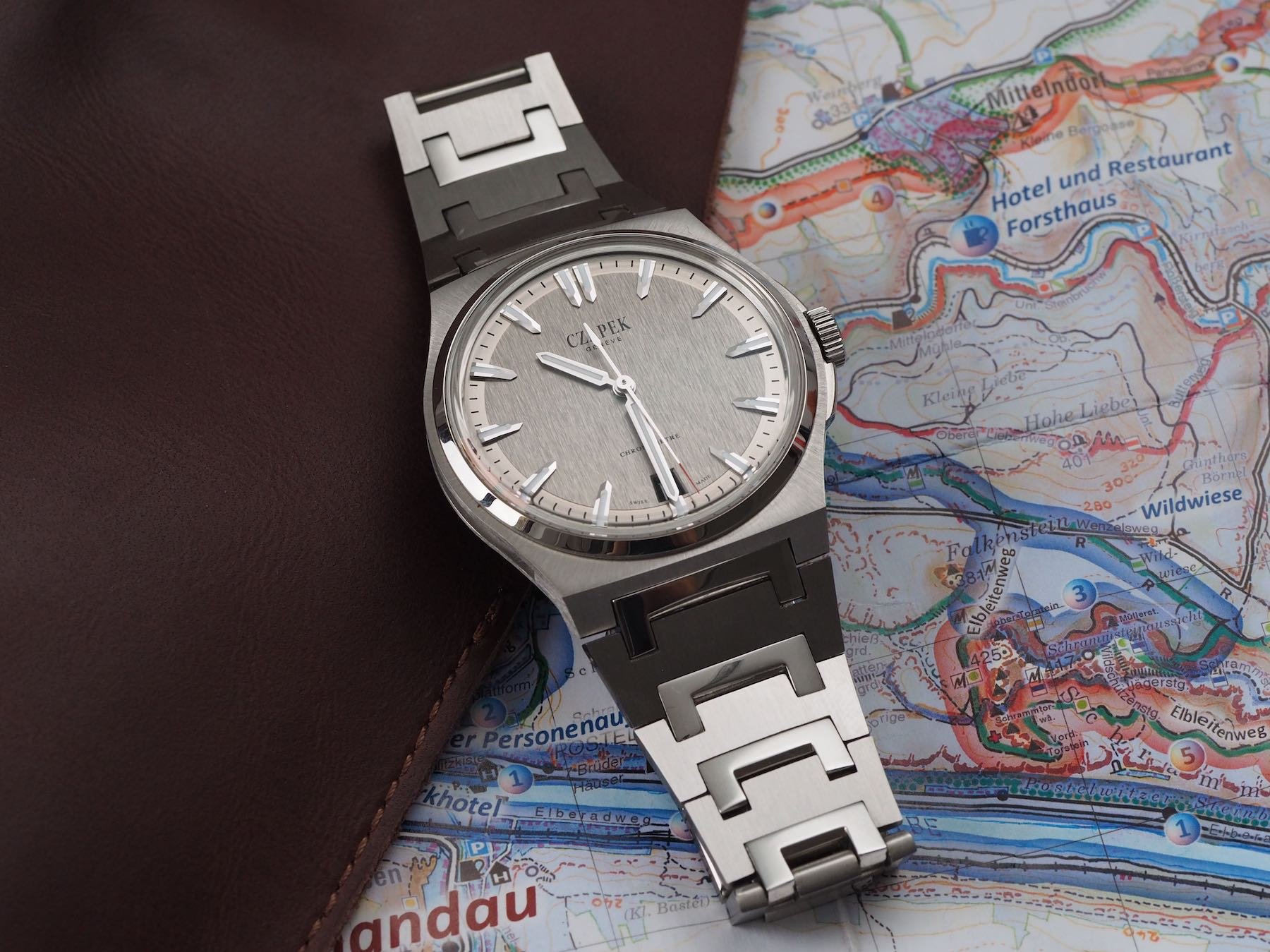 Czapek Antarctique Terre Adelie
Czapek, the brand, has been with us since 2011 in its reinvented form. They've built their fan base during this period, but I think they hit pay dirt with the new 2020 Antarctique Terre Adelie lineup. With integrated bracelets, these attractive sporty dress watches were a hit from the moment they were released. I had the chance to try these on in Geneva this past week and Rob wrote a highly positive review on the silver-dialed limited edition. Czapek now offers this watch in several dial colors with vertical brushing and they're visually arresting. We particularly liked the maroon version because you just don't see this color often. At 40.5mm by 10.6mm in thickness, these watches contain the in-house SHX5 automatic. With pricing of $19,800, they're in heady territory, but they're lovely to behold. Visit Czapek for more information.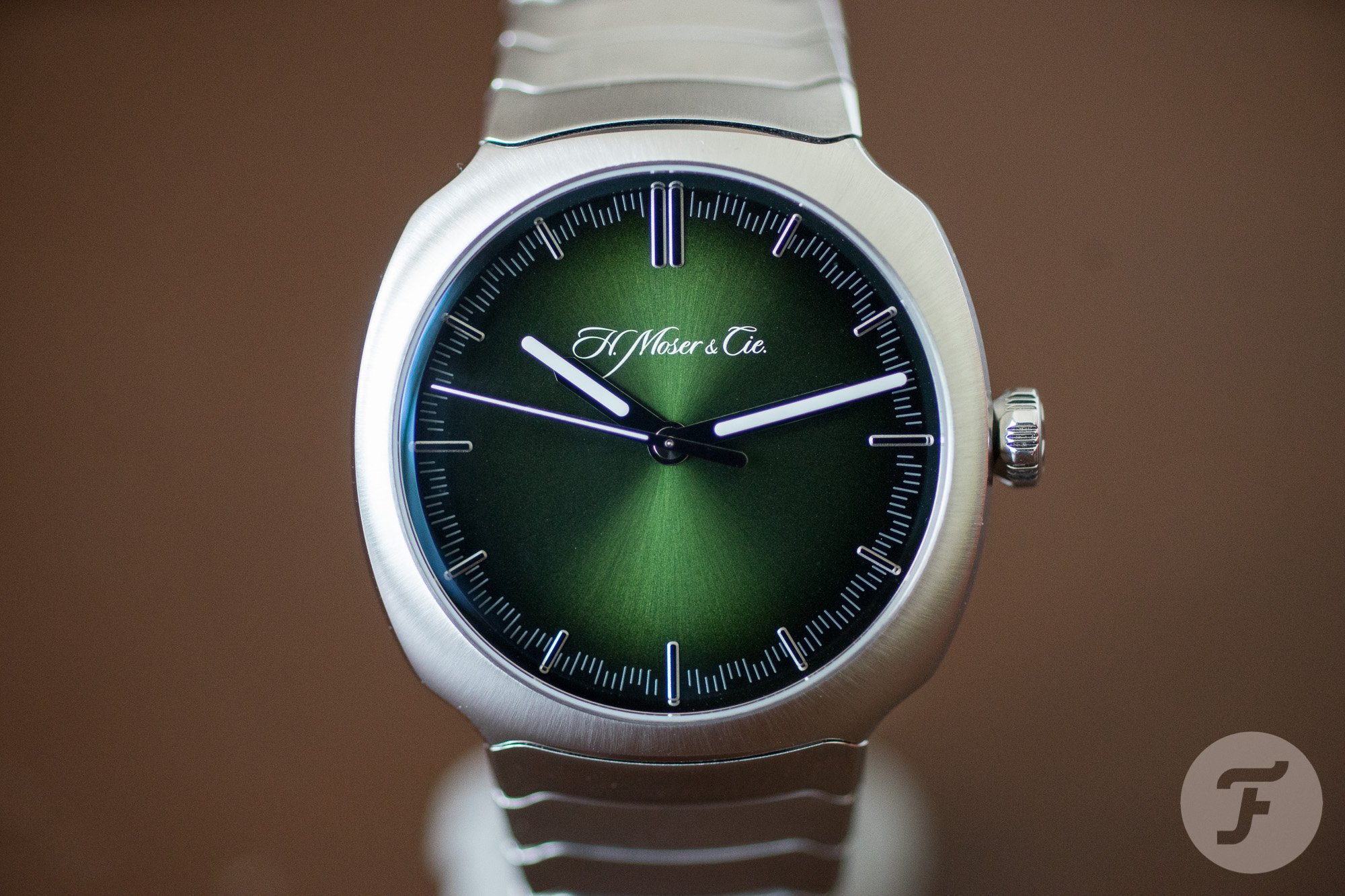 H. Moser & Cie Streamliner Centre Seconds
The newest entrant in the integrated bracelets contest is the Moser Streamliner Centre Seconds. Taking it's cues from 1920's and 30's trains, this is a very different looking watch. Still, it looks like a real classic to me. And at 40mm by 9.9mm it's wearable too. The bracelet is glorious and the Matrix Green fumé dial makes it different than anything else on the list. With Moser, we can likely expect additional dial colors as time marches on, but I'd happily sign up for this one. A beautifully decorated HMC 200 automatic powers the watch and a screw-down crown helps it reach 120 meters of water resistance. Balazs wrote a nice article on this just last week. Visit Moser to see more of this CHF 19,900 beauty.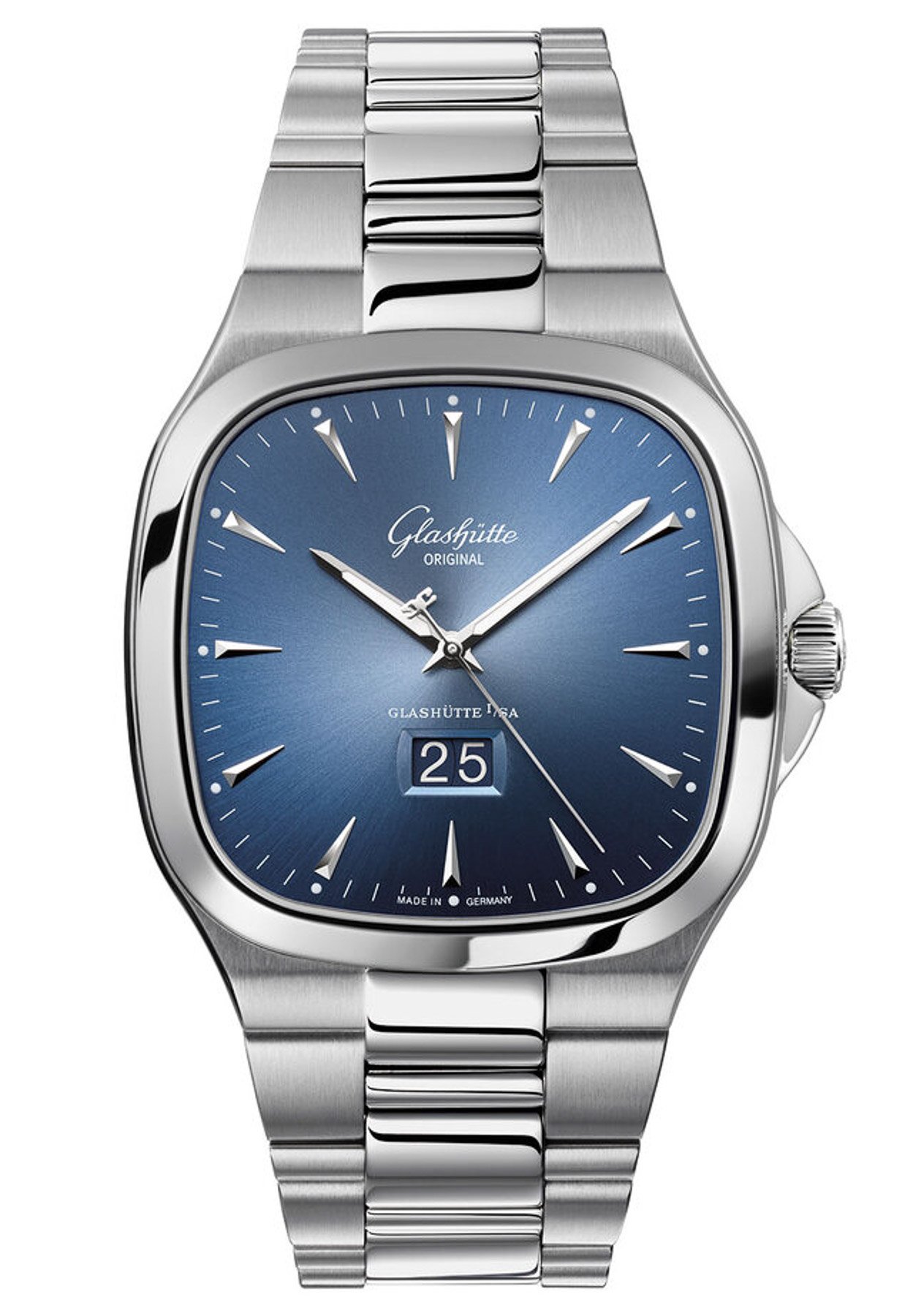 Glashütte Original Seventies Panorama Date
The Glashütte Original Seventies Panorama Date is a watch that gets very little press. That's a shame because this one is a looker in the metal. For sure, the squarish shape makes it somewhat polarizing, but it's worth seeing. Plus, G.O. makes some stunning gradient dials and these are no exception. This model is 40mm on each side with a reasonable 11.50mm thickness. Glashütte uses its own 39-47 automatic with Panorama Date wheel. At €9,460, it's a seriously classy watch that goes its own way. More information can be found here.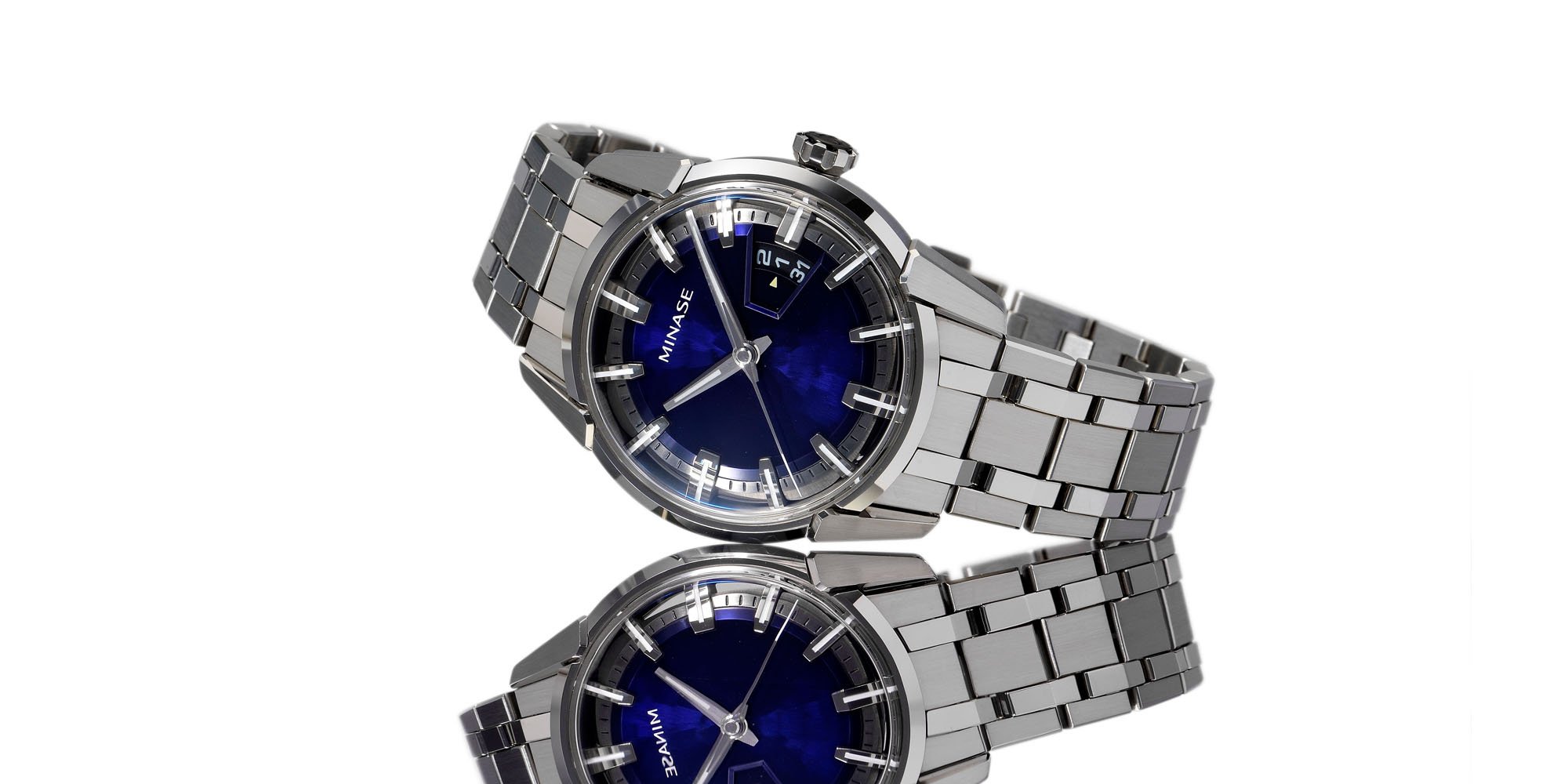 Minase Divido
The lone Japanese model on our integrated bracelets list doesn't come from one of the big makers and, yes, it does come on strap as well. No, the Minase Divido is a small production run watch, but wow is it special. I had the chance to review one a year or so ago and found the finishing to be amongst the best I've ever seen. The bracelet was truly incredible and the dial was astounding. The €4,680 watch does use an ETA 2824, but you'd hardly care once you lay your fingers on the amazing metalwork. At 40.5mm by 12mm in thickness, it's surprisingly wearable for something that looks so different. Oh, and if purple isn't your color, the Minase website shows some other options.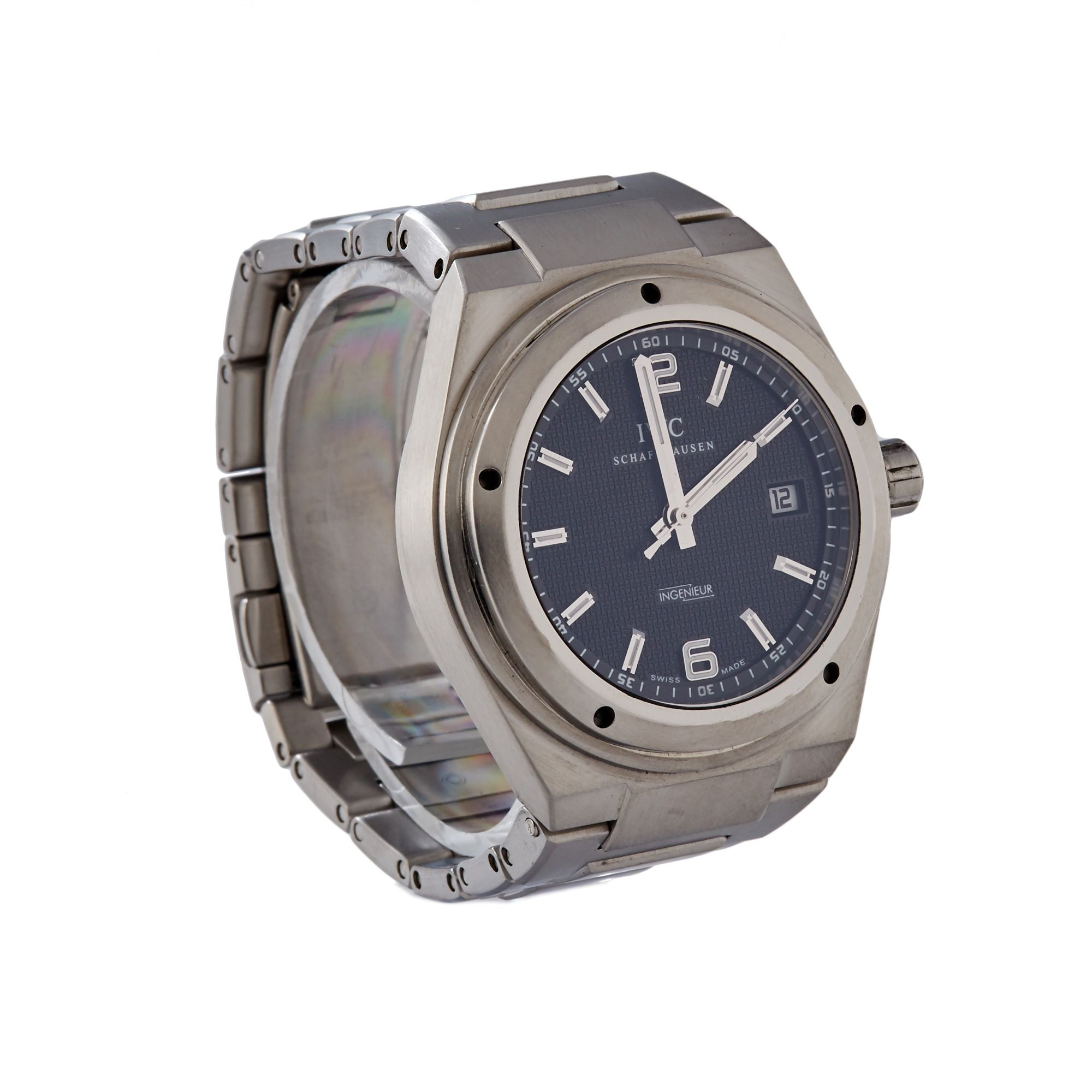 Finally, where's IWC?
I should say that there's one glaring omission here in the integrated bracelets discussion, but it's honestly not our fault. IWC has one of the loveliest watches in its back catalog with such a bracelet in the Genta-designed Ingenieur. They produced a chunky riff on this up through the 2000's (as seen above) until recently deciding to replace it with a round 1960's inspired version. We think it's high time that the brand bring back the Genta design with a classy case and sensible proportions. After all, watches like this are incredibly hot right now.
We hope you enjoyed this lengthy look at watches with integrated bracelets. As you can see, there's a wide variety out there and not all of them follow the AP or Patek formula. In fact, most have created classic pieces that should age very well. And, as I mentioned, you don't even have to put your name on a waiting list. Have some more thoughts on these watches or pieces that I've missed? Let us know below in the comments.