The Watches From Independent Brands That Our Fratello Editors Love — MING, Czapek, H. Moser & Cie. And More…
A Fratello 2021 team selection
You guys seem to enjoy our list articles, so we thought it would be interesting to do another one. But instead of one writer explaining his favorites, we teamed up and created a Fratello editorial team selection. This time it's all about our favorite watches from independent brands. Our editors got one choice and one choice only. Let's see what they'd spend their money on…
I love lists, I love compiling them, and I love reading them. And not just when it comes to watches. Especially when it comes to my second passion in life: music. Musical lists are a great way to find new artists, discover new styles and stumble upon your favorite songs. It is also why I love compiling these lists with my fellow Fratello team members. They are a great conversation starter. We talk watches often, either face-to-face or through the different modes of communication available to us.
But we hardly ever get confronted with the choice of picking only one watch. That's why it brings me great joy to make these team lists. It's a great starting point for a conversation on a watch, the brand that created it, and what connects it to a writer. That's why I asked the editorial team to come up with their favorite watch from small independent brands. And they also explain why this watch is their favorite watch — to be found in the quotes. And it has become quite a great mix of watches from a string of independent brands.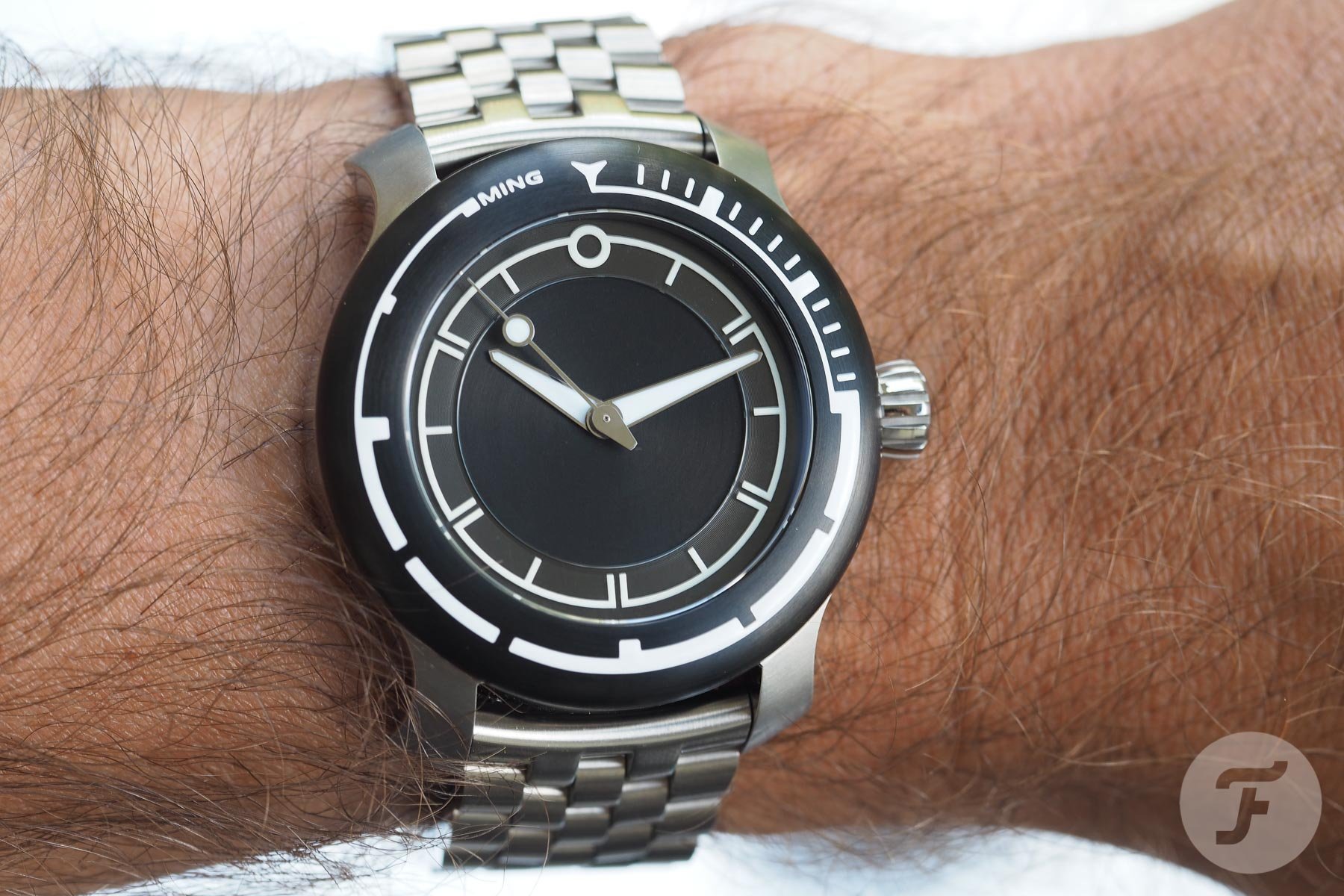 Mike's pick — MING 18.01 H41
MING is one of those brands that has everybody talking. I love their overall style, and their MING 18.01 H41 has been a stroke of brilliance. And it's no surprise that this is Mike's pick as he is the proud owner of one of these unique modern-day dive watches. Mike's explained his love for the MING 18.01 H41 in his extensive review of the watch.
I'm a huge fan of the MING 18.01 H41 because they completely — and successfully in my view — rewrote the book on what a diver can look like.
As he stated in his quote, it is great to see a fresh take on a modern dive watch. Every single detail has been designed, engineered, and executed meticulously to fit the MING style. We could discuss the watch in great detail here, but I urge you to read Mike's review to find out all there is to know about the watch. And while the details are brilliant, it starts with the overall attraction that is definitely in the unique design of this MING 18.01 H41.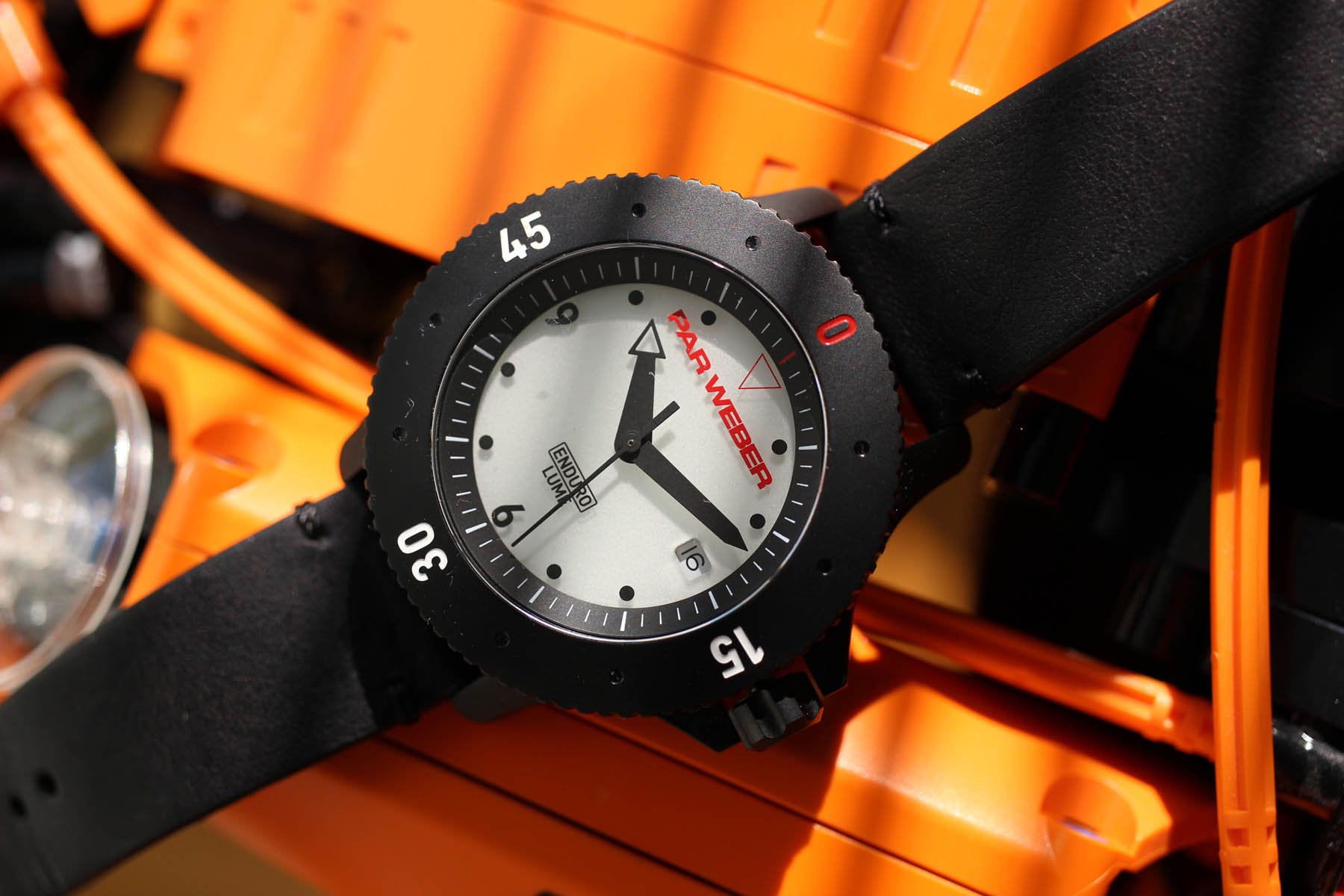 Tomas's Pick — Par Weber Coefficient
As we would expect from Tomas, his pick has a quirky but cool twist. The Par Weber Coefficient comes with the remarkable feature of an always-on illumination system. This patent-pending system named Enduro-Lume™ is something special. Now, if you grew up with watches of the '80s like Tomas and I, you'll understand the magic of illuminated watches perfectly. So what could be better than the Par Weber Coefficient being permanently illuminated?
Par Weber introduced a surprising, always-illuminated watch. It tells the great story of founder Jon Weber's persistent prototyping to create something unique that everybody around him was saying could not be done.
When you see the 43mm black PVD-coated stainless steel watch with its sandblasted finish in broad daylight; it looks like a regular modern sports watch. Sure it has some eye-catching details like the huge bezel, the big red logo, and that milky white dial. But it doesn't seem any more special than many of the other watches out there. But the dial is where the magic is, and it results in something special that awakens the boyish enthusiasm in all of us here at Fratello.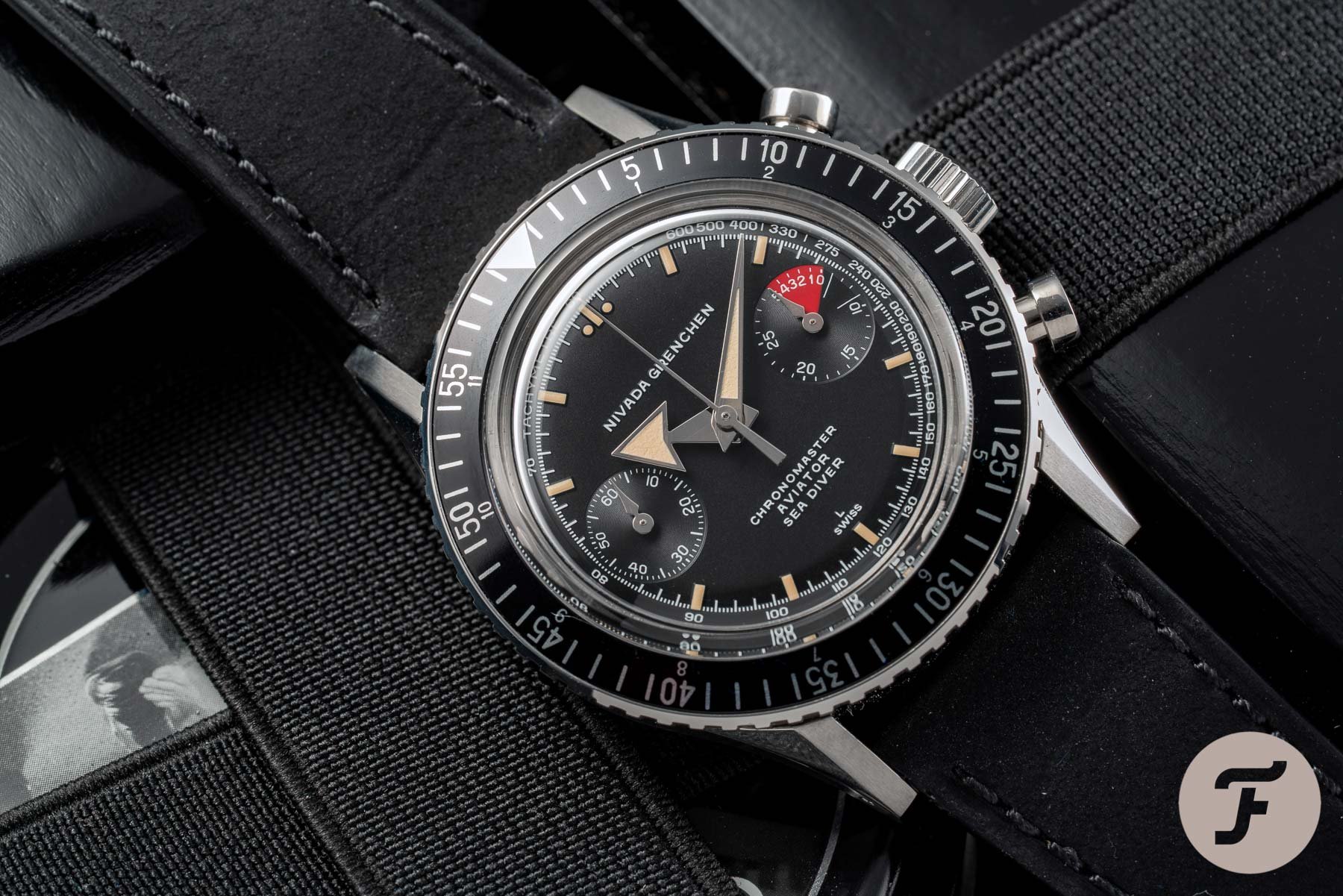 Balazs' Pick — Nivada Grenchen Chronomaster Aviator Sea Diver
Nivada Grenchen captured the hearts of vintage chronograph fans with its Chronomaster Aviator Sea Diver. One of the main reasons people love the Chronomaster Aviator Sea Diver is that it stays true to the original from the 1960s. I enjoyed trying on two of the available models when Balazs brought them into the Fratello offices this summer — good gracious, that feels like a long time ago. And they are amongst the best watches released by independent brands recently.
The Chronomaster is easily the most honest and spot-on reedition you've seen in a long time with careful attention to details.
The design and the proportions of the 38.5mm case are exactly like the original Chronomaster Aviator Sea Diver. Sure, Nivada Grenchen did the necessary updates on the materials and the movement, but the feeling is very like wearing the original. I have to give the brand credit for that, along with the very affordable price of 1,570 Swiss Francs for the hand-wound version and 1,755 Swiss Francs for the automatic version. It's hard to beat that.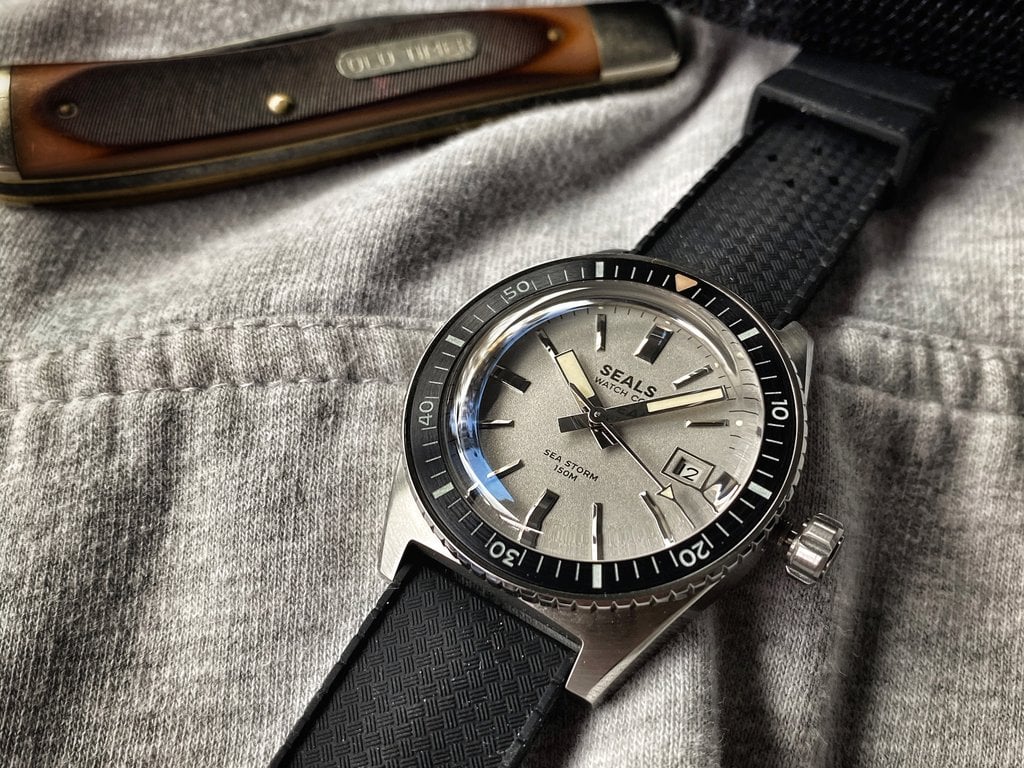 Dave's pick — Seals Watch Co Sea Storm
The best thing about a list of small independent brands is that you might find something new. Up until recently, I hadn't heard of Seals Watch Co from California.  Rob covered the Seals Watch Co Sea Storm in his Top 10 Badass Watches Under €1,000 back in December. And Dave wrote about it in an episode of This Week In Watches only a couple of weeks ago. And if both Brits speak up in agreement, it's definitely time to listen.
I love this piece — it's a 38mm vintage-style diver that does its own thing whilst giving a nod to skin diver aesthetic of the '60s and '70s. As a happy owner of a Seals Model C, I can attest to the quality this brand puts out!
The Sea Storm is a seriously cool vintage-inspired diver with a seriously affordable price. For $575 ($300 upfront, with the balance due when it's ready to ship around mid-May), you will get a watch that takes inspiration from the 1960s skin divers. Besides the typical 38mm case with a high-dome scratch-resistant sapphire crystal, the different dial executions immediately jump out. Especially the granulated silver dial in the picture is an absolute peach. But act quickly as they are known to sell out in no time at all.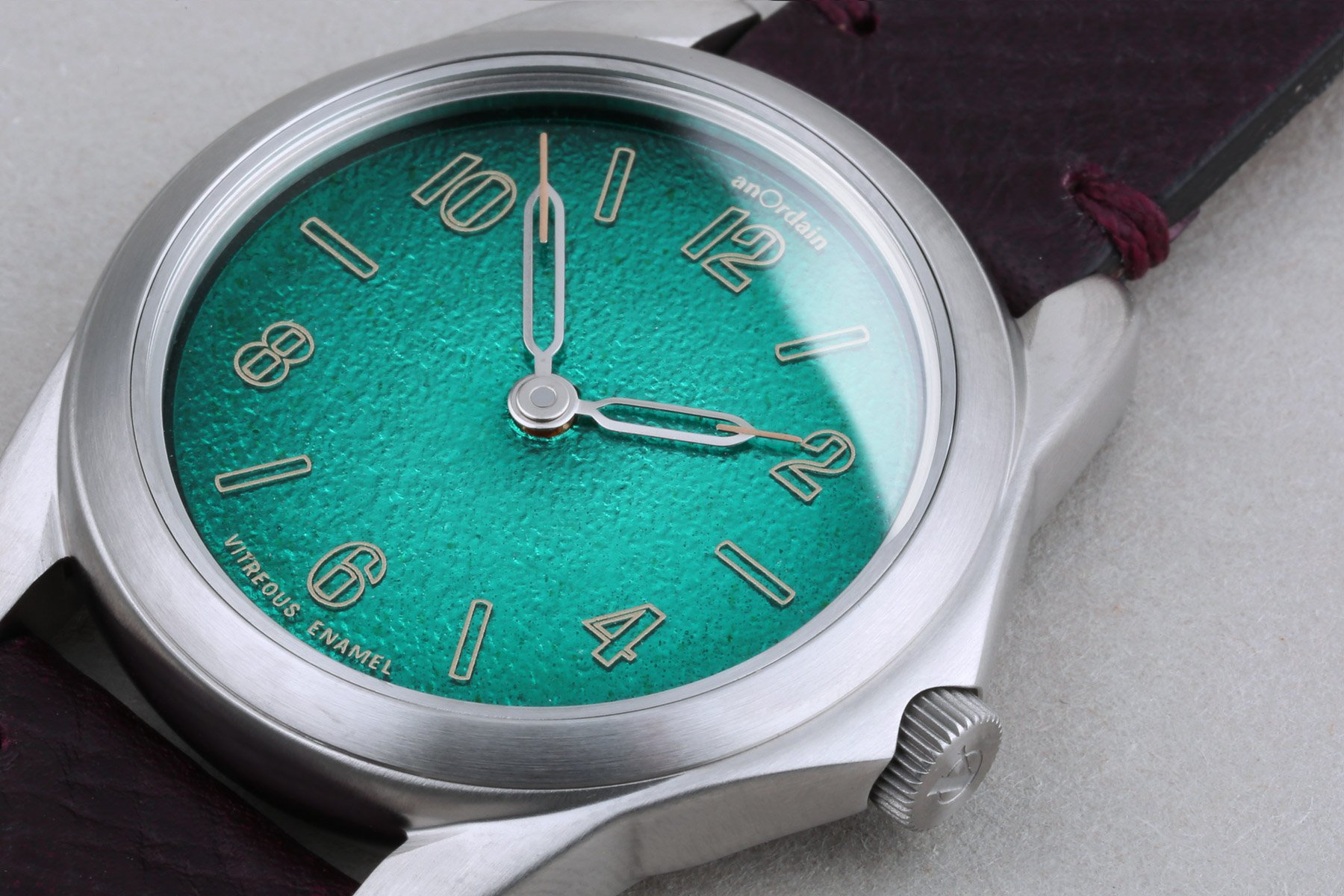 Rob's pick —  anOrdain Model 2 Turquoise Fumé
A brand that quite a few Fratello team members are fans of is the Scottish brand AnOrdain. AnOrdain is known for its eye-catching (and really rather spectacular) enamel dials. Mike reviewed the Model 2 Green Fumé that features a stunning green dial. For this list, Rob chose his favorite Turquoise colored dial out of the available fumé dials for the Model 2.
I'm convinced I couldn't have picked a better independent brand nor watch than the anOrdain Model 2 Turquoise Fumé, which will be one of a handful of new pieces joining my collection in 2021.
But it's not just about the dial only. The Model 2 is a modestly sized 36mm field watch that can handle a relative beating. I'm not sure whether you would ever consider taking it out in the field with a dial like that. But it's nice to know that you could if you wanted to. The watch is powered by the manually wound Sellita SW 210-1, a clone of the old ETA 2801-2. A smart move by anOrdain, because every time you wind the watch, you are reminded of that stunning dial.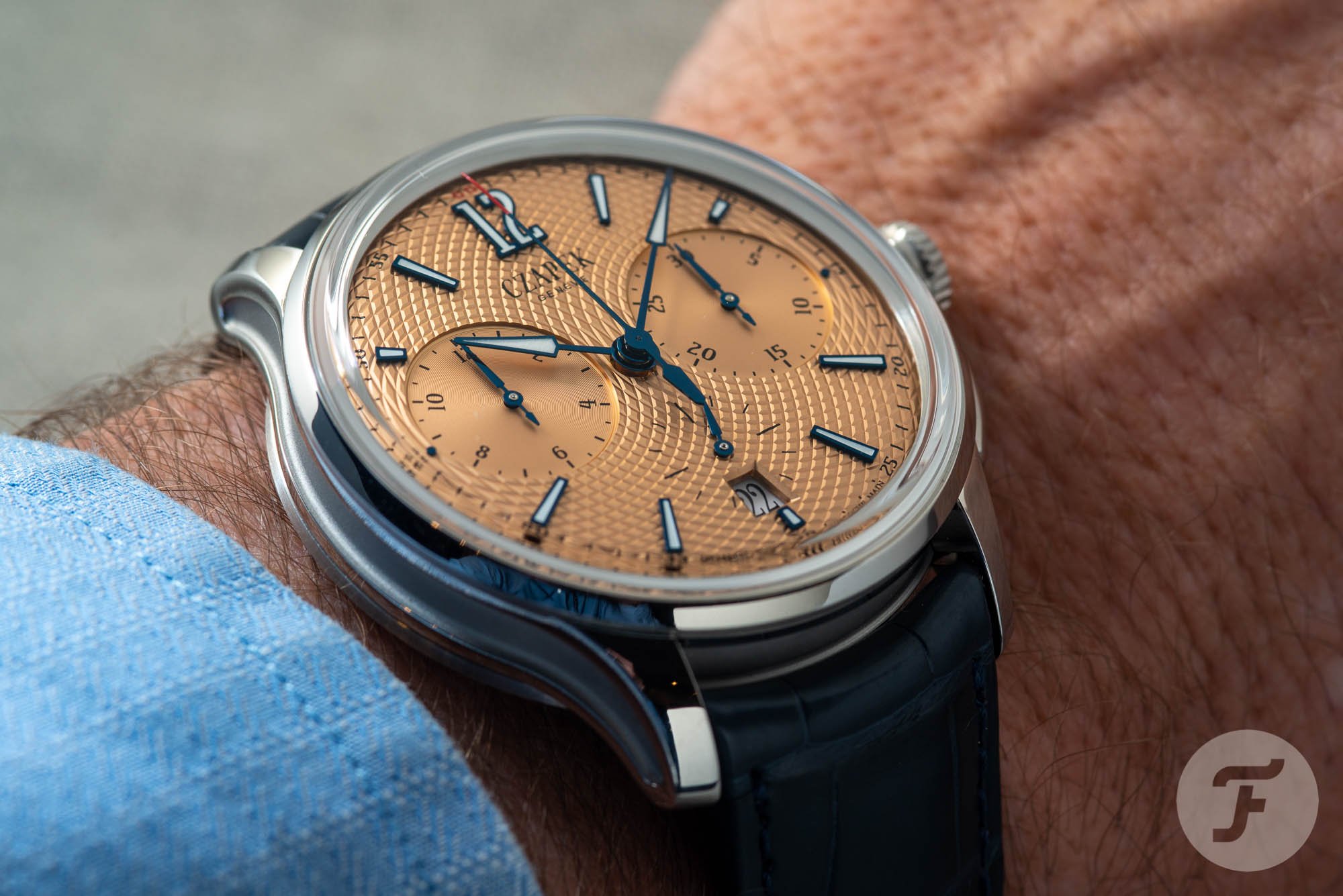 Gerard's pick — Czapek Faubourg De Cracovie
With the release of the much-acclaimed Antarctique collection, Czapek created a truly brilliant first try at producing a modern luxury sports watch with an integrated bracelet. But there is more to the brand than just the brand's biggest hit to date. When I asked all the Fratello team members to send in their pick, I asked for one sentence explaining why. But Gerard spends a few more words explaining his appreciation for Czapek. And when Gerard speaks, we listen.
I picked the Czapek Faubourg De Cracovie because I like their 'Horizontal Manufacture' way of producing.
"Because of its production numbers, Czapek could arguably be described as a micro brand. But their strategy of "Horizontal Manufacture" beautifully shows that no one is independent. Czapek produces its watches together with carefully selected partners, on which they very much depend. For technical know-how, and I think, even financially in a way as well. I love companies cooperating to produce something quite perfect; hence my choice."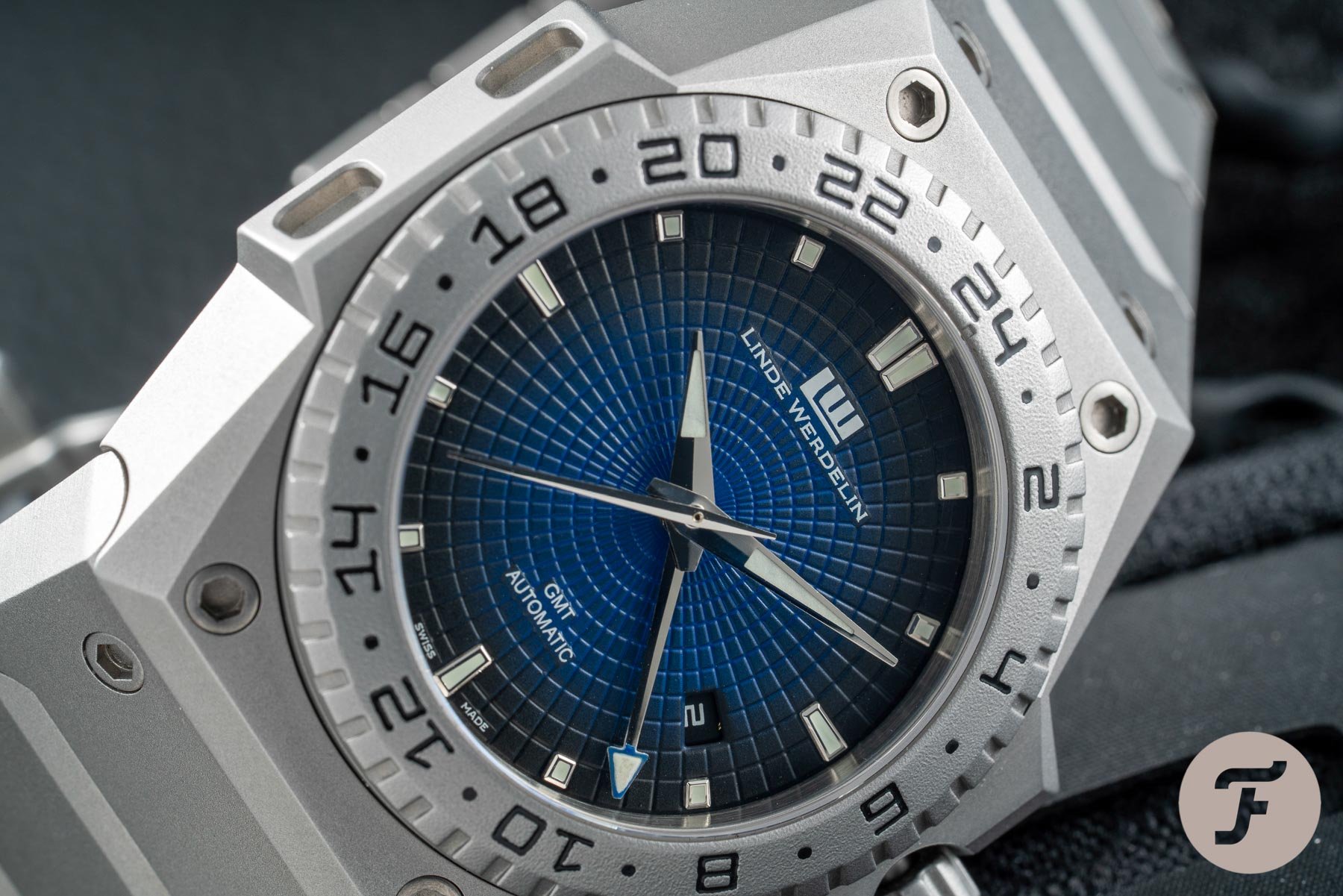 Robert-Jan's pick — Linde Werdelin 3-Timer Nord
Robert-Jan's pick could have easily been Dave's or my pick. We all share the love for Linde Werdelin. The London/Copenhagen-based brand has been around since 2002, creating watches that combine the ultimate in form and functionality. In 2017 we saw the return of the brand's iconic 3-Timer, and the band has graced us with several new executions. The latest is the 3-Timer Nord that I had the pleasure of reviewing.
I have been following Linde Werdelin for over a decade now and this watch nods to one of the brand's first models — one that I regret selling: the 3-Timer.
The 3-Timer Nord is the first 3-Timer since its re-introduction that features a stainless steel bracelet, creating a completely different aesthetic compared to the other models in the collection. But despite the 3-Timer Nord's futuristic and almost machine-like aesthetic, the watch wears very comfortably. The sandblasted stainless steel case and bracelet feel soft and comfortable on the wrist. It's a true show of the brilliance of great design and smart engineering.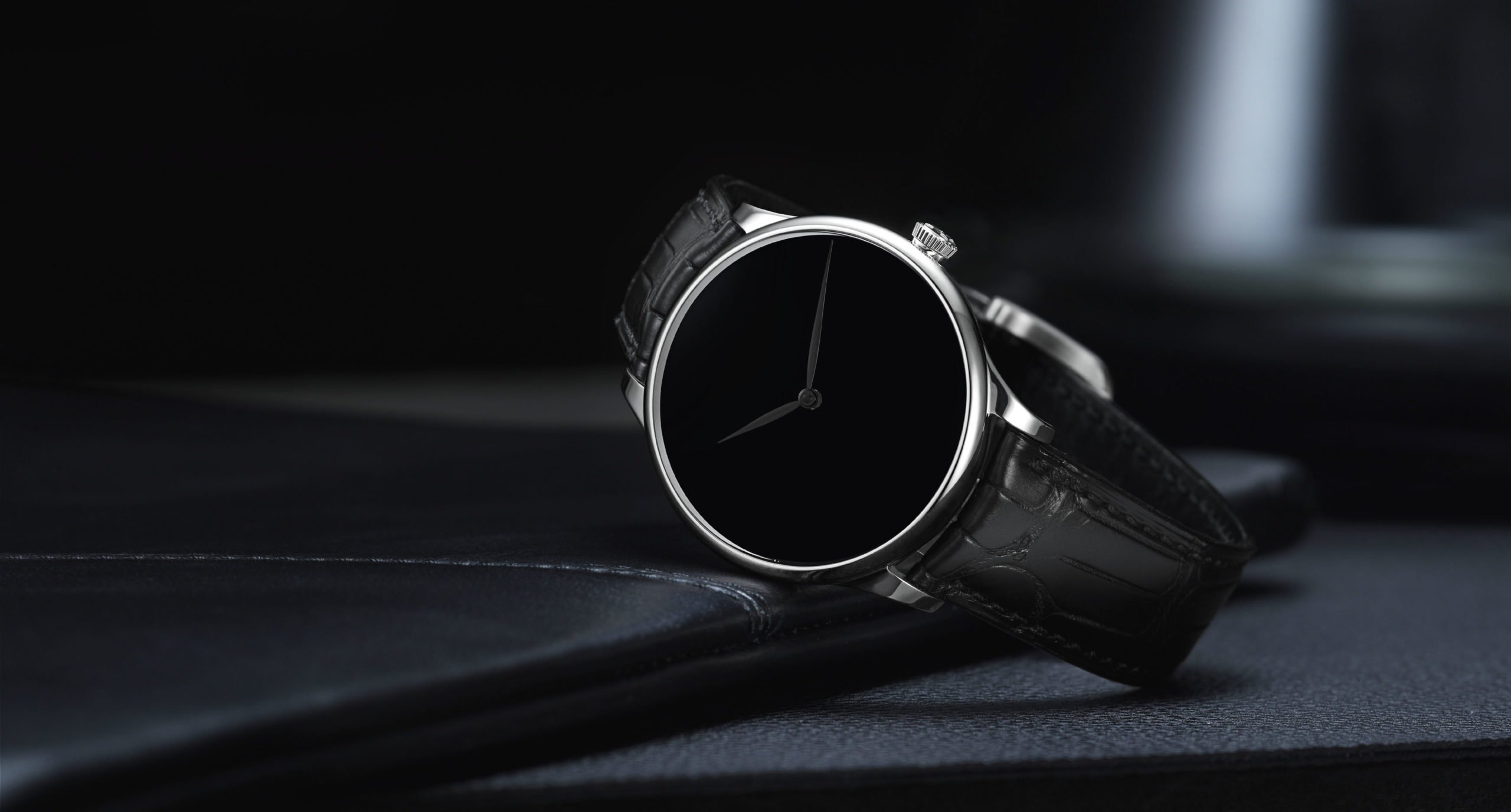 Karina's pick — H. Moser & Cie. Venturer Concept Vantablack
Obviously, as the only woman on this list, Karina is responsible for the most stylish pick of the bunch. And, like her, I absolutely love the H. Moser & Cie. Venturer Concept with the Vantablack dial, black hands, and white gold case. Vantablack is the deepest and darkest color black we know. It absorbs 99.965% of visible light, and therefore looking at the dial of the watch perfectly embodies staring into the darkness.
The H. Moser & Cie. Venturer embodies the boldness that I expect from independent brands. The black, two-handed timepiece is sexy, simple, and it can elevate any occasion.
Leave it up to H. Moser & Cie. to come up with something truly special. The Moser team also created multiple versions of the watch with contrasting hands that guarantee perfect legibility. But as a concept, the Venturer in white gold with black hands is where the money is. It perfectly shows the difference between the regular black hands and the Vantablack dial. It is a stylish statement that perfectly shows the color black's depth—a truly stunning concept.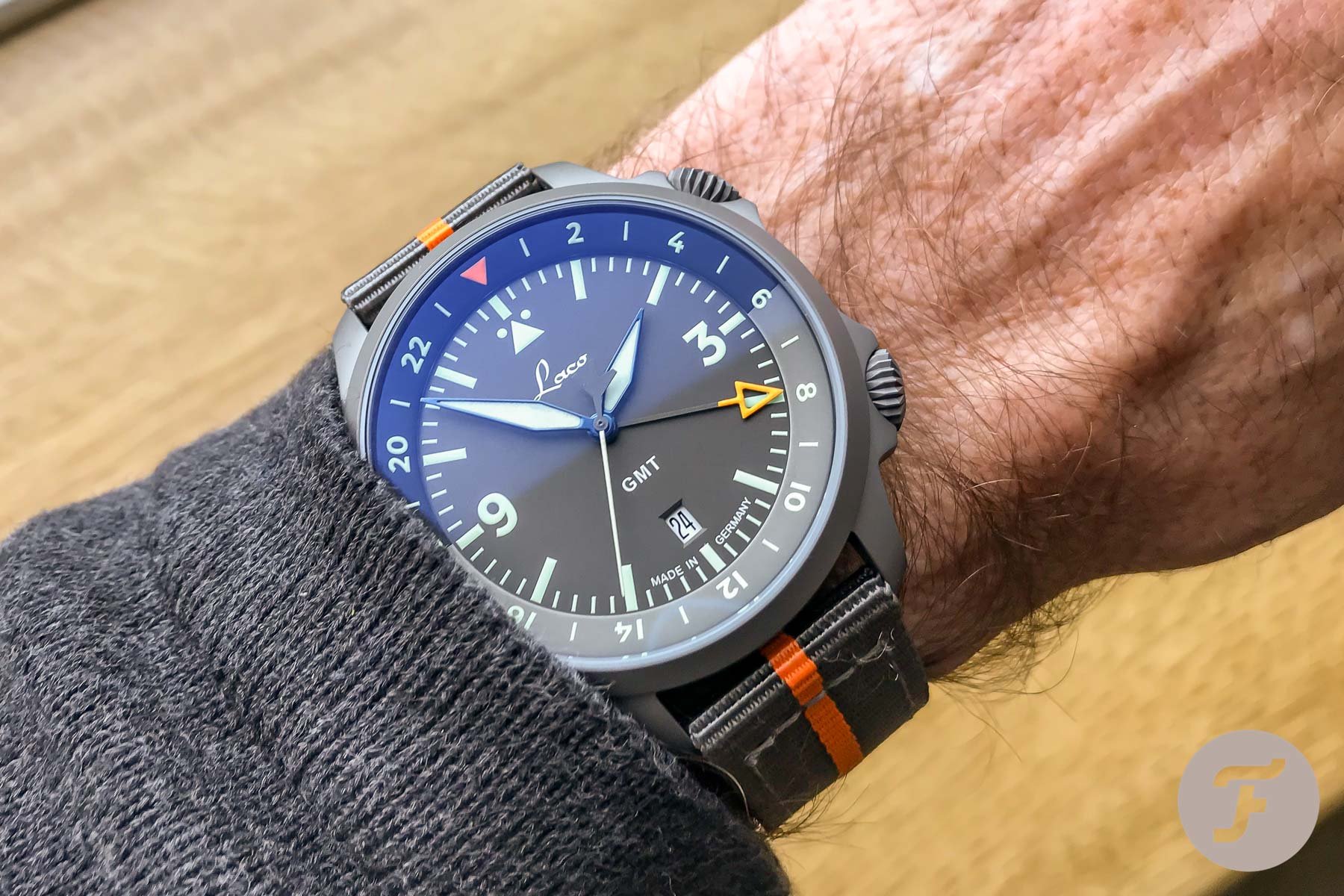 Ben's pick — Laco Pilot Frankfurt GMT
Laco is very well known for all its historically-inspired pilot watches. But as Ben rightfully states, Laco has a lot more to offer than just a great view of the past. One of the watches that perfect prooves this is the Laco Pilot Frankfurt GMT that Gerard reviewed. This 43mm modern-day pilot's watch gets its name from Germany's biggest international airport. This is not a coincidence with the GMT function connecting perfectly to the international aspect.
I am astounded by Laco's designs. The brand has mastered vintage pilot watches, but its ability to modernize the core elements to get something as fresh and funky as the Laco Pilot Frankfurt GMT Schwarz for €1,650 is really impressive.
The coolest feature next to the GMT-function is the dial. Although the brand calls it a black dial, it is really dark grey. But if you look closer, you will see there are different shades of grey to be found on the dial, creating a funky effect. When ordering the Laco Pilot Frankfurt GMT watch, another cool feature is the stylish aluminum case the watch comes in. Laco does not mess around when it comes to creating serious watches and serious packaging.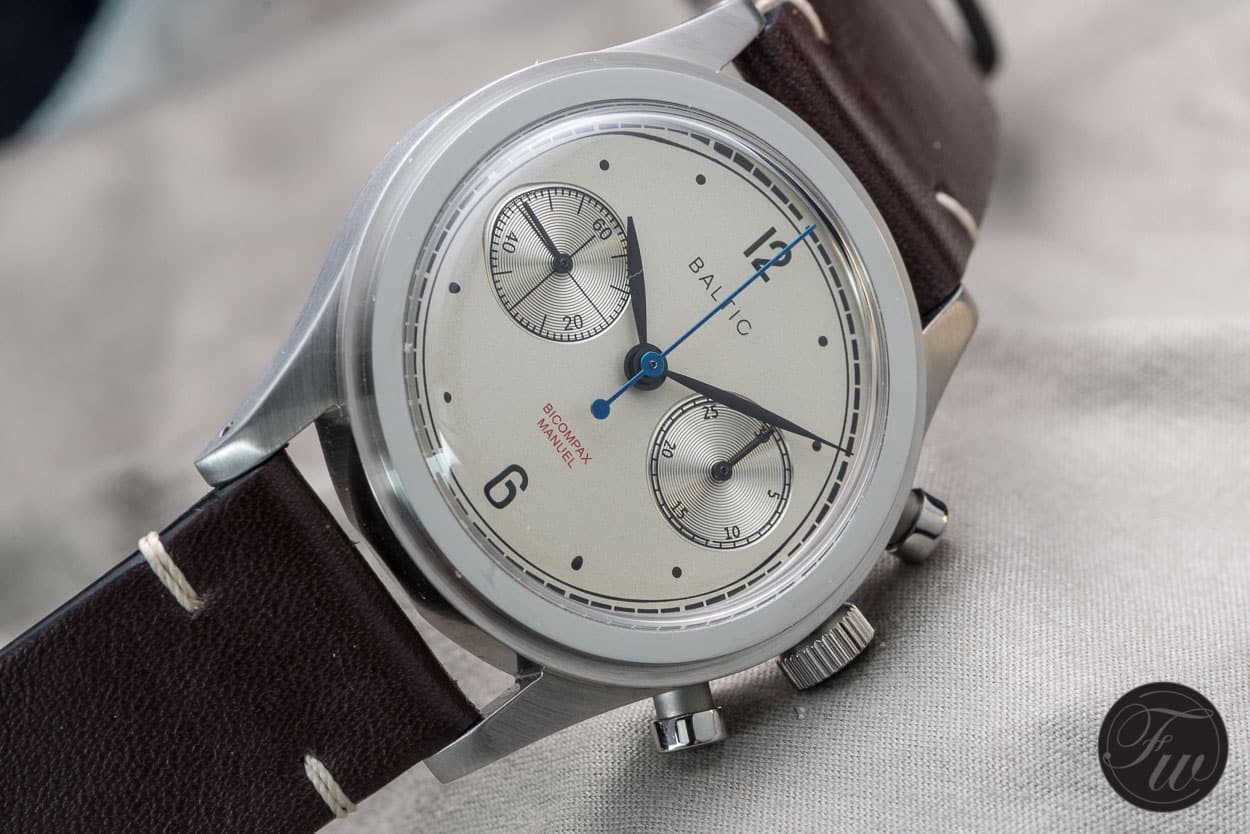 Bert's pick — Baltic Bicompax
You could almost say that this list would not be complete with a watch from Baltic. That's stretching it a bit, but you understand what I mean. Over the last couple of years, the Paris-based brand has steadily made a name for itself. Baltic offers great-looking watches that are incredible value for money. My personal favorite is the beautiful Aquascaphe Blue Gilt with its classy retro-inspired looks. But Bert's pick also perfectly embodies that same style.
One of the few micro brand watches I've bought is the Baltic Bicompax because it shows the attraction of vintage design and proves that bigger is not always better.
At 38mm in diameter and 12mm in thickness, the Baltic Bicompax is a modestly sized chronograph. But with a 47mm lug-to-lug size, it is a watch that fits the wrists of many watch enthusiasts. Combined with its relatively clean but very effective looks, this Bicompax is a winner, and it is no surprise that it's Bert's pick for this list of the best watches from independent brands.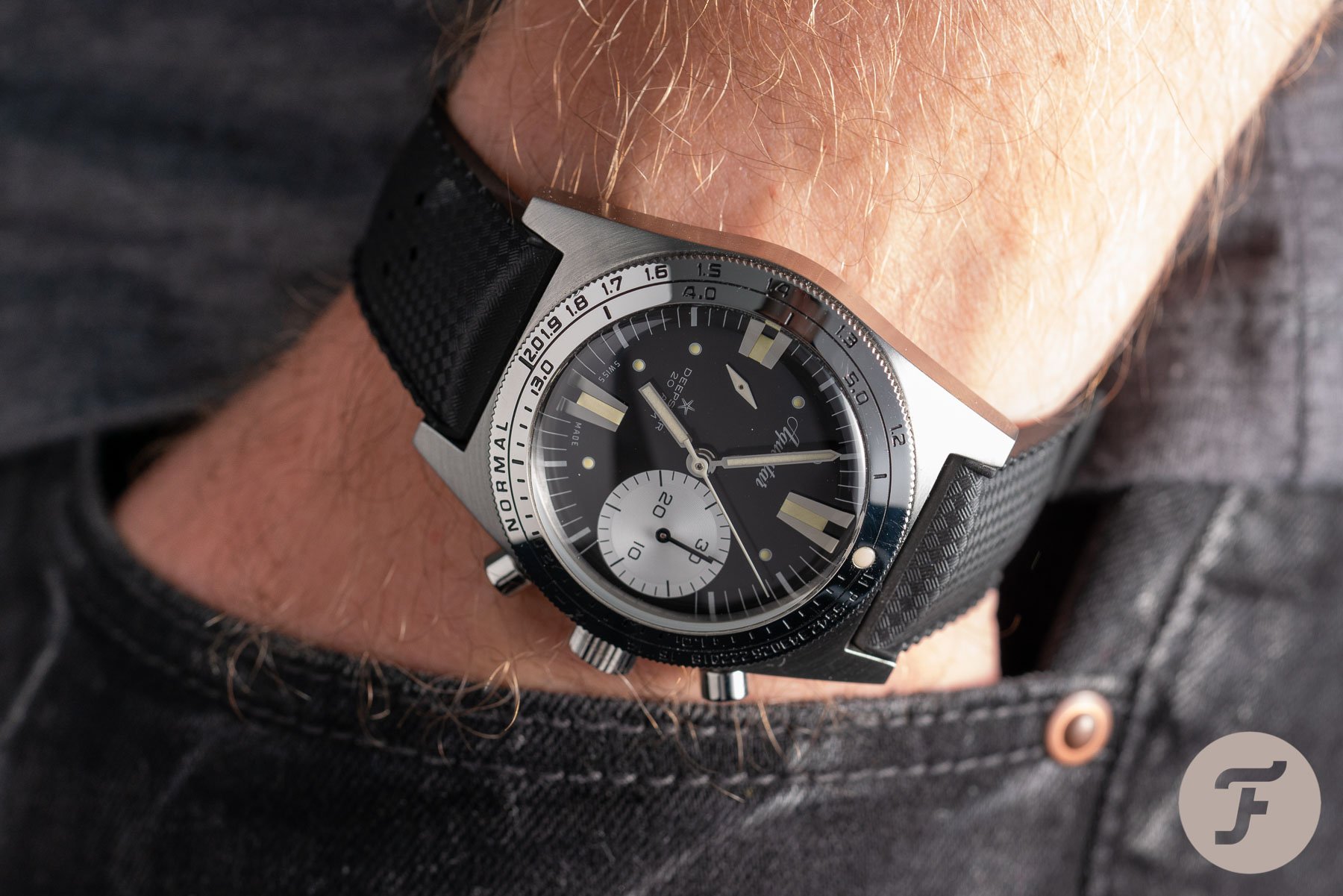 My pick — Aquastar Deepstar
My pick for this list was easy. The moment I put the Aquastar Deepstar on my wrist, it was love at first sight. Mike brought the Deepstar to the Fratello offices when he made the trip up north with Balazs last summer. This re-issue of the classic Aquastar Deepstar sees an updated case size, growing from 37.5mm to 40.5mm, and it also uses a new La Joux-Perret column wheel automatic chronograph movement.
The Aquastar Deepstar perfectly shows how you can update an iconic classic from the past to modern times without losing any of the charms of the original, making this is one of the best vintage-inspired re-issues currently out there.
Despite its increase in size and added thickness because of the automatic movement, the Aquastar Deepstart perfectly represents the original from the  1960s. Rick Marei and his team at Aquastar have done perfectly to keep the proportions and typical feel of the original design. The Deepstar is quirky enough to be different and familiar enough to feel comfortable. And that's a big achievement with its remarkable dial and its less-than-ordinary bezel. And that's why it is my pick for this list.
There you have it, our best watches from independent brands. We hope you like reading it as much as we live compiling them. And if you haven't read Balazs' article on our favorite watches under €2,000, check it out here.