The Top Microbrand Watch Releases Of 2021 — Serica, Straum, Zelos & More!
Did 2021 deliver the goods?
Happy December, folks! Now all focus turns towards a large man dressed in red, breaking and entering your property to leave gifts under a tree you've temporarily set up indoors. That's right, Christmas! It's this time of the year that we tend to reflect upon the last 11 months. Despite 2021 being a challenging year, it was nothing compared to 2020. We were fortunate to see watch shows back up and running (not you, Baselworld), and brands release more watches than in the previous year. So, here I want to take a look at my top microbrand watch releases of 2021.
I've often made no secret of my appreciation for the microbrand scene. It was one of the things that really got me into watch collecting. I loved the creativity that sprung from this small area of our beloved industry. But it's not all good stuff that emanates from the microbrand watch world. No, some brands release monstrosities with such reckless abandon, it does make me question their sanity. Still, there are always some absolute gems that I believe deserve celebrating. So, what were my top microbrand watch releases of 2021?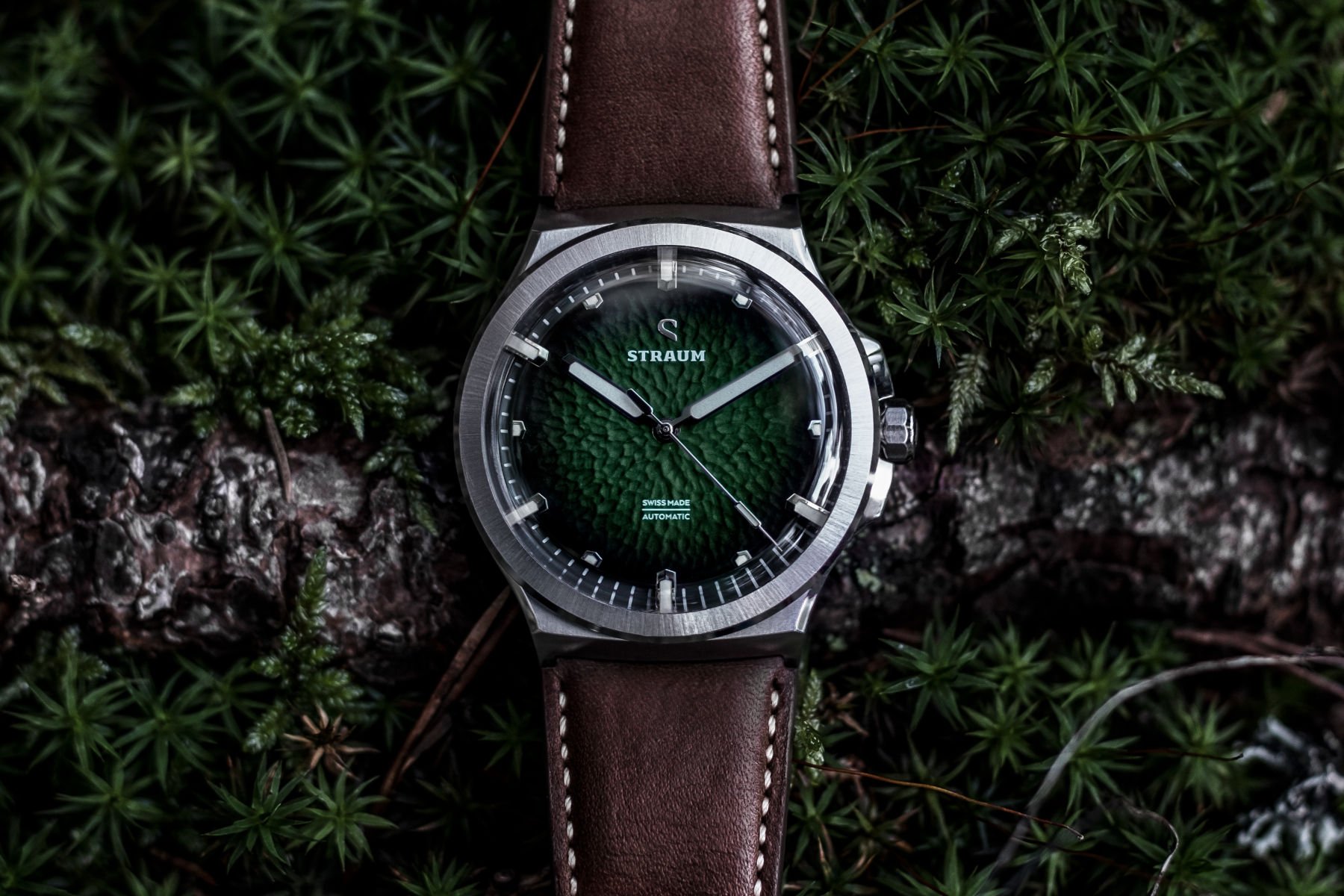 Straum Opphav
I've spoken at long lengths about the Straum Opphav. I like to think I've made it inherently clear just how impressed I am with the work that Straum is doing and just how good the Opphav is. I was fortunate enough to see the prototypes earlier this year, and I was blown away by them. The attention to detail was superb, but the guys behind the brand went to great lengths to tell me their improvements to the watches before they signed off on production. The guys wanted to tweak the beautiful dials to add more "pop" to the color.
They also wanted to ensure the brushed finish was more uniform throughout the case — to my eyes, there was absolutely nothing wrong with it! It's thoroughly reassuring to see a young brand dedicate this much time and money to ensure the watch is absolutely perfect the first time around. While I shouldn't have to say this, too many brands rush their first watches and doom themselves from the start.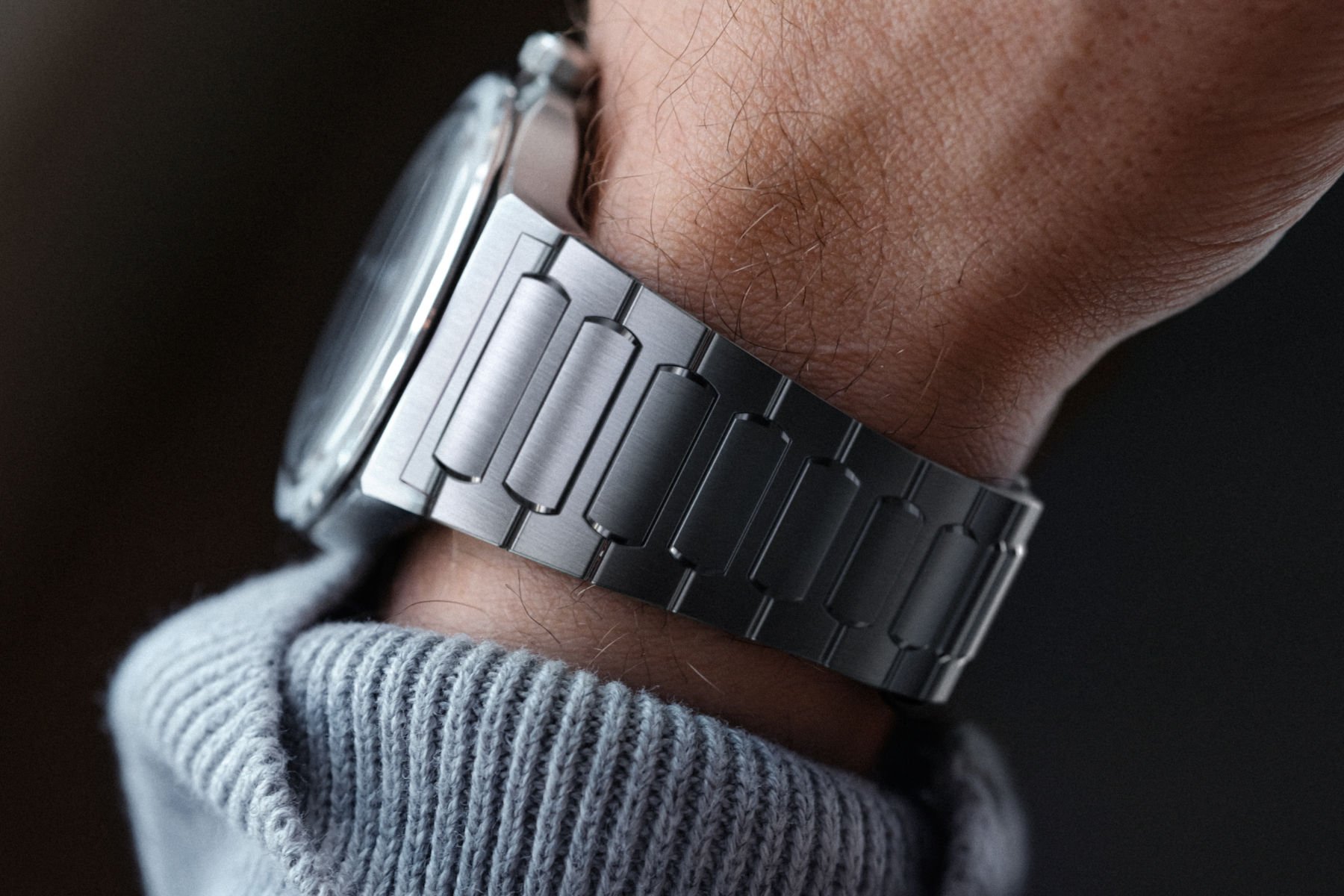 Bracelets are here
While I was sitting in the beautiful (yet foggy) Oslo hills with Straum, back in October, I found out that a new bracelet was in the works. Having seen pre-prototyping renders and 3D prints, I am even more excited. I didn't think that was possible. The bracelet creates a powerful personality for the Opphav and elevates it far higher than the leather straps alone. No offense to the rather lovely leather straps, but the bracelet makes it a wholly unfair fight. On the bracelet, the Opphav channels Laventure vibes crossed with hints of Grand Seiko. These are lofty comparisons and well-deserved too. The good news? Straum is making the bracelet available for purchase today! If you want to add one to your purchase, you can do so for just €279. A very fair fee in my opinion.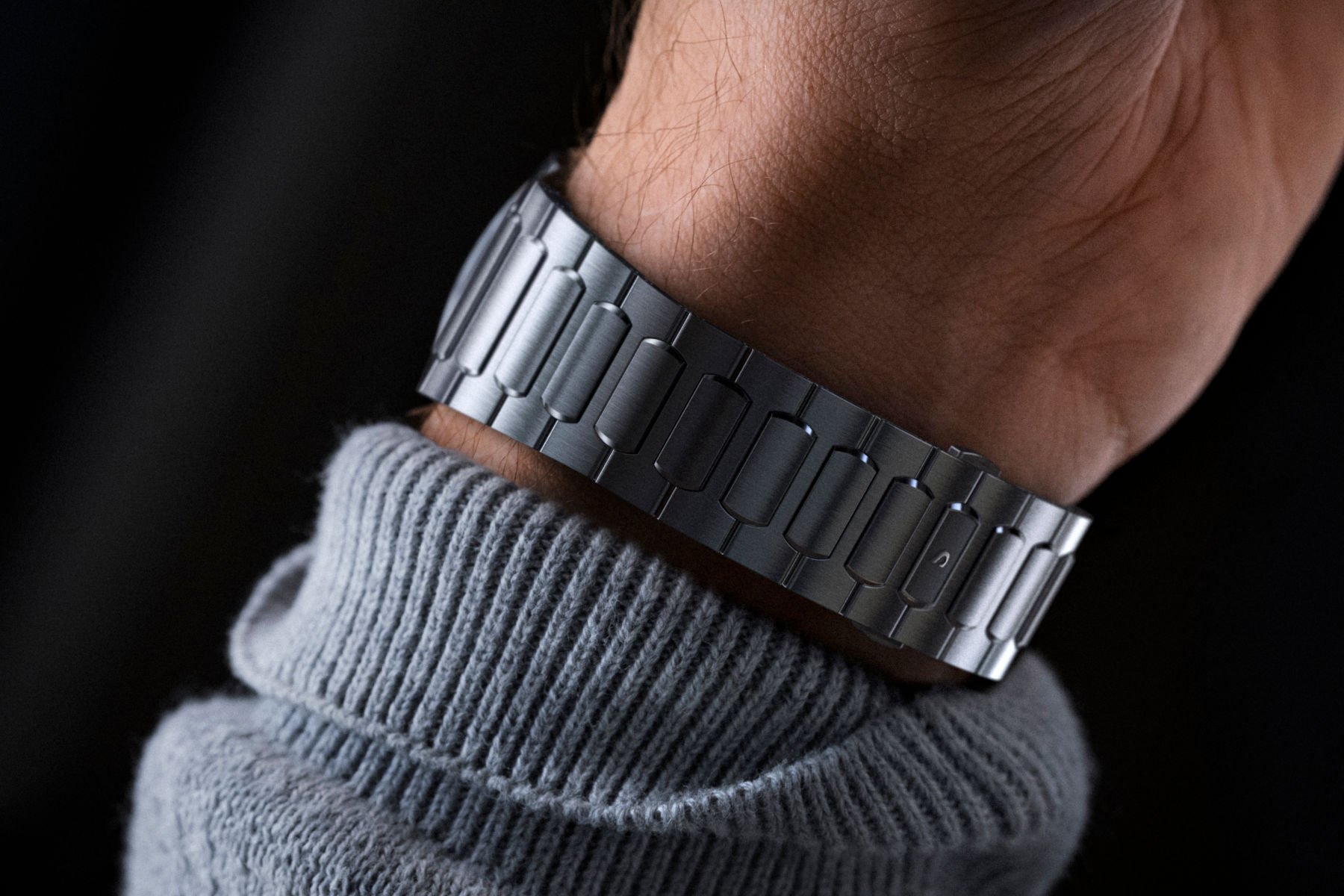 I genuinely believe that the Opphav offers some of the best value for money at its price point, so I urge you to check it out! Straum is only whetting our appetites with the images above. I, for one, cannot wait to see more of the bracelet. While the leather strap is very nice, it's a no-brainer that the bracelet is the way to go here.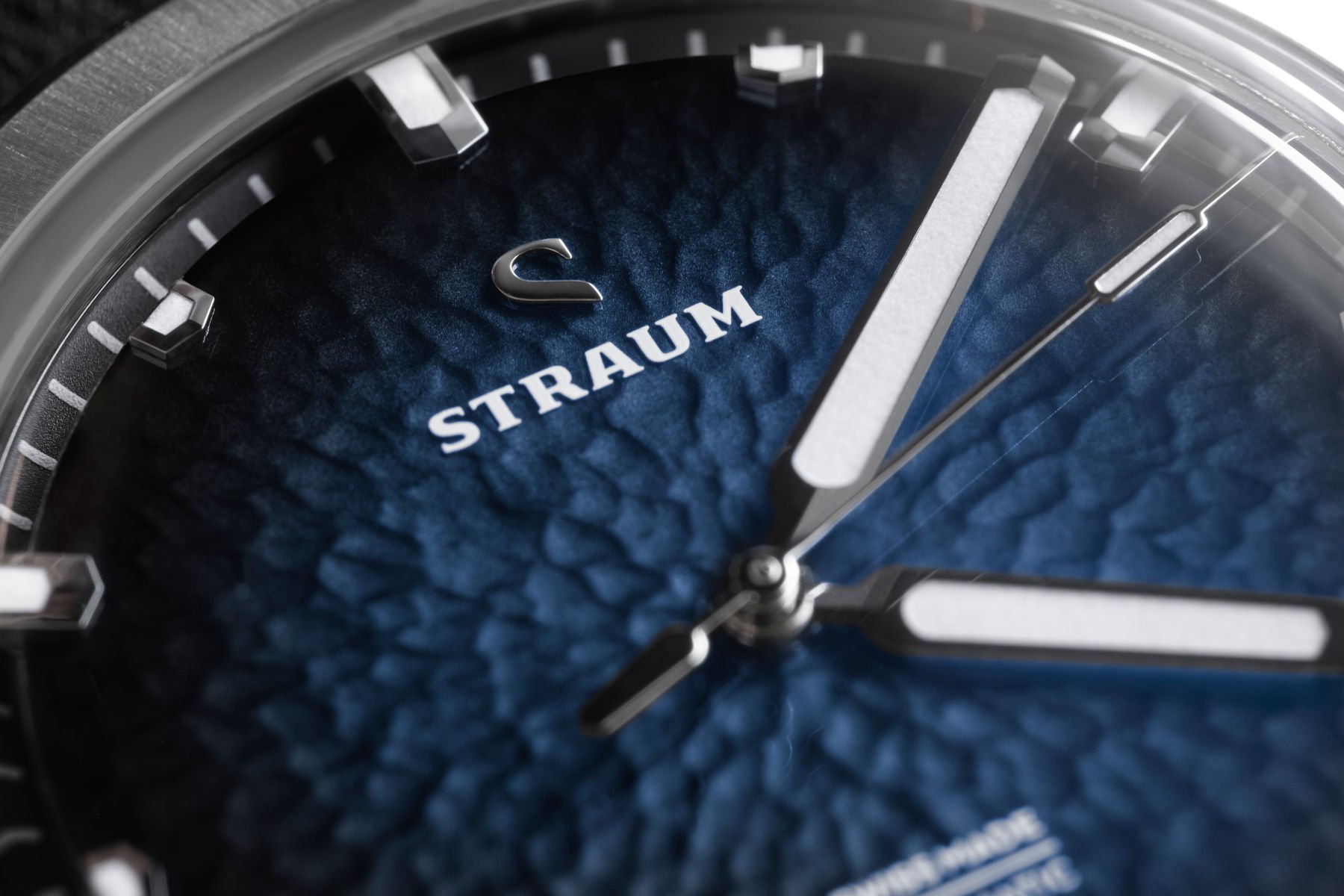 Availability?
Each Opphav colorway is limited to just 125 pieces, and with limited stocks of each color left, I'd advise taking the plunge if you're sitting on the fence. I'm itching to get mine on the wrist! Check out Straum's website to find out more about the Opphav. Price: €829 ex-VAT (available — pre-order for Jan/Feb 2022 delivery). The bracelet is an add-on available to new and existing customers for €279.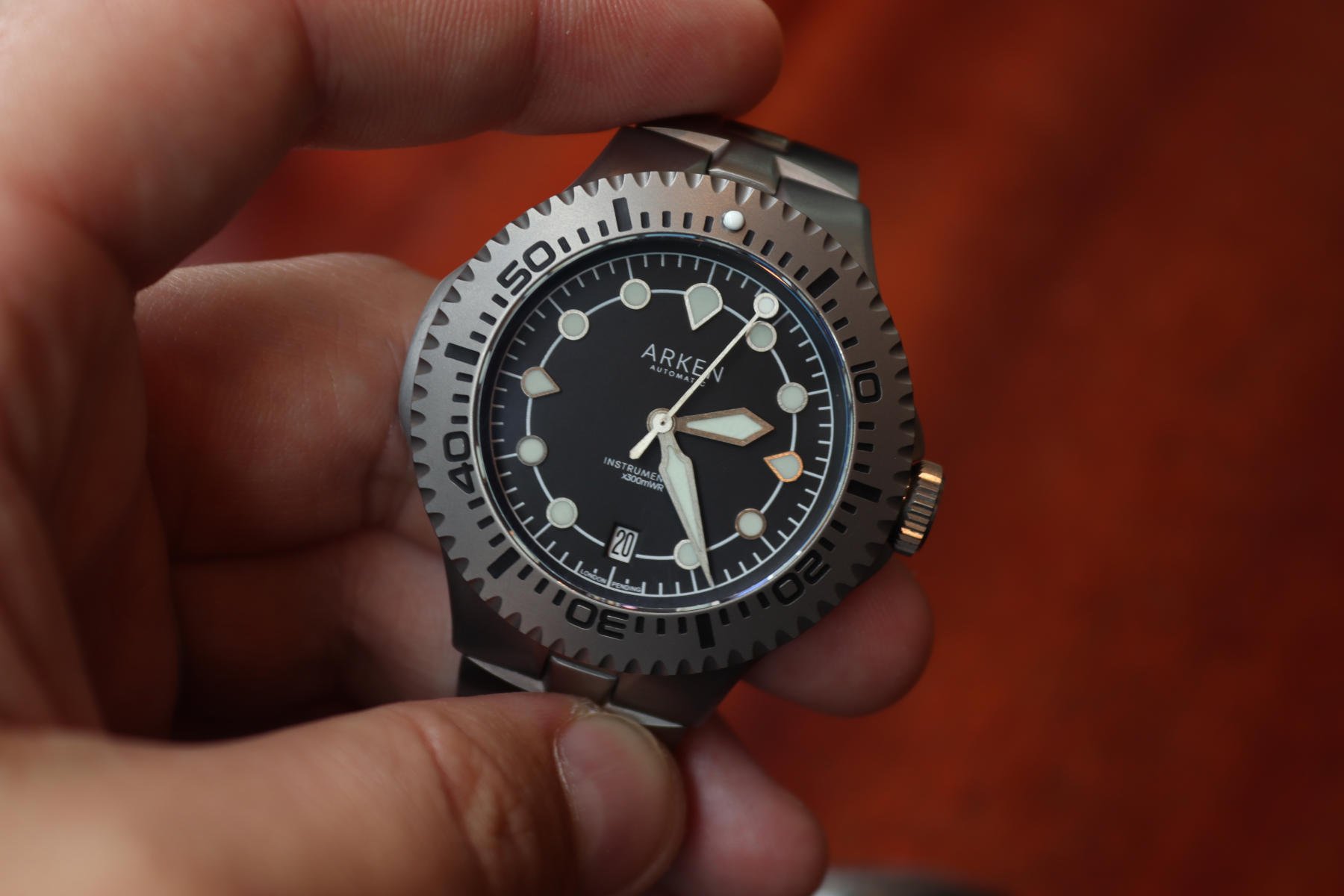 Arken Instrumentum 1020
Next up, Arken — a small, British (represent!) brand that has built up a loyal following in the microbrand watch community. I got a chance to go hands-on with the Instrumentum 1020 earlier this year, and I was suitably impressed with what I saw. There's a number of features at play that contribute towards an overarchingly modern and mature design.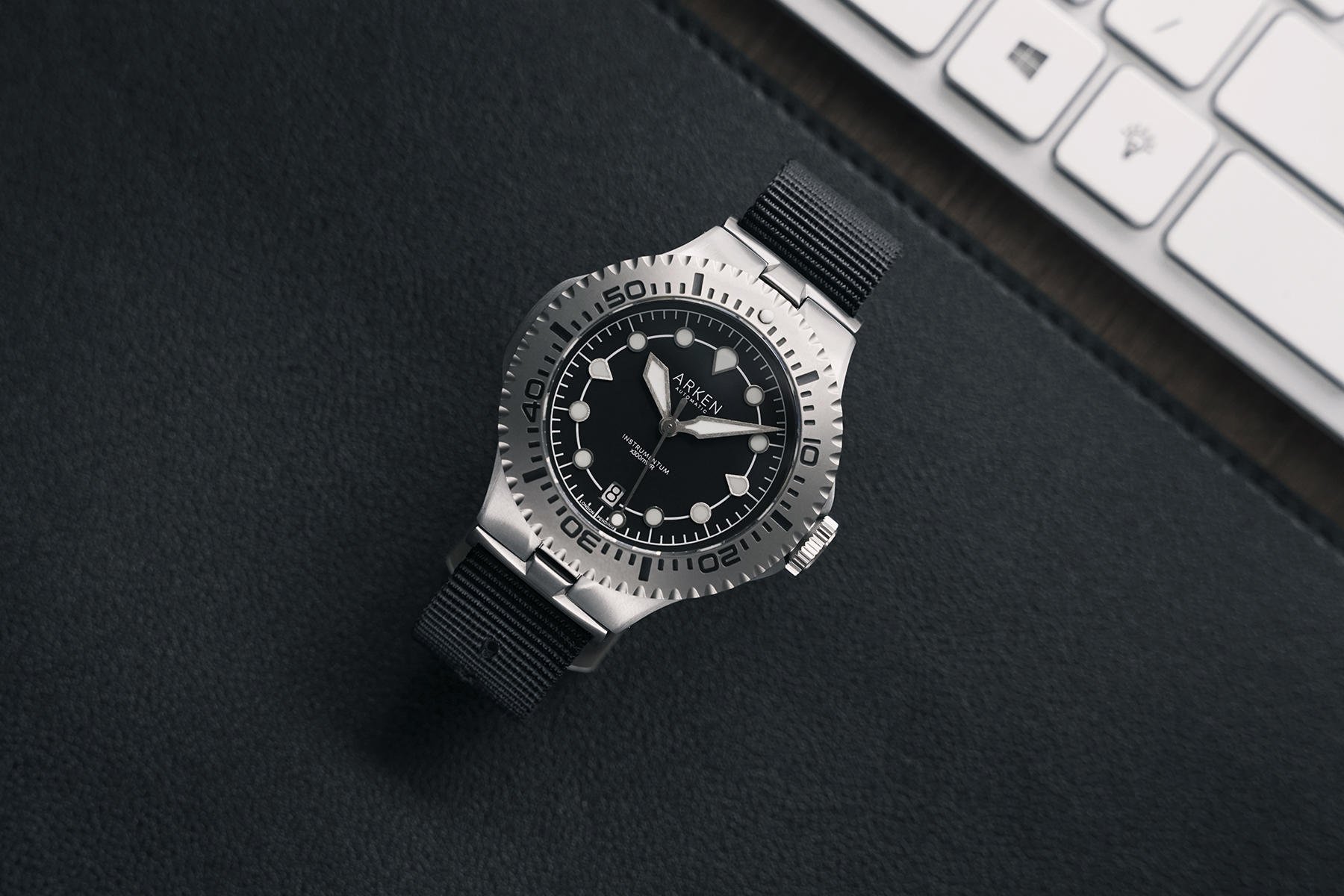 For once, it wasn't the dial that first caught my eye with the Arken Instrumentum 1020. It was the integrated bracelet. Channeling obvious shades of Vacheron Constantin Overseas, Arken has done an excellent job combining the inspiration with a watch head that bears zero resemblance to the VCO. The lightweight titanium bracelet was supremely comfortable on the wrist and well-machined. For those who might be a little turned off by integrated bracelets not allowing third-party straps, Arken has designed a strap adaptor to allow you to attach your regular 18mm straps. I thought it was a nice touch and showed that the brand owner, Kenneth Lam, was listening to feedback and taking action.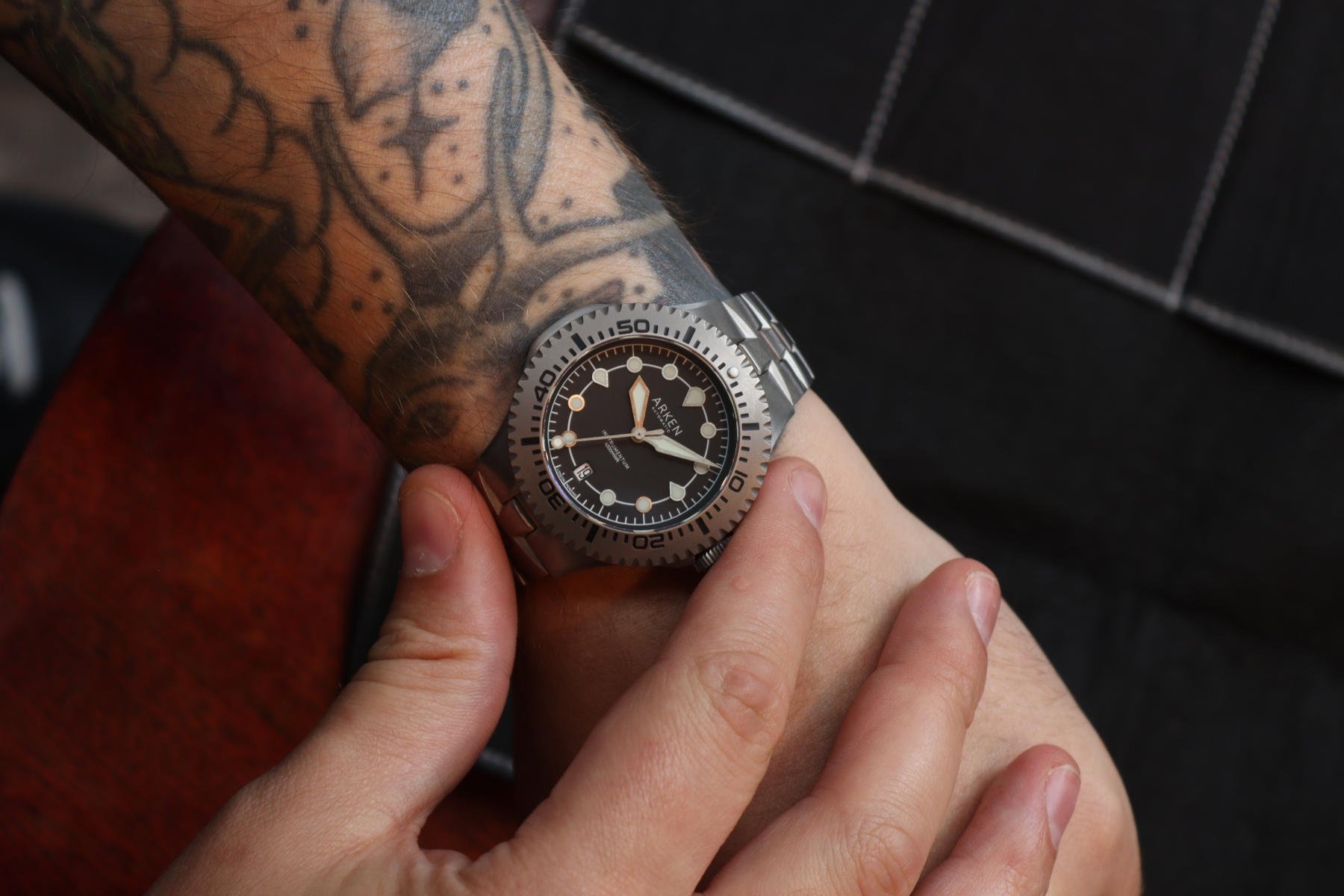 A solid debut microbrand watch release
So what about the watch head? Well, as its looks might suggest, the Arken Instrumentum 1020 is a dive watch. The sandblasted 40mm titanium case is very nicely proportioned and wears nicely on the wrist thanks to a relatively flat and shallow case back. A short 46mm lug-to-lug measurement allows the integrated bracelet to attach without extending the length of the watch and creating an ugly overhang. Perhaps most tellingly, the Instrumentum is just 11.5mm thick. Compared to most microbrand dive watches, that's incredibly thin.
The thinness is partly made possible by the Miyota 9015 ticking away on the inside. The dial is clean and straightforward and very typically "British" by design. There's cleanliness here that reminds me of the likes of Marloe Watches. The benefit of this cleanliness is legibility — critical for any serious dive watch. Distracting text is kept to a minimum, and the BGW9-filled applied hour markers are well-sized. At the 6 o'clock position, you'll find a cutout for the date window.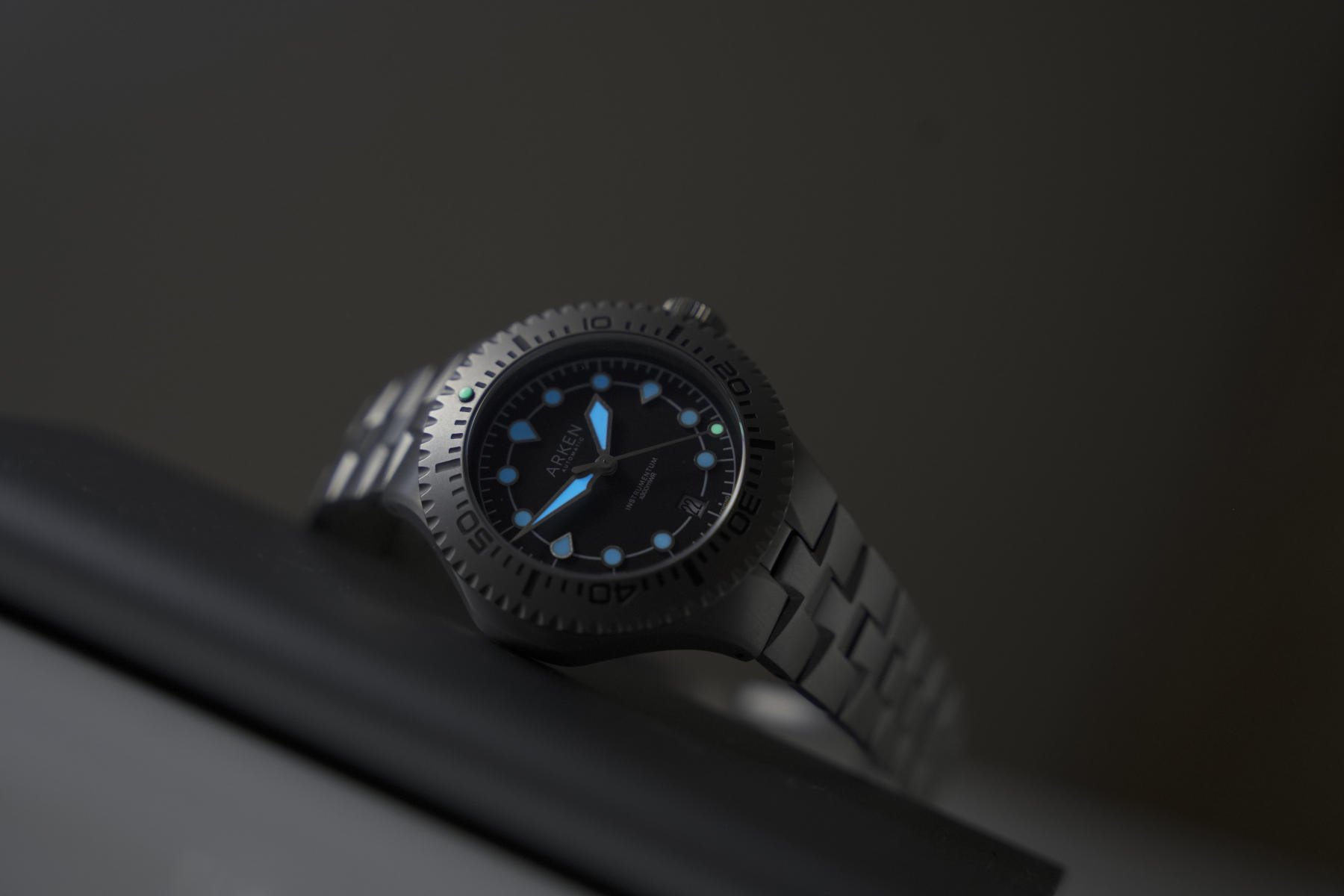 Availability?
Overall, I was very impressed with Arken's debut release, and I genuinely look forward to seeing what's next for the young brand. There are still Instrumentum 1020 watches available for pre-order, so visit the Arken website to find out more. Price: £429.99 (available — pre-order for 2022 delivery).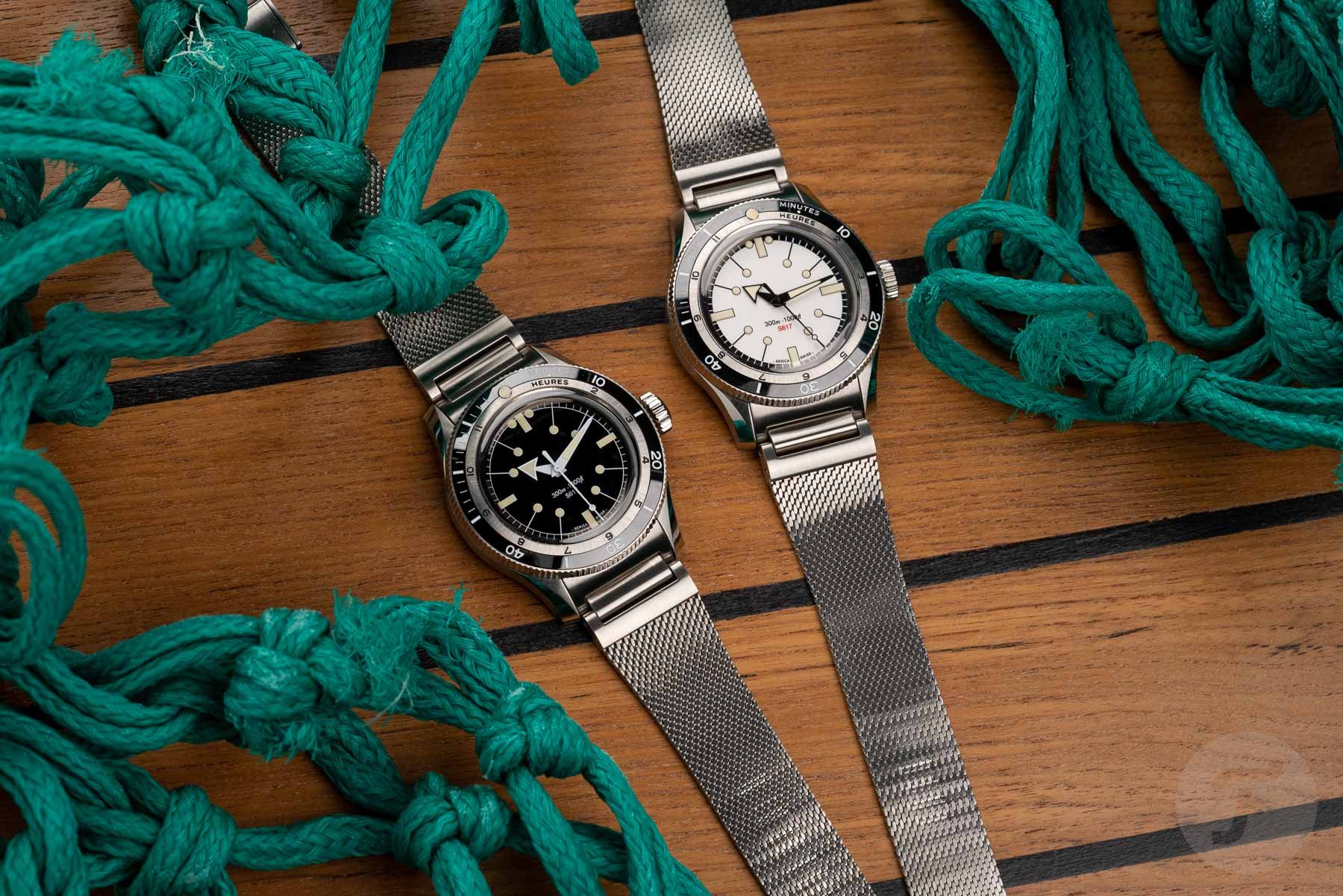 Serica 5303
There's been a bit of theme with the brands on this list so far: they've all knocked it out of the park with their debut releases. Serica was a member of this club based on its 4512 from 2020, which won over more than a few Fratello team members. In 2021, Serica released its second model, which was even better, in my opinion!
The Serica 5303 has a very distinctive design. The bi-color, dual-scale bezel leads the charge along with those unique lollipop hours markers. Sadly, there's not a tremendous amount of creativity when it comes to dive watches and microbrands. The Serica 5303 is a breath of fresh air, and I simply love it.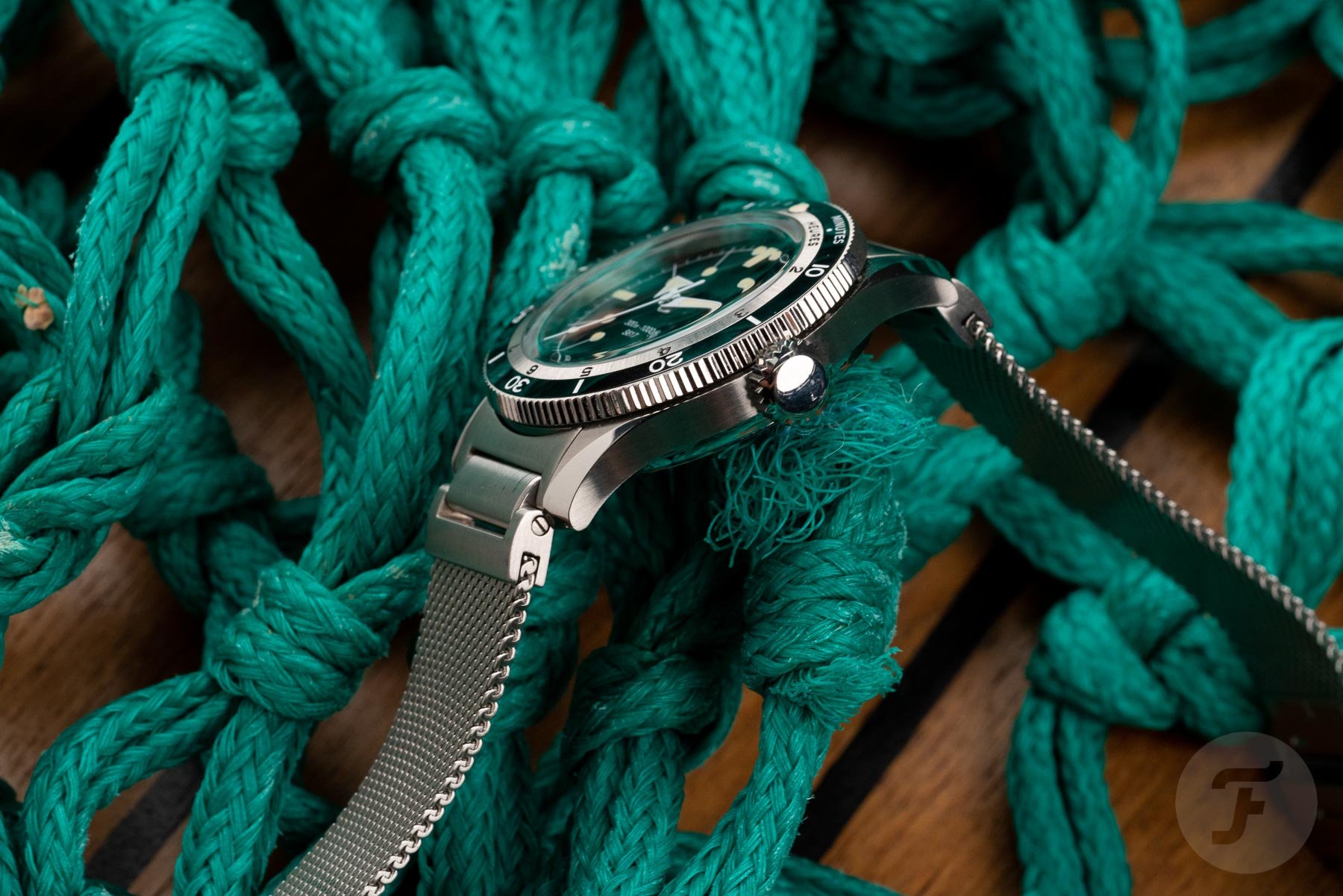 A break-away from cookie-cutter microbrand watch designs
The 5303 utilizes a compact and stout 39mm case, the machining and finishing of which are very impressive. The twisted lugs look particularly elegant thanks to the mix of brushed and polished surfaces. Additionally, there's the oversized 8mm crown that adds plenty of character as well. Interestingly, Serica gives prospective owners the choice of crown position at either 3 o'clock or 9 o'clock. A nice touch! Still, I prefer the traditional 3 o'clock position all day long.
As you can see in the pictures, the bracelet is something a little different. A steel mesh bracelet is nothing new by itself. Still, Serica mixes it up a bit by using a specially fitted end link integration. As mentioned, I am not a fan of straight-edged straps on curved-edge lugs. With bracelets, a nice fitted end link easily solves this issue. Still, traditional mesh strap construction makes this challenging to achieve. Serica has developed an attractive solution to the problem! There are definitely hints of Tudor P01 here, and I, for one, love it.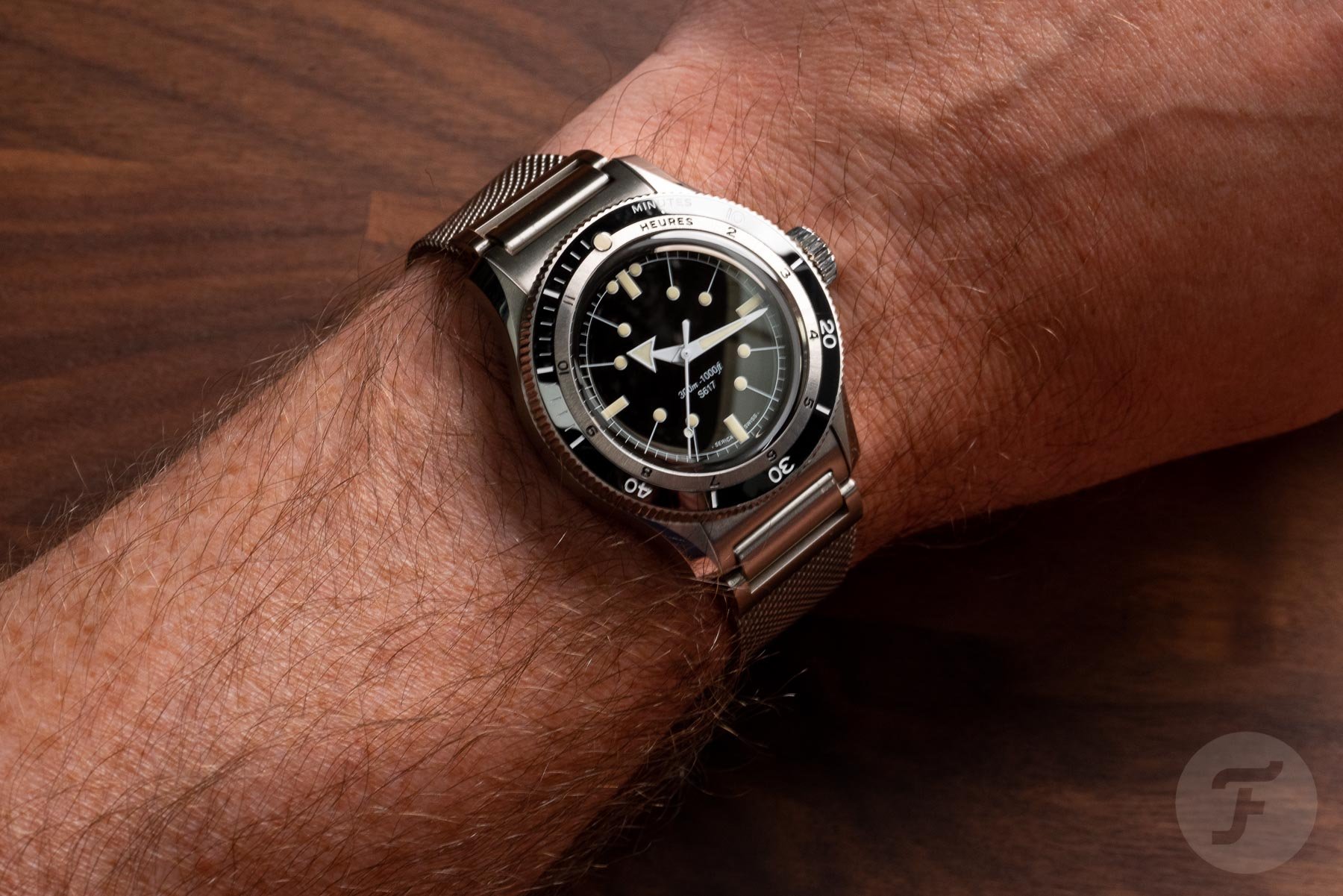 Availability?
The Serica 5303 is currently sold out, which highlights its popularity with collectors! That said, you can join the waitlist to find out when more 5303s become available. You can do so right here on the Serica website. Price: €1,075 (sold out — waitlisted).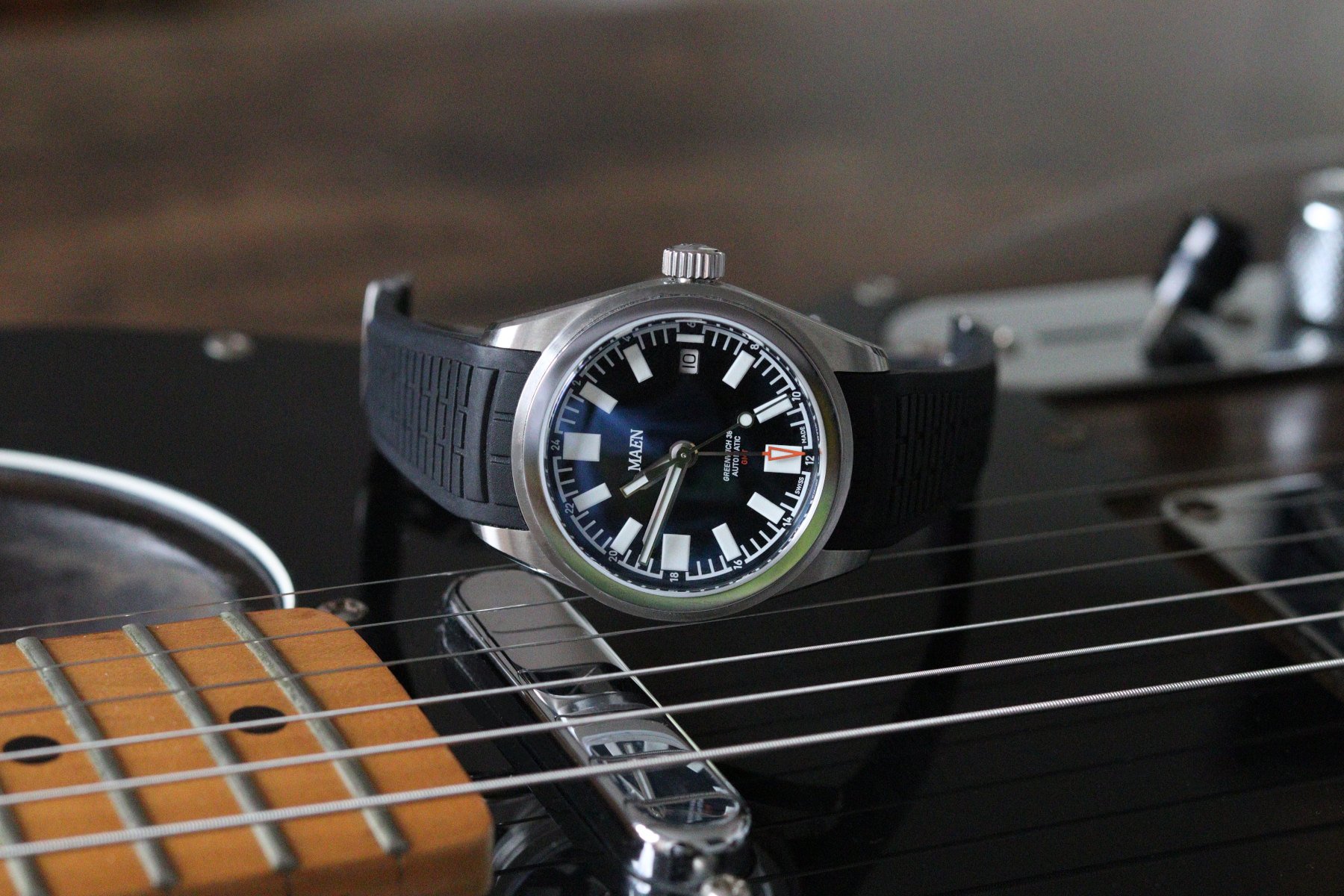 Maen Greenwich 38 GMT
If you follow my writing here on Fratello Watches, you might have seen my review of this piece earlier this year. My review was wholly positive, and it's a watch that I wear frequently. It's a fine example of the bold dial design that is lacking from mainstream brands. Those big, "love-'em-or-hate-'em" hour markers create a powerful look. It's one that I loved from the moment I saw it. However, it wasn't only the dial that helped make the Maen Greenwich 38 GMT such a design success, in my opinion.
The dial is usually the first thing we notice when looking at a watch. It can be too easy to forget to appreciate the other core factors that make up a watch. The case, when not overtly atypical, is perhaps the easiest to overlook. After all, its job is just to house the dial and protect the movement, right? Wrong! A case does, of course, perform those functions. Still, a well-executed case design can elevate the wearing experience, as well as enhance the visual appeal.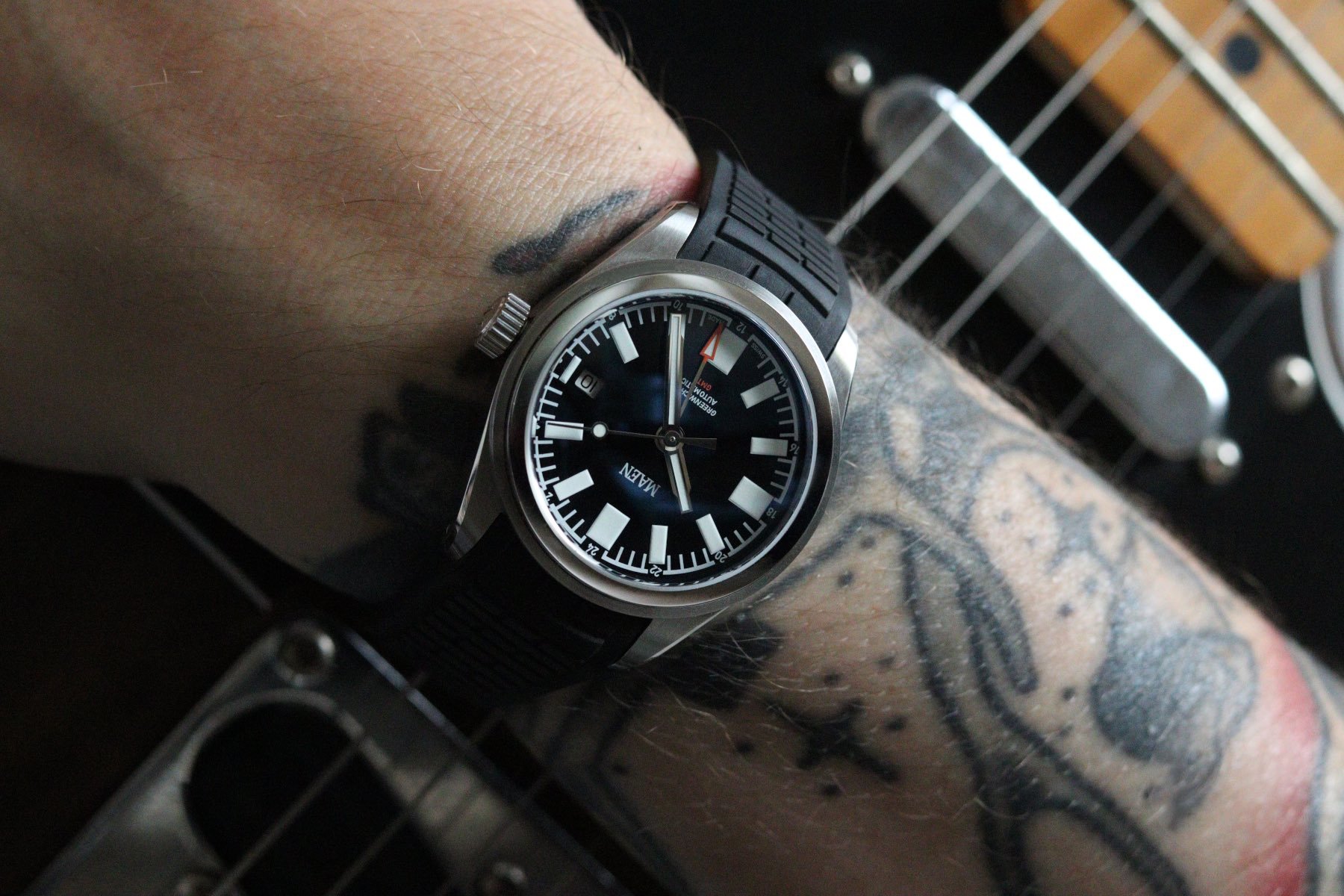 Excellent case design
The case of the Greenwich 38 GMT does just this. The gorgeous stepped bezel really contributes to the watch's character. From straight on, it perhaps looks relatively ordinary. Still, as soon as you tilt the watch and view it from an angle, those steps, with their alternating brushed and polished finishes, perfectly frame the subtly domed crystal. Additionally, the case profile and flat case back, allow the watch to sit close to the wrist and wear sooo perfectly. This is a very comfy watch. And that's in no small part due to the strap as well.
I wear the Maen Greenwich 38 GMT on the fitted rubber strap option. It came with a rubber tropic-style strap, but the fitted rubber option was always my favorite. A seamless transition from the case to the strap is always my preference. I've long despised the gaps left by curved-edge lugs combined with straight-edge straps. It's one of the things that really grinds my gears, so a fitted strap solves that problem and keeps my blood pressure at acceptable levels.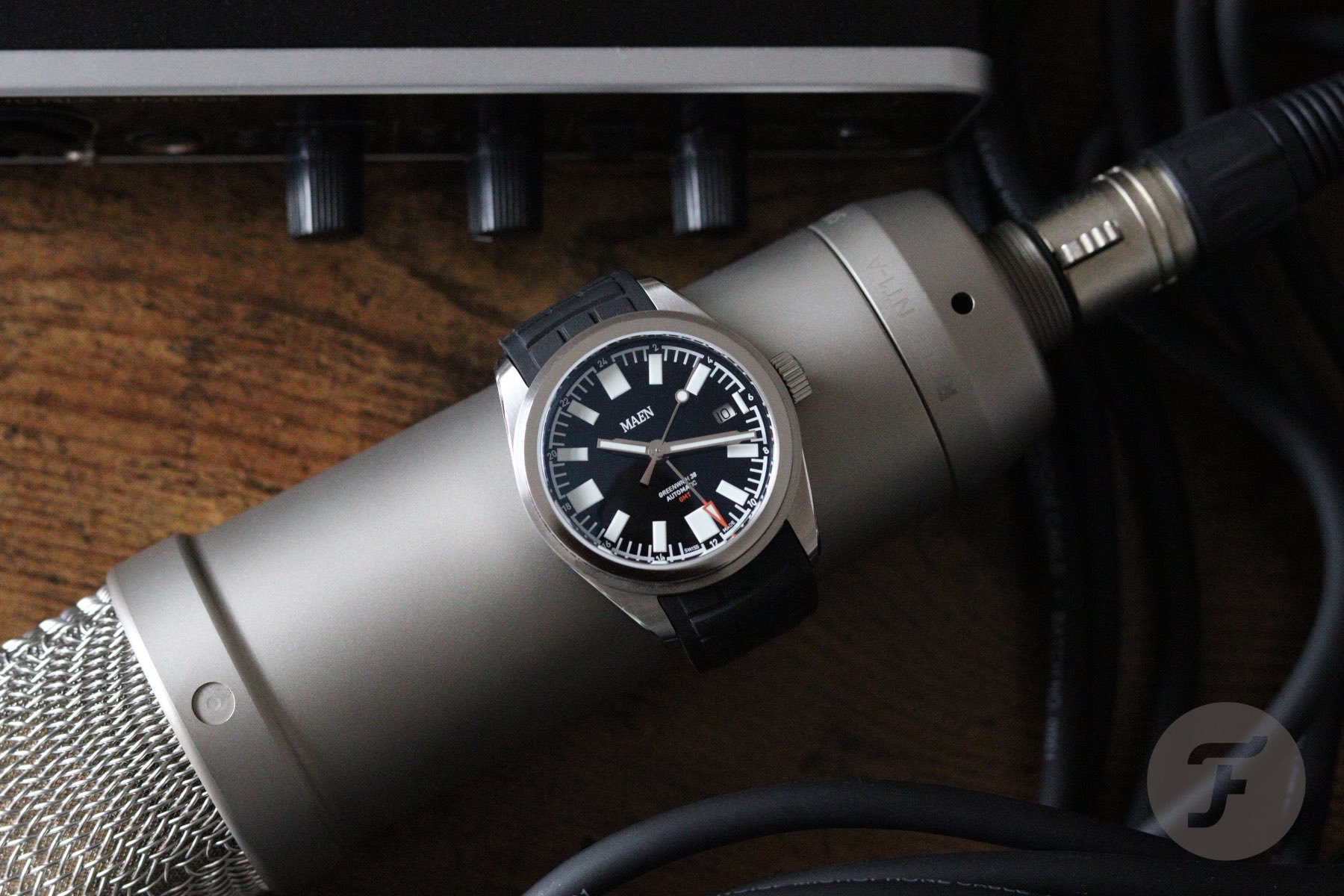 Availability?
Given the price, this watch offers an excellent value for money, in my opinion. The build quality far exceeds the price paid! Coupled with a wonderfully bold and unique dial design, there's a lot to love. To find out more about the Maen Greenwich 38 GMT, visit Maen's official website. Price: €639.20 ex-VAT (available).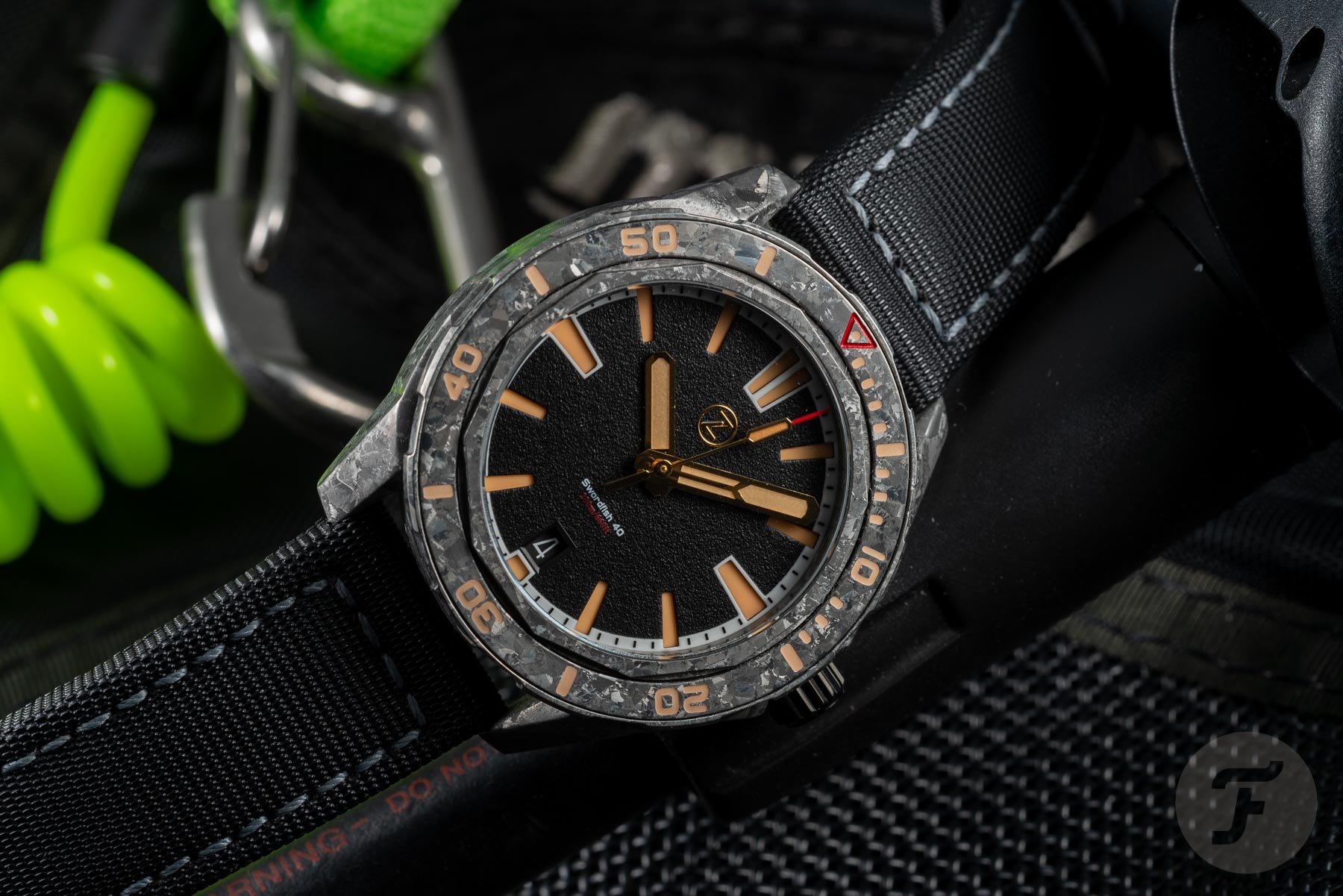 Zelos Swordfish 40 Crystallized Titanium
Last up is the most recent watch I bought this year. That's right, it's my wild-and-somewhat-wacky Zelos Swordfish 40, made of funky crystallized titanium. I had long followed Zelos as a brand, waiting for a suitable model to add to my collection. When I saw this model pop up on the Zelos Timekeepers Facebook group I knew I had finally found the right watch! I love alternative materials in watchmaking, and the crystallized titanium was a completely new beast to me. I knew I had to have it!
The Zelos Swordfish 40 is one of the brand's more "entry-level" simple dive watches. Zelos initially launched the Swordfish silhouette in 42mm, but slimmed it down to 40mm due to cries from its fanbase. Powered by a Seiko NH35 movement, the specs are somewhat standard for microbrand divers, with 200m of water resistance. The dial is clean and legible, with old radium-colored lume on the hands and the indices. It's a cool watch design but, for me, it's the crystallized titanium that really makes it shine.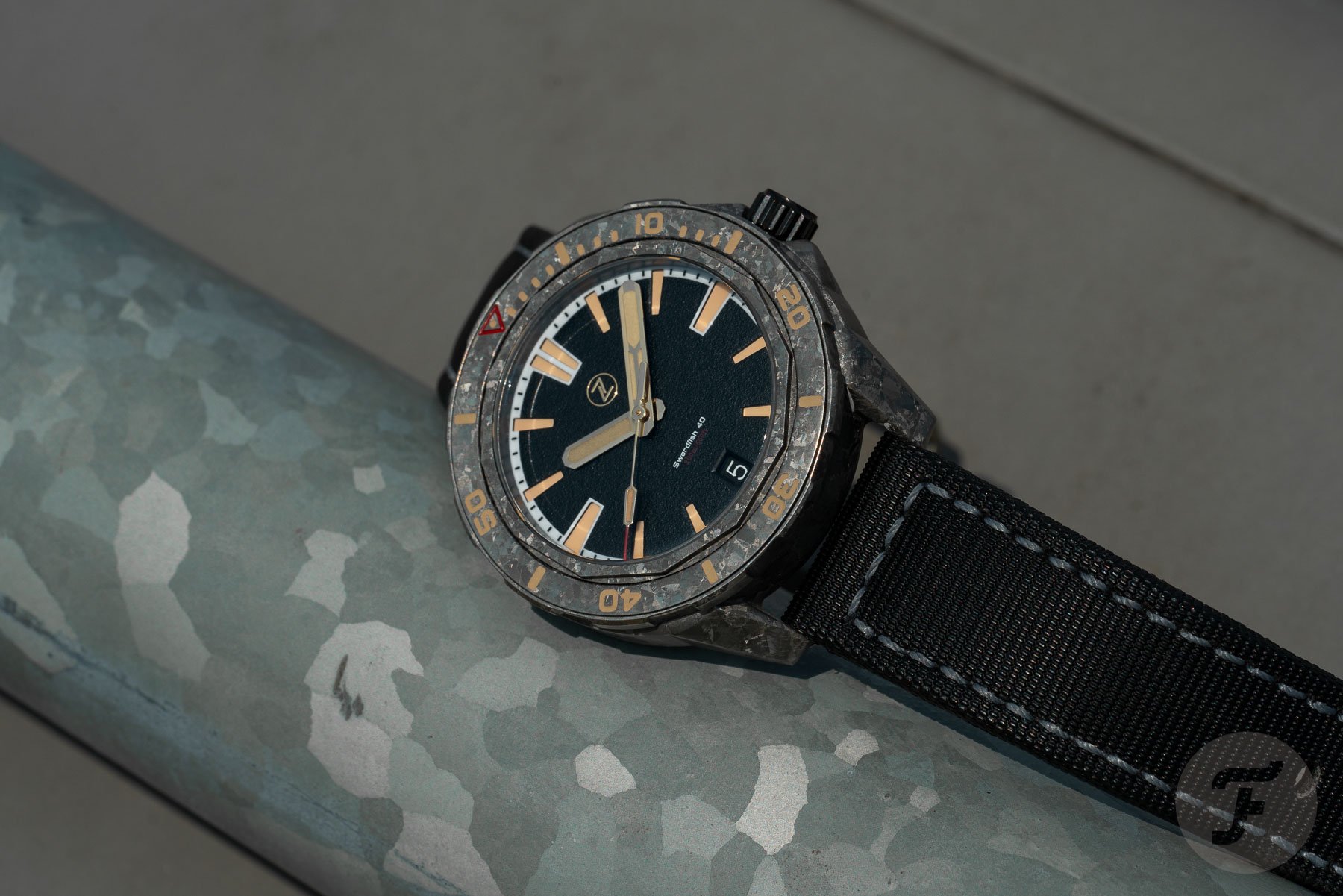 A unique microbrand watch release!
Titanium is known for its lightweight characteristic. Crystallized titanium is no different. The properties are all precisely the same as regular titanium; the only difference here is the aesthetic. Is that worth the jump in price from the regular titanium Swordfish? Well, beauty is in the eye of the beholder, so, for me, the answer was an absolute yes! The price is probably the elephant in the room here. The regular titanium model is a very budget-friendly $429. In contrast, the crystalline version commanded a price of more than double at $899. When you take into account the raw material cost, it somewhat explains the price. Crystallized titanium is still somewhat unknown in the wider industry, so the only suppliers seem to be small artisan makers. Small supply means higher prices, unfortunately. It's basic economics.
The surface of the crystallized titanium case is totally smooth. I remember how surprised I was when I first held it. From photographs, I had expected a slightly matte or rough feel. The crystalline texture looks similar to galvanized steel. That's the closest comparison I could make. From the moment I strapped this watch on, I really dug its uniqueness. At the time of writing, there is no other watch case/bezel made entirely of this funky material. It's certainly not for everyone. Indeed, most reactions have been "love it" or "hate it" with little in between. That said, I love it, and the Zelos Swordfish 40 Crystallized Titanium is firmly one of my favorite releases of the year.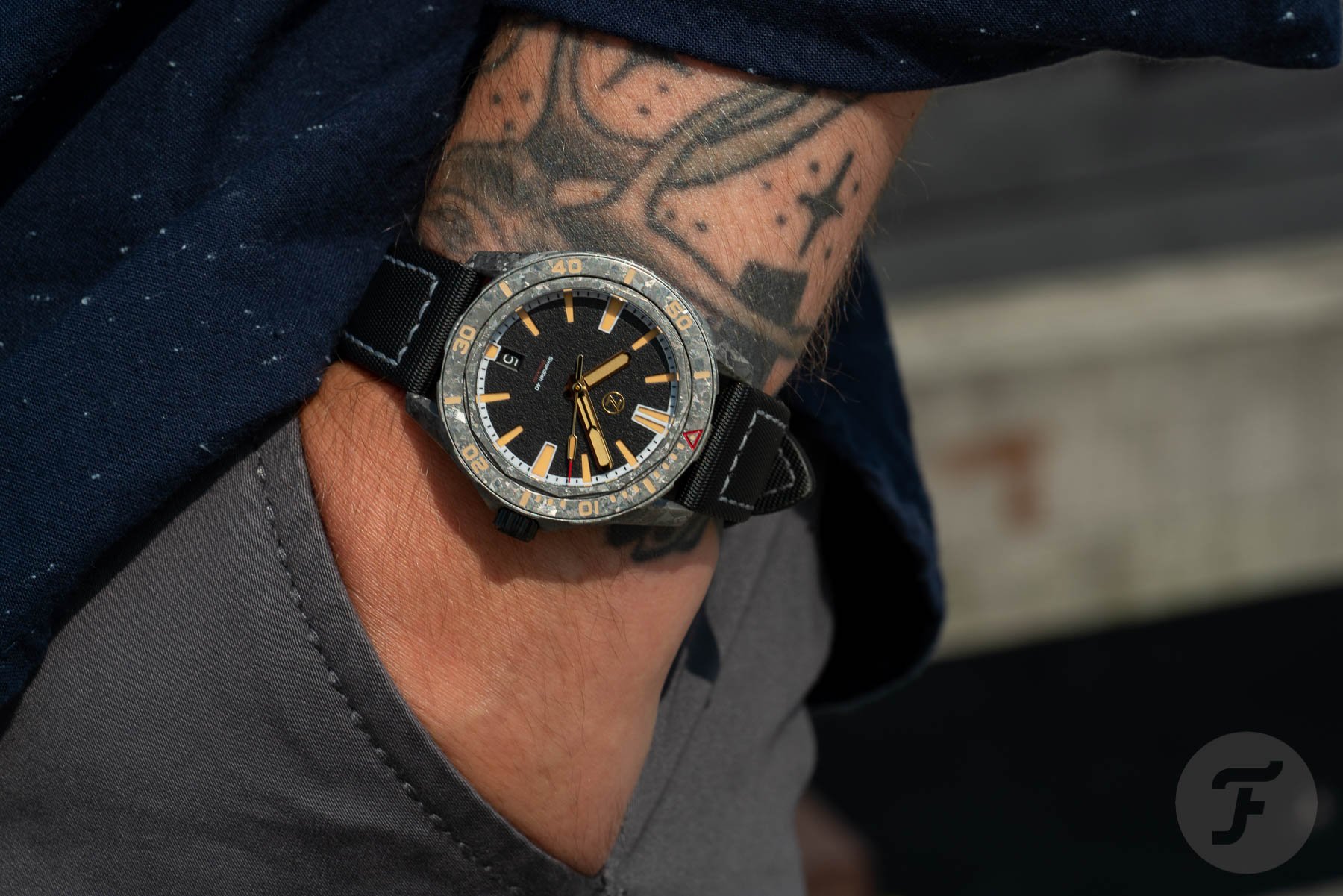 Availability?
If you're in the "love it" camp like me, sadly, this model sold out almost instantly. Zelos made a super-limited run of only 40 pieces. They do come up for sale from time to time on the official Zelos Timekeepers Facebook group. I recommend joining that group and keeping an eye out. For more information about this watch, visit the Zelos website. Price: $899 (sold out).
What a year!
So there we have my top microbrand watch releases of 2021. It's been a good year for microbrands, and I'm excited to see what 2022 brings. What do you think of my choices here? Love 'em? Hate 'em? Let me know in the comments, along with your own suggestions!
Follow me on Instagram: @davesergeant | @fratellowatches