Which Five Watches Would Dave Pick For €1,500 Each?
Let's go shopping!
In a time where so many of us would happily consider blowing the whole budget on a single watch, this challenge will be a tricky one. RJ posed the question to the entire team on a team call last month. It was a very strict hypothetical challenge, but the rules were simple: we had a budget of €1,500 per watch (not one cent more), and they had to be watches that we'd actually wear.
That made it a tricky challenge indeed. Not so much the budget, but the fact these had to be watches I'd happily wear in my day-to-day rotation. I knew I'd have to do quite a lot of research and digging around. There's plenty of choice in this price bracket, but I can be a picky so-and-so. Lex tried (and failed) to bend the rules and suggest that we had a total budget of €7,500 and could spend that as we wish. Our glorious leader kiboshed his insolence with an iron fist. It was made clear, we had to find five watches, each with a maximum value of €1,500. Additionally, these had to be brand new and retail prices. No sneaky vintage or second-hand watches!
Challenge accepted!
I was more than happy to accept the challenge. I have long been a follower of independent brands, most of which easily fall within this price bracket. However, I wanted to try and make sure I didn't have too much left over at the end of the challenge. If someone is giving me €7,500 to spend on watches, goddammit, I will spend as much as I can! Who doesn't love a good splurge! That said, I'm sure it will be far easier said than done. The key point is I have to find watches that I would wear!
One final point as I live in the UK — when searching for prices, I am inevitably served in GBP, so I will convert GBP to EUR using Google where appropriate. I am also not including any potential import taxes or anything. That would just take the fun out of this exercise.
So, all of this meant I probably had a relatively obvious stable of brands to choose from. Still, I was pretty hopeful I might be able to find a few curveballs! Before I get started, see if you can guess which five watches I chose. Maybe have a think about which five you'd prefer! Alright, ready? Let's do this!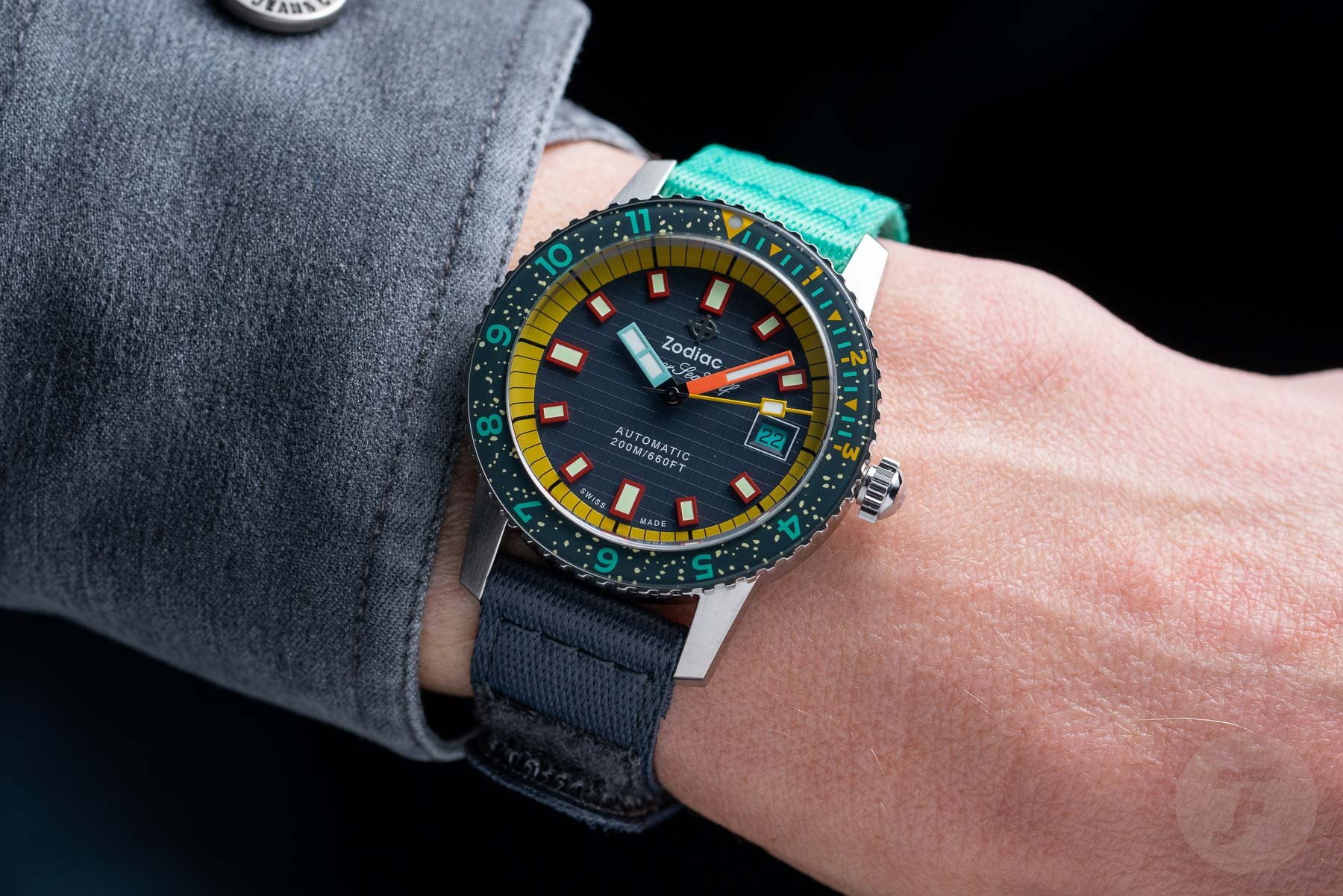 1. Zodiac x Worn & Wound Super Sea Wolf ($1,085=€894.61)
Boom! I think this one is a curveball, right off of the bat. I recently reviewed this one, as the guys over at Worn & Wound were kind enough to loan us a watch. Boy, was it a fun watch. I loved the distinctively '90s color scheme and a mishmash of patterns. Despite the contrasts, I liked the unifying use of color to tie the different elements together. My favorite part was the bezel, though. I loved the splatter effect. I'm not the biggest sneakerhead in the Fratello team, but I like the speckled midsoles Nike is famous for. They look pretty dope, and this bezel just reminds me of them.
As you can imagine, this watch caused quite a few conversations at Fratello HQ. Some of the team prefer their watches a little more reserved and classic. Me? I like cool and crazy. I like different. The Zodiac × Worn & Wound Super Sea Wolf has a whimsical charm that I really like, and it was one of only two I didn't have to really think about adding to this list.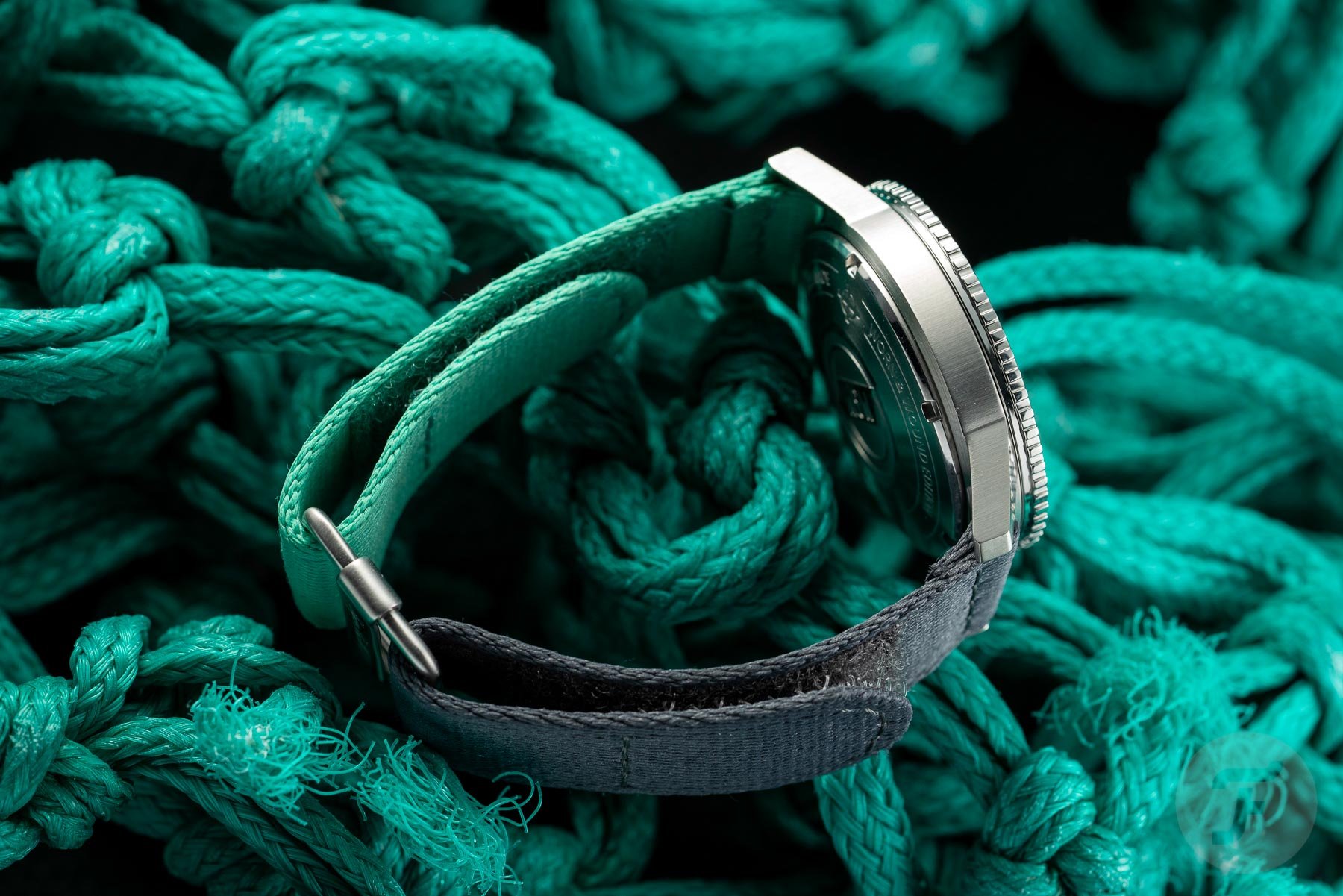 An unsung hero
The strap was a big win for me too, and I think it's probably often overlooked, as people get caught up in everything going on with the dial and bezel. Most Zodiac Super Sea Wolf watches come on a choice of a stainless steel bracelet or a rubber strap. The Zodiac x Worn & Wound Super Sea Wolf has a custom two-piece nylon strap with Velcro fastening. Some people see Velcro fastening as "cheap" or a bit "tacky", but I disagree. I've bought a few Velcro fastening straps because they allow you to get the perfect fit. You can adjust the strap continuously throughout the day to suit. It was a great choice here and perfectly fit the overall vibe of the watch.
Unfortunately, if you're looking to purchase one of these watches yourself, it has now sold out. You can sign up for a waiting list to be notified if any become available over on the Worn and Wound Windup Shop right here.
2. Doxa Sub 200 Divingstar Yellow (£950=€1,102.94)
Would this really be a true "Dave list" without a yellow watch on here? No. It absolutely would not. I'd be lying to you, and I'd be lying to myself. Thankfully it was a relatively easy choice, and I probably would have chosen this watch even if it hadn't been yellow. The Doxa Sub 200 Divingstar comes in an array of colors, but I obviously plumped for the yellow. To avoid a yellow overload, I also decided to go for the stainless steel "beads of rice" bracelet. I didn't quite like the yellow rubber strap option, so it was the logical choice.
This watch is probably not too dissimilar to the Zodiac watch I took in the first slot in that it is a simple three-hander dive watch. That's fine, as much of my real-life collection falls into this category, barring my Fratello x Oris Bronze Pointer Date and my Grand Seiko Skyflake. Everything else is a dive watch. They're not all as colorful at the Doxa, but the basic dive watches suit my lifestyle. I can knock them about a bit, get them wet, and not really have to worry about them. The Doxa Sub 200 perfectly fits the brief. A slight caveat, I much prefer the Sub 300 to the Sub 200, but due to available budgets, I had to go for the cheaper option. That said, I would definitely have a lot of fun wearing the yellow Sub 200!
You can find out more about the Doxa Sub 200 over on the official Doxa Website.
3. Timor Heritage Field (£910=€1,056.60)
I bet none of you were expecting this one! Neither was I, to be honest, as I'd kinda forgotten all about it. When Rob first covered it back in March, I loved it. I've long loved the mystery around the Dirty Dozen watches and fantasized about owning a complete set in perfect condition. The perfect condition part is the most crucial bit. The chances are, if you find a watch from any of the 12 brands forming the Dirty Dozen, it will have more than its fair share of wear. That'd be an issue for me. It's why I've never dabbled in vintage watches, as I like to add the wear to my watches by myself. Finding NOS condition vintage watches, in general, is challenging. If you do happen upon one, chances are it'll also have a hefty price tag. That's why the Timor Heritage Field watch appeals so much.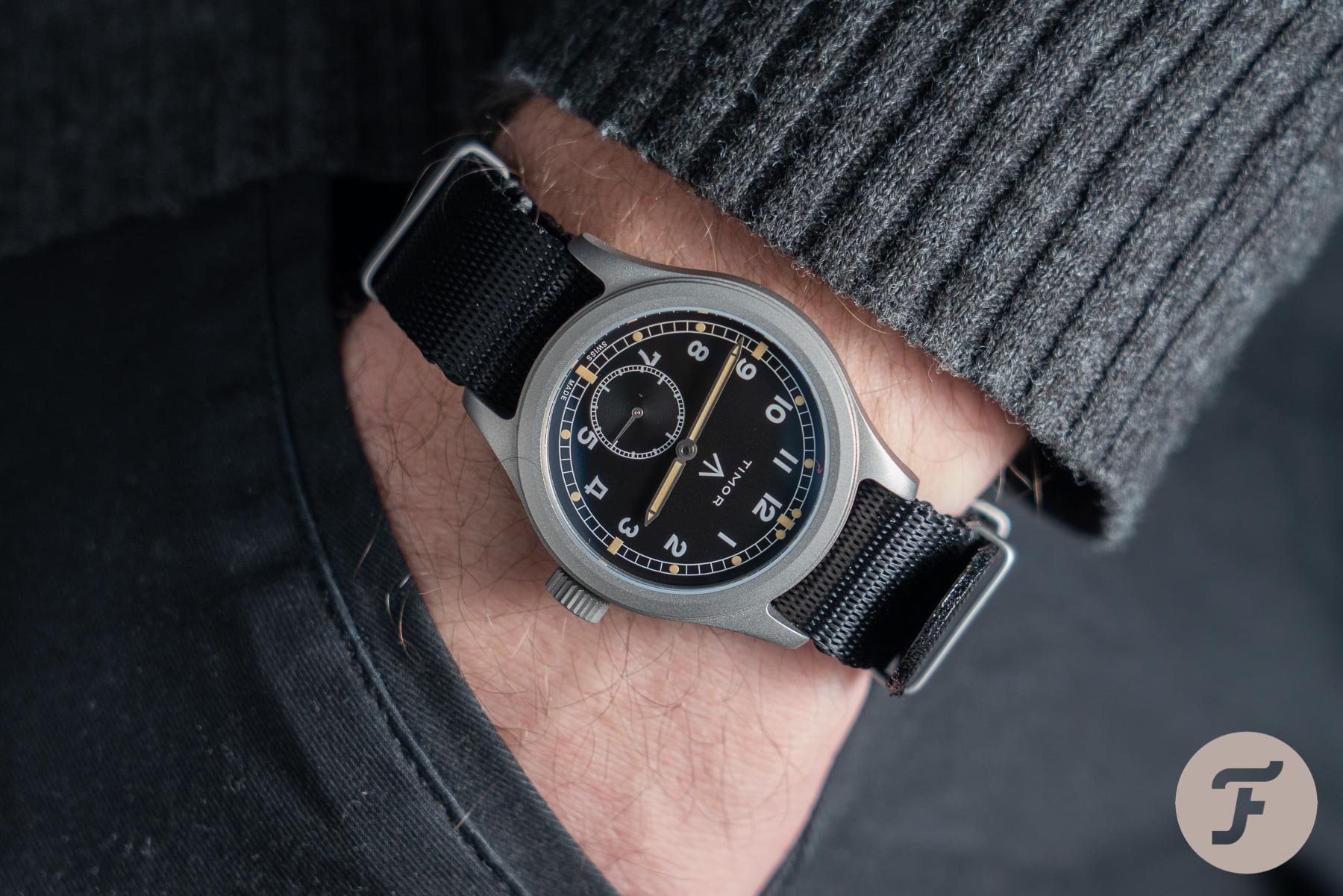 The core DNA remains true
Basically, the folks behind the rebirth of the Timor brand have changed very little about the watch from its vintage past. The few things that have been updated have been done so cleverly and with great poise. For example, the font is slightly more modern and thicker, but not so much that it's a noticeable departure from the original. Even the large oversized (for the time) crown has been further enhanced. As Rob succinctly theorized, "I think Timor has done this to play on our expectations of what constitutes a military watch and to feed the stereotype that a field or pilot's watch should have a large, easy-to-grip crown. Had Timor reproduced the original crown, it would, by today's standards, appear average. While the modern crown size is different from the original, it expresses the same point of difference that a direct imitation would not have been able to live up to".
I wholeheartedly agree with Rob's thinking there. It's a smart design from the creators at Timor, and it's subtle touches like that which make me love the reissue even more. Even the price is excellent for what you get, with a nice Sellita caliber powering things on the inside too. The Timor Heritage Field makes a nice change-up from the dive watches I seem to gravitate towards.
You can read more about the Timor Heritage Field in Rob's review here or on the Timor website.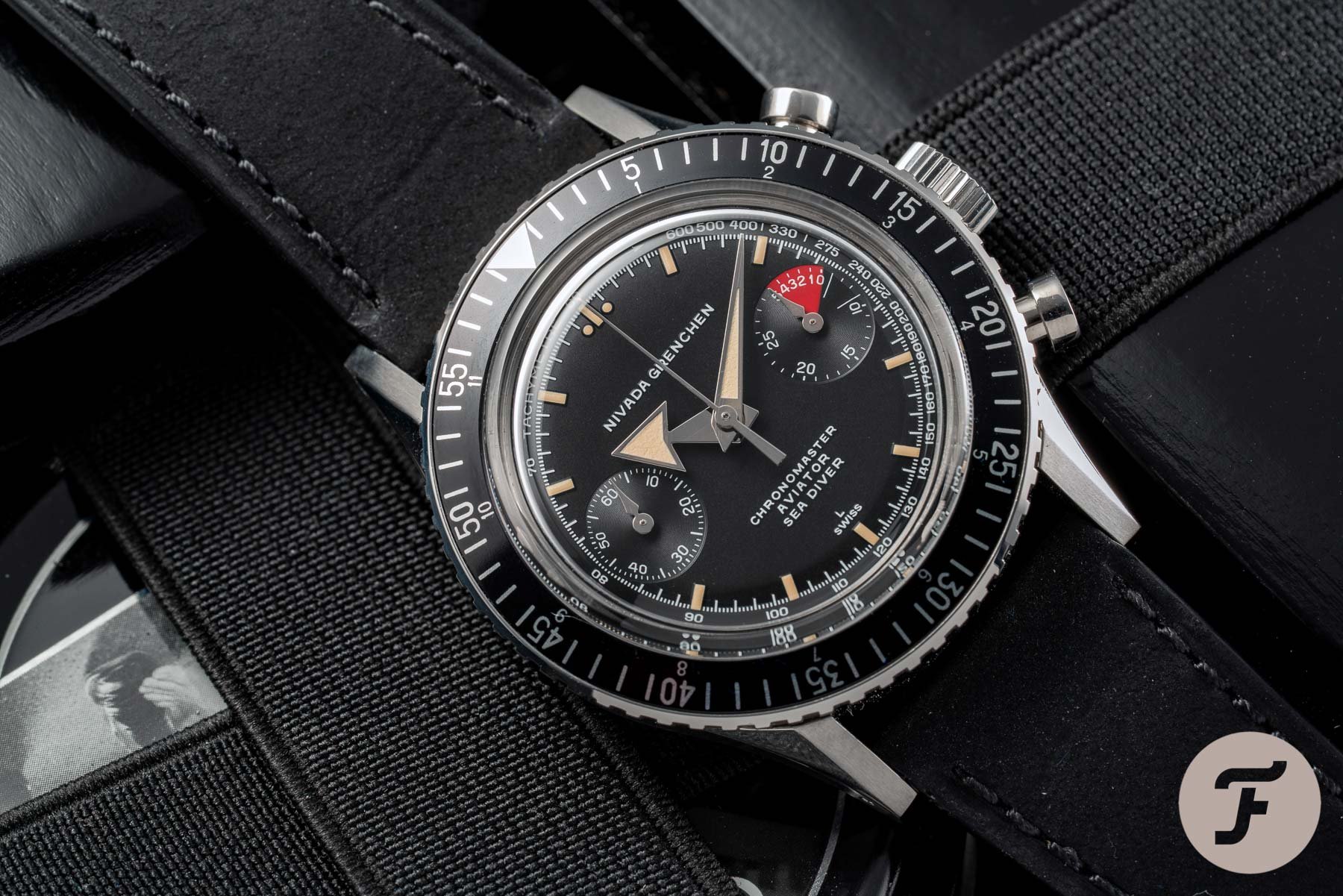 4. Nivada Grenchen Chronomaster Aviator Sea Diver (1,570 CHF=€1,440.98)
Next up, we have the most expensive watch on my list, but boy is it a doozy. It is also the only chronograph to make my team. As I mentioned above, I love the look of vintage watches — especially vintage chronographs from the '70s and '80s. But I do not like the wear and tear that comes with vintage watches. Additionally, when you start talking about vintage chronograph movements, servicing costs can add a considerable chunk of cash onto the price. So for that reason, I was very interested when the Nivada Grenchen brand was resurrected a year or two ago.
We saw the brand bring back one of its most iconic watches, the Chronomaster Aviator Sea Diver. Not only was this an excellent reissue of the original, but it also had some sensible and modern upgrades. Balazs was lucky enough to go hands-on with two of the prototypes back in October of last year. You can read his hands-on review right here.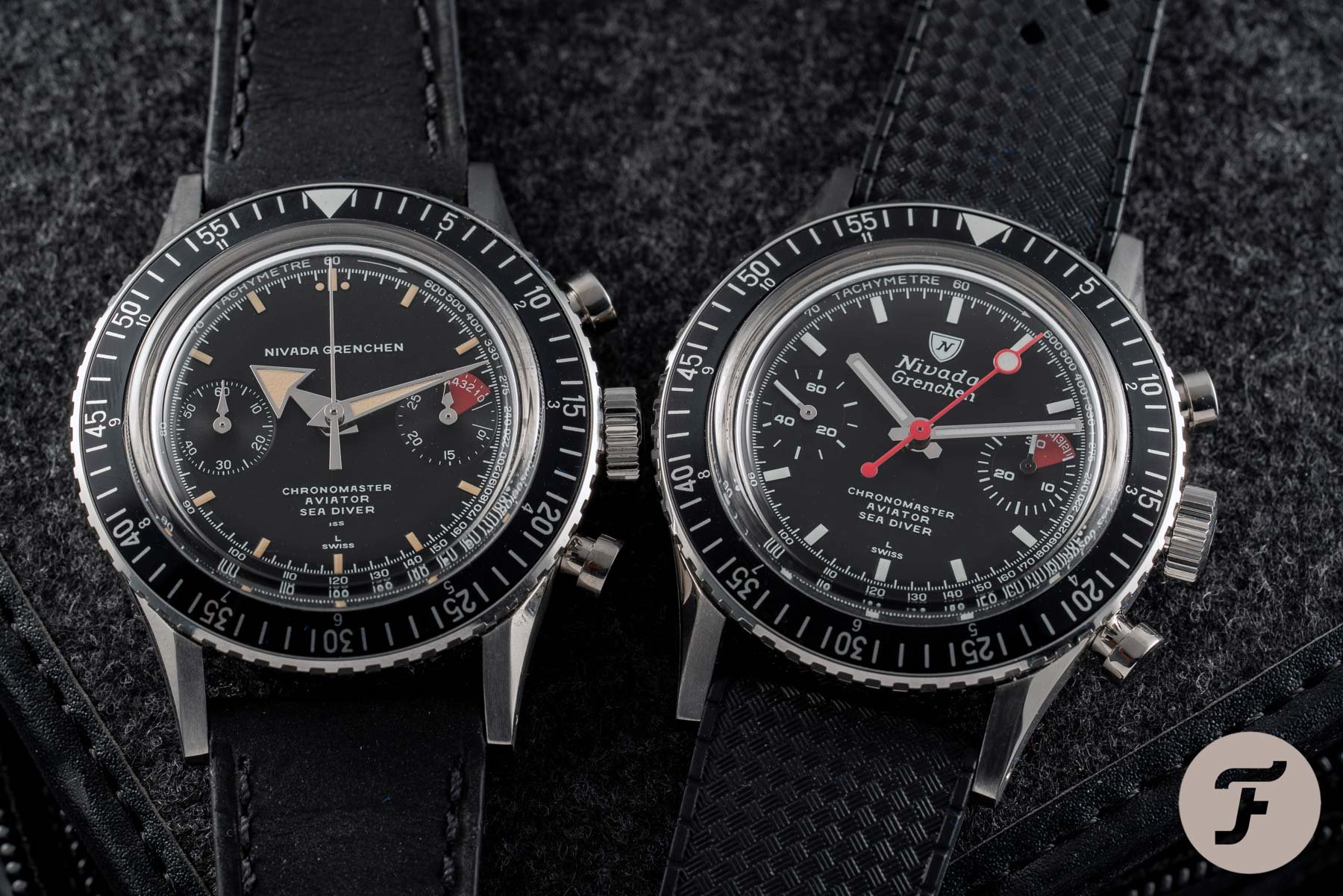 Slimmer is better
Nivada Grenchen conveniently offers you the choice of automatic or manual movements. The vintage Chronomaster models all had manual movements, so giving people the choice is a nice touch. I would choose the manual movement here. Not for any nostalgic reasons, purely because I don't have any manual movements in my collection, and it's a little slimmer than the automatic version (13.75mm vs. 14.8mm). Regardless of the movement type you choose, Nivada Grenchen offers several different versions of the Chronomaster, all based on actual vintage models. The most iconic is the black Chronomaster with broad arrow hands, which is my choice here. The panda dial option is also quite attractive, but I seem to gravitate towards the black dial. Possibly because it's a little more versatile.
Nivada Grenchen offers the Chronomaster Aviator Sea Diver on various strap configurations. While I wanted the stainless steel beads of rice bracelet, that would have taken the price over my €1,500 budget. So, instead, I chose the black leather strap. I think the watch looks pretty smart on the black tropic strap too, but I have plenty of those in my strap box already, so the leather was the obvious choice for me here. You can find out more about the Nivada Grenchen on the brand's website here.
5. Ollech & Wajs P-101 S (1,096 CHF = €1,005.83)
Last but not least, my fifth selection was one that perhaps surprised me a little bit too. I had wanted to avoid adding another diver to the lineup, but you know how these things go. I mean, it's technically not a dive watch due to the lack of elapsed time marking on the bezel, but at a glance, it definitely has the dive watch vibe to it. Of course, I am talking about the Ollech & Wajs P-101 S. The P-101 S has a useful 12-hr rotating bezel and 300m of water resistance, making it an excellent tool watch.
Too thick?
I like quite a few of the Ollech & Wajs dive watches, but I've been put off by the thick domed crystals, which add a considerably extra thickness. The perfect example of the Ocean Graph S. The domed sapphire crystal is 5.6mm thick, taking the overall thickness of the watch to 15.8mm. That's a little thicker than I'd like. The P-101, however, has a flat sapphire crystal meaning the overall thickness is just 12.5mm. That's very wearable and nicely in proportion with the 39.56mm case.
Where the P-101 S excels over the Ocean Graph is the uber-cool ladder hand. It's really unique and not something I've seen on any other watch. It's odd and quirky, but I love it. On the topic of the hands, they have a solid brushed finish which looks terrific. I've not seen these watches in hand, unfortunately. Still, I have seen many images showing the brushing on the hands and the applied cardinal hour markers very clearly. I much prefer that to polished hour markers. It fits the industrial, no-nonsense tool watch vibe much better.
It's not all lollipops and rainbows
The only possible downside is that the 12-hr bezel is a friction/slide bezel, rather than the click you might expect. There's nothing inherently wrong with this on a non-dive bezel, but I just think I'd prefer that tactile feel of a click bezel. I like to set my bezels and know that they're set and not potentially going to get knocked out of place. Not the end of the world, but probably my only negative.
Finally, my budget allows for the stainless steel bracelet, so that's the way to go. RJ has always been vocal in saying that you should always get the bracelet with a watch purchase if you can afford it. That's because buying the bracelet separately will always cost you more in the long run. It's a valid point and one I shall heed here. The bracelet is a beads-of-rice style bracelet (another one!!), and it looks well machined and comfortable.
If you want to find out more about the Ollech & Wajs P-101 S, you can do so on the brand's official website here.
So there we have the 5 watches I'd buy for under €1,500 each. I could probably spend hours and hours further researching this topic, and it's possible that maybe a couple of these pieces might change if I did. Still, I'm pleased with my lineup as it is. All 5 watches would be welcomed into my watch box. I'm very keen to hear from you too — what five watches would you have picked? If you sit down for a few minutes and think about it, you'll quickly realize how difficult it is! Let me know in the comments!
Bonus content! The close calls…
A couple of close calls nearly made it into the lineup, but I chose to go with something else for one reason or another. In case you were interested, here they are!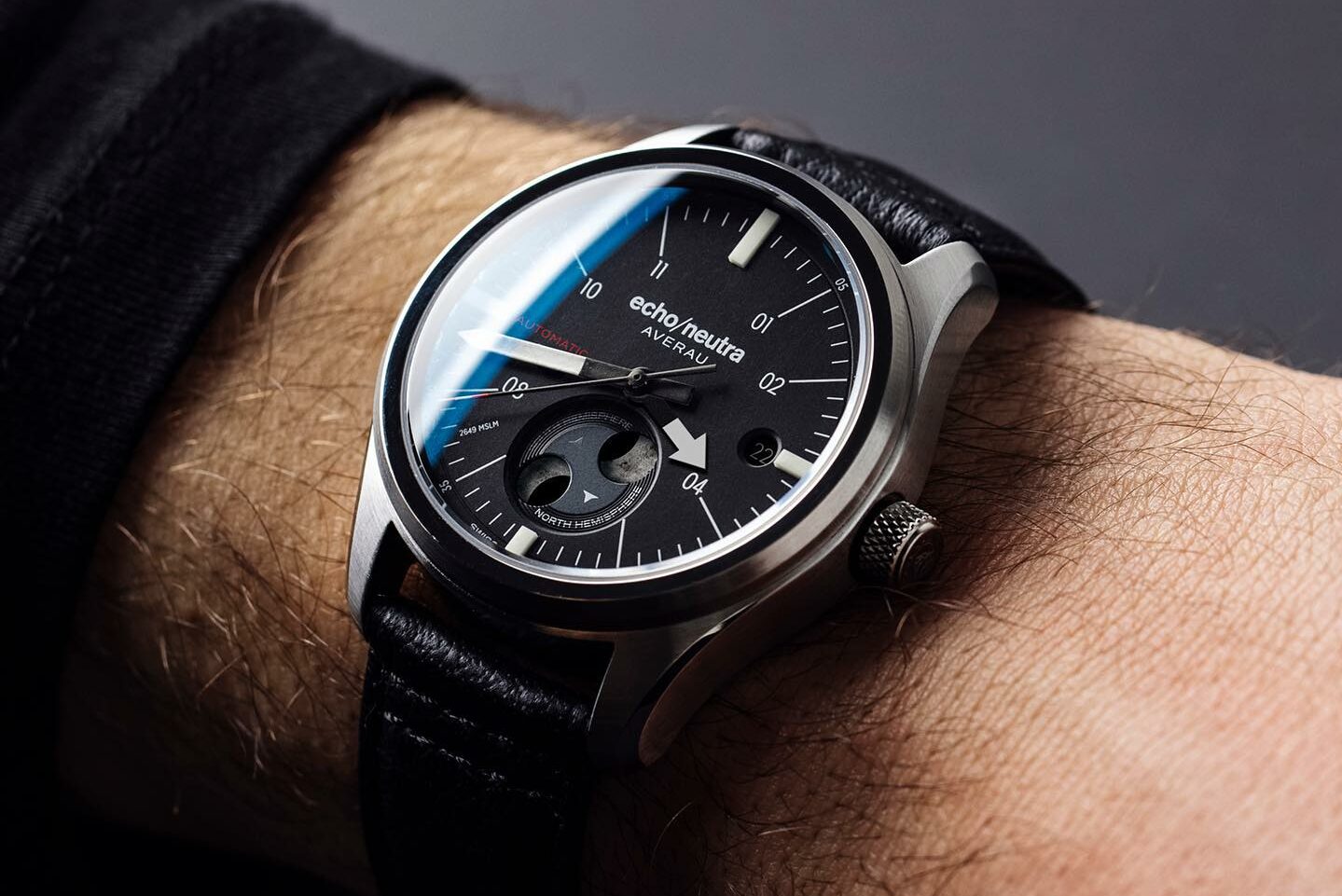 Echo Neutra Averau Moonphase (£438.52=€510.92)
This is a watch I've loved ever since the first time I laid my eyes on it. It's a beauty with a very modern moonphase display and would definitely add something different to my collection. I was close to including it, but it's technically not quite available yet, which I felt was cheating. Also, I wanted to try and stick to watches that used a little more of the budget than the Echo Neutra did. It feels weird saying the watch is too "too affordable," but there you are. Wild times we live in!
Read more on Echo Neutra's website.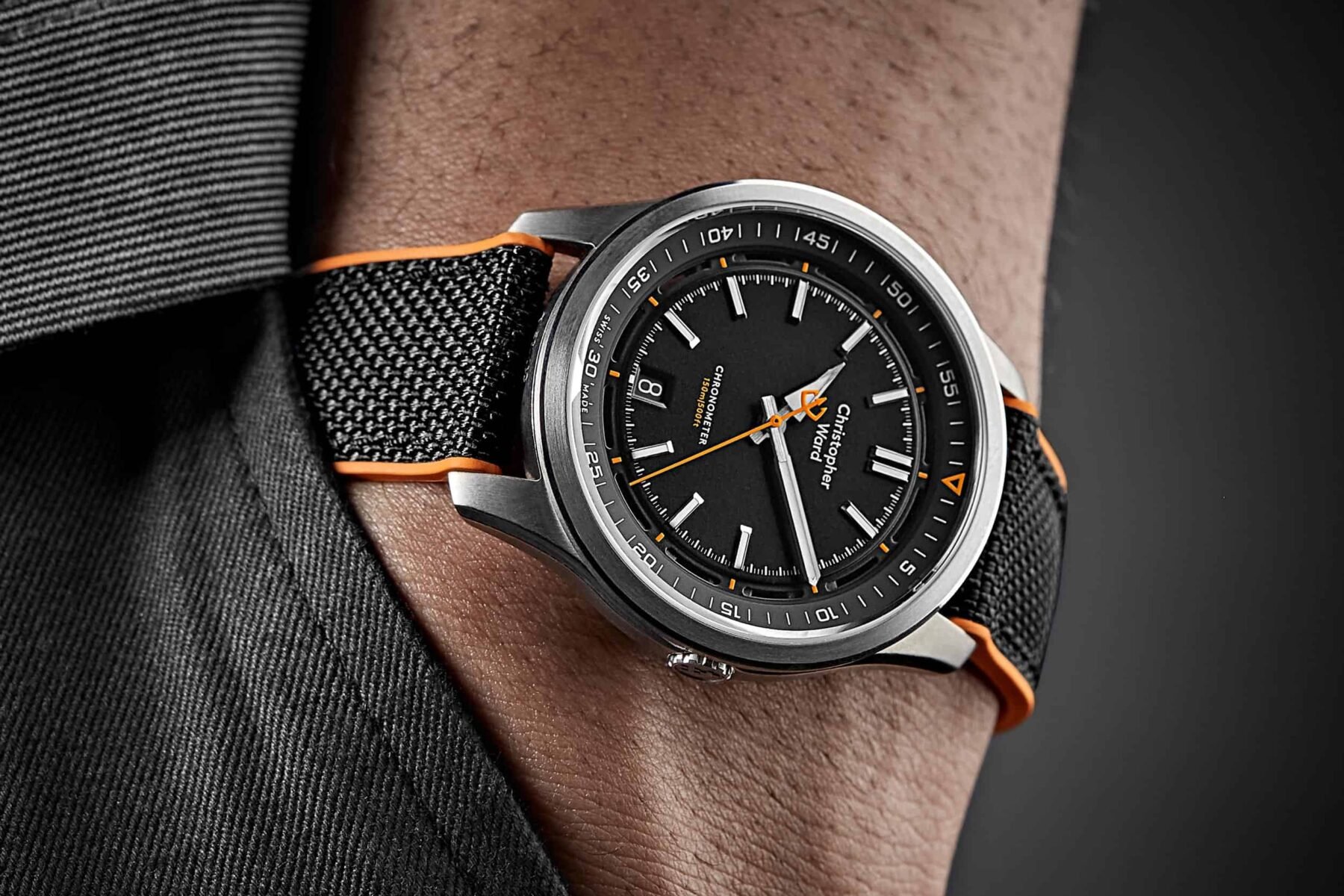 Christopher Ward Sealander Elite (£1,150=€1,339.24)
Another cool-looking watch, and one that perfectly fits into the available budget. It has a retractable crown that stops it from digging into your hand when cycling or rock climbing. It prevents unexpected knocks to the movement, too. I thought the case looks well machined and streamlined against the wrist, but there was one thing I just can't get past — the brand name/logo. It always just looked a bit out of place to me. I'd much prefer Christopher Ward to use the twin flags logo, especially seeing as the brand's namesake has since left the company. The twin flag logo would be neater and more unobtrusive and would have earned the Sealander Elite a spot in my lineup! Find out more about the Christopher Ward Sealander Elite here.
Follow me on Instagram: @davesergeant