MB&F – More than meets the eye
The Horological Machine No.3 has been introduced by Maximilian Busser & Friends. This time, MB&F were able to make their customers choose between two watches. Two watches have been introduced, by the names of Sidewinder and Starcruiser. And when I look at them, I think these names are well chosen. I am still pondering whether these timepieces remind me of Starwars or of one of my favorite childhood cartoons, Transformers (More then meets the eye).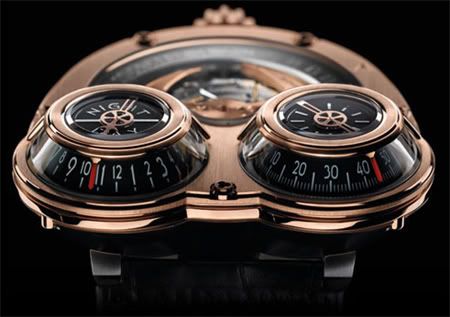 The 304 component movement in these timepieces is a three-dimensional horological engine designed by Jean-Marc Wiederrecht/Agenhor. It has a Girard-Perregaux oscillator and gear and ticks at 28,800 bph. The 22k rose gold battle-axe shaped mystery automatic winding rotor can be seen at the picture below.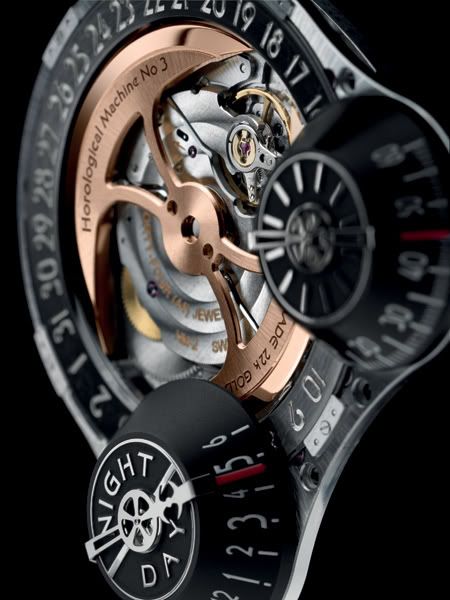 And now for something completely different… the movie credits:
Concept: Maximilian Busser/MB&F
Product Design: Eric Giroud / Eric Giroud Design Studio
Technical and Production Management: Serge Kriknoff/MB&F
Movement Development: Jean-Marc Wiederrecht/Agenhor, Nicolas Stalder/Agenhor
Movement manufacturing: Georges Auer/Mecawatch, Salvatore Ferrarotto/APR Quality
Ceramic ball bearings: Patrice Parietti/MPS
Movement assemblage: Didier Dumas/MB&F, Gilles Dalloz/Agenhor
Case and buckle construction and production: Philippe Marti, Dominique Mainier and Stephane Lhomme of G.F.Chatelain
Sapphire cones: Sebastien Sangsue and Gregory Esseric/Sebal, Peter Bloesch/Bloesch
Dials: Francois Bernhard and Denis Parel of Nateber
Hands: Pierre Chillier, Isabelle Chillier and Felix Celetta of Fiedler
Strap: Olivier Purnot/Camille Fournet
Presentation case: Frederic Legendre/Lekoni, Isabelle Vaudaux/Vaudaux
Communication:
Graphic Design – Alban Thomas and Gerald Mouliere of GVA Studio
Product Photography – Maarten van der Ende
Display Architecture – Frederic Legendre/Lekoni
Portrait Photography – Regis Golay/Federal
Webmasters – Stephane Balet and Guillaume Schmitz of Sumo Interactive
Texts – Ian Skellern
Project Manager – Estelle Tonelli/MB&F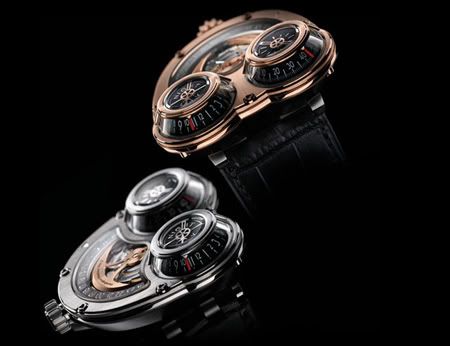 Visit www.mbandf.com for all the detailed information you didn't find here. Delivery of the first HM3 pieces will start March/April 2009, and MB&F expects to deliver approximately 25 pieces of each reference over the following 12 months.