The World Is Ready: Purple Watches From TAG Heuer, G-Shock, Fears, And More
Will this noble color stick around past 2022?
The color purple — it's royal and, until recently, an extremely rare color for watches. Sure, fashion brands with infinite variations of their watches slip a plum model in here or there. But in the last year, watch companies across the price spectrum have begun to introduce purple as a color option. Some of them are limited, but some are not, and that's good news. TAG Heuer, G-Shock, Fears, and others are testing the waters with purple watches. Here's hoping they stick.
A little more than a year ago, Brandon wrote an article calling on the industry to use more purple for watch dials. With some photo-editing wizardry, he was able to provide examples of how scrumptious some of his proposals would likely look. It was a brilliant idea and one that ingrained itself in me as something I'd like in a watch as well. It wasn't until I came across the William Wood Triumph Bronze Jubilee that the purple flame burned within me again. Back on the scent and on the hunt, I found that players in the watch industry have quietly been releasing purple watches since Brandon's article published. I'm not going to say that his article tipped the scales, but I'm not going to say that it didn't either.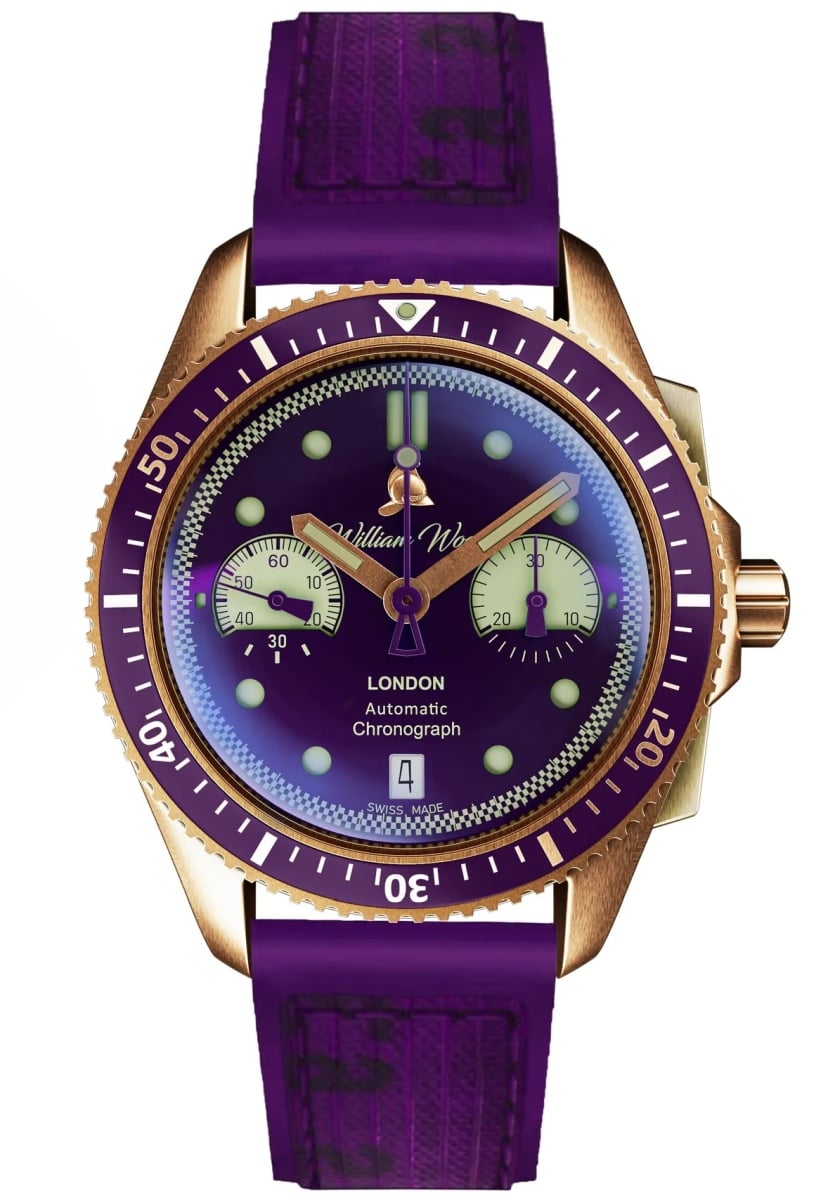 William Wood Triumph Bronze Jubilee
The Triumph Bronze Jubilee is not the only British watch featuring a purple dial that we'll see on this list. There's a reason for that. This year, 2022, marks the British Queen's 70th anniversary of rule. That's no small feat, and the United Kingdom is celebrating in numerous creative ways. We stand to benefit, with the royal color purple making interesting appearances in all sorts of products including watches. Unfortunately, unless the market rallies behind this radical color, we'll see the end of purple for some brands with the passing of 2022.
The William Wood Triumph Bronze Jubilee is a unique watch that spawns from an already unique company. William Wood is a watch company oriented around British firefighting history. Some watch companies focus on aviation (*cough* Bremont), and some focus on firefighting. It's a unique approach, but William Wood can't be accused of deriving inspiration from any other brands.
The Triumph Bronze Jubilee is a bronze bi-register chronograph with a rotatable count-up bezel and, yup, a purple dial. In my opinion, bronze and purple are a match made in watch heaven. The warmth of the metal pulls out the warmth of the purple for a watch that feels, well, regal. The purple doesn't stop at the dial though. One of the selling points of William Wood watches is that the company uses recycled fire hoses for its straps. After years of searching, William Wood sourced some surplus fire hoses in purple from Japan. The effort was worth it.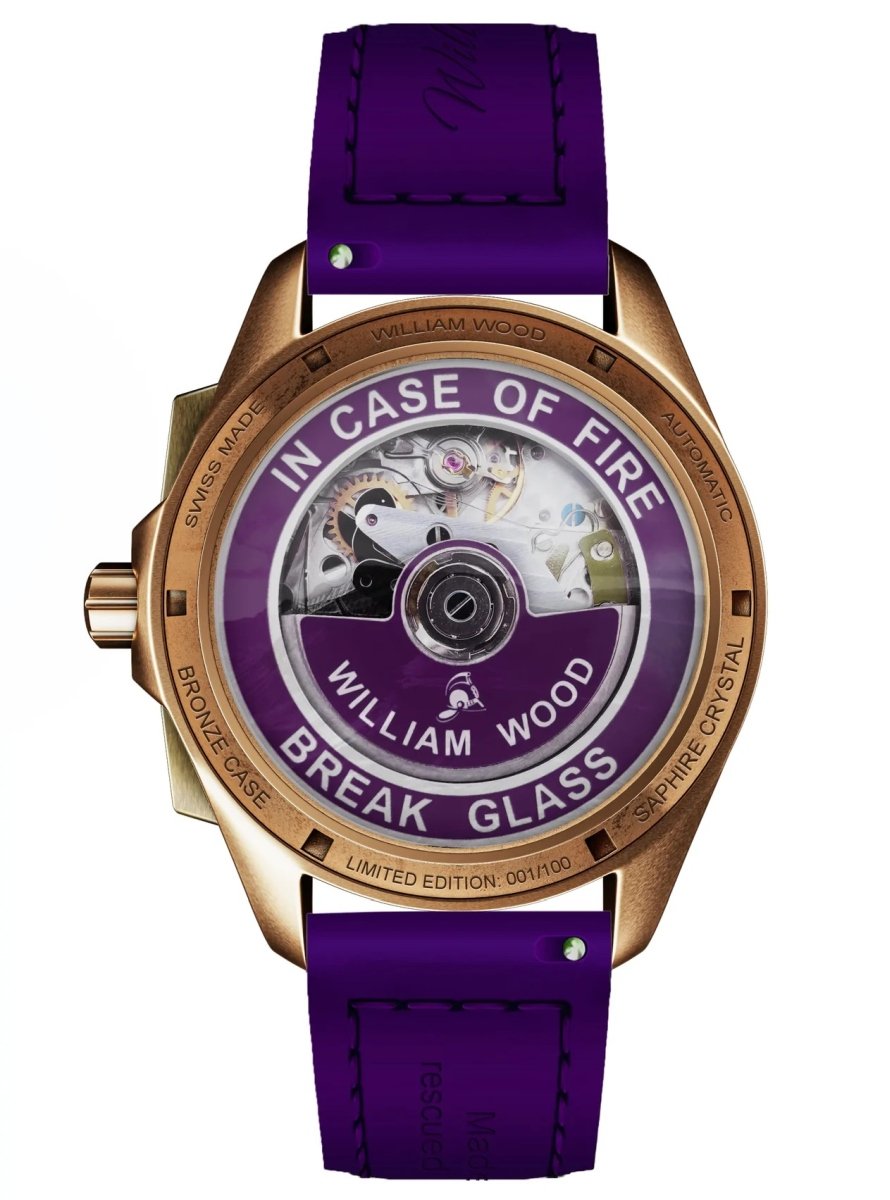 Triumph Bronze Jubilee details
The sub-dials are in the style of pressure gauges, perfect for the fire hose motif. Circling the see-through case back is a cheeky "In case of fire, break glass". Breaking the sapphire case back window in a fire is just about as helpful as the fire hose strap, but it's an element of fun that I appreciate. Of course, the text and signed rotor are in matching purple.
That rotor winds an automatic Sellita SW510 — a reliable chronograph movement with a power reserve of 48 hours. The chronograph measures up to 30 minutes at the 3 o'clock sub-dial. Running seconds is at 6 o'clock. The chronograph and running seconds hands are purple (what else?) with a nice lumed lollipop on the chronograph seconds hand. The hour and minute hands are bronze, matching the case, crown, and paddle-shaped pushers. The date window is at 6 o'clock, in an uncomfortably and unfortunate bright white. I would've liked to have seen the date background subdued some to blend in.
The case is 41mm in diameter and 13.8mm thick with a very manageable lug-to-lug of 47mm. Water resistance is a solid 100 meters. Sapphire crystals adorn the front and back. On the crown is an emblem made from brass from a 100-year-old British firefighting helmet.
The William Wood is a thoroughly purple watch with a unique design, an emphasis on history, and solid specs. If a purple chronograph is what you're after, at £2,795, you can't go wrong with the Triumph Bronze Jubilee.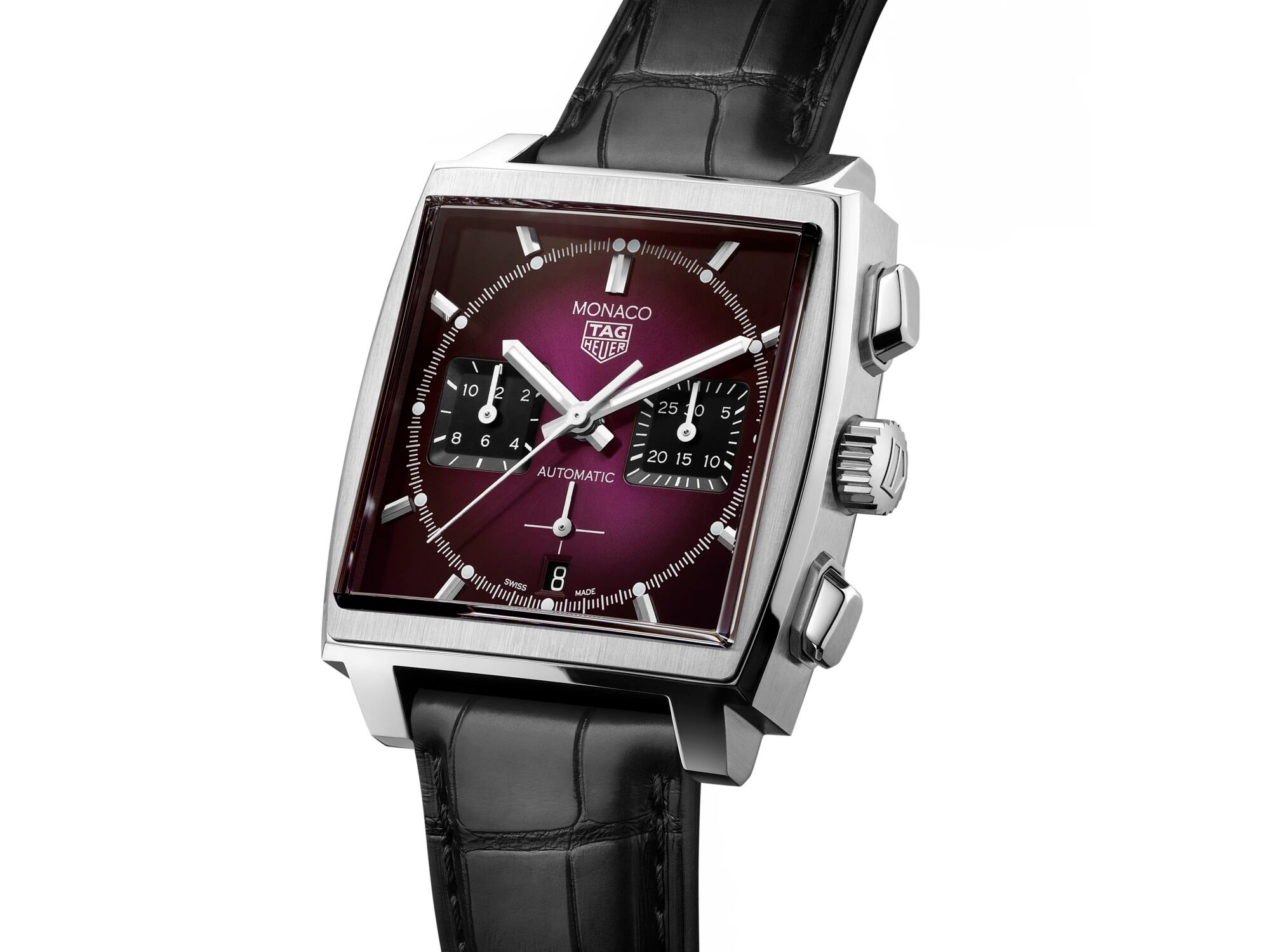 TAG Heuer Monaco Purple Dial Limited Edition
If the William Wood Triumph Bronze Jubilee is too purple a chronograph for you, you can always take a toned-down approach with the TAG Heuer Limited Edition Purple Dial Monaco. Sky Sit did a write-up on it last month, and even though it's a limited edition, TAG's introduction of purple into its catalog gives me hope that purple is making its way into the industry without the crutch of a Royal Jubilee.
I won't go into all the specs and details here, as Sky's article is a short read yet gives this Monaco the attention it deserves. The purple-dial Monaco is a true Monaco, the only departure being the new color palette. A sunray gradient dial fades to black at the edges and frames black chronograph sub-dials at 3 and 9 o'clock. It's a rich execution of color. The date window at 6 o'clock features white text over a fitting black background. The black alligator strap, iconic square case, and glow of purple from the dial make for a watch that's positively villainous. The purple Monaco is undoubtedly a statement piece.
The Monaco Purple Dial Limited Edition is powered by TAG Heuer's Calibre Heuer 02 with special purple detailing visible throughout visible via the exhibition case back. It's a subtle touch, unlike William Wood's approach. This movement provides a solid 80 hours of power reserve as well. With 100 meters of water resistance (though no swimming with that alligator strap) and a modest size at 39mm square, the Monaco in purple is a crisp win of a watch. TAG knows this too, limiting this special number to just 500 pieces, priced at €6,800. Call this a practice run or LVMH (which owns TAG) dipping its toe in the purple pool. If the Monaco Purple Dial Limited Edition is a success, we may see more purple from TAG Heuer and its sister companies soon enough.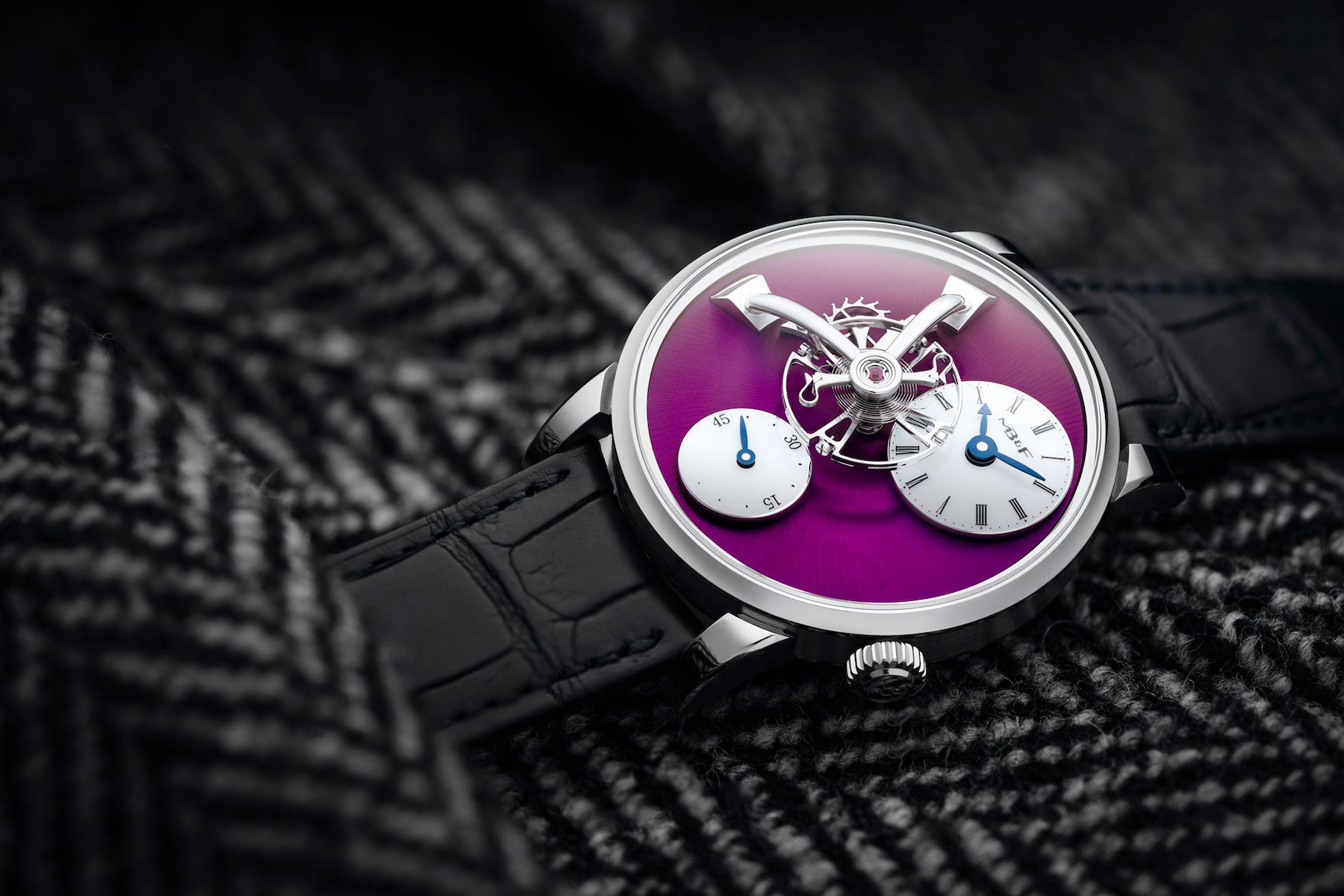 MB&F Legacy Machine 101 — A high-dollar approach to purple
White metals, black straps, and purple dials seem to be a vibe, at least within the limited selection of purple watches we have to choose from. The combination says, "I'm sexy and probably out of your league." In the case of MB&F's Legacy Machine 101 (LM101), it's absolutely right (at least for me).
MB&F has a penchant for radical watches. A purple dial, therefore, should hardly be a surprising choice. By MB&F's standard, the LM101 in purple is toned down. By any other metric, it's a stunning exploration of watch design. MB&F's Legacy Machine line is Max Büsser's conceptual approach to watchmaking had he been born 150 years ago. I believe his Legacy Machines would be just as shocking then as they are now, if not more so. But the approach to craft is grounded in the 19th century.
The custom movement — visible through the case back — is hand-finished throughout with polished bevels, Geneva stripes, and hand engravings. It's difficult to decide which side of the watch is nicer to look at. Ultimately, for me, the purple dial wins, as does the suspended balance wheel.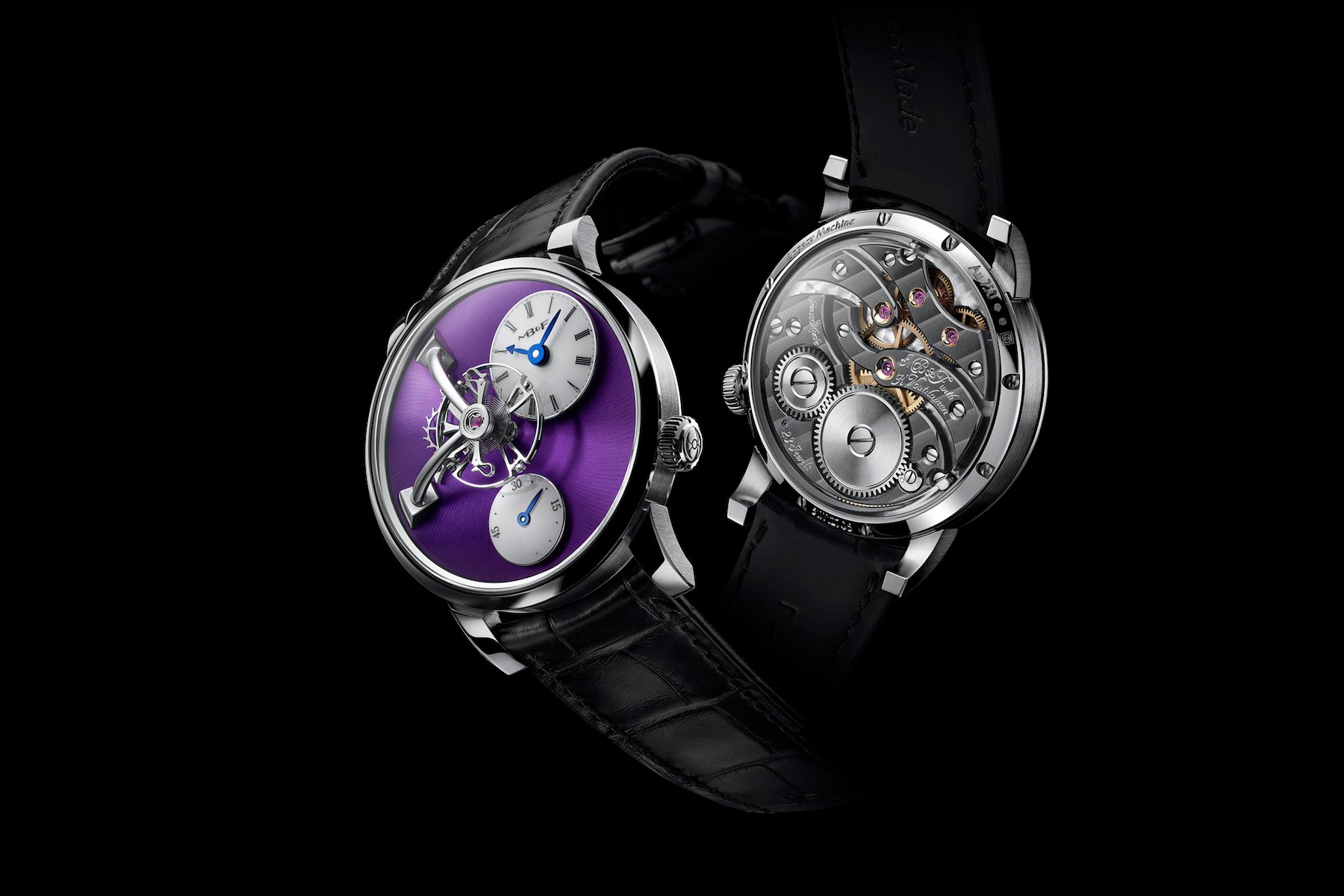 Legacy Machine 101 details
The front-and-center lifted balance wheel is framed by two sub-dials — an hour-and-minutes watch face at two-thirty and a power reserve at 6 o'clock that looks very much like a running seconds indicator at first glance. Beating at a slower and better-observable 18,000vph, the suspended balance wheel overlaps both sub-dials, kept aloft with its arched arms reaching from the outer edge of the dial.
And with all that space left on the dial, the purple color absolutely sings. The color choice and finishing cause it to look like it's almost glowing with its own light. Unlike other watches on which the dials are an integral part of the watch face, in the LM101, the dial feels like a vibrant backdrop to a watch that floats somewhere within. This feeling is heightened by the incredibly domed sapphire crystal, which imparts a snow-globe effect to the experience. With the radical crystal, the watch still only measures just over 15mm tall. At 40mm wide, the entire watch is not as large a canvas for this high art as other similarly ambitious watches.
MB&F's LM101 is hand-wound with a power reserve of 45 hours. The purple version and two others were released in the summer of 2021, just before Brandon's purple-watch article. In purple with a white gold case, the MB&F Legacy Machine 101 costs CHF 67,000. The models aren't limited, but production capacity is, so get on the waitlist if this is royal enough for you.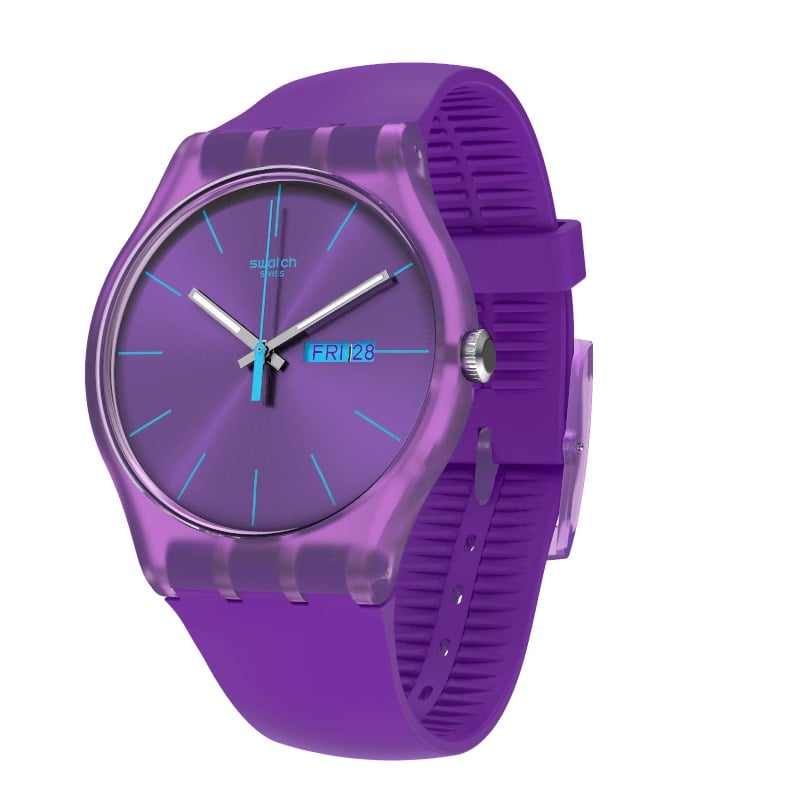 Swatch Purple Rebel
If MB&F is too rich for your blood, as it is mine, or if the Legacy Machines are too anachronistic for your tastes, join me in the here and now and affordable purple offerings from Swatch. Of course, if any watch brand was going to have a few purple options to choose from, it's going to be Swatch, king of color and options, as long as it's (mostly) plastic.
The Swatch Purple Rebel (ref. SUOV702) seems like a fitting model to pick from the brand's catalog. It's also a fitting name for this "new" color making headway into the watch market. A purple dial, purple case, purple strap, and purple buckle come together in what is undoubtedly one of the most purple watches you can find. It's the details that keep a monochromatic piece such as the Purple Rebel interesting. The plastic of the case and buckle plastic are translucent, revealing the fun (albeit unsophisticated) inner quartz workings. The purple strap is made of matte silicone. The purple dial has a metallic sheen to it, and the teal color of the hour indices, second hand, and day/date window provides some pop and contrast to all the plum. Stainless steel hour and minute hands, crown, and battery cover impart what, if any, seriousness the watch possesses.
The Swatch Purple Rebel is a juicy 41mm in diameter and 10mm in height for optimum visibility. At CHF 80, it's not going to break the bank, even if you wear it to the point of breaking. Unfortunately, the water resistance is a measly 3 ATM.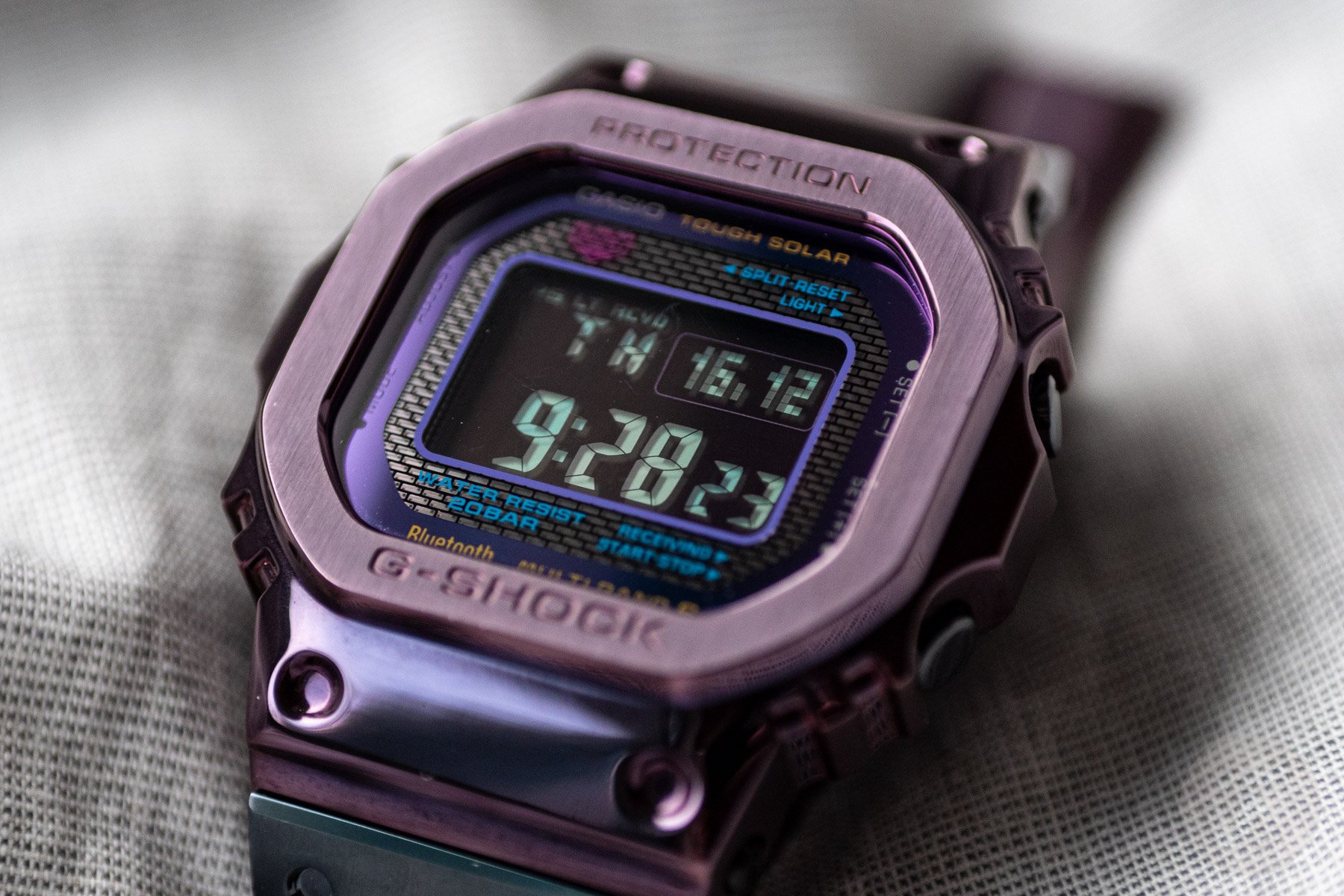 G-SHOCK Twilight Tokyo
But some purple watches are perfect for swimming and nearly impossible to break. The G-Shock Twilight Tokyo (ref. GMW-B5000PB) was a limited release from August 2021, just after Brandon's article was published. Only 500 units of the purple and gray-blue metal square were made, and they are all sold at this point, but used models are still easy to find online, ranging around US$650.
To those of you poo-pooing the addition of quartz watches (and an LCD screen at that!) among more prestigious mechanical pieces, let me remind you that one of our own Fratelli and resident poo-pooer of digital watches is a recent convert to G-Shock with a watch very similar to this one. G-Shocks are brutish and fun. Meant to withstand the rigors of life up to more atrocious abuses, it's no wonder that a G-Shock or two (or ten) of some sort have found their way into the collections of many watch collectors. Purple is certainly a fun color, and it's fitting that it found its way onto a G-Shock.
Even still, G-Shock played it relatively safe for a purple watch with the Twilight Tokyo. The colors are muted, and the bezel is lightly brushed. Nacho did a fun write-up of his hands-on experience and colors last year, which naturally differ from the press photography. It's worth seeing his pictures to see how muted the watch actually comes across in different lighting.
But what's important is that Casio is starting to play with the idea of purple for some of its most "masculine" watches. Sure, purple has turned up often enough in Baby-G, G-Shock's feminine arm. But the idea is catching on that purple isn't just for girls, and Casio isn't the only Japanese brand to think so.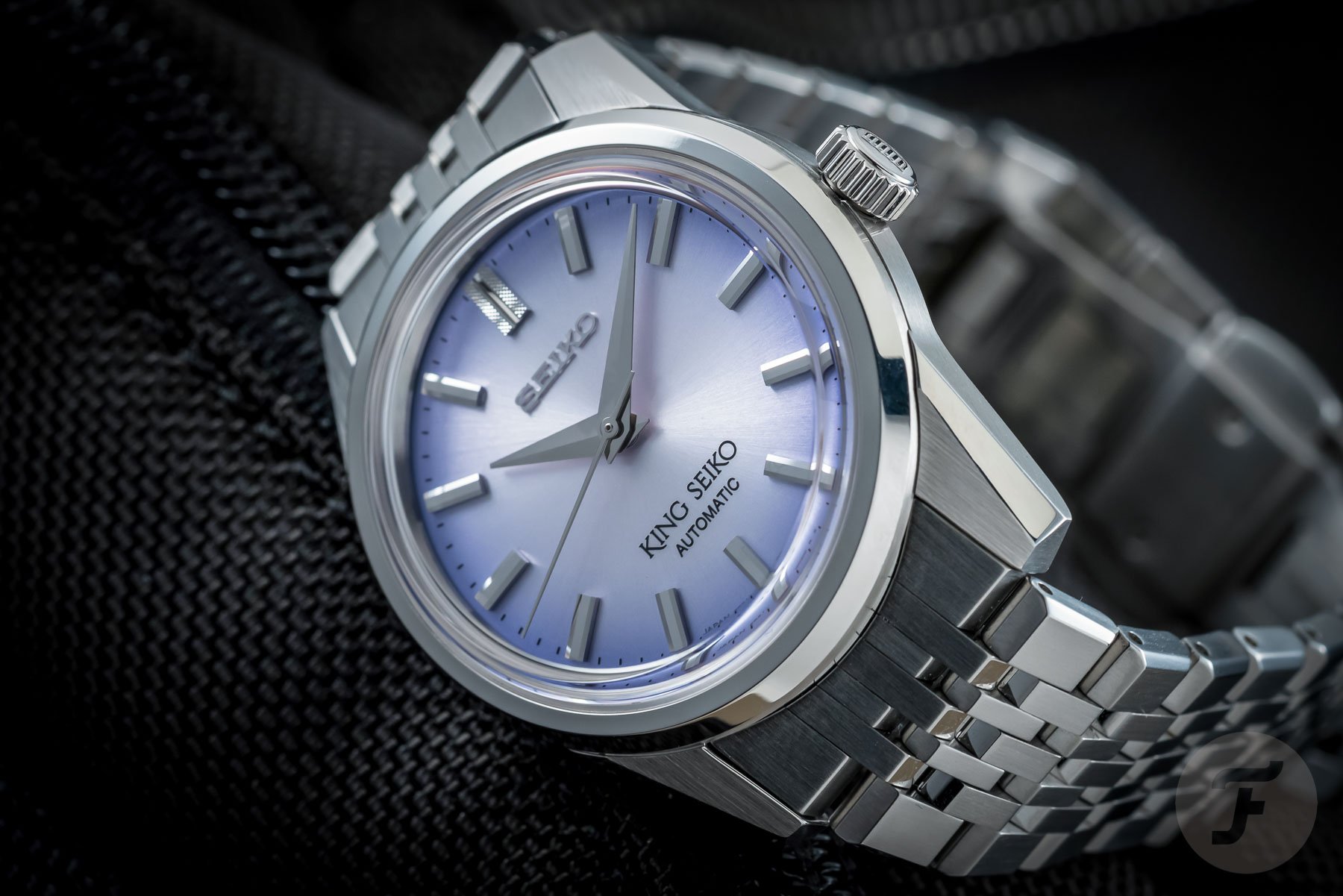 Seiko King Seiko SPB291
Just a few months ago, Seiko hopped on the purple train. Like G-Shock, however, the brand beat around the bush color-wise. This new SPB291 is another addition to the new King Seiko line, a recreation of a classic Seiko. Dave wrote about the original and these new King Seikos, so I won't get too into detail. The SPB291 does have a purple dial, but it's not fierce like TAG's or MB&F's entries. It's a gradient dial that hits closer to lilac in color. Fitting too, as this dial is supposed to be inspired by wisteria flowers at a certain Japanese shrine. Having done my share of professional gardening, I can say this Seiko dial metaphor hits very close to the mark.
I have to say I love this dial for a King Seiko. A purple dial — even one as light and airy as the SPB291's — is a dash of fun and whimsy that livens up the clean, classy, and almost sterile ensemble. It reminds me very much of the light pink dial on the Grand Seiko 62GS intended for the American market (SBGA413). Seiko indicates again that it can do flowery pastel colors without losing the charm and unisex nature of its watches.
If ever I wanted to see a watch company produce a rich, warm, purple dial, it's Seiko or (especially) Grand Seiko.
But it isn't purple enough, is it? Seiko and Grand Seiko do wonderful work with color, both pastel and fully saturated shades. If ever I wanted to see a watch company produce a rich, warm, purple dial, it's Seiko or (especially) Grand Seiko. But the King Seiko SPB291 indicates that purple is not off the table as an option in the future, at least for Seiko. And it's an excellent execution for what it is.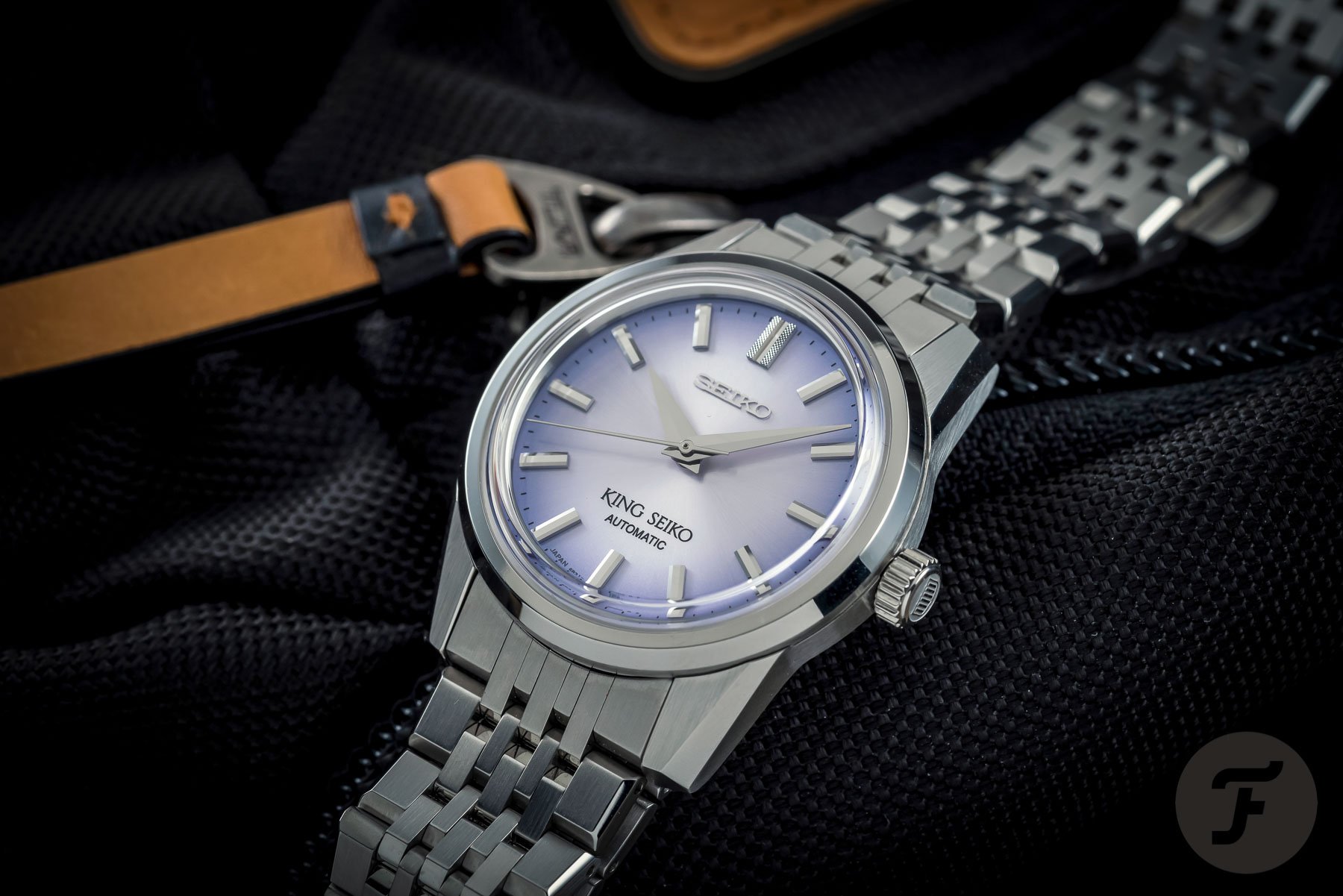 King Seiko SPB291 specs
These new King Seiko models, including the SPB291, utilize Seiko's 6R31 caliber, a no-date variant of the 6R35. The power reserve is a solid 70 hours, even if accuracy is left wanting within a tolerance of +25/-15 seconds per day. For all its classy and retro presentation (and dimensions at 37mm diameter), the watch is water resistant to 100 meters and utilizes a modern sapphire crystal. While there isn't an indication that the SPB291 is limited in number, it is a boutique exclusive, so you'll have to venture out to a Seiko boutique to get it. At €1,850, it's a solid purple watch for one that wants something more understated.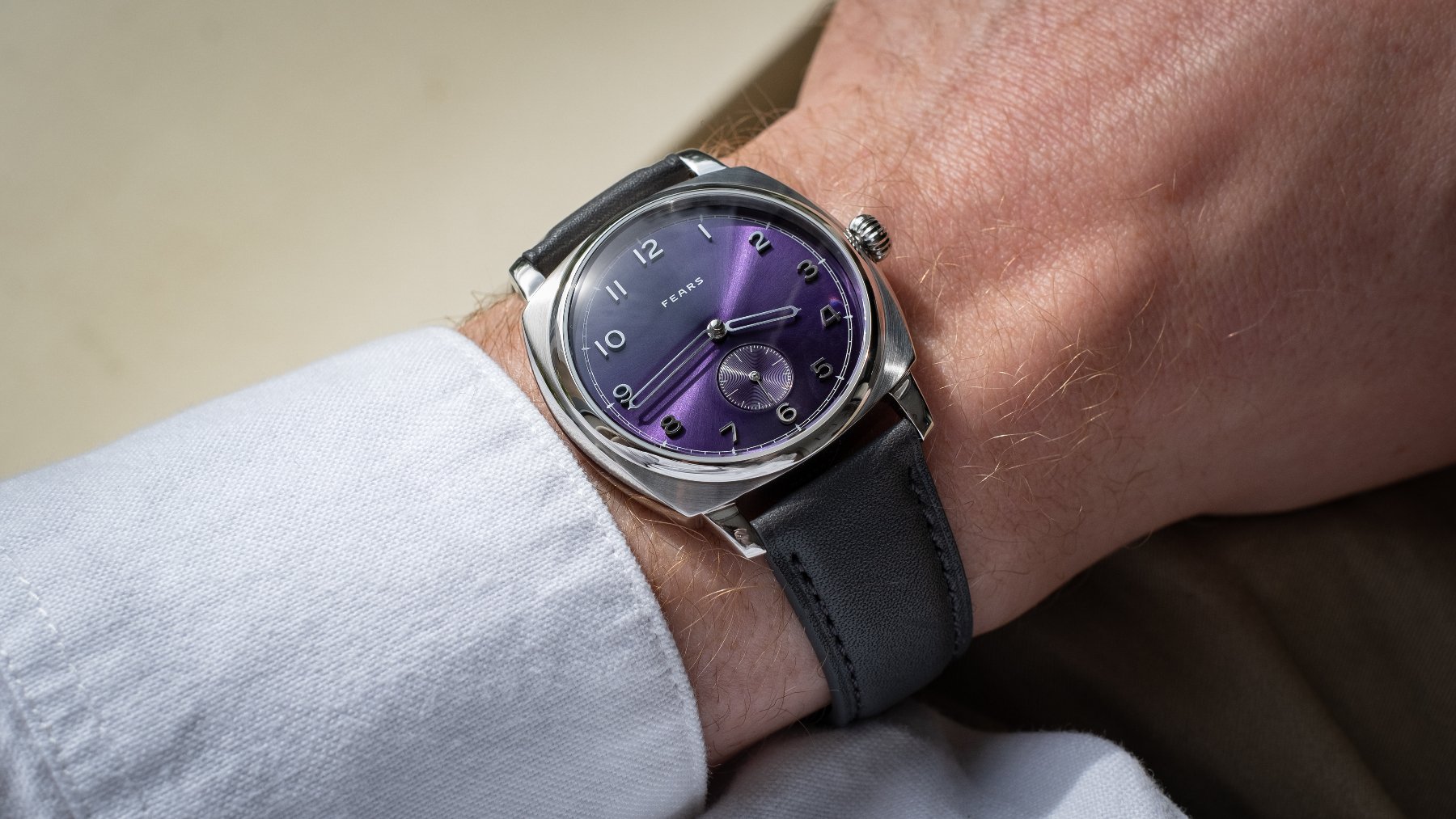 Fears Brunswick "Jubilee Edition"
If you need a daily driver with more pop, we return to Great Britain for another Jubilee-inspired watch. The Fears Brunswick "Jubilee Edition" is royally purple in a dashing package that should feel right at home in the office or at the bar. Sized at 38mm, the stainless steel cushion case is accessible to a host of wrist sizes (and genders!). Thor did a nice write-up of the purple- and champagne-dialed Brunswicks if you want more backstory.
I very much appreciate the skeletal rhodium-plated syringe hands over the purple dial. Color is key in this watch, and everything works together to support achieving maximum purple. The Brunswick "Jubilee Edition" even ships with two leather straps — a handmade Barenia leather in dark gray (for that "out of your league" look) and a handmade Bristol Leather purple strap with platinum stitching. Maximum purple has been achieved.
I like the onion crown as well, which in the case of such a purple watch seems more rebellious than traditional. Water resistance is 5 ATM, though those premium leathers might not do well wet. Inside the Brunswick "Jubilee Edition" is a top-grade hand-wound ETA 7001, though there's no seeing it with the solid case back.
The Fears Brunswick "Jubilee Edition" is limited to the year 2022. Unlimited orders for it will be accepted up to December 31st, 2022. Production will then finish up and shipping will commence in January of next year. At $3,675 excluding VAT, the Jubilee Brunswick is a fun-colored watch with some serious quality to back it up. It's class with pizzazz.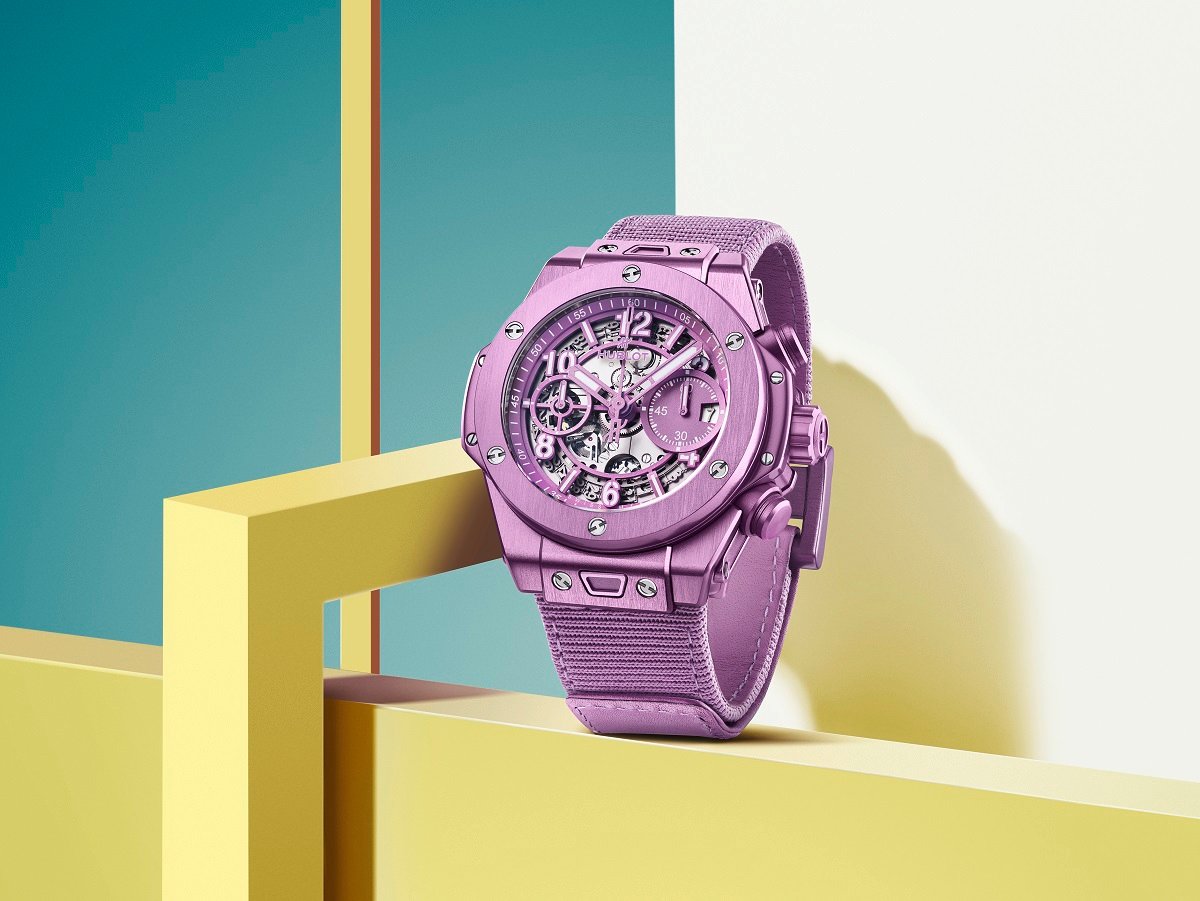 Honorable Mentions
Now, excluding the G-Shock Tokyo Twilight, all the watches featured so far are available now. But other brands have released purple watches in the past. I also haven't featured every purple watch available. There are some microbrands making good use of the color as well, like Direnzo, Tsao Baltimore, and Straton Watch Co. So now we get to our honorable mentions that didn't make the list but are still purple and pertinent.
The Hublot Big Bang Unico Summer Purple is a big, brash watch with all of the flair that Hublot is known for. Thor featured it in an earlier purple article. It's limited to 200 pieces but still seems to be available. It's €21,700 on a matching purple Velcro strap.
Rolex released a purple dial for the Oyster Perpetual at Baselworld 2015. It's no longer in production, but it can be found relatively easily in a few sizes used. It's a beautiful color and one that I wish Rolex had held on to a little longer. Expect to pay used steel Rolex prices for it.
Omega actually has a number of purple watches, from the Constellation, De Ville, and Seamaster lines. However, they are specifically marketed as women's watches. They come in smaller sizes with softer design cues in the typical "make it small and pretty" approach to women's watches. But some of them are actually quite pretty, especially the Seamaster Aqua Terra 150m at 34mm. It's €6,300 and a Master Chronometer, employing Omega's caliber 8800. Here's hoping purple bleeds over into some of Omega's less feminine watches.
A purple landscape
What we have here is a solid representation of the purple watches currently and recently available. It's more than what was available when Brandon made his case to the industry for more of the color. Maybe brands are listening to him, or maybe Brandon had his finger on the pulse. Either way, I'm of the mind that it's high time purple was the next green. Thankfully, a Royal Jubilee put a couple more purple watches on the map. One can hope that a ceremonial fluke stumbles into a trend.
What do you think of purple watches? Which would you wear? And who do you want to see release a purple dial in the future? Let us know in the comments below!
You can find more of me on Instagram @WatchingThomas.