The king of bling got sued
Jacob the Jeweler, king of bling, got sued by Cartier. In short, Jacob the Jeweler bought Cartier watches without ice (diamonds) and iced them all by himself. Cartier doesn't like it when people modify their watches ofcourse, especially not when only the gold versions of their watches are originally studded with diamonds. Icing the stainless steel versions, make the watch a lot cheaper ofcourse. According to Cartier, these watches "cannot properly be called 'Cartier' watches".
You can read the full story here.
Actually, I really think that no one will care about this except Cartier. Cartier is sooooo 1988. 🙂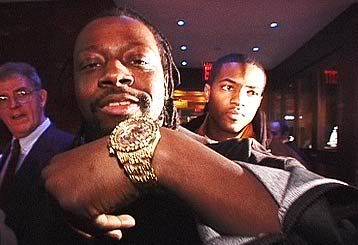 Rapper Wyclef Jean with his iced-out watch. Do these guys have no taste at all?
Source: Europastar