The Top 10 Vintage Watches Featured On #TBT in 2021
A juicy mix of grails, weirdos, and bargains
We brought you quite the handful in #TBT this year. To help you decide which vintage watches you should push higher on your bucket lists, I created 10 interesting vintage watch categories and nominated my winners.
Looking back through our weekly Thursday vintage boost, I am proud to say that it was a great mix of watches. They ranged from previously unseen pieces and $100 bargain to bizarre quartz watches, eye-watering provenance, and all-original, never-before-touched grail timepieces. Which parameter is the most important for you when choosing your next acquisition? Here are 10 categories showcasing how rich and diverse the passion for vintage watches can be.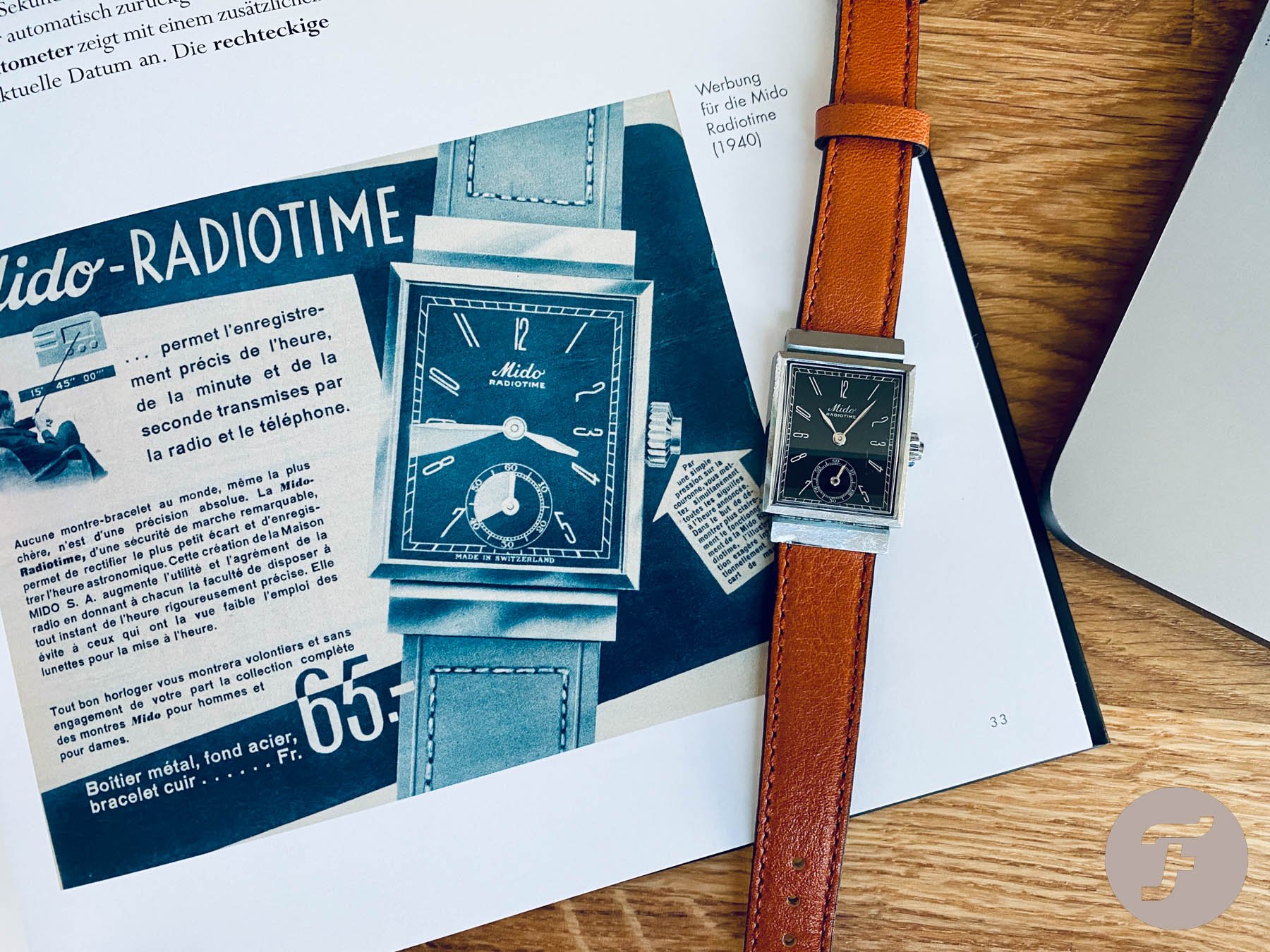 #1: Complication of the year: Mido Radiotime
It was of the longest hunts that resulted in one of my finest acquisitions, not simply of 2021, but rather, of all time. Over the last four years, there was just one Mido Radiotime with a beaten dial that popped up on eBay. I always wanted one, as it struck me as one of the most fascinating and least-known watch complications. It allows the resetting of the time with a radio signal. And I found one in such great condition that I could not believe my eyes.
Do you have childhood memories of radio pips announcing quarters and half-hour intervals? Upon hearing those indications, one could press the pusher poking out from the crown on the Mido Radiotime. This would cause two things to happen: the minute hand would reset to the nearest quarter-hour — either 0, 15, 30, or 45. At the same time, the small seconds hand would immediately reset to zero.
The Mido Radiotime was introduced in 1939, in an age long before cell phones gave us an easy time reference. I can imagine this being effective even in the 1990s when I was hitting puberty. In my in-depth review, you can even find a video that shows the Mido Radiotime running two and a half minutes ahead of the current time and how it syncs with a BBC radio time signal. If you ever see a Mido Radiotime for sale, you shouldn't hesitate at all to snap it up.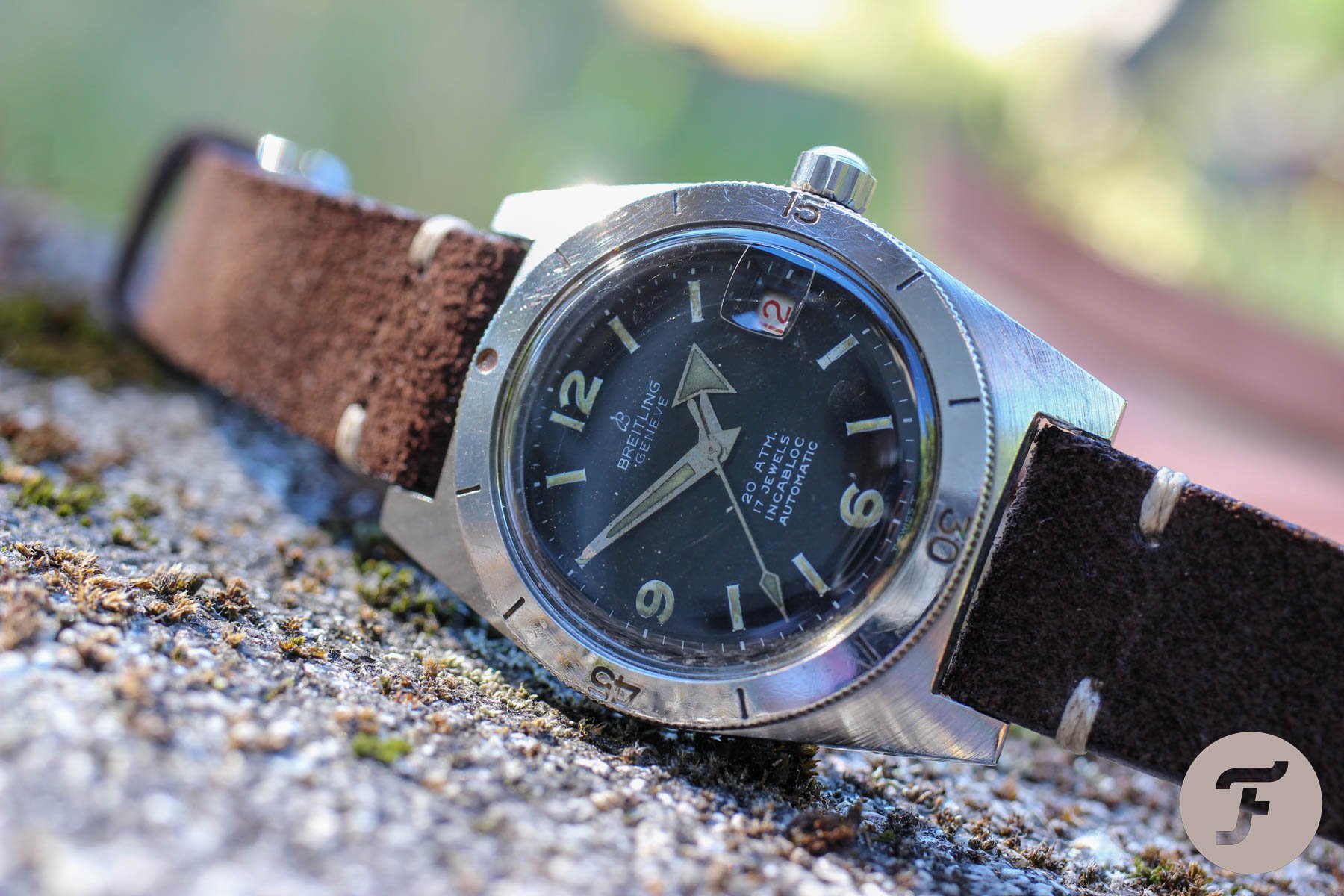 #2: Under-the-radar watch of the year: Breitling ref. 3865
In my article, I joked that the Breitling ref. 3865 is like David Beckham's younger brother — nobody knows he exists. Or maybe he doesn't even exist, and nobody cares. It was only when I was working on the SuperOcean ref. 2005 article that I bumped into a leaflet in which these two stood next to each other, with all eyes on David Beckham, obviously. Well, my recently developed affection towards skin divers couldn't let the younger Breitling go unnoticed any longer. It's a very satisfying watch, as only a vintage skin diver with the Breitling logo on it can be.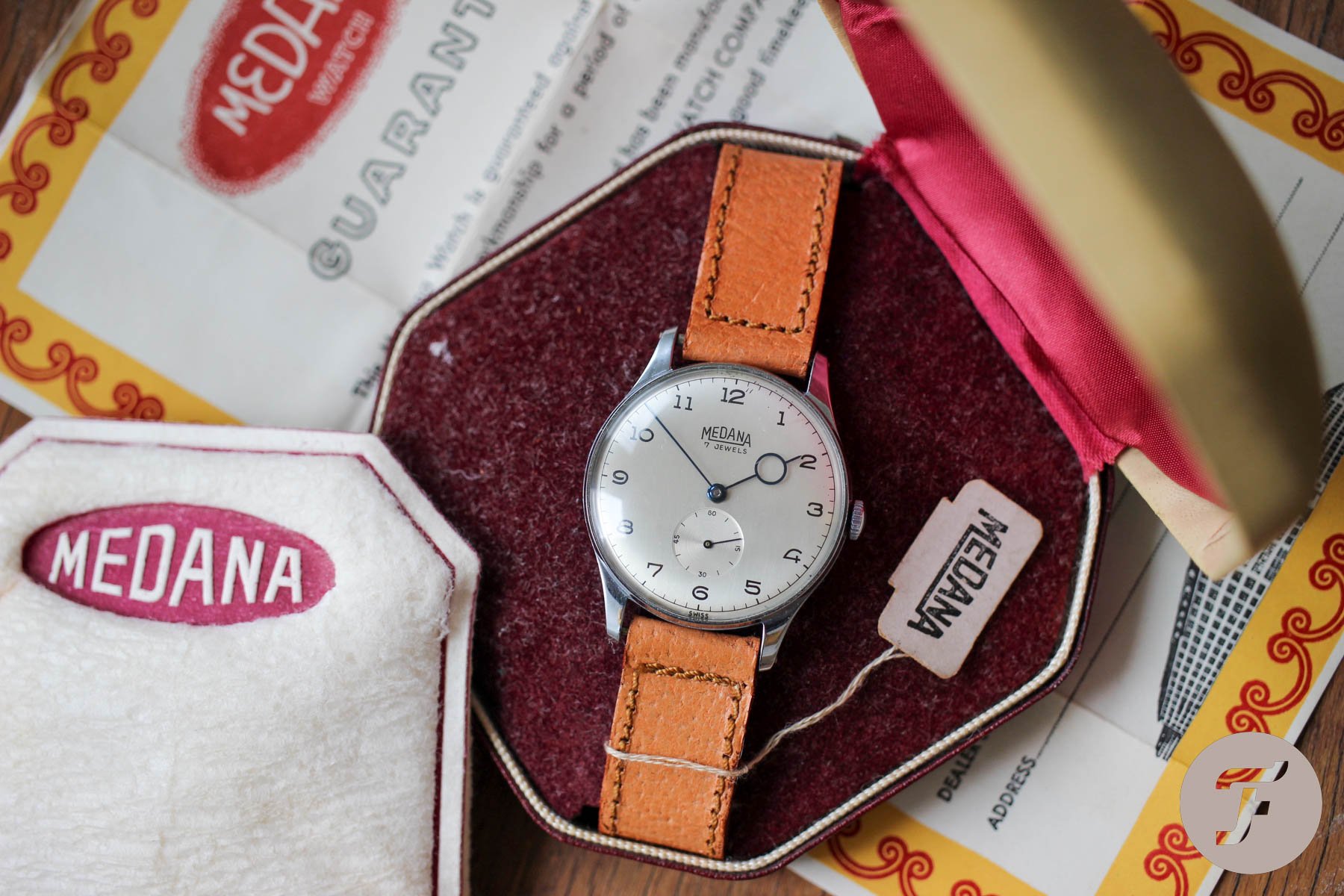 #3: Bargain of the year: Medana Pontife
How many low-budget watches do you have in your collection? An Omega Pontife easily goes north of €1,000, but this tiny, cute Medana Pontife didn't even cost me €100. That's including a beautiful box, a soft pillow for the watch, the price tag, an original strap, and a beautiful manual in color. It's a wonderful reminder of how beautifully things were done in the past. The dial and the blued hands are just a classic look, and with that big ring on the hour hand, they look even more magnificent. Be sure to check the typeface and the small seconds sub-register. The 15, 30, 45, and 60 numerals are printed in a small size equal to that of the rest of the sub-seconds indexes. It's a real pleasure to see such a noble design that feels so self-confident and airy. It is, unwittingly, very contemporary.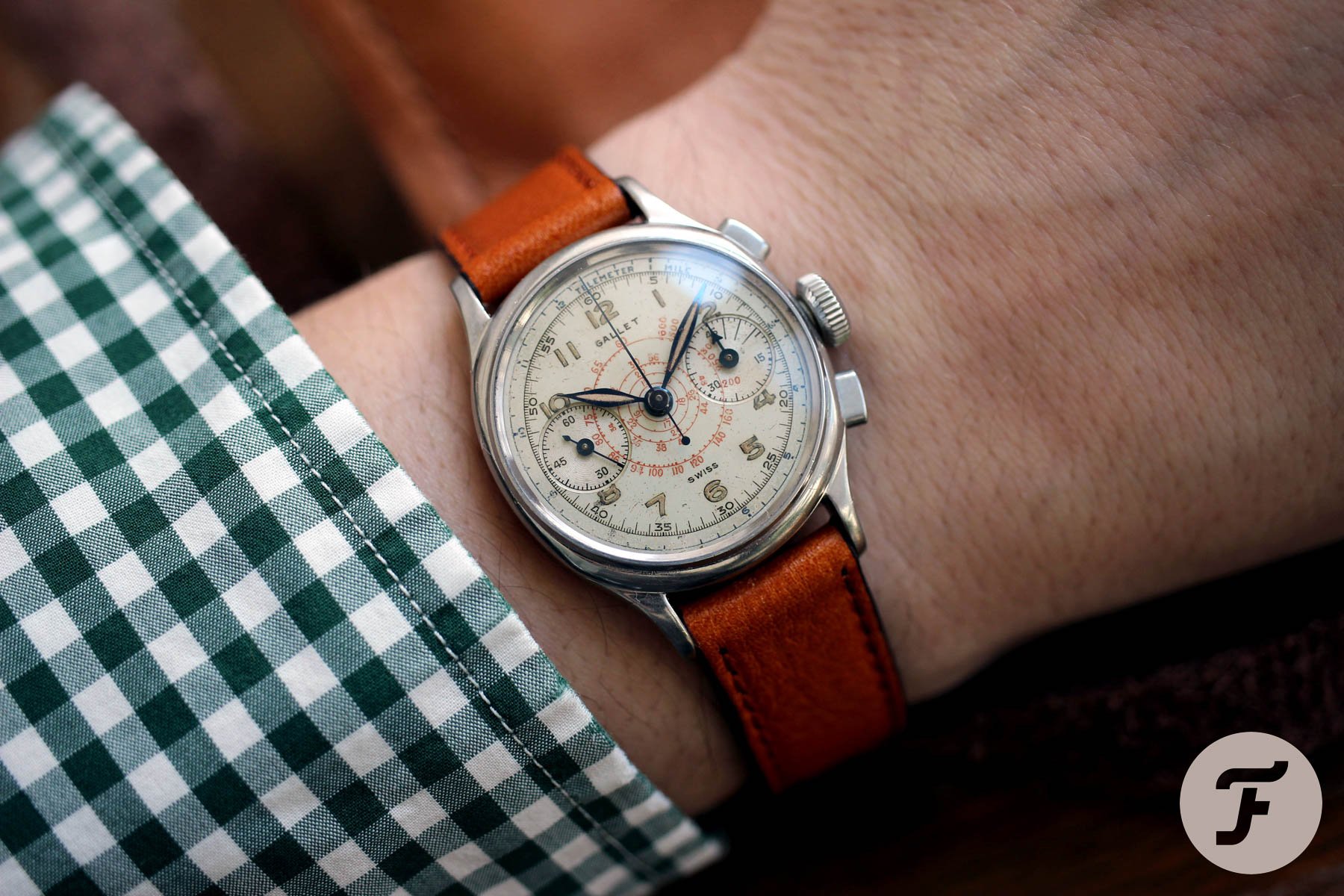 #4: Story of the year: Oval-shaped Gallet Commander
Nothing beats a great story to tell. And no, I don't mean only the story about the watch and its great specification. I love stories that only original owners can tell you. I spotted this Gallet Commander in a Facebook group, listed with the worst pictures you can imagine. It was not working, but I took a shot and bought it anyway. I always wanted one, as I love Gallet, and the Commander is pretty special with its oval-shaped movement.  What I learned after I got the watch is that it belonged to an old man from Mexico, who won it from an American soldier in a poker game. To help you navigate the timeline here a bit, the Gallet Commander is a year older than the Mido Radiotime.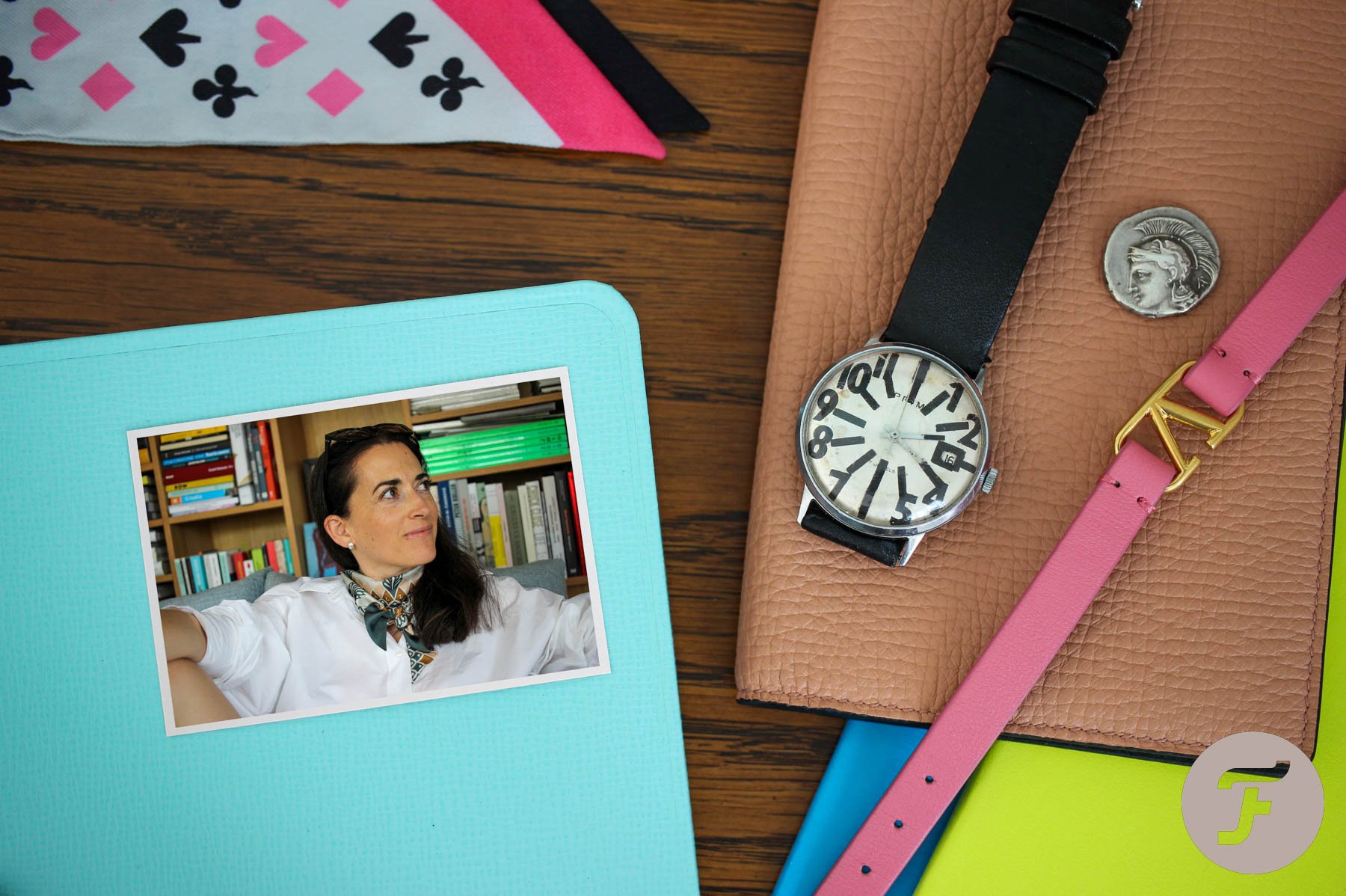 #5: Weirdo of the year: DIY Prim Watch
Nina Gazovicova is a very well-known curator and auctioneer here in Slovakia. She is always involved when some interesting art hammers in at a shocking price. The Slovak female version of Aurel Bacs has a Cartier in her collection, but this summer, she danced among all the rich auctioneers with this weirdo. I was staring at it like you are probably staring at it now when I went with my wife to pick up a painting we won in an auction. I was more enthralled with her spectacular DIY-dial 1970s Prim watch that she got from one of her admirers than I was with the painting we got. It's another story that you don't want to miss.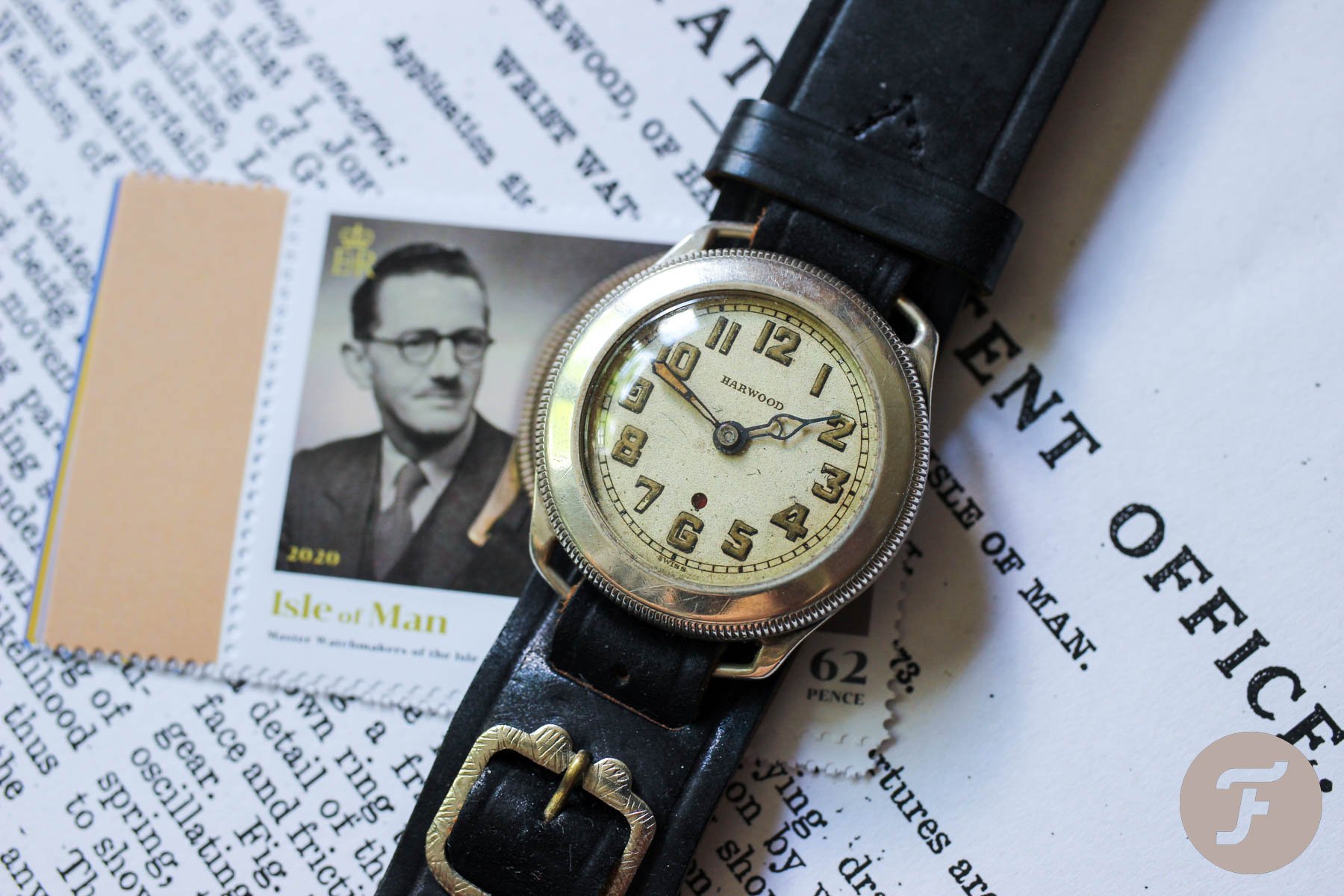 #6: Restoration of the year: Harwood
It's fascinating, but probably the most annoying watch of 2021. I mean, it did not annoy me personally, but it gave the biggest headache to my watchmaker for sure. Out of all of my watches, this Harwood was the one that sat on his bench for the longest time by far.
Almost a century ago, John Harwood set out to solve the problem of dust and moisture getting into watches through a hole in the case. This often happened when people wound their watches via the crown. So that the wearer wouldn't have to wind the watch in this way, Harwood patented the centrally pivoted weight. It swings approximately 230 degrees between spring-loaded buffers when the watch is worn. Harwood is rightly credited with creating the world's first automatic wristwatch. That was in 1924, 14 years before the Gallet Commander debuted.
These days, you can hardly get in touch with Rolex. But in 1956, after a dispute over the world's first automatic wristwatch, Hans Wilsdorf published a sincere apology, giving John Harwood full credit as the inventor of this incredible innovation. And that was another reason I was pushing my watchmaker to bring it back to life. The oscillating weight is actually quite delicate, and it was broken on a very thin connecting point. Before we could proceed with the repair, the Harwood had to undergo quite the delicate soldering job. But here it is now, in all its glory.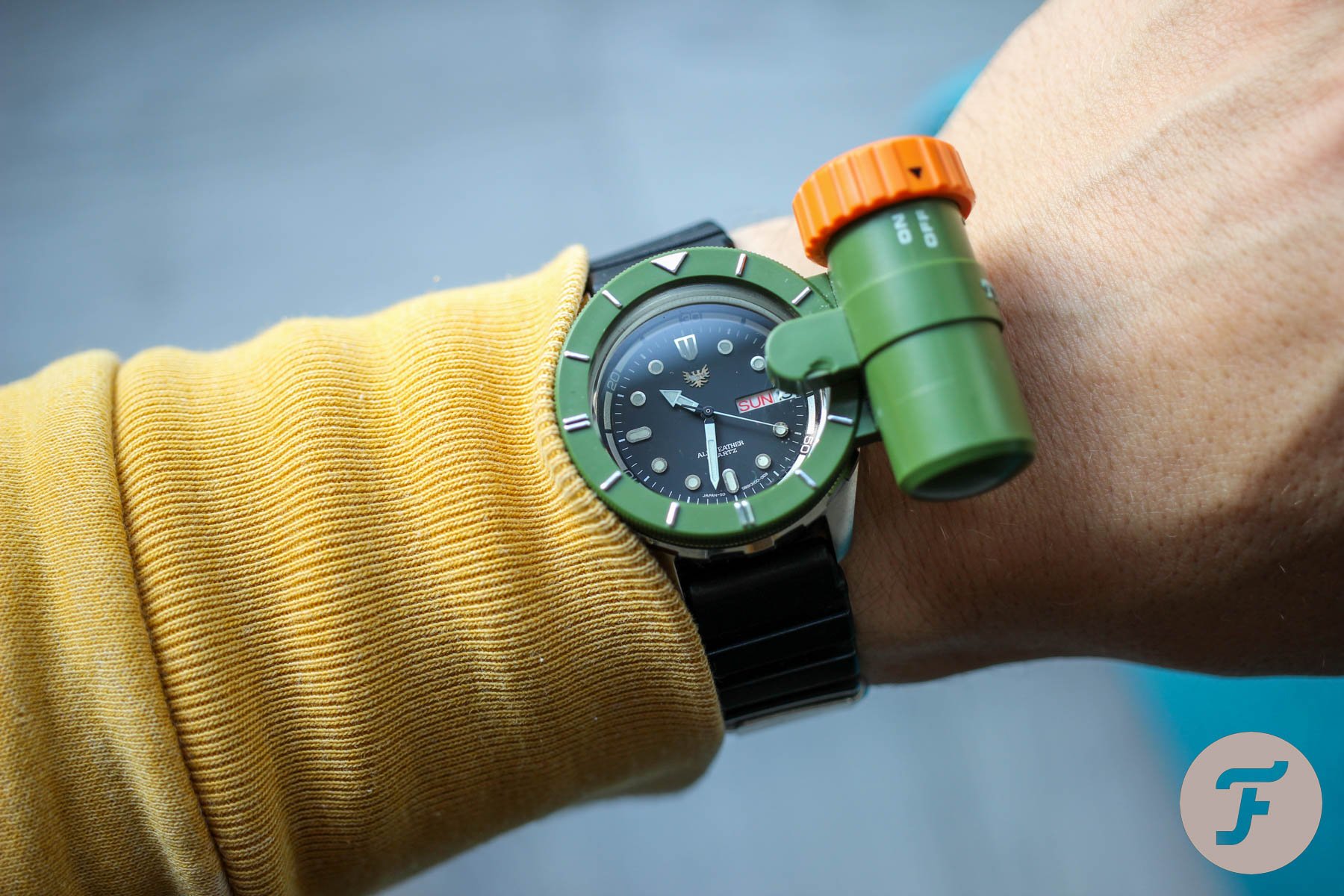 #7: Quartz of the year: Orient Toyota All Weather Puma Type II
If you had told me that this watch would collect 4,000 likes on my Instagram, I would have had a good laugh. But it seems this weirdo found its way into the hearts of many, the same way that it found its way into mine. A watch friend of mine turned me on to this piece. When I spotted the huge ring with a bulb and a big fat barrel attached to it for a battery, I was instantly in. Everything quirky and with lights involved is my thing. If you are looking for a wild watch for a super attractive price, you should check out this Orient All Weather Puma Type II creation that was released to help promote some Toyota cars.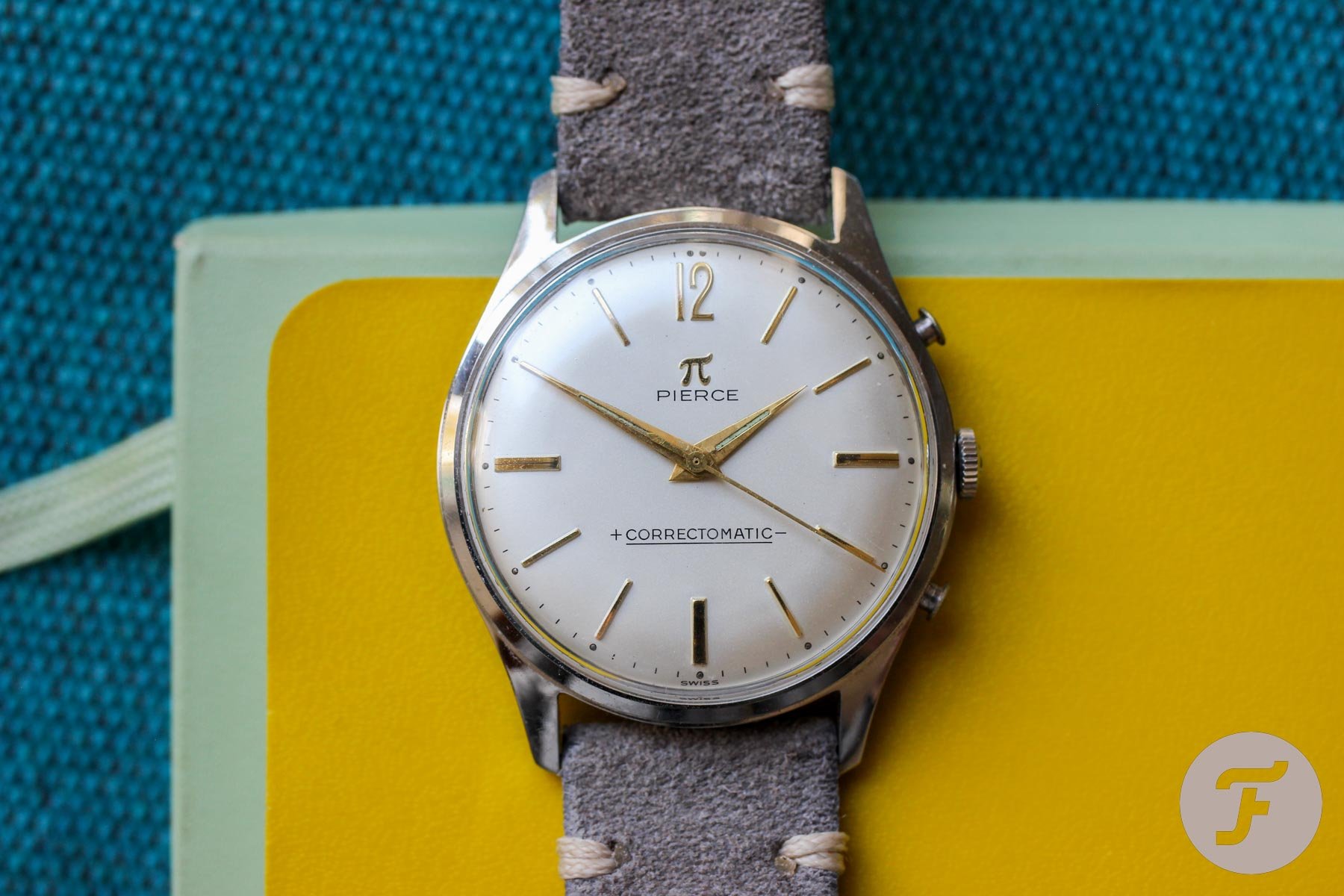 #8: Discovery of the year: Pierce Correctomatic
The last three nominations were the most difficult to make. To avoid any confusion, by "the discovery of the year", I mean a watch that I had never heard of before (not a watch I am hunting down and managed to find). The original candidate was the Tellus Reverso that I got from my watch friend and watch dealer Zsolt from Hungary.
After some thought, I decided to go with the Pierce Correctomatic, which comes with a much more unique, sophisticated, and unusual complication from a technical standpoint. Not only does it do what the Mido Radiotime can do, but also on top of that, one of the pushers adjusts the effective length of the balance spring to "self-regulate" the watch. This is a must-read for all vintage watch nerds.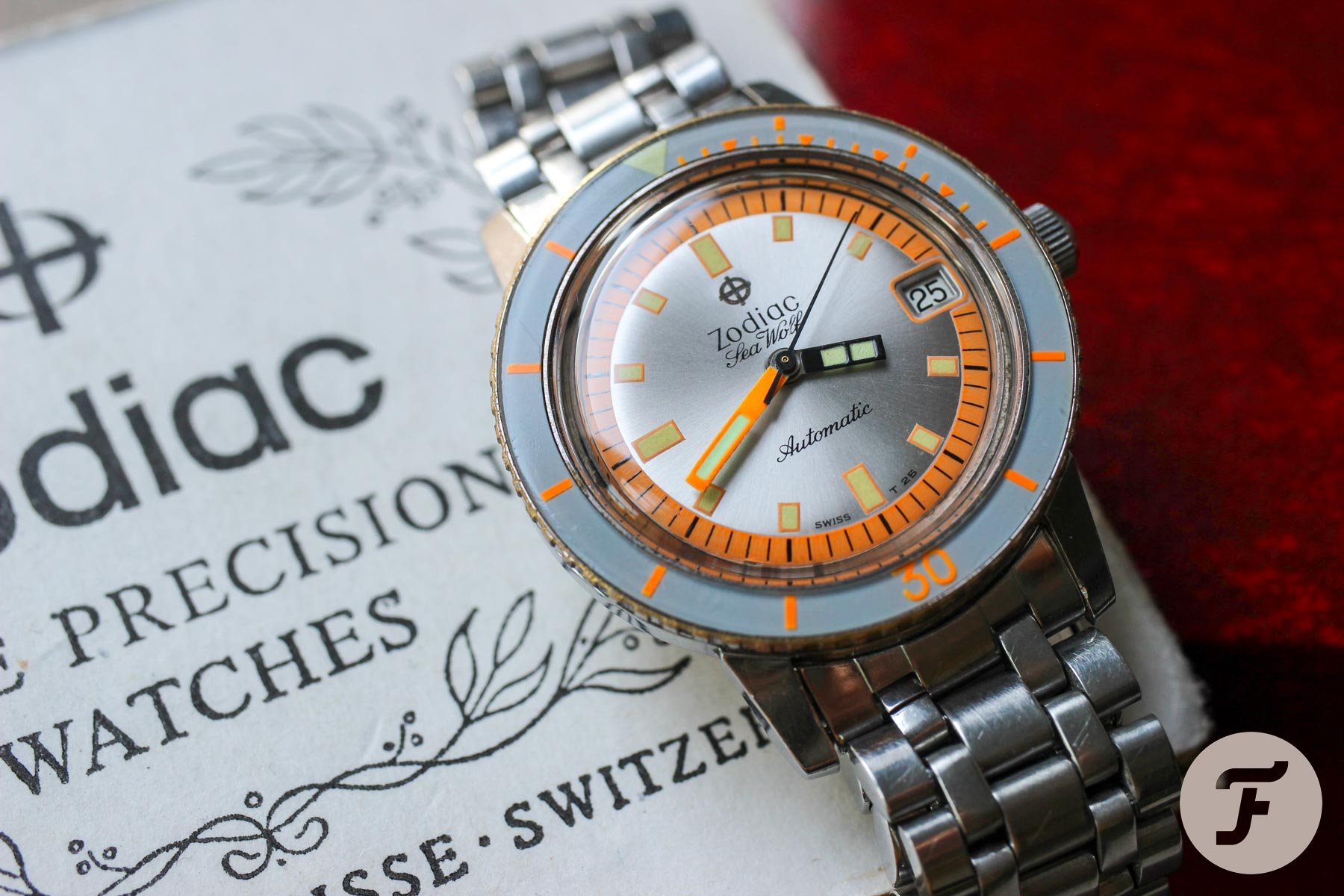 #9: Sunshine of the year: Zodiac Sea Wolf 1781W
I first wanted to nominate the Tissot Carrousel, whose gold-plated sunburst case fits the category description almost surgically. But then one of the latest #TBT stories sprung to mind, and it was decided. The acrylic bezel over the most hypnotic pale-gray-and-orange combination is impossible to ignore when one puts this Sea Wolf on the wrist. The Ref. 1781W has a silver sunburst dial that loves the sun just as much as the wearer does. A colorful suede strap would make it look younger, but with an original Zodiac signed bracelet manufactured by JB Champion, it's the ultimate summer vintage beater. Not to mention the historic importance of the Zodiac Sea Wolf lineup, which dates back to the dawn of what we now consider dive watches.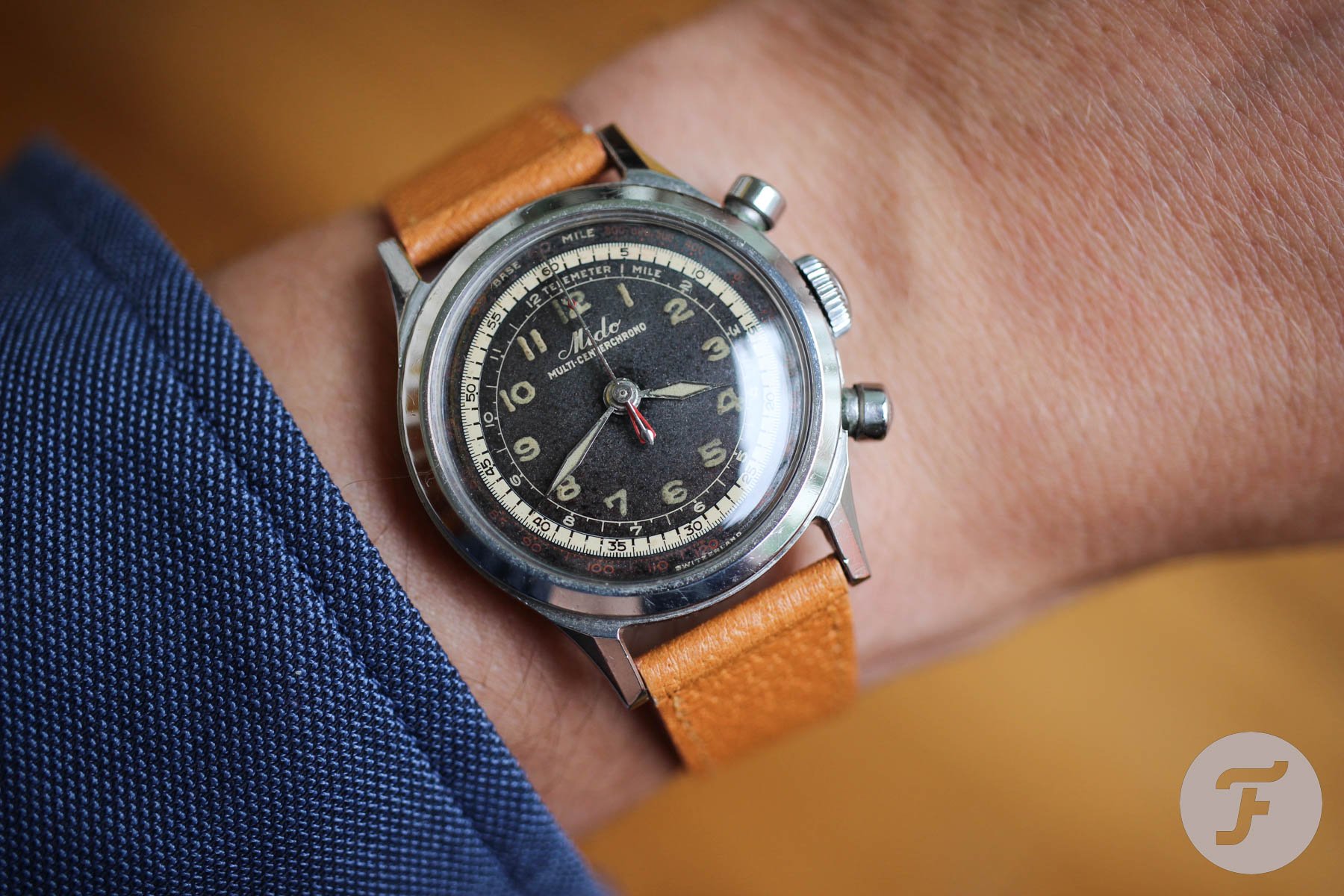 #10: Greatest classic of the year: Mido Multi-Centerchrono
Choosing the right contender for the last "greatest classic" category was the most difficult. I narrowed the final selection to two chronographs. There's the Heuer Monaco 73633B, whose production lasted for a mere six years from 1969 to 1975, and the Mido Multi-Centerchrono, which I consider one of the most elegant chronographs ever designed. With the Monaco, I think it was the general likeability of the fascinating pale blue dial and the almost divine aura the watch created around itself. The example we featured on #TBT belongs to the original owner who had never had the watch opened. He was a truck driver and wore the watch extensively until it broke. But as he never took it to a watchmaker for repair, the watch remained dead until his daughter decided to surprise him.
As powerful as the personal Monaco story was, I ended up nominating the Mido. It still flies under the radar, and the €5,000 price tag would be much higher if it were recognized by more collectors who were not so afraid of smaller-diameter watches. It has all you need in a perfect vintage chronograph, plus an extra splash of unique character. A Tauber case, pushers with deep sunburst engravings you could find on a Patek, a fine movement, and the fantastically legible dial arrangements make it your next dress watch.
Which is your pick for the best story overall?
Thanks for diving deeper into the world of vintage watches again with us this year. Take some time, but not too much, and let us know in the comments: what was the best #TBT story featured in 2021?
A complication of the year: The Mido Radiotime
Under the radar watch of the year: Breitling ref. 3865
Bargain of the year: Medana Pontife
Story of the year: Oval-shaped Gallet Commander
Weirdo of the year: DIY Prim Watch
Restoration of the year: Harwood
Quartz of the year: The Orient Toyota All Weather Puma Type II
Discovery of the year: Pierce Correctomatic
Sunshine of the year: Zodiac Sea Wolf 1781W
Greatest classics of the year: Mido Multi-Centerchrono