World's first independent deadbeat seconds series wristwatch was introduced in June last year, by Grönefeld Exclusive Timepieces. This complication, also known as secondes morte, has been used in pocket watches since the 19th century. Instead of a sweeping second hand, the second hand advances in full steps of one second. According to Grönefeld Exclusive Timepieces, this was a very respected complication until the 1980s (at the time of Gloria Estefan's Dr. Beat song, as quoted in the title of this post).
I can imagine that manufacturers of mechanical timepieces did not want to incorporate the deadbeat seconds complication in their watches, to distinguish their watches from quartz watches. This small independent watchmaking company Grönefeld Exclusive Timepieces, located in the east part of The Netherlands, ended this denial of a great complication with their One Hertz time piece.
The in-house G-02 movement is something very special, as the deadbeat seconds complication is very difficult to accomplish without a constant force device. Watchmakers Tim and Bart Grönefeld came up with the idea of a second gear train construction with its own power supply. Friction of the mechanism has to be minimal to guarantee perfect operation of the One Hertz (1 cycle per second) second hand. A separate mainspring for the deadbeat seconds will make sure that friction is kept to an absolute minimum.
Both mainspring barrels are hand wound and will wind simultaneously by operating the crown. As you can see on the picture above, there is an S-W indicator at 3 o'clock. By pushing the crown, the owner of the watch will select either "set" or "wind" and the indicator will switch from S to W or vice-versa. So, no crown-pulling here!
The indicator at the top of the large sub dial displaying the deadbeat seconds, is a power reserve indicator. The G-02 movement has a power reserve of 60 hours.
The G-02 movement consists of 254 parts, has two mainspring barrels, a power and set indicator, a Variable Inertia Balance wheel and – of course – the deadbeat seconds complication. A computer aided design drawing of the movement is shown below: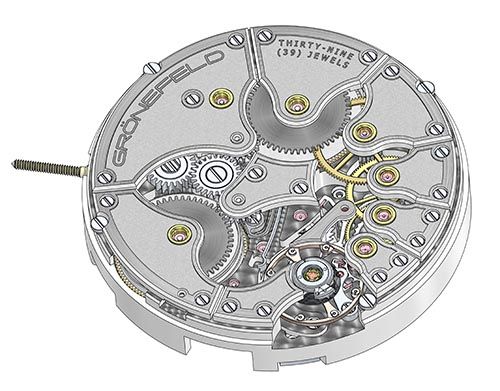 The One Hertz timepiece has a diameter of 43mm and a height of 12.5mm. Both sides of the watch have been fitted with a sapphire crystal, where the top crystal is slightly domed. The Grönefeld logo and watch model are engraved in name plates, which are screwed-down on the dial. This stainless steel watch is limited to 12 pieces only, referring to 1912, the year when Johan Grönefeld (grandfather of Tim and Bart Grönefeld) began his carreer as a watchmaker in Oldenzaal.
The price tag of this stunning timepiece is € 35.105,- (including 19% Dutch VAT).
Besides the One Hertz, Grönefeld Exclusive Timepieces introduced their GTM-06 in 2008. A superb timepiece with a tourbillon and minute repeater complication, available in gold and platinum. December last year, Tim and Bart Grönefeld also opened their boutique of independent watchmakers. A luxury boutique in the center of the picturesque Oldenzaal in the east part of The Netherlands (and I write this with pride, as my own roots are there as well), where Tim and Bart are the authorized resellers of timepieces of other independent watchmakers. Timepieces by Kees Engelbarts (Cornelius & Cie and his own label), McGonigle, Speake-Marin, Sarpaneva (including S.U.F), Andreas Strehler and of course Grönefeld's own timepieces, the GMT-06 and their latest, the One Herz.
Picture above was taken on the 19th of December 2009, during the opening of the boutique. Next to me (L) is Bart Grönefeld. On my wrist, the GTM-06.
More information can be found at www.gronefeld.nl and more information regarding the Grönefeld Boutique can be found at www.gronefeld.eu.