The Top 10 Best Seiko Watches Of All Time — This Is It!
An audacious challenge results in some surprises and a lot of controversy
The Top 10 Seiko models of all time — what an audacious subject! Yet, here I am after a request came down from high. This one is absolutely sure to generate tons of feedback along with a healthy dose of ire. Let the games begin!
As the resident Seiko nut here at Fratello, the challenge was clear. Pick the Top 10 Seiko models of all time. In thinking about that task, though, it immediately became truly difficult. I own somewhere in the neighborhood of 100 watches from the brand, and that truly represents a fraction of a fraction when it comes to the voluminous back catalog. How does one choose? Would I base my choices on aesthetics, movement type, (watch) culture impact, or some other set of guidelines? I thought about all of these and threw in a lot of "gut feelings" along the way. I can tell you what I didn't choose to do, though.
Creating a list of the Top 10 Seiko models of all time
Firstly, I kept Grand Seiko, King Seiko, Credor, and any other sub-lines out of the equation. While you won't see a Seiko 5 on the list, I would have considered them. My rules, I guess. I also considered watches new and old for the Top 10 Seiko list. Here's the other thing, I attempted to put these in an order where 10 is less significant than 9 and so on. Finally, I've offered an alternative to each one should you find my choice either too expensive, rare, or mainstream. Some of you might find those selections more interesting! Shall we dance?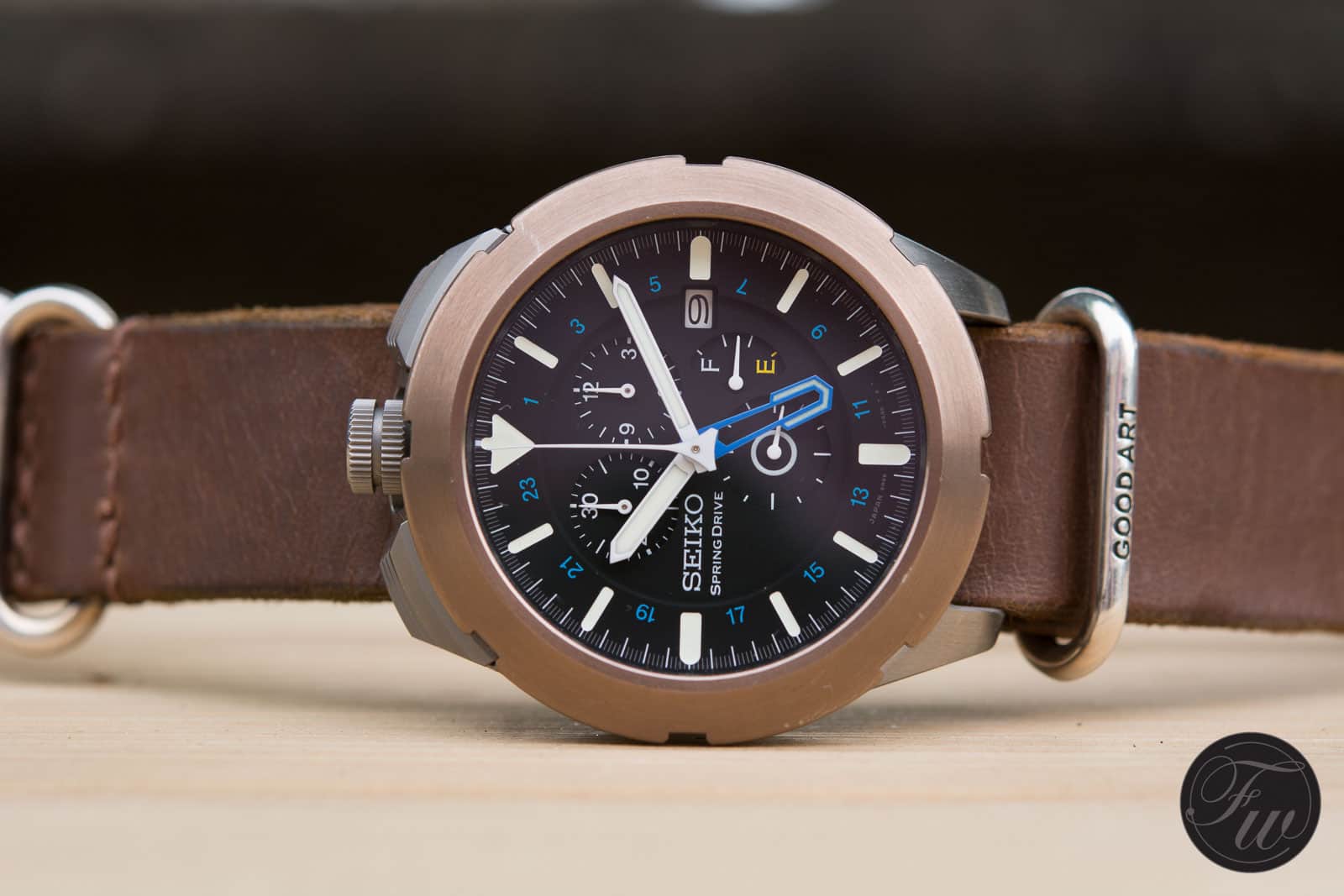 Honorable Mention — Seiko Spacewalk SPS005
There's some cheating going on here because the Seiko Spacewalk doesn't exactly fall into the all-time Top 10 Seiko list, but I had to mention it. It's simply too cool to avoid, and I had to make mention of Spring Drive. This $28,000 watch was introduced to commemorate the fact that it went to space on a Russian Soyuz mission in 2008. Just 100 of these titanium 53mm watches were made, and they were admittedly slow, slow sellers. There's a chronograph at work here along with a GMT and the heart of the matter is Spring Drive. If you've never experienced Spring Drive, it's novel in terms of the way the hand glides around the dial. There are plenty of watches to consider with this technology (the SBDB015 is a great alternative in the same bullhead vein), but the Spacewalk is truly unique if you can stomach the price tag.
10 —Seiko Lord Marvel 5740-8000
Perhaps this one is a surprise, but the Seiko Lord Marvel 5740-8000 definitely belongs in a Top 10 Seiko list. This is the watch that Seiko used to debut its 36,000vph movement in 1967, just one year after Girard-Perregaux made history with its version. Coming in second place might not sound so exciting, but consider this — the "Hi-Beat" movement has been a cornerstone of Seiko/Grand Seiko ever since this time. I'd call that significant. The Lord Marvel is a relatively unassuming dress watch at first glance, but it's actually a fine dressy watch that's worth owning.
The Lord Marvel 5740-8000 came in a number of configurations, but my favorite example is the white-dialed version in stainless steel. They're not huge at 35mm with a lug to lug of 41mm, but this is a dress watch after all. The lugs on this watch are thick and hint towards some King and Grand Seiko designs that would come a couple of years later. The indices and hands contain black striping that adds just the right amount of panache to an otherwise staid piece. The nice thing is that these have stayed under the radar, and $300 to $500 should net you a nice one, albeit likely from Japan. Folks, if you've never experienced a Hi-Beat movement, you're depriving yourselves.
Or you could try: Seiko SARB033
The Seiko SARB033 hails from the period just before now. This was when Seiko made watches without batching them into collections and a watch like the SARB was downright cheap, reliable, and good-looking. This is a dressy watch with a black dial (other variants were available) and it's classically attractive with surprisingly good finishing. The 38mm watch has an unusually good (for Seiko) bracelet and boxes above its weight class due to Grand Seiko looks. The 6R15 works away inside and that makes it a nice mid-runner for the brand. These used to sell for somewhere in the $400 range, but they are above $700 today.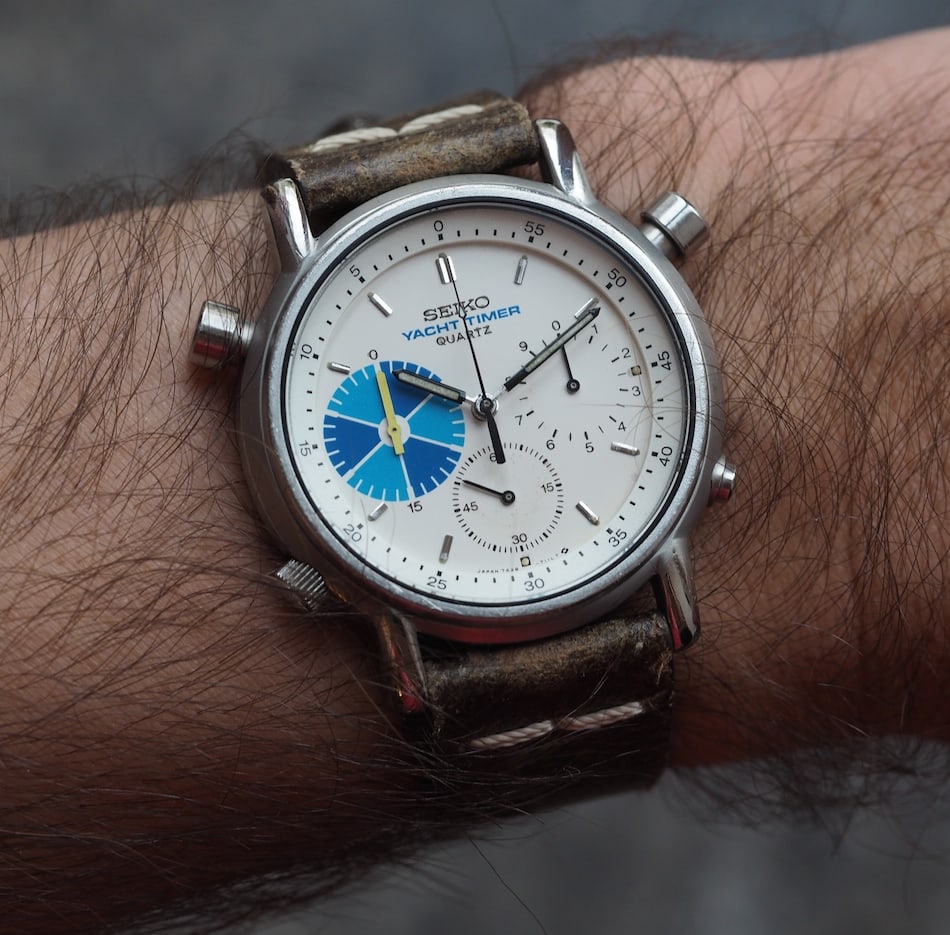 9 — Seiko 7A28-7090 Yacht Timer
Ok, I chose a pretty elusive watch for the next entrant on the Top 10 Seiko list. The 7A28-7090 Yacht Timer is simply one of the best-looking chronographs ever made. It's so damn nice looking that it would easily fit next to a bunch of classical chronographs. I chose it because I love it, but it's also a great way to highlight the 7A28 movement. We all take it for granted today because cheap quartz chronographs are rife at your local department store, but Seiko started it all back in 1982. That's right, they were first to market with a quartz chronograph and the 7A28 is a doozy. It's fully jeweled and measures 1/20th of a second accuracy. On top of this, these watches are beautifully finished.
The Yacht Timer version came out in that 1982 timeframe and was only around for a couple of short years. The blasted steel 40mm case has a great design and the dial brings in some wonderful color combinations. This is not an easy watch to find and when they come up, $1,500 and up isn't a real surprise. My ratty version cost less than that, but I was a beggar instead of a chooser.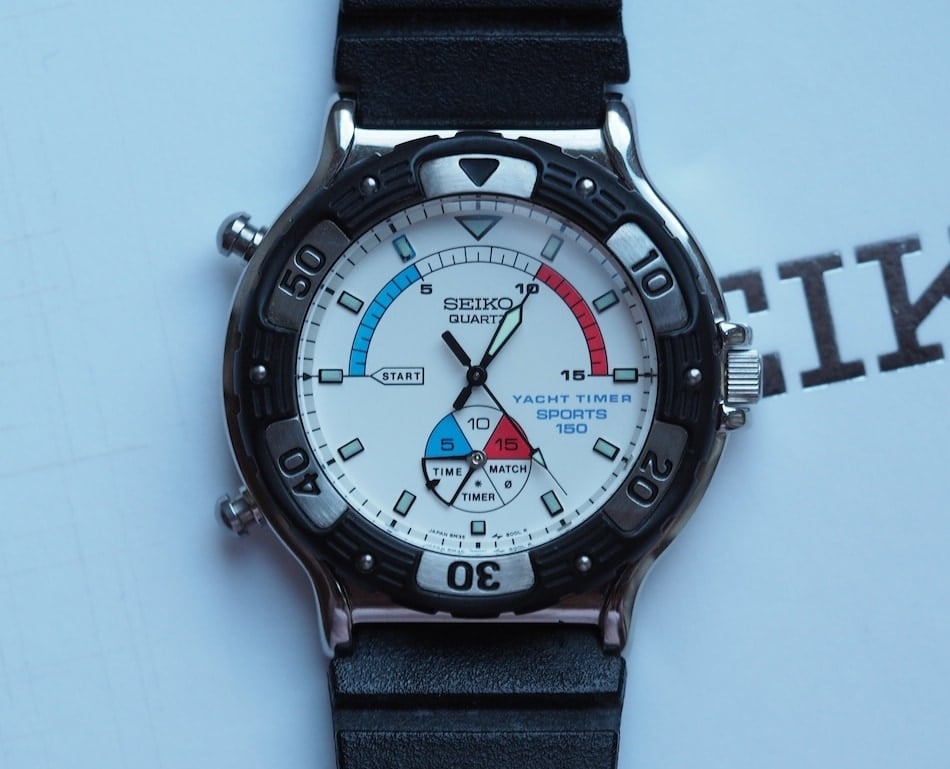 Or you could try: Seiko 8M35 Yacht Timer
I stumbled across the Seiko 8M35 Yacht Timer when I was looking (hourly) on eBay for the 7A28 version. This is a criminally underrated watch that's also seriously attractive. Granted, Seiko stepped down in movement quality with far fewer jewels, but the watch has serious yachting functionality and a sexy case that comes in just a tad under 40mm. These colorful pieces have gone up slowly and are now around $350. They're easy to source, reliable, and you won't see one at your next watch get-together.
8— Seiko Marinemaster 300
The Seiko Marinemaster 300 defined high-end value for an entire generation of watch collectors. The world moves quickly now and with so many Seiko divers available, I don't think that current collectors realize the profound effect that this watch had. From 2000 to roughly 2015, people referred to this watch as the "Rolex beater" and proclaimed that for about $1,500 there was little reason to buy anything else. The SBDX001 (and later the SBDX017) brought a monobloc case, an 8L35 movement (made in the same workshop as Grand Seiko), and 300 meters of water resistance. Sure, it clocks in at 44mm and 15mm thick, but it wears well due to short lugs. The bracelet is "meh", but it's almost charming at this point.
The Seiko Marinemaster 300 definitely belongs within a Top 10 Seiko list because it did what a Seiko is supposed to do, and that's to offer tons of value for an approachable price. Today, the modern "MM300" sells for nearly $3,000, and used original Marinemaster 300s aren't far off that amount. Nevertheless, these watches are worth a try. They're timeless and simply won't let you down.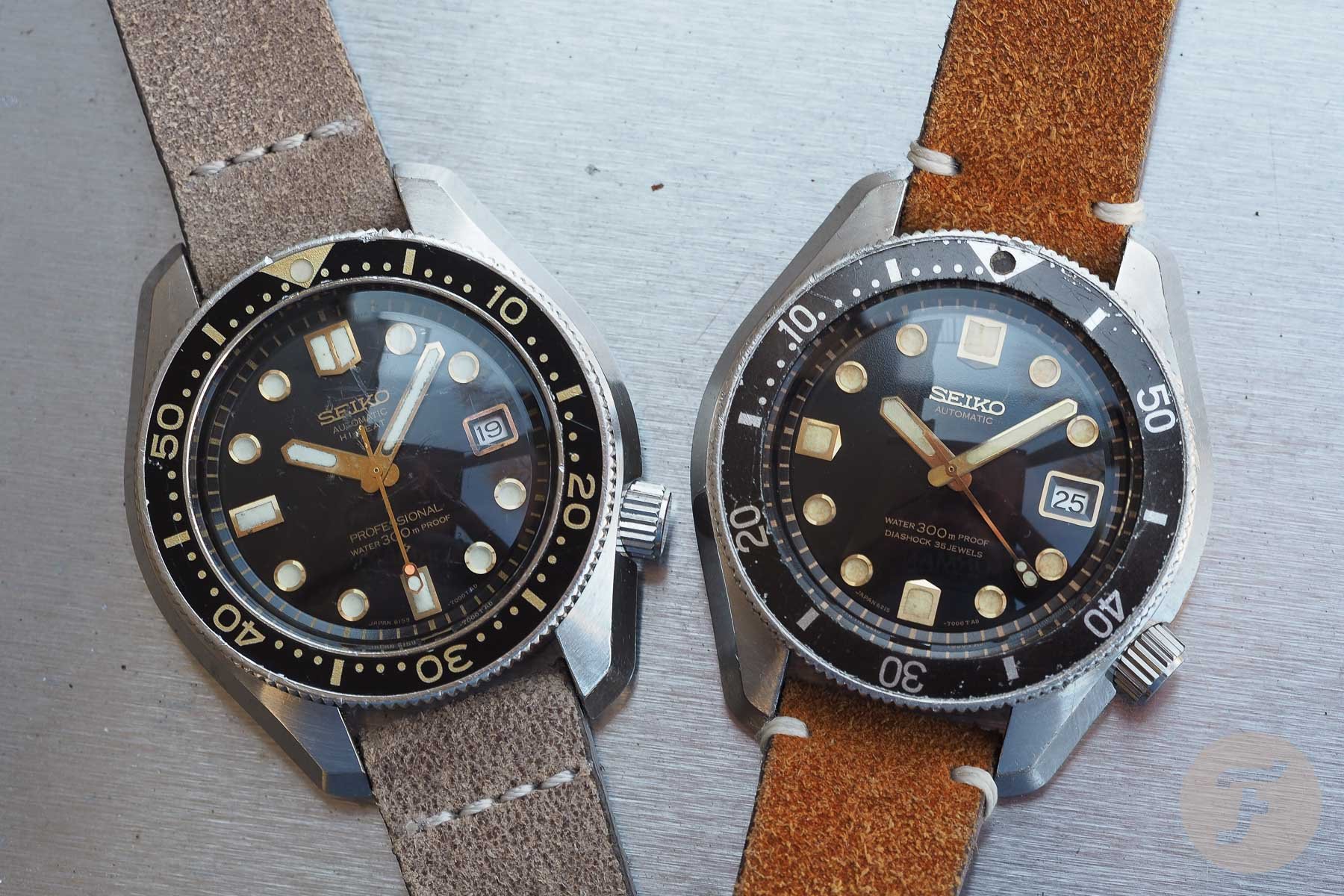 Or you could try: Seiko 6159 or 6215
Well, I pulled a fast one here and gave you alternatives that are far rarer and rank in the sinfully expensive category. The 6215 from 1967 and the 6159 from 1968-1969 are the inspirations for the Marinemaster 300. These watches were the first 300m divers from Seiko, and they are lovely. I didn't choose them for the top 10, though, because they're incredibly difficult to find and are a bit eccentric. Design-wise, though, they did have a profound effect on later Seiko dive watches far beyond the Marinemaster 300. As far as pricing, $8,000-$10,000 represents table stakes.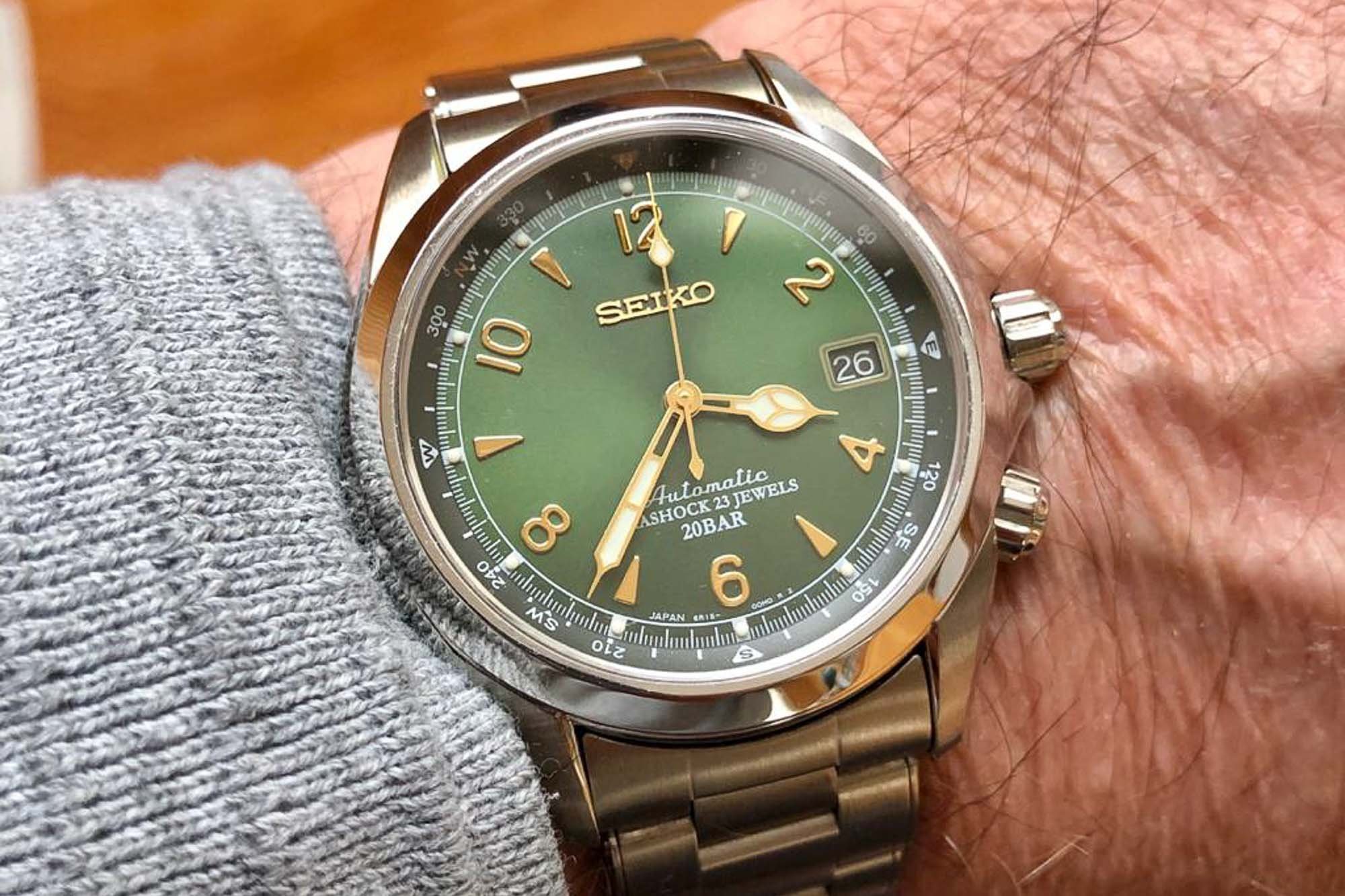 7 — Seiko Alpinist SARB017
The next watch on our Top 10 Seiko list is another former forum star. The Alpinist SARB017 is a watch that people would gush nonstop about on any number of platforms. It used the mid-grade 6R15 automatic and brought an air of elegance and sophistication to a tool watch. Plus, the SARB017 came in a shade of green that was different from just about any other mainstream watch on the market. The SARB line of Alpinist watches contains a secondary crown that operates an internal compass bezel. Adding to the watch's sporting intent are 200 meters of water resistance and a purposeful 39.5mm steel case. The counterbalancing classy look stems from a sunburst dial, gold numerals, and cathedral hands. It's an ornate watch, and perhaps that's part of what makes it so successful.
The Alpinist SARB017 debuted in 2006 and was made up until just a couple of years ago. At one point, these watches could be had in the mid to upper $300 range, but those days are long since gone. Figure on somewhere around $800(!!) now for one of these legends. The positive is that today's Alpinist models look awfully similar, but feature upgraded materials and movements.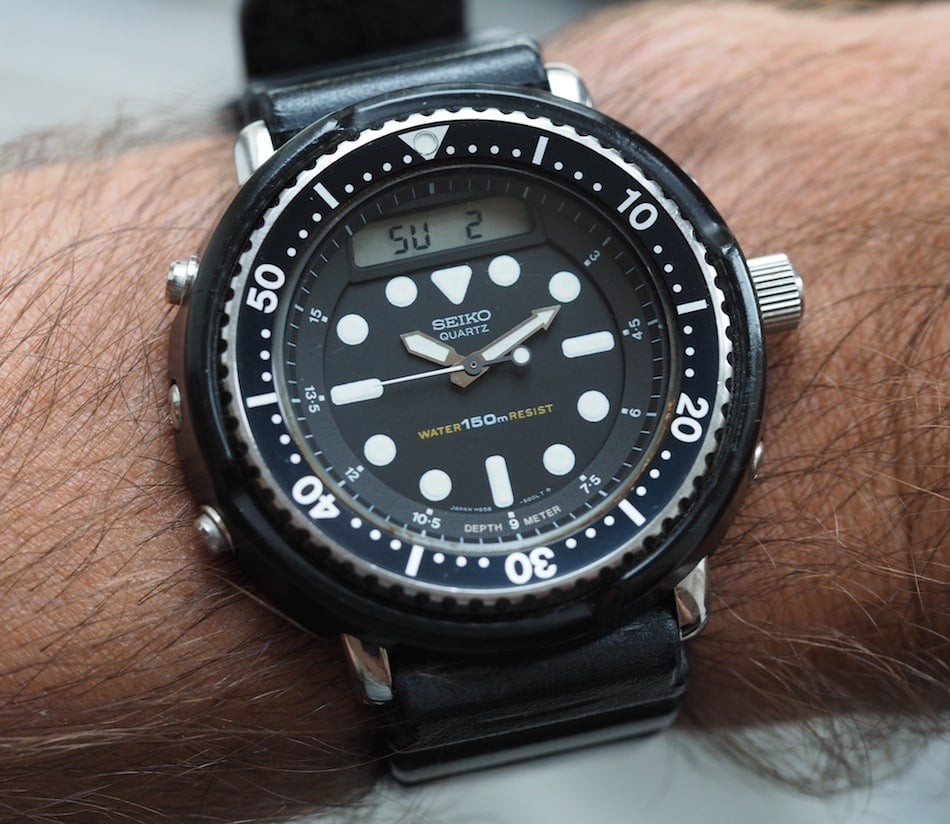 Or you could try: Seiko H558 "Arnie"
Honestly, I struggled to find another "field watch" to counter the Alpinist. Models from the '60s are eccentric (yet amazing) at best and Seiko made a ton of great time-only watches. However, none of those watches truly stand out as counters to a Top 10 watch. Therefore, I went with a watch that was and still is a diver in theory, but one that would likely see land duty at most today. The Seiko H558 diver from 1982 is an ana-digi diver that is truly worthy of mention. It gets its "Arnie" name from appearances in several Schwarzenegger movies such as Predator. This watch brings in 150 meters of water resistance, a Tuna-like shroud, and a bunch of functions such as an alarm and chronograph. It's easy to use and comfy despite the 46.5mm diameter. Beware of cracked shrouds and get ready to shell out $1,000 or so for one of these.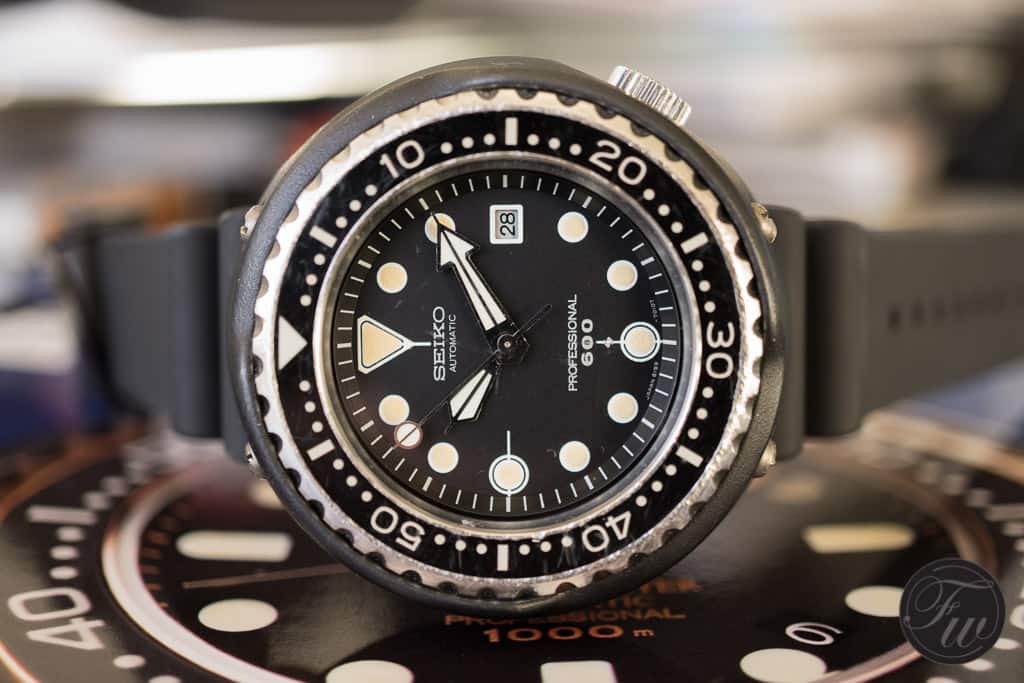 6 — Seiko Tuna 6159-7010
In my view, no Top 10 Seiko list is possible without the Tuna. After the brand's first Professional divers (the 1968-69 6159-7000/1 series) suffered issues at depth, Seiko went back to work for six years before stepping back into the deep water game. When they returned, they came with a dive watch unlike anything else that the market had seen. The 6159-7010 kept the Hi-Beat movement but brought a wild new lugless, 50mm monobloc case that helped it earn its "Tuna" nickname. This 600m case design came in titanium — a first in the watch world — and featured a novel L-shaped rubber gasket that eliminated the need for a helium valve.
Now, the Tuna isn't for everyone on account of its truly utilitarian looks and large size. Still, it's a prime example of form following function that resulted in a design different from just about any other dive watch. These watches won't battle it out with a traditional diver for wrist time, but they make for a really fun conversation piece. Figure on roughly $3,500 for one of these, just ensure that it's running well because movement parts are a pain.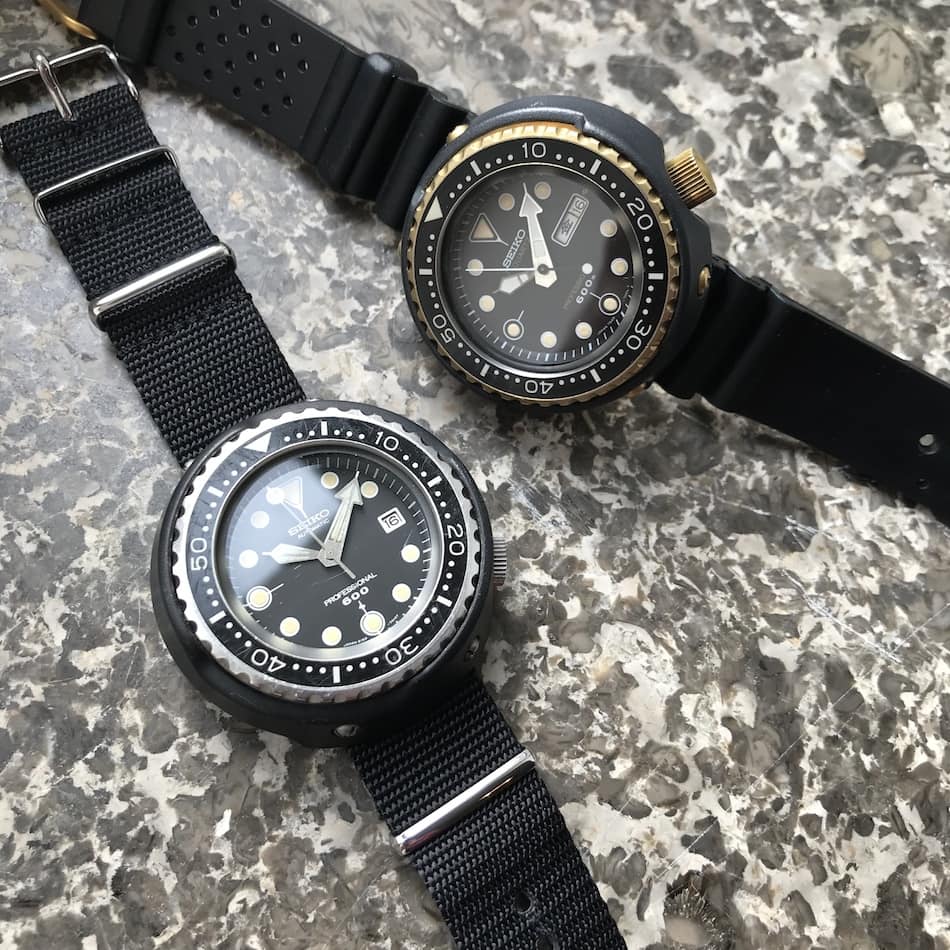 Or you could try: Seiko 7549-7000 "Golden Tuna"
If spending more than $3K just doesn't float your boat for the original Tuna, there's another option that's arguably just as cool. The Seiko 7549-7000 was the first professional quartz diver and it came out in 1978. It also uses a titanium case, but it packs the impressive 7549 quartz caliber — a fully jeweled workhorse. The watch also brings in some gold touches, hence the "Golden Tuna" nickname. Heck, even Roger Moore wore one in "For Your Eyes Only." For somewhere around $1,500, you can score one of these 600-meter bruisers and wear a part of dive watch history.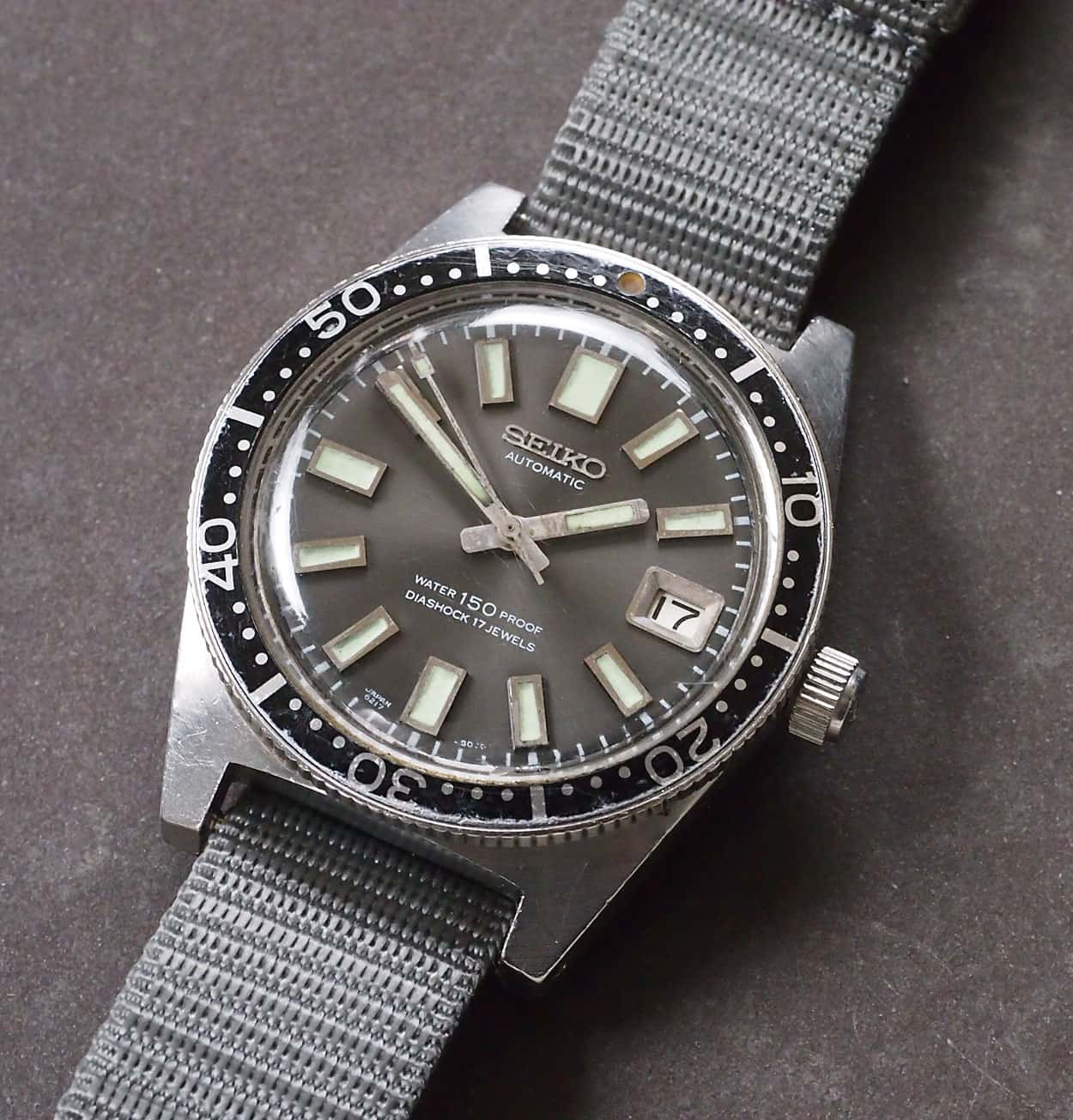 5 — Seiko 62MAS
If I had written a Top 10 Seiko list a few years ago, I'm not entirely sure whether the 6217 "62MAS" would have made the list. Now, though, with a couple of reissues under Seiko's belt and a highly successful production line using the same blueprint, the 62MAS is in play for sure. Back in 1965, Seiko decided to dip its toe into the water with a 150-meter diver in a skin-diver case. That case might not be the most creative foundation, but there's some quality Seiko design language here on the dial. Aside from all that, the first diver from a company like Seiko was bound to achieve legendary status at some point.
There are a number of variants within the 62MAS model range, although the differences are subtle. These watches were undervalued for a long, long time. Today, assume a far headier $4,500 for one of these lovely 37mm divers.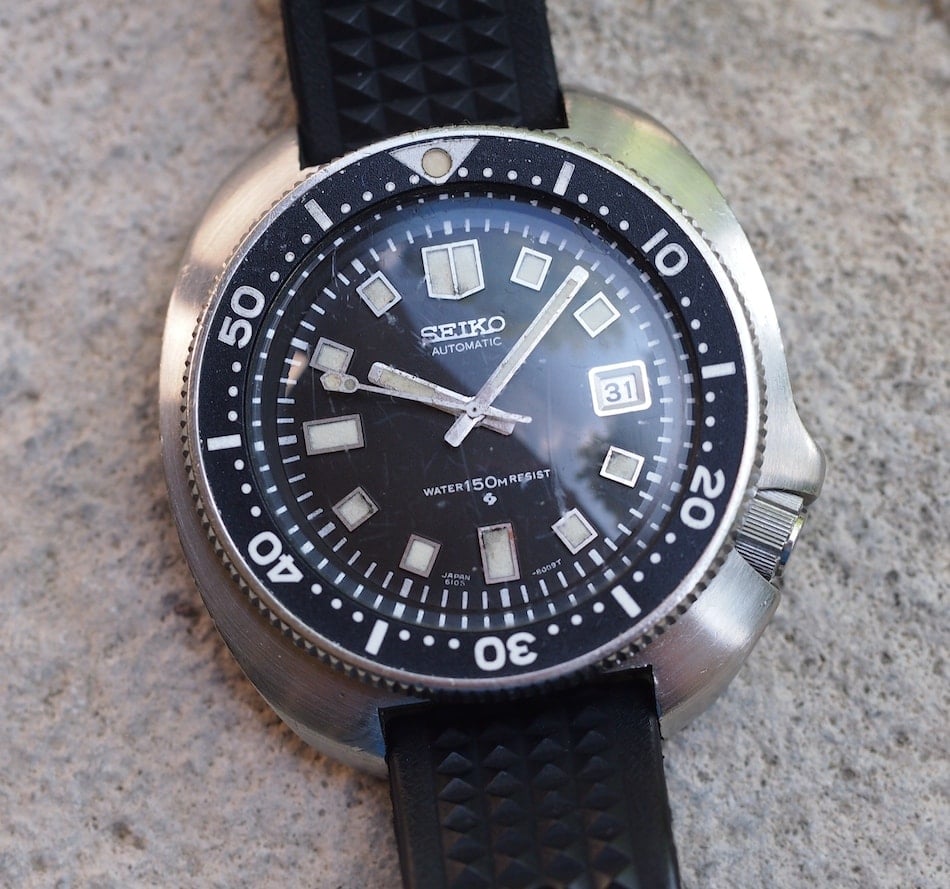 Or you could try: Seiko 6105-8110 "Willard"
The 6105-8110 fits well as an alternative to the 62MAS for a couple of reasons. First, it's far less expensive, at roughly half the price. Second, and like the 62MAS, it has inspired a series of watches that form part of today's Prospex series. Let's head back to the original, though, because this 44mm steel diver is easily one of the most unique Seiko watches. The case design is like nothing else from the period (we're talking early '70s) and wears surprisingly well. It even features a novel crown-lock system that is fun to use, but not overly effective as far as water resistance. The nickname, if you've been in hibernation, comes from Martin Sheen as "Captain Willard" in Apocalypse Now. Why not sport a classic while watching a classic?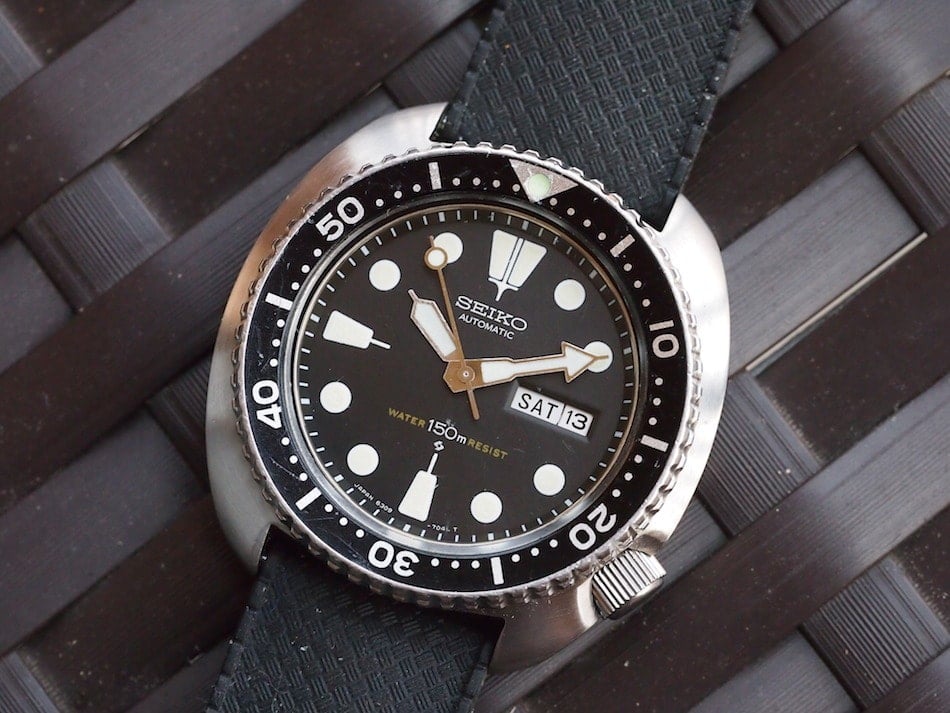 4 — Seiko 6309 "Turtle"
When I first got into Seiko about ten years ago, I found my way to their divers' watches. At that time, the watch that stood out most was the Seiko 6309 "Turtle." Back then, the youngest 6309 was already over 20 years old, but the watches were just fresh enough to be considered modern. On the other hand, the fact that they began production back in 1976 made them somewhat vintage. Who cares! The 6309 is a fantastic dive watch that literally any brand would love to have in their back catalog. With its amoeba-esque 45mm case and timeless dial design, the Turtle is one of the best-looking dive watches ever. Hell, even Mick Jagger rocked one!
The 6309 may belong on a Seiko Top 10 list for great reasons, but it could easily find itself on the Top 10 most notorious list as well. These watches are tough to buy because they're easily faked. More than that, though, the crown tubes are well known for stripping. In such cases, because the crown tube is part of the case, the watch becomes a useless paperweight. That makes buying exciting and with prices around $600, it's a bit of a gamble. But oh, the reward…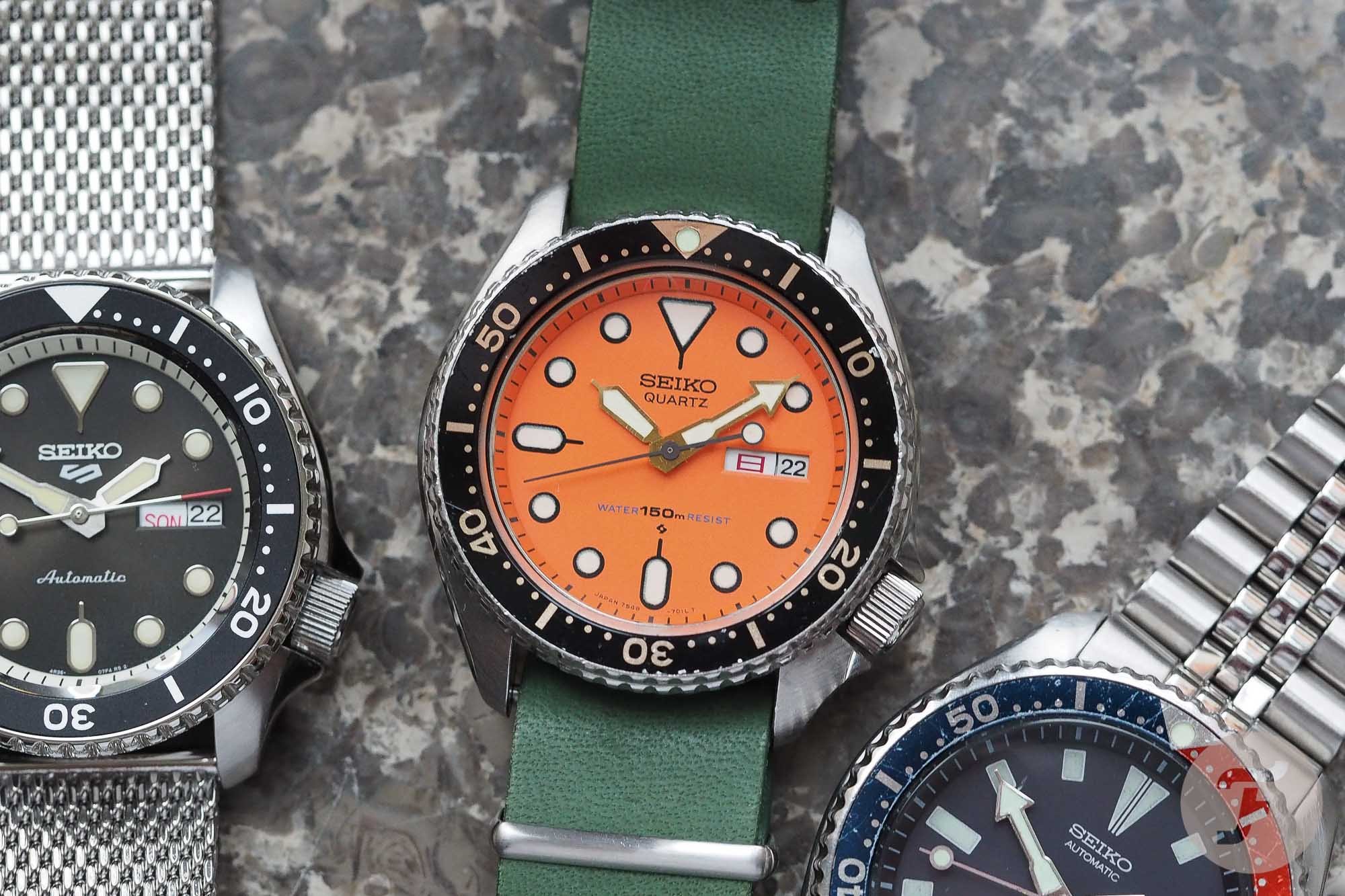 Or you could try: Seiko 7548 Quartz Diver
The Seiko 6309 "Turtle" might just scare you off due to the problems I mentioned. If you're looking for something else from the late '70s that also registers as legendary, look no further than the Seiko 7548 diver. There's no getting around this, the 7548 is the first watch to use a case design that is still very much with us today. This piece first came out in 1978 and ran until 1985. I own a relatively early version, and it runs like a diesel truck (which means forever). For $300 or so, you cannot go wrong.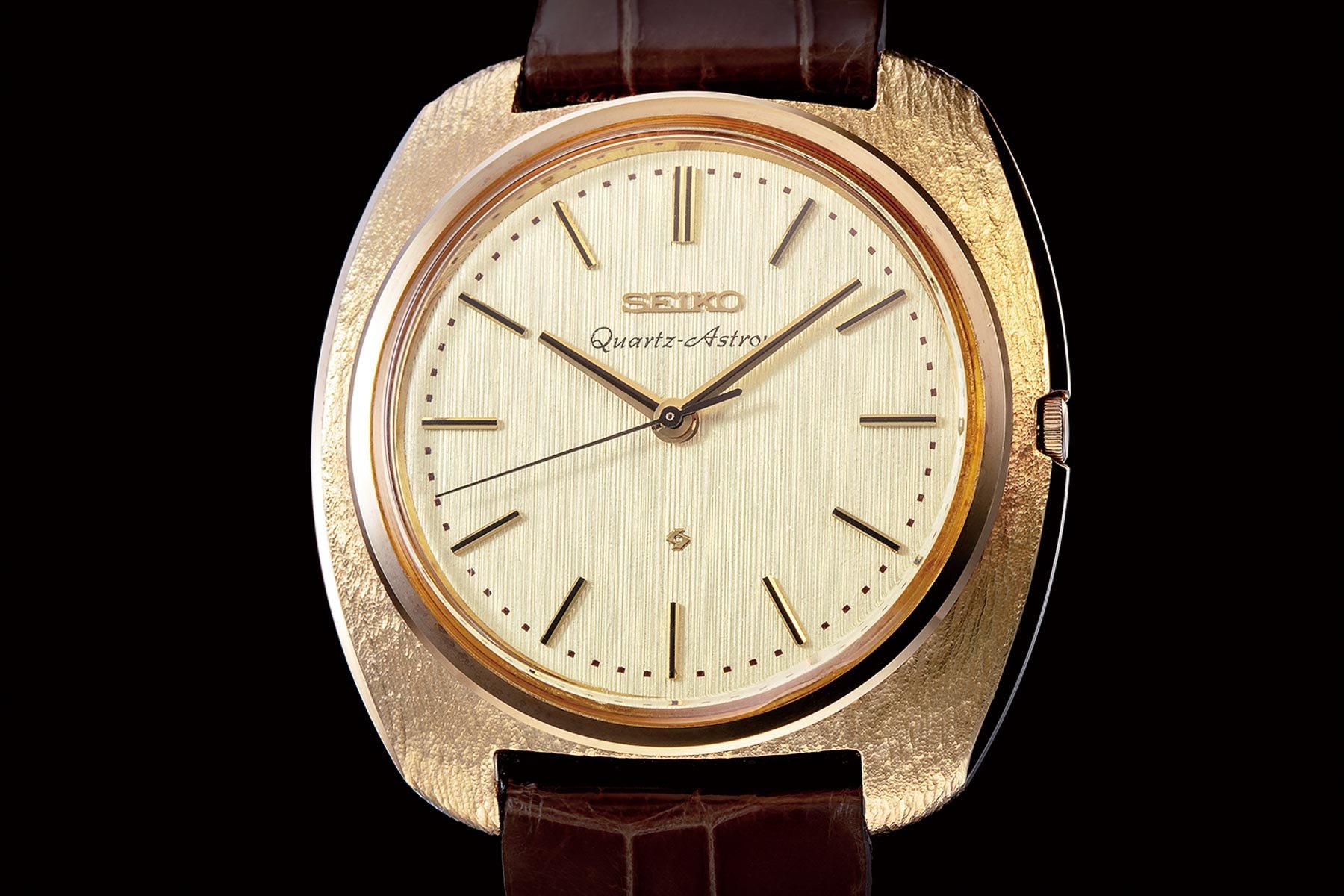 3 — Seiko Astron 35SQ
If I'm being brutally honest, the Seiko Astron probably belongs at the top of a Top 10 Seiko list. Hell, maybe it belongs at the top of almost any watch list. When the Seiko Astron was released on Christmas of 1969, it created a real stir. It was ridiculously expensive ($1,250) and meant for the very few with its solid gold case. However, within a very short period of time, Seiko would begin pumping out quartz watches in droves. This watch, folks, was both responsible for the demise of so many vintage brands we hold dear and, ironically, for the resurgence in mechanical watchmaking that we treasure today. Simply put, the Astron put the world on notice and made everyone else get their collective sh*t together. Good luck with finding one of these. Reports of 100 to 200 pieces exist with other reports claiming more were made into the early '70s. Collectors hold them closely, and as such, they rarely come up for sale at auction.
Or you could try: Seiko Arctura Kinetic 5M42
Well, this took a weird turn, but I happen to think that the Seiko Kinetic series of movements also qualifies as somewhat of a landmark. In fact, I can still remember seeing these when they debuted locally at Service Merchandise in Coral Spring, Florida. They were very futuristic and people were crowding around the showcase! It was 1986 when Seiko released its first Kinetic and, essentially, these watches used a traditional mechanical rotor and converted that movement into electrical energy. The spirit behind this, interestingly, wasn't so much as to please mechanical enthusiasts. No, it was in response to concerns about disposing of so many quartz watch batteries. There are loads of options around these, but I really enjoy the space-agey Arctura from the '90s.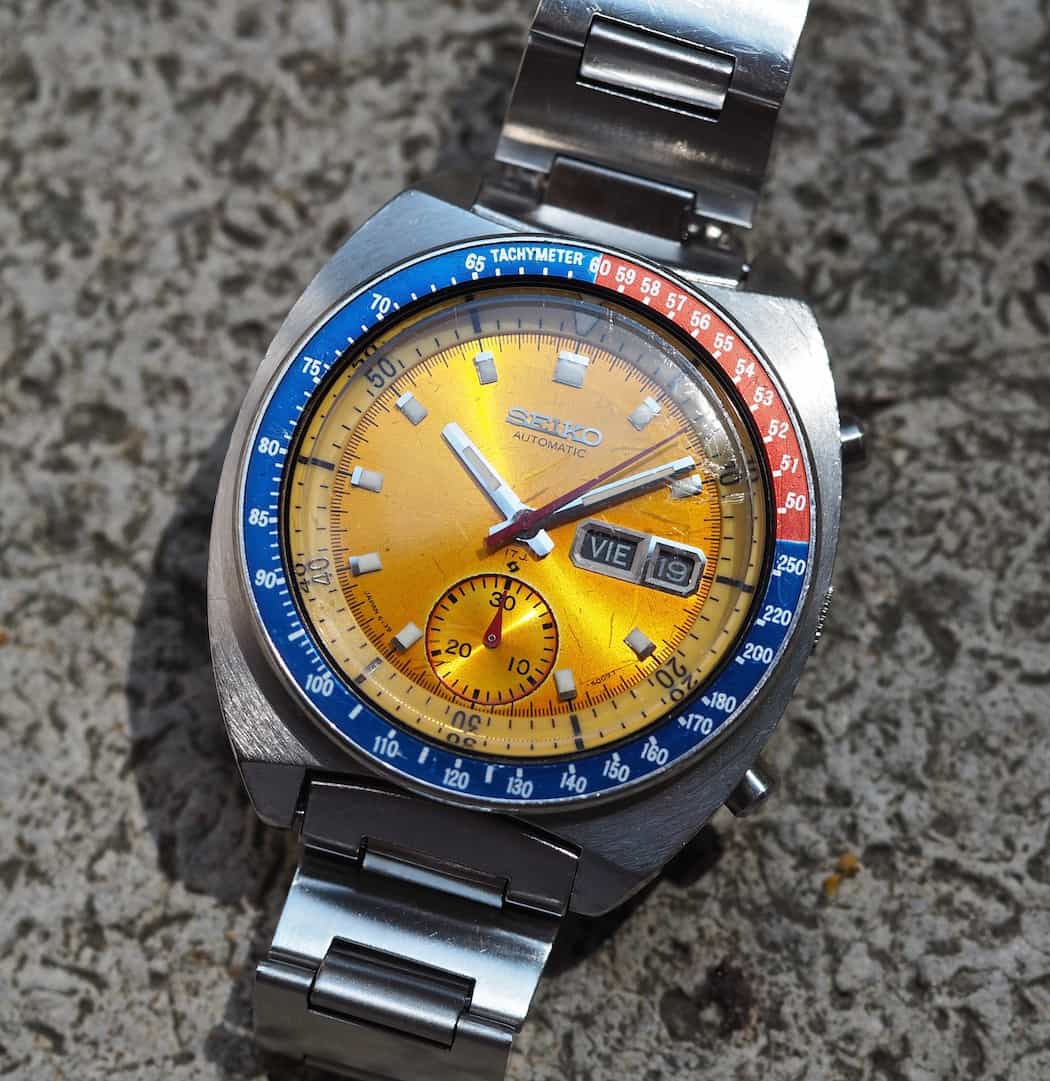 2 – Seiko 6139-600x Chronograph
By now, you probably know that there was a third entrant in the automatic chronograph sweepstakes in 1969. That's right, Seiko hit the market with its 6139 chronographs that year and most accounts lead to them actually beating Zenith and the Heuer/Breitling/Buren brigade. Unfortunately, Seiko made it a JDM affair, so most discount the brand's timing to some degree. Regardless, Seiko showed its watchmaking chops with this watch and, therefore, it most definitely belongs way up there on a Top 10 Seiko list.
I happened to choose the 6139-600x series because, frankly, these are the references that almost immediately come to mind. They're very "Seiko" because of the slant towards a c-case, and that makes them very different than their Swiss counterparts. Plus, the yellow variant is truly "out of this world" because a certain Colonel William Pogue brought one into space on a Skylab mission. The 6139 models do feature a column wheel, but make do with a simple 30-minute counter at 6:00 and day/date display. Prices for good 6139-600x's hover in the range of $800 and above, but there are plenty of other 6139 models at lower prices to scratch the itch.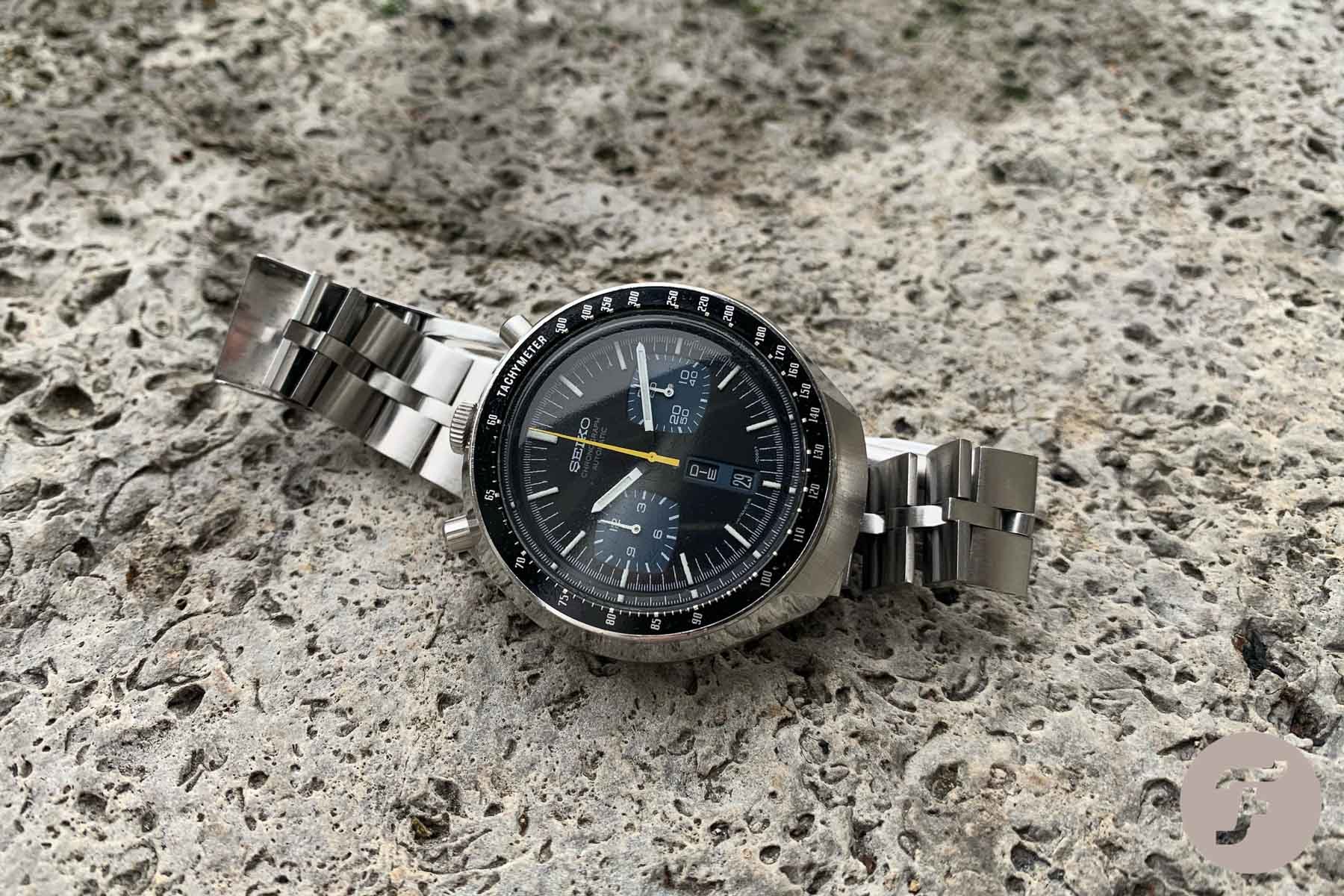 Or you could try: Seiko 6138 Chronograph
Funnily, the 6138 precedes the 6139 numerically, but it came out a year later in 1970. Most guess that Seiko would have preferred to have this more complex watch come out first or at the same time, but perhaps the development lagged. For collectors of Swiss chronographs, this automatic model probably feels more familiar. After all, it has two registers (a 30/60 minute counter and a 12-hour register) along with hand winding and a day/date display. Like the 6139, there are loads of 6138 options, including the peculiar bullhead that you see above. Like the 6139, many of these go for around $800, although there are some models like the famed Panda 6138-8020 that can climb into the thousands.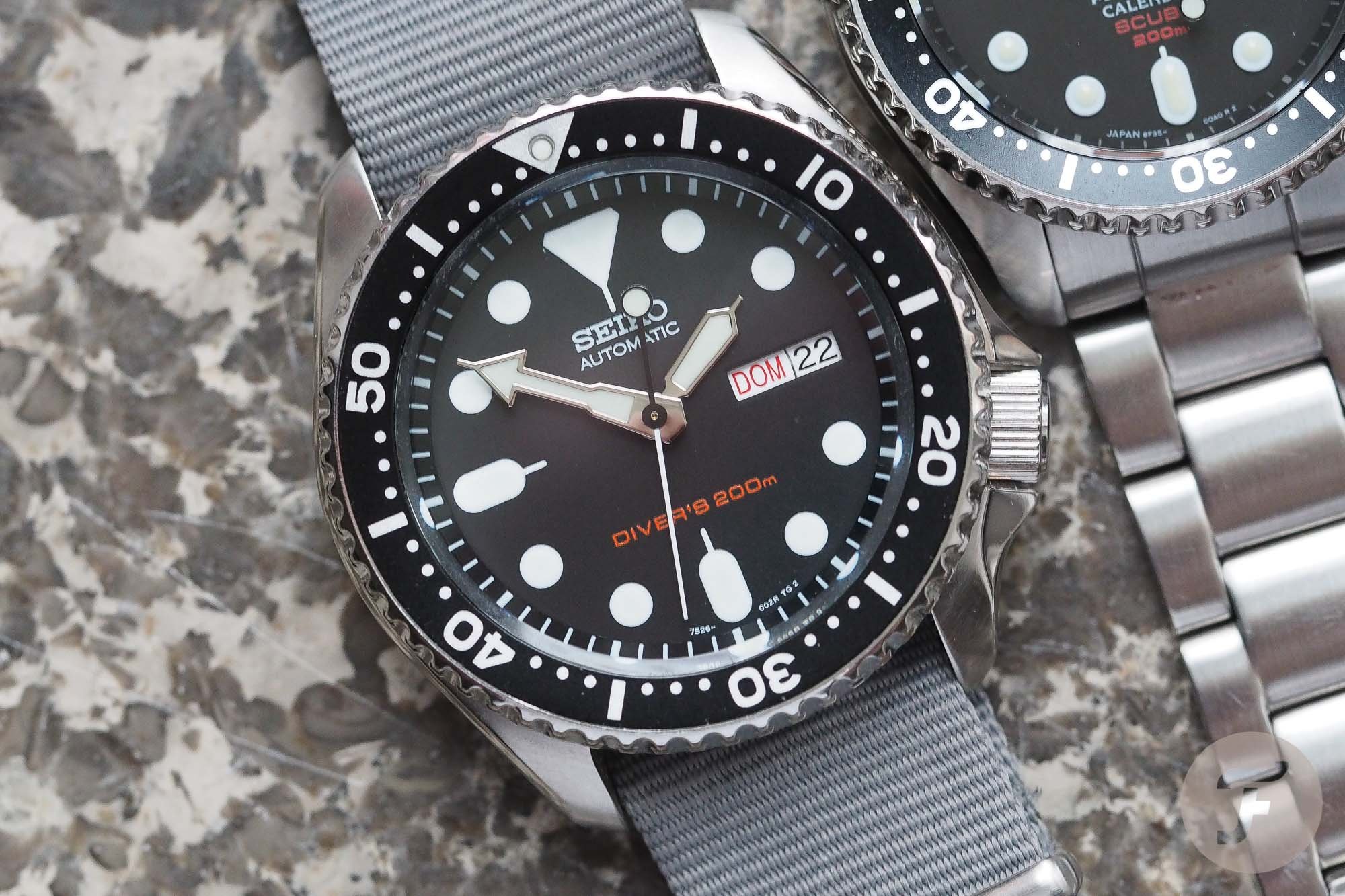 1 — Seiko SKX007
Well, if you made it this far and expected to find serious watchmaking in the pole position of the Top 10 Seiko list, you'll be sorely disappointed. What you will find, however, is the almighty SKX007. Detractors will immediately roll their eyes, but can anyone name a watch more influential in terms of attracting people to the world of mechanical watches? Didn't think so. The SKX007, despite so-so accuracy, is one of a handful of watches that transcend price level as a determinant for acceptance.
The SKX007 boasts good looks, 200 meters of water resistance, and a highly wearable 42.5mm diameter case. The 7S26 movement lacks hand winding and has -20 to +40 seconds of accuracy per day. That's nothing special, but using the fat screw-down crown to make adjustments every week or so is a nice way to get to know your watch. I bought my first SKX007 for under $150 about nine years ago. Now, a new old stock version will set you back $400-500. Some say that sounds crazy, but when a watch is so influential, maybe that makes it somehow worthwhile. The SKX007 isn't fancy, but folks, it is the king — all hail the king!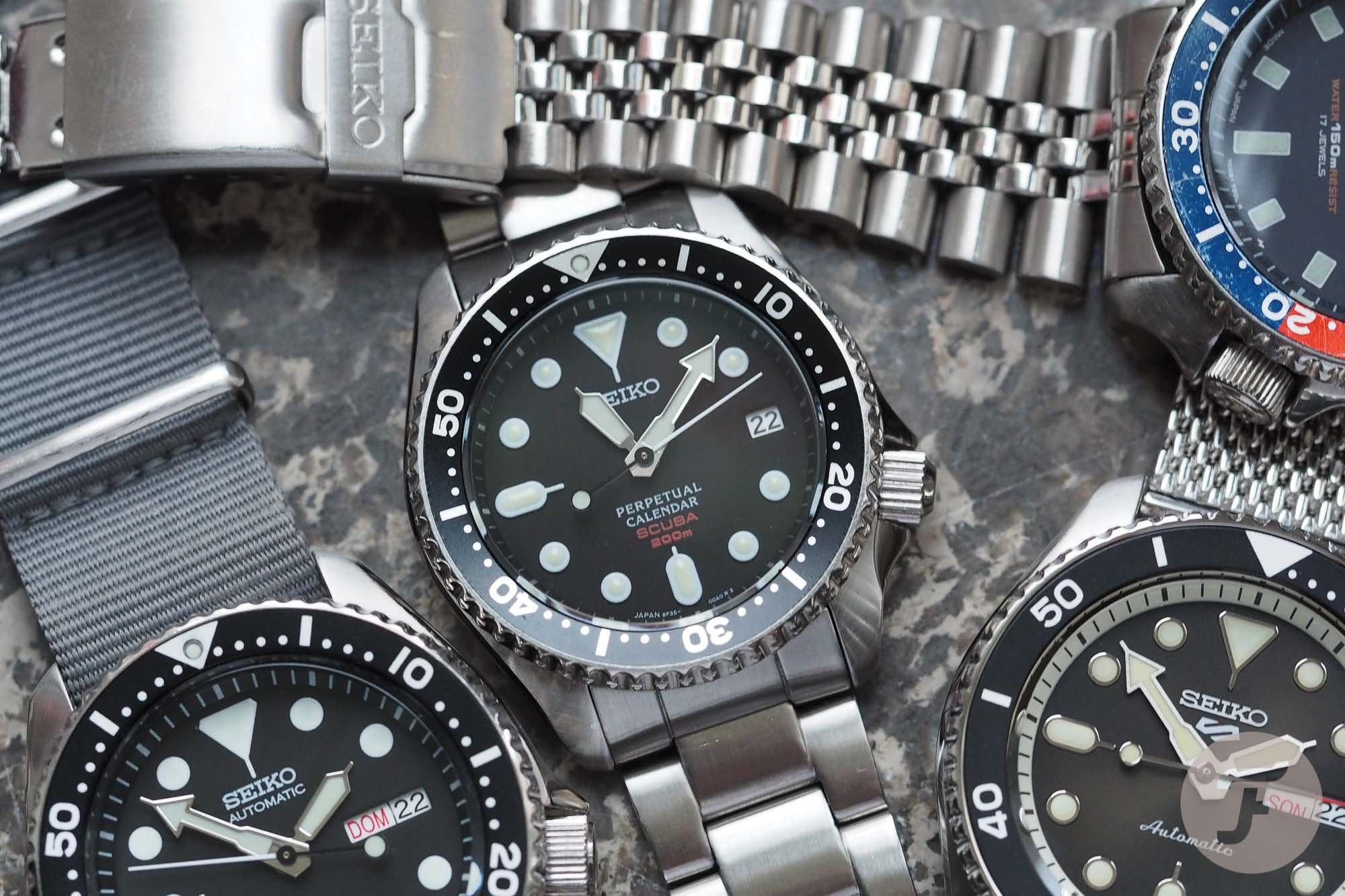 Or you could try: Seiko SBCM023 Perpetual Calendar
If you love those SKX looks, but want to stealth flex, the SBCM023 Perpetual Calendar just might be your ticket. Seiko made this gem from 2003 to 2010 and equipped it with the rock-solid 8F35 high accuracy quartz perpetual calendar movement. How accurate? Try ±3 minutes per year! The battery lasts about 10 years and this watch will change the date correctly up until the year 2100. Looks-wise, this watch is a spitting image of the SKX, but it lacks a day window and sits at 39mm. The SBCM023 is a bit of a cult classic, but collectors have woken up to the charms of this watch. Good pieces are now in the $800 range, which seems rather OK for a sporty and classic perpetual calendar.
So, as you can see, dive watches took up the most spots on the Top 10 Seiko list. Perhaps that's predictable because it's what comes to mind when people think of Seiko. They've made so many great watches in their history, but I really tried to go after the big hitters that collectors are drawn to when getting into the brand. What did I miss? I'm sure there are many, so let me know. I look forward to the banter!