BaselWorld 2009: Linde Werdelin Sneak Preview
Mid-November, I blogged about Linde Werdelin, a brand that has its focus on toolwatches for die-hards. This coming Basel, they are expanding their collection with the Linde Werdelin Spidolite Watch. This watch will be available in titanium, titanium DLC (limited edition) and in titanium with a skeleton dial (also limited edition). The best part is (in my opinion), the movement for the sekeleton dial version. This movement is a 1970's automatic mechanical movement, modified by Svend Anderson. Svend Anderson is member of the AHCI (Acad?ɬ©mie Horlog?ɬ®re des Cr?ɬ©ateurs Ind?ɬ©pendants).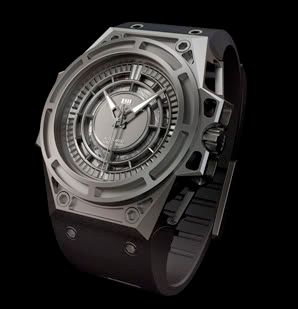 The Spidolite skeleton dial version is a 46x49mm wristwatch, with a height of 12mm. This hockey puck in titanium has a see-through sapphire crystal case back that shows the 42 hour power reserve movement by Svend Anderson. The watch is water resistant to a 1000 feet (300 meters) and has a textile strap with titanium buckle.
I can't wait till the end of March, when I am heading to Basel and meeting the people of Linde Werdelin to see these toolwatches in the flesh! If you are coming to BaselWorld 2009 as well, here is the Linde Werdelin stand information: