BaselWorld 2011 – Linde Werdelin SpidoSpeed Chronograph Live Photos
After showing us some teasers of their first chronograph in the last few months, Linde Werdelin introduced the SpidoSpeed Chronograph in Basel last week. Today I had the chance to look at the three variations of the LW SpidoSpeed and shoot some pictures of them.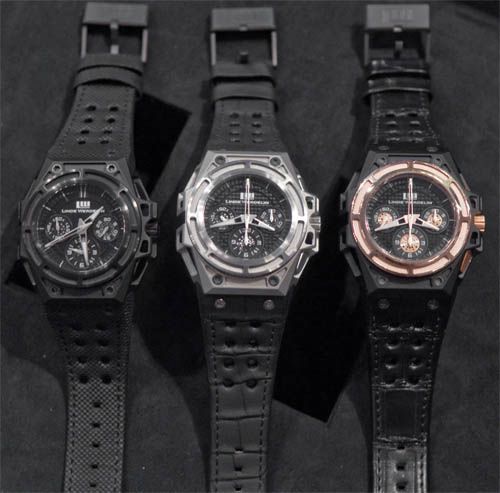 I also was able to have a closer look at the Concepto movement as used by Linde Werdelin's SpidoSpeed Chronograph. LW likes to call this their LW03 movement, as it is the third collaboration with a movement maker (think A.Schild for their Spidolite SA and F.Piguet for their Oktopus Moonphase). This LW03 or Concepto movement winds in one direction, which might result in feeling a slight wobble on your wrist when it spins freely around its axis in the non-winding direction.
As promised, Linde Werdelin designed this watch that it actually is a 3D experience when looking at this watch. The skeletonized case and multi-layered dial are a true piece of art and aside from the relationship with racing, it gives the watch an industrial look.
Despite the dimensions of the watch case, it is actually very wearable and doesn't differ that much from wearing my Linde Werdelin 3-Timer for instance. Note that the watches shown in the picture above are still in the prototype stage, as the positioning of the pushers have to be optimized for proper use.
See the BaselWorld 2011 forum at Watchuseek for more pictures (and wrist shots) of the SpidoSpeed Chronograph.
Prices start at 11,700 Euro.