The Last Of The New Linde Werdelin SpidoLite II Watches
Last week, we showed you the Linde Werdelin SpidoLite II Titanium Blue. Right after that, Linde Werdelin presented the Titanium Red version of the SpidoLite II. Yesterday, Linde Werdelin introduced the final piece of the new SpidoLite II trilogy, the SpidoLite II Black Gold.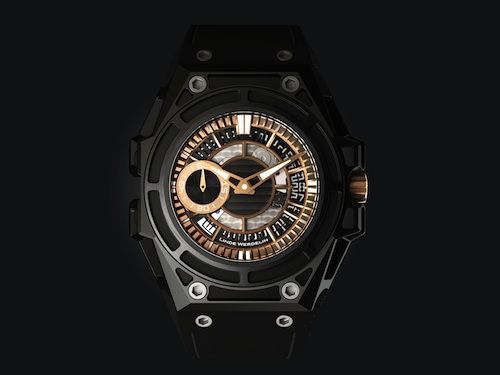 Limited to 75 pieces only, this Black Gold edition. It fits right in the current collection of SpidoLite II watches and is perhaps the most eccentric timepiece you could pick. This titanium SpidoLite II received a DLC treatment and the crown, dial and hands are manufactured from rose gold.
Just like the Blue and Red titanium models, this Black Gold model also has some refinements since the very first SpidoLite II watches (click here for our review). In short, Linde Werdelin solved the problem of the sharp edges of the crown guards that were – for some people – an issue when the watch needed to be set or wound.
With the Black Gold, Red and Blue Titanium models, Linde Werdelin puts some more color in their collection. The 'normal' SpidoLite II watches already had blue hands, but were executed like stealth watches nevertheless. With these new editions, people who love to be a bit more 'bold' can now pick from three great SpidoLite II versions.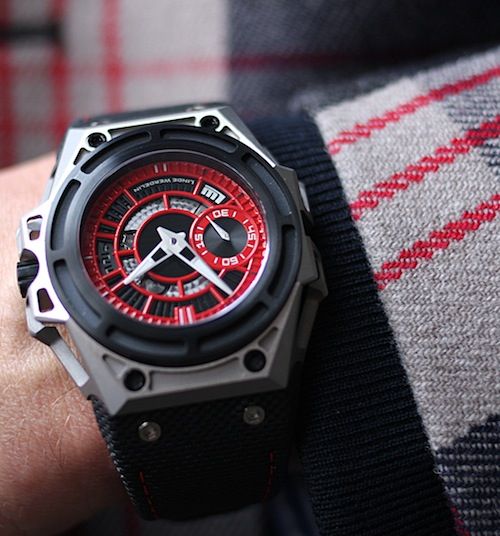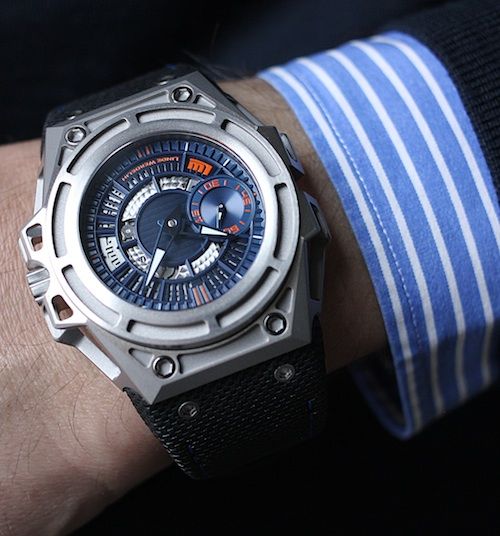 These new-style sports watches, actually in the spirit of Genta (Royal Oak), are fresh looking timepieces with no particular heritage they need to stick to. This enables them to change the design a bit (from the One, 2 & 3 -Timer to the Spido and Oktopus II collection) and use cool materials and color combinations. We love them for doing so!
The Black Gold version will be available from early 2013 and has a CHF 11,200 (Swiss Francs) price tag. More information: www.lindewerdelin.com