Linde Werdelin SpidoLite II
Unexpected Successor Of The LW Flagship
I'm pretty comfortable stating that the SpidoLite has always been the flagship watch of Linde Werdelin's collection, although the term flagship isn't used by watch brands – except for Longines – any more. With the first SpidoLite, Linde Werdelin has put themselves definitely on the horological map and it is probably the most recognized model from their collection. Last year, LW announced the coming of their first chronograph (we covered it here) and has recently started delivering them to their network of dealers. Based on the same complex case construction of that SpidoSpeed, LW now introduces the new SpidoLite, adding a clean and simple 'II' to its name for easy identification.
To make things a bit easier for you, I've put the two together. On the right side, the first SpidoLite (SA edition) and on the left side, the SpidoLite II. At first glance, nothing drastically changed and the cool design has been kept in tact. The new SpidoLite II does feature a small second hand on 9 o'clock instead of a centralized second hand and the 'Linde Werdelin' wording moved from 12 o'clock to 6 o'clock.
Although the comparison picture above shows more or less the same dimensions, the SpidoLite II shrunk a bit. Where-as the original SpidoLite measured 46 (w) x 49 (l) x 12 (h) mm, the new SpidoLite II measures 44 (w) x 46 (l) x 15 (h) mm. A tad bit thicker, but small nevertheless. Perhaps its thickness has something to do with the new case construction (similar to the one of the SpidoSpeed) or its new inner works, based on Valérien Jaquet's Concepto Mechanical Automatic (calibre 2251) movement.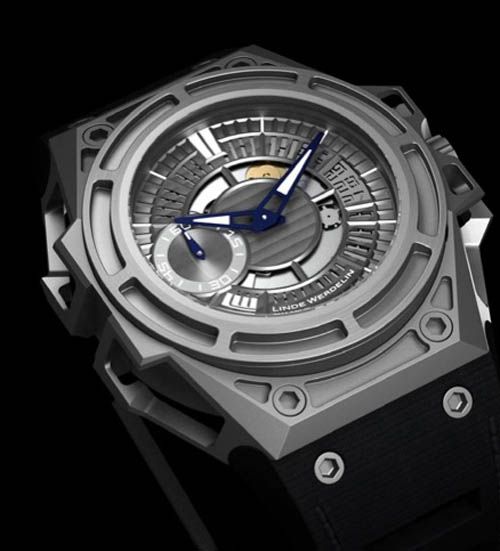 Where as some brands make the new versions of existing watches smoother, LW's SpidoLite II keeps it raw and industrial with their titanium case. The SpidoLite II will become available in both titanium and titanium anthracite DLC versions, restricted to 100 pieces each. The first batch will be referred to as their A-series, just like we've seen with their SpidoSpeed and brands like Panerai and Audemars Piguet. In the future, it will be easy to refer to certain productions runs and years using this system.
Although the SpidoLite II has been enhanced with a new movement and case construction, the price stays more or less similar to the SpidoLite SA (Svend Andersen edition). 9930 Euro for the Titanium Anthracite DLC version and 9360 Euro for the SpidoLite II Titanium version, including VAT.
More details can be found at www.lindewerdelin.com. If you want to know more about Linde Werdelin's founders and ideas, read the interview I did with Jorn Werdelin for AskMen earlier this year. Click here.