At www.r-l-x.de you can order the 2006 Rolex Calendar! Hannes, Michael and Percy made this incredible calendar called 'Fruits of Passion' and it is for sale for a mere (Euro) 39,90, excluding shipping.
Below is one of the pictures that didn't make it to the calendar, but it is still one of the nicest Day-Dates I have ever seen. Period.
You can order it at www.r-l-x.de/calendar.htm.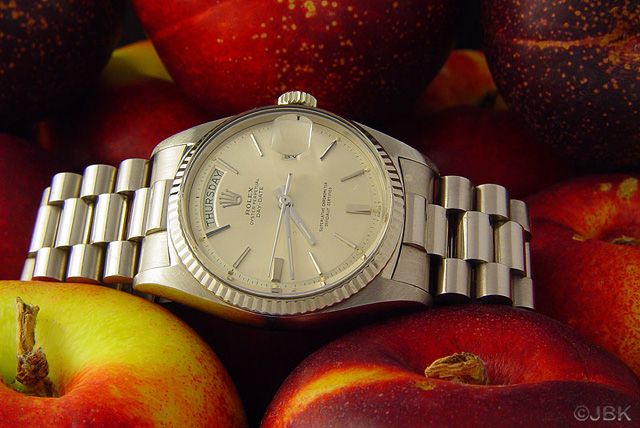 I know there is a bit much Rolex news/postings here lately, but that's simply because I am fascinated by this brand ofcourse 🙂 I will try to ease up a bit and post about other brands as well this week 😉
Small note…
Expect some stuff for sale here as well, as I am cleaning up my 'attic' for watches, straps and other watch related things… just need to tidy up a bit here and make room for other/new things. Among them will be two Omega chronographs, a vintage Seamaster, a lot of straps (unused) and watch accessoires. I will make some pictures of all the items ofcourse…

Robert-Jan Broer, born in 1977, watch collector and author on watches for over a decade. Founder of Fratello Watches in 2004.

Latest posts by Robert-Jan Broer (see all)